When Antonio Montano asked me to be co-rapporteur for this evening on the Marsala at Restaurant Le Proposte di Coranoin my beloved Colli PiacentiniI was happy to accept. Sicily has always been in my heart, and I never tire of repeating it (I also recommend you read this article on Sicilian viticulture by clicking HERE). Fortified wines, then, have been a great passion of mine ever since I walked among the vineyards of Madeira, sailed in the traditional Rabalo along the Douro river in Porto and admired the sunsets over the ocean at the edge of Sétubal. The combination with Piacenza cuisine could not fail to intrigue me if at the cooker I knew I would find the dear Danila Rattiwho cooks and reinvents traditional dishes with great skill. And then I always feel at home here: Danila's whole family is wonderful and I also met little Luca, who has the same relationship with food as I did when I was a child... that's also why we liked each other right away! ❤
History of Marsala wine: what did I tell last night?
[Taken from my book "How to become a sommelier - everything you need to know about wine in less than 300 pages" which you can buy on this site by clicking HERE or on amazon by following this link: https://amzn.to/2zGjBgD.]
The origins of Marsala date back to the Phoenicians and the Carthaginians who introduced vines to the Mediterranean. Excavations at Mothia, a tiny island in front of Trapani, show that wine was already transported in ancient times in terracotta amphorae with a pointed base to facilitate loading and stability in the holds of ships. The name derives from the Arabic Marsa'Ali (port of the prophet) or Mars-el-Allah (port of God), but the real invention of this wine is due to the English in 1770. John Woodhouse, a Liverpool shipowner, traded in the area. Having a good nose for business, he realised that the wine was rich enough in body and ethyl alcohol to please the English and to prevent the wine from spoiling during the voyage he added a little whisky.
The Napoleonic wars made the shipment of Spanish and Portuguese wines to England very difficult, which ceased altogether at that time. Marsala in England was so successful that John returned to Marsala to set up his own baglio (building with court) with the white oak barrels he had brought from England. As the Marsala trade expanded, other English merchants arrived in Marsala, first his cousins then Ingham, Hopps, Glasgow, Whitaker... who created a true English monopoly of Marsala. Admiral Nelson loved it and before leaving for the Egypt expedition he sent an order to Malta for 40,000 gallons of Marsala (200,000 litres).
Marsala, by now the wine of the English, had great fortunes throughout the 19th century. But Madeira and Port, also of English origin, were returning to the market competitive in quality and price and Marsala began to lose share. In those years, the Florios (a noble family of Calabrian origin who had become very rich in Palermo at the turn of the 20th century), with a merchant fleet of 99 ships, began exporting their Marsala to Brazil, Argentina and the United States. As the British were increasingly intent on abandoning the production of Marsala, the Florios first bought the cellars of Woodhouse and the Inghams, then of all the others, and linked their name forever to the production of Marsala.
How is Marsala wine made?
The regulations since 1984 classify Marsala wines according to their colour: Gold, Amber and Ruby and precisely indicate the grape varieties to be used, alcoholic strength, years of ageing and residual sugar (dry 100). DOC wine produced in the province of Trapani, is made from cricket, common white catarratto, glossy white catarratto, damask e inzolia for the Amber and Gold types, while pignatello, nero d'Avola e nerello mascalese are used for the rarest, the Ruby, which contains a maximum of 30% of white grapes.
Types and ageing:
END: Min 17% vol, min 1 year ageing;
UPPER: Min 18% vol, min 2 years ageing;
SUPERIOR RESERVE: Min 18% vol, min 4 years ageing;
VIRGIN and/or SOLERAS: Min 18% vol, min 5 years ageing;
VIRGIN and/or SOLERAS STRAVECCHIO or RESERVE: Min 18% vol, min 10 years ageing;
Marsala is a CONCIATO WINE because cooked must, ethyl alcohol of vitivinicultural origin (3-5%), aqua-vitae or a mixture in % different according to the type can be added to the base wine. The wine obtained is placed in 300-400 litre oak or cherry casks left drained, i.e. only 2/3 full to favour a series of oxidative processes protected by the high alcohol concentration, according to the soleras method.
Marsala & soleras method: how does it work?
The barrels are stacked in vertical rows of 3 or 5, from those placed on the floor (solera) the wine that is considered ready is tapped and replaced with additions of that taken from the barrels above (criadere), considering that about 2-3% per year is lost through evaporation. Basically you fill the topmost barrel 2/3 full and 1/3 is always put into the barrel below year after year. The cask on the floor is therefore the one with the oldest wine made from these cuts from various vintages, while the topmost cask is the one that is filled 1/3 each year with new wine. In this way, if the process had started even 100 years ago, there would always be a part, even a small part, of the wine from the harvest of 100 years ago in the solera barrels, if these have never been emptied. This method is also used in the production of balsamic vinegar.
And now to the tastings and the pairing with Piacenza cuisine... 😍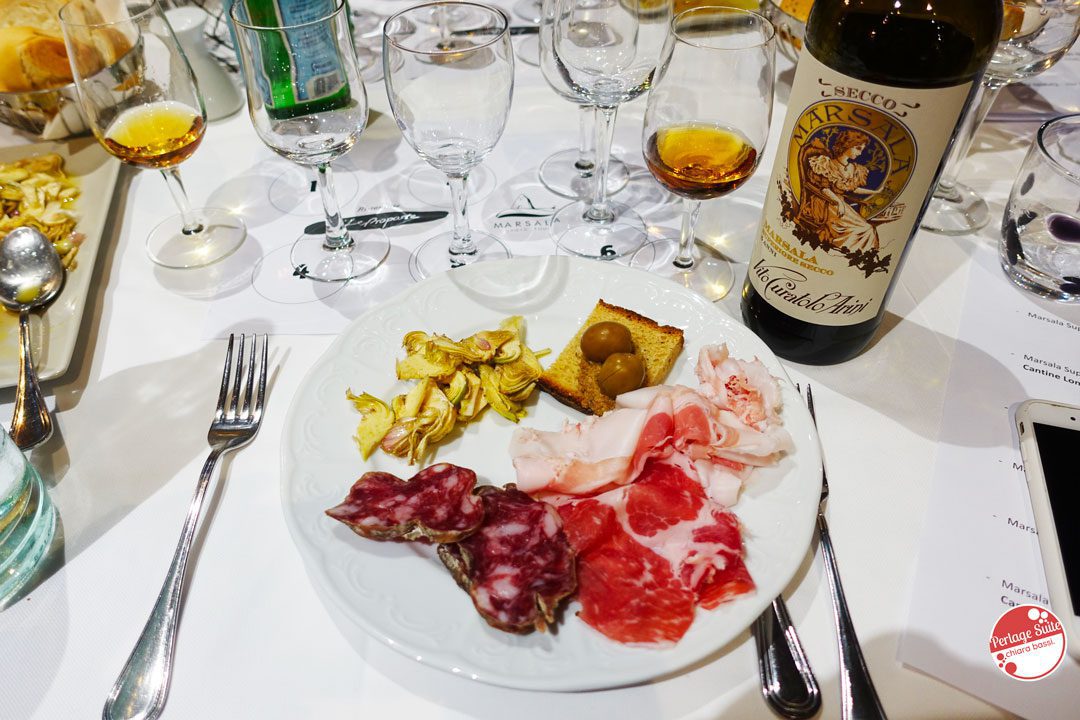 The first Marsala is the Marsala Superiore Dry by Vito Curatolo AriniIn combination with the delicious Piacenza sliced meats, an olive crostino which I must say was the most successful combination of all, and an artichoke salad which also went very well with it. Of course the artichoke may seem a bit of a gamble, but I assure you it wasn't at all, also because Danila made an emulsion with the same marsala. No metallic aftertaste indeed, the artichoke and marsala enhanced each other! Vito Curatolo Arini's Marsala Superiore Secco is made from grillo, catarratto and inzolia grapes, has an alcohol content of 18% vol and a beautiful bright amber colour. The nose is delicate and splendid, with notes of dried figs and fresh hazelnuts, while in the mouth it is balanced, soft and velvety with a long finish of sweet spices.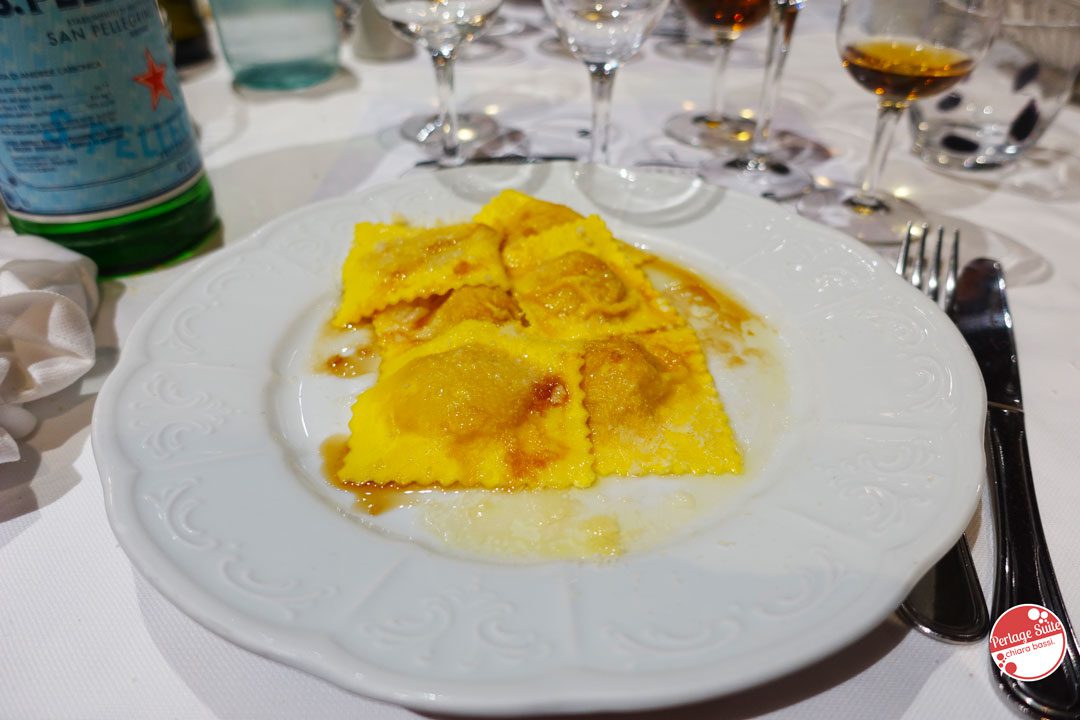 Leaving there and going three days to the east, man finds himself in Diomira, a city with sixty silver domes, bronze statues of all the gods, streets paved in tin, a crystal theatre, a golden rooster crowing every morning on a tower. All these beauties the traveller already knows from having seen them in other cities. But the peculiarity of this one is that whoever arrives here on a September evening, when the days are getting shorter and the multicoloured lamps are lit all at once on the doors of the fry-houses, and from a terrace a woman's voice cries out: 'uh!', envies those who now think they have already lived through an evening like this one and have been happy that time.

from 'The Invisible Cities', Italo Calvino
This dish reminds me of my childhood, when Grandma Diomira used to prepare her wonderful pumpkin tortelloni. Yes, because in Emilia there are ravioli, in Romagna there are tortelli, which given their 'considerable' size also become tortelloni! The main difference is the closure: in Emilia they are square, in Romagna triangular. How I love them! Danila has precisely this power: with her dishes and gestures she makes me think of my grandmother and awakens sweet memories of a time full of serenity when grandma and I lived together, rolled out the pastry every other day and were happy. Now I look at my grandparents every day in the picture on my desk, and I always miss them a little bit... I was very lucky to have such wonderful grandparents who taught me so much! However these pumpkin ravioli so fabulous we have not, alas, paired them with a marsala of the same level, and out of respect for the producer and the families who work there I will simply draw a 'veil of silence', as my mother would say! 😅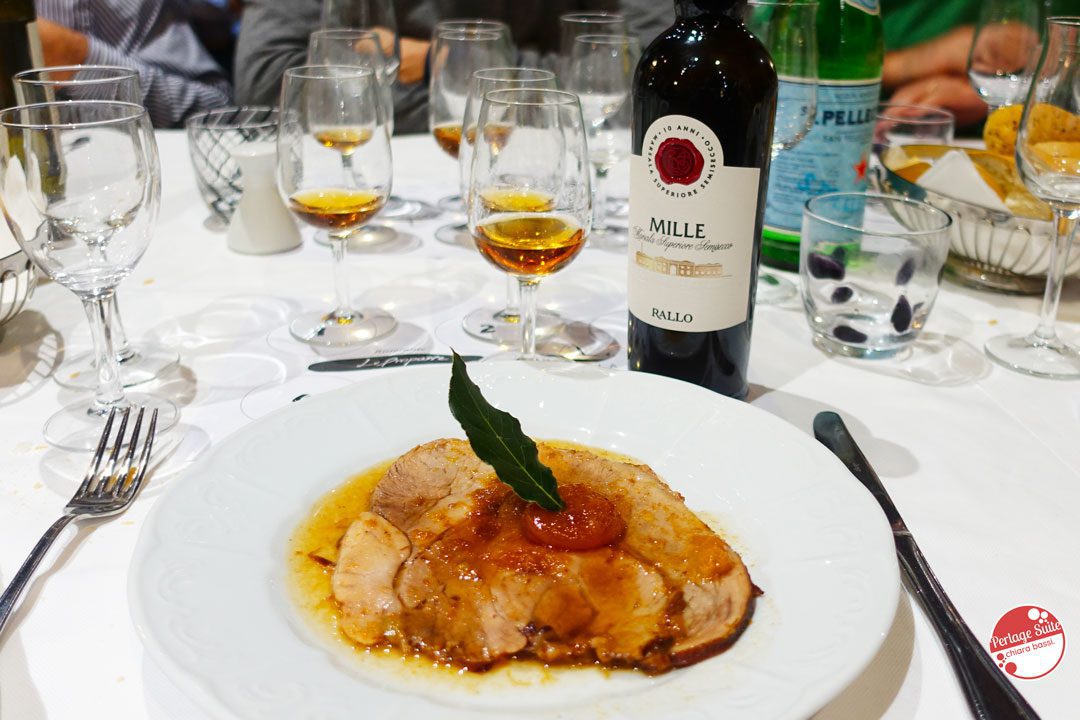 Oh my, I had heard so much about this apricot culatello that my mouth was practically watering before I even ate it, so full of expectation was I! And I must say that although I prefer beef tartare and raw meat in general by nature, I loved it! Tender as butter, very well balanced and the apricot and its sauce perfect! The flavour matched perfectly with the marsala, which had the same 'apricot' note! The combination was excellent, and I have to say that I fell in love with this marsala in particular: an amazing taste-olfactory balance, with notes of fresh, candied mandarin on the nose that become even more consistent in the mouth. Good, very good! But how much I liked it everyone could tell, because I must have repeated it at least 10 times! 😁 The Marsala Superiore Semisecco 'Mille' by Cantine Rallo is made from Grillo grapes, has an alcohol content of 18% vol, a beautiful bright amber colour and 10 years on its shoulders.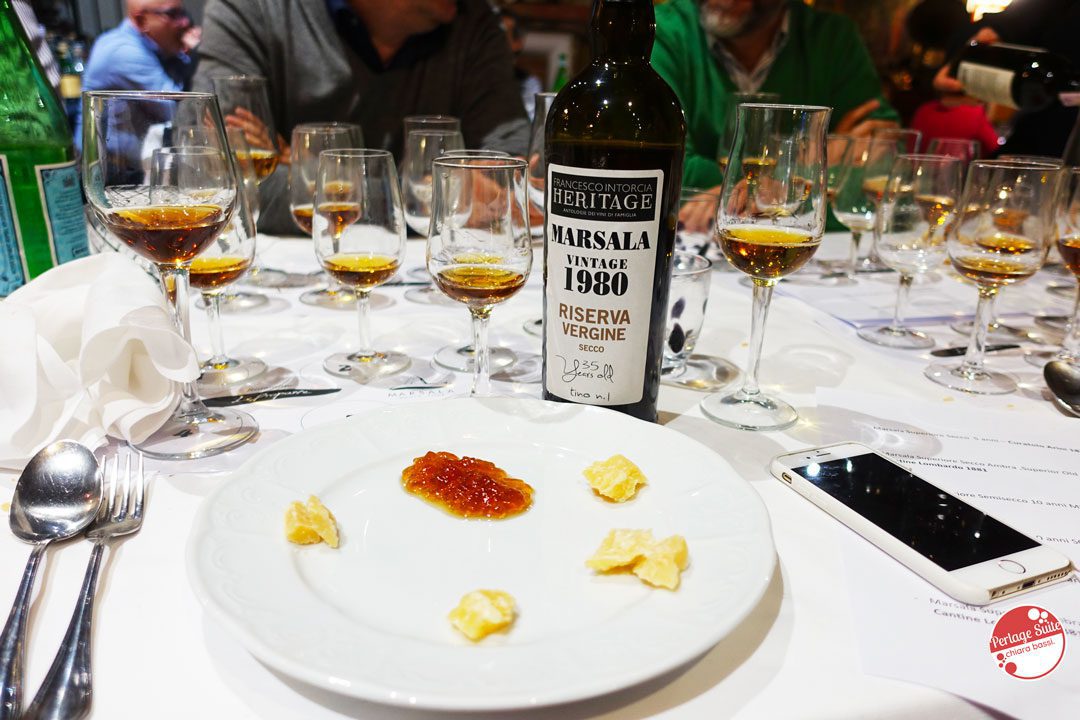 The Parmesan man you saw in the previous photo is Gianni of the company Malandrone 1477. He made us taste a Parmesan cheese 36 months, a Parmesan Cheese 60 months, a Parmesan Cheese 96 months and a Parmesan cheese 165 months (I admit I did not even know it existed of this type). The 36 months and the 96 months were good, but they didn't tell me too much! The 60 months I found spectacular, with a spiciness, a meltiness and a juiciness that I really enjoyed. Well the 165 months was a real treat, although for my taste it remains too hard. The Marsala Vergine Riserva Secco 'Vintage' 1980 Heritage Francesco Intorcia is a little masterpiece: that is exactly what I have in mind when I think of a good marsala. Made from 100% grillo grapes, with an alcohol content of 18% vol, it has a beautiful old gold colour with rust highlights. On the nose at first you feel a lot of dried fruit, then come herbaceous and vanilla notes fading into a hint of candied citron. In the mouth it is consistent, 'marsalato', very savoury, soft and still with a discreet freshness. Perfect pairing from 96 months onwards.
This delicious torroncino semifreddo, with a Bronte pistachio crunch to die for, was paired with the Marsala Superiore Dolce 5 years by Vito Curatolo Arini. I haven't told you yet, but see these amazing labels??? They were designed by Ernesto Basile, the architect who brought Art Nouveau to Italy, with the splendid Villino Florio in Palermo. When I saw it, it was love at first sight! As a great lover of art, of the Viennese Secession, of Klimt and Mucha, how could I not fall in love with so much beauty in these labels?
And after a relaxing night in the Val Tidone, our breakfast at the Dimora di Corano... 😍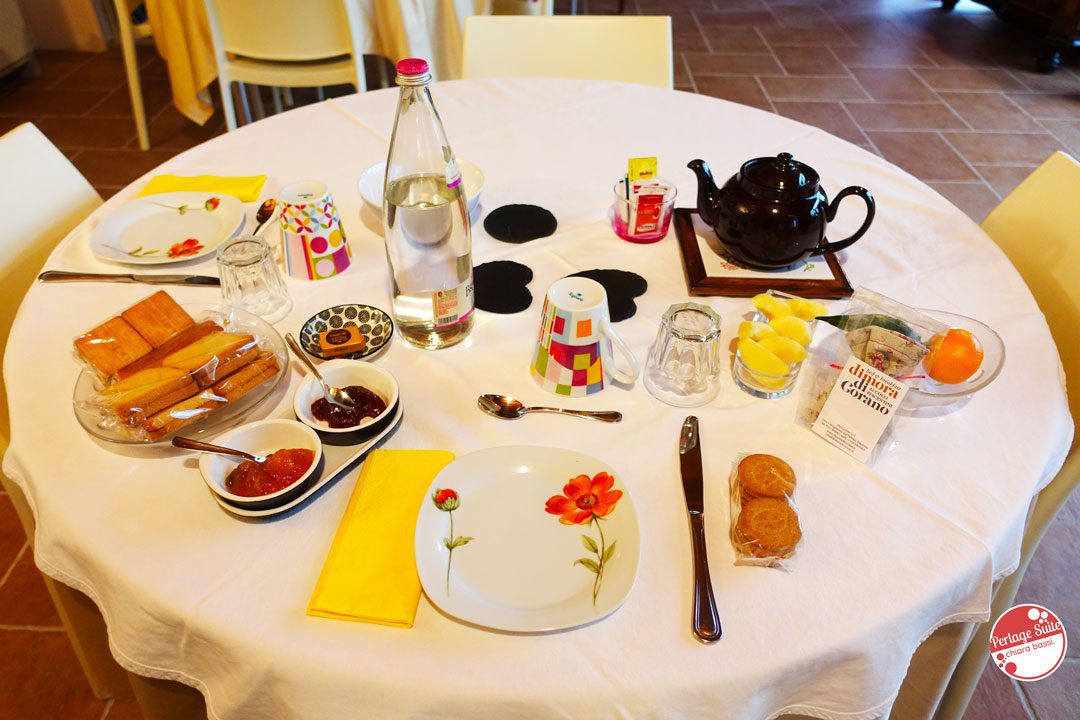 Do you remember last time I was at the B&B Koran House Did I write to you that I didn't get to photograph the breakfast table out of gluttony? I am sure you can understand me well this time: wonderful black tea, homemade jams as good as my grandmother's, fresh fruit, colourful plates and cups that put you in a good mood! Actually, I am always in a great mood in the mornings: it is the start of a new day, extraordinary things are sure to happen if I choose to be happy.
Cheers ❤
Chiara
PS I also very much appreciated Sigrid's cadeau: the romantic fabric encloses a mix of lavender and lavandin that reminded me for a moment when, on a sunny early summer morning, I walked barefoot and wearing only a long white dress through the lavender field at Sénanque Abbey... -in search of happiness- at one with the earth, the sun and the scents of my beloved France.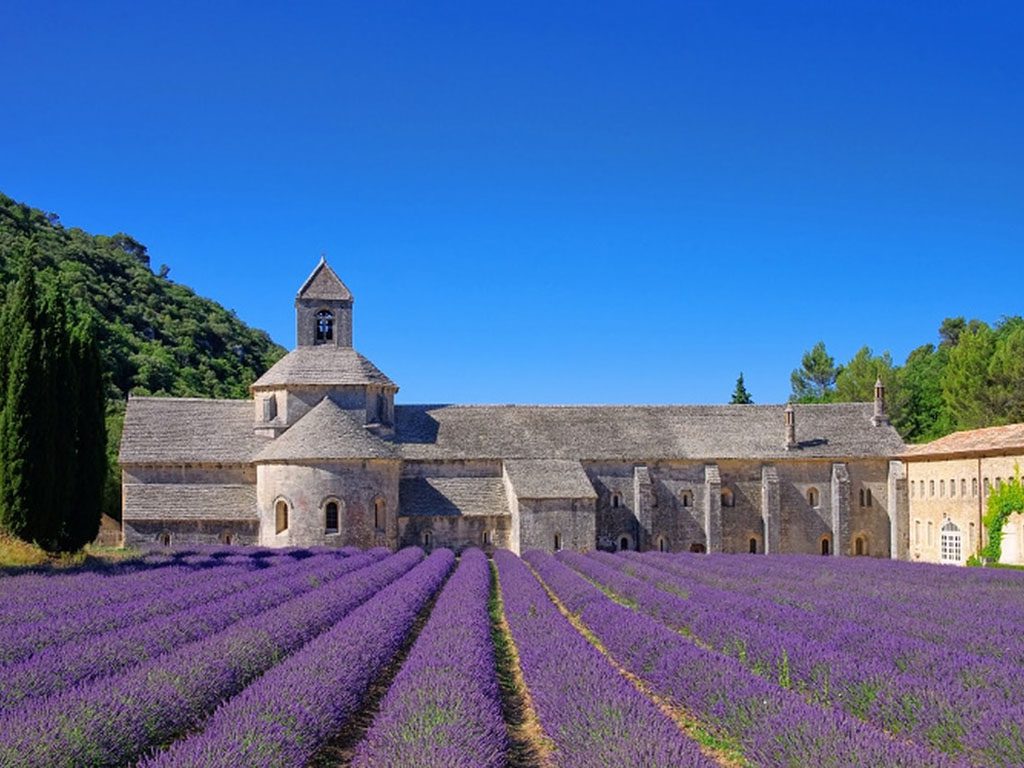 Since you never tire of the Val Tidone, I also recommend reading: