THEpairing food wine for me it is an obsession ... not surprisingly my Podcast is called "Red (not) goes well with everything!". I love experimenting with recipes to pair with the wines I get to taste! My summer recipe (but they are also very good in winter eh!) is this: i salty muffins with pecorino cheese, peas and mint, strictly paired with a sparkling wine with a light residual sugar like Prosecco Dry di Merotto! My husband liked them so many that now I prepare them every other day… luckily Merotto has sent me several bottles to taste! 😄
I particularly like this recipe because to make 12 muffins it doesn't dirty practically anything: you just need a hand whisk (or a fork if you don't have it!), A spoon, a grater, a knife, a cutting board and a bowl! Of course I recommend that you buy the pan mold for 12 muffins and 6 cm cups Delicia by Tescoma. I bought it on Amazon in December and I can't do without it anymore! The cups, on the other hand, I continue to buy ribbon ones, because in our house there is an unimaginable consumption of muffins since my husband eats like a pack of wolves! 😄
Do you think that while I am writing the article I left out the pecorino that I have left over to make spaghetti carbonara (here you find my perfect recipe) at lunch and he devoured it… then he thought about it later and now he's "accusing" me of not telling him not to eat it! 😄😄😄 Luckily for the Slow Food Italia Slow Food June tastings they sent us three large pieces of Sardinian pecorino and I can fall back on the smoked one… 😅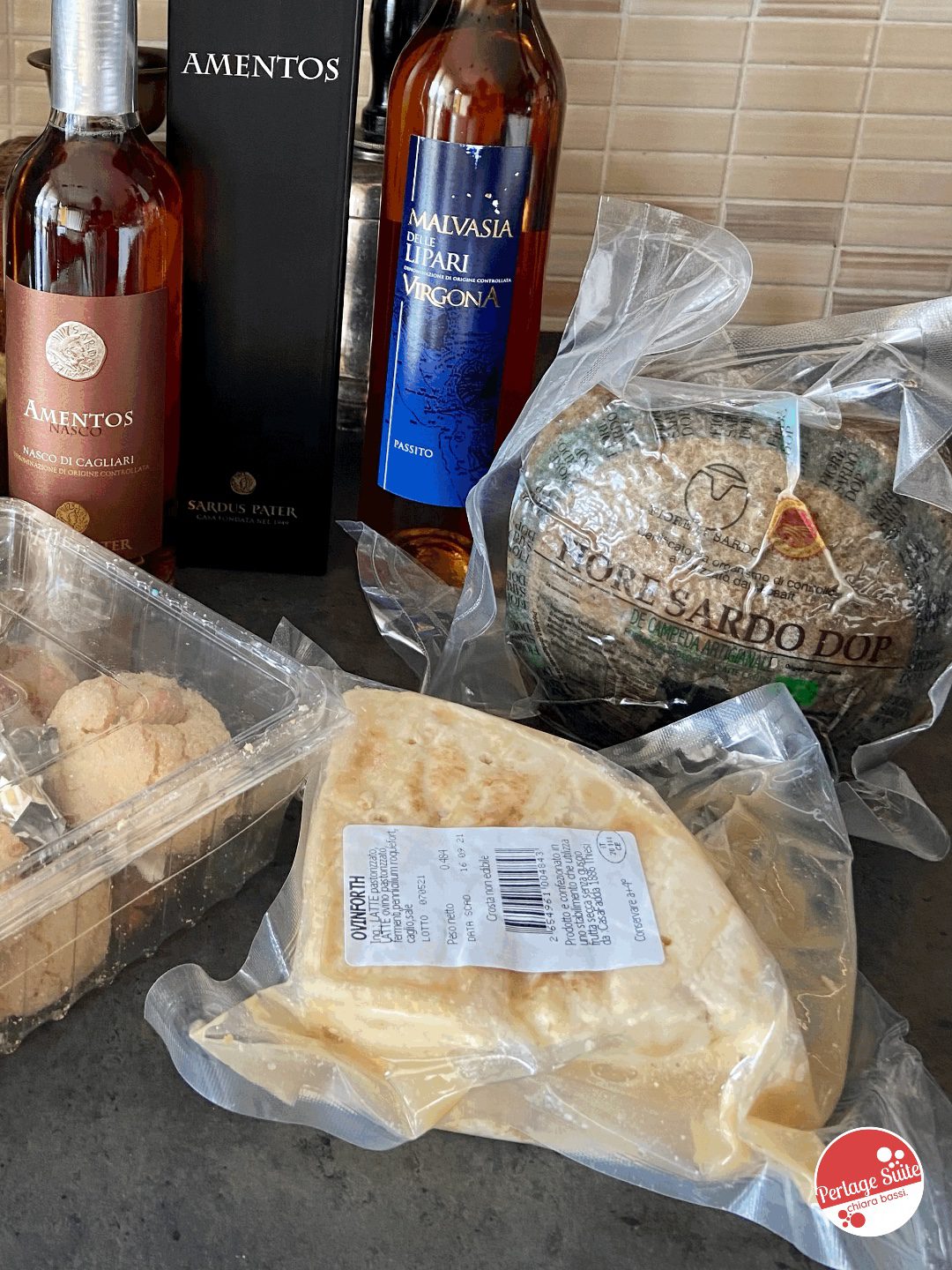 Savory muffins are one crafty recipe because you can prepare them 30 minutes before you have guests and they will make you look great. In fact, everyone keeps asking me for the recipe and for this reason I decided to write this article! Served lukewarm or still hot then they are even better because you will find the stringy cheese inside! Moreover, being vegetarians and with a rather easy taste, they are perfect for any person you will welcome ... and also for this reason I have proposed the Prosecco Dry di Merotto in combination! But let's talk about the food-wine pairing later ...
Ingredients for 12 6 cm diameter savory muffins
For the dough:
2 whole eggs at room temperature
230 g of 00 flour
200 g of fresh semi-skimmed milk (but also whole) at room temperature
60 g of sunflower oil
30 g of grated pecorino
10 g of instant powdered brewer's yeast
5 g of fine salt
For the stuffing:
70 g of steamed fine peas (the classic ones you find in the jar)
a piece of pecorino
12 fresh mint leaves
Savory muffins: quick and easy preparation
To prepare the dough put all the ingredients except the flour in a bowl and beat with a whisk or with a fork for about a minute. Now atadd the flour and beat a few seconds by hand, please do it for as little time as possible, just what you need to mix the ingredients. It is a type of dough where we do not have to form the gluten mesh so the less we beat the better! If the muffins come out "tamugni" the fault is only that you have beaten too much!
And now let's move on to the filling!
First step. Put the cups in the mold and add a spoonful of dough to each mold.
Second passage. Add a cube of pecorino cheese, half a mint leaf and a teaspoon of peas to each mold.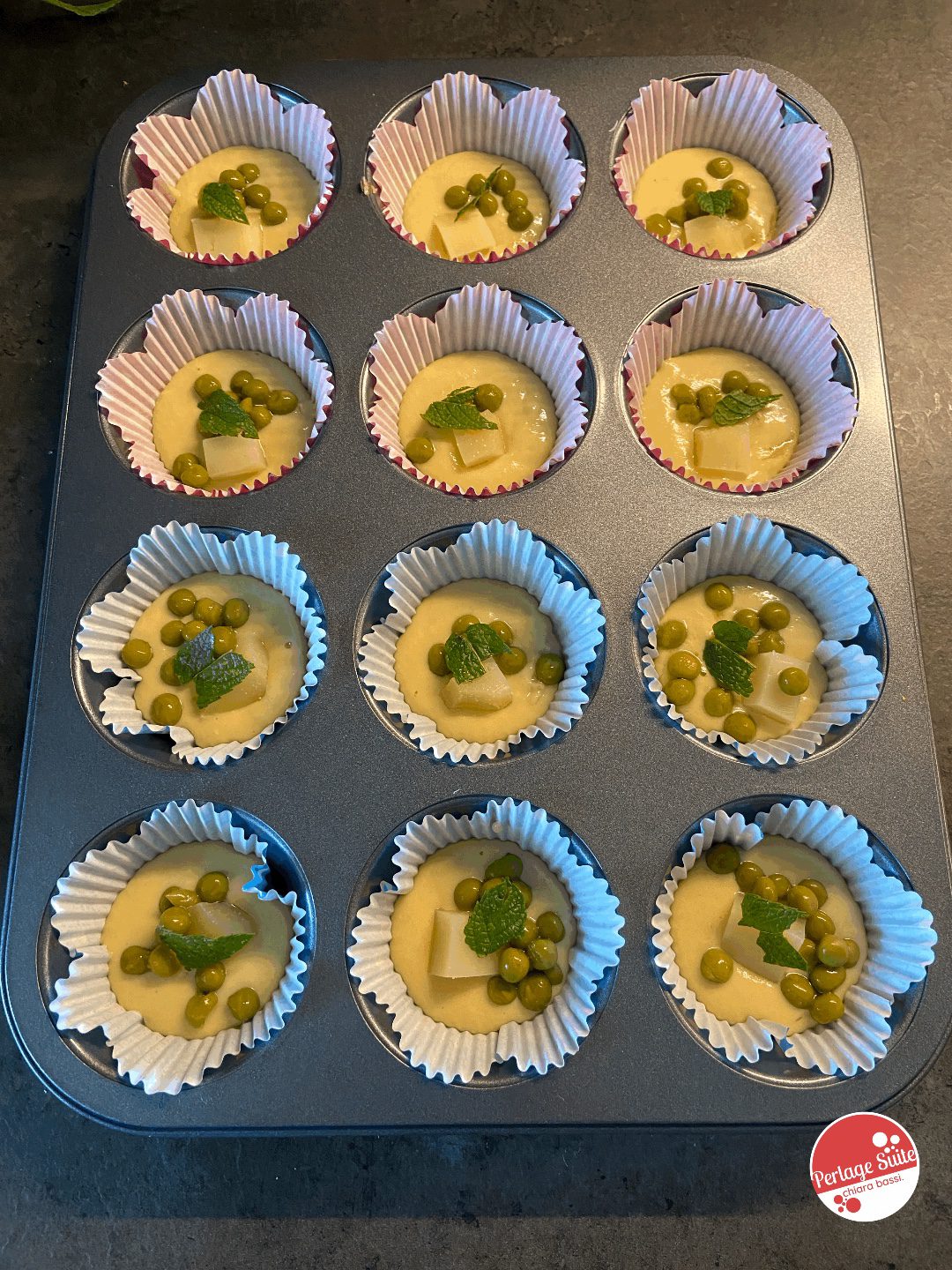 Third step. Put a nice spoonful of dough for each mold. If you have leftover dough, finish it ... but it should be 12 tablespoons right!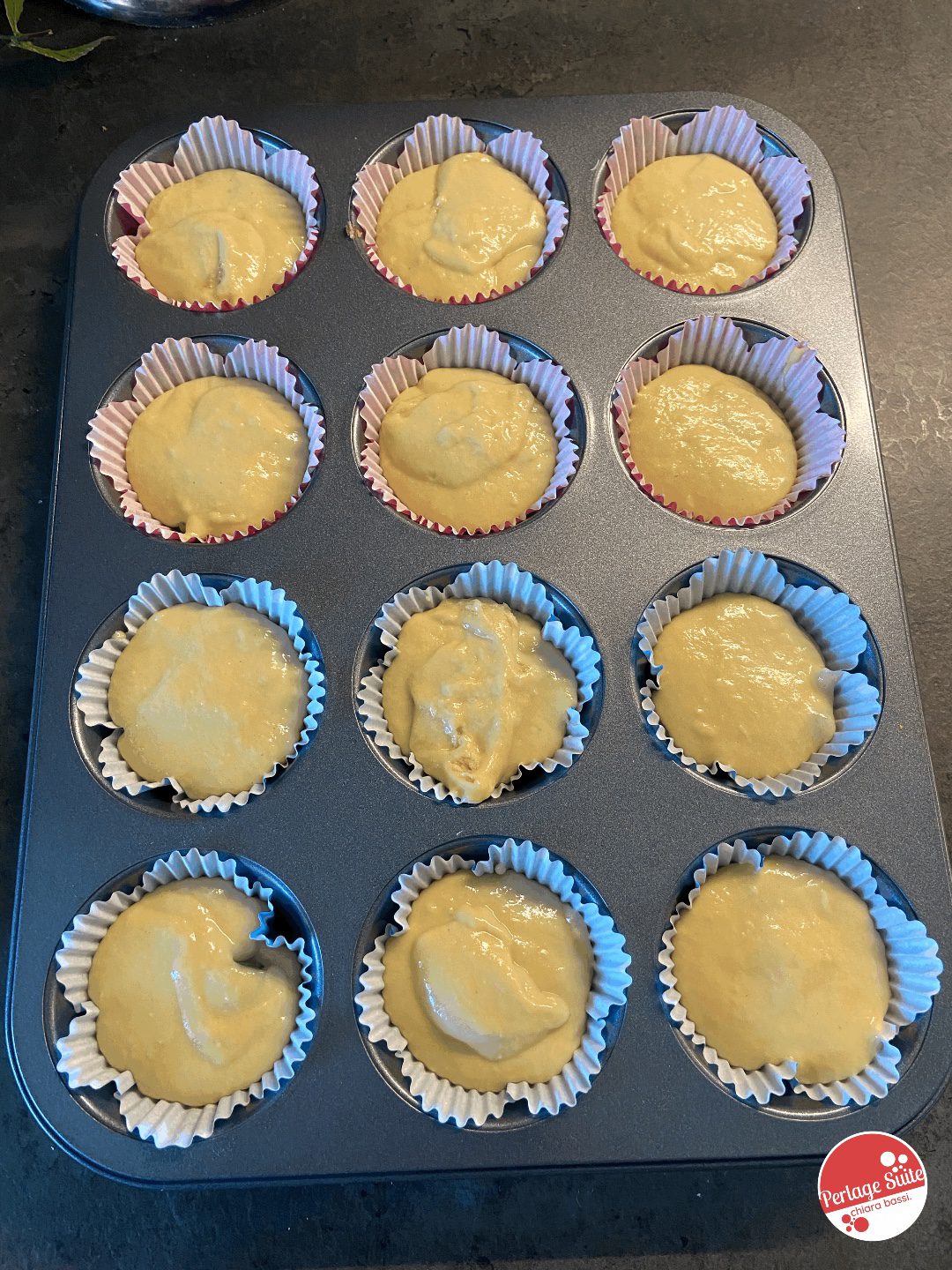 Last step! In each mold put a cube of pecorino, a teaspoon of peas, half a mint leaf, a grated pecorino cheese and a drizzle of extra virgin olive oil.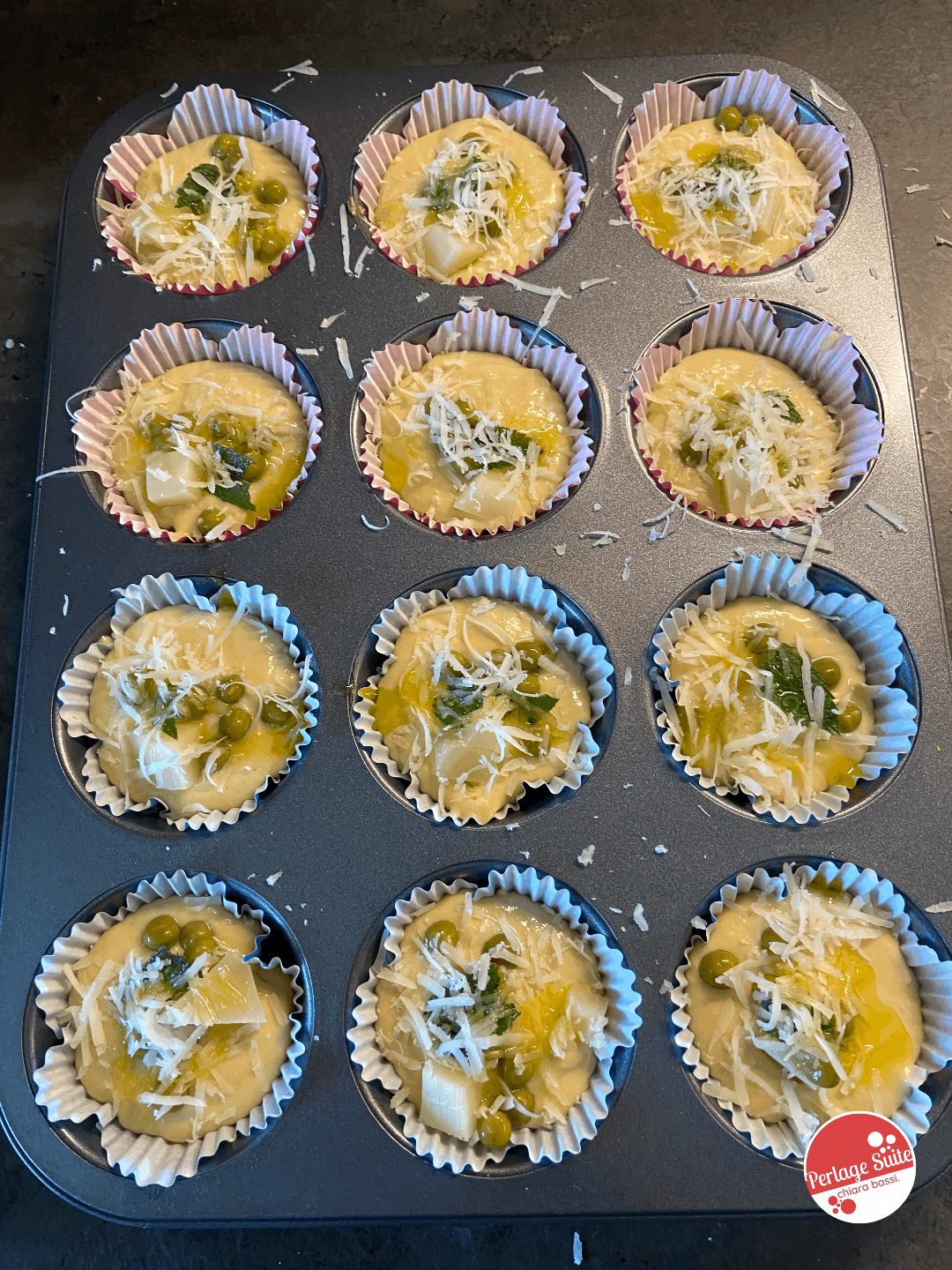 turn on the static oven at 180 ° C and wait until it is hot. I advise you not to turn on the oven before completing the savory muffins in order to give it a few minutes to rise. Cook on the shelf in half for 20 minutes depending on your oven. Remove them with the help of a spatula and let them cool on a wire rack for 5/10 minutes before serving. If you don't eat them right away, leave them on cake rack an hour before placing them under a glass jar or in an airtight container. They can be kept at room temperature for up to 3 days, I can't tell you more because they never got to our house! 😝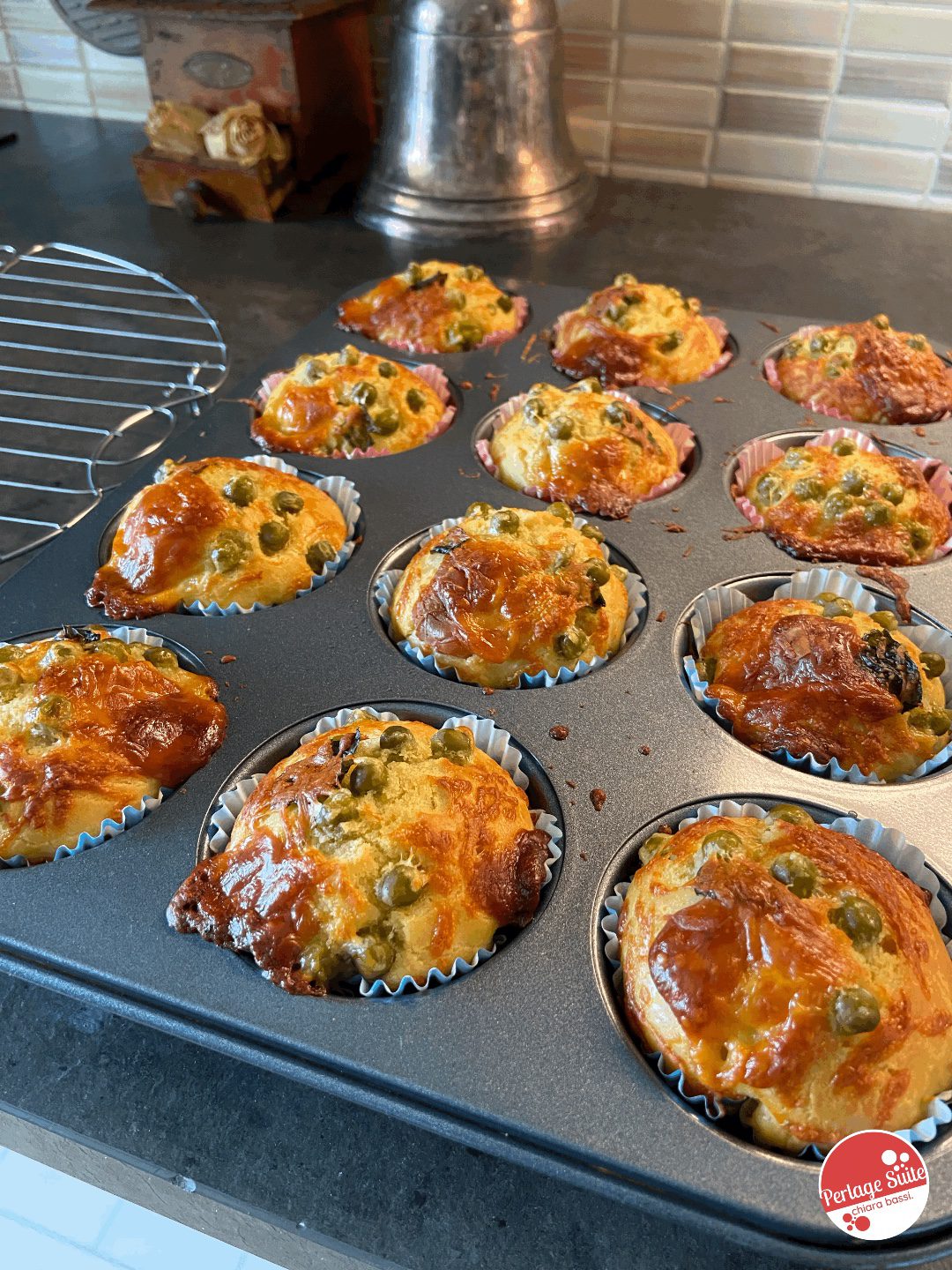 If you like this article subscribe to my newsletter or scroll the page to continue reading and discover the perfect pairing of savory muffins with pecorino, peas and mint! 😋
Savory muffins: food and wine pairing with La Primavera by Barbara, Prosecco Dry 2019 by Merotto
It has a beautiful deep and brilliant straw yellow color. The perlage is very numerous and when poured it forms an abundant and creamy, evanescent foam. The nose is intense and characteristic with notes of brown sugar, smoked, aromatic herbs, rose flowers, almost ripe pear. In the mouth it is very pleasant, with good structure, great freshness and a nice sapidity that balances the residual sugar. I have to say that of all the sparkling wines I have tasted so far from Merotto this is by far the one I liked the most.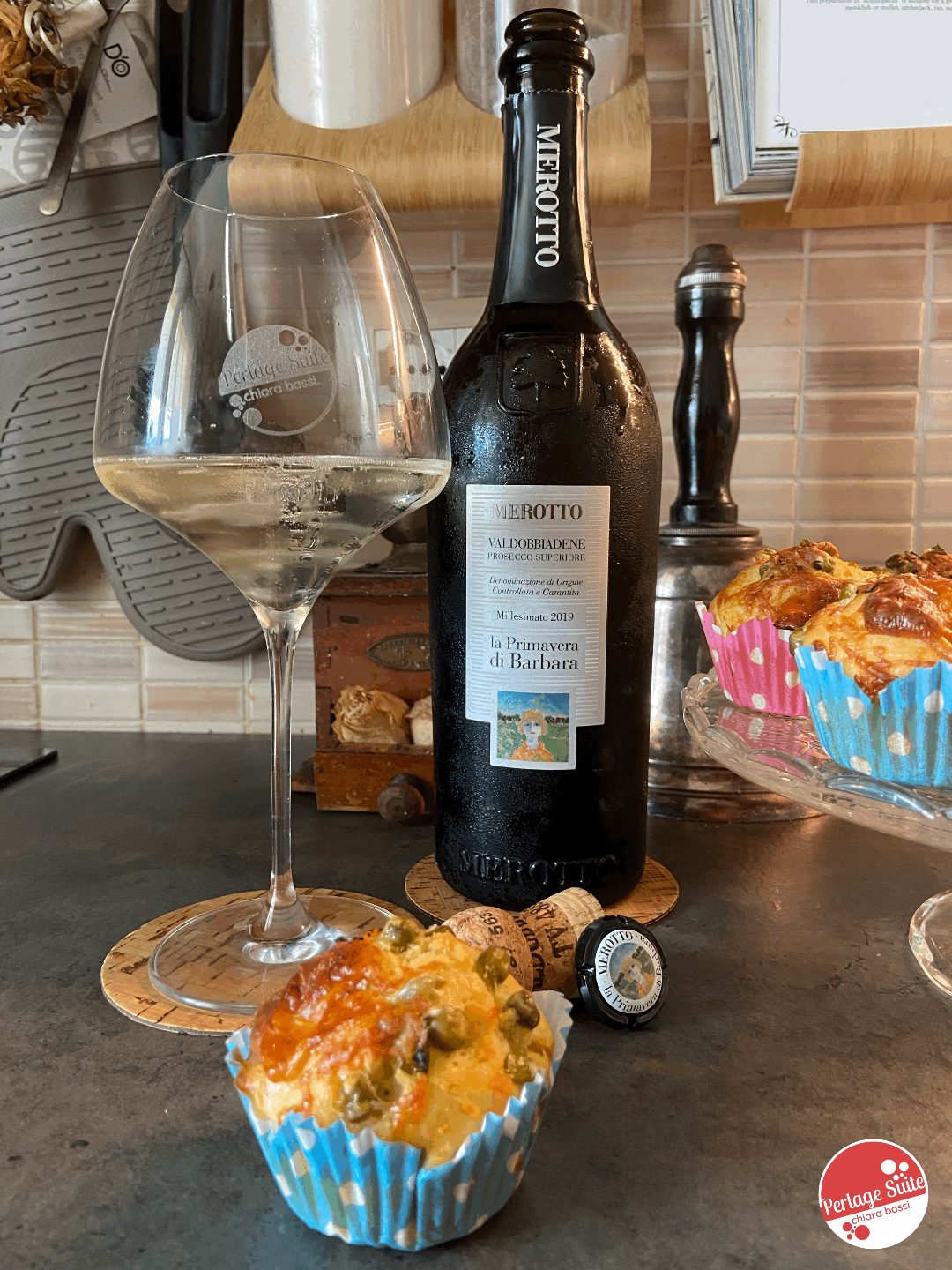 It goes very well with savory muffins for 2 reasons:
although the flavor of the pecorino is well balanced by the sweet tendency of the peas, it remains a rather tasty muffin. Dry means "dry" and despite what one might think, this type of sparkling wine has a sugar residue between 17 g / l and 32 g / l. In particular, Barbara Prosecco Dry 2019 Spring has 21 g / l of sugar. This residue is combined by contrast with the flavor of the pecorino, balancing the recipe to perfection.
the mint I used is a spontaneous wild mint that I grew in the garden and is very fragrant, but in general the mint is very aromatic. For this reason, choosing a Charmat method sparkling wine made from an aromatic grape like glera is absolutely perfect. Neither savory muffins nor wine prevail, every bite and every sip is truly harmonious.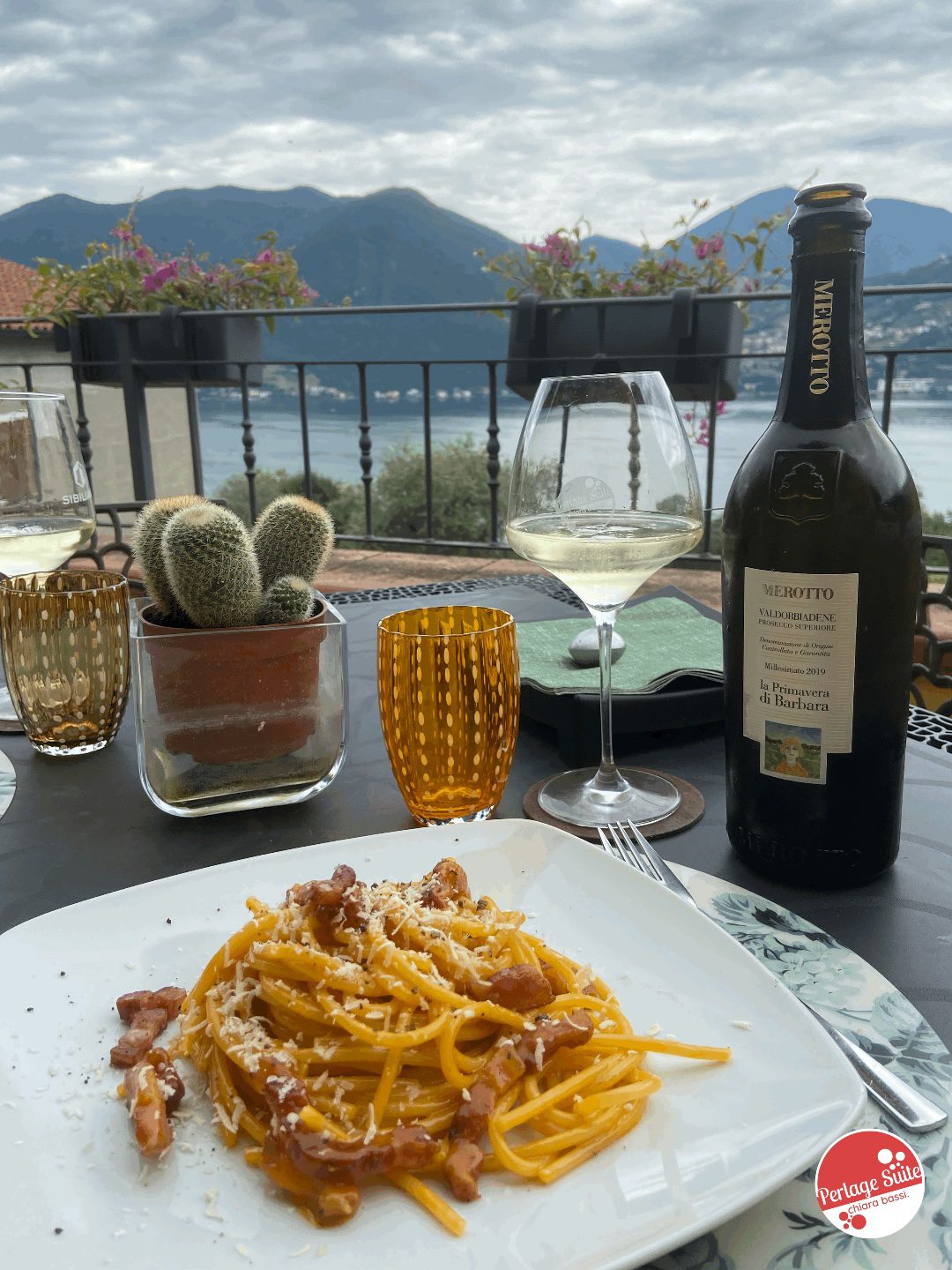 Obviously we drank this wine for lunch with my legendary spaghetti carbonara. Good pairing, the bubble for degreasing lends itself well. However in this case I prefer a pas dosé or an extra brut because the carbonara has a strong sweet tendency just balanced by the flavor of the bacon / bacon and a Dry for me has a sugar residue too high to be defined a perfect match. But in this specific case of La Primavera di Barbara Prosecco Dry 2019 by Merotto the smoky note of the wine is perfectly combined with the aromaticity of the pancetta and pecorino!
I sincerely hope you liked this recipe and this combination… as always, I invite you to scroll down the page and leave me a comment.
Cheers 🍷
Chiara
How to become a sommelier
All my notes on wine and food in one book.
COMPLIMENTARY, only for those who buy my book on this blog, a copy of the First Collector's Edition of my Sparkling Wine Guide "500 Bubbles in 500", cover price € 25,30. [While stocks last]