How to become a sommelier
Everything you need to know about wine in one book. The manual is designed for all aspiring sommeliers, but it is also very useful for "already sommeliers" who want to revise, for winelovers who want to start giving concrete foundations to their passion and for sector operators who want to earn more by learning both managing the cellar of their restaurant and selling the right bottle to their customers.
II Edition: 1 December 2019 - format 16,5 x 24 cm, 430 black and white pages, ISBN 978-88-943070-8-5 [ON SALE]
I Edition: 31 October 2018, format 16,5 x 24 cm, 300 black and white pages - ISBN 978-88-943070-1-6
If you arrived on this blog, and particularly on this page, it means that you are looking for an effective way to become a sommelier and your wine study needs a change. You have probably just started the first level of the sommelier course and, already after a few lessons, you are seized by anxiety and you are afraid of not making it to take the AIS exam. Or you are already at the second or third level of the sommelier course, but you don't have time to study despite the fact that the AIS exam is approaching because you work and you are increasingly worried. Or you study like a madman, but the things you need to know seem to never end: DOC, DOCG, wine in the world… but who remembers it?
Every day I receive emails from aspiring sommeliers and enthusiasts asking me for help in studying consistently. You are the one who pushed me to make this book, of which I am deeply proud. I created this wine manual to share my years of study and work and to help all aspiring sommeliers to realize their professional path. This is exactly the book I was looking for when I was studying to pass the exam. My book is based precisely on the 5 qualities that your ideal study tool must have to pass the exam and become a sommelier: it is COMFORTABLE, ESSENTIAL, SYNTHETIC, ORDERED and ORGANIZED to study successfully.
How is the book "How to become a sommelier" structured?
Preface

:

The first reason why you should read this book, by Rocco Tolfa - journalist, author and TV presenter
Preface: The second reason why you should read this book, by Marco Antonucci - journalist, architect and lecturer
Introduction:

"The figure of the Sommelier", by Hosam Eldin Abou Eleyoun - President of AIS Lombardia and "The value of the Sommelier in the restaurant", by Marco Sacco - Chef Patron Ristorante Piccolo Lago 2 Michelin stars

Chapter 1:

The Sommelier

,

all the secrets of an unlikely seducer [

THE CELLAR MANAGEMENT

, the customer is (almost) always right,

THE INSTRUMENTS OF THE SOMMELIER

,

THE WINE SERVICE

, the restaurant menu]

Chapter 2:

How wine is born

[the vine, the vineyard, the grapes, the must, the white vinification, the red vinification, the alcoholic fermentation, the malolactic fermentation, the maturation and aging, the cellar practices, the bottling, the composition of wine, alterations, defects and diseases of wine, sparkling wine, sweet wines, liqueur wines]

Chapter 3:

52Vitigni

Synonyms, characteristics of the plant, characteristics of the wine produced, cultivation areas in Italy and in the world, DOCG & DOC where the vine is admitted [Aglianico, Albana, Ansonica, Barbera, Bonarda, Cabernet Franc, Cabernet Sauvignon, Calabrese, Cannonau, Carignano , Carmenére, Chardonnay, Chasselas doré, Corvina, Croatina, Durello, Erbaluce, Falanghina, Gamay, Garganega, Glera, Grillo, Incontro Manzoni, Lacrima, Lambrusco di Sorbara, Malbec, Malvasia di Candia Aromatica, Marzemino, Merlot, Montepulciano, Moscato bianco , Nebbiolo, Petit Manseng, Picolit, Pinot Bianco, Pinot Grigio, Pinot Nero, Primitivo, Ribolla Gialla, Riesling Renano, Sagrantino, Sangiovese, Sauvignon, Schiava Gentile, Semillon, Syrah, Tempranillo, Timorasso, Aromatic Traminer, Trebbiano di Soave, Verdicchio , Vermentino].
Chapter 4:

Wine in Italy

This is a practical chapter that was created to remember the climate, soils, areas, wines and key vines, sub-areas, DOCs and DOCGs of each Italian region. I have also included 3 typical foods, in order not only to give you ideas of things to taste during your food and wine journeys, but also to make you practice composing interesting combinations by exploiting (and enhancing) the regional food and wine. [Piedmont, Valle D'Aosta, Lombardy, Trentino, South Tyrol, Veneto, Friuli-Venezia Giulia, Liguria, Emilia-Romagna, Tuscany, Umbria, Marche, Lazio, Abruzzo, Molise, Campania, Puglia, Basilicata, Calabria, Sicily, Sardinia]

Chapter 5:

Wine in France

This is a practical chapter that was created to remember the climate, soils, viticulture and enology, wines and key grape varieties, areas and sub-areas, the AOCs of each French region. I also included a ready-made pairing between a wine and a symbolic dish of the region in question. [Alsace, Bordeaux, Burgundy, Champagne, Corsica, Languedoc-Roussilion, Lorraine, Jura, Provence, Savoy, South-West, Loire Valley, Rhone Valley]

Chapter 6:

Wine in the world

This is a practical chapter that was created to remember the climate, soils, viticulture and enology, wines and key vines, areas and sub-areas, the denominations of the main wine producing countries. I have also included a ready-made pairing between a wine and a symbolic dish of the nation in question. [EUROPE - Spain, Portugal, Germany, Austria, Switzerland, Hungary, Romania, Bulgaria, Slovenia, Russia, Croatia, Greece; NORTH AMERICA - California, Oregon, Washington, New York, Texas, New Mexico, Canada; SOUTH AMERICA - Argentina, Chile, Uruguay, Brazil; OCEANIA - Australia, New Zealand; AFRICA - South African Republic; ASIA - Japan, China, Israel, Lebanon]

Chapter 7:

The tasting

How to taste? What glass to use? What assessments do you make?

[Visual examination, olfactory examination, taste-olfactory examination, evaluation of the evolutionary state, evaluation of harmony]

Chapter 8:

Food-wine pairing

[

THE TASTE OF FOOD

- the taste of the ingredients, the taste of cooking, the taste of conservation;

TASTING OF FOOD

,

THE EXAMINATION OF FOOD, THE TASTING OF WINE

- the role of softness, the role of hardness, the role of carbon dioxide, the role of the structure;

MATCHING TECHNIQUE

- traditional pairing, seasonal pairing, enhancement pairing, psychological pairing, pairing by concordance, pairing by contrast;

TYPES OF FOOD, COOKING AND COMBINATION

- eggs, sauces, oil, butter, vinegar, aromatic herbs and spices, tubers and roots, garlic, shallot, leek and onion, pasta, rice, pizza, famous compote salads, vegetables, legumes, mushrooms and truffles, meat, cured meats, barbed fish, crustaceans, molluscs, frogs and snails, cheeses, sweets and chocolate]

Chapter 9:

Not just wine

Beer [INGREDIENTS

- cereals, hops, water, yeast;

PRODUCTION

- malt, must, fermentation, eventual filtration, eventual pasteurization, packaging;

BEER STYLES

- low fermentation, spontaneous fermentation, high fermentation;

TASTING

- service, evaluation, perfumes and defects;

MATCHING

]

distillates

[THE

DISTILLATION PROCESS

- preparation of the must, fermentation of the must, distillation of the must, stabilization of the distillate;

COMPOSITION OF A DISTILLATE

;

SERVICE OF A DISTILLATE

- glass, temperature;

TASTING OF A DISTILLATE

- visual examination, olfactory examination, gustatory examination, persistence;

TYPES OF DISTILLATE

- armagnac, cognac, grappa, whiskey, vodka, rum, calvados, tequila]

Liqueurs & bitters
Chapter 10:

Glossario

Chapter 11:

Wine etiquette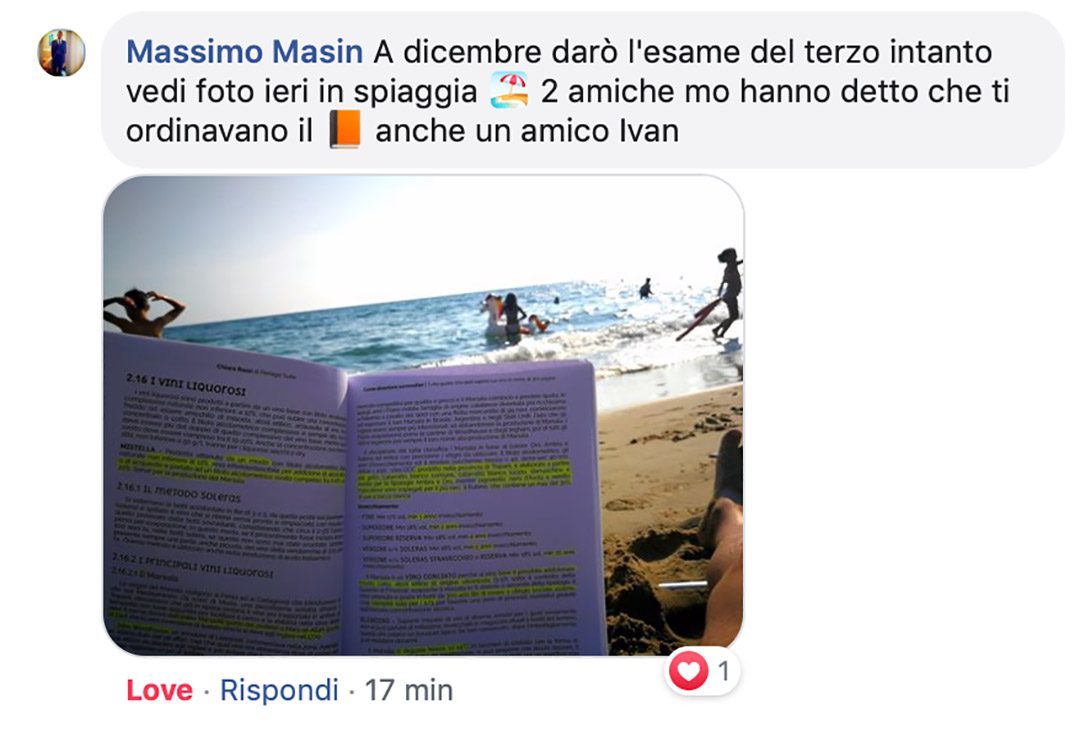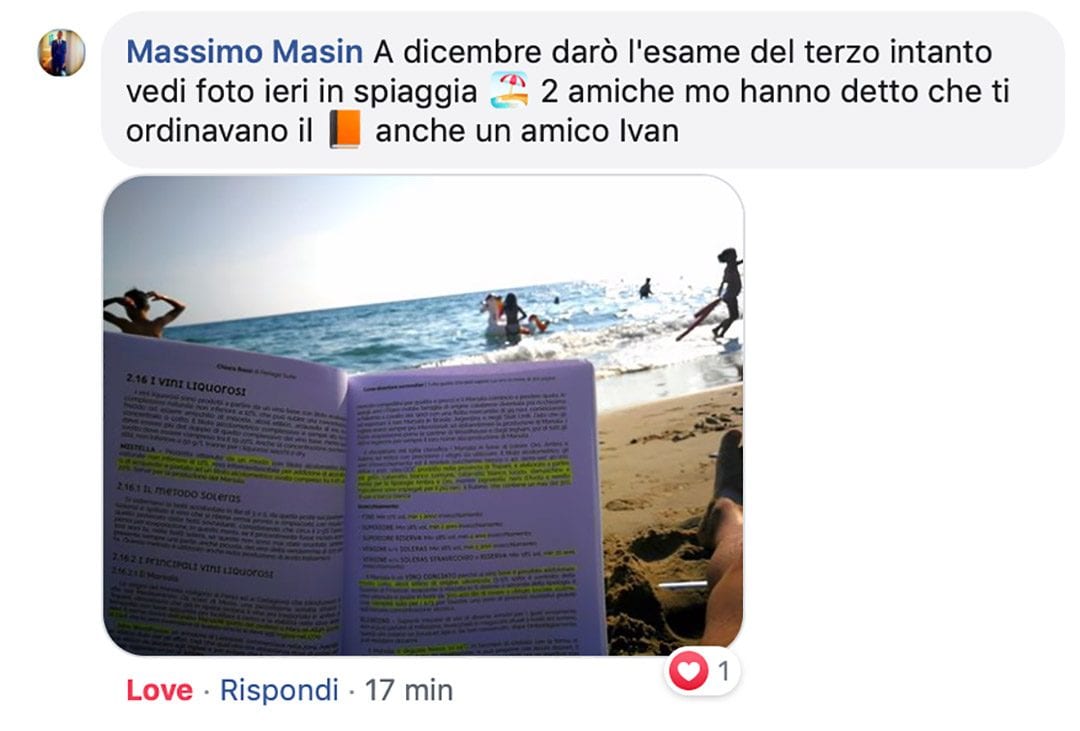 Only customers who have logged in and purchased this product can leave a review.
Good study… and let me know if you like the book in a review and how the exam went! ❤️