When I think of late autumn comfort food, I imagine the radicchio and bruciatini served lukewarm with piadina freshly made and a glass of good sangiovese, all strictly from Romagna. Tonight I just have to finish the bottle of "Piantata' Umbria IGT Sangiovese by Cantina Cenciwhich is still very good and deserves a match worthy of it! When I made my husband buy a thick slice of pancetta last night - and of course he came home with two, just in case we were starving - I realised that he had no idea what radicchio con i bruciatini was and so I realised that it is a typical side dish from Romagna. Yet it is so ingrained in my childhood and family history that I always thought everyone ate it!
Traditionally radicchio with bruciatini - in Romagnolo dialect radéch cun i brusadé – is prepared with wild radicchio harvested in the countryside and can be made with raw radicchio or quickly sautéed in a frying pan. I use both methods in my recipe because I really like the play of textures of the two different types of radicchio. In general it is delicious with any type of radicchio and if you don't have bacon you can use guanciale. It is always served with a hot piadina romagnola (for the piadina recipe click HERE).
My father who loved bitter flavours often ordered it when we went to restaurants on Sunday evenings. It must be that tonight Giuseppe Conte will sign the new DPCM that will regulate this Christmas 2020. Tonight the decree-law was approved that prohibits any movement between the territories of different regions between 21 December and 6 January and no movement between municipalities on 25 December, 26 December and 1 January. So this will be the first Christmas without my mum and the idea of her spending it at home alone tugs at my heartstrings. So tonight I really needed some comfort food that smelled like childhood.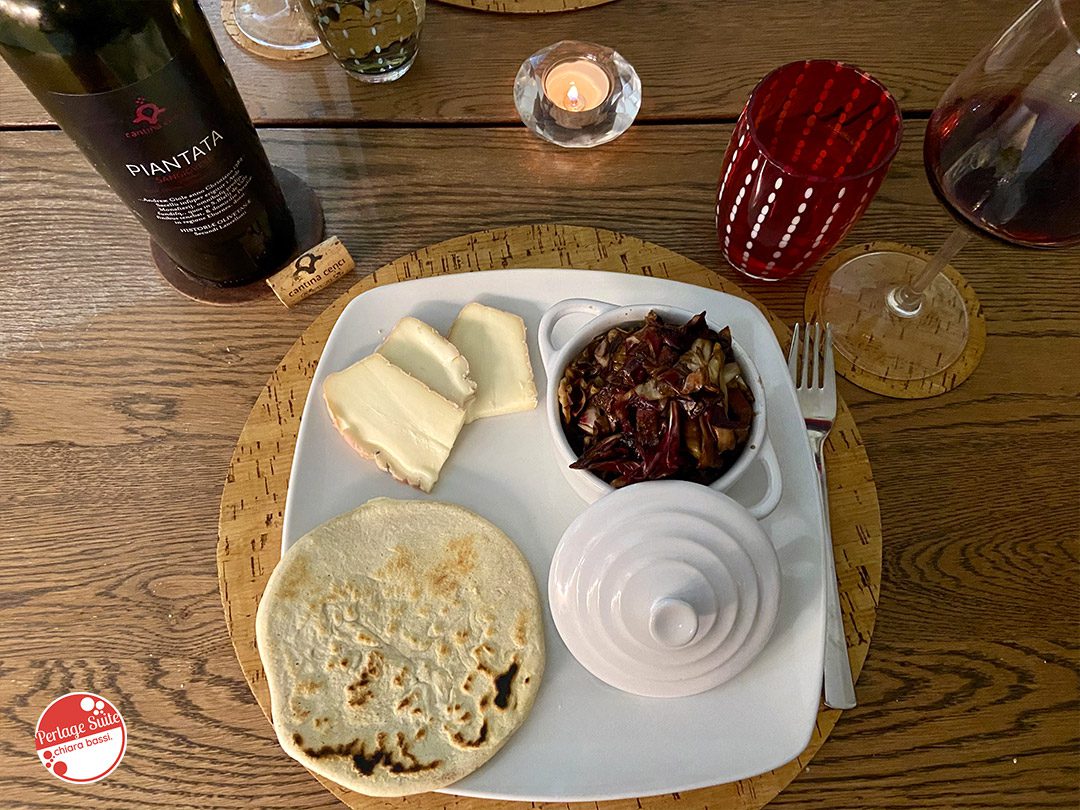 Radicchio and bruciatini: the perfect recipe
Ingredients (for 2 gluttons or 4 on a strict diet)
1 large ball of radicchio
1 handful of field radicchio
1 slice of bacon - preferably Mora Romagnola - very thickly cut
4 tablespoons balsamic vinegar of Modena
fine salt to taste
Procedure (super easy)
Remove the outer leaves from the radicchio ball and cut it into strips of about 1 cm.
Wash and dry with the salad tool to remove the large part of water.
Slice the bacon and brown it slowly in a non-stick pan until crispy, but not dry. The aim is to obtain the leanest fillets amidst the melted fat.
Add 4 tablespoons of balsamic vinegar, a pinch of salt, stir and bring to the boil until it evaporates.
Add the radicchio in strips, count to 10 while stirring and then turn off the heat. Let cool in the pan while still hot.
Shred the field radicchio with your hands, add it to the mixture in the pan, mix everything together and serve, preferably in an oven-warmed earthenware bowl.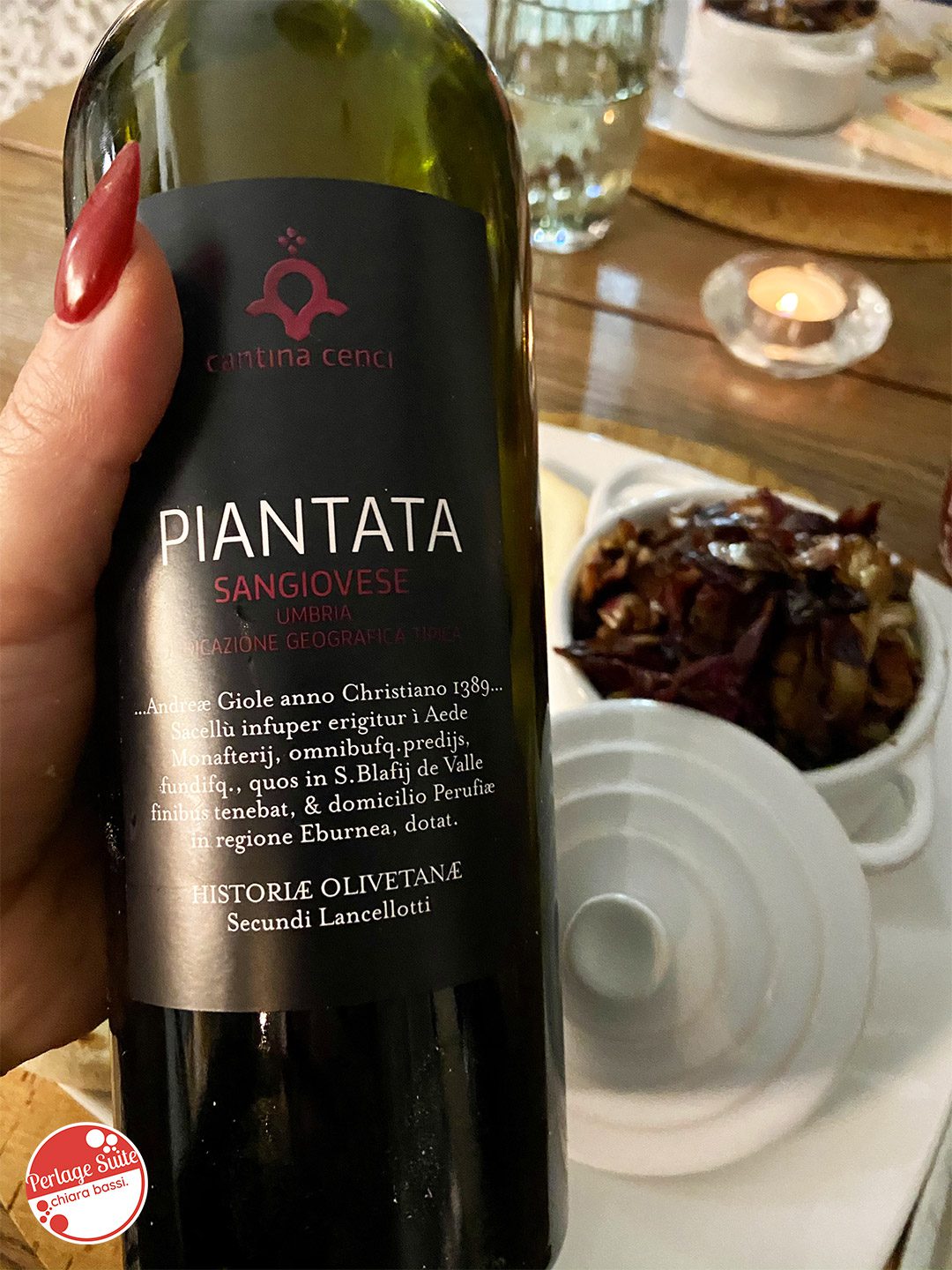 Radicchio and bruciatini: an Umbrian Sangiovese pairing
The tradition has been broken: the first Christmas I spend without Mum, the third without Dad. Nor will I be spending Christmas week at the Mataluna in Fusignano playing whatever boxed game ever existed with Marco while I guzzle hot Baileys coffee. Nor will I play Christmas Risk at Marco's house while eating some cake his mum Ughetta baked and drinking a Sangiovese from Trerè. And I was so happy to involve my husband in what for me was the best week of the year! Even happier that this year with us would be my cousin, recovered after years of darkness after he got rid of that human case of his ex and found himself a wonderful girlfriend, Ilenia.
If nothing is in place this year, instead of a Sangiovese di Romagna for once we can go with a Umbrian Sangiovese: Piantata by Cantine Cenci (you can buy it HERE). Wine that I got to know thanks to my colleague Federico Scarponiwhich I told you about yesterday in this article dedicated to Umbrian wines. Piantata is an exceptional Sangiovese, especially if you have the patience to open it the day before, take out a glass (you can drink this right away) and wait until the next day to drink the bottle. The first day is reminiscent of Chianti, the second day it is more in the direction of Montalcino... It is intense ruby red and transparent, consistent. The nose is very fruity (the first day you feel more spice) with notes of fresh and jammy cherries, sweetened cocoa, pink pepper, violets and dried hay. In the mouth it is very soft, with well-blended tannins and a good structure. Quite persistent and a very pleasant drink!
Man, writing this article moved me! 😳
Cheers 🍷
Chiara