Valentine's day has always been a cross and a delight for each of us, even if we have trained since we were kids to say that we don't care or that it's just the usual consumerist party. Of course, nothing more true ... exactly as it happens for "Women's Day" or "Grandparents' Day" or "Mother's Day" or "Father's Day" ... and many others. Valentine's Day, when you love and live a happy and fulfilling couple, should be all year round. I feel worse, for women, at the idea of ​​the much-needed preparation for the night of love: beautician, waxing, make-up, wig ... no but I say, how do you usually introduce yourself to your man? - Assuming that you introduce yourselves, of course! - Do you have fur and carelessness competitions? 🤔 Oh well it is also true that there are men over thirty with whom you have to fight to get them combed, or at least washed ... but I am deeply convinced that we sommeliers and winelovers are a population of people at least clean and cared for above average! Or what caper do we put our nose into the glass? 😅 Having said that, celebrating Valentine's Day when you are in a couple is always a pleasure ... also because after all it is an excellent excuse to indulge in all kinds of romance and, better still, to uncork a large bottle. Hoping to have a partner who can appreciate it of course! 😍 And then I bet: my dear winelovers (man or woman is indifferent), even if you say that you don't give a damn about Valentine's Day, I think a romantic surprise makes you very, very happy… and you will gloat for the whole following week! Or maybe the month! So how about setting a good example and choosing one of these 3 Valentine's Day ideas for her or him? 🤩
Valentine's Day 2019 / idea 1: Intimate and luxurious dinner at home with oysters, muscadet and crudité by I Love Ostrica
We can also go to Igles Corelli at dinner (by the way, have you already read my article on the second stage of Stelle & Calici?), but for me, cooking together in the privacy of your own home is absolutely unbeatable. A good jazz background, top quality ingredients, soft lighting, a candle and, of course, a special wine. But at least for Valentine's Day how about not to cook anything and let yourself be pampered by I Love Oyster? After cooking, there are always pots to wash too… do you want to add the convenience of having only 2 plates, 2 glasses and 2 pairs of cutlery? After dinner it is better to use it to do something else ... (this always, not only on Valentine's Day! 😁). All the fish sold by I Love Ostrica is absolutely safe: it is killed for at least 12 hours at a temperature of -60 ° C in order to kill all harmful microorganisms and keep the organoleptic qualities intact.
Oyster Passion is the name of this wonderful Plateau dedicated to lovers of fresh raw fish ready to be consumed! follow this link to receive 14 February comfortably at your home on Thursday: 12 Fine de Clair oysters 2 red prawns from Mazara 2 scampi, 120 g of amberjack tartare, 120 g of tuna tartare it's a bottle of Cuvée de l'Academie! Then I suggest you also add 2 Argentine prawn tails (€ 1.80 / each) and some salmon slice like I did! I seasoned the amberjack tartare with a tablespoon of extra virgin olive oil with chili pepper, a pinch of wholemeal salt and dill, while in the tuna tartare I put only a tablespoon of extra virgin olive oil from Taggiasca olives and limonino thyme. Both very good, but the fragrance of the amberjack tartare excited me!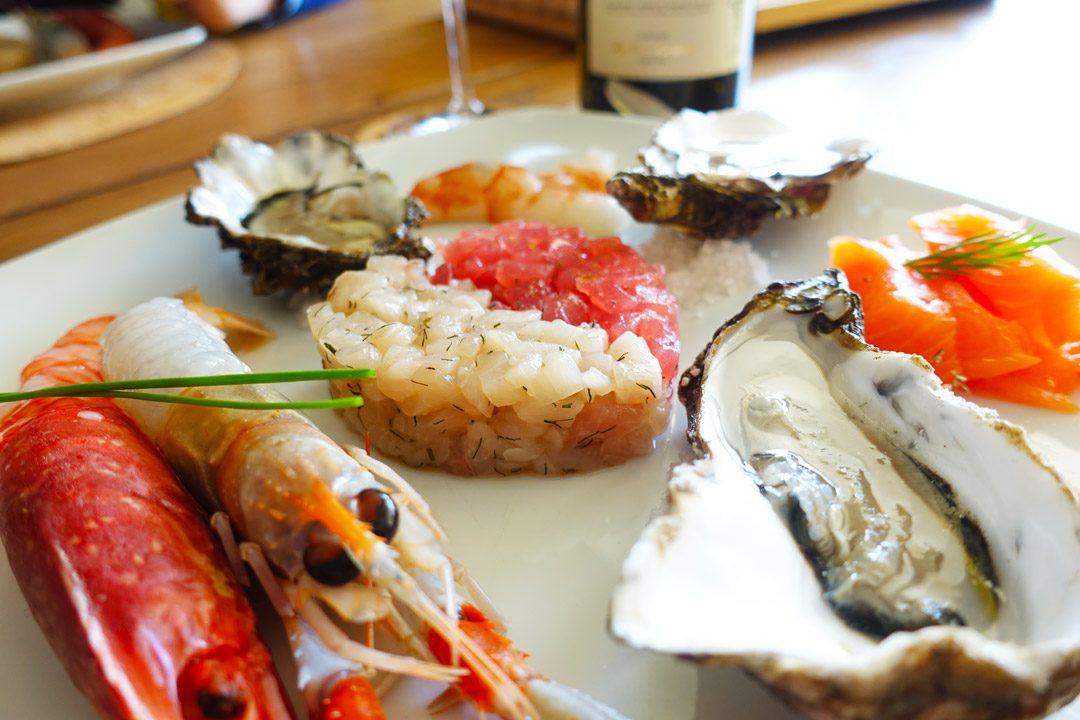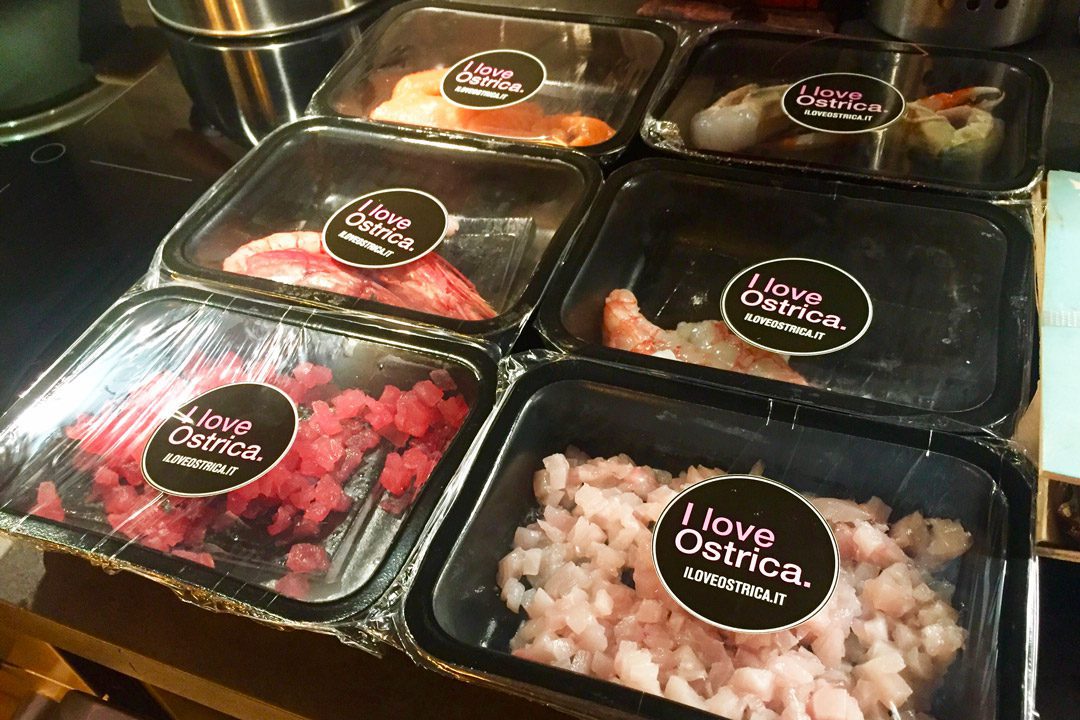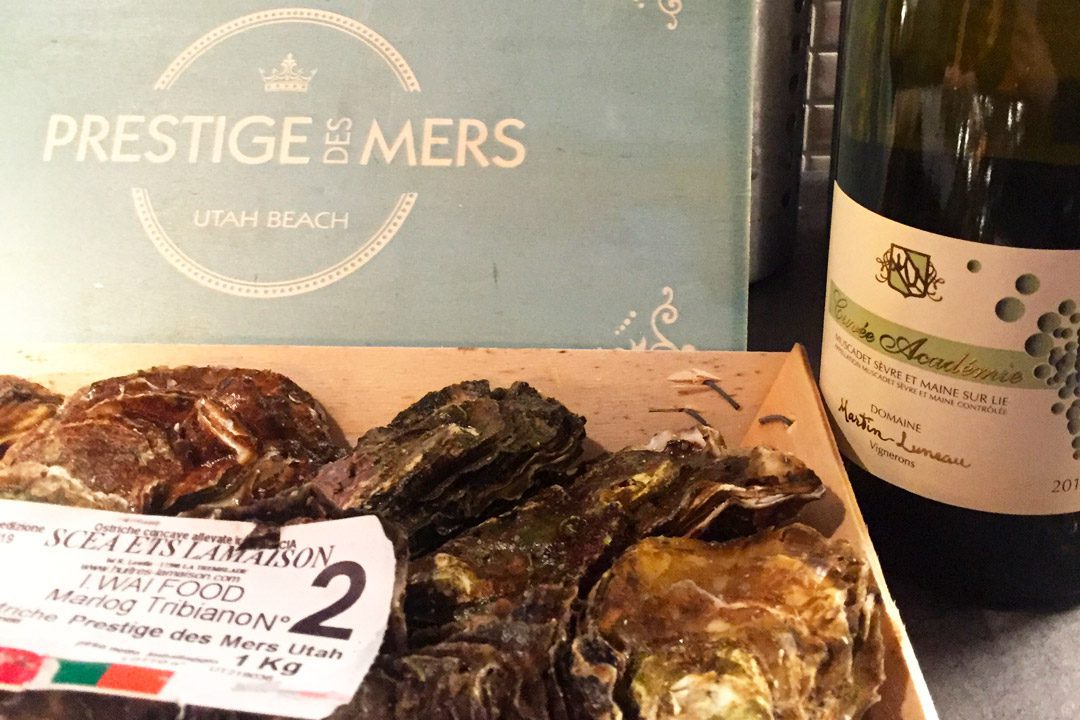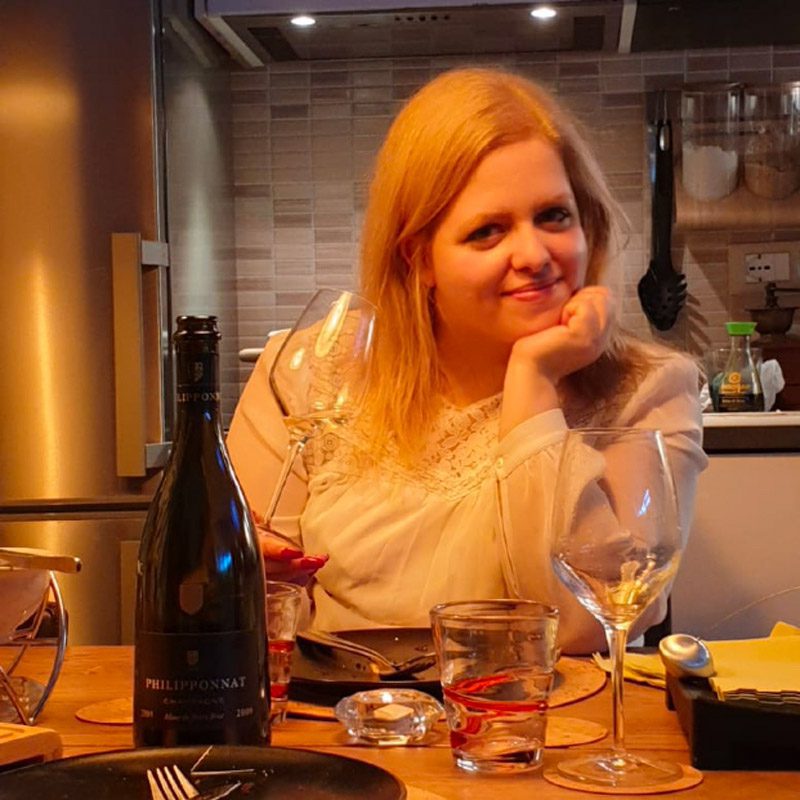 If like me you are lucky enough to have a boyfriend who rattles off a bottle of Champagne Philipponat Blanc de noirs 2009... well the Muscadet Cuvée de l'Academie 2017 you can easily drink it at another time! Let's be clear, it's not bad at all… it's delicate and with a good minerality. But Champagne, gentlemen, is Champagne… and I count this among the 3 best I've drunk to date (but probably in 12 days I'll change my mind… and I still can't tell you why!). However my face is very satisfied, don't you think?
Harvest 2009. Tirage May 2010. Disgorgement March 2016. Intense gold color with a creamy and velvety perlage. On the nose, splendid and elegant hints of exotic fruit, white pepper, fresh chocolate, pipe tobacco and raspberry jam. In the mouth it has a great structure supported by a good acidity, a delicate softness and an excellent length. Despite this it's not cloying or heavy: we ran out of the bottle without even realizing it! (And I believe that if there was another, at least one other glass each would leave peacefully. Find it on the Millésima online shop HERE!
Valentine's Day 2019 / idea 2: Romantic weekend in Tuscany between Montepulciano and Montalcino
During the week of Valentine's Day in the wonderful Tuscany two unmissable events are celebrated for winelovers: thepreview of the noble wine of Montepulciano e Welcome Brunello! I know that Valentine's Day falls on Thursday this year, but how about leaving with your sweetheart already in the morning to visit some wineries in Montepulciano and then move to Montalcino between Friday and Saturday? Furthermore, Montepulciano and Montalcino are two splendid towns in the province of Siena, where you can enjoy delicious food and wine, nature, postcard landscapes, art, spas… how can you not let yourself be tempted? In fact, I have already had lunch and a romantic dinner on Saturday just past thanks to I Love Ostrica I am ready to leave for Tuscany, host of the Carpineto company, for an armored vertical of Nobile di Montepulciano Riserva from 1989 to today! I can't wait to tell you everything I drank ... remember to follow my hashtags on instagram: #chiarajust drink e #perlagesuite! 😅
For me, a surprise week is one of the best gifts you can receive! Just tell your other half that we're off and tell them to make a trolley with the essentials. Choose a destination that he may like, of course that includes at least one extraordinary wine tasting, a visit to a historic cellar, possibly with an interesting museum attached, a gourmet dinner and a room with a jacuzzi. Ask the hotel or B&B to prepare your room with rose petals and candles, bring your best bottle from home to drink during the bath… and live a magical night! ❤ We bet your winelovers will appreciate it? 😍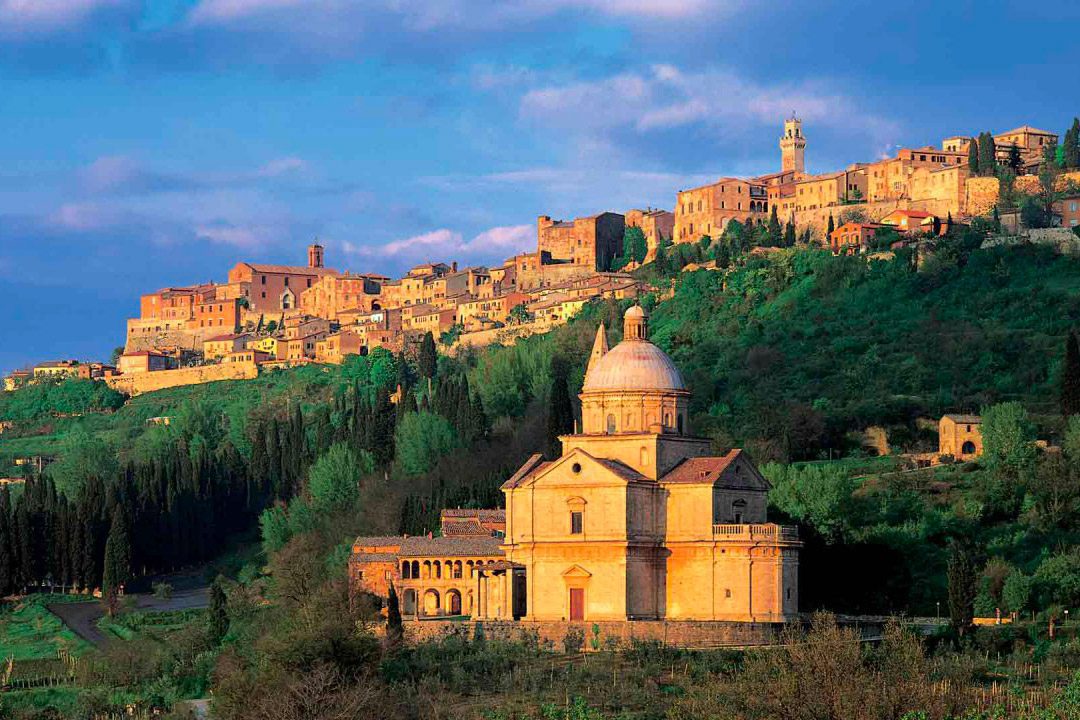 Valentine's Day 2019 / idea 3: the bottle with dedication
Bottles have always been custodians of messages that sail the seas resisting the elements, rarely reaching their destination, but still giving great emotions to those who receive them. For me there is no better occasion than uncorking a large bottle for those you love, as long as you write a thought of love on it.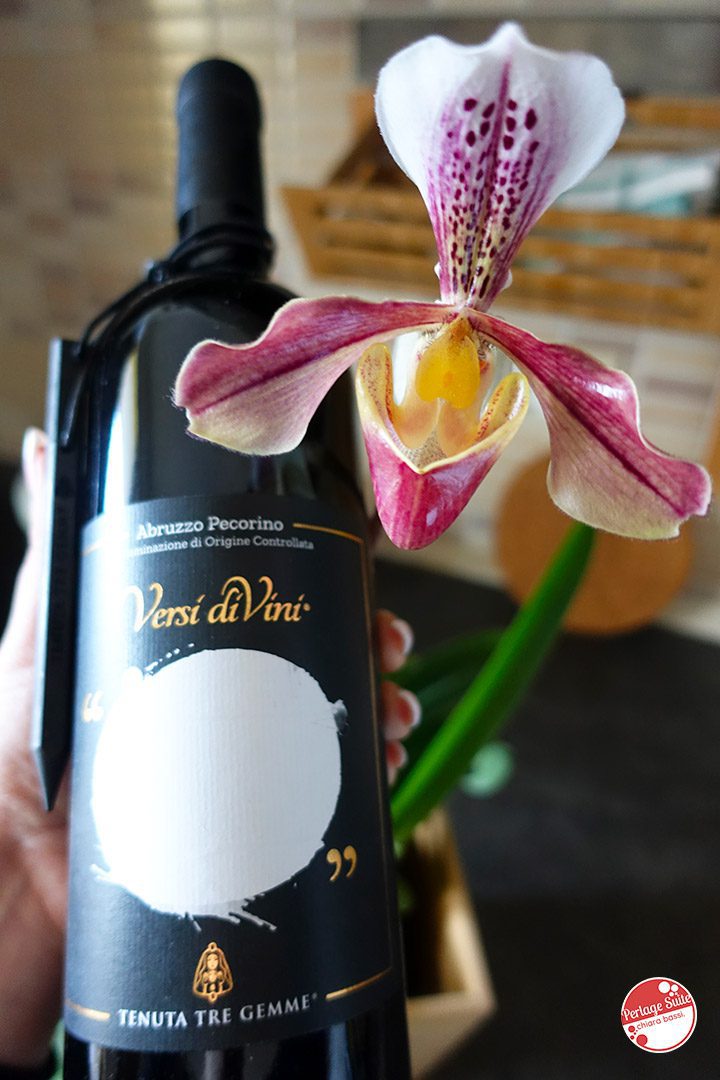 Valentine's Day 2019: What are the most beautiful love phrases to write on the bottle?
"The soft sound of a cork being uncorked from the bottle has the sound of a man opening his heart".

William S. Benwell
"Wine adds a smile to friendship and a spark to love".

Edmondo de Amicis
"I love you not for who you are but for who I am when I am with you".

Gabriel Garcia Marquez
"To love is not looking at each other, but looking together in the same direction. Antoine de Saint-Exupery
"May love be everything, that's all we know about love".

Emily Dickinsonù
"Because if meeting remains a magic, it means not losing the real story". Massimo Gremellini
"The great Love is like the wine of an excellent vintage: the more the years pass, the more exciting and precious it becomes".

Chiara Bassi [I had to wear one too 🤤]
Then choose the bottle that your him or her most likes (don't forget to add a red company reserve in your wishlist Carpineto of which I will be a guest ... my side as you know I love bubbles and I assure you that their spumante Farnito is one of the best Martinotti Methods I have tasted in the last year! Check them out online shop by clicking HERE!) and add a dedication on the label or on a card to tie with a ribbon around the neck of the bottle, with the aim of keeping the bottle (empty) for years to come. In short, write your message ON THE bottle, a dedication that will steal the heart of the person you love forever. Also I suggest you discover the Dedication Line of Tenuta Tre Gemme (online shop by clicking HERE), where you can write your message directly on the label thanks to the matching Perpetua pencil! [Photo above]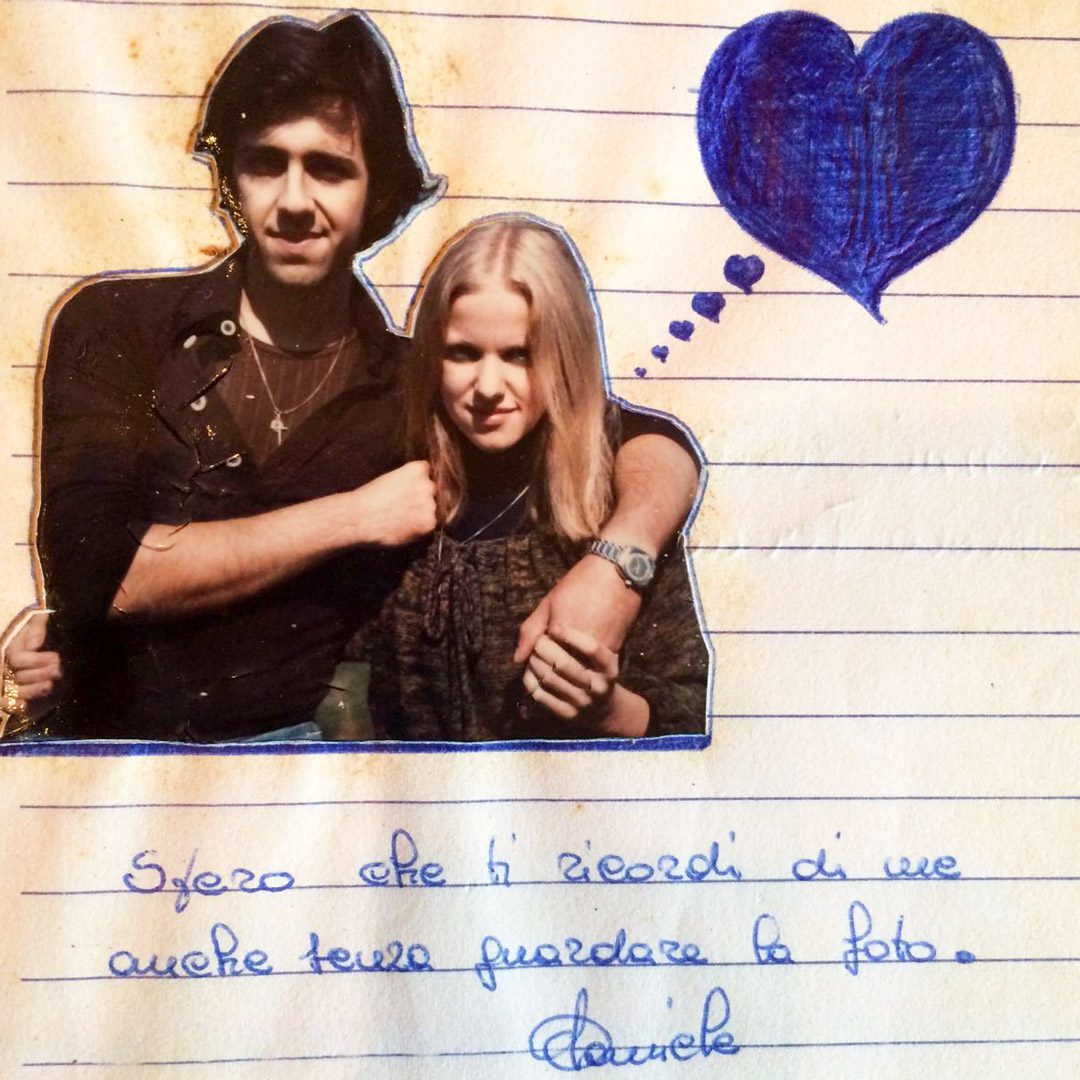 We are in a modern age where writing love letters is no longer fashionable, I know it well ... but what is more beautiful than receiving a word of love, reading it and re-reading it in happy moments as in sad ones ? I remember the love cards that my dad made to my mom, with vintage photos, flowers and hearts even after 10, 20, 30 years of marriage. All kept with extreme care by my mother, certainly not a dreamer and romantic like my father, but still in love with this side of hers. Isn't all this wonderful?
My dad taught me to dream of great love and to cultivate it like a precious flower, exactly as he and mom did until the disease took it away from us. Every day since that damned December 18 I remember that we are only passing through, and we cannot postpone what we can build today until tomorrow.
A person to love, with whom to live a story like that of my parents, is the greatest luck that can happen to us in life. In this world where everything is precarious and even emotions are passing through, where we have lost the value of everything due to the fast consumption of anything, including feelings, we must rediscover the true meaning of life. A sense that is not made up of objects to possess, but of emotions to be shared. A sense that must somehow guarantee that at least the affections are solid and not precarious. Because the world changes and we change with the world. The presidents, the jobs, the ideas, the seasons, the skin, the hair change… but those who really love us stay, always and in any case, to look at us as the most beautiful thing in the world.
For this I wish you much, very much love accompanied by as many toasts.
With your sweetheart,
with your closest friends,
with your family.
Cheers ❤🍷
Chiara
Have you already bought my book dedicated to aspiring sommeliers?
Everything you need to know about wine in less than 300 pages. The manual is designed for all aspiring sommeliers, but it is also very useful for "already sommeliers" who want to revise or for winelovers who want to start giving concrete foundations to their passion.
I created this wine manual to share my years of study and work and to help all aspiring sommeliers to realize their professional path and become a sommelier. This is exactly the book I was looking for when I was studying to become a Sommelier. I was looking for a comfortable book to always carry with me because I took advantage of every free moment to study, since I was working in the meantime. I was looking for an essential book, without frills, capable of getting to the point of the arguments since I didn't have all this time to read endless flights of fancy. I was looking for a concise and schematic book to help me memorize. I was looking for a tidy, well-organized and clear book that would make my study easy and intuitive. I was not looking for a substitute for the beautiful textbooks, which were still a pleasure to leaf through, but a "notebook" on which to highlight, underline and write ... because to fix the topics in our heads exactly this is needed.