After one of those perfect days, where work, friendship, love and family merge into a whole with blurred boundaries like a Seurat painting, Anna, Carla, her daughter Chiara and I were walking down an anonymous street in Milan waiting to get to the fish restaurant where we were going to have dinner, Osteria La Cala (typical Sardinian, I loved it!). Chiara interrupted a silence full of expectation for the wonderful results. That afternoon for the first time I caressed the bottles with the labels I had redesigned. And I tasted great wines from Abruzzo. "Do you know that right around here there is a secret bar whose address nobody knows? It's called 1930 Milan and it was the first speakeasy in Italy!" There's the itch. The itch. The best cocktails in Milan. Vintage. Atmosphere. Music. OK, you've convinced me, except for the smoking room, as I've quit for almost 8 years now.
"From the province to the centre, not only the buildings and streets change. The air changes. The attitude changes and the attitude changes. The Count knows this, every day."
Milan is like that, difficult. It wants to be big, and often even succeeds. A business city, where the beating heart is always him, business. In Milan there are 2,400 bars, or perhaps more. The1930 Milan but does not make blatant publicity to stay afloat. The 1930 Milan However, it does not wage wars on price, indeed a cocktail costs on average as much as a drink of water and ice with a splash of low-quality alcohol in Milano Marittima or Forte dei Marmi. The 1930 Milan  just wins because it is an economic luxury, but for the few. That is the key to its success.
"That it is a challenge for strong hearts, a jigger and spoon battle, battle plans in the form of recipes. One after the other, as if they were moves in an endless chess game played with all the other mixologists in town. And then the TV shows, the blogs, the newspapers, the heartbeat of not being up to scratch, the endless pressure that a job like his can give."
Just a few days ago I published an article on Wine Marketing that I recommend you read: "The 6 Rules of Wine Marketing: how to communicate wine with the Coca Cola Effect'. The 1930 Milan does exactly that: every customer who walks through the door feels like the special co-star of a special evening in a special place. Pure emotion.
"Then a cold shower, a coffee, a cigar between my teeth, my shirt and waistcoat, my hair combed to one side, perfume and car keys. Milan is a challenge. Even today."
I make a reservation, walk up and down the street, looking for a golden lucky cat typical of every Chinese restaurant in Italy. I am late, but punctuality is to me as much as added carbon dioxide is to a good sparkling wine. Although often, as in this case, it is not up to me. I walk up and down the street, immediately I don't find him, because the street is cut in half by the main one and I didn't think about it at first, so I walk the wrong half several times wondering if I am really in the right place. Then there he is, the cat. He smiles mockingly. I walk through the door. Spices, perfumes, candles in glass jars. Fruit boxes apparently in disarray. Ethnic staff. It really looks like a Chinese takeaway... or maybe Indian. I wait. Benjiamin comes out, we go in. It's 1930 now, really. Nothing is left to chance here, but everything is taken care of in every little detail. We are there, and as we sit down, we really feel a bit special.
"it is always exciting the gap between the present and the time travel he experiences when he crosses the threshold of 1930. As if his mobile phone goes off, as if 4G networks and radio links no longer exist, as if he enters a dream each time."
I was looking for a special place and thanks to Chiara I found something more: a place that makes us feel special.
And each edition brought with it new flavours, images, parties, memories. A saga of friends sharing a journey, sunsets, perspectives and unforgettable recipes. And then meetings and goodbyes, gifts, secret cards, stolen kisses on the night of 1930."
Inspired by the years of American Prohibition, 1930 Milano is the first secret bar to open in Italy, inspired by the speakeasies, the hidden illegal bars that sold alcoholic beverages during Prohibition.
[tweetshare tweet="Speak easy, boys! Said Kate Hester in the first American #SecretBar. #1930Milano" username="HavanaVanille"]
"Like Lighthouse of Scotland and like Martesana." "Martesana? You know I've never tasted that?" "30 ml Single Malt Scotch Whisky + 30 ml gorgonzola distillate + 2.5 ml sweet and sour peanut syrup + 1.25 ml salt sugar syrup + 5 ml pear glucose + 1 drop walnut bitter." Benji recites the recipe from memory, as if it were an open book.
And these are precisely the two cocktails we drank. To my amazement Ben brought me exactly what I wanted to taste, without my having asked him. The Martesana had been a hit as soon as I had read the ingredients. But it is Faro of Scotland's 'companion for life'.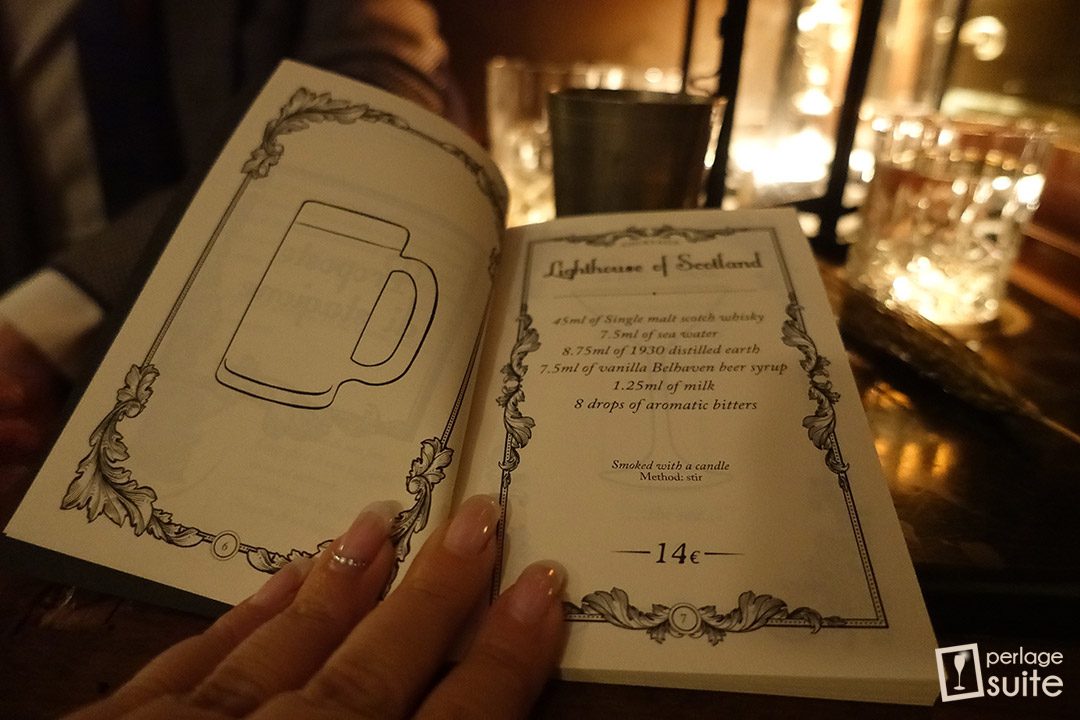 Served inside a black lantern, lit by the dim light of a candle... this Lighthouse of Scotland is something unforgettable. Maybe it's the earthy distillate, the vanilla syrup of Edinburgh beer, the seawater... that Scotch whisky... the heady, peaty scent... I imagined myself sipping this cocktail on the edge of the forest, from a cliff overlooking the stormy sea, under a grey, cold sky, but wrapped in a warm blanket. I travelled with my mind, lulled by beautifully played music.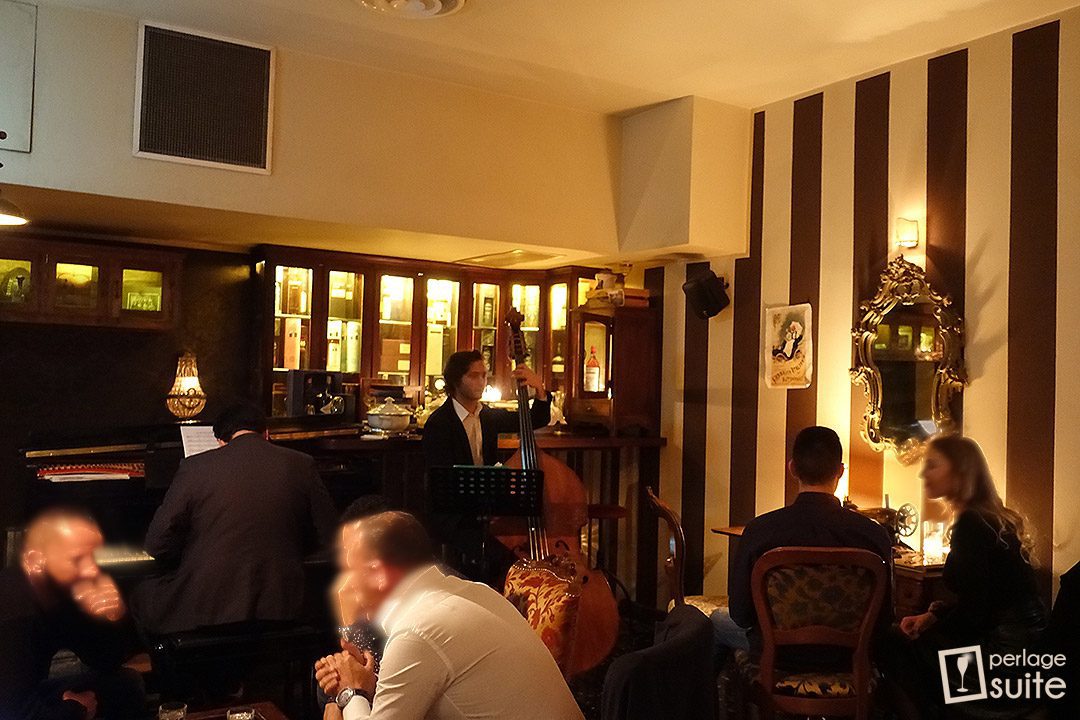 1930 Milan is not for everyone. In fact, it is for very few. Getting in is not easy: just start by putting a like on the Facebook page 1930 Milan Cocktail Bar and then try to ingratiate yourself with the owners... if you're lucky you'll be able to drink cocktails that will take you to the ends of the earth from the comfort of your seat.
Ah, if you're lucky and you manage to go, I strongly advise you to choose the right people and leave the Happy Hour petrolheads at home... you know the ones who 'as long as there's lots of alcohol and little ice' (then for the record in my cocktail there was no ice...)?
Remember: 1930 more than a bar, it is a way of life. Time passes without you even noticing... the next morning I had a press event at Gavi for the #ThinkSerravalle event (which I will tell you about tomorrow) and I had to get up at 5:30... otherwise I would surely have closed... while also sipping on 'The Sea'.
And have you ever been to a speakeasy? Do you have any other secret bars to recommend? Of course I'm not asking you to tell me the address... 😉
Cheers <3
Chiara
P.S. Quotes from 'Goodbye', The Cocktail Book Novel by Micheal Love. Number 10. 'A cocktail can also taste like a goodbye, before leaving on a long journey'. A beautiful sentence, impossible not to read, nay, buy.
P.P.S. As always for the photos I thank Photo Universe for the wonderful Sony RX100 M4 which I love... and which I am slowly learning to use with great personal satisfaction <3