Today I want to talk to you about a pearl of Val Gardena: the restaurant Granbaita Gourmet a Selva di Val Gardena! Thanks to the chef's talent Andrea Moccia I was able to live, together with my husband and the other guests, a truly special experience. Gourmet dinners like this they are capable of stealing smiles, making problems forget and creating complicity between those who share them… but it is clear that a kitchen, however large, is not enough if the dining room is not up to par. Therefore, before revealing the delights I tasted, I want to say thanks also to Maitre d ' Marco and all the dining room staff for pampering us with sincerity and skill.
I frequent restaurants of all kinds, from sushi all can you eat to the best starred chefs in the Michelin guide and I must say that dinner on Saturday night atHotel Granbaita Dolomites in Selva Val Gardena it was one of the best ever. And since there are chefs who want the michelin star and chefs who lie, I wish Andrea Moccia to achieve this goal. In this regard, I point out this article dedicated to another restaurant that I love, with some of my personal reflections on the attribution of the Michelin Guide stars ...
Gourmet dinners in Selva di Val Gardena: the Dolomites Menu
In this article I have decided to let you live the experience of the 6-course Dolomites fish menu. For the wine pairing I let the Maitre d ' Marco and chef Andrea Moccia, but the menu is rightly broad and with excellent references, both local and international. My husband chose the 8-course surprise menu, so I also tasted other dishes than the ones I chose to bring back to you. Among these the most interesting was certainly Primordial, or the Acquerello rice with fermented hazelnuts, chanterelles, blue cheese, ricotta and dry yeast.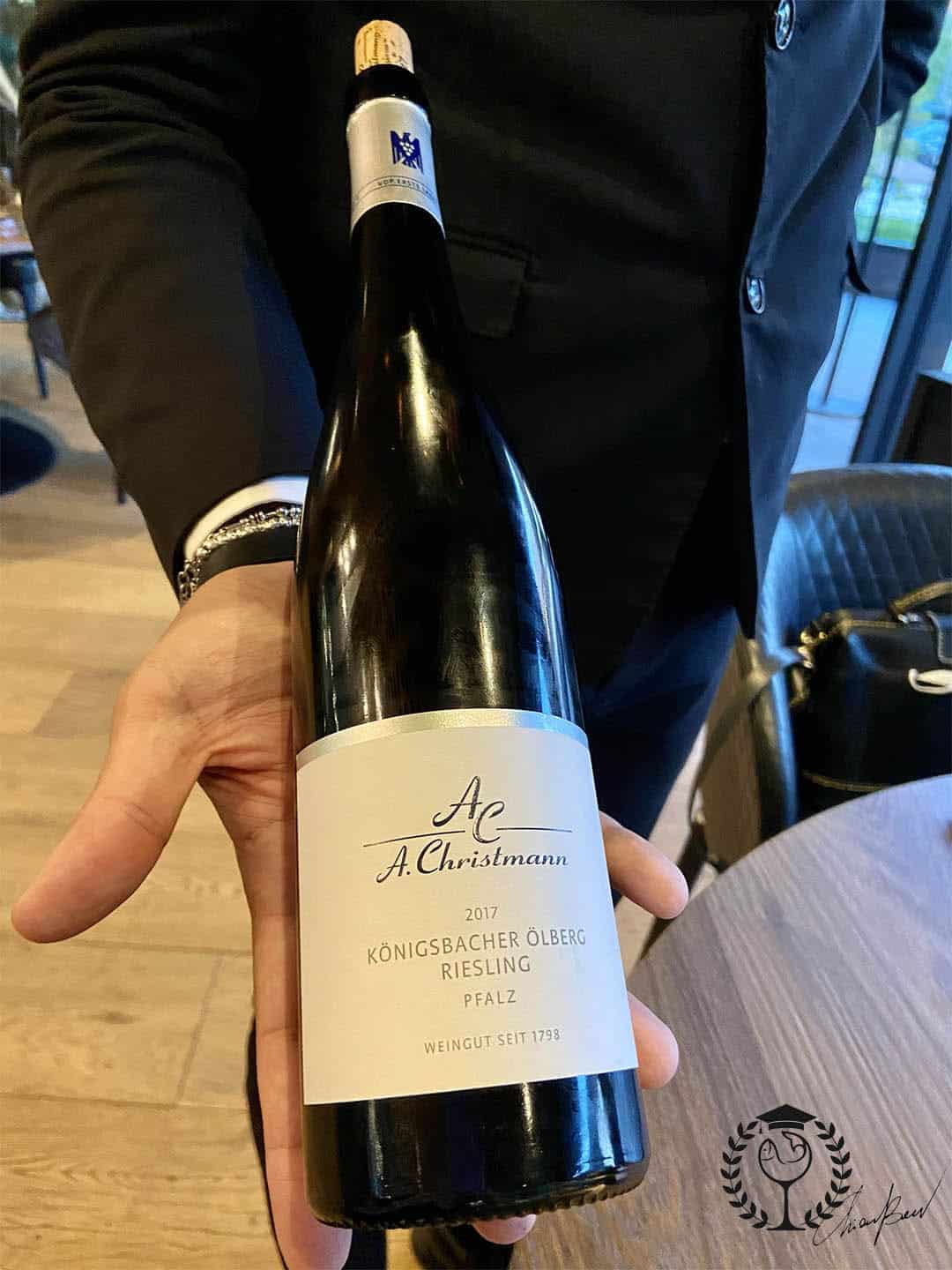 K

ö

nigsbacher

Ö

lberg Riesling Pfalz 2017, A. Christmann
If I think of a Riesling capable of thrilling me this is definitely at the top of the list! Exceptional, divine, superb! When I saw it coming I felt like a child on the playground: happy! It has a bright and consistent straw yellow color. The nose is an intense triumph of hydrocarbons and mineral notes that fade into a hint of bergamot just hinted at. In the mouth it is coherent, structured and with a large acid shoulder that heralds a great potential for aging in the bottle.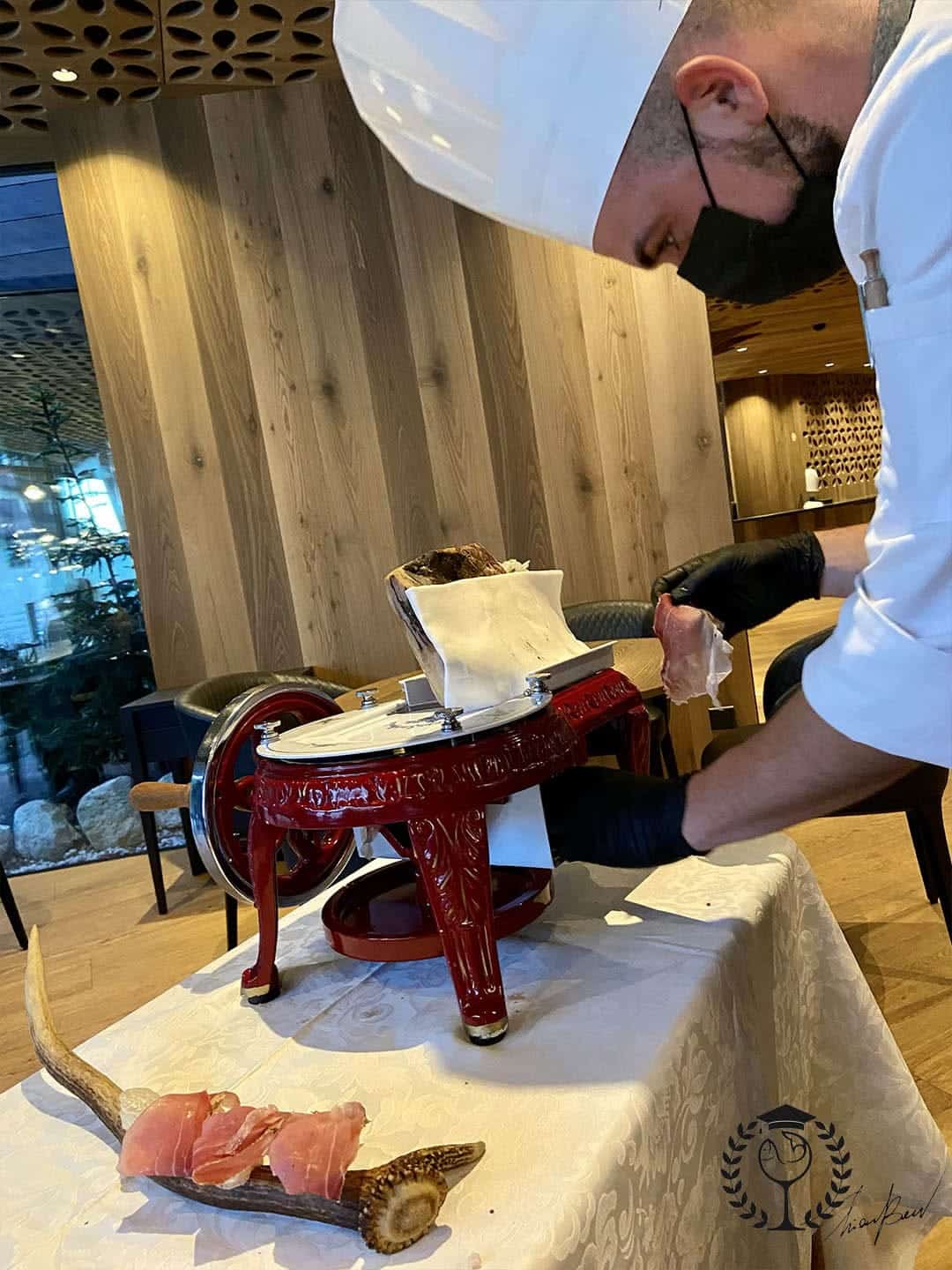 In South Tyrol, a welcome based on speck is more than appreciated… especially if served on deer antlers that make a lot of mountain huts. I appreciated the gesture of cutting it at the moment with a manual slicer: the best way to not oxidize a great product. It is also always very spectacular in the dining room… especially if you show up with such a beautiful red lacquered slicer!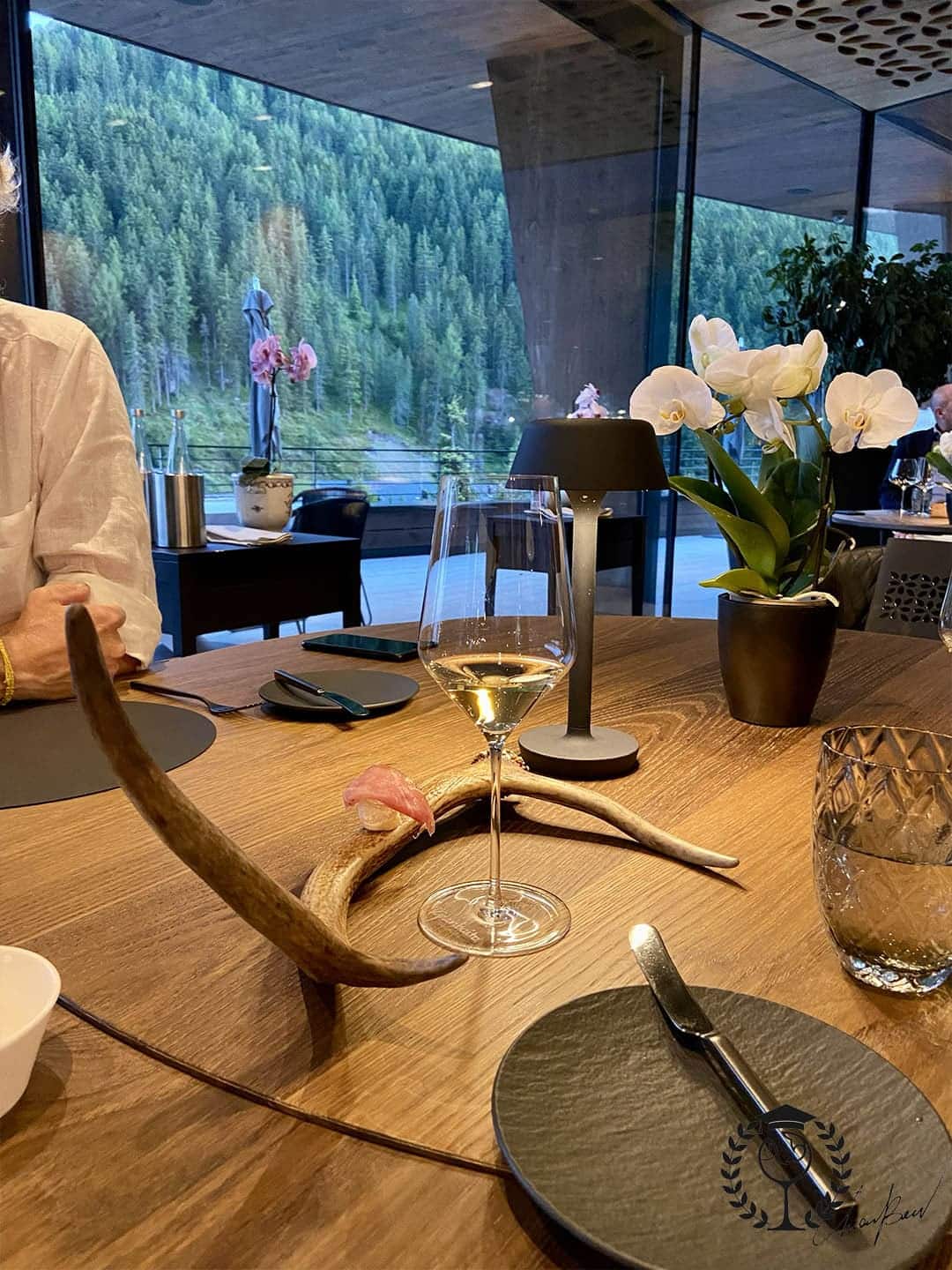 Another thing that I particularly appreciated is the absence of the tablecloth: a great architect / designer avoids covering a magnificent table with fabric, whatever its value. A leather or cork placemat is the best choice from an aesthetic (as well as hygienic) point of view. Superb cutlery. As an orchid collector I also particularly appreciated the elegant white Phalaenopsis on the table, I only recommend not to leave the water in the saucer or they are destined to last less than a cat on the ring road ...
The large windows that allow you to admire a panorama made of mountains and fir trees are the perfect setting for a special moment. I also love snow-covered fir trees in winter… it must be even more beautiful!
The "basket" of bread was wonderful, then enhanced to perfection by a masterfully executed hazelnut butter. In this case, perhaps the butter was brought to such a low temperature that it gave it a slightly hazelnut color and did not trigger the Maillard Reaction, or the hazelnut butter was creamed with raw butter to obtain a more delicate taste ... in each case the presentation spatula on the anthracite stone is exquisite and beautiful. I spread it with great pleasure on the bread.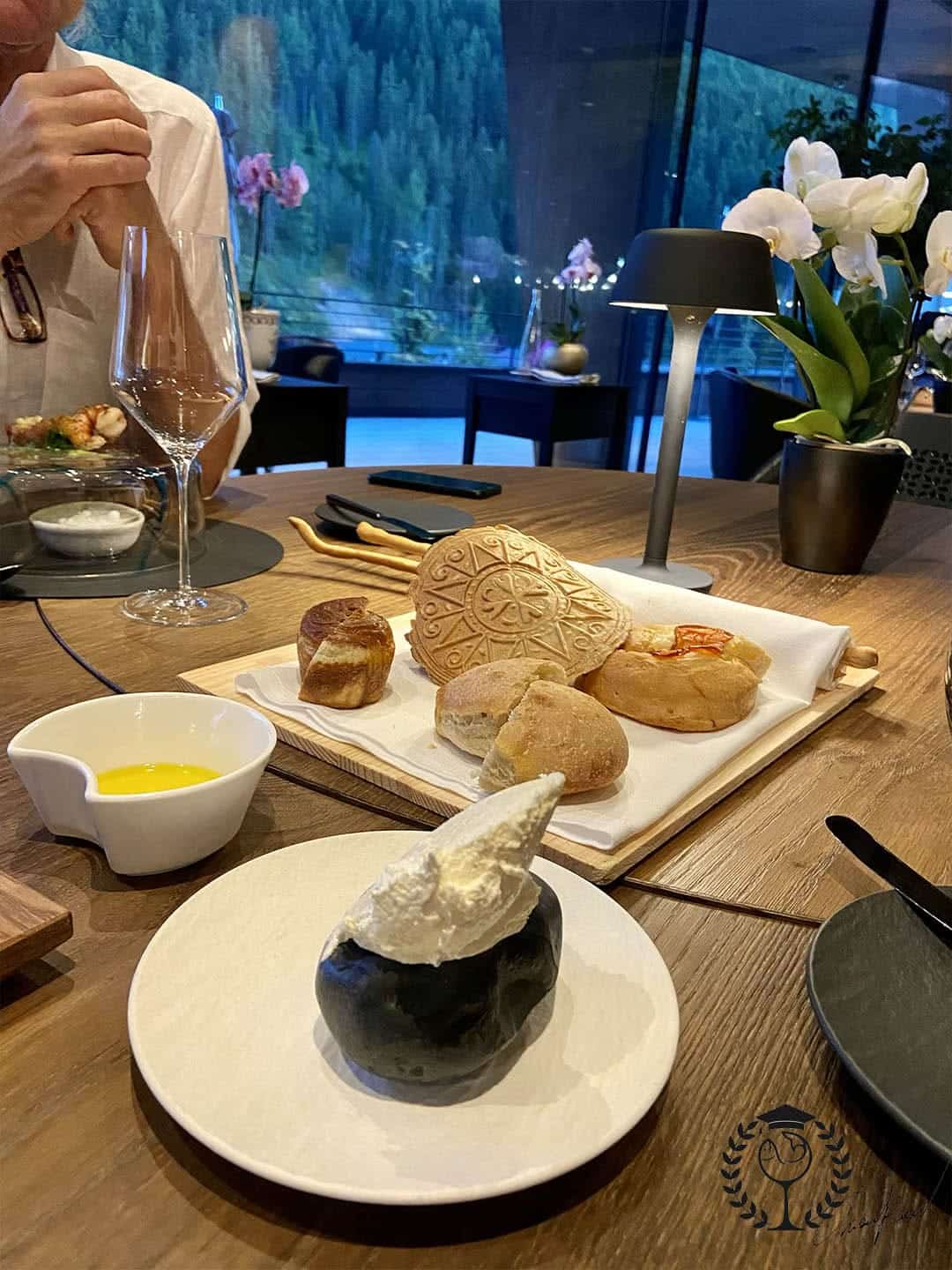 Granbaita Gourmet in Selva di Val Gardena: the first course
Predator (Plankton, red prawns from Mazara, anchovies from Lampara, baby squid, mackerel, Mediterranean tuna and bitter M Zero) is more than a dish… it's an idea. Trying to rebuild a marine food chain is fascinating and the result has been excellent. Games of textures and cooking culminate in a masterfully cooked shrimp. Beautiful presentation with dry ice that "explodes" in a white smoke, then trapped by the service bell on which the ingredients are placed.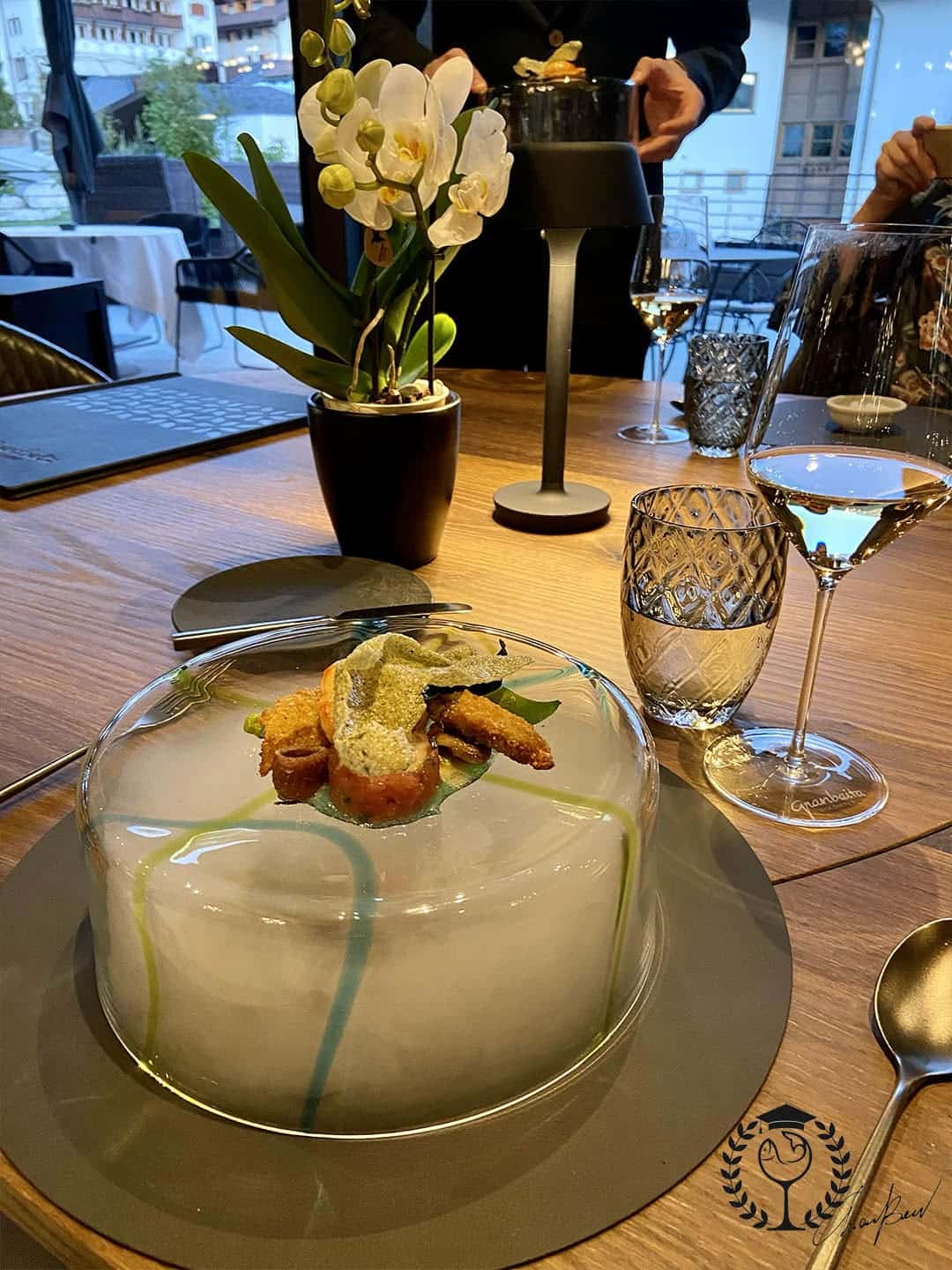 "Lieben Aich" Alto Adige DOC Sauvignon 2019, Manincor
When you start with a Riesling like the previous one, being up to par is not easy, but they have succeeded. Not even on purpose, my second favorite grape is Sauvignon. This has a beautiful deep straw yellow, brilliant and consistent. The nose is elegant and distinctive, with notes of boxwood and passion fruit. In the mouth it reveals both a great structure and a great acidity and the alcohol content is well dosed, which is not at all obvious for most of the South Tyrolean sauvignons of the last few years (rather hot). The long, intense finish supported the flow it was paired beautifully with. Ready, but still with a bright future for the next ten years ...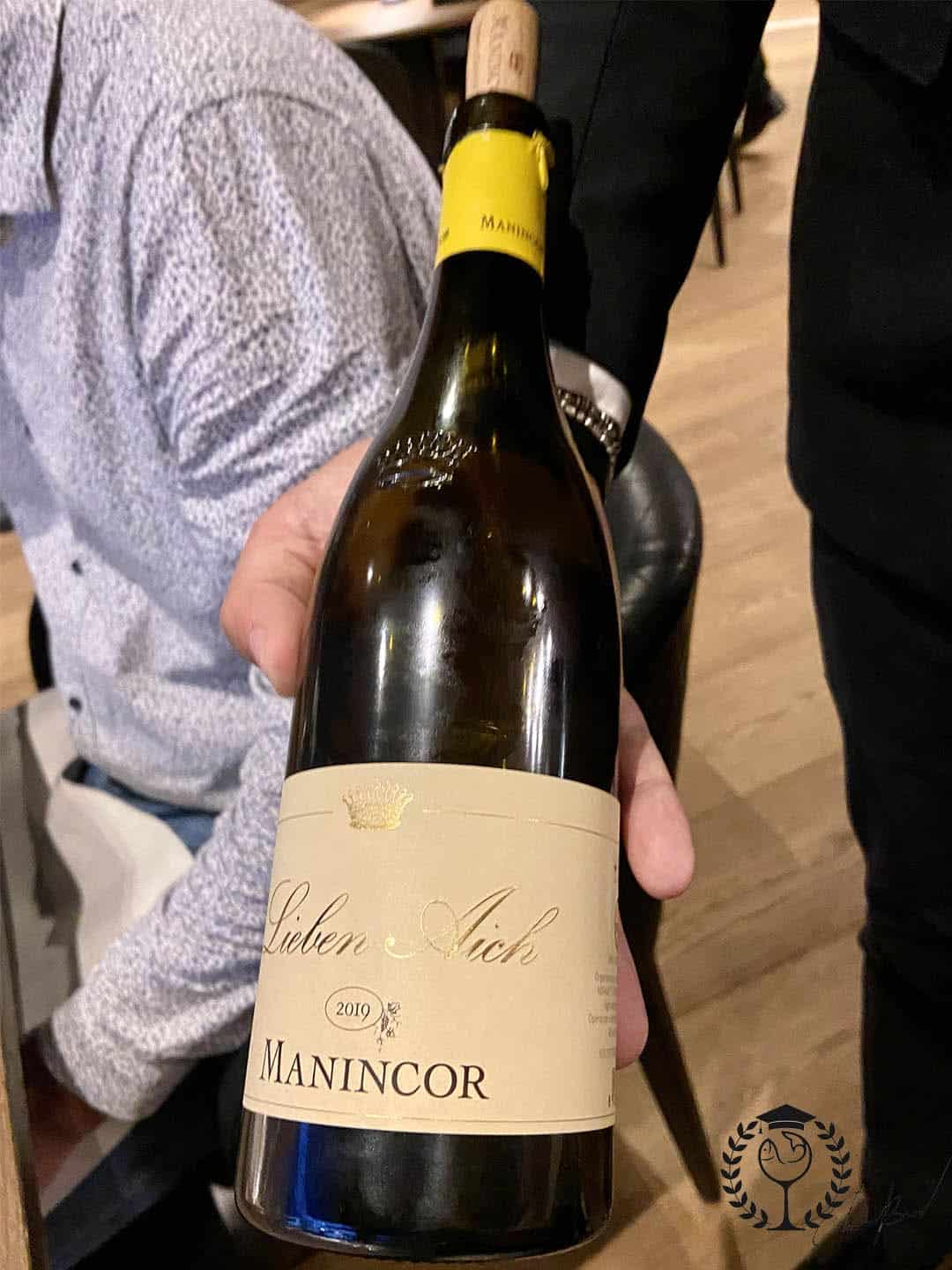 Granbaita Gourmet in Selva di Val Gardena: the second course
Of the whole dinner sparrow grass (Asparagus of the moment, organic egg, caviar, oyster and Philipponnat Champagne) was the dish that most excited me and made me happy. As a woman and as a gourmet. A balance of flavors and textures that are manifested in the egg yolk contained in one chiara frothy like a meringue with a fake shell. And then the caviar that fades the sweet tendency of the egg with its flavor. The oyster served with a pearl that is nothing more than a spherification of Champagne probably painted with an airbrush for a matter of consistency (if I'm wrong, I invite Chef Andrea Moccia to correct me in a comment under this article) was the so-called icing on the cake : divine! The quality of the oyster is also excellent, which could be replaced with a Fine de Claire Verte at least for the winter season and late spring: it is very scenic due to its emerald color (due to an algae present in the water that naturally filters) and in addition to the hazelnut flavor it adds a light spiciness similar to that of blue cheeses. You could then try to use Oscietra caviar which goes even better with the oyster. Well done!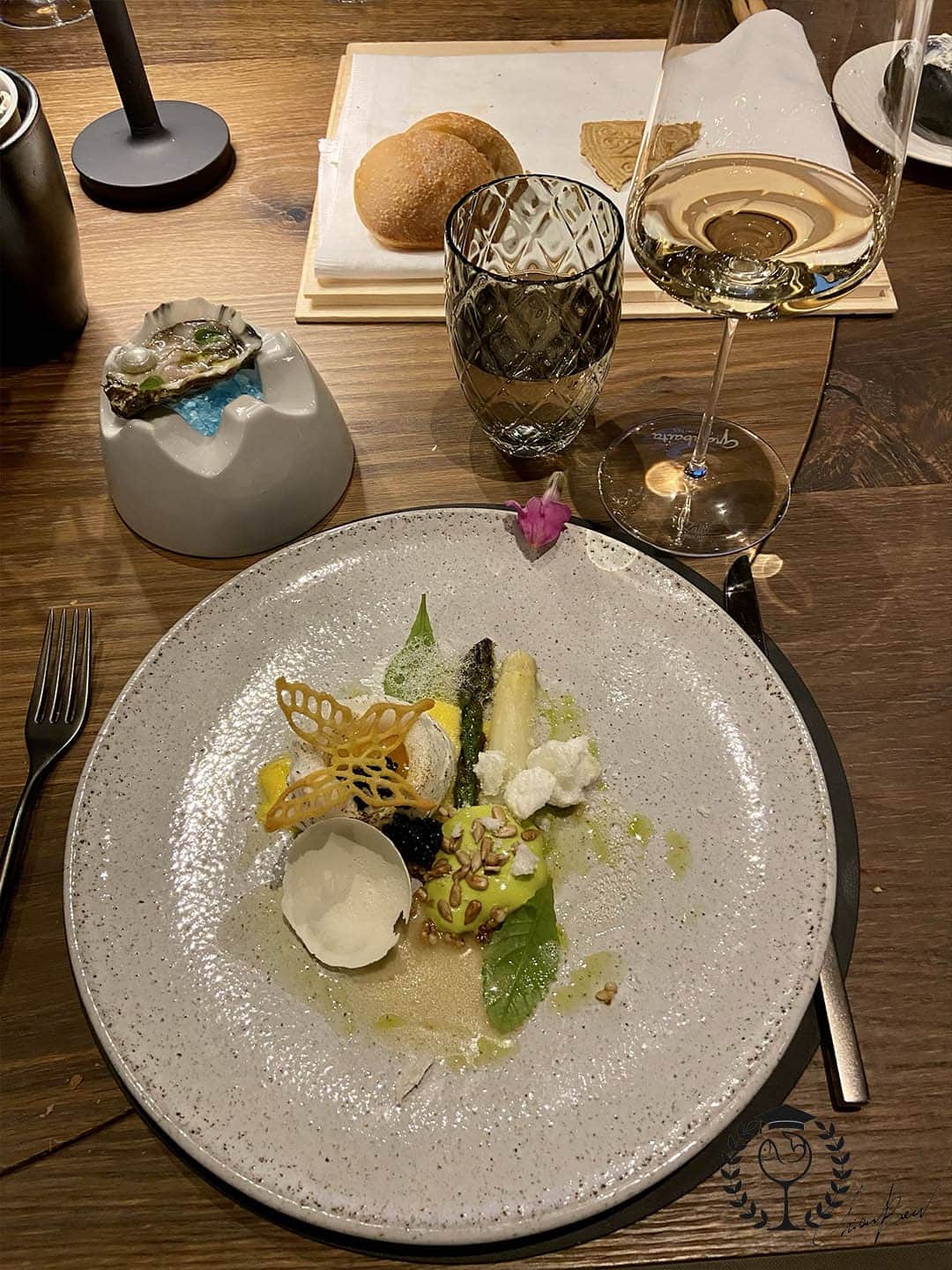 Meursault Blagny AOC 1er cru 2013, Antoine Jobard
Chardonnay and Burgundy: a brief history of a perfect combination for a superb wine, still incredibly young. It has an intense straw yellow with golden reflections, consistent. The nose is intense, with notes of hay, smoked, vanilla, butter and bitter orange jam that fade into a mineral background. In the mouth it is coherent, elegant, structured and slightly shifted towards hardness. Persistent, it still has a long process of refinement in the bottle to be completed to express its full potential.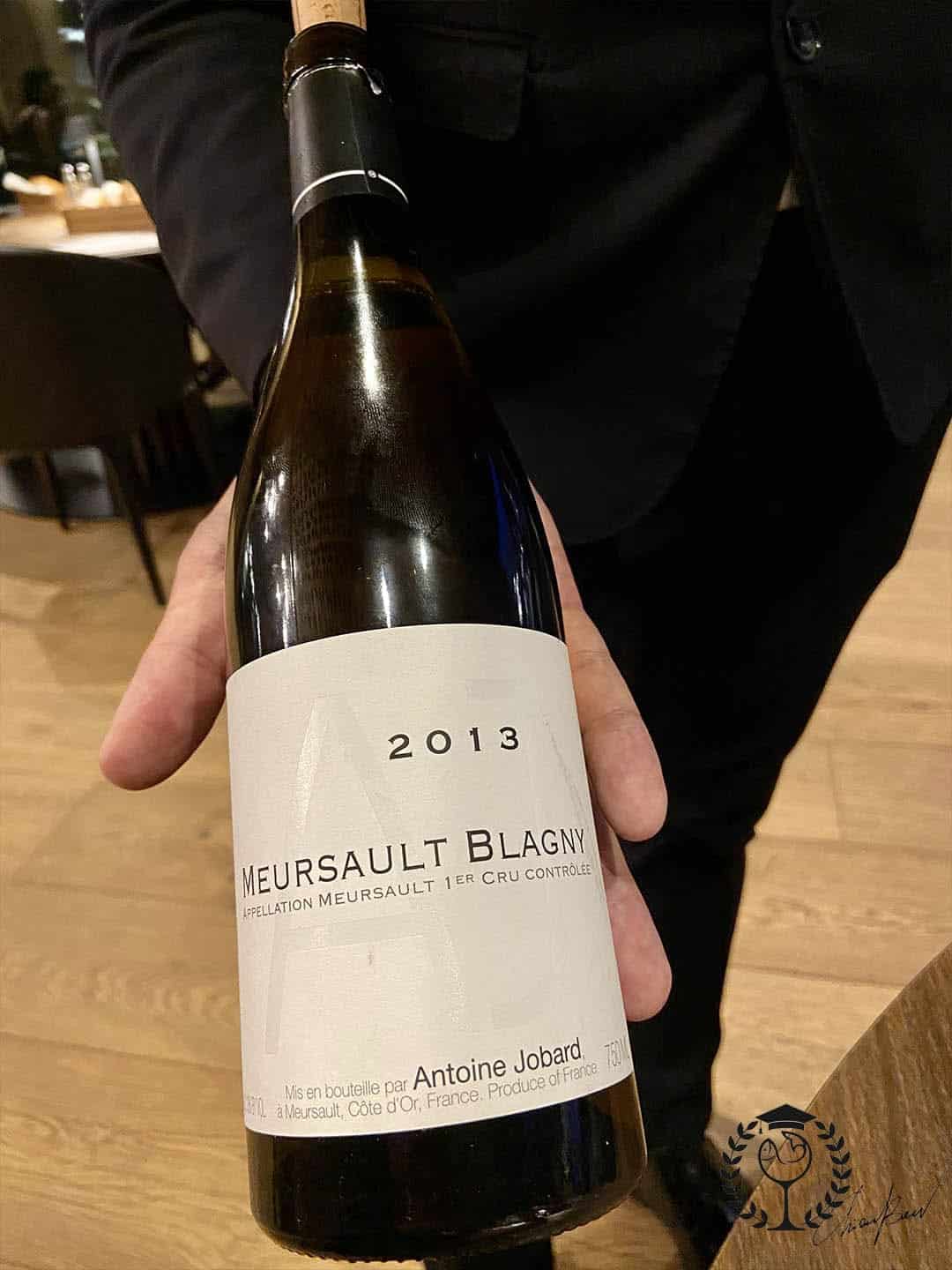 Granbaita Gourmet in Selva di Val Gardena: the third course
For me this was the most extreme and "difficult" dish, the yield of which - in overall terms - exceeded expectations. Meanwhile, its preparation is extremely scenographic: the waiter brought a Siphon to the table, the same one used for coffee (do you remember when I wrote about this exquisite dinner based on TrisMoka coffee at Osteria Cielo in Franciacorta?) and pulled out a very aromatic broth which he then poured over Homard au Gin (Lobster, tomatoes, miso, Gin "8025 ″, guacamole, lovage, burrata ravioli, pesto). In the dish I found a cuisine that I would define as molecular without excess, but with a great balance of aromas, tastes and textures. The ravioli is wonderful.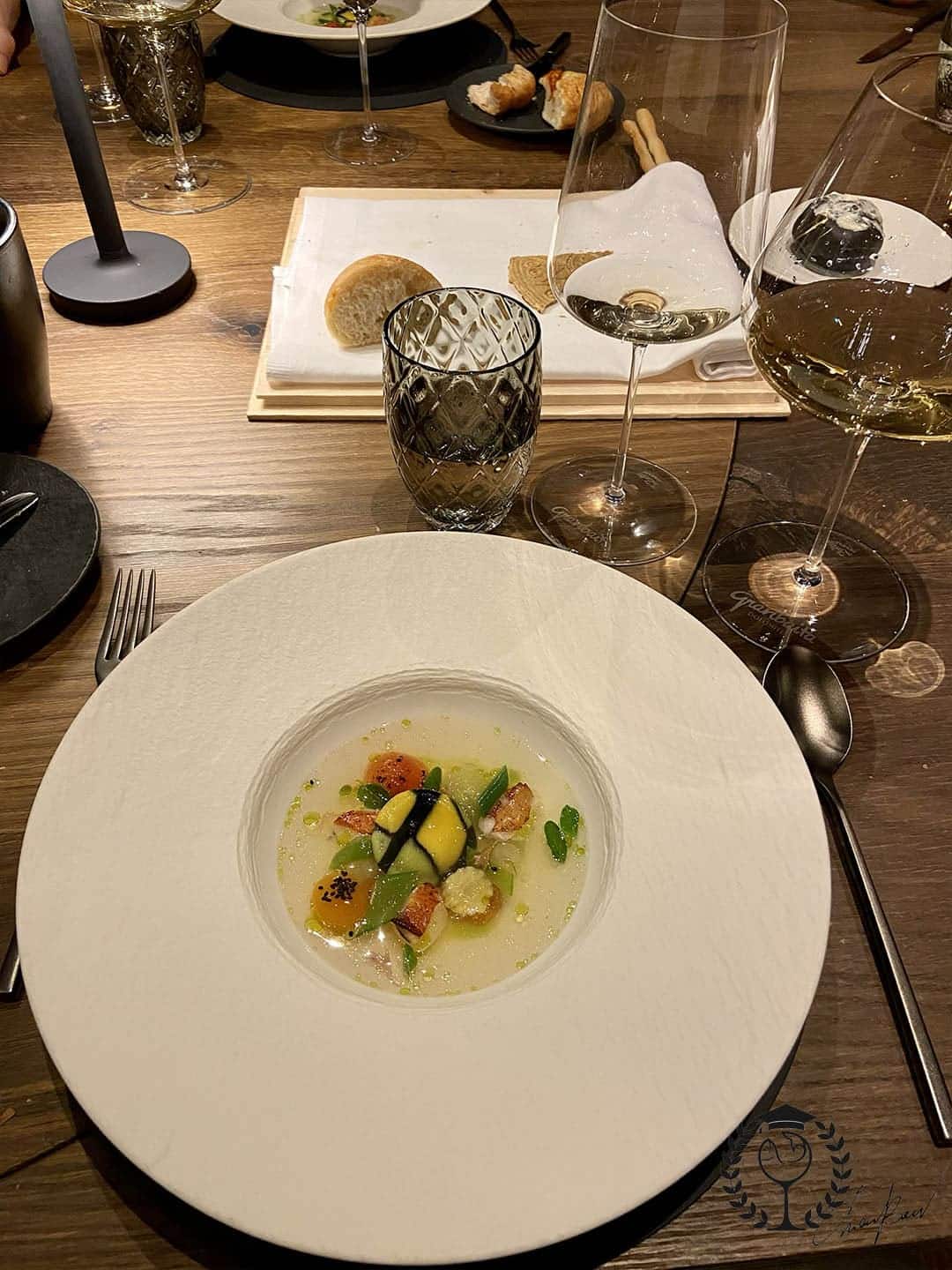 "Vieilles Vignes" Gevrey Chambertin AOC 2017, Domaine Humbert
An excellent Pinot Noir de Burgundy that lacks youth: it is not yet ready to be appreciated as it deserves. However, it promises very well: it has an impenetrable, consistent ruby ​​red. On the nose, notes of bitter cocoa, undergrowth, Jamaica pepper, plums fade into an earthy finish. On the palate it is coherent, enveloping, quite soft, structured and with a tannin still to be rounded. The finish is a long succession of spices.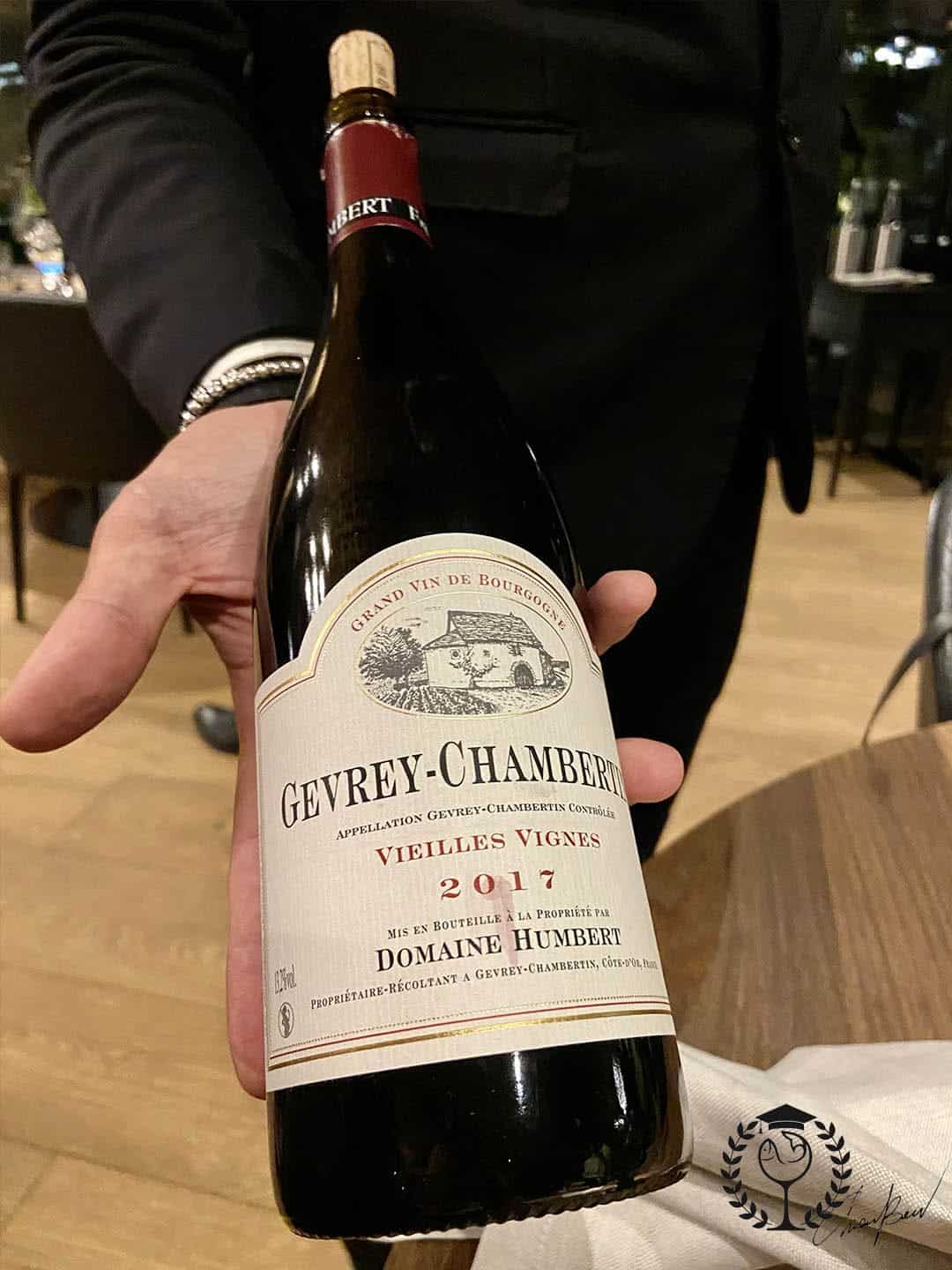 Granbaita Gourmet in Selva di Val Gardena: the fourth course
With Soqquadro (half sleeves, mantis shrimp, alpine artichokes, clams, monkfish and kefir) chef Andrea Moccia managed to make me appreciate a dish made up of several fish / shellfish. Yes, I have never understood why to take the famous "spaghetti allo scoglio" or eat more cured meats in the same sandwich ... so I have always preferred to season pasta with sauces made up of a single main ingredient. The balance of tastes was flawless. The monkfish was cut into a thin fillet and probably seared with a torch or otherwise grilled, given its delicious smoky note. Alpine artichokes have created a cream capable of amalgamating all flavors.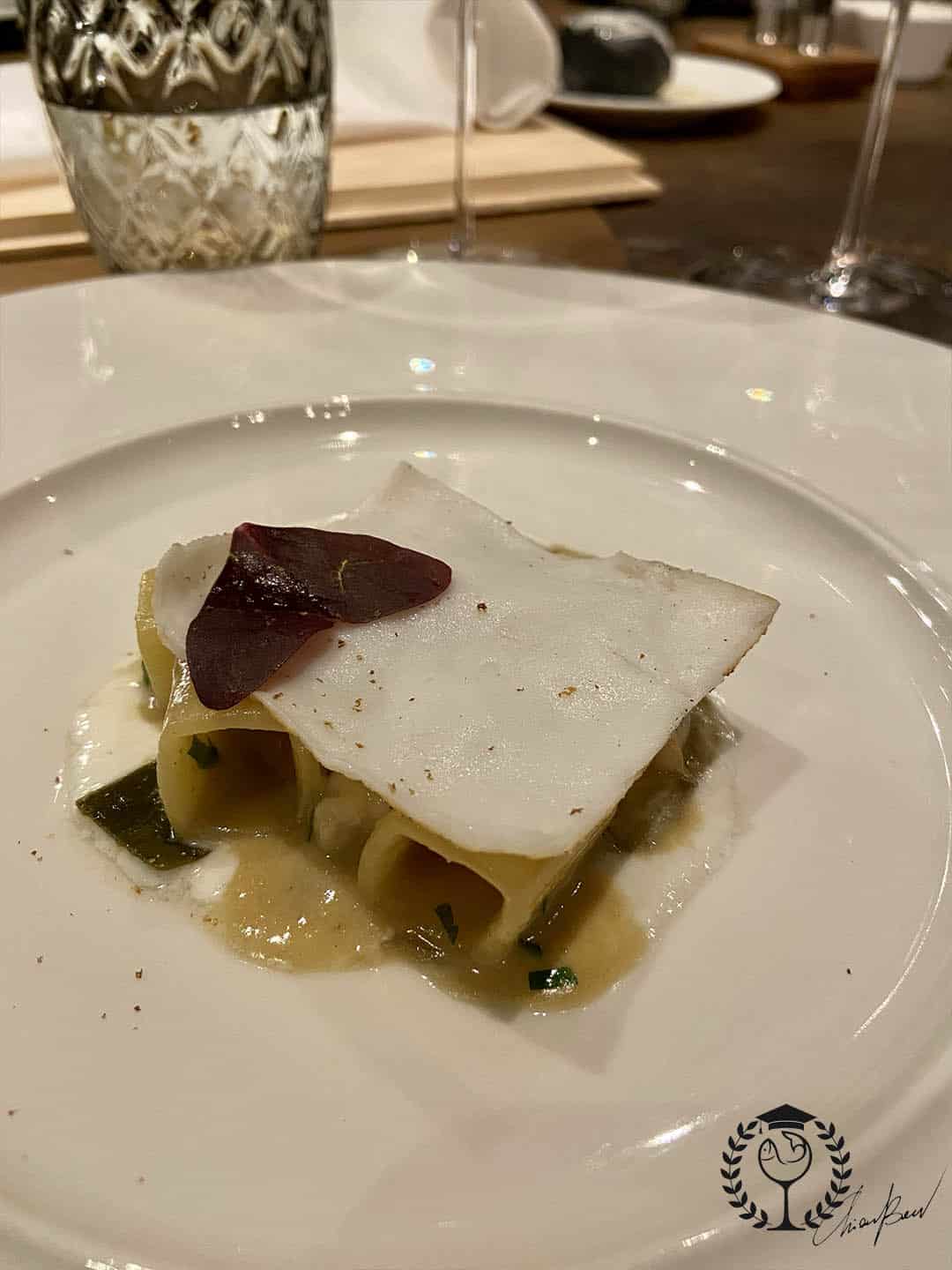 Now you can subscribe to my newsletter or scroll down the page to continue reading the article!
"LÖWENGANG" 2018, Alois Lageder Winery
Together with the riesling, this was certainly the wine that I enjoyed the most of the whole evening. The carménère is overbearing and indiscreet with its note of green pepper. The use of wood is wise: it can be felt, but more than anything else it was done for micro-oxidative purposes as the primary aromas of the vines are more than respected. Enriched with a balsamic and resinous note, it glides into the mouth with a great structure and powerful tannins. Long finish of black pepper. The sommelier rightly paired it with my husband's buffalo BBQ, but I assure you it was wonderful to taste it on its own too. The Chardonnay of Burgundy continued to be paired with Glacier 51.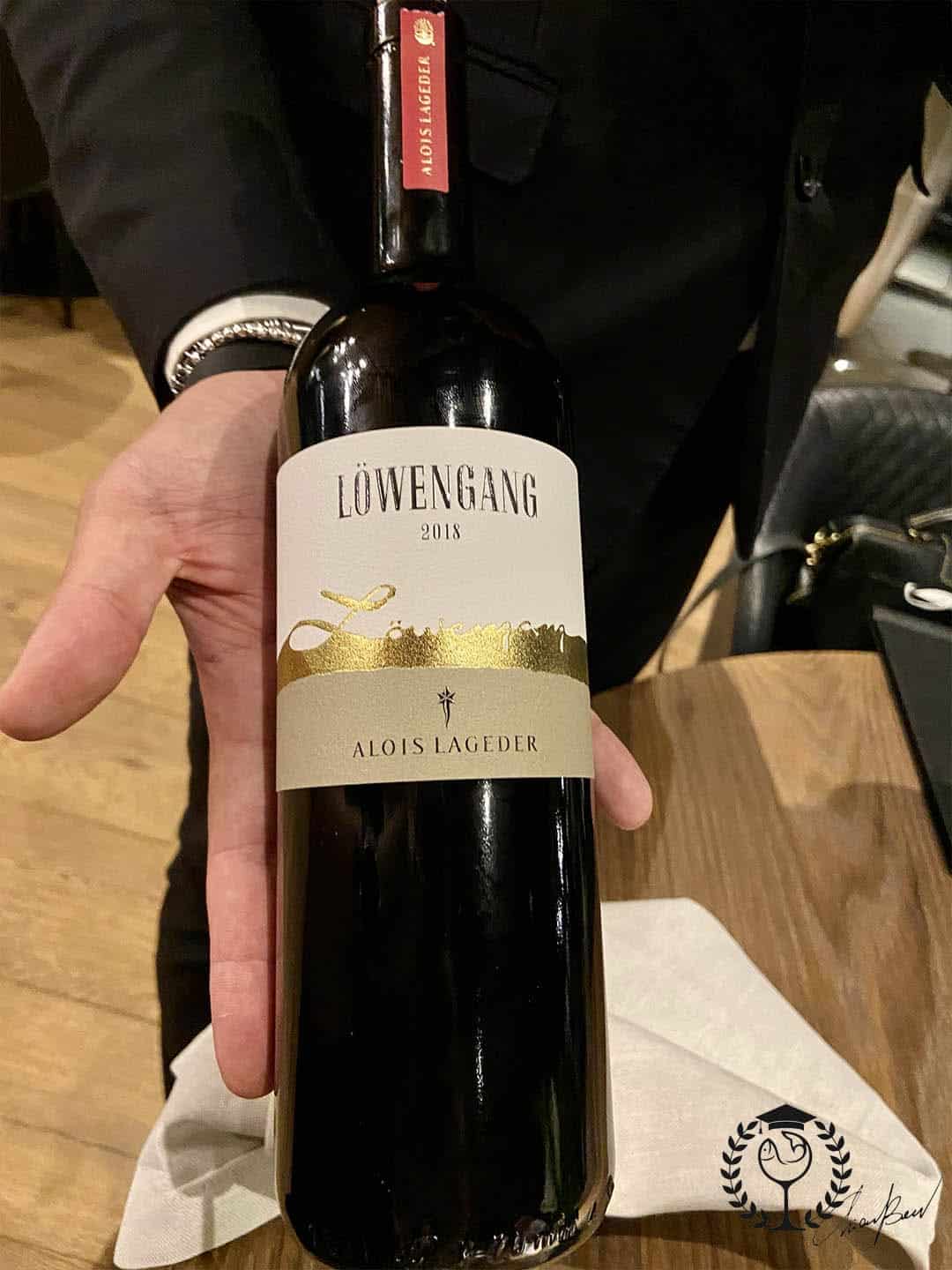 Granbaita Gourmet in Selva di Val Gardena: the fifth course
We wear a black silk mask to make a journey of the senses: without letting sight guide us, it is taste that reveals the next dish. Markedly I recognize olives, tomatoes, anchovies. I open my eyes and observe my husband while, with the help of the waiter Federico, he eats this small and delicious croquette.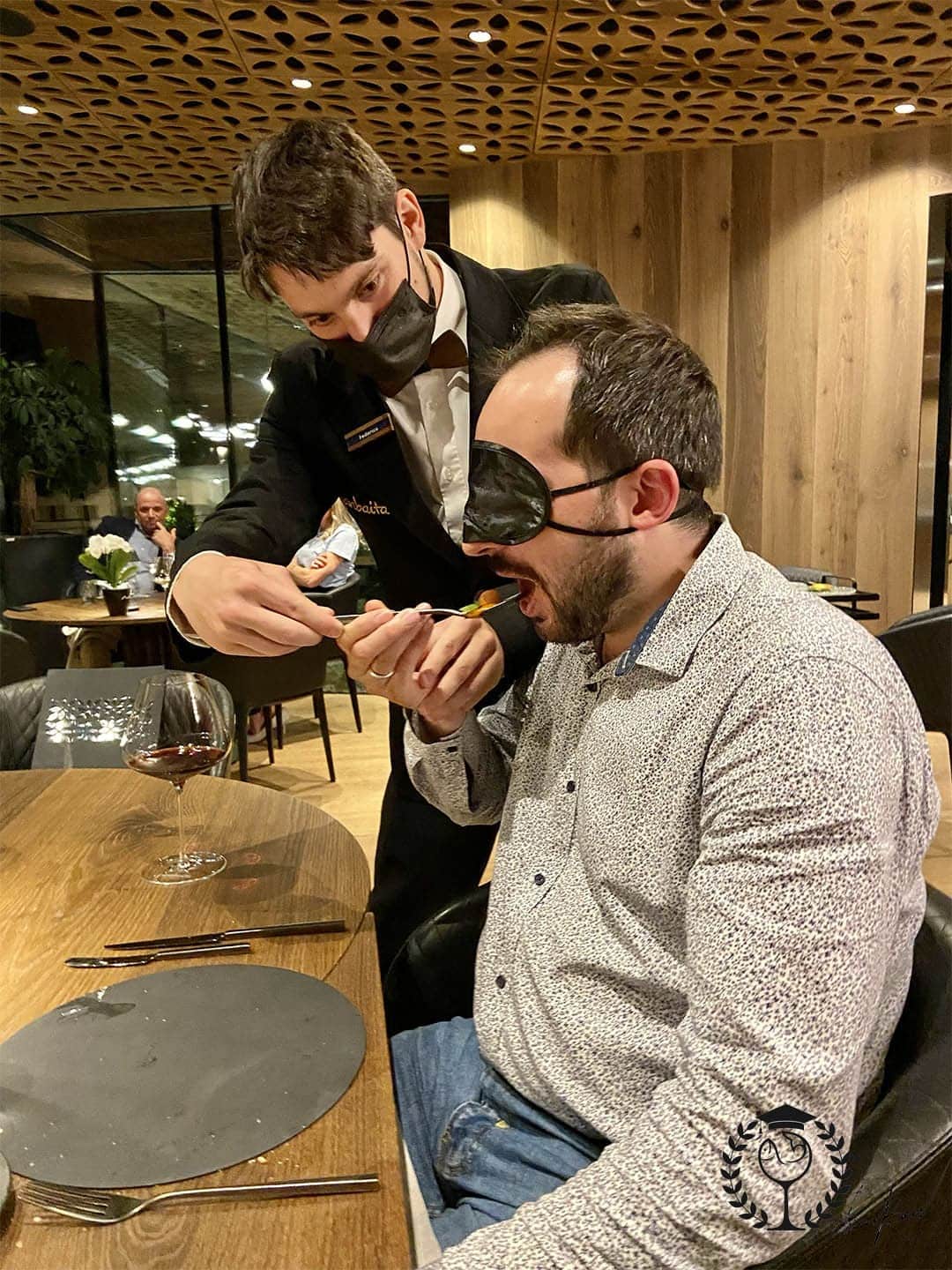 The fifth course is Altitude: Glacier 51 (-2000 m), Pretzhof lard (1600 m), saffron (1000 m), chard (Selva 1563 m), coriander, anchovy and lime. Here too Andrea Moccia creates a game of balance between ingredients that live at 3600 meters of altitude difference. The Glacier 51 is a fish and precisely the Dissostichus eleginoides, commercially known as the oceanic moor and not to be confused with the moor, not as prized. Unfortunately, commercial names are easily misleading: in newspapers and blogs written by less prepared people you may happen to read that the oceanic moor is from the same family as the sea bass: nothing more wrong! That is the Mora moro, that is the fish with which it is confused, and remember that it is not a small detail! The sea bass (Dicentrarchus labrax), as well as the Mora moro, are two fish from the Moronidae family, while Glacier 51 is a fish from the Nototheniidae family (also called ice fish). I swear, I don't want to bore you, but to explain to you why this dish was so successful! 🙂
Ice fish live in very deep waters, up to 2500 meters deep and therefore evolution has made them develop different characteristics compared to fish that live in warmer waters (such as the more common sea bass). As you can easily guess at that depth it is very cold and therefore it is essential to have a good reserve of fat and to move very slowly in order not to waste energy. To this end, the bone tissue and the caudal fin have been replaced by cartilage and gelatinous tissue, which together with the fat isolates the vital organs of the fish. So we have a fish with an evenly distributed fat and with a marked sweet tendency, the same as chard and lard. The "toasted" lard and the anchovy also give flavor, the lime acidity and the saffron amalgamate the flavors: Altitude is a dish built to perfection that denotes great culture.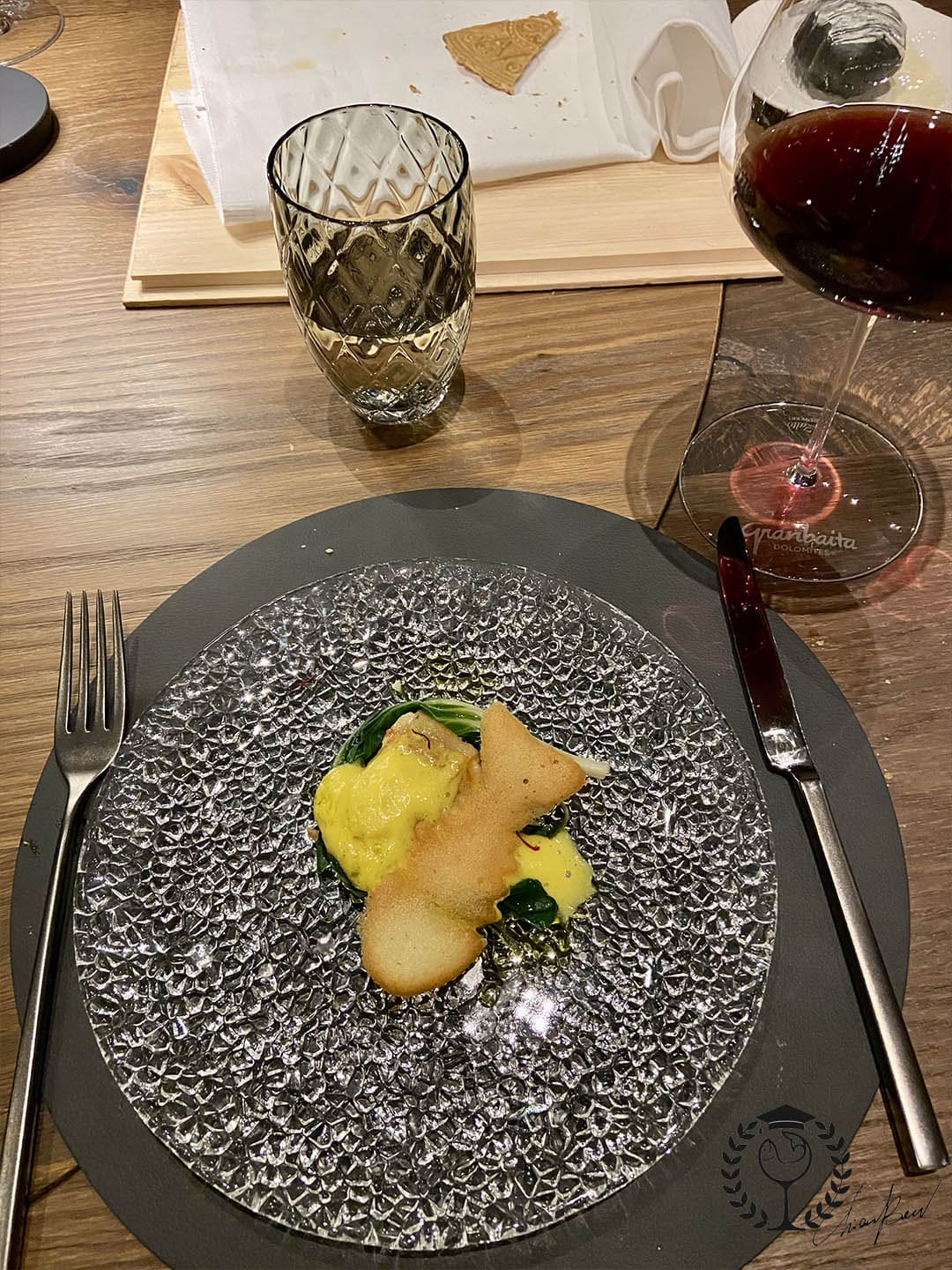 Granbaita Gourmet in Selva di Val Gardena: the pre-dessert
If there is an aromatic herb without which my life would not be the same, this is dill: I literally go crazy for it, so much so that I "force" my mother to buy me the good one in Romagna. Lately I also discovered dill seeds and they are an incredible pleasure ... so imagine my joy when I was served a dill sorbet as a pre-dessert! Exquisite, it cleaned my mouth and prepared to welcome the last course!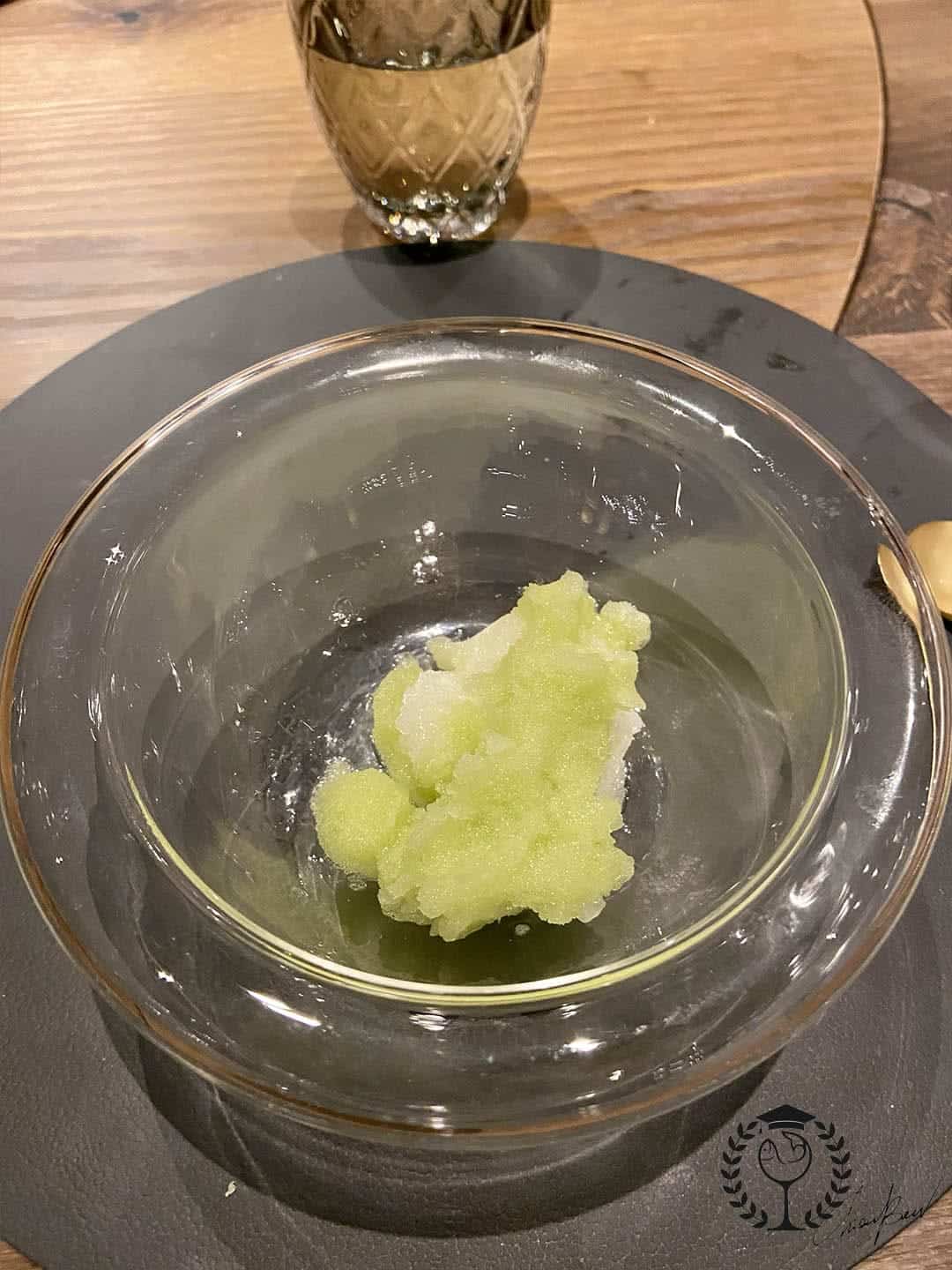 "Le Petit" 2018, Manincor Winery
I love late harvest botrytis wines: Botrytis cinerea gives a characteristic aroma to the wine that oscillates between apricot and saffron and a not too sweet taste, although these late harvests are often the wines with more g / l of sugar. This Petit Manseng has settled in my glass with a light amber color with green gold reflections, with elegant aromas of honey and dehydrated figs (in addition to those mentioned above), structured, with a good acid shoulder and lots of flavor. A perfect balance that has enhanced all the cheeses, with a note of merit for the blue cheese and the goat one.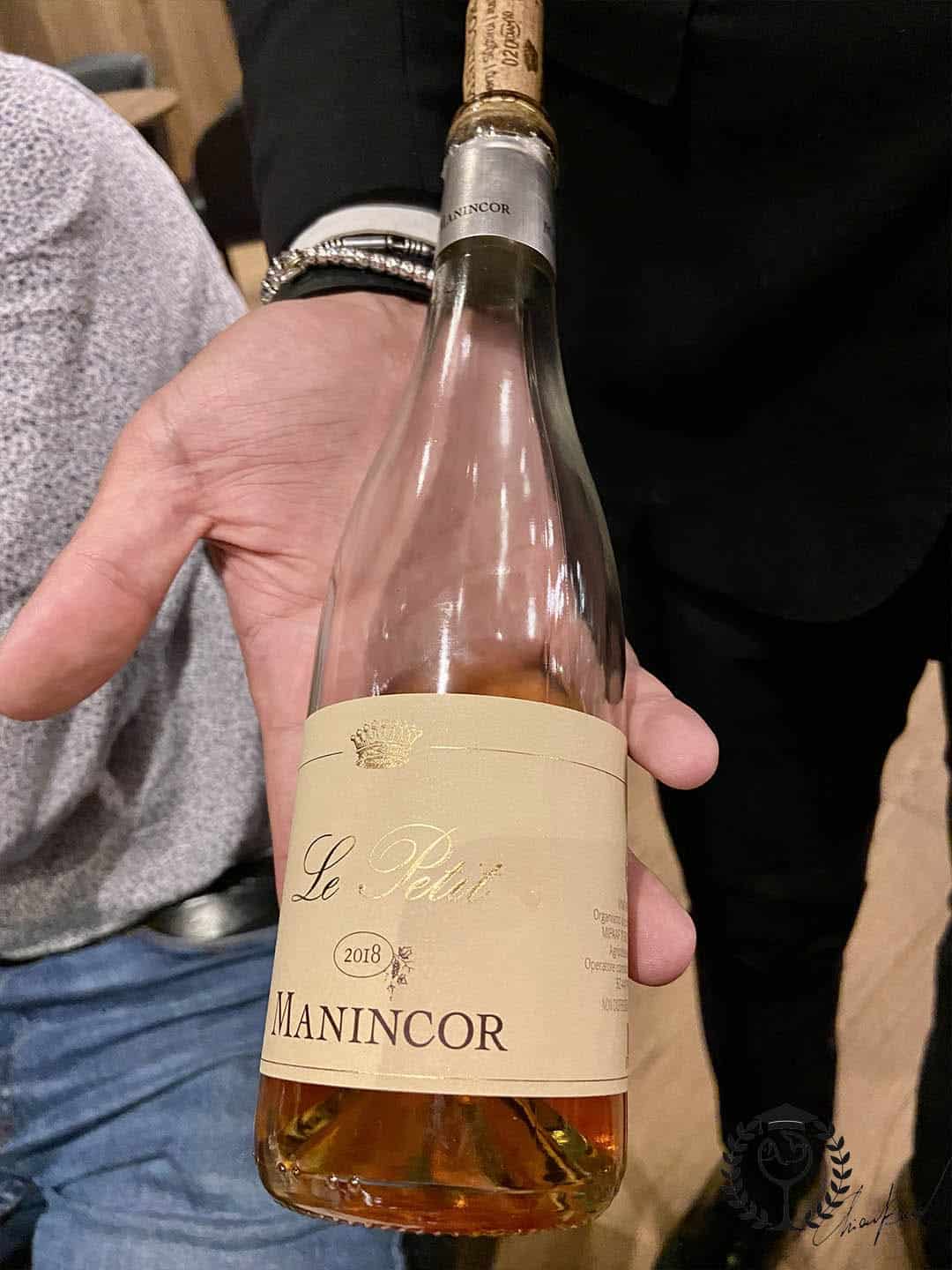 Granbaita Gourmet in Selva di Val Gardena: the sixth course
Even if the Menu Dolomites ends with Check mate (caramelized chocolate, tonka bean, fresh cheese, raspberry and burnt milk) I couldn't resist U-Lat (selection of cheeses with mustard). I live for cheese and I am not a fan of sweets (except for anything that also contains a micro drop of pistachio), so for me this was the best conclusion. However, I had the opportunity to taste it from another guest and I found it delicious, as well as the presentation on the board was incredible! The cheeses were portioned directly in the dining room by the waiter, which I liked very much and not only because they are contained in a splendid wooden trunk. In recent years, even in prestigious restaurants, the waiters are a bit relegated to door plates and this demeans a beautiful profession that has a dominant part on the final experience. There is no excellent cuisine that holds out without an equally excellent dining room service, and this is precisely the greatest miracle I experienced in Selva di Val Gardena: the role of the waiter in the aesthetics of food.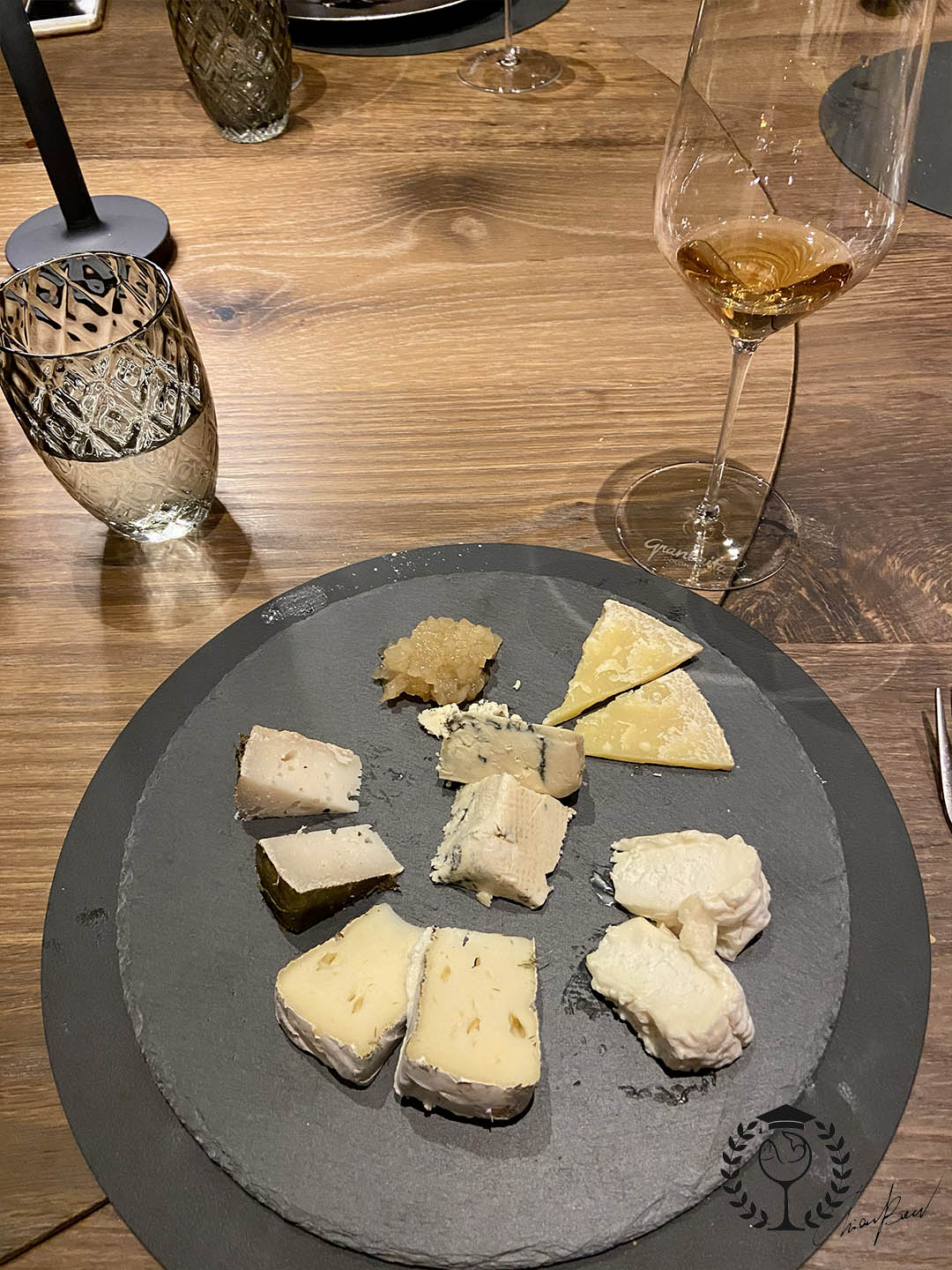 Granbaita Gourmet in Selva di Val Gardena: the small patisserie
Here, perhaps the only thing not at the level of the whole evening was the small pastry. Sure, it's an extra, but it implies that from a top-notch restaurant I expect it to be served. Although the surprise effect of the containers was nice, neither the dishes nor the contents impressed me. Let's be clear: the biscuits, the nougat and the praline were good (a bit like the fruit), but somehow "ordinary". Ordinary, in an extraordinary dinner like this one is a little out of place: in my opinion it is better to focus on a single pastry, but unforgettable. I would work on the praline: already beautiful and good, it could have a more particular and at the same time territorial taste (for example a praline with an apple and cinnamon filling and a liquid heart of rum inspired by strudel) and I would enhance it by serving it alone.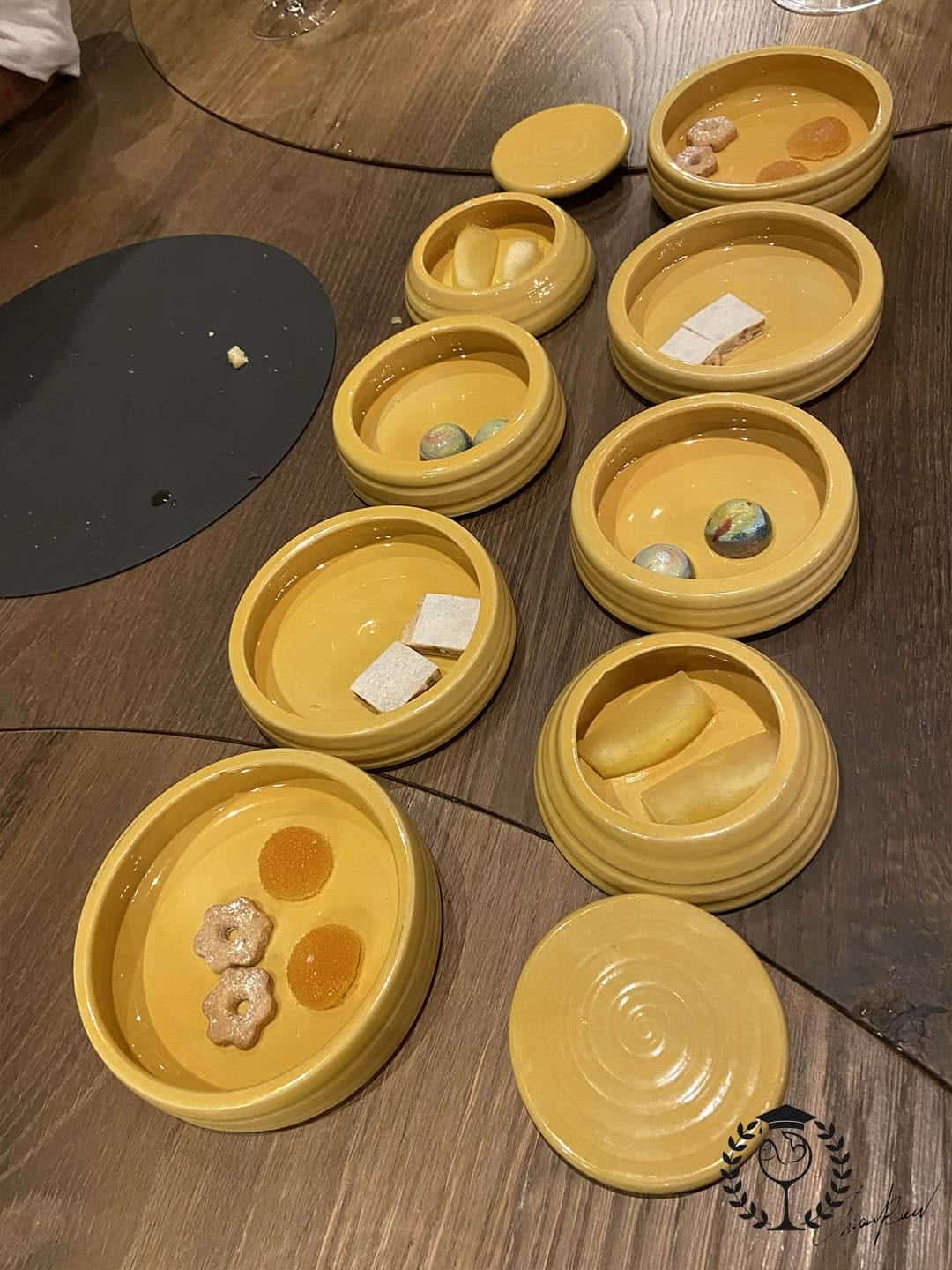 Now you can buy my Sommelier book: the illustrated manual or scroll the page to continue reading the article and "get to know" the chef Andrea Moccia!
Book "Sommelier: the Illustrated Manual" Special Edition 2022
All my notes on wine and food in one book.
COMPLIMENTARY, only for those who buy my book on this blog, a copy of the First Collector's Edition of my Sparkling Wine Guide "500 Bubbles in 500", cover price € 25,30. [While stocks last]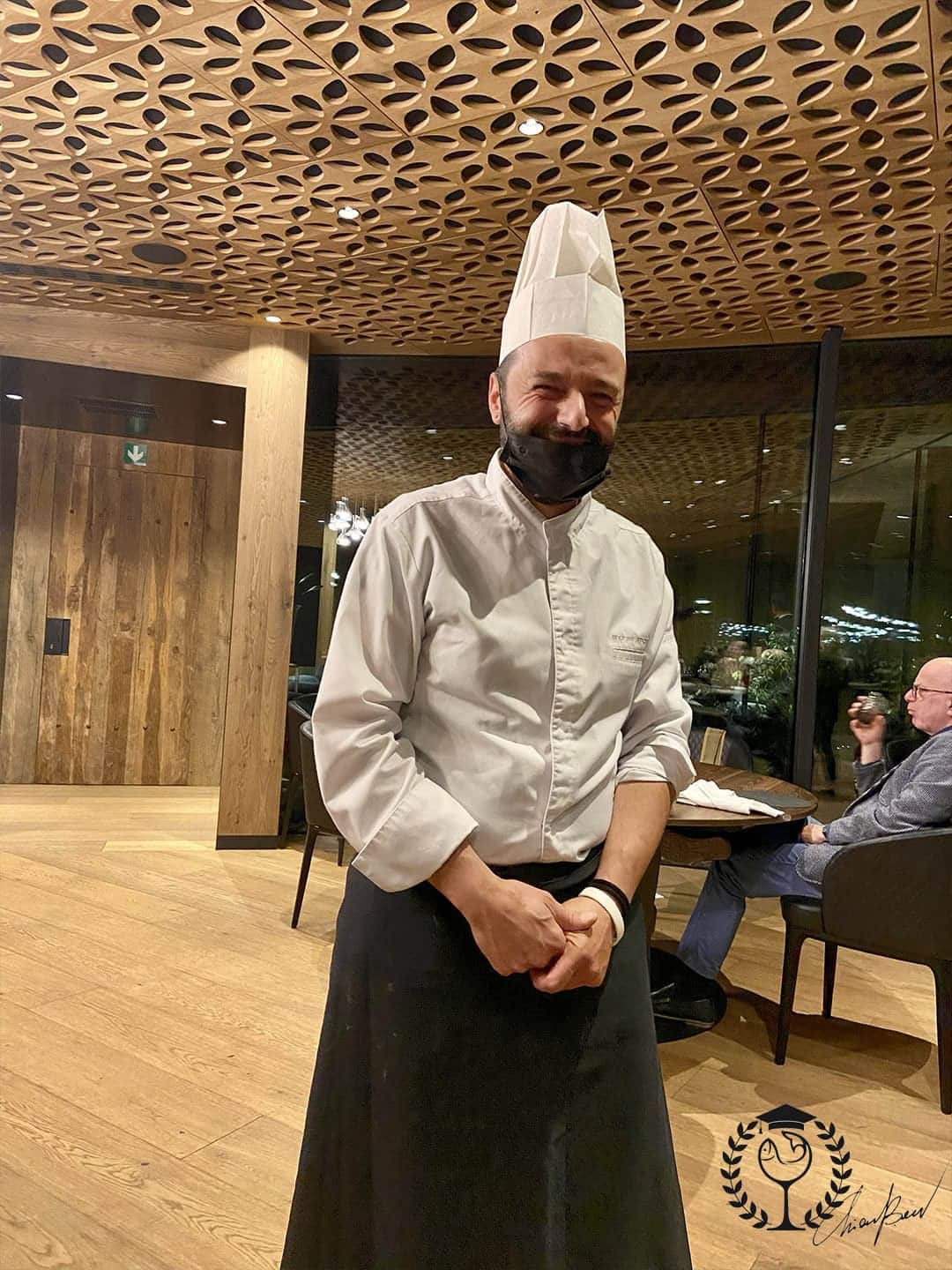 There he is chef Andrea Moccia, born in 1980 and originally from Aversa (Caserta). He inherited short cooking times from his homeland, but it is not surprising: all his cuisine follows with precision all the dictates of the "cultured" Nouvelle Cousine: lightness, aromatic herbs, respect for the raw material. The management of his dish is skilful and for me he is an absolute genius: as I said with his grilled watermelon carpaccio he stole my heart. I have read that Andrea Moccia, in the seasonal breaks, has traveled and met great kitchens to learn and this, in my eyes, does him a great honor. Among all perhaps Ronny Emborg of Copenhagen (which I find an absolute genius), with his sensorial and multidisciplinary cuisine, must have inspired him particularly. Chef Andrea Moccia's cuisine for me is a contamination of ideas, flavors, places.
Heartfelt thanks to all the staff for making me live one of the most beautiful food and wine experiences of my life ... perfect for a gourmet traveler like me!
Cheers
Chiara