The only thing I like about the travelling by train is that is very compatible with my life as a wine bloggerIn fact, I am writing to you right now to tell you how my day went! Granted that I am so hungry that I would eat a Lilliput with her whole family, I will try to survive the 40 minutes that separate me from Brescia. I Drink Like This is an interesting event, and although today it has not reached the splendour of the last edition at Olgiate Molgora (Read the article from the previous edition HERE), l'Hotel Excelsior Gallia in Milan remains an ideal location, especially for its convenience from the Milano Centrale railway station!
I could tell you that I drank so many wines today that I lost count, but I actually took notes on my Moleskine Wine Journal (which you can buy on Amazon HERE) and on my iPhone, so I am fully aware of what I tasted. Before I tell you which 10 wines stole my heart in this edition, I want to make a small preamble.
Just recently, a fictitious (and somewhat improvised) wine expert made a rant about the natural wines. Promoting the naturalness of things, basically, is absolutely right, too bad that in that case a never-ending story broke out on social media because of the carelessness with which the subject was approached. I am by no means a natural wine TalibanI do not consider sulphur dioxide to be the number one enemy of the enthusiast and I am not a 'cork at all costs' fanatic. Similarly, the word 'Organic' on a label that I like is a great added value! Io Bevo Così is the event conceived by Andrea Pesce and Andrea Sala (pictured on the cover, ed.) of That's Wine dedicated precisely to natural wines. This is the second edition I have attended, and I must say that you can also find very interesting wines, provided you know how to 'select'. Natural should never be at the expense of qualityand I accept that you only defend wines of this type to the hilt if you do not even eat an industrial pasta or biscuit. Today the declared labels were 600some of them with that typical 'che' of a farmer's wine, or 'rustic' that does not at all suit my taste. Among them, however, I also made some exceptional discoveries.
.
Io Bevo Così: the 10 best wines I tasted in this edition
1. Gilles Azam: Crémant de Limoux Brut Nature
I was struck by its label penalty of green leaves with a pink goat. And then nothing else. I taste it, the nose is clean and delicate, with floral and fruity scents. In the mouth it enters soft, delicate, with a really creamy bubble and an envelopment that wins you over. The finish is quite long, with great drinkability. It reminded me of when I wandered with my 500 in the Languedoc chasing bubbles.... It is not to be missed because it is a sparkling wine that has managed to blow me away, both in dress and taste. Franco cellar at 16 €.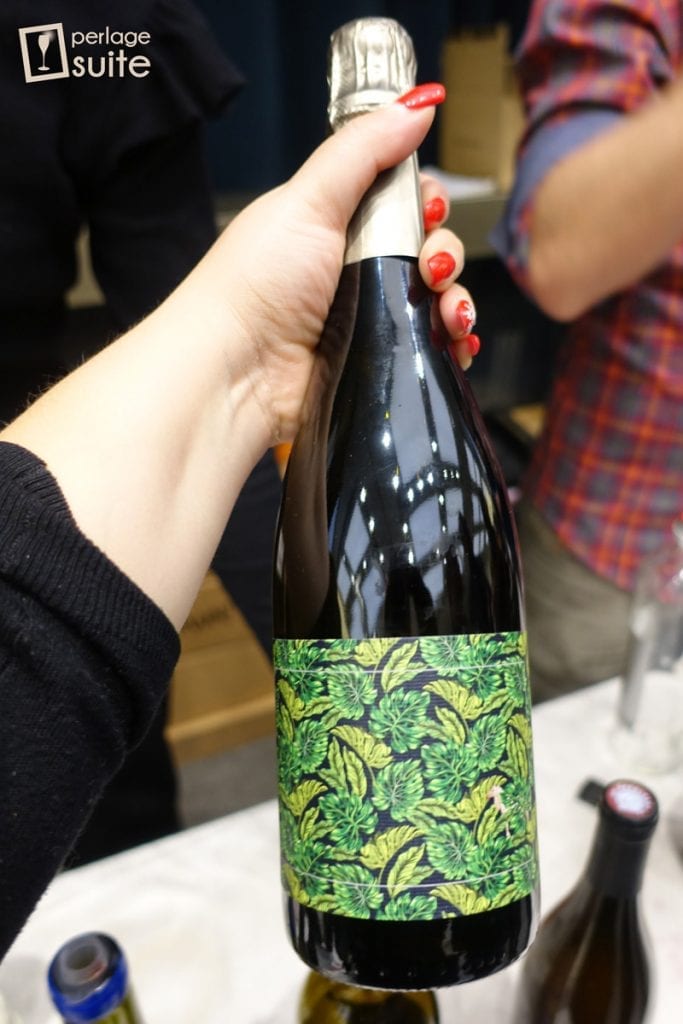 .
2. Marco Sambin: 'Psychè' 2016
Garganega 100%. The time spent on the skins gives it a beautiful coppery yellow colour. The nose has notes of bergamot tea, apricot, honey, lime blossom, salted caramel and nutmeg. In the mouth it is intense, fresh, opulent and has a finish that oscillates between tobacco leaves and very long brioche. Pair it with everything or nothing, better as a meditation wine. Not to be missed because it is a surprising and special wine with great value for money. Franco wine cellar at 12 €.
.
3. Barraco: 'Altograde
Grillo 100% Pre-British Marsala in oxidative style. Very low yield per hectare for these vineyards that have reached 45 years of age on red soils with limestone. Only 700 bottles for this wine that spends a good 7 years in chestnut barrels filled only the first 2 years. The colour is a beautiful bright amber yellow, the nose is an explosion of peat and almond notes, broken only by a caramelised fig and a bouquet of dried flowers. The palate is elegant and savoury, warm and fresh, with a very long finish. Not to be missed because it is a gem, like the splendid Milocco, the nero d'avola from a late harvest that was 8 years in small chestnut barrels and reminded me of a Porto LBV of the good ones! Franco's cellar at ... oh God I didn't ask! I was too enchanted by the tasting ... bear with me, I'll look into it!
.
4. Mas Des Agrunelles: 'Les Mauves' 2015
Cinsault 100%. A beautiful ruby red, the nose is pleasant and fragrant with a surprising definition of aromas. Clearly recognisable are violet flowers, freshly ripe strawberries, cherries both fresh and jammy, and pink pepper. In the mouth, hints of sweet spices prevail. Balanced, soft and fresh. Excellent potential for pairing with a large number of different dishes! Not to be missed because it is an excellent value for money wine. Franco cellar at 16 €.
.
5. San Biagio Vecchio: 'Sabbia Gialla' 2013
Albana 100%. I tasted both vintages, this one and the 2016. I had tasted the 2016 at the previous edition of Io Bevo Così when it was not yet ready, and I would say that it has evolved a great deal in these 8 months. While the 2016 is the result of a very hot summer, it has been handled very well and is a wine capable of giving great satisfaction. But the 2013 is on another planet! The nose is enriched with jammy strawberry and dried fig. On the palate it is fresh and elegant, and can evolve even better. Great sapidity and good persistence. If the 2016 is perfect with hard and semi-hard cheeses, the 2013 is worth trying with all goose meat preparations. Try and see if there are still some magnums available in the cellar! Not to be missed because it is a special wine, capable of lending itself to multiple pairing occasions.  Franco cellar at 14 €.
.
6. Bretz: Weiburgunder 2001
Pinot Bianco 100%. I had already tasted it at the previous edition of Io Bevo Così and it had already convinced me, but in recent months it has only improved. A beautiful intense straw yellow, it has a complex nose that oscillates between fresh and ripe notes. Chamomile flowers, fresh orange, candied pear, green apple, white peach and vanilla stand out. The palate is fresh and at the same time ripe, very soft and long. Not an easy wine to pair, I would probably go the way of a lightly grilled duck tagliata or veal tartare! Not to be missed because it is a masterfully executed wine. Franco cantina at 19 €.
Oreste Tombolini: 'Brandisio' 2010
Primitivo 100%. Named after the Admiral's grandfather from whom he inherited the winery and the passion for wine. Interesting is the music therapy barrel: music emits vibrations that gently lull the wines evolving in wood. The barrel is dosed to perfection. The nose is wonderful, with notes of cocoa, strawberry, cherries in spirit, sweet spices and a tobacco leaf finish. The palate is alcoholic and soft, yet fresh and with good balance. Intense and persistent with a very long finish. Perfect to be paired with dishes with important cooking, such as the Julia Child's Boeuf Bourguignon, read here the perfect recipe in 10 steps! Not to be missed because it is a wine as fascinating as the Admiral who produces it. Franco cellar at 40 €.
.
8. Castello di Stefanago: Pinot Noir Cruasé 2011
Pinot Noir 100%. Beautiful intense onion skin pink, on the nose notes of butter, jammy red fruits, brioche bread, white pepper fade into delicate toasted notes. In the mouth, it is fresh and soft, with still a marked acidic vein and great persistence. Perfect to accompany the entire meal, it prefers risottos even with important ingredients. Not to be missed because it is an ancestral method sparkling wine done right. Franco cantina at € (I didn't understand what I wrote, I have to check, but it looks like €20).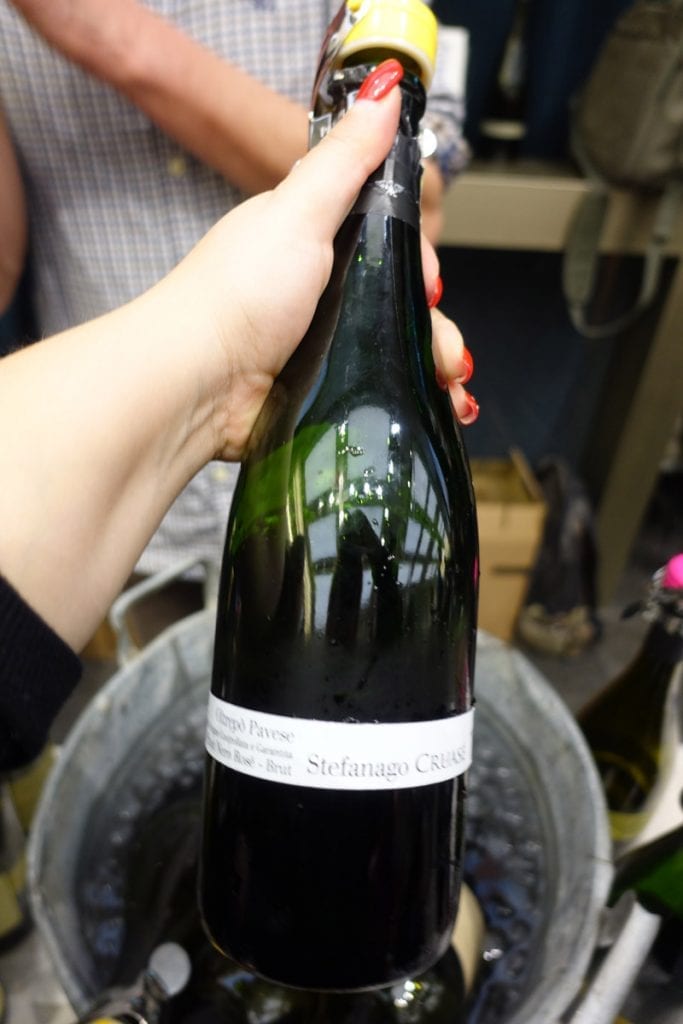 .
9. Il Casale: Chianti Riserva 2006
Sangiovese 100%. After a 30-day maceration, it spends 8 years in cement and 2 years in large chestnut barrels. A beautiful impenetrable ruby red, with a nose of fascinating tertiaries. Notes of leather, cherries in spirit, graphite, dry rose. On the palate, it surprises with its evolutionary potential, making it a suitable wine to take and keep for a few more years. Soft, structured and with a very long finish. After dinner with cheeses such as crotto di Morbegno, in general it is perfect with cheeses of great structure and persistence. Not to be missed because it is an important wine that will win over lovers of the genre. Franco cellar at 25 €.
.
10. Andrea Occhipinti: 'Alea Viva' 2015
Aglianico 100%. After a short maceration of 6 days it spends 18 months in cement. Beautiful ruby red colour with violet reflections, very fragrant nose of red fruits. On the palate it enters really soft, very fresh and with a great pleasantness and an interesting acidulous tip. Perfect as an aperitif, paired with fried appetisers or knife-cut salami. Not to be missed because it is a wine with truly excellent drinkability. Franco wine cellar at € 12.50.
The day ended with Davide picking me up from the station in Brescia and we went to eat at a low-level Japanese restaurant in Sarezzo which, if I remember correctly, is called Sakura and which made me drink all night... patience! (Note: the wakame seaweed is indefinable, the sushi looks like it was made by an old man with Parkinson's and is devoid of any aesthetic grace. The prawn tempura was inedible so greasy. The fish is of acceptable quality for an all you can eat. The udon on the other hand are very good).
By the way, Have you already bought my Sparkling Wine Guide 500 Bubbles in 500? Buy it now HERE!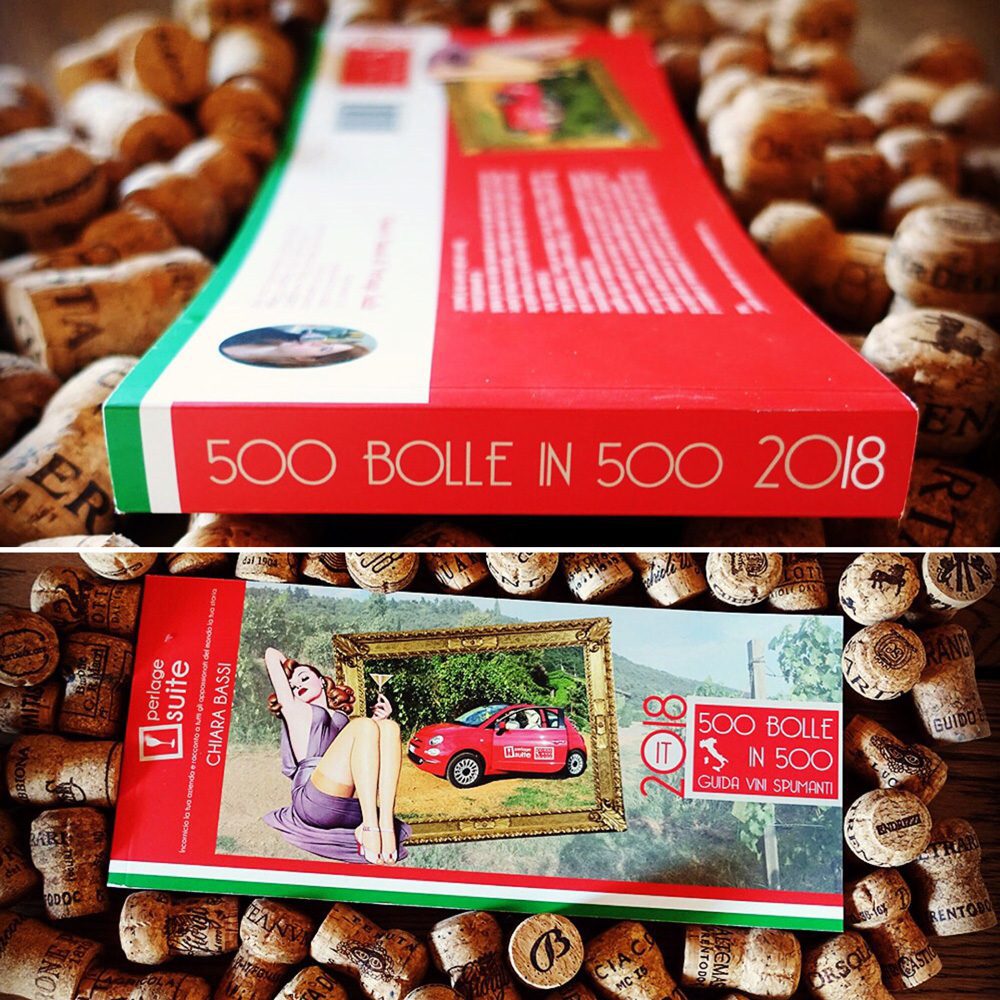 The best 500 Italian sparkling wines of 2018 recounted in 360 colour pages.
Cheers?
Chiara