L'Amarone della Valpolicella DOCG is a Veronese wine that I simply ADORE. The Amarone wine is a dry passito wine made from indigenous black grapes, the main ones of which are corvina, corvinone and rondinella. The name 'Amarone' derives precisely from its being a dry raisin wine and therefore bitter and in contrast to the Recioto della Valpolicella DOCGthe corresponding sweet raisin wine. In this article I want to share with you my tasting notes of two wines from the Tedeschi winery:
"La Fabriseria" Valpolicella Classico Superiore DOC Tedeschi 2017
"Capitel Monte Olmi" Amarone della Valpolicella Riserva DOCG Tedeschi 2015
I anticipate that I liked both of these wines very much even though tasting them now is still a bit premature because they really have many years ahead in which they can only improve.
Amarone wine: do you know Valpolicella?
On Tedeschi's website I found a beautiful sentence: 'every life has a life to tell". And indeed, looking at these vineyards tended like Renaissance gardens, I imagine every hand that has touched its fruit, having tended it with care over the years.
Valpolicella is a famous wine-growing area located in the Veneto region and, in particular, in the province of Verona. Vineyards that look like paintings adorn Venetian villas, parish churches and courtyards.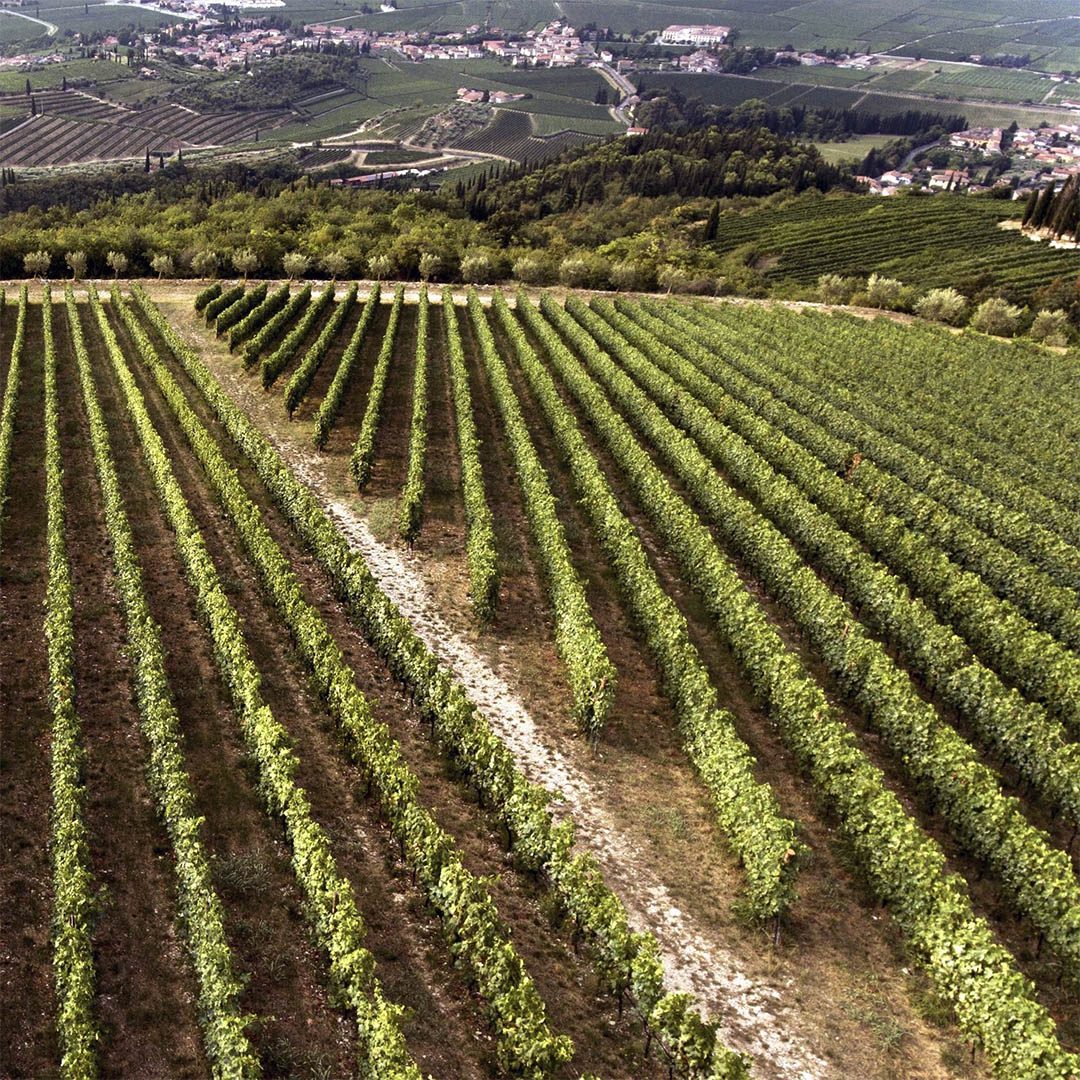 Valpolicella is made up of three very different zones:
Mountainous areaIt is located in the north and is characterised by cretaceous limestone terrain with few watercourses. Grazing cattle can be seen among the steps alternating with karstic cavities.
Hilly areaIt is located in the centre and is characterised by cretaceous limestone soils rich in basalt. It is the ideal area for vine cultivation, which often takes place on artificial terraces bordered by stone walls.
Flat areaIt is located in the south and is characterised by alluvial soils through which the Adige River flows. This area is very fertile and is therefore more suited to the cultivation of fruit and vegetables rather than vines.
As you can easily guess, the wines produced in the three different areas can be very different from each other.
Thanks to the protection of the mountains and the proximity of Lake Garda, the climate is mild, but unfortunately there is a risk of hail in summer.
You can now subscribe to my newsletter or scroll down the page to continue reading the article!
Amarone wine: do you know how Tedeschi's is made?
Amarone della Valpolicella wine is a highly prized red wine that requires great care during its elaboration due to the delicate steps involved in the drying process, which takes place in special rooms characterised by strong natural or artificial ventilation.
"The grapes are carefully selected exclusively in hillside vineyardsThe shallow hillside soils rich in limestone, the ventilation and temperature ranges allow the grapes to ripen optimally, resulting in richer aromas and colour, giving more typical and complex wines. The grapes are dried inside a large orchard equipped with humidity control to ensure ideal storage of the grapes. The conditioning system operates at temperatures similar to those found in traditional processes. The grapes remain in the drying loft for three to four months and are constantly monitored during this period. During this delicate phase, a series of complex transformations take place in the grapes, from the decrease in acidity to the change in the ratio of glucose to fructose, which favour the concentration of polyphenols and the considerable increase in glycerine and other substances. Once the drying process is complete, the grapes are further controlled in January and then subjected to pressing. The must is left in contact with the skins for a long time, and this phase can last for several months. This produces a wine that then requires long ageing times in both casks and bottles. The end result is a wine with inimitable characteristics and an original taste that is a direct expression of the terroir and capable of ageing and surprising for decades'.

Tedeschi Family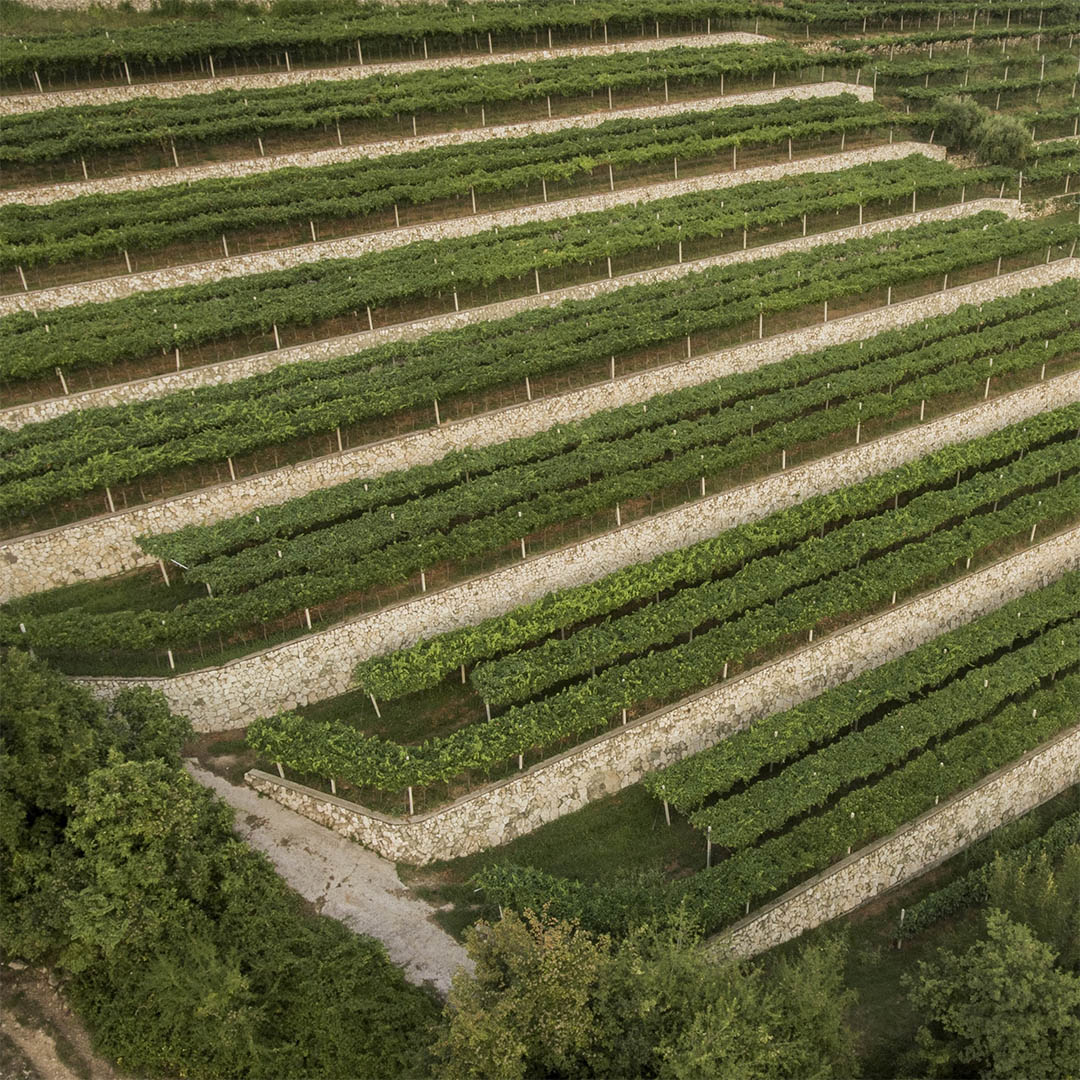 Not only Amarone wine for the Tedeschi cellar tasting
"La Fabriseria" Valpolicella Classico Superiore DOC Tedeschi 2017
Wine. "The blend is composed of Corvina, Corvinone, Rondinella and a small percentage of Oseleta. The grapes come from the La Fabriseria vineyard located within the Valpolicella Classica area (municipalities of Sant'Ambrogio and Fumane), and are left to over-ripen on the vines. The wine yield per hectare is very low and does not exceed that of Amarone. The wine is aged exclusively in Slavonian oak barrels'..
My tasting. It presents rdeep and impenetrable ruby, very consistent. On the nose notes of ripe fruit, inky chocolate and balsamic black cherry under spirits, undergrowth. In the mouth it is pleasantly alcoholic, structured, balanced, delicately savoury and with a long sip. Very pleasant.
My pairing. Almost a risotto all'amarone, but in reality a risotto with Valpolicella Classico mantecato with a spoonful of freshly herbed malga cheese that gave it an exceptional taste and creaminess.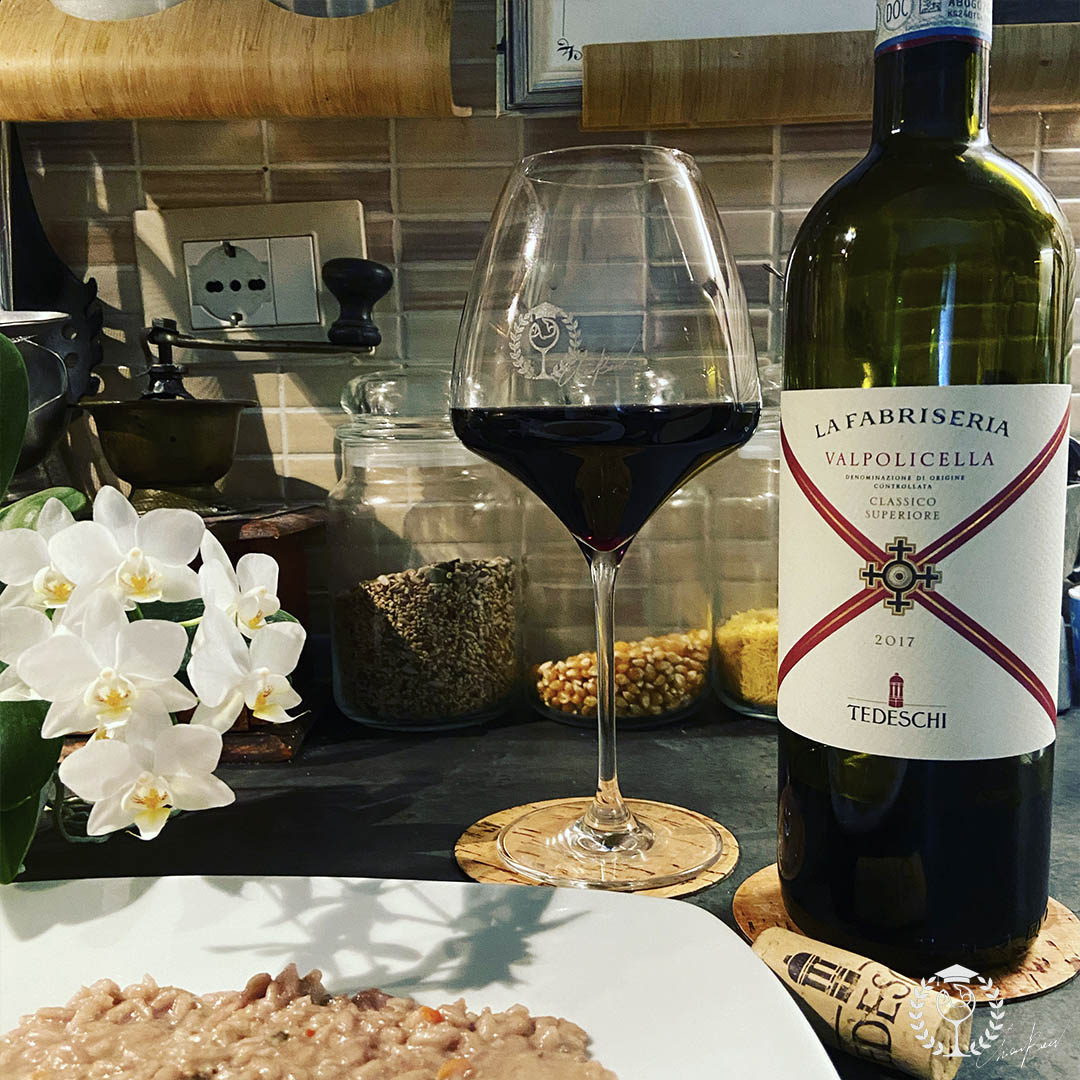 "Capitel Monte Olmi" Amarone della Valpolicella Riserva DOCG Tedeschi 2015
Wine. "Monte Olmi" is the name of the vineyard located in Pedemonte di Valpolicella, in the heart of Valpolicella Classica. It has an extension of 2.5 hectares with south-west exposure. The vineyard is obtained on terraces: the steep slope ensures water loss in the event of heavy rainfall, while the depth and predominantly clayey structure allow water retention in dry periods. Corvina, corvinella, rondinone, oseleta, negrara, dindarella, croatina and forselina sink their roots into the red clay and limestone soil and then dry in the fruttaia for four months and finally age in Slavonian oak barrels for four years'..
My tasting. It presents rbarely transparent ruby red, consistent. The nose is delicate and elegant with spicy notes of cocoa black pepper, blackberry jam, rhubarb, resin, peppermint and fermented tobacco. In the mouth it is warm, soft, structured, fresh, with elegant but very lively tannins that need time to express themselves at their best. I would taste it again in a few years.
My pairing. An exceptional goat and buffalo cheese board with fig jam and a mortadella crêpe... how wonderful! 
You can now buy my book Sommelier: the illustrated manual or scroll down the page to continue reading the article!
Book 'Sommelier: the Illustrated Manual' Special Edition 2022
All my notes on wine and food in one book.
In stock (can be backordered)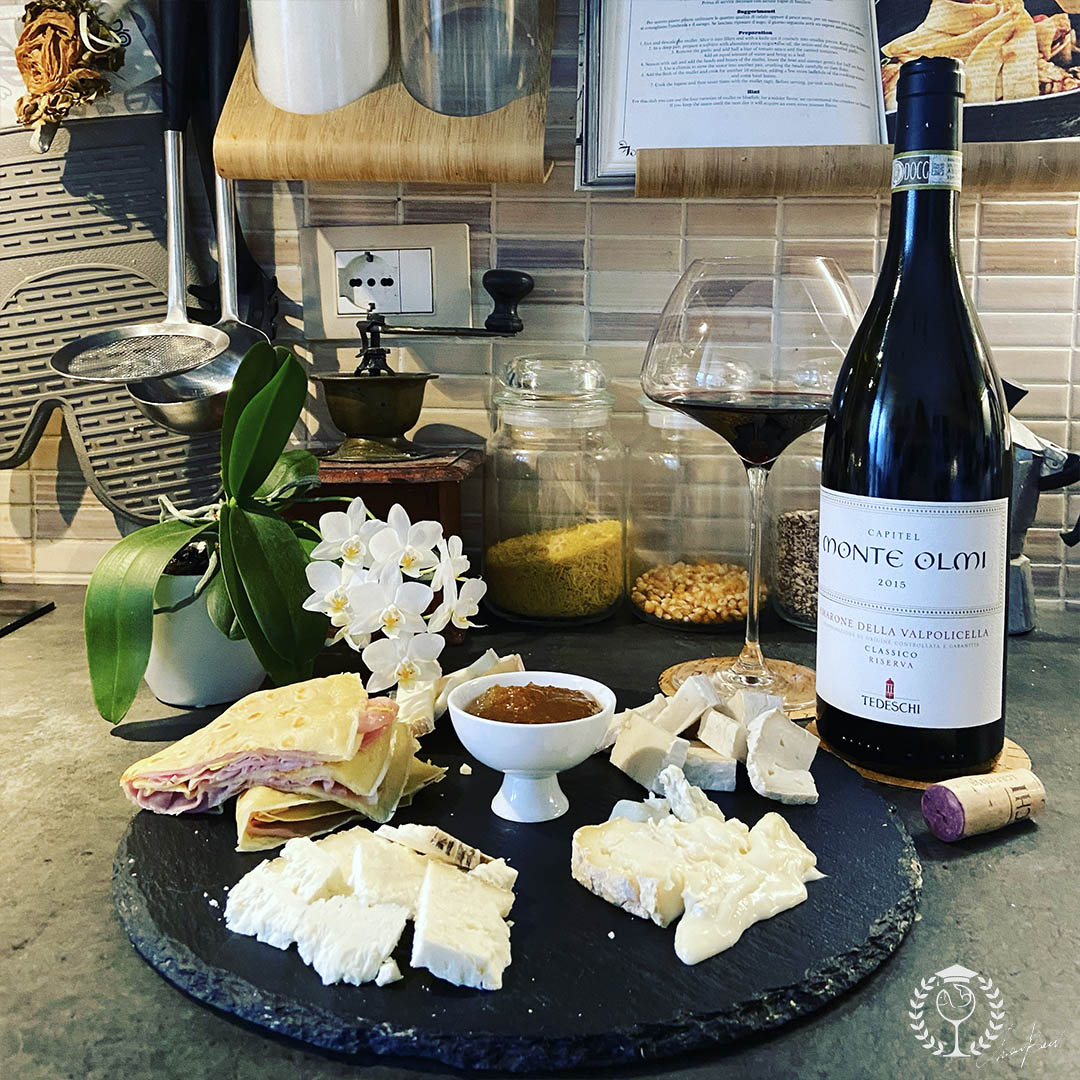 Amarone wine is an indispensable cuddle for me, whether I uncork it during a special evening or simply when I want to enjoy a relaxing moment. Being a high-end wine, however, it cannot be uncorked frequently and this somehow makes it even more special. I would particularly like to emphasise the pleasantness of Valpolicella Classico Superiore la Fabriseria which, being in the 20-25 € price range, is suitable for frequent consumption and is therefore perfect for those who, like me, love this kind of wines from Veneto.
Cheers 🍷
Chiara
If you like Amarone wine, I also recommend reading: