Montepulciano is a black grape variety not to be confused with the Nobile di Montepulciano wine made with Sangiovese grapes produced in the homonymous Tuscan town of Montepulciano.
Synonyms and clones
Synonyms: montepulciano d'Abruzzo, montepulciano di Torre de 'Passeri, tower of sparrows, grapes from Abruzzo.
Montepulciano: characteristics
… Of the plant
Appearance: leaf medium, five-lobed, five-lobed and with semi-closed or closed lyre-shaped petiole sinus. The upper page is bullous and of a deep green color while the lower one is woolly and green-gray in color. Petiole medium and hairless.
maturation: I and II ten days of October. Bunch medium, conical or cylindrical-conical, often winged and serrated or semi-serrated. Acino medium, oval or sub-oval. Peel consistent and leathery, pruinose and blue-black in color. Pulp almost mushy with pale pink juice with a simple flavor.
Productivity: medium to abundant and fairly constant.
Vigor: half.
Resistance to adversity: sensitive to peronospera and powdery mildew. It meets the green acinellatura, but is not afraid of the sweet acinellatura. Very resistant to spring frosts and rot.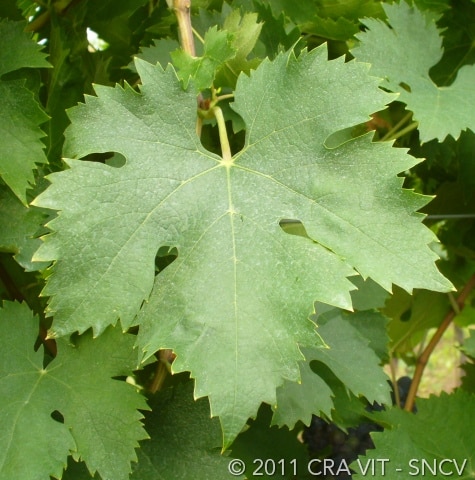 … Of the wine produced
Visual exam: bright ruby ​​red with purple reflections.
Olfactory exam: intense and fruity, with notes of ripe blackberry, porcini mushroom, mulberry jam, cocoa, tobacco and maraschino.
Taste-olfactory examination: fresh, tannic and structured. Long fruity finish.
Cultivation areas
Italy: (suitable and recommended areas) Puglia and Sardinia; (suitable areas) Abruzzo, Basilicata, Calabria, Campania, Emilia-Romagna, Lazio, Lombardy, Marche, Molise, Sicily, Tuscany, Umbria.
World (in order of quantity): Italy. Small productions in Argentina, the United States, New Zealand and Brazil.
Montepulciano: Italian DOCG and DOC wines where it is admitted
DOCG: Conero, Colline Teramane Montepulciano d'Abruzzo, Offida, Torre Tollesi or Tullum.
DOC: Abruzzo, Biferno, Brindisi, Cacc'e 'Mmitte di Lucera, Castel del Monte, Castelli Romani, Cerasuolo d'Abruzzo, Cerveteri, Colli della Sabina, Etruscan hills of Viterbo or Tuscia, Colli Lanuvini, Colli Maceratesi, Colli Romagna Centrale, Controguerra , Cori, Esino, Gioia del Colle, Gravina, Grottino di Roccanova, I Terreni di Sanseverino, Leverano, Lizzano, Molise or Molise, Montepulciano d'Abruzzo, Ortona, Pentro di Isernia or Pentro, Rome, Rosso Conero, Rosso di Cerignola , Rosso Orvietano or Orvietano Rosso, Rosso Piceno or Piceno, San Severo, Tarquinia, Velletri, Villamagna.
Sources:
© Ministry of Agricultural, Food and Forestry Policies, National catalog of vine varieties.
© Bassi C., Sommelier: the illustrated manual, Cameo DiVino, Monte Isola, 2022, pp. 159-160