What to do in Livigno? Maybe the first things that come to mind are skiing, snowshoeing or snowmobiling (but I've even seen people climbing vertical mountains with snowmobiles)... but what if you went to Livigno to eat and drink well? What do you think of this tasty alternative? I don't know how to ski and I am afraid of falling even from the downhill slope of my house, but I love the mountains in winter and I adore snowy landscapes, they give me an incredible serenity. And I'm sure there will be some winelover who wonders if it's worth going all the way to Livigno without a pair of skis or a skateboard... and anyway, you can do these things even in between downhill runs! 😄
Before telling you what to do in Livigno, however, I want to thank the chef Luca Galli for the invitation and its secretary Barbara Martellettitwo truly exquisite people whom it was a pleasure to meet. I also want to thank Salah of the restaurant Il Cenacolo for letting me try a delicious Lebanese drink (by the way, you know I wrote this article on the Lebanese wine?) aniseed and Pasquale, the waiter at La Posa from Matera that made me remember unforgettable scents, flavours and landscapes. Thank you all from the bottom of my heart!
What to do in Livigno #1 - choose a wine hotel
When Barbara told me that they are transforming theHotel Galli in Livigno at wine hotel I confess that I was pleasantly surprised: I have been in many wine hotels in my life, but always attached to or owned by wine cellars, whereas it has never occurred to me that someone from outside the world of wine would have such a project. Of course, calling a chef a stranger to the world of wine may seem far-fetched... but a restaurant 'just' buys wine, which is not the same as buying wine and then having what is needed 'recycled'. For example, a wine cellar may have wine that is not worthy of consumption, but becomes perfect as a cosmetic product... not to mention grapes, marc and whatever else can serve a Wine SPA! So, for this alone, all my compliments go to Luca Galli: it is a great investment that deserves to achieve, in time, an extraordinary result!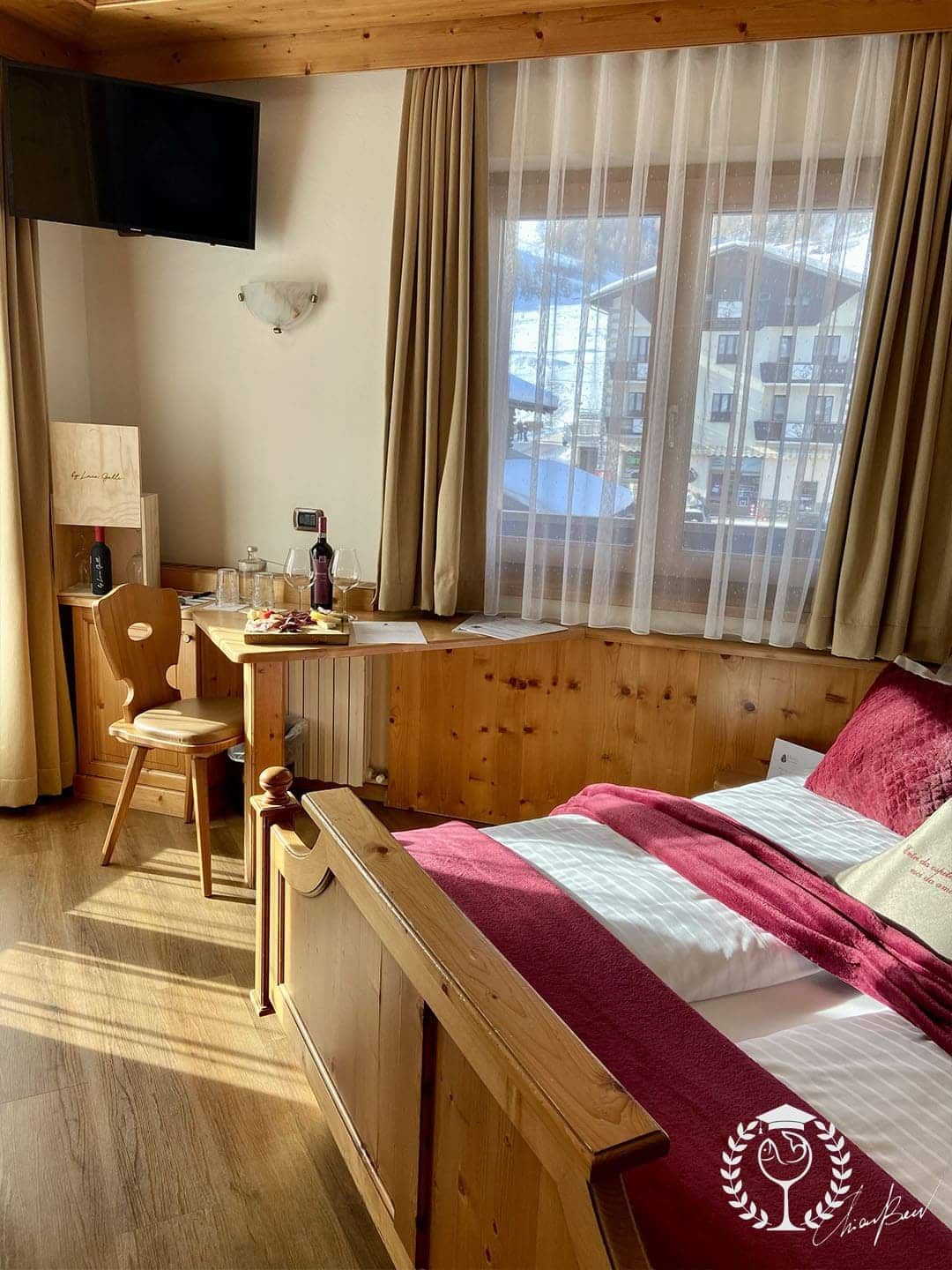 The double room is very nice and has a nice corner terrace with a view of Livigno or snow-capped mountains where you can sip a good glass of wine with a matching warm blanket. The bottle of wine is available in the room with the wine set-up, together with a delicious aperitif of typical Valtellina products and a bottle-opener set signed Luca Galli that you can take home as a souvenir!
What to do in Livigno #2 - try the wine SPA and Hot Stone massage
A wine hotel also has a wine SPA... and I must say that the one at the Hotel Galli is small, but complete with everything to relax perfectly. The real plus, however, is Elisathe masseuse, who gave me the best massage of my life... and I am spoilt and have had the good fortune to have many massages. The hot stone massage it is wonderful and the ambience is intimate, I relaxed so much that I achieved peace of mind despite the fact that I am experiencing a period of great stress!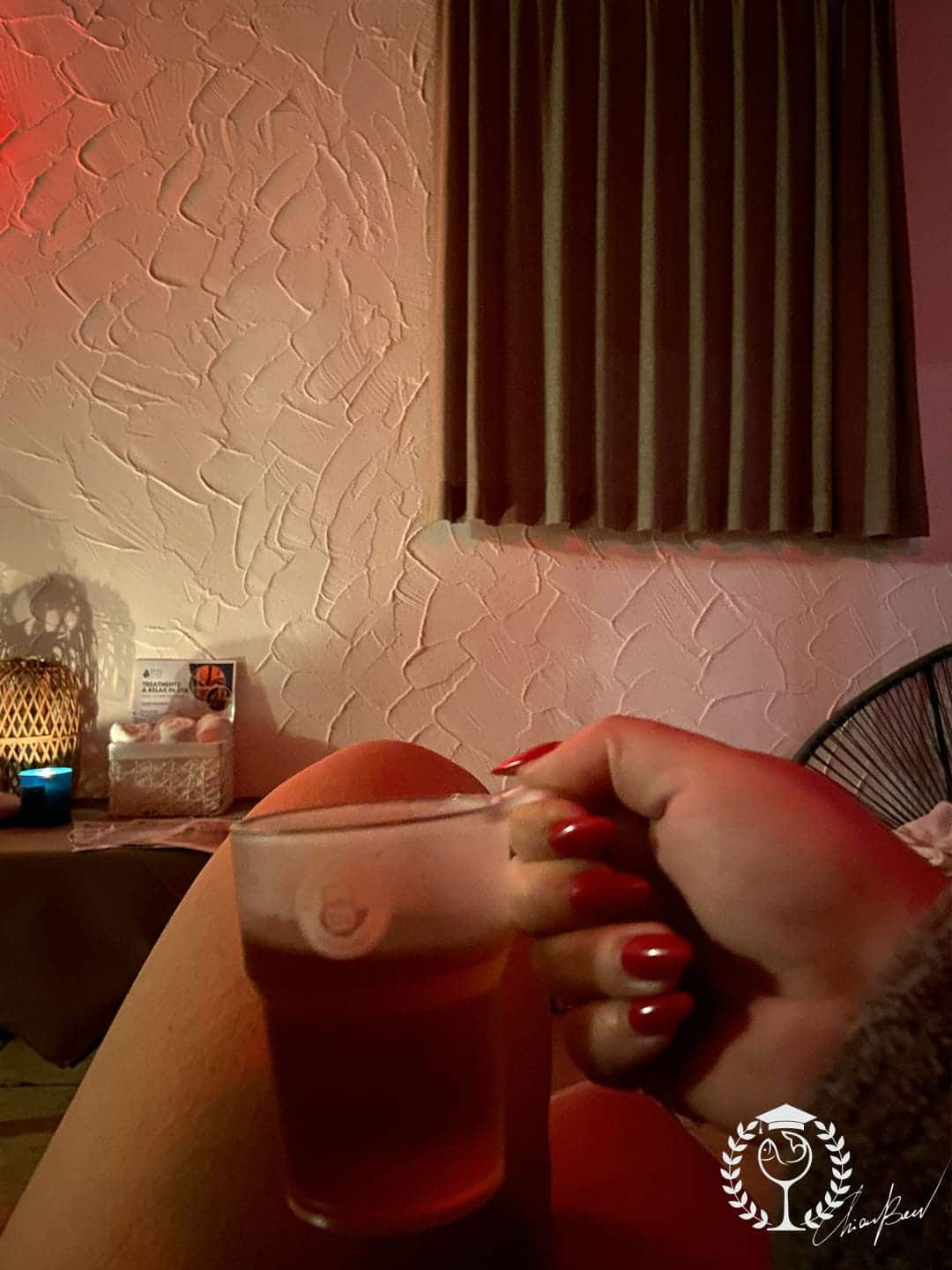 After the massage, I relaxed on the couch with a good peppermint tea! The next treatment was unbelievable: a homemade red wine scrub with brown sugar, which I put on in the steam bath for about 15 minutes. Well, after the shower my skin was so soft that I looked like a little girl, and I won't tell you about the scent! I almost drank it....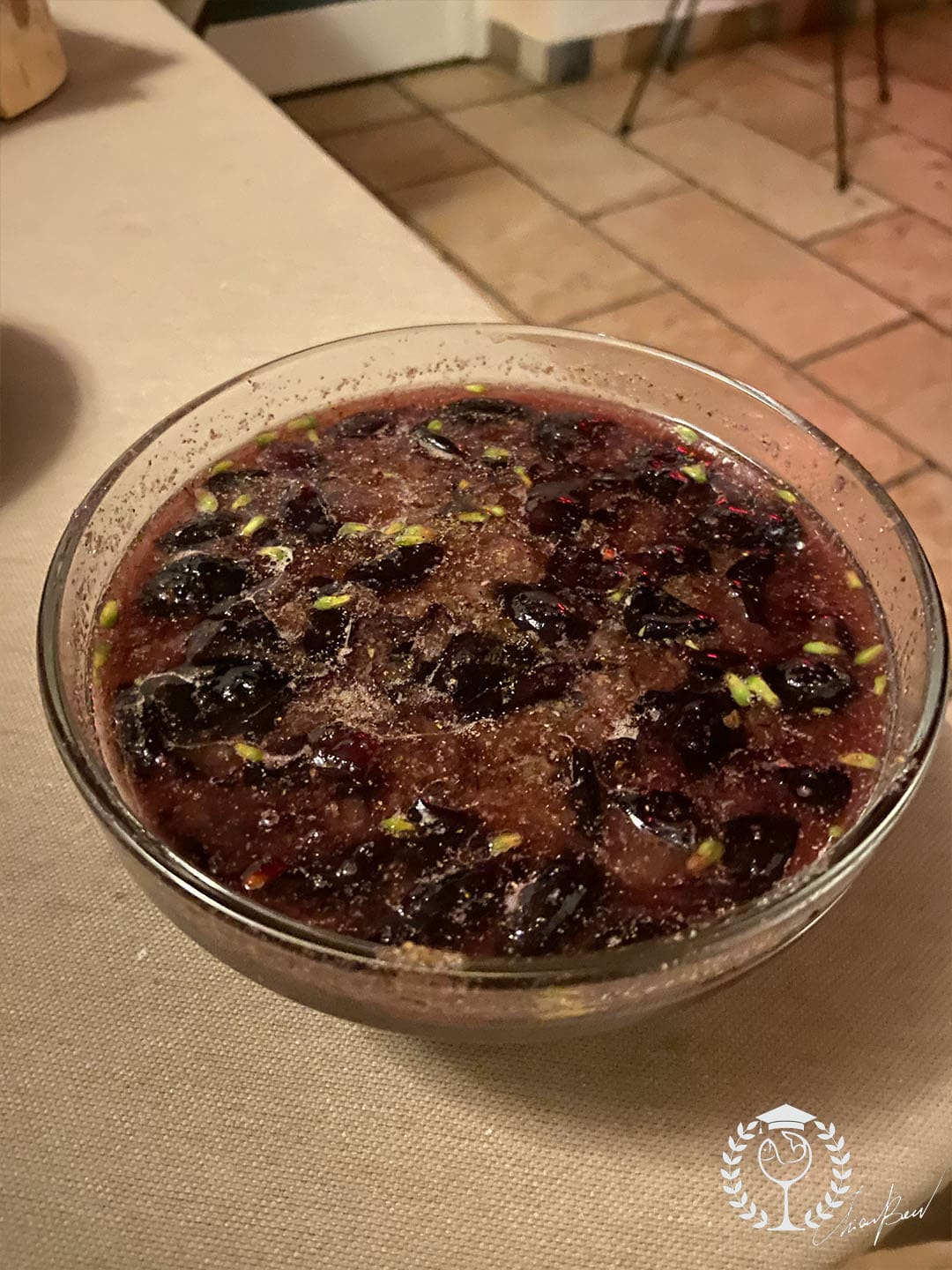 Fortunately, there was no shortage of food and drink in the wine SPA, so I also had a nice aperitif of Sassella wine, bresaola and other sliced meats and cheeses from Valtellina, and porcini mushrooms! Unfortunately, despite being a Riserva, this wine is already mature and does not have much time ahead of it, but it is very enjoyable now.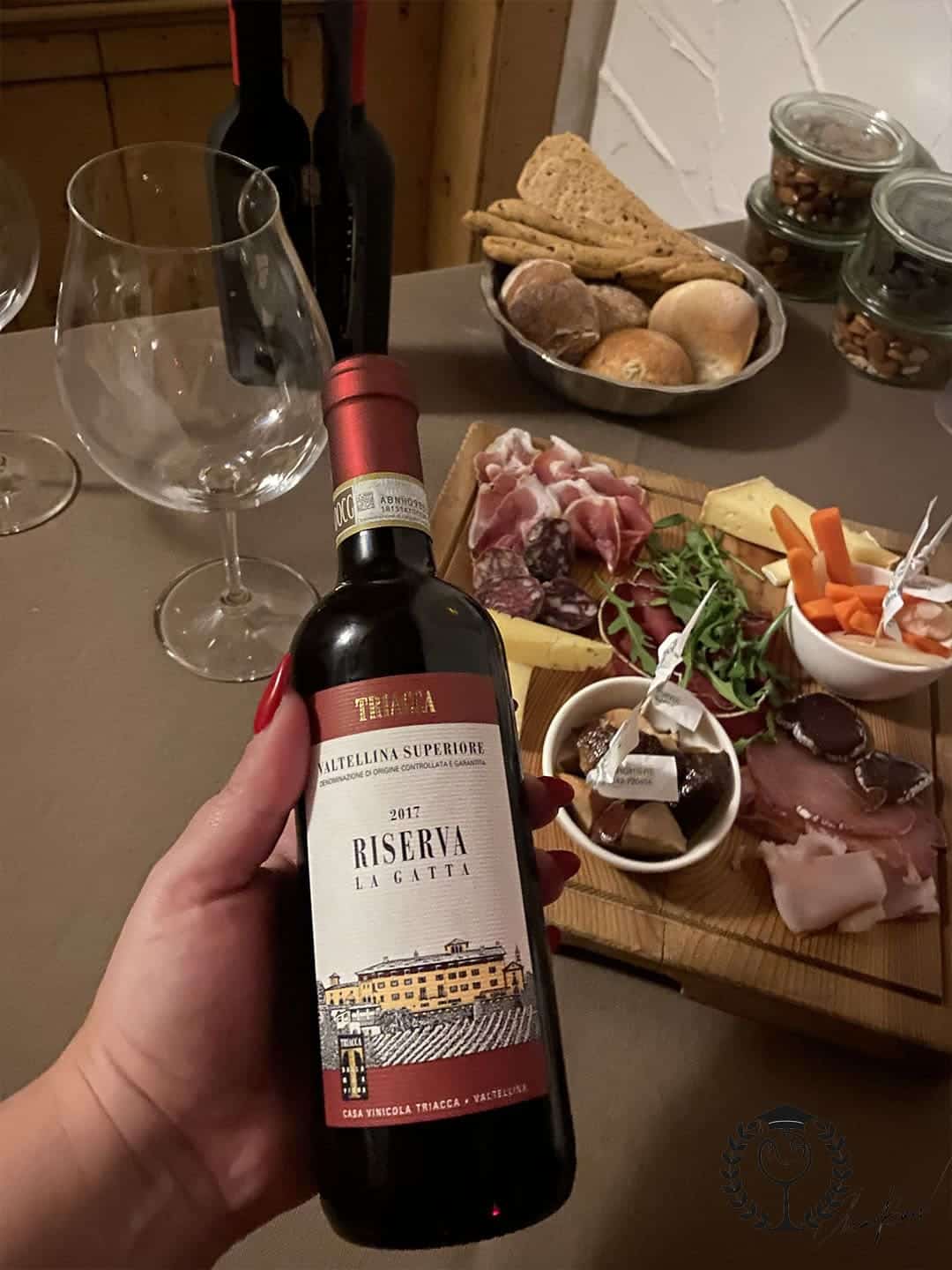 The SPA afternoon ended in the whirlpool bath set up with red wine and black grapes that made my skin even more beautiful, while I sipped a glass of prosecco! These treatments (and accompanying delicacies) are part of a package designed for two people that also includes the SPA for exclusive use.
What to do in Livigno #3 - taste the Buon Ricordo menu at La Posa restaurant
Well, just recently I was at the presentation of the Buon Ricordo Restaurants 2023 so I certainly did not miss the opportunity to taste the full menu created by chef Luca Galli in his restaurant La Posa Livigno. The full menu costs 65 €, to which you can add 4 glasses of wine in combination at a price ranging from 30 € to 50 € depending on the type of wine, or an interesting proposal of pairing with 3 cocktails at 25 €.
As a welcome from the kitchen, we tasted a chips with langoustine tartare and blueberry vinegar reduction simply delicious. We were served our first glass of wine: one Drappier Champagne perfect for degreasing the starter that followed.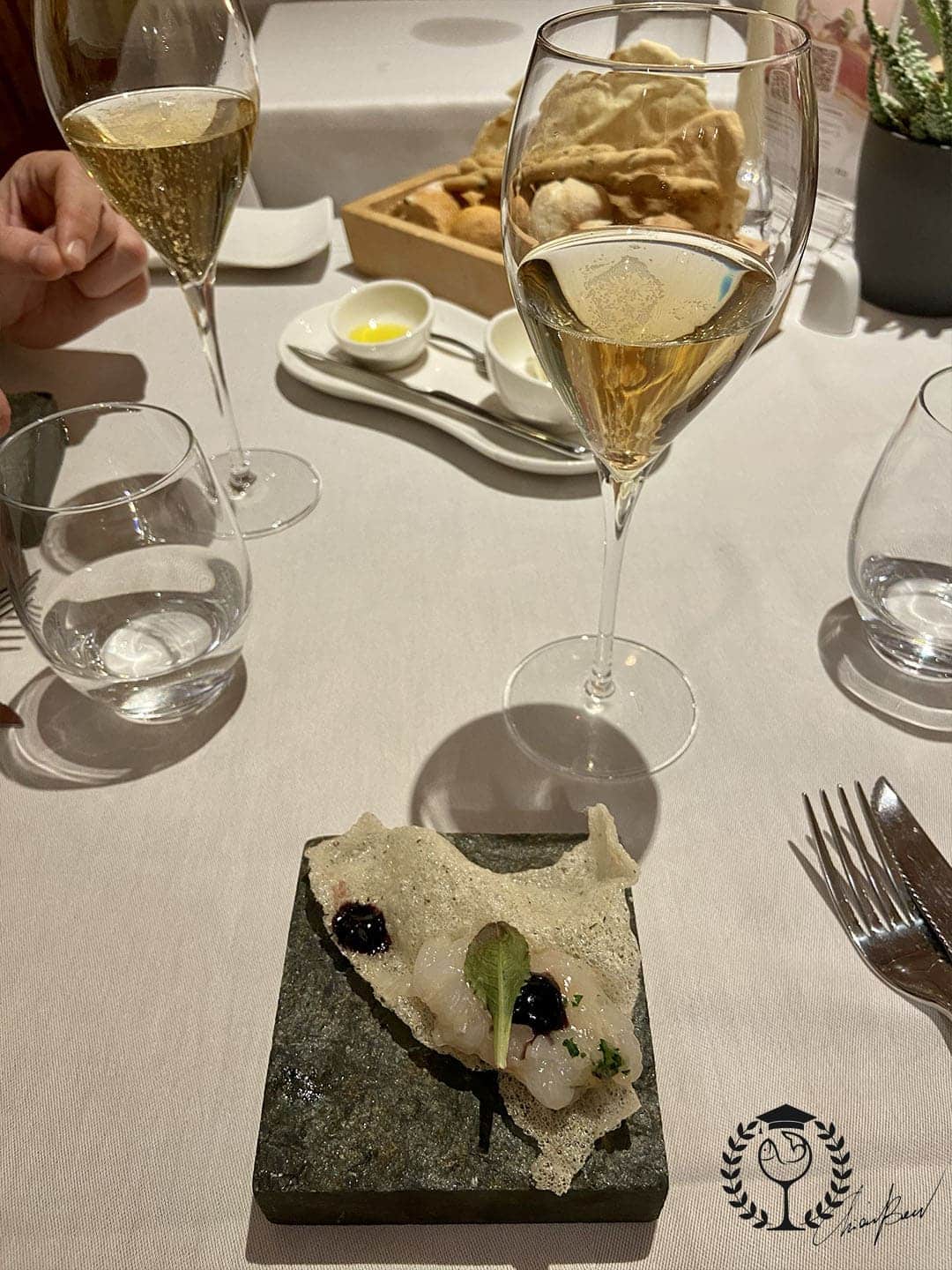 For starters we had theTaroz arancino revisitedthe Buon Ricordo del Camino dish, which I enjoyed very much. Taroz was a traditional peasant dish made by mixing potatoes and garden vegetables, then flavoured with local cheese, which in this reinterpretation is a very soft mousse of Valtellina Casera DOP. The taroz becomes a mouth-watering arancino and the guanciale (bacon cheek) fits perfectly, as well as making it an interesting proposition even for a tourist unfamiliar with Lombardy's regional cuisine.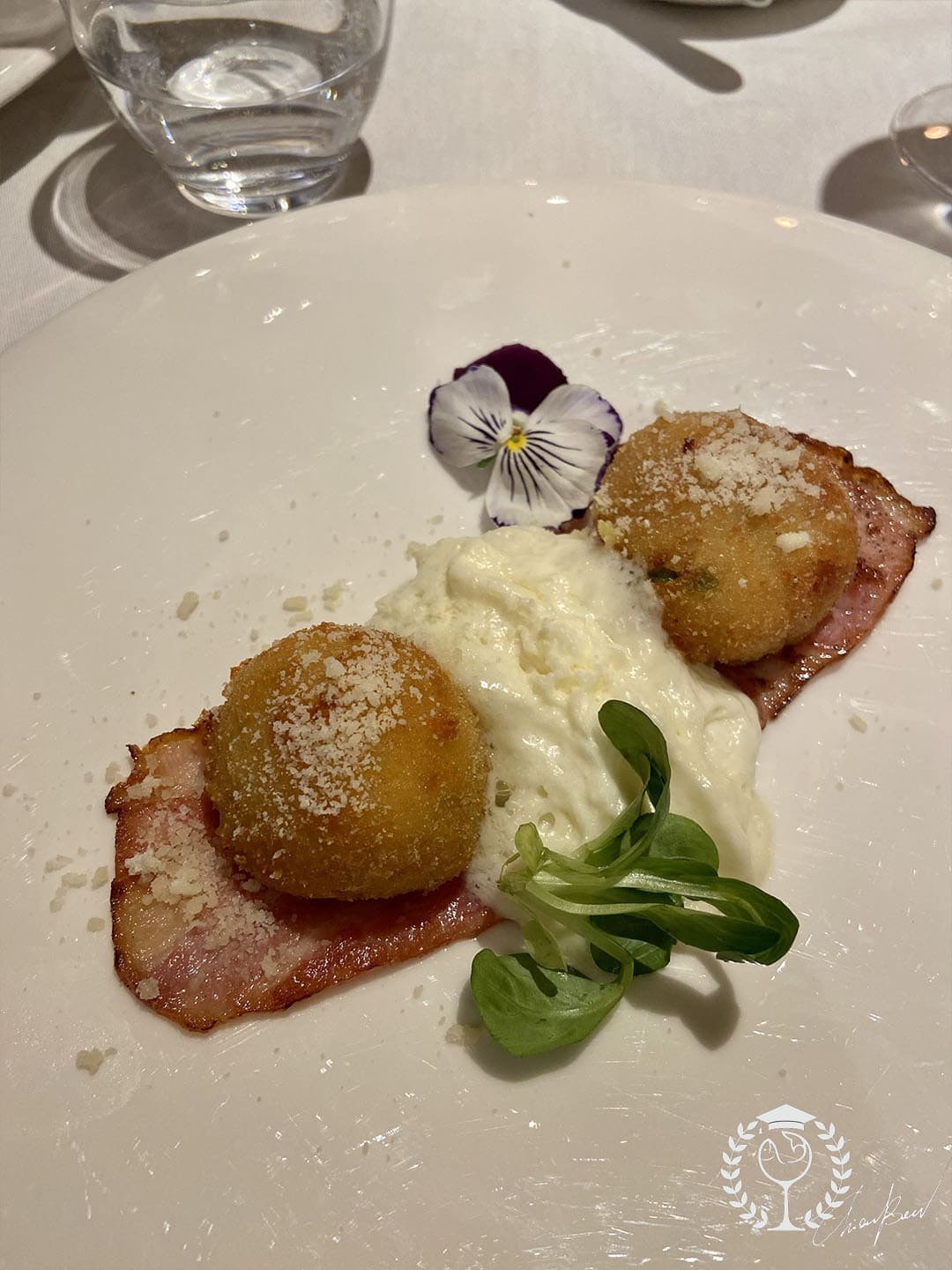 The most successful dish is from La Posa's Buon Ricordo: the Carnaroli risotto Riserva San Massimo whipped in mountain pine butter with white hare ragout. Perfectly cooked rice, a tasty ragout perfectly dosed in both quantity and flavourings, a mantecatura all'onda with a balsamic hint. The dish is completed by dry ice which, contrasting with the heat of the rice, releases an aesthetically fascinating smoke that carries all the aromas and delicately deposits them on my greedy nostrils.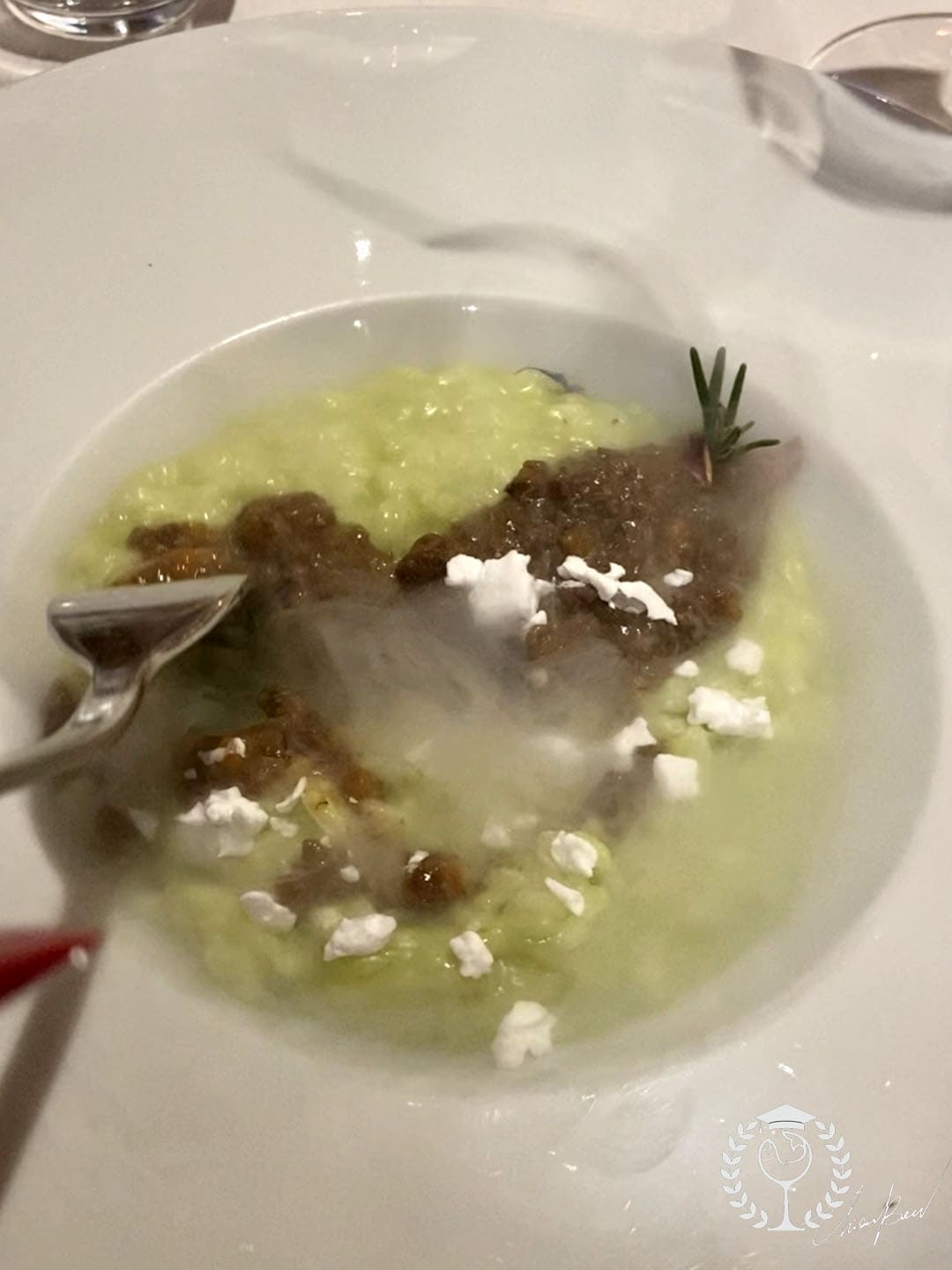 As a second course we were served the local veal cheek cooked for 36 hours at low temperature with porcini mushroom sauce and mashed potatoes. A rather soft meat enhanced by the sauce and completed with potatoes mashed to perfection, without lumps, to which I added a drizzle of Livigno oil.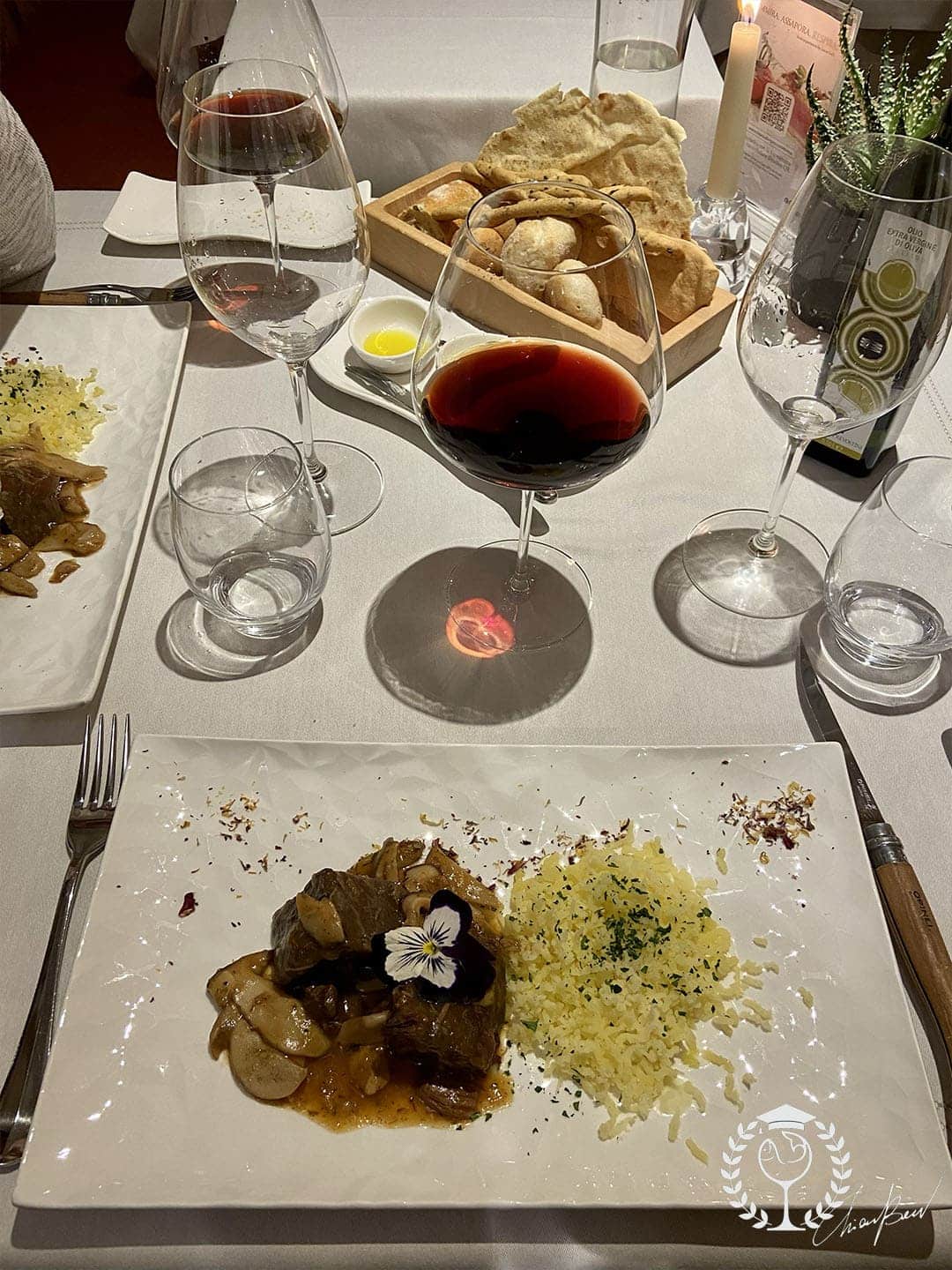 Interesting dessert idea: a milk slice revisited, echoing the famous kinder snack. The two layers of cocoa bisquit contain a thick layer of white chocolate namelakaaccompanied by a hazelnut, strawberry and red fruit crumble. Good dessert, which I would have preferred with seasonal fruit. Ah, namelaka is a cream of Japanese origin that remains softer than a traditional custard.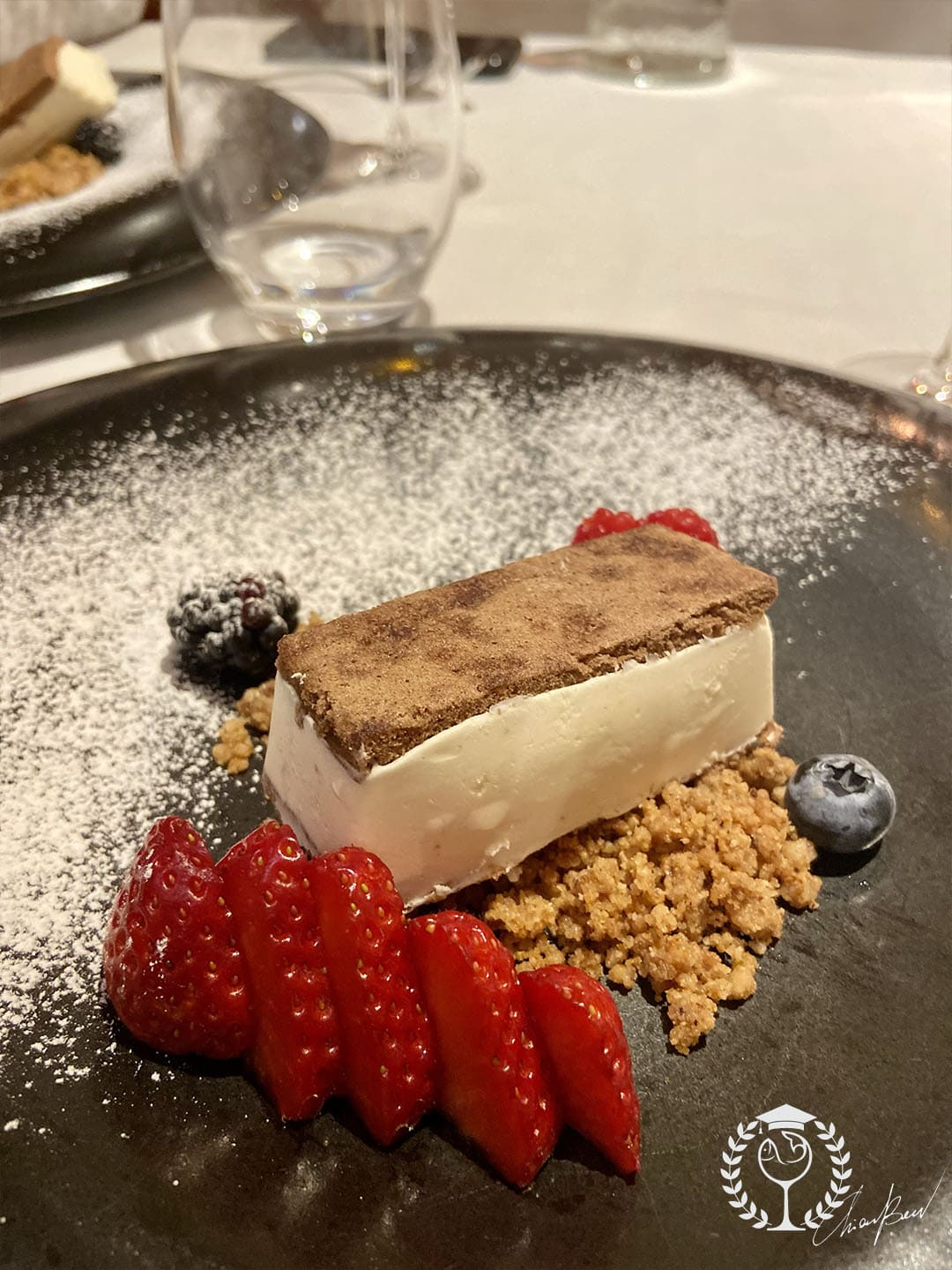 You can now subscribe to my newsletter or scroll down the page to continue reading the article!
What to do in Livigno #4 - taste an old vintage of Sforzat 
Dello sforzat and the Valtellina wines I will talk to you in general in a separate article, but in the meantime I will tell you in advance that in my opinion one of the things to do in Livigno is absolutely to choose an old vintage of this excellence of Italian oenology. I chose the 2004, but among the proposals there was also the 2001, which sommelier Andrea told me was the vintage of the century for this region.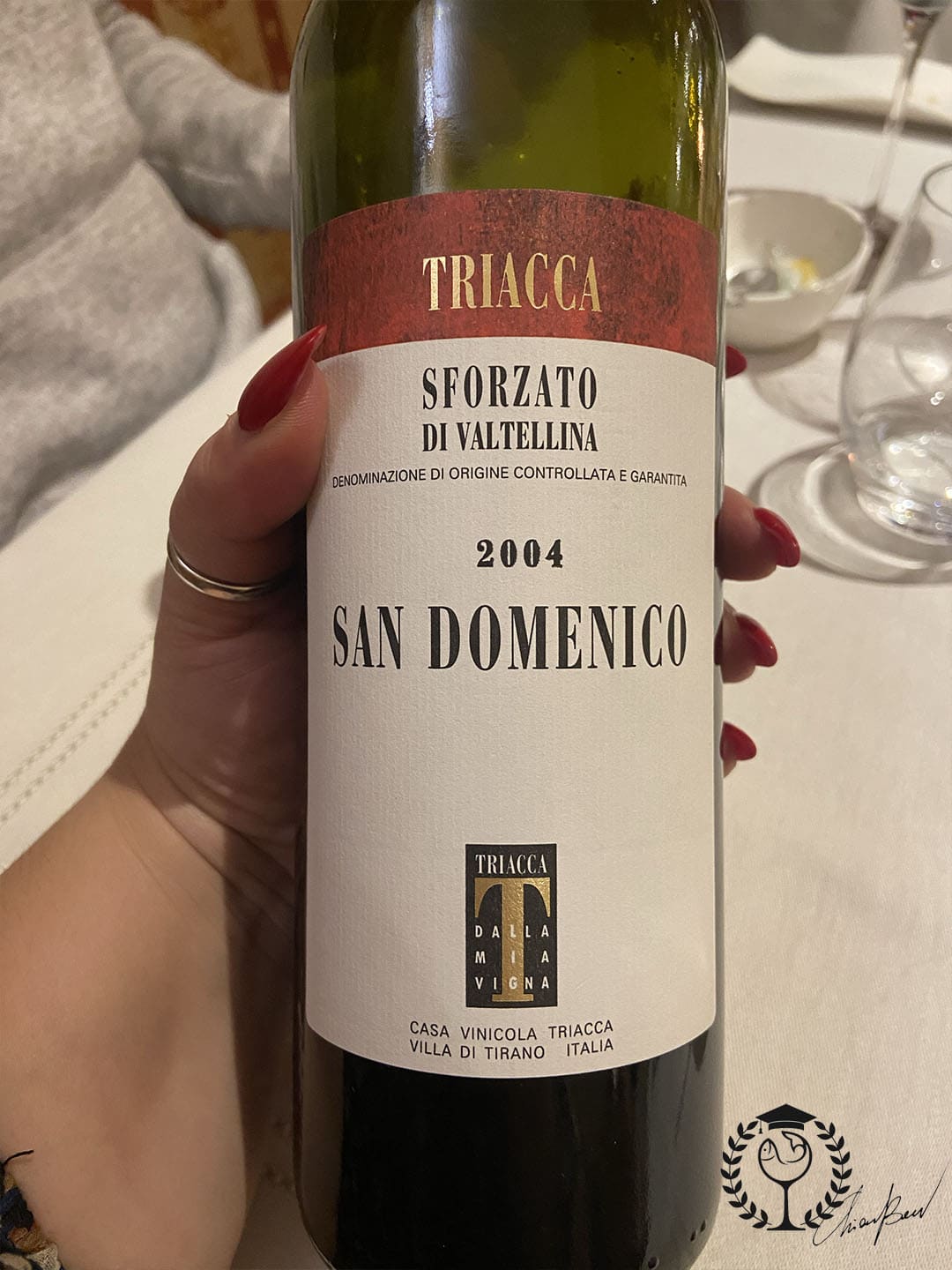 How comfortable the Coravin is! Here's Andrea pouring me the Sforzat San Domenico 2004 from the Triacca winery. I chose the 2004 vintage because I drank some excellent Amarone from that vintage recently and was curious to taste a sforzato as well. Of course, we are on another grape variety and another area, but the comparison is interesting nonetheless. Sforzato is made from Nebbiolo grapes, harvested by hand and left to dry in the fruttaio until at least December. After vinification, it matures for 18 months in barriques and then ages in bottles until a later date. If just opened it was very closed, it was enough to leave it in the glass until the end of the meal to enjoy a wonderful wine where aromas of coffee, ink, medicinal and bark danced harmoniously for my senses.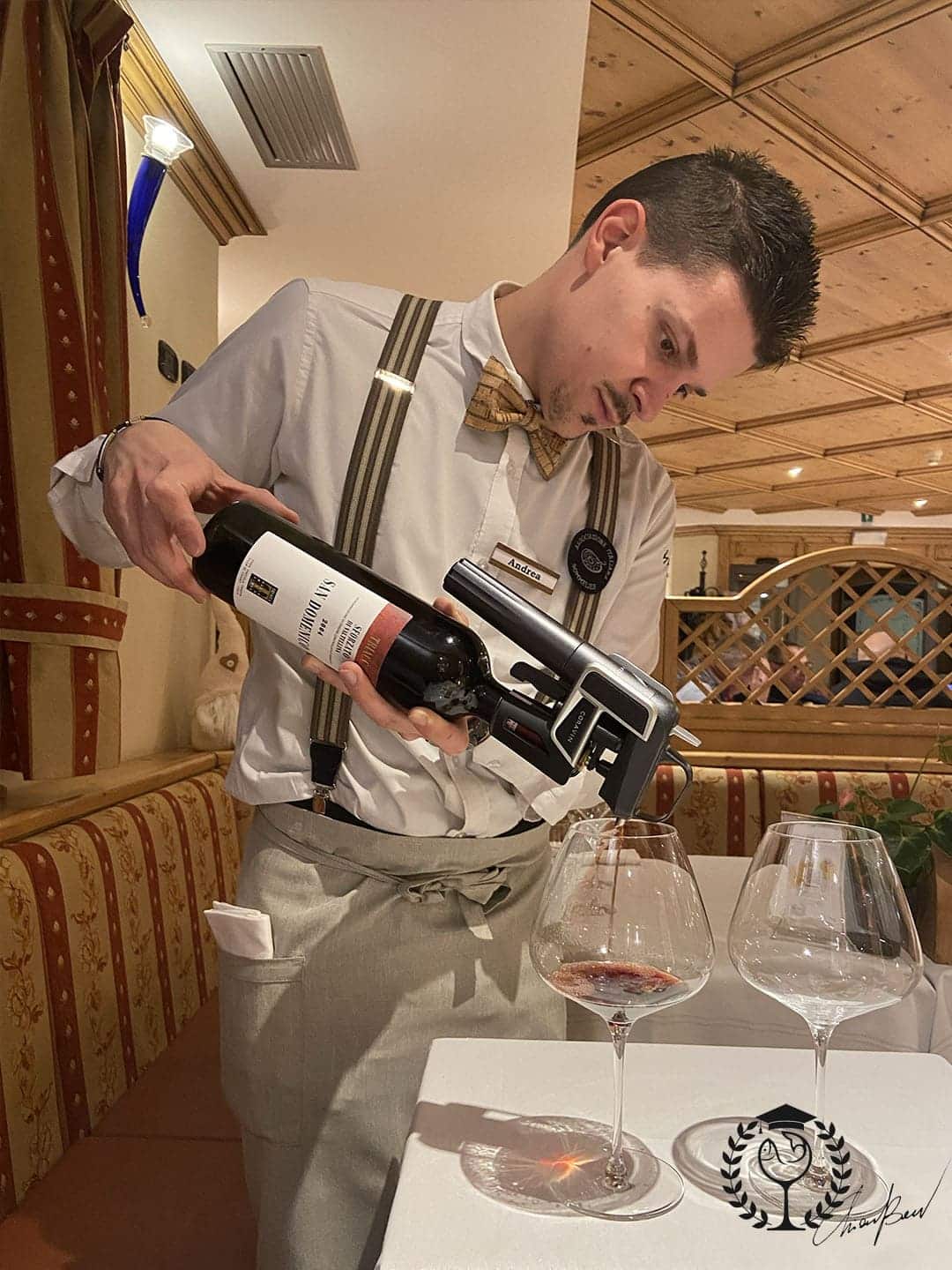 What to do in Livigno #5 - have a TAST snack after walking in the mountains (with possible snowshoeing)
Luckily for me, I didn't go snowshoeing because I was already worried about my fragile balance, but on the other hand I had a wonderful walk in the snow with Luca Galli and we also had a TAST snack (heaven forbid I burn too many calories...). I'll tell you about the TAST project in a dedicated article though, so bear with me! 😄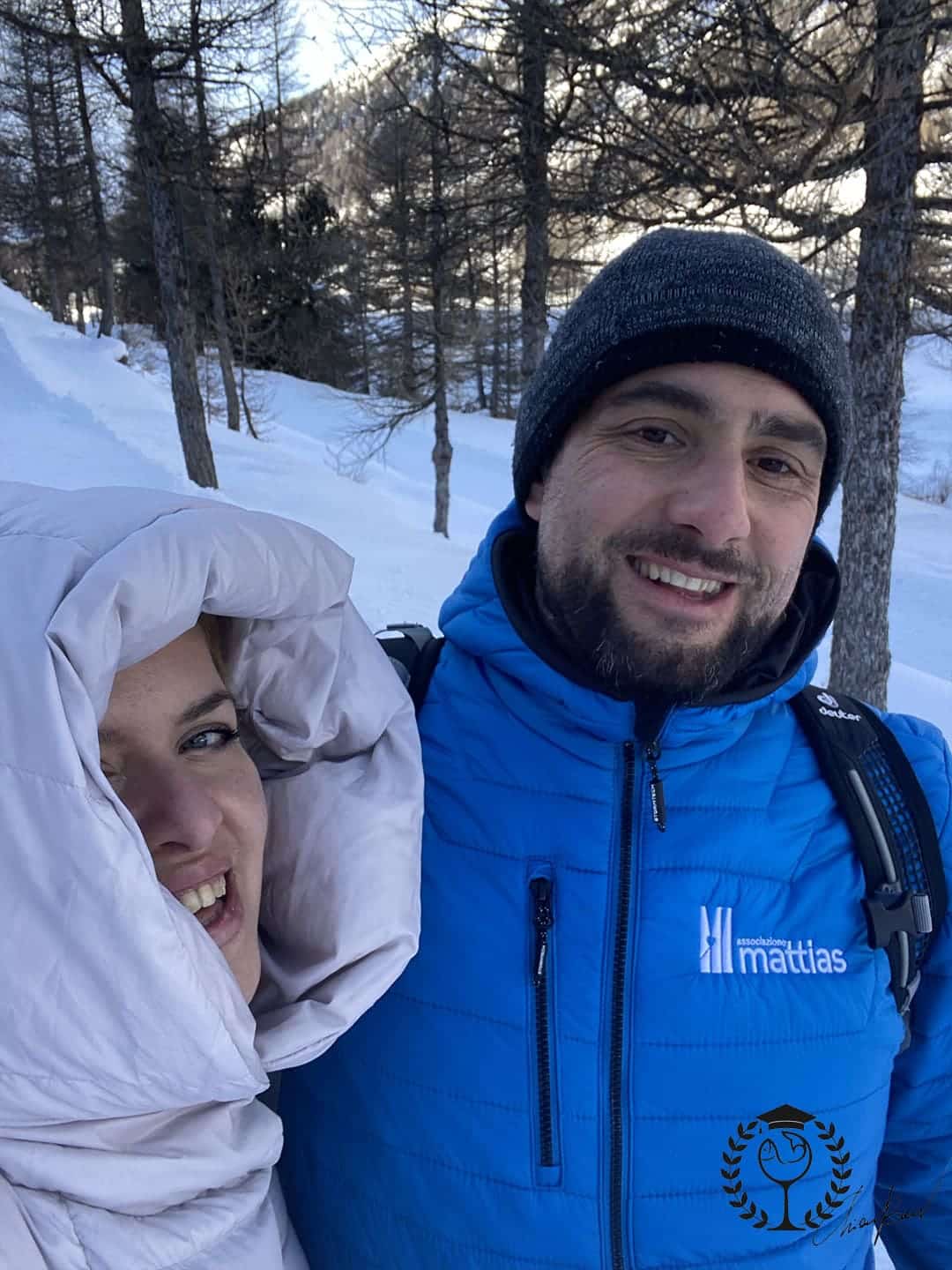 For now, suffice it to say that - along with the usual cold cuts typical of Valtellina - I ate some very simple and delicious butter biscuits while looking at these wonderful snow-capped mountains.
What to do in Livigno #6 - sleigh ride
I love all animals (except mosquitoes 🦟 ☠️) and so I was delighted by Luca's proposal to take a ride on a sleigh pulled by a festively decorated horse named Nancy.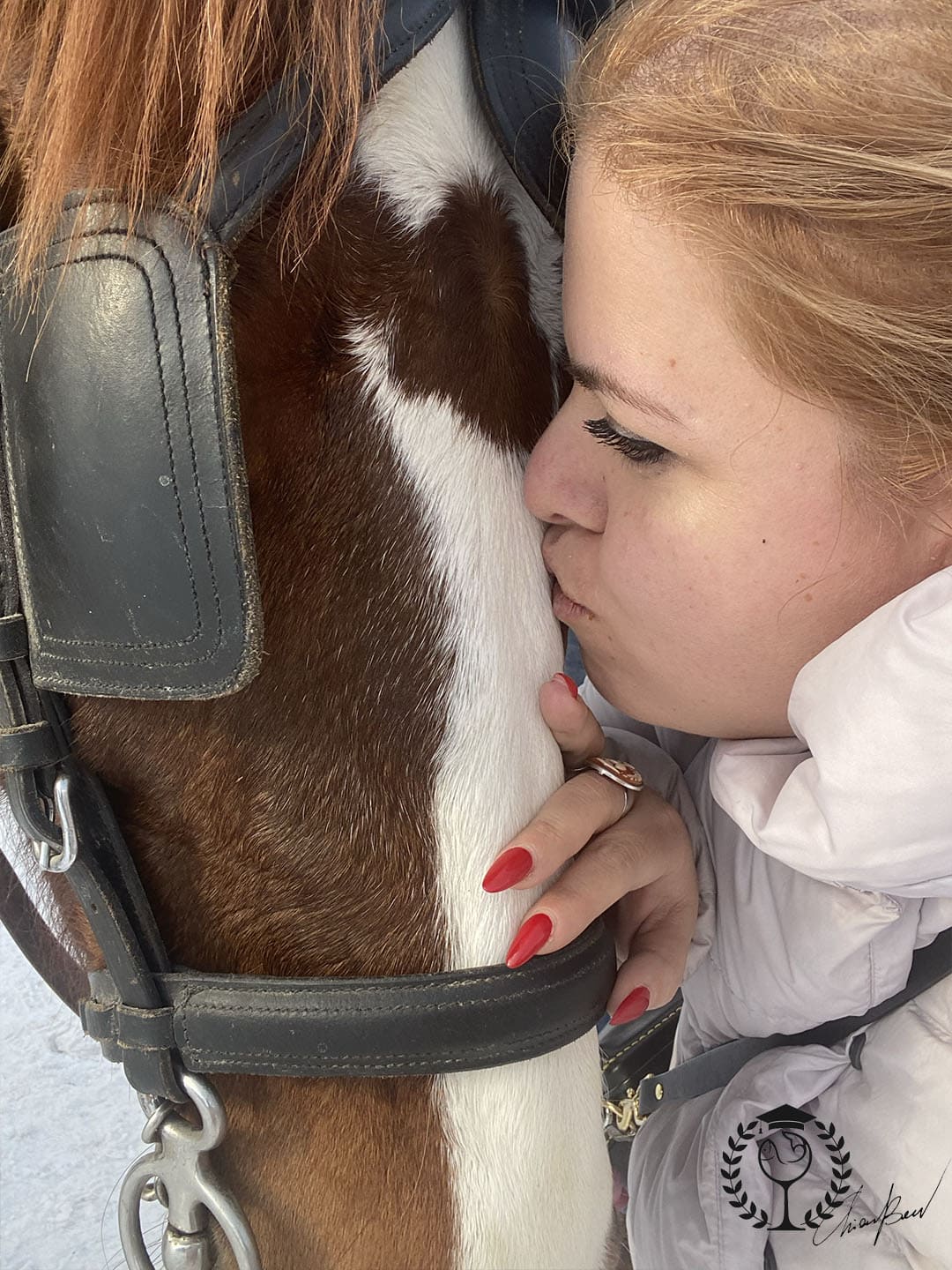 The sledge is comfortable and cosy thanks to the warm merino wool blanket, which is essential for Livigno, which has temperatures as low as -20 °C. The excursion takes about 30 minutes and is suitable for everyone, as long as you wear a warm down jacket. The horse goes very slowly so there is no need to be afraid, which makes this experience perfect for children too, and you can even bring your little dog on the sled. The views are breathtaking, especially on a beautiful sunny day.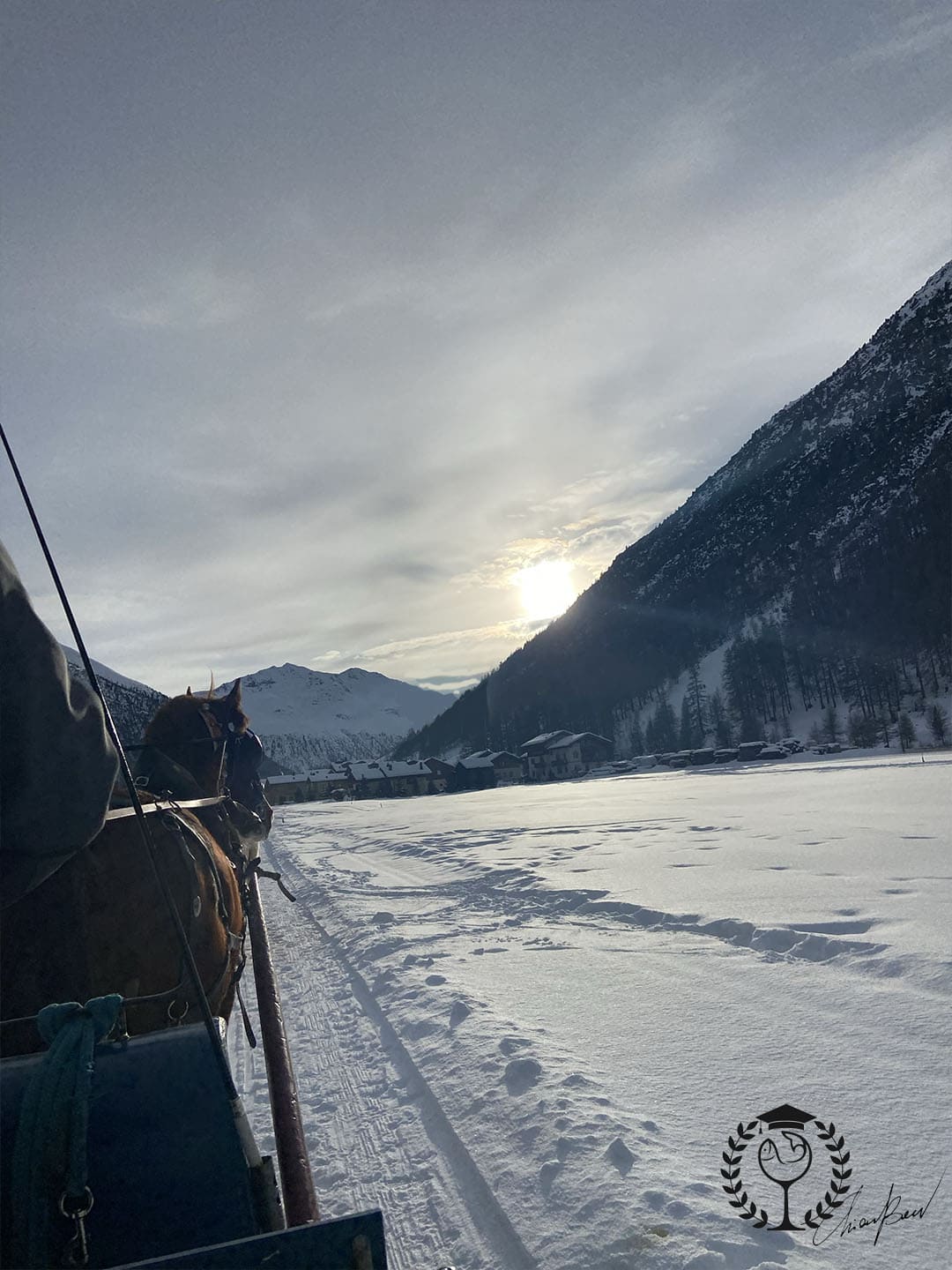 What to do in Livigno #7 - taste the Nebbiolo wines of Valtellina
In Valtellina there are some panic wines, whose only flaw is that they are little known outside Valtellina itself. Accomplice to the fact that there is little wine and that the nebbiolo is so emblazoned in the appellations of neighbouring Piedmont (see Barolo, Barbaresco and company singer), Nebbiolo from Valtellina is little in demand. Here this grape variety is also called chiavennascaprobably an assonance with the neighbouring Val Chiavenna. Cultivated since 1600 in these steep terraced vineyardsin Valtellina is expressed in wines of rare elegance.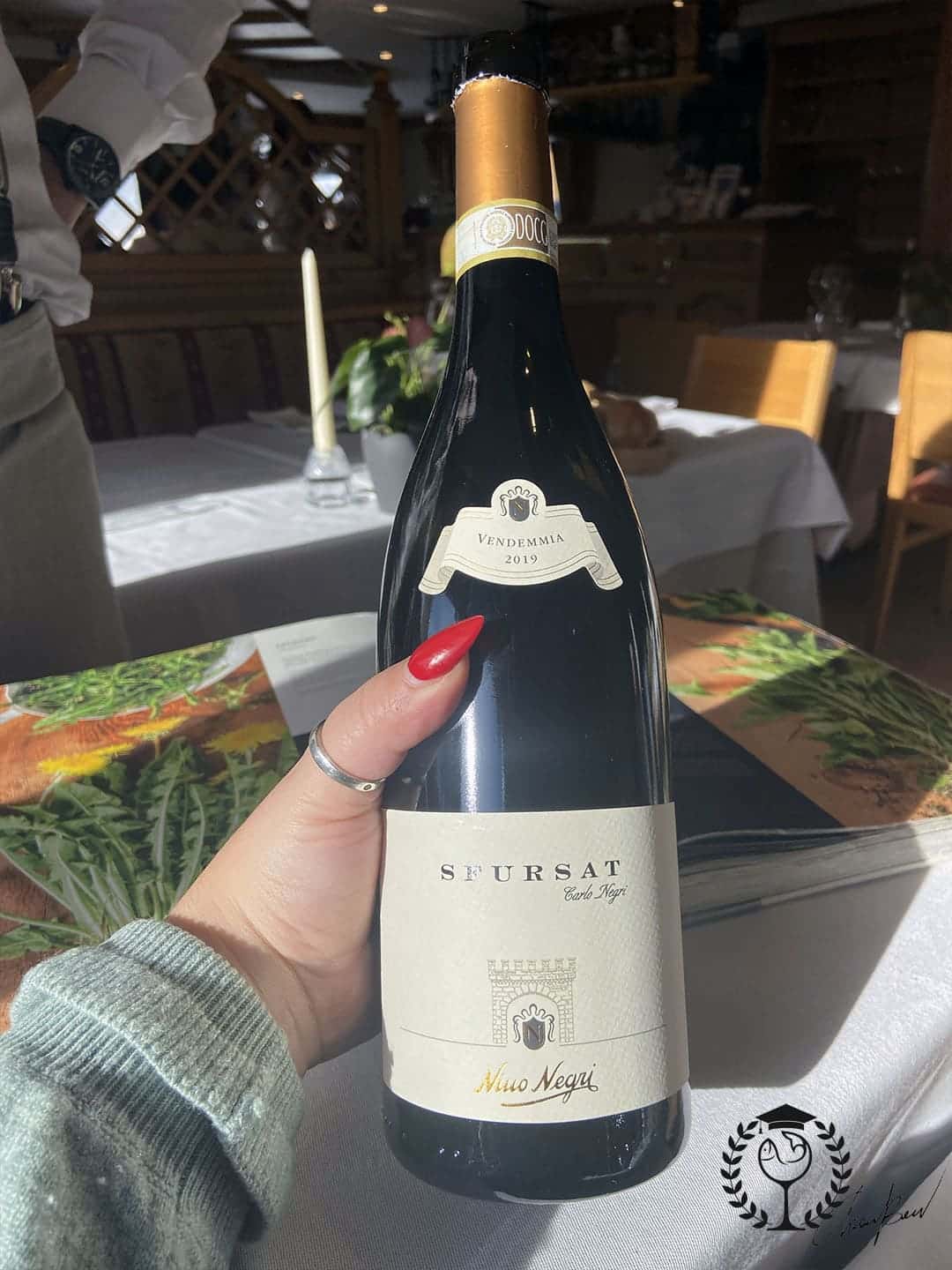 In these three photos you can see three different expressions of Nebbiolo:
Valtellina Superiore DOCG subzone Sassella "Le Mur" Convent San Lorenzo 2019 (one word: amazing!);
Valtellina Superiore DOCG subzone Grumello 'Tell' Luca Faccioli 2017 (I recommend the vintage: I also tasted the 2018, but in my opinion there is no comparison! The 2017 has a particular smoky note totally absent in the more didactic and less charming 2018);
Sforzato di Valtellina DOCG Nino Negri 2019 (how much elegance and finesse in a goblet: I would call it complex, but not complicated).
which I recommend you taste. I found all three at La Posa Livigno restaurant.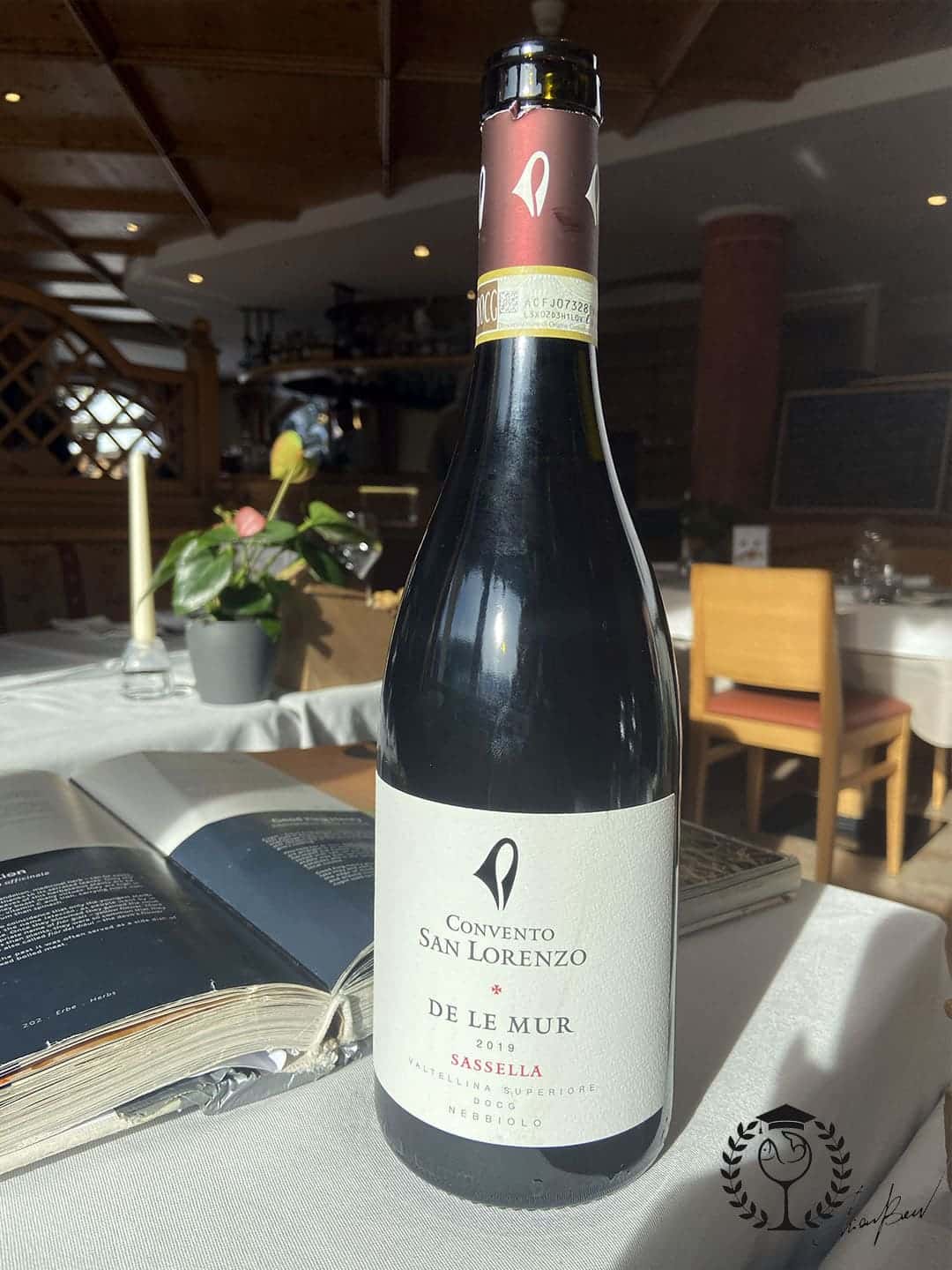 You can now buy my book Sommelier: the illustrated manual or scroll down the page to continue reading the article!
Book 'Sommelier: the Illustrated Manual' Special Edition 2022
All my notes on wine and food in one book.
In stock (can be backordered)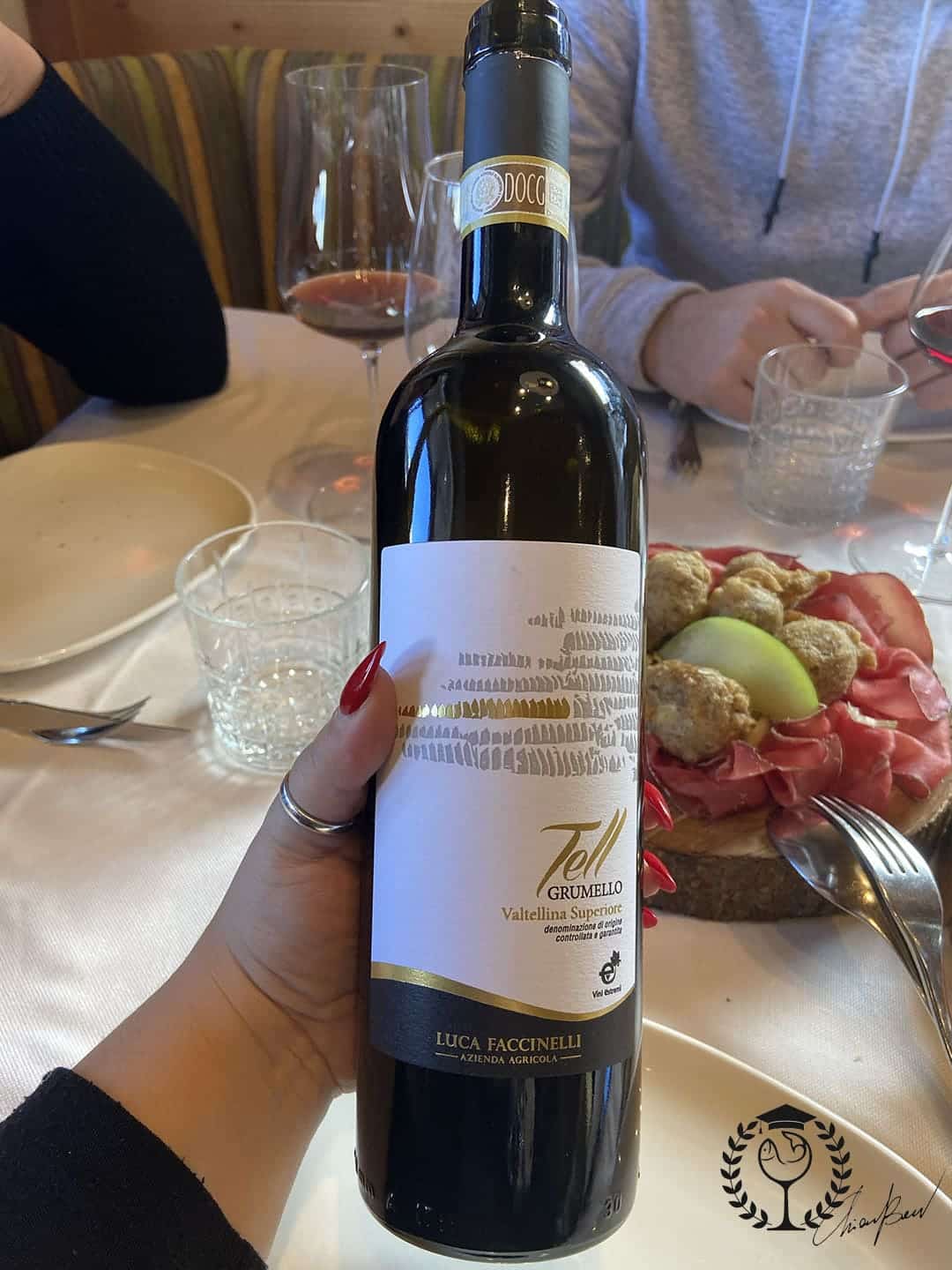 The last wine is an intruder in that it is not Nebbiolo-based, but I liked it so much that I absolutely recommend drinking it! The name is in honour of our now deceased President of the Republic Ciampi, who fell in love with it during an institutional visit to Valtellina in 2003. The President's wine is a gem from the Triacca winery made from pink Muscat grapes dried on the vine. It is a slightly sweet raisin wine with an intense, well-balanced aroma of roses and cherries, perfect with chocolate desserts or blue cheeses.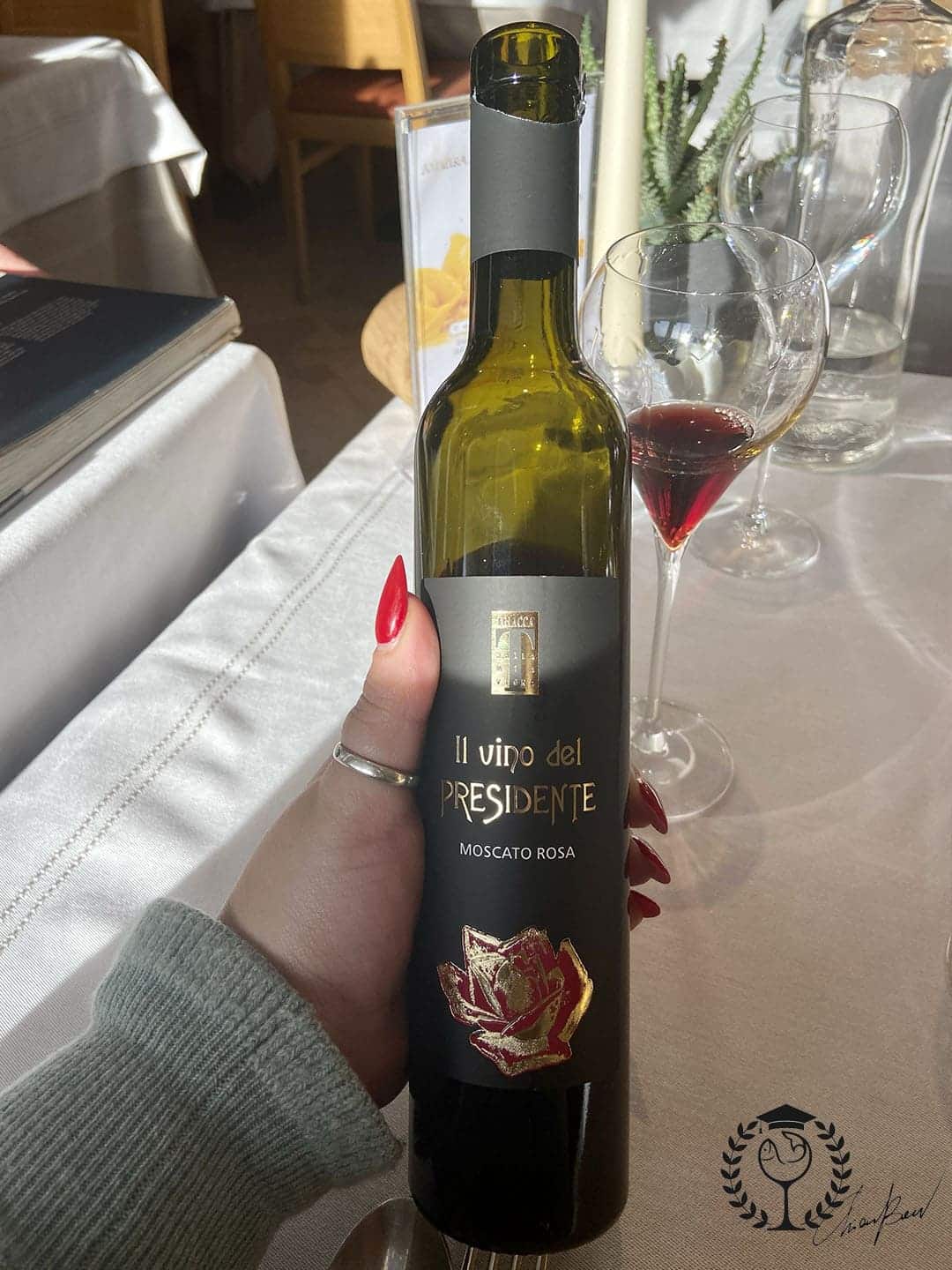 What to do in Livigno #8 - eat a Tomahawak of PGI Irish Pork Scotch at the Steakhouse il Cenacolo
With the premise that I have always eaten very well, with the two highlights being risotto and ravioli which I will tell you about in the article dedicated to the TAST project, it was with this tomahawk that I was really happy! I am a 'carnazza' kind of guy, as we say in Romagna, and this one was absolutely special, both for the quality of the meat and the perfect cooking!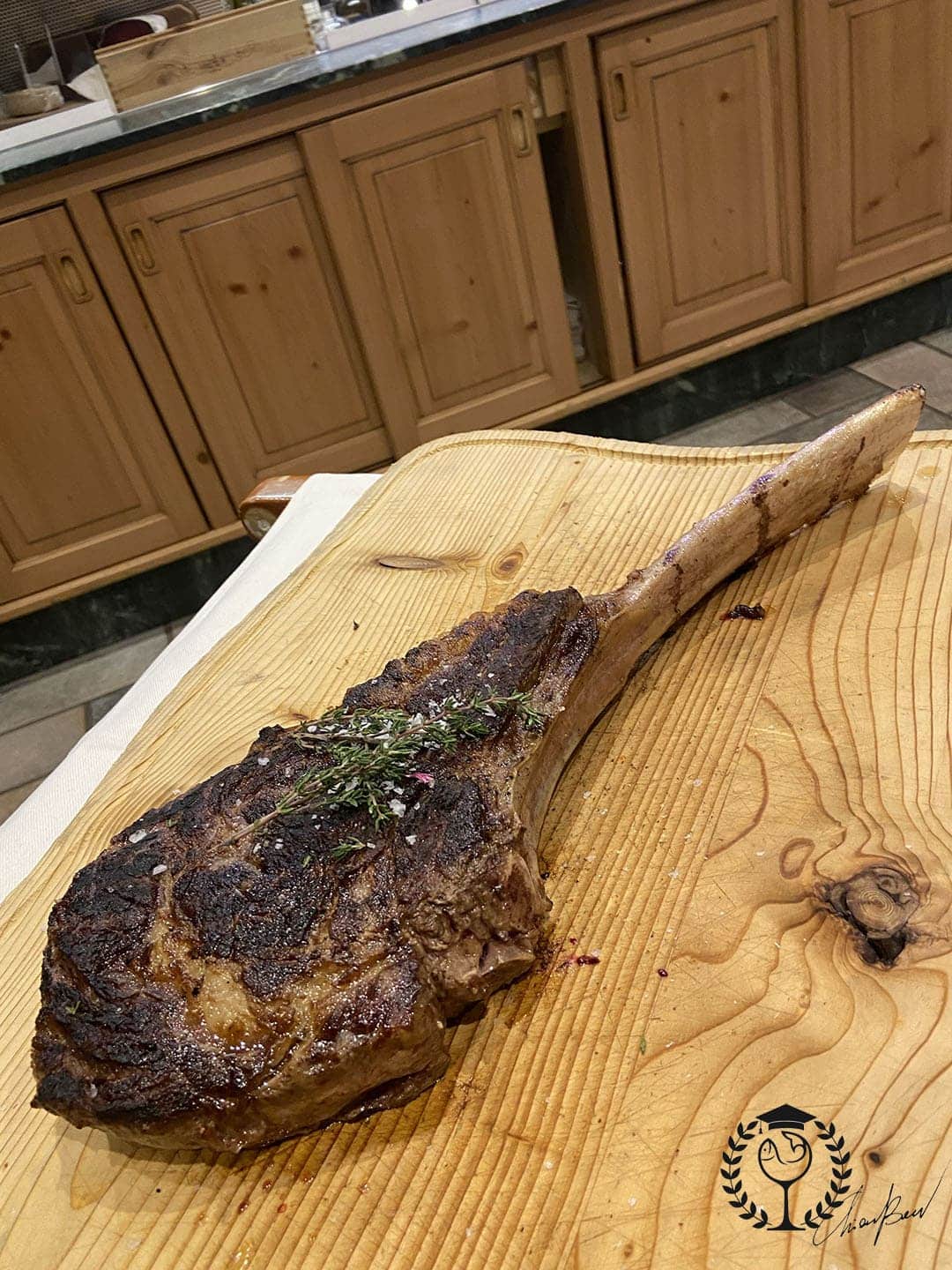 I loved that it was cut in front of us by the waiter and then placed in the aluminium dish with candles underneath to keep it warm. And the plates we ate on were very hot, another thing I really appreciated for this type of course.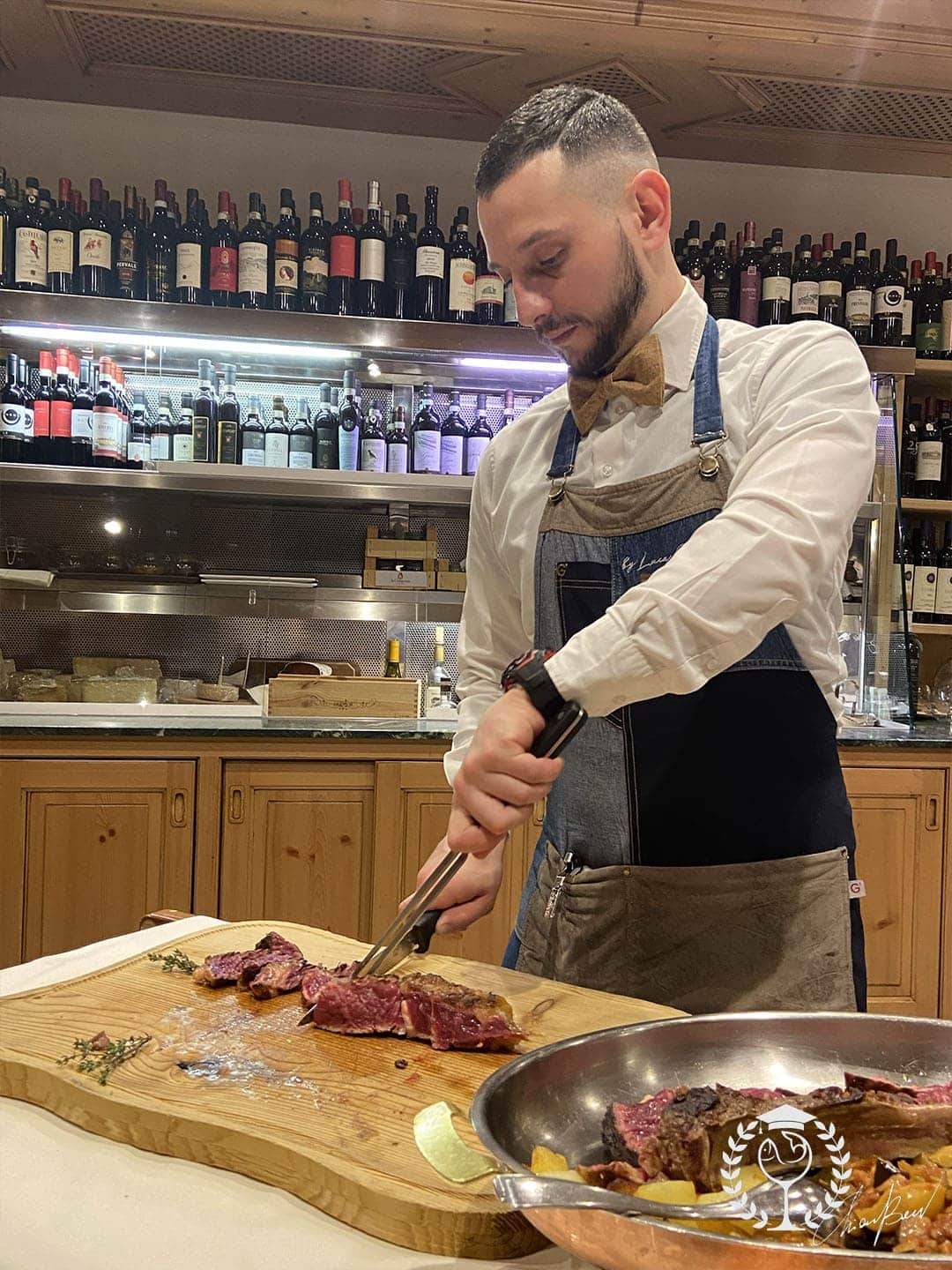 La Irish PGI scottona tomahawak from Il Cenacolo Livigno cost € 75 for two people and included a perfect polenta taragna, baked potatoes and a tasty side dish of vegetables reminiscent of our Romagnolo friggione. As an accompaniment, we were also served a delicious béarnaise sauce, but I only tasted it with the vegetables because the meat was perfect like that. The value for money is extraordinary!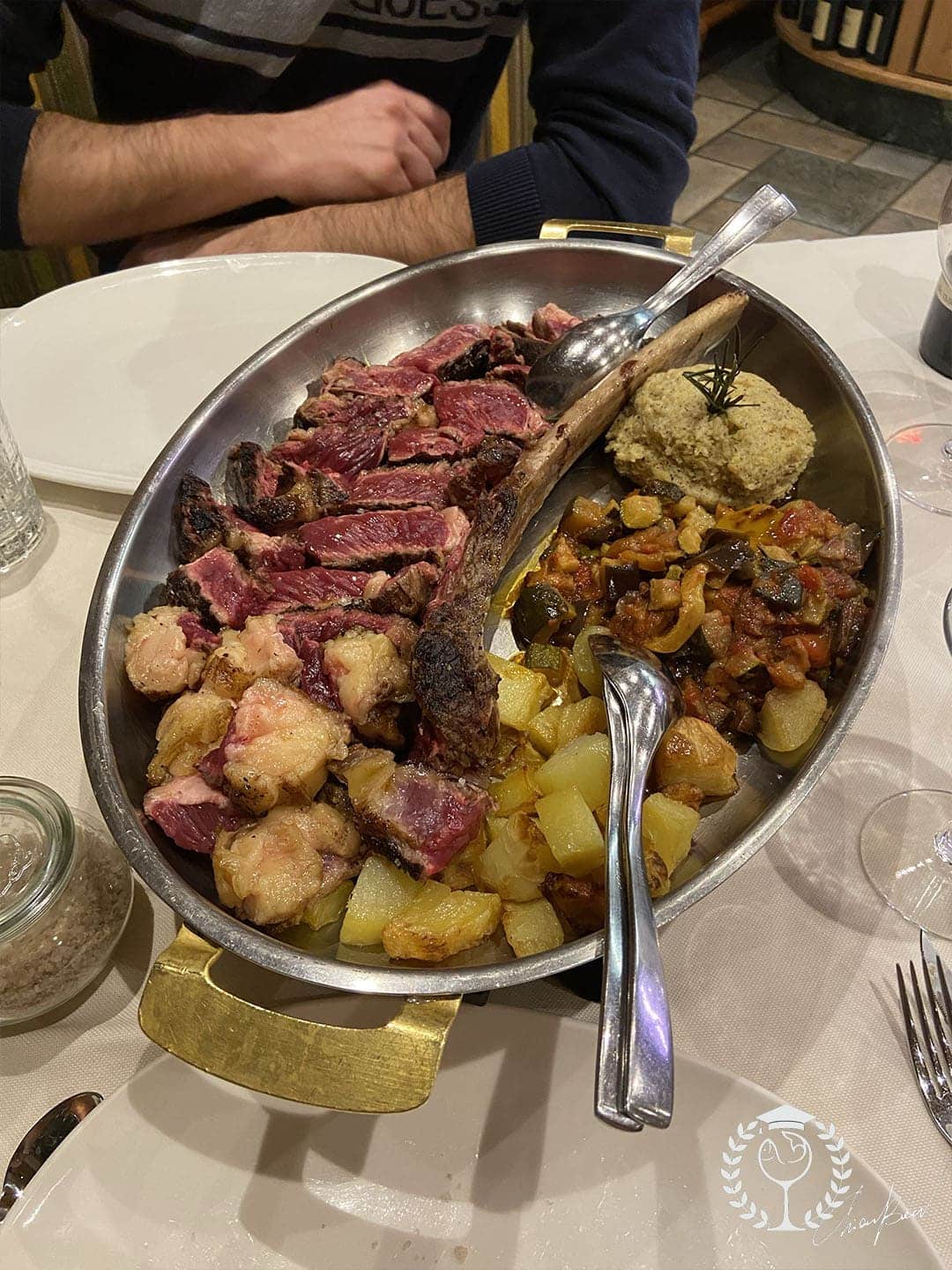 What to do in Livigno #9 - shopping & petrol without VAT
Livigno is in Italy, yet by a royal decree of 1910 it is not subject to VAT and has crazy prices. For example, you can find petrol for €1.30 when 10 km away in the rest of Lombardy it costs €1.90 or buy a pair of Dr Martens for €209 for €169! I bought the earphones Apple AirPods 3 e this case from Salvadori (a fairly well-stocked tech shop) and I spent 170 € instead of 220 €. The only caution is to make purchases with a maximum limit of 300 € because when leaving Livigno there is customs and the higher amounts must be declared, VAT + duty must be paid for a total of 25%. Those who do not declare purchases in excess of €300 will be fined... so be careful!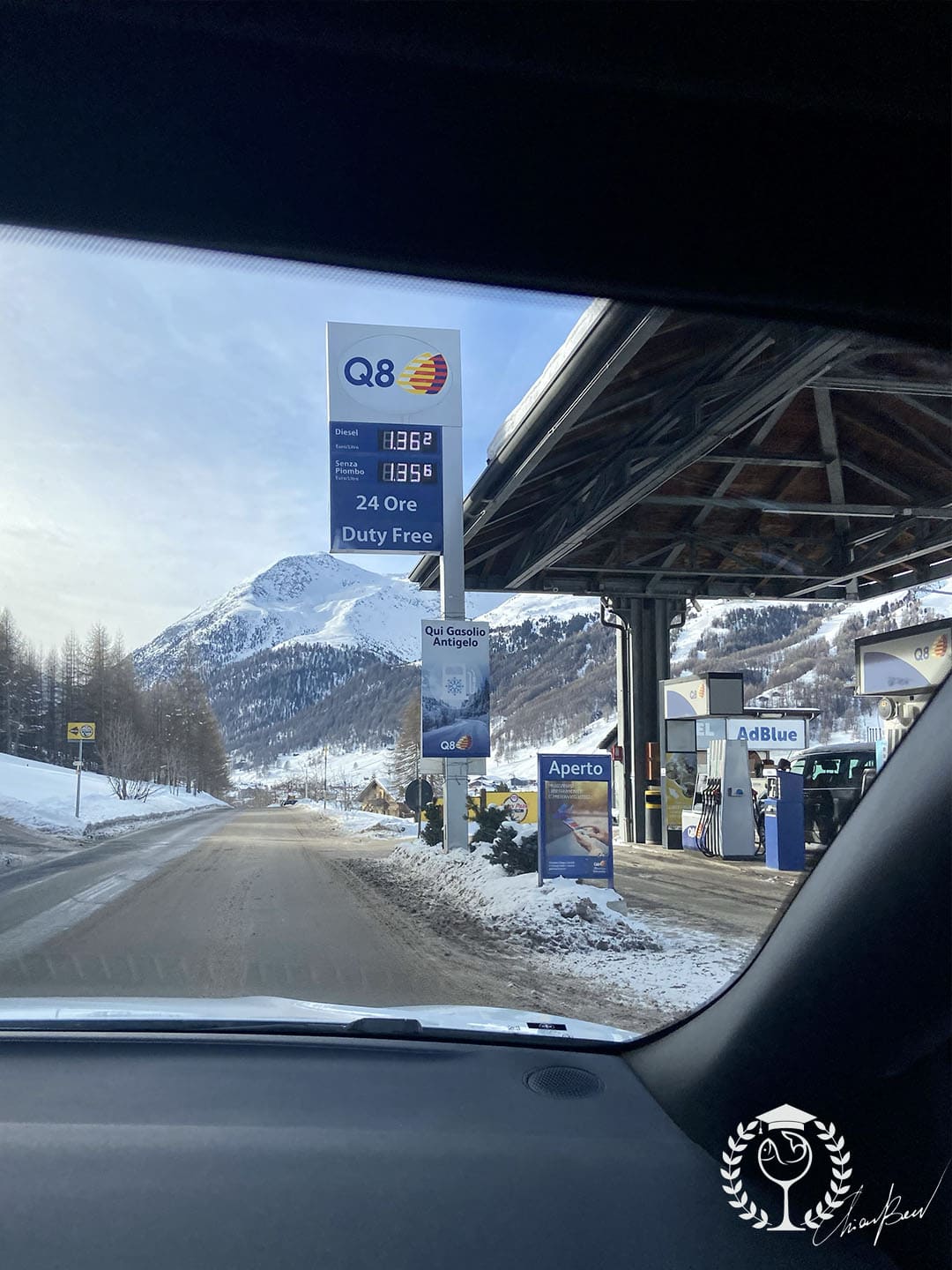 What to do in Livigno #10 - drinking a bombardino in the old town centre
Who doesn't like the bomber? On cold winter days when your very breathing makes you burn calories, nothing is more comforting than this drink, which you may not know was born in Livigno in 1972. The bombardino is prepared with hot zabaglione, coffee, brandy and plenty of whipped cream. You can find it in all the lovely little cafés in the old town and, in my opinion, it is really nice to drink it outdoors and feel the contrast between the cold on your face and the hot drink going down your throat. And drinking it in the city that invented it makes it taste even better!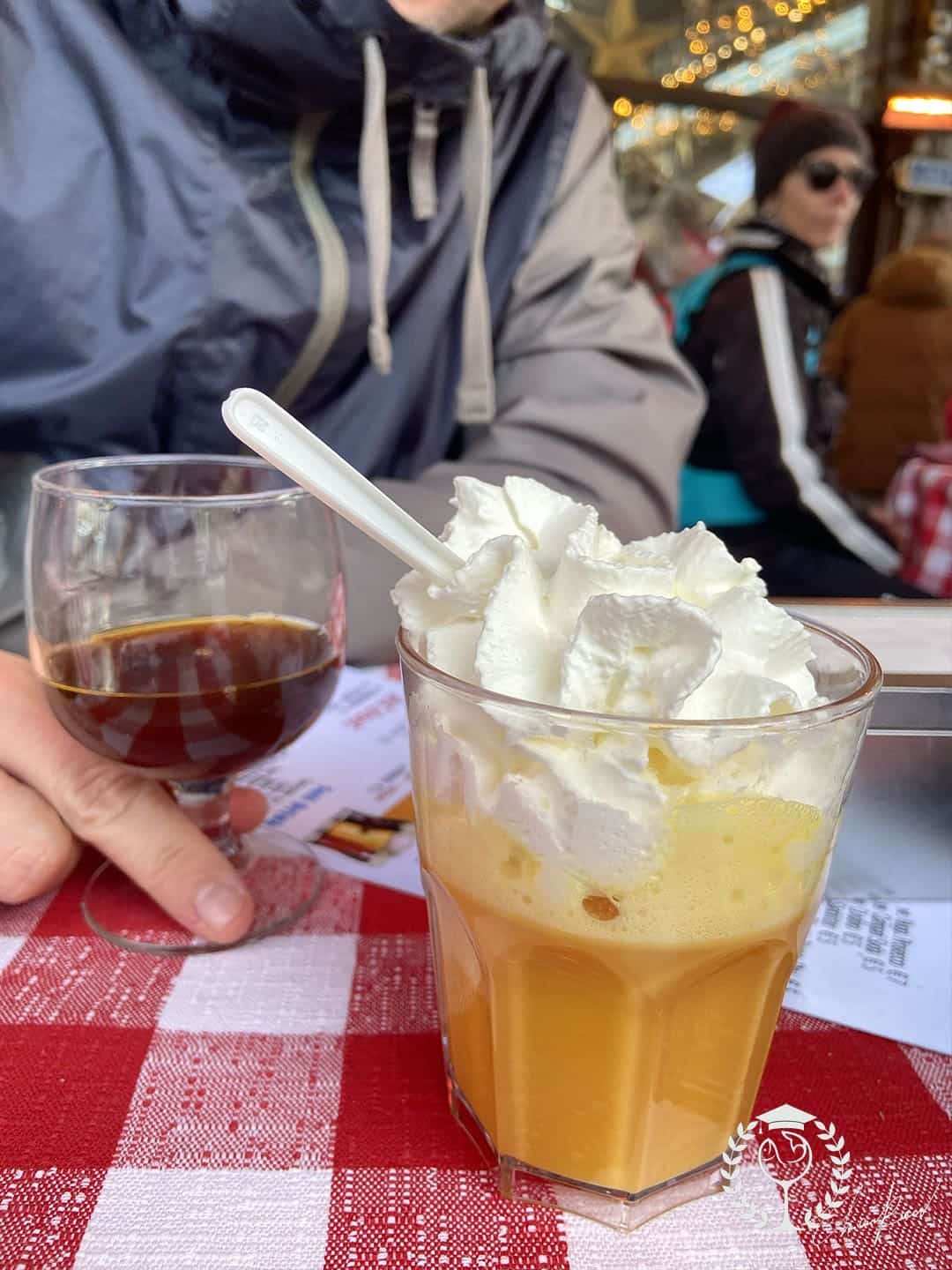 The last photo is a hymn to friendship, to Marco and me and to the wonderful relationship we have built over 28 years (and this year I'll be 38!). I am really happy to have lived these days with him... because a weekend in Livigno shared with a special person is even more beautiful (and relaxing)! And we have elected Livigno as our special refuge from life's difficulties... and coming from two people who love the sea as much as we do, it means that he really won us over!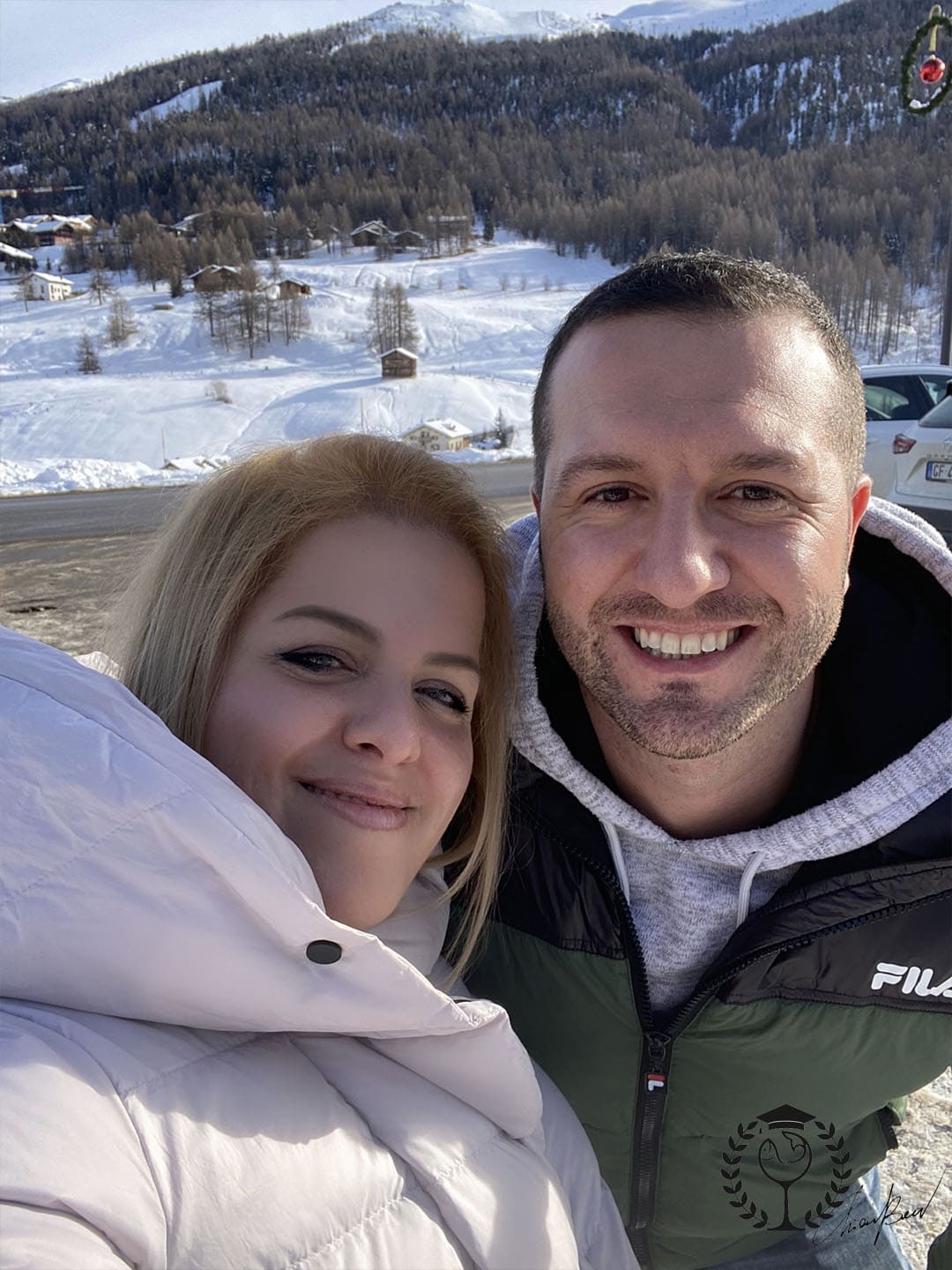 I hope with this article I have inspired your next trip... by the way! Have you had any of these experiences in Livigno or do you have any other things to do in Livigno that you recommend for the next time we go back? I will be grateful if you will share it in a comment!
Cheers 🍷
Chiara
P.S. If you want to book any of these experiences, I recommend you visit the website of theHotel Galli, of Il Cenacolo Restaurant and the La Posa Restaurant!