Here is another break from my articles dedicated to Vinitaly 2018 ... if I continue like this I will publish them in June! Actually this year I was good enough to collect so much material that I'm practically in a crisis to rearrange it all! 😄 Since today is my birthday, and I am 33 years old, I take the poetic license to talk about my three great loves in my life: wine, orchids and my splendid Lake Iseo ...
First let's talk about dreams, realities and boundaries. If there is one thing that I realized this year, it is that nothing and nobody is more important to me than the place where I live. Each person has different priorities in life, and mine is the Lake. Always, on everything. There are things that cannot be explained, and perhaps sometimes not even understood. For me, waking up in the morning and hearing only the birdsong, seeing only the green of the grass and the mountains overlooking the lake that changes color with the rays of the sun is the greatest wealth I have and nothing and no one can compete with this state of well-being. I believe that each individual should look for his "lake", that is the place that, regardless of how life, health and human relationships go, makes him peaceful. And then I think he shouldn't leave it anymore, because nothing is as changeable in life as life itself… and the only solid point we can find is the environment in which we live. I also believe that you should never settle for the place where you were born and wander all over the world until you find your lake. Which can then be on top of a mountain, in the middle of a Brazilian forest, by the sea, in a fishing village in the Algarve, on a hill, in Medoc or in a big city like Paris, Sidney or New York… or the country where you grew up. Each has its own personal lake that defines it. And we must never be afraid of losing the relationships that have been built: I have my dad in Ravenna (300 km) whom I hear practically every 10 minutes, Fabrizio in Rome (600 km) with whom I speak at least an hour a day and Marco in Australia on the other side of the world that there hasn't been a day missing in these 4 years that I haven't heard him on the phone or close to my heart. The point is that in an era where communication is possible by any means, real relationships are something that goes beyond physicality. At bottom, It all depends on where you want to go.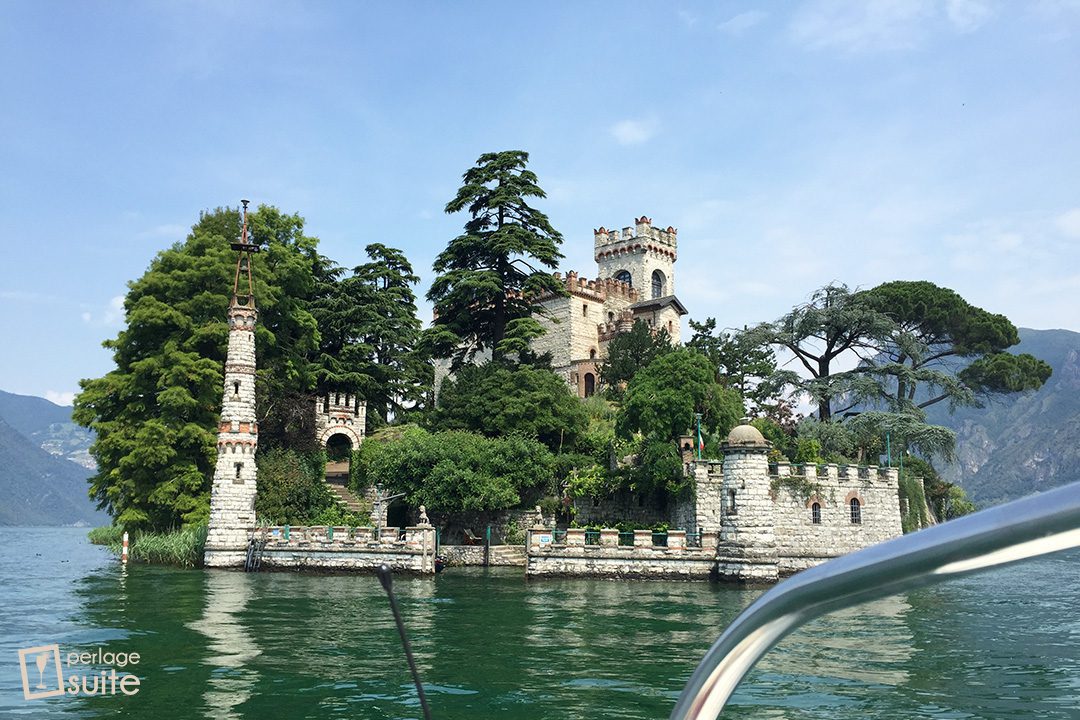 Where do you want to go? I want to "conquer the world" without moving from where I am now, Monte Isola. Here I found my size. A small widespread municipality of 1.744 inhabitants (I am precisely the 1.744th inhabitant!) In an area of ​​just under 13 km² where cars and anything with more than 2 wheels cannot circulate. I admit it, I would be even more restrictive and would try the path of circulating only electric scooters! Or a sidecar in my case, because Paco's old fur ball from the moped is scared. Although it is the highest lake island in Europe, it has become world famous for The Floating Piers, the splendid work of the Bulgarian artist Christo. Heck, it's only been 2 years since I "walked on water" with my parents and aunt and it seems like a century has gone by. Everything has changed in these two years. All. And just thinking about it I found myself crying, even if many things that have changed make me very happy and other things infinitely sad. Certainly in these two years I have understood that nothing is more precious than health, and that arguing, discussing or having existential problems about the little things in life, about differences of views, about money ... everything is madness when you are lucky enough to be well . Everything depends on where you want to go, but to go there, remember that you only need two things: health and will. Therefore always treat them as the most precious gifts you have: respect your body and your mind, always. And, here, in my case it limits the salamino of Monte isola that by now Paco's favorite stroll is going to the square in Siviano from Mazzucchelli to buy it!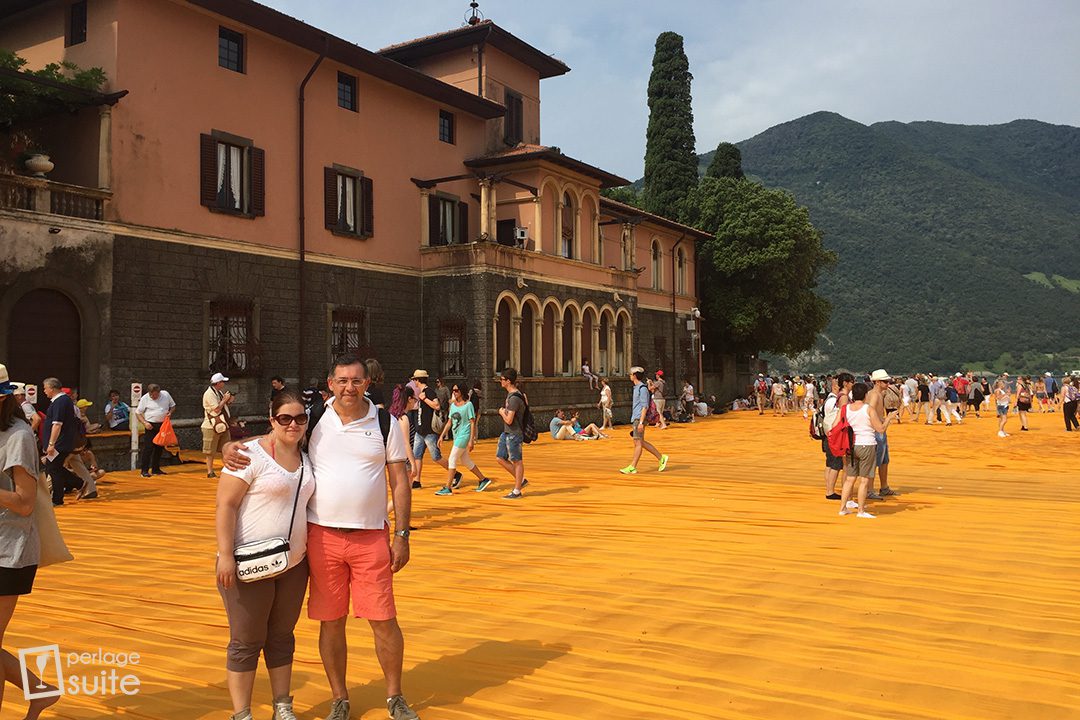 From childhood they teach us that in life we ​​must have a job and passions and that these are rarely encountered. The result of this madness is that for most people work is a means of living, indeed a burden on life. The result? People who do not want to work or who experience work as a constraint, committing themselves to what the minimum wage does and dreaming of the end of the day and the weekend. I have two great passions: wine and orchids. Well also writing, design, cooking and eating, traveling… 😄What are your passions? What did you dream of doing as a child? The astronaut? The dancer? The Martian? The painter? The pilot? As a child I dreamed of writing on a lake. I have rotated my entire life over the last 4 years to achieve this result and now I have been living writing on Lake Iseo for 3 years now. It all depends on where you want to go, but don't stop, ever. Nothing is more dangerous for your happiness than procrastination.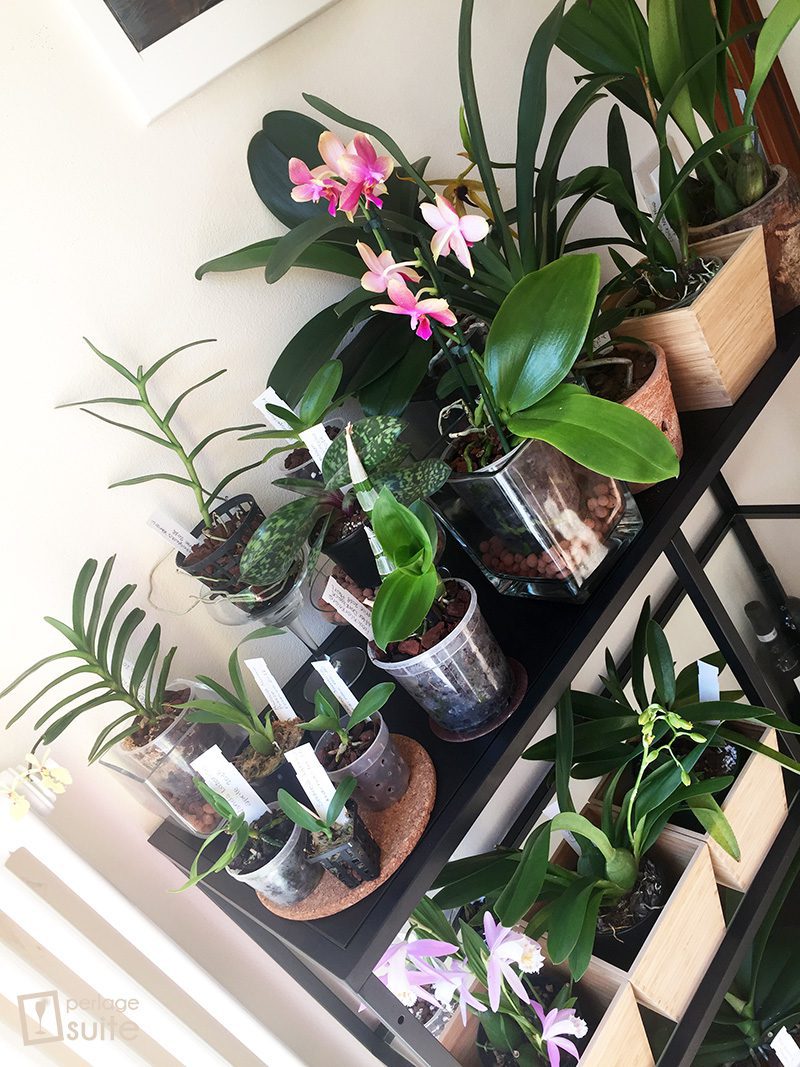 [tweetshare tweet = "Procrastination is a trap. You will always find excuses to procrastinate. But the truth is that there are only 2 things in life: the excuses and the results, and with the excuses you are not going anywhere. Robert Anthon "username =" HavanaVanille "]
We are the cause and effect of everything we do. And the more time we spend stalling, perhaps spending whole days without finishing anything, the more we are whipped and accumulate stress for deadlines that we cannot cope with. Maybe simply because we mismanage our time. However, I believe that the root cause of the excuses people make up to justify their condition is simply because they are doing a job that they don't really like at all. The message is: don't be afraid to give up and fail at what you've done to date. Failure and destruction are necessary for change. Another profoundly wrong teaching we have been given since childhood is that failure is wrong, a shame. In friendship, in love, while studying or at work, we anchor ourselves to things we hate and make us unhappy in order not to fail in the eyes of others, beings that we believe are perfect for some strange reason. Frankly, what other people think of me I never gave a damn, and often my high self-esteem, one of my father's greatest merits, has been confused with self-centeredness. Success and failure are two sides of the same coin: let go of what you hate to make room for what you love.
[tweetshare tweet = "You are no better than anyone, but no one is better than you." username = "HavanaVanille"]
Each of us has different talents and passions, and this is the greatest wealth of mankind. Whatever you love, turn it into your job and nothing will weigh you so much anymore. Today I turn 33, 33 years where I have made mistakes hundreds of times and at the same time done hundreds of wonderful things. I live by writing and communicating wine and orchids in the place that makes me serene. I have wonderful and lasting bonds with wonderful people who have taken my hand in life, protecting me and teaching me to love me. I have my dad, the most special man in the world, and a mom where I discovered resources I didn't think he had. I have a super grandmother who I hope one day to match at least in the kitchen. I have uncles and cousins ​​scattered between Romagna and Tuscany whom I see little but which I think about. This for me is the greatest wealth.
Humility lies in silencing our virtues and allowing others to discover them. There are people so poor that they have nothing but money.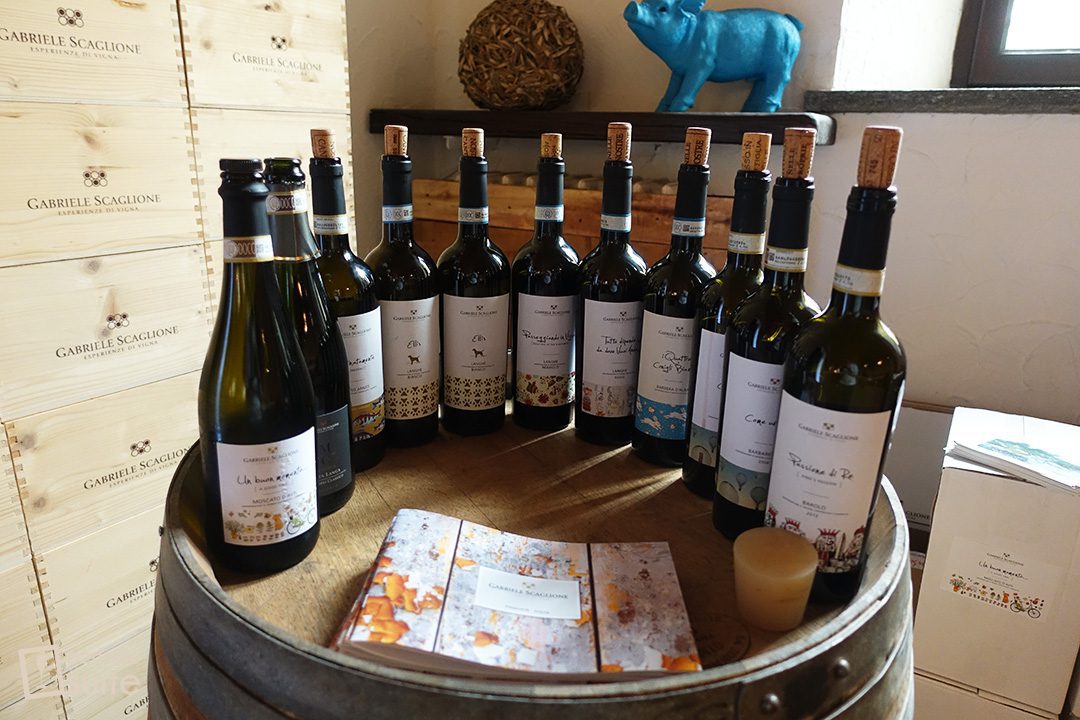 It all depends on where you want to go, but never live a life that doesn't make you happy just because someone told you to do it. Today I am doing 33 years and my first glass is the Langhe Rosso 2011 by Gabriele Scaglione "It all depends on where you want to go" which seems to me perfect for the inevitable annual reflection that I do on my birthday. This wine, obtained from the assembly of Nebbiolo and Barbera, was Gabriele's first wine and precisely the beginning of the realization of his dream. Open bottle with Federico, who returned from Japan a few days and just in time to go together to find Gabriele. A fabulous afternoon, but that's another story and I'll tell you in a few days.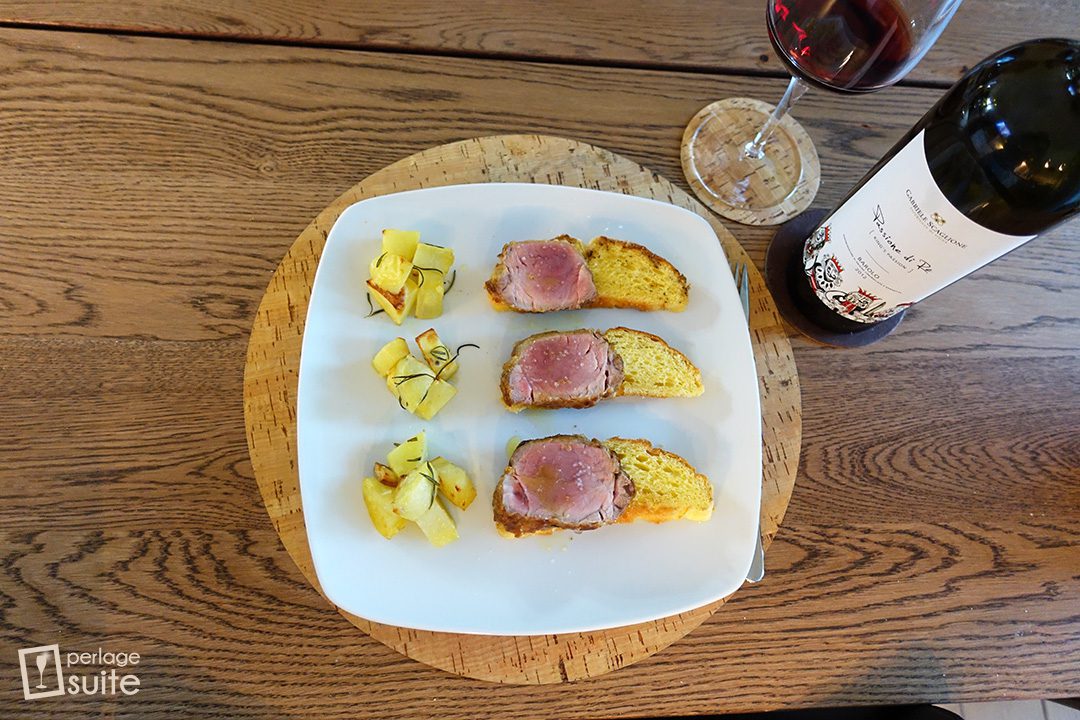 For now I enjoy this intense and transparent ruby ​​red glass with beautiful garnet reflections. I get lost in the spicy and undergrowth notes, cherries in alcohol, leather, blackberry jam. Today, a few days after opening, I find it even better and more evolved. On the palate it is soft and balanced, warm and really persistent. I found it perfect for the mixed goat tomino that Gabriele paired with us, but last night I paired it (before continuing with Barolo), a splendid pork tenderloin that I cooked with religiosity ... even the one taken from Mazzucchelli in the square and that was just delicious! Here on the island we have a terrifying pig, I don't want vegetarians! Then I must say that with Maurzio Ribola's monocultivar Sbresa oil and the freshly roasted spongada of the ladies of Peschiera Maraglio, which has nothing to envy to brioche bread, it married perfectly!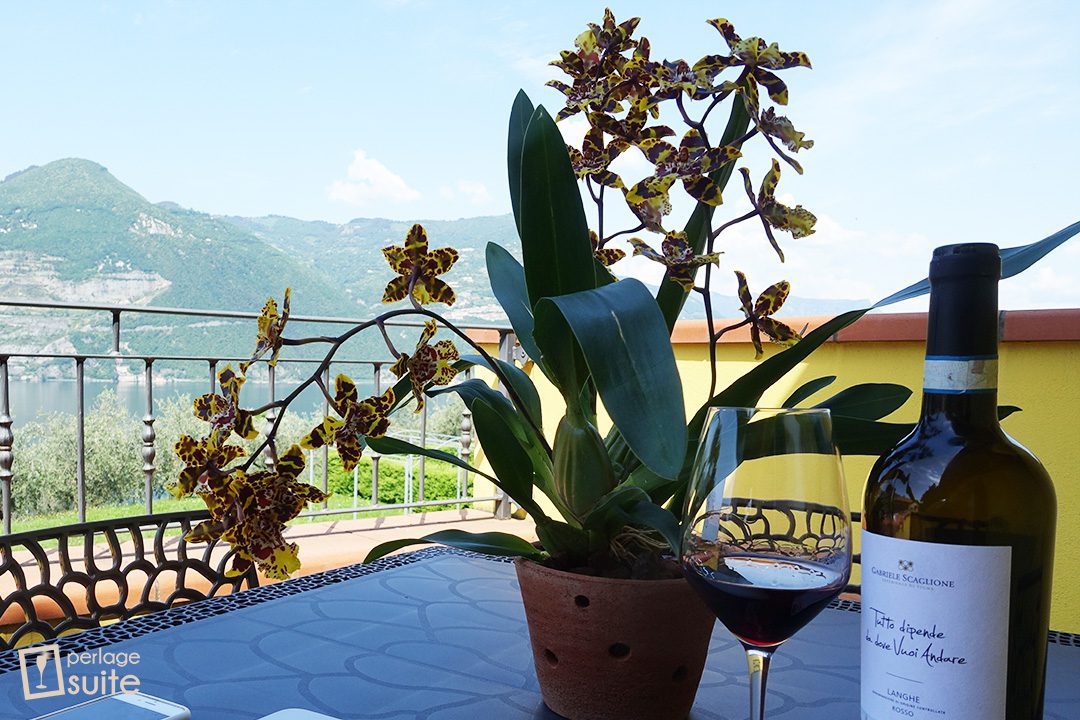 Here, it all depends on where you want to go. Today for the first time I say that I want to stay here, writing about wine and orchids. By the way, thanks to Michele Cesi for this splendid Colmanara 21 orchid that you gave me! Please visit his online shop - iloveorchid.com - which is beautiful (I did it) and full of gorgeous orchids!
A hug and see you soon,
Chiara
PS As always, I thank Sony and UniversoFoto.it for the splendid Sony RX100M4… The camera without which this blog would be half as good 😍

PPS If you want to give me a beautiful gift ... enjoy the 500 bubbles that you should definitely taste in 2018 by buying my sparkling wine guide 500 BOLLE IN 500 by clicking QUI! You too will be part of my dream 😍❤ Thank you so much!