Book 'Sommelier: the Illustrated Manual' Special Edition 2022
All my notes on wine and food in one book. The handbook is designed for all aspiring sommeliers, but is also very useful for 'already sommeliers' who want to brush up, for winelovers who want to start putting their passion on a firm footing, and for professionals who want to earn more money by learning both how to manage their restaurant cellar and how to sell the right bottle to their customers.
Edizione Speciale: 8 giugno 2022 – formato 15 x 21 cm, 592 pagine in bianco e nero stampate su carta Crush Uva, ISBN 978-88-943070-3-0 [2° Ristampa aprile 2023]
In stock (can be backordered)
This book was born out of my need, when I was aspiring sommelierto have a memorandum, a well-organised, streamlined and intuitive notebook to study in. Between home and work, I had very little time and used every spare moment to study, from the train to various waits. In this book you will find all my notes on wine and food that I collected during the AIS coursesthe University of Gastronomic Sciences and in the work of almost 8 years as wine blogger. I sincerely hope you find it useful during sommelier courses and to support theAIS sommelier examinationFIS, Fisar and other associations. And, if you are already a sommelier, to take with you the world of wine in a single book on wine.
Special Edition
Special Edition printed on premium Made in Italy ecological paper obtained from by-products of agro-industrial processing that replace part of the cellulose from trees with a creative and technological process that uses only green energy. In particular, waste from wine processing has been used both for the cover and bookmark printed on 350g Favini Crush Uva FSC™ and for the inside pages printed on 90g Favini Crush Uva FSC™.
A wine-themed gift for sommeliers and wine lovers
With the sommelier book you will receive a free double-sided bookmark in grape cardboard with all the colours of wine and beer. I carefully pack each book, punched with a small four-leaf clover for good luck, with recycled kraft paper, stamp the book and write your name on it to pamper you, or simply to give it to you ready to give as a gift to a special wine lover like you (if it is a gift please specify in the notes so that I can write the name of the recipient).
Sommelier: The Illustrated Manual
All my notes on wine and food in one book.
PrefaceThe first reason to read this book, by Rocco Tolfa (journalist, author and TV presenter); the second reason to read this book, by Marco Antonucci (journalist, architect and lecturer).
Introduction: the figure of the sommelier, by Hosam Eldin Abou Eleyoun (President AIS Lombardia); the value of the sommelier in the restaurant, by Marco Sacco (chef patron 'Piccolo Lago' **Michelin); becoming a sommelier: it is not too late, by Chiara Bassi.
Chapter 1: the sommelier - sommelier tools; cellar management; wine service; customer relations; restaurant menus.
Chapter 2: wine - vine; vineyard; grapes; must; making still wines and base wines for sparkling wine production; sparkling wines; special wines; wine composition; bottling; alterations, defects and diseases.
Chapter 3: 52 grape varieties - synonyms; characteristics of the plant; characteristics of the wine produced; areas of cultivation in Italy and worldwide; DOCG & DOC where the grape variety is permitted.
Chapter 4: wine in Italy - climate; soils; zones, sub-zones (if any), wines and key grape varieties; DOC, DOCG; 3 typical foods/dishes with territorial pairing. [with drawn maps of wine-growing areas in each region].
Chapter 5: wine in France - climate; soils; areas, any sub-areas, wines and key grape varieties; DOC, DOCG; 1 typical food/dish with territorial pairing. [with drawn maps of the wine zones in each area].
Chapter 6: wine in the world - climate; soils; zones, any sub-zones, wines and key grape varieties; DOC, DOCG; 1 typical food/dish with territorial pairing. [with drawn maps of each state's wine-growing areas].
Chapter 7: the tasting - physiology of taste; how to taste; what glass to use; what evaluations to make (visual examination, olfactory examination, taste-olfactory examination, evolutionary state, harmony); duration of open bottle; judgement and prejudice.
Chapter 8: food and wine pairing - hints of the anthropology of taste; tasting food; examining food; tasting wine in relation to food; pairing technique; taste of ingredients; taste of cooking; taste of seasoning; taste of preservation; types of food and pairings.
Chapter 9: beer, spirits and liqueurs - beer (ingredients, production, brewing styles, beer tasting, food-beer pairing); distillates (distillation process, composition of a distillate, serving a distillate, tasting a distillate, types of distillate); liqueurs (classification by extraction method, cold liqueurs, bitters, herbs and drugs for making liqueurs, distillates and vermouths)
Chapter 10: history of wine and cuisine - ancient age (ancient Egypt, land of Caanan, ancient Greece, ancient Rome), medieval age (Early Middle Ages, Late Middle Ages), modern age (Renaissance, Baroque), contemporary age (from the French Revolution to the 20th century).
Wine etiquette
Conclusion
Every month I support Treedom planting trees around the world.
Differences between the various editions
I Edition
ISBN 978-88-943070-1-6
Date: 6 November 2018

Format: 16.5 x 24.0 cm

Pages: 300

Print quality: B/W digital printing, 90g standard handmade paper, 300g standard paper cover matt lamination, unsewn and milled paperback (glue binding)

Chapter 52 Grape varieties

Wine-growing areas maps Italy

Maps of wine-growing areas in France

World wine-growing areas maps

Chapter History of Food and Wine

Illustrations
II Edition
ISBN 978-88-943070-8-5
Date: 1 December 2019

Format: 16.5 x 24.0 cm

Pages: 430

Print quality: B/W digital printing, 90g standard handmade paper, 300g standard paper cover matt lamination, unsewn and milled paperback (glue binding)

Chapter 52 Grape varieties

Wine-growing areas maps Italy

Maps of wine-growing areas in France

World wine-growing areas maps

Illustrations

Chapter History of Food and Wine

Total revision
3rd Edition
ISBN 978-88-943070-6-1
Date: 8 September 2021

Format: 

15.24 x 22.86 cm

Pages: 544

Print quality: B/W digital printing, 90g standard handmade paper, 300g standard paper cover matt lamination, unsewn and milled paperback (glue binding)

Chapter 52 Grape varieties

Wine-growing areas maps Italy

Maps of wine-growing areas in France

World wine-growing areas maps

Illustrations

Chapter History of Food and Wine

Total revision
Special Edition
ISBN 978-88-943070-3-0
Date: 8 June 2022

Format: 

15.0 x 21.0 cm

Pages: 592

Print quality: B/W offset printing, Favini Crush Uva 90g paper, Favini Crush Uva 350g paper cover without lamination and with embossing, stitched binding

Chapter 52 Grape varieties

Wine-growing areas maps Italy

Maps of wine-growing areas in France

World wine-growing areas maps

Illustrations

Chapter History of Food and Wine

Total revision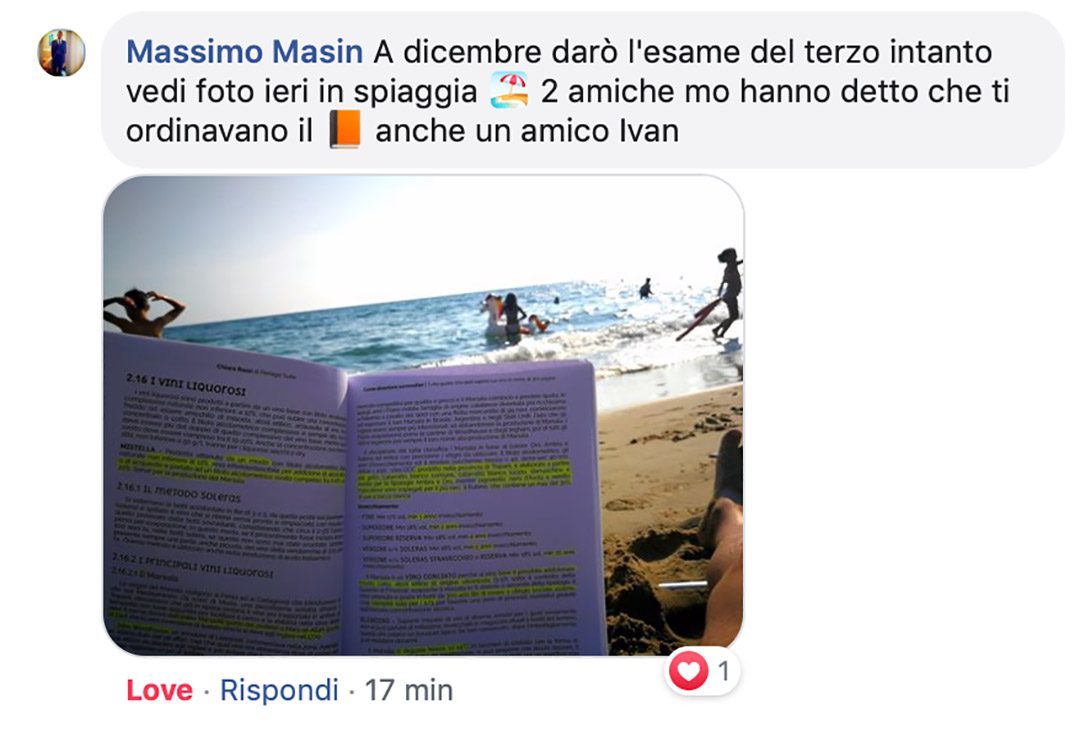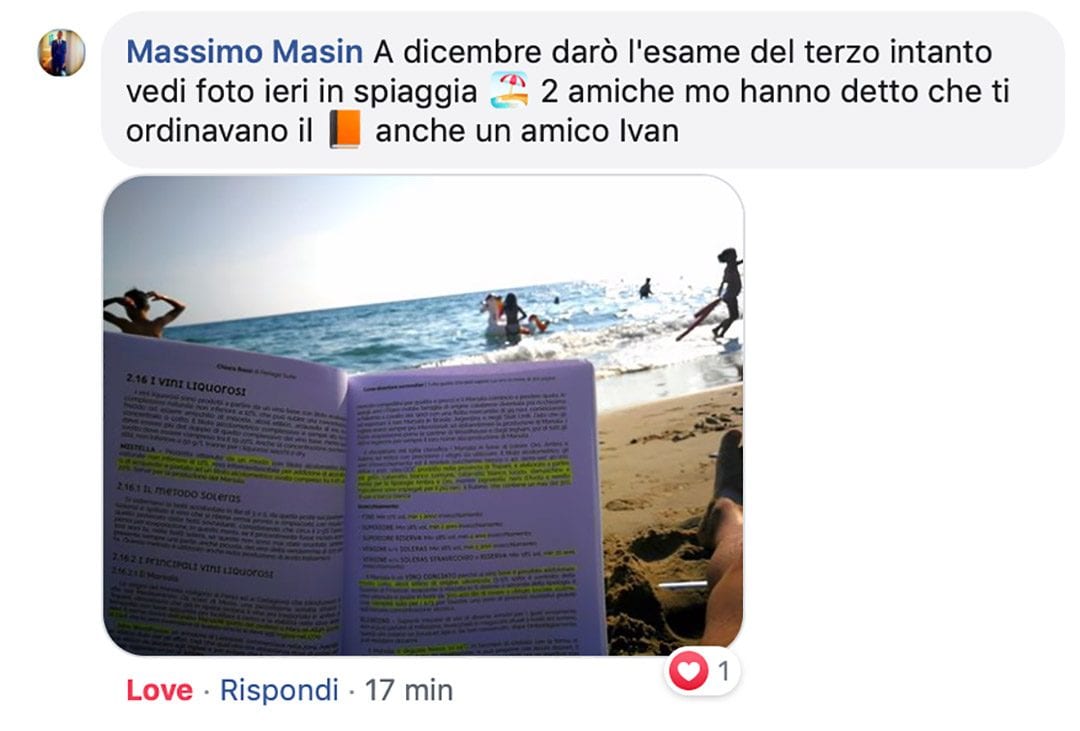 Good study... and let me know if you like the book in a review and how the exam went! ❤️