Yesterday I was in the supermarket with my husband and I walked past some huge candied fruits. How could I resist? I grabbed the orange peels and thought of reinterpreting the desert roses original recipe because I really don't like sultanas... and I can't stand icing sugar! Desert rose is a sedimentary formation of chalk crystals that shades from orange to yellow ochre common in desert countries. If you happen to go to Egypt or Tunisia you could buy one from the nomads and take it home as a souvenir. These biscuits with corn flakes They look so much like this rock that they have borrowed its name. I invite you to try my variation of the chocolate desert roses recipe because it is really easy and delicious! How to make desert roses?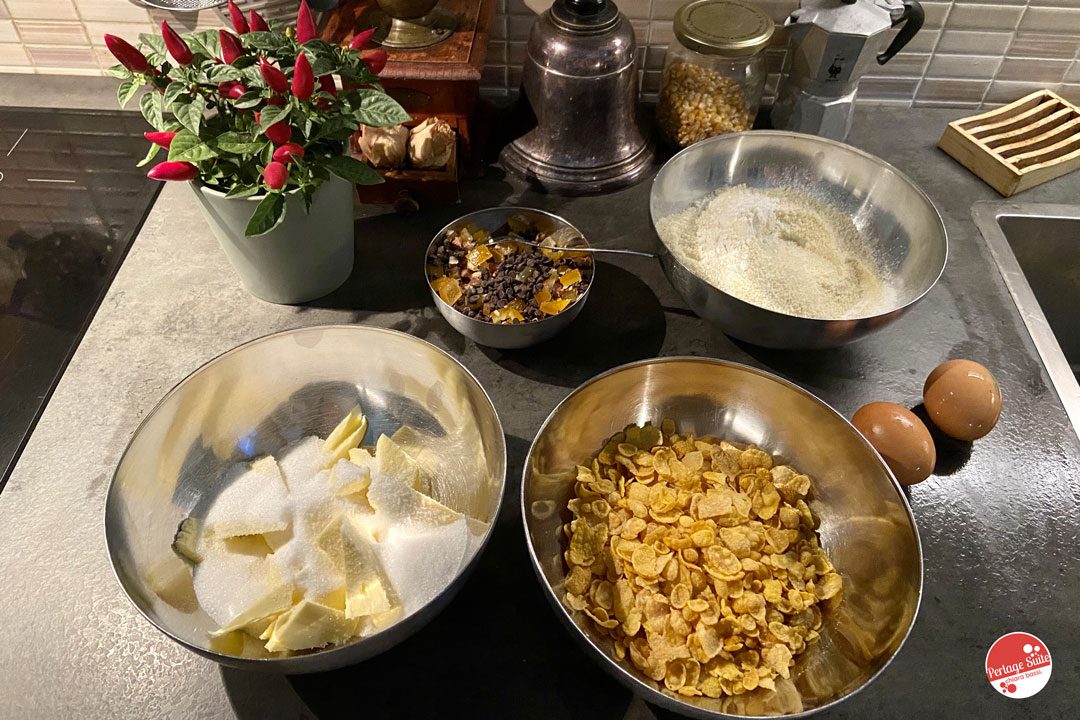 Desert Roses: corn flakes and chocolate biscuit recipe
Ingredients for 20 desert rose biscuits with chocolate, orange and almonds
170g butter from centrifuged cream
150g caster sugar
125g almond flour
125g of 00 flour
2 whole medium eggs
16g vanilla baking powder
1 pinch of salt (plenty)
100g corn flakes
100g candied orange peel
40g dark chocolate chips
10/15 peeled almonds
You can now subscribe to my newsletter or continue reading the recipe for these delicious corn flakes biscuits and discover how to make desert roses! 😋
Easy 10-step recipe for desert roses corn flakes biscuits
1. Take the butter and eggs out of the fridge at least half an hour before starting. In general, however, butter from centrifuged cream melts first at room temperature, so if you use good butter, 10 minutes is enough.
2. Put the butter, sugar and pinch of salt in a fairly large bowl. With an electric whisk, whip until frothy and everything is well blended. It takes 1 minute or so.
3. Wash the eggs, open them and add them one at a time while continuing to whisk. After another minute you will obtain a cream like the one in the bowl on the left.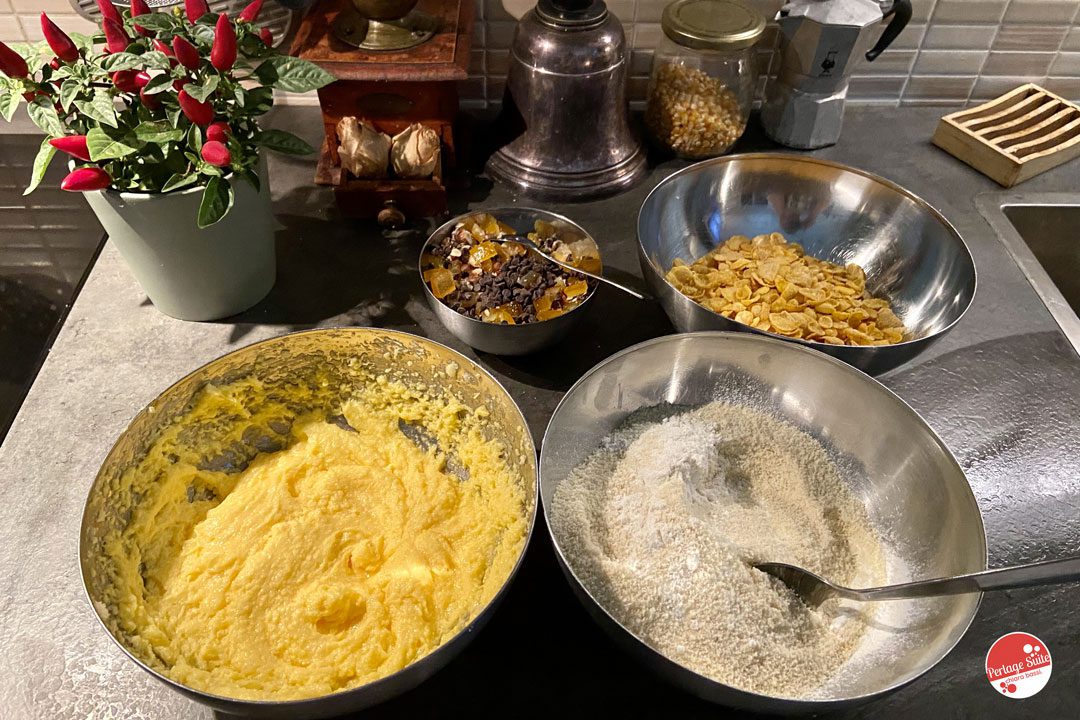 4. In a bowl, sift the 00 flour and vanilla baking powder, then add the almond flour.
5. Add the flour a little at a time to the cream, stirring with a spoon. Important: do not use a beater or anything else to avoid changing the consistency. Put the mixture in the fridge for a few minutes, time to chop the candied fruit and almonds.
6. Dice the candied orange peel, roughly chop the almonds and add everything to the mixture, stirring gently with a spoon.
7. To make the chocolate desert rose biscuits I use an ice cream scoop because I find it is perfect for making them all the same quickly. It also gives them the characteristic ball shape, which is essential for proper baking, without melting them with the heat of your hands. Then make 20 scoops, remembering to remove the excess from the dispenser with a small spatula or knife (they have to be really shaved).
8. Dip the balls (one at a time) in the corn flakes, I am comfortable putting them in the bowl because I literally 'dip' them! Lay the biscuits with corn flakes and chocolate chips on a cutting board until you get the effect in the photo.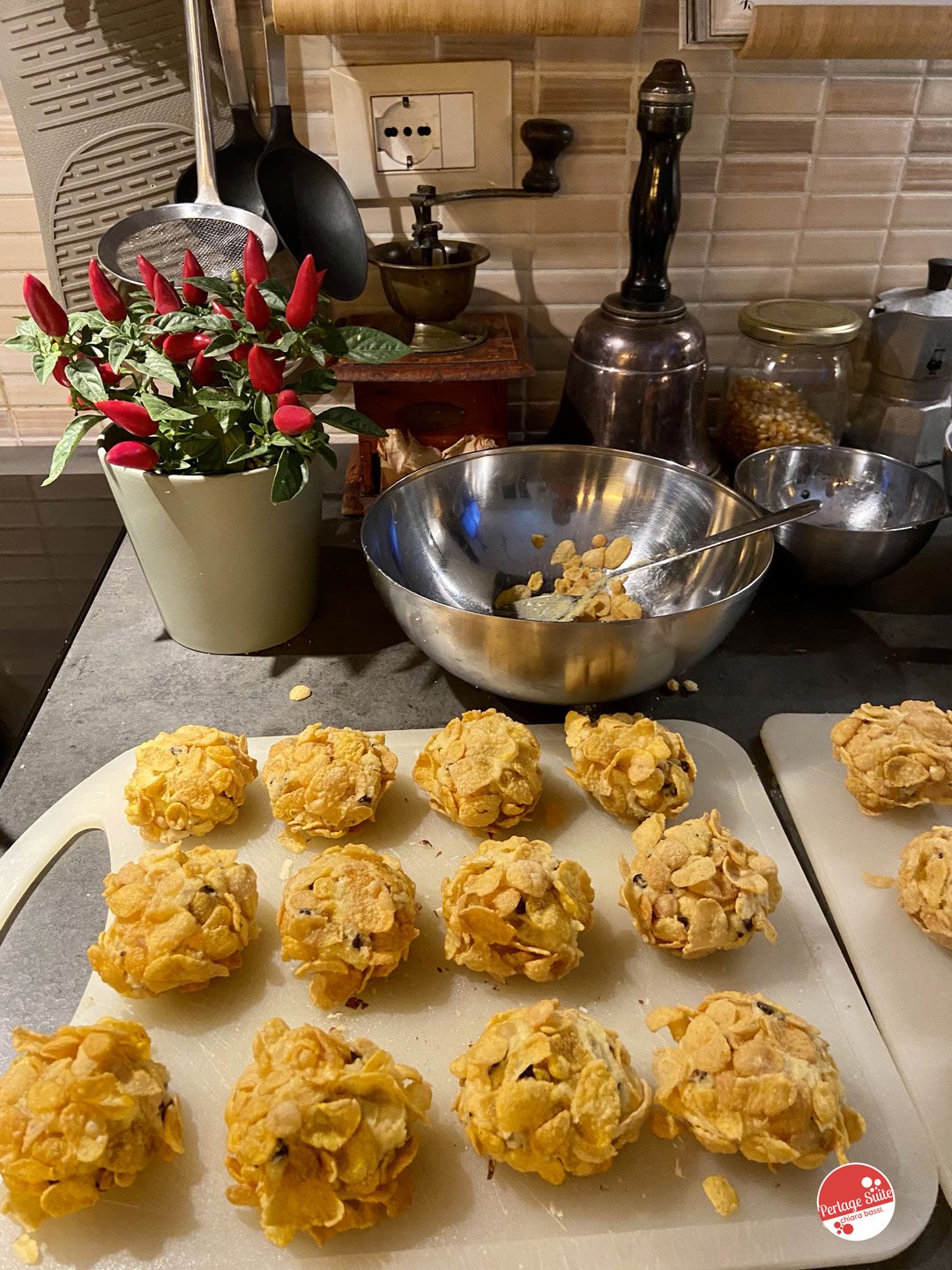 9. Put the desert rose biscuits in the freezer for an hour.
10. Preheat the static oven to 170 °C. When it is hot, place the baking paper on the baking tray, then lay the chocolate corn flakes biscuits well spaced out as in the photo. You will bake them 3 times. Put the pink desert biscuits in the oven at medium height for 20-22 minutes (the exact temperature will depend on your oven). During baking you will see the desert roses with chocolate drops first swell and then flatten: it's OK!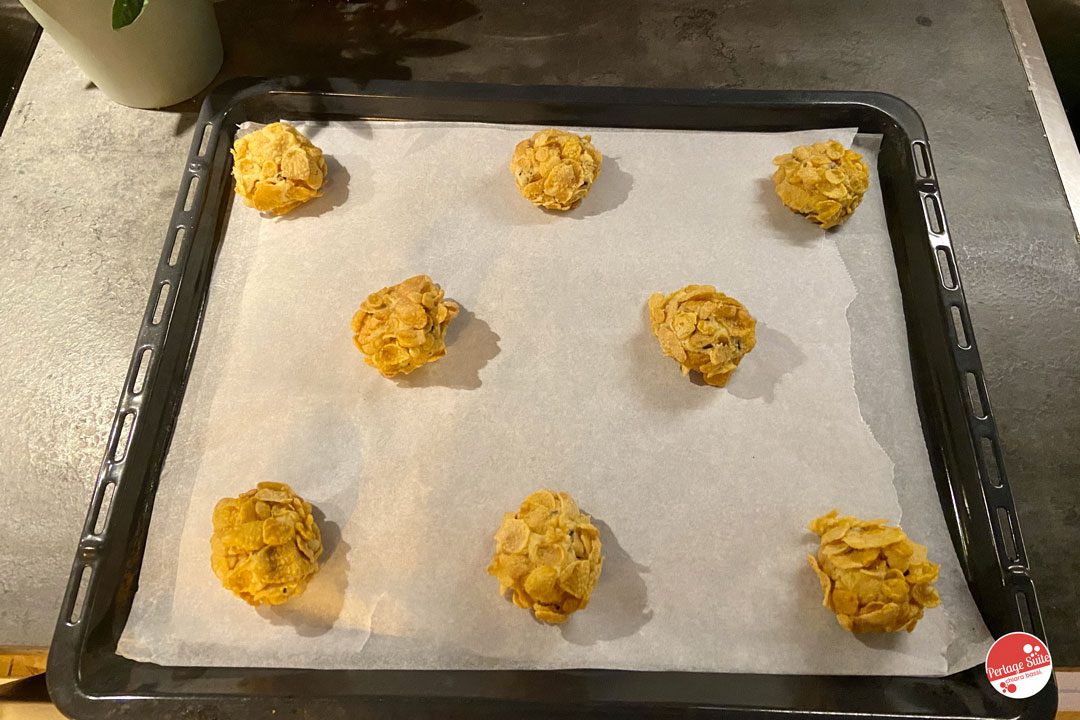 I desert roses biscuits (or should I say biscuits?) are ready when they look like the one in this photo. At this point you can let them cool 20 minutes on a wire rack (time you bake the others) and then store them under a glass bell. I can't tell you exactly how long they keep, at our house they last about 4 days because we literally eat them! The chocolate desert roses are so good that my husband even told off the diet... 😄 I'm sure if you try this one recipe desert roses chocolate chip biscuits you will no longer search for 'desert roses easy recipe' on Google... shall we try? 😄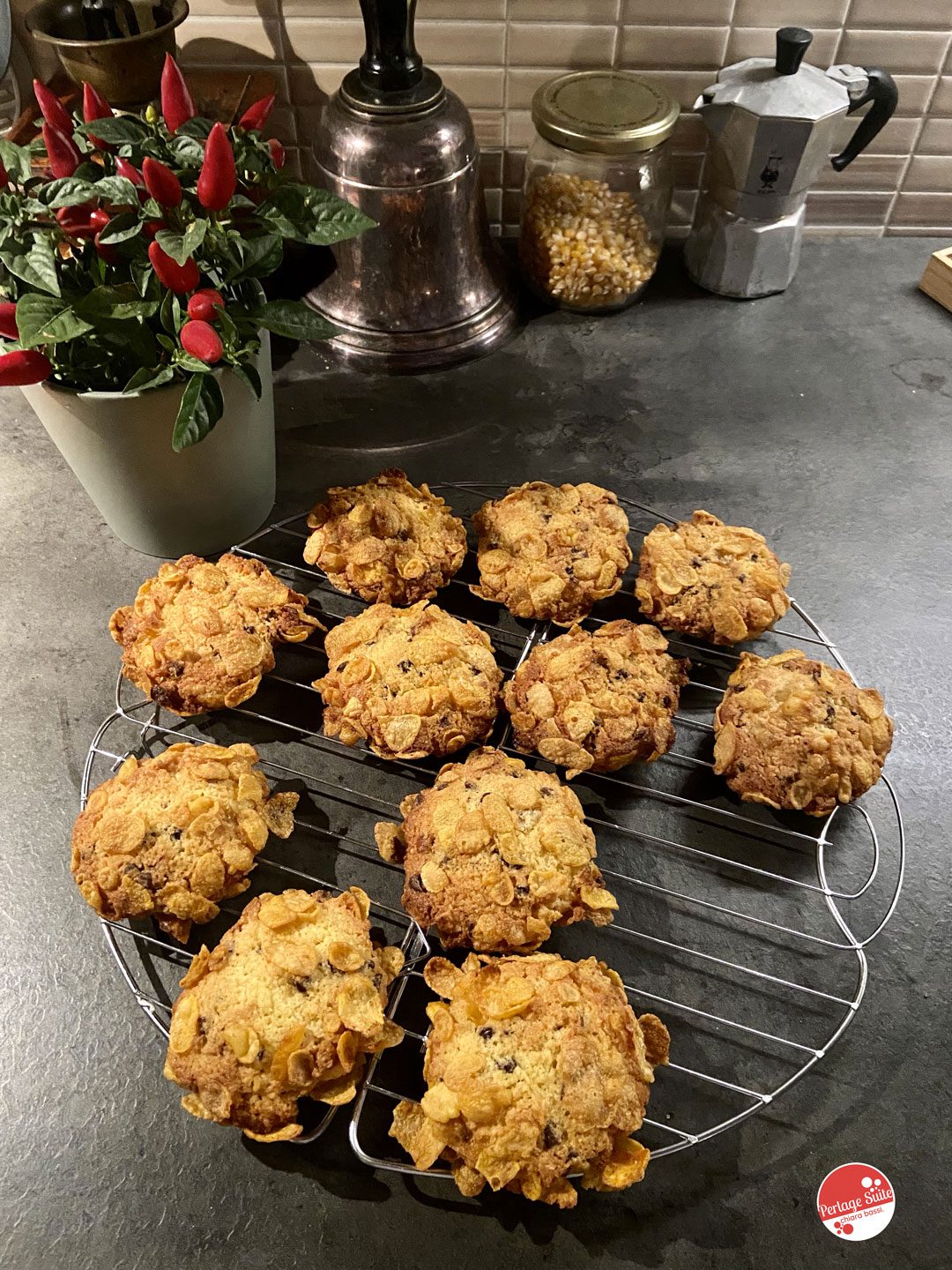 Food and wine pairing
As you know this is not a food blog but a wine blogso obviously there is no recipe desert rose holding without food and wine pairing. The idea of trying the recipe for desert roses came about precisely in order to find something to go with a Raboso wine liqueur my cousin Marco brought me from a Risk tournament in Veneto: theGambrinus Elixir. Do you know it? We fell in love with it, it is really delicious.
This liqueur is made by following step by step the ancient recipe from 1847 preserved in the family manuscript. It is still made with Raboso wine, buongusto alcohol, cane sugar and Veneto grappa, followed by a long ageing process. This bottle of Elisir Gambrinus is the 2015, while at my cousin's house I also tried the 2004, which was truly superlative.
Tasting notes
It presents an intense and impenetrable ruby red colour. Swirling the glass shows very close bows, which betray the 27 %vol. The nose is a real delight, with balsamic notes intertwined with black cherry, liquorice, rhubarb, cloves, vanilla and tobacco. In the mouth it is consistent, extremely well balanced between freshness and softness and very long. Served at 4°C, it is really quite pleasant to drink.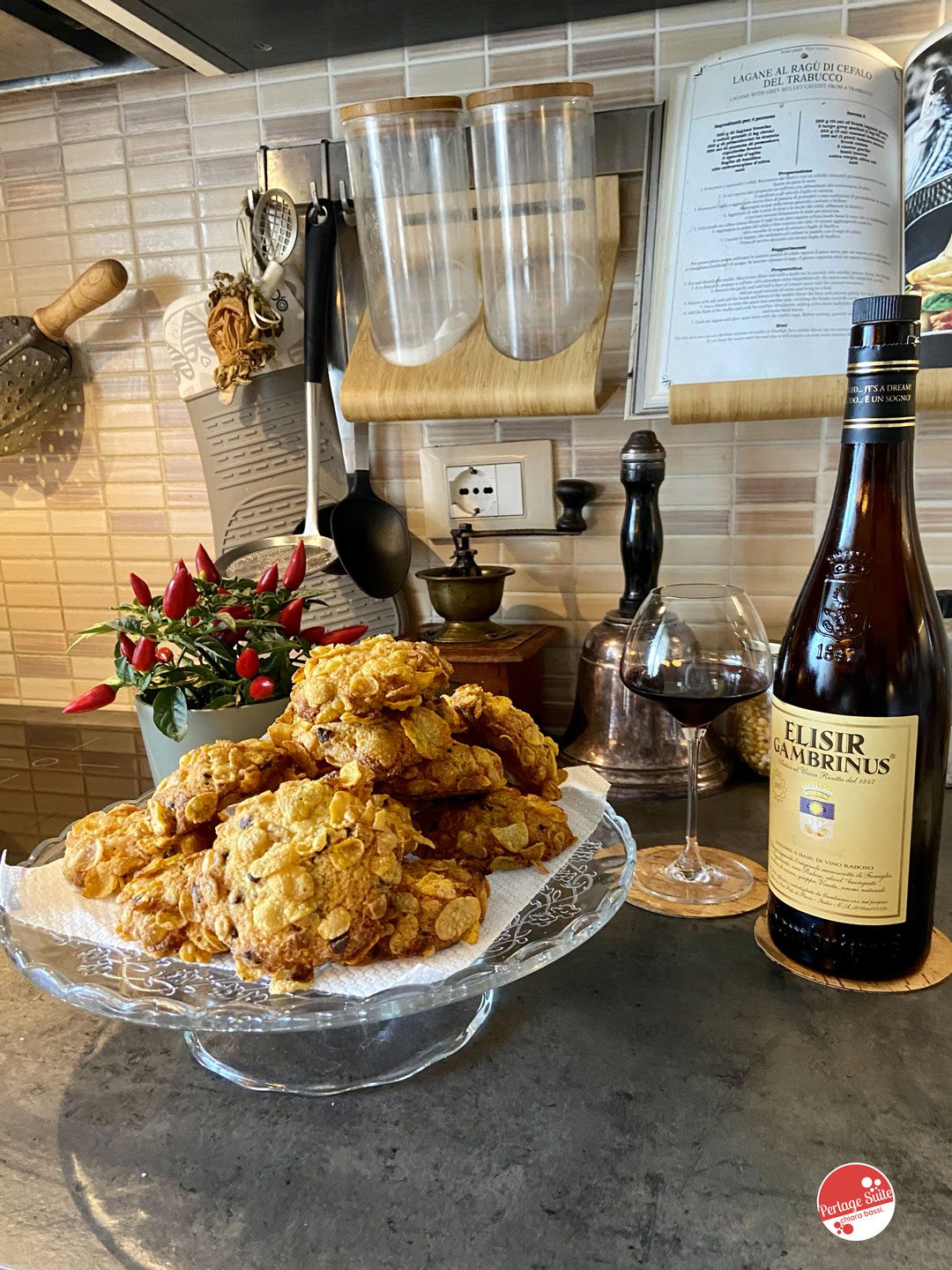 So, if you want to have a snack with me one afternoon, know that you won't find a hot tea or cappuccino with these delicious desert roses corn flakesbut a goblet of Elisir Gambrinus (Port after dinner...). If you liked these biscuits and this liqueur, have any advice to give me or ask me, you can leave me a comment by scrolling down the page. If you have a sweet tooth, don't miss the recipe for chocolate shortbread biscuits or the blueberry jam-filled roll or the orange madelaine!
Cheers 🍷
Chiara
PS you prefer the original recipe for corn flakes and sultanas biscuits or my variation of the desert rose biscuit recipe with dark chocolate, almonds and orange?