This for me was perhaps the Franciacorta Festival leanest of all time. In a little over a month my italian sparkling wine guide 500 bubbles in 500 and, at the same time, I'm finishing moving into my fiancé's house... in short... it's a busy few months. That is why I have decided to choose only one company for Saturday and one company for Sunday... and I take this opportunity to apologise to the many companies that have invited me, but consider me, just this once, an excused absentee! 🙂 On Saturday Riccardo Fratus of Riccafana presented its new red Teratis with the invaluable help of his winemaker Nicola Torazzi and the irreplaceable Alma Tortelli (on Sunday he repeated with the very talented winemaker Angelo Divittini). Following the presentation, he took us to lunch at his brother's at theHotel Touring in Coccaglio. On Sunday in Villa Crespia the first wine reading I had ever participated in with the writer and sports journalist Roberto Perrone presenting his new noir book. Thanks again Michela Muratori for making me this fascinating proposal.
Franciacorta Festival: Saturday 16 September
Riccafana Winery
Riccardo Fratus' new Teratis red wine paired with fillet steak from the Hotel Turing in Coccaglio
It's been a while since I visited Riccardo Fratus's cellar, also because of some of our differences, but I must say that in recent months it has become even more beautiful... thanks to the contribution of his wife, who really has good taste! This particular photo shows the shop inside the cellar... how can you not want to buy everything?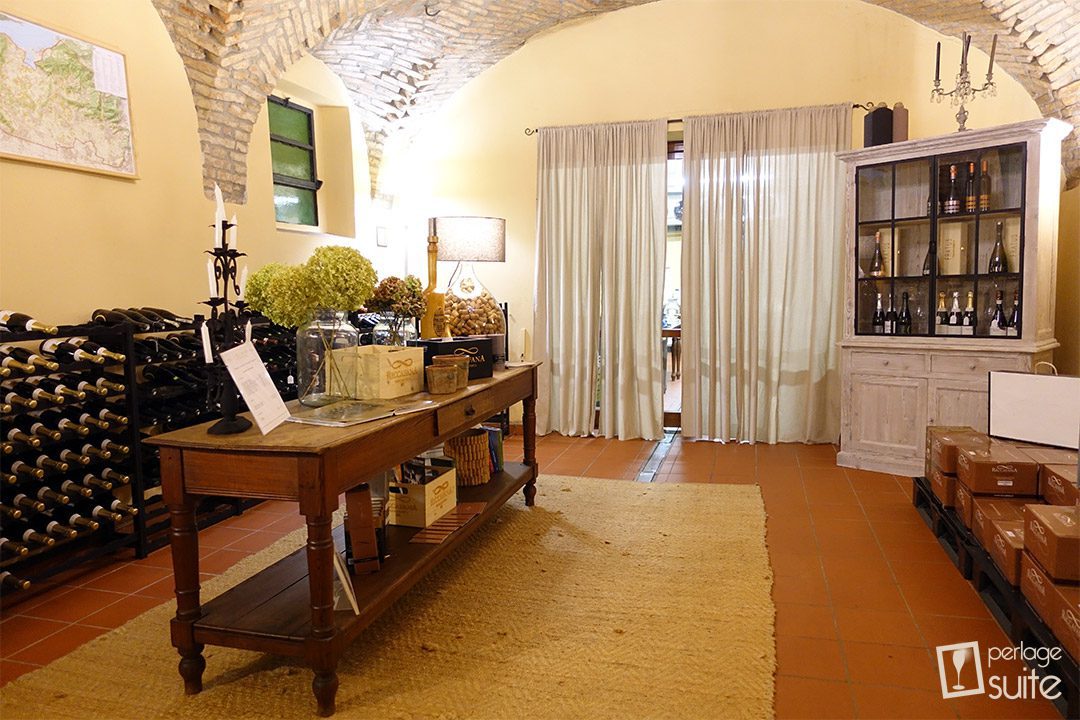 Due to the fact that I had not been with Riccardo for a while, I was missing the Weiss Mustushis latest work as a sparkling wine. Well, I must say that I also enjoyed this one very much. That Riccafana's are for me among the best sparkling wines of the Franciacorta is not a mystery, it is no coincidence that I have often spoken about it on my wine blog of its wines:
And if you want some opinions on his sparkling wines, I suggest you read those articles... Because today I will keep my mouth shut precisely because of the imminent release of my sparkling wine guide 500 bubbles in 500! 🙂 🙂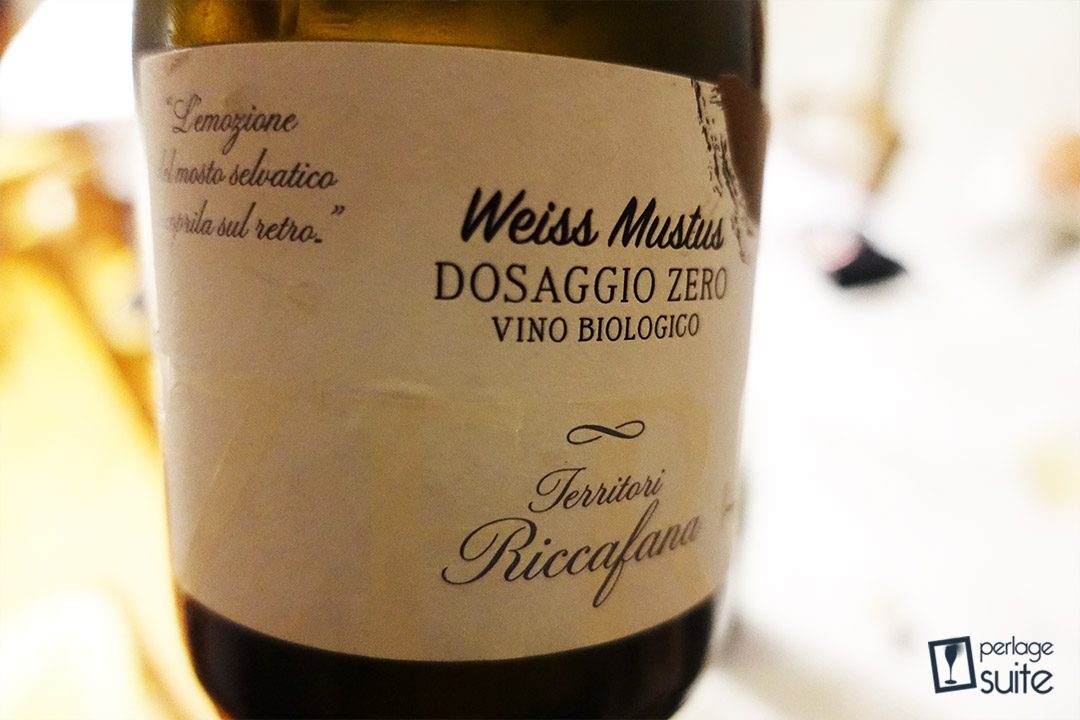 So today I will only talk to you, and rightly so, about the latest Riccafana: the red wine Teratis. So, Riccardo, did you really present a red wine during the Franciacorta Festival? 😀 Well, I must say that I found it very appealing to take this opportunity to present a new red wine, which, moreover, is really successful.
Festival Franciacorta: Presentation of the new Teratis by Riccafana
The clay-limestone soils on which the Merlot and Cabernet Sauvignon vines of which Teratis is composed grow luxuriantly lend themselves to the creation of an over-ripened product such as this. Beautiful plants of about 30 years of age get the sun all day long, in an area historically suited to the production of red wine such as Monte Orfano. Merlot is a 'plastic' grape variety that gives us excellent fruitiness, softness and warmth. The Cabernet Sauvignon squares the circle. The bud selection in spring is intense, yields of 60% are achieved. In practice, two types of thinning are done:
Low intensity: used to eliminate small and/or malformed, diseased or damaged bunches from weak shoots (10-20%);
High intensity: serves to increase cluster quality, so small, malformed, diseased or ruined clusters are eliminated as well as perfect clusters (30-50%).
The perfect harvest time is chosen by tasting the grapes and grape seeds, which must not be green. Their perfect ripeness then allows maceration to be prolonged. Harvesting takes place between the end of October and the beginning of November. This is followed by maceration for about 30 days, maturation in second and third passage wooden barriques for a minimum of 12 months, blending in stainless steel and bottling after 6 months.
Teratis in Latin means round, and I must say that it is perfect for this Franciacorta 'Amarone' that is well suited to being sold in restaurants thanks to its excellent value for money compared to its more emblazoned Veronese cousins. Excellent then is the choice of one-piece cork stoppers chosen to eliminate the risk of corking.
Teratis 2015 Tasting
4000 bottles (eliminated the denomination to be able to cut different vintages and maintain the quality standard)
It has a beautiful, deep, impenetrable ruby red colour. On swirling the glass it shows very close bows that denote an alcoholic degree and an important structure. On the nose, berry jam, black pepper, cloves, dried rose, chocolate, tar, black cherry under spirits fade into a balsamic finish. In the mouth it is full, enveloping, warm, quite soft, very fresh, quite savoury. Very long finish. Great ageing potential, it is the perfect companion for braised meats.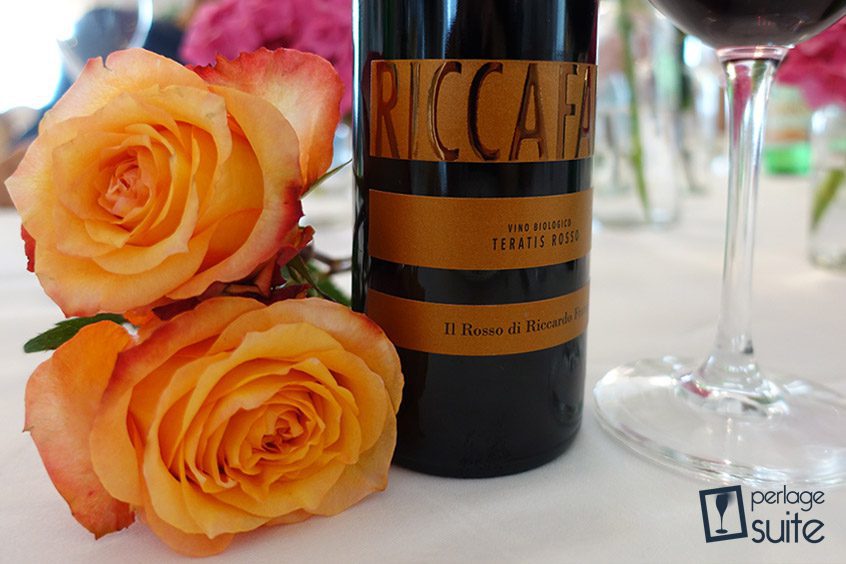 The Lunch and the Pairing
Lastly, I would absolutely like to congratulate theHotel Touring in Coccaglio for serving, among the various courses, a fillet so perfect that it was able to make me fall in love. The meat was of the highest quality, the cooking was really well done, the slightly bitter herb oil was delicious and contrasted perfectly with the sweet aromas of the Teratis di Riccafana. The accompanying fries were also very good! For those wishing to order or request this dish at the Hotel Touring, the name written on the menu was: 'Chateaubriand with aromatic oil and baked potatoes".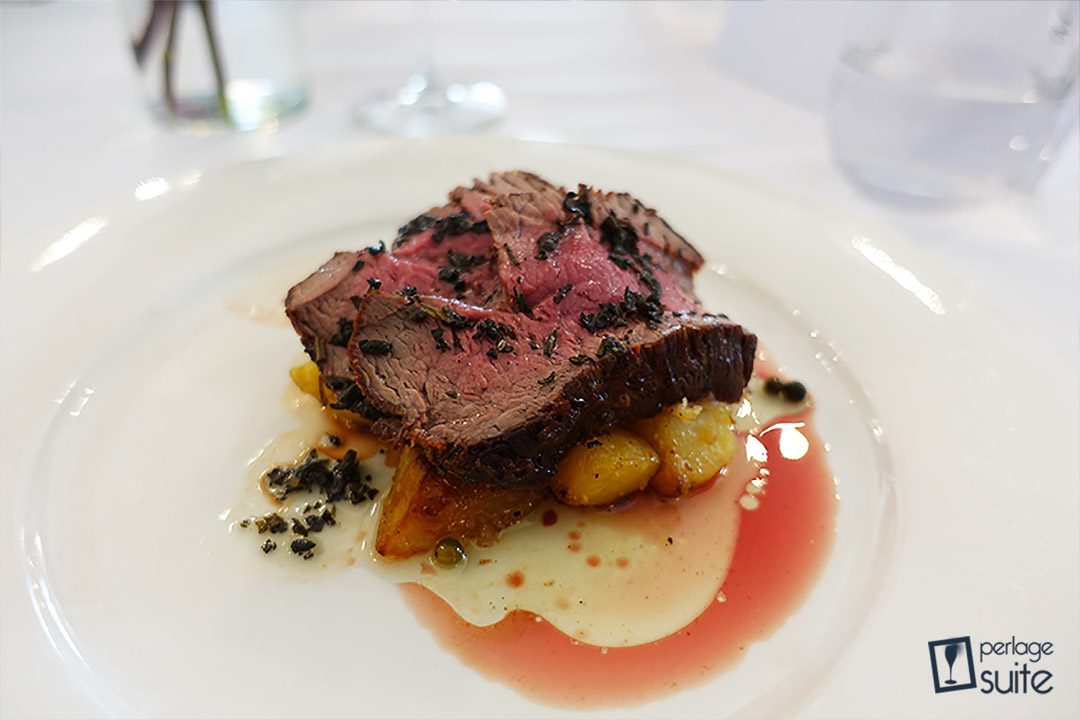 La Chateaubriand is nothing more than the upper part of the beef fillet (normally a cut of about 600 grams) which is normally cooked whole in a pan with butter (lots of butter) until the degree of cooking desired by the customer, in this case I would say between bleu and à point. At this point a few minutes are left to pass so that the temperature is more homogeneous and the juices redistribute. To make a perfect Chateaubriand, there should not actually be any blood left in the dish that is served to the customer because this would have to be 'dropped' after cutting some of the side parts of the fillet in the famous and now little-used Chateaubriand press, and then used to bind the sauce made with the brown stock, the cut parts of the fillet, the red wine and, of course, the butter. Or at least this is what I understood from a French chef who tried to explain it to me during my last stay in France for the Perlage Suite award ceremony at the Millésima Blog Awards. As for the name Chateaubriand, although it is that of the famous French nobleman and romantic writer François-René de Chateaubriand, actually comes from an area of France famous for its high quality cattle.
Franciacorta Festival: Sunday 17 September
Tenuta Villa Crespia
Un'insolita Wine Reading con lo scrittore Roberto Perrone e i Franciacorta Villa Crespia in abbinamento ai personaggi del suo ultimo libro
Sempre in Franciacorta, ma una realtà vitivinicola completamente diversa per la seconda parte del mio Franciacorta Festival nella giornata di domenica: per la prima volta sono andata a trovare Michela Muratori a Villa Crespia. La cantina si presenta bellissima, soprattutto all'esterno, con il delizioso laghetto per le ninfee… magari averne così tante nel mio pond in terrazzo! 😀 La giornata poi è complice del Festival Franciacorta ed è davvero stupenda, sole e nuvole di panna montata!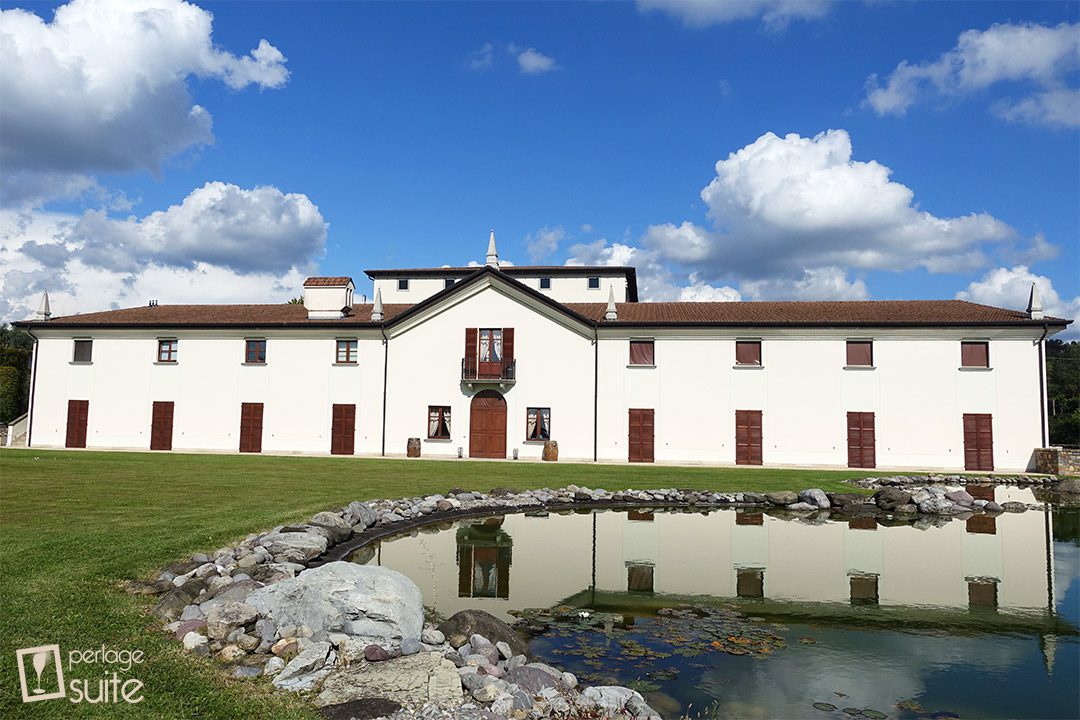 Roberto Perrone ammetto che non lo conoscevo, a parte che ho sentito dire in giornata che è stato un volto noto del giornalismo sportivo italiano. Beh il mio rapporto con lo sport è cosa nota: da quando ho smesso di giocare a tennis mi cimento solo nella stappatura delle bottiglie! Lì sono una vera podista… 😀
A Villa Crespia hanno organizzato una Wine Reading, ovvero una degustazione abbinata alla lettura di alcuni passaggi significativi del nuovo libro di Roberto Perrone, con i personaggi in abbinamento ai vini! Il libro si intitola "La seconda vita di Annibale Canessa" e anche se non amo molto il genere romanzo, adoro sia leggere sia ascoltare quindi l'ho trovata una bellissima esperienza. Il libro poi mi è sembrato anche discretamente avvincente… anche se i pensieri della protagonista femminile si vede che sono scritti da un uomo e non l'ho trovata particolarmente realistica. Completamente diverso il mio pensiero per i personaggi maschili che sono descritti in un modo così sfaccettato da avermi fatto pensare tutto il tempo che Roberto Perrone si è ispirato a persone reali.
Primo vino & primo personaggio: Cesonato Satén & Carla Trovati
In epoca tardo medioevale questo nome indicava aree protette ricavate all'interno di un'area boschiva. Chiamate anche clausure, si rubava alla foresta un pezzetto di terreno per coltivare la vite a più di 300 mt sul livello del mare. Non sono i terreni e i vigneti più convenzionali al Satén, ma danno caratteristiche uve dai forti sentori floreali. Il risultato è un Villa Crespia Satén Franciacorta spumante metodo classico con un naso molto piacevole, e una bollicina leggermente aggressiva nonostante la tipologia Satén. Il naso è di vaniglia, burro crudo, miele di tiglio, fiori di tarassaco e mela. In bocca è pungente, più sapido che fresco, con un finale non particolarmente lungo, ma una valida proposta per un aperitivo disimpegnato. Personalmente è lo spumante di Villa Crespia che mi è piaciuto di meno. Carla Trovati è la giornalista del Corriere che avrà una storia col protagonista Annibale Canessa. Dice: «Ma io, tecnicamente, posso definirmi una troia?» la mattina dopo che, se non sbaglio, era stata a letto con il suo caporedattore. Da donna non credo che una donna si farebbe mai questa domanda usando questa espressione… ma forse sono aliena io 😀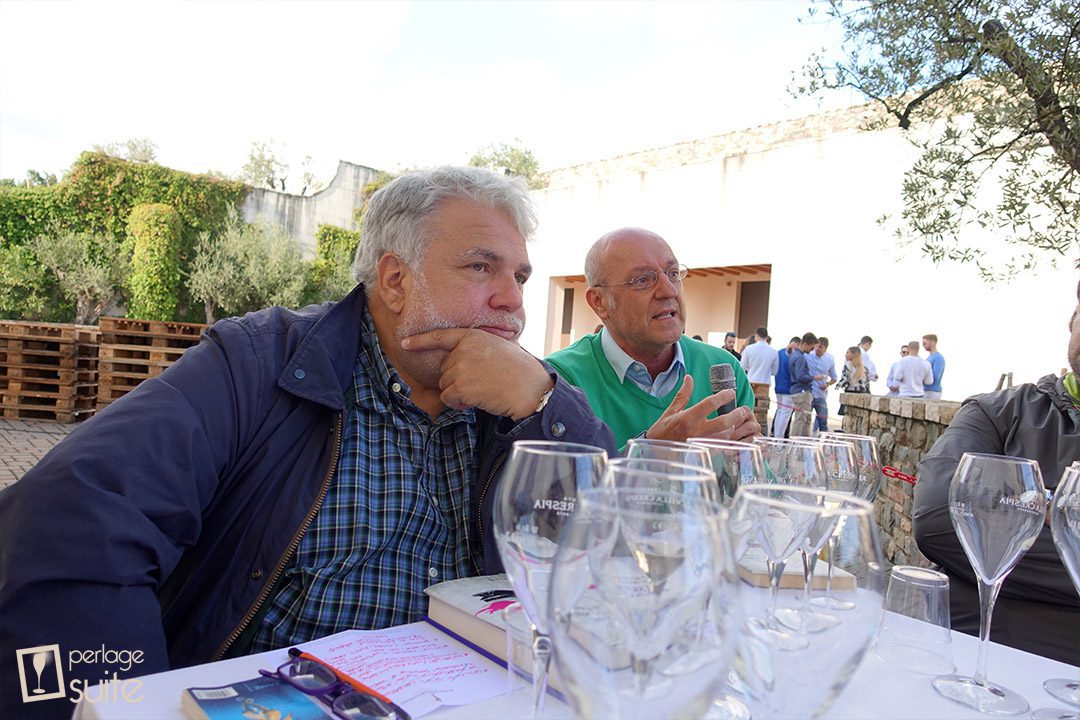 Secondo vino & secondo personaggio: Millé Brut & Annibale Canessa
Sicuramente la scelta del Packaging del Villa Crespia Millé Brut è forte, una pellicola azzurro acceso molto molto fashion lo pone di grande appetibilità per un pubblico molto molto giovane, e me lo immagino spopolare in ogni discoteca un po' fighetta della bresciana! 🙂 Pensare di creare un vino qualitativamente interessante per un pubblico di giovanissimi poi lo trovo una buona idea: noi estimatori di Villa Crespia magari berremo qualcos'altro… ma è giusto educare i giovanissimi a non bere solo il "prosecchino" (con tutto il rispetto dei miei amici produttori che fanno un prosecco eccezionale come Le Vigne di Alice e Bellenda… ma non sono i vostri che ahimé si trovano più spesso in certi locali). La base viene rifermentata 4-5 anni dopo dalla messa a dimora in acciaio. Giallo paglierino brillante, perlage un po' grossolano, numeroso e persistente. Il naso è interessante: forti sentori di lievito, panettone, fieno secco e fiori di camomilla. In bocca la bollicina è un po' aggressiva, ma ha una bella freschezza nonostante i 100 mesi di vita. Intenso e persistente, lungo e da abbinare a formaggi a pasta dura e semi dura un po' grassi. L'abbinamento è con Annibale Canessa, il protagonista del libro.
Terzo vino & terzo personaggio: Numero Zero & Vampa
Ecco uno spumante di Villa Crespia che vi consiglio di assaggiare! Anche qui la bollicina è sempre un po' più grossa di come la vorrei, ma il naso è davvero bello: lievito, ananas, banana e tanta mineralità. In bocca la bollicina si riscatta e diventa cremoso e piacevole. Ben equilibrata l'acidità con la morbidezza e una freschezza che lascia presagire una buona evoluzione in bottiglia. Il suo essere poco sapido mi ha fatto pensare che sarebbe proprio perfetto per un pesce cotto in crosta di sale, magari un branzino o un'orata. Il Vampa ricordo che è il miliardario del libro…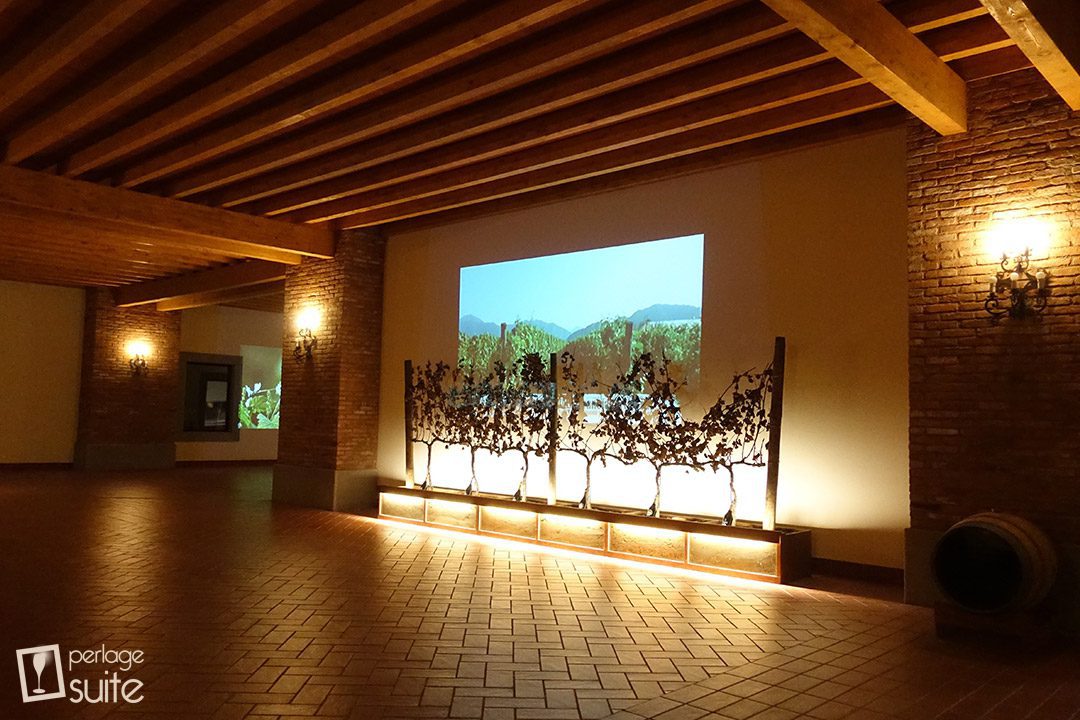 Quarto vino & quarto personaggio: Brolese Rosé & Repetto
Sicuramente lo spumante di Villa Crespia che mi ha convinto di più. Di un bellissimo rosa buccia di cipolla, perlage abbastanza fine, numeroso e persistente. Al naso è molto piacevole, con note di fragoline di bosco, rosa essicata, zenzero, lievito, crema pasticciera. In bocca è croccante, con una bollicina piacevole. Entra intenso, molto fresco, una sapidità dosata e complessivamente morbido. Il finale è lungo, l'abbinamento da tutto pasto, ma sicuramente eccelle con un bel fritto di gamberi e con i crostacei in generale. L'abbinamento è con Repetto, il fidato maresciallo che affianca Annibale Canessa nella lotta al terrorismo.
La cosa più interessante della visita in cantina è stato questo filare con le 6 terre di Franciacorta in cui si snodano i vigneti di Villa Crespia… con le bottiglie sopra! In effetti l'avevo già visto fare dall'associazione bergamasca dei produttori delle Sette Terre e era una cosa che avevo già apprezzato molto allora!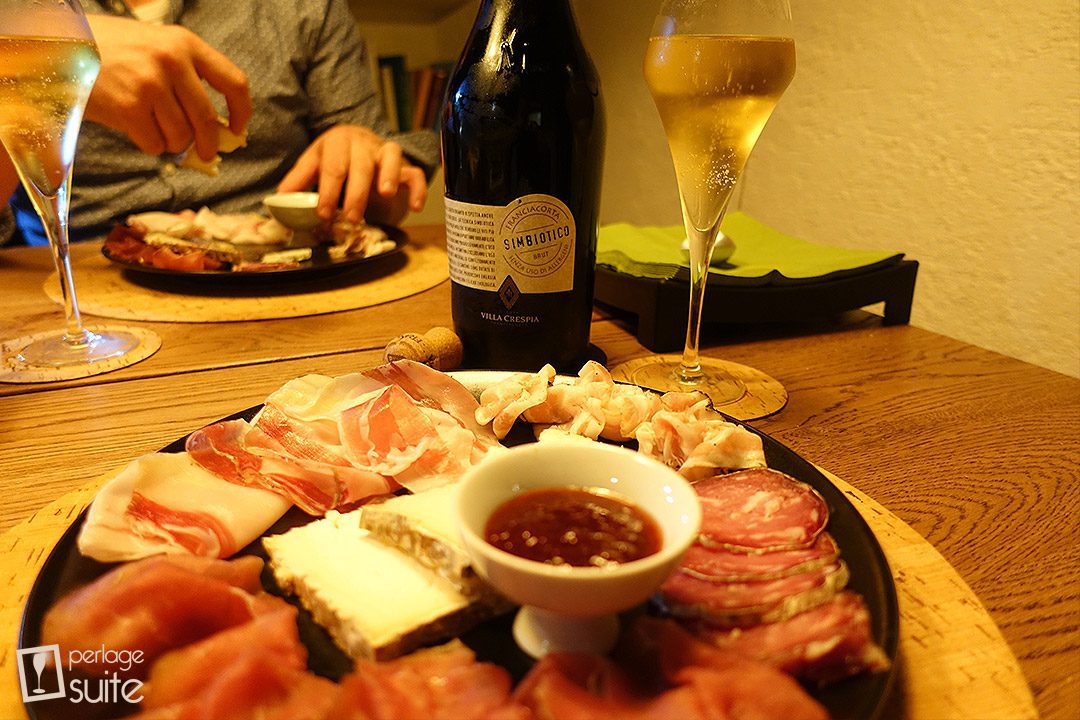 La sera siamo ripassati dalla Macelleria Polastri di Torbiato di Adro, che come sempre ha cose meravigliose da proporti! In particolare questa volta c'erano due lardi da sogno: uno barricato al Franciacorta Satén… e l'altro stratificato… e una carne di manzo sempre marinata nel Franciacorta molto speziata e buona. E poi un formaggio che non ricordo cos'era ma era super… soprattutto con la confettura di fragole di mia nonna Lelia. Del salame Ret non ve ne parlo più o mi odiate sul serio… In abbinamento una novità di Villa Crespia che non avevo mai assaggiato: il Simbiotico. Beh, bocca cucita perchè ho la guida in uscita, ma ti anticipo che è super!
Cheers
Chiara
P.S. As always for the photos I thank Photo Universe for the wonderful Sony RX100 M4 che adoro… e che sto piano piano imparando ad usare con grande soddisfazione personale <3 Vogliamo parlare della bellissima foto di copertina dei vigneti al tramonto di Villa Crespia? Te la riposto se non ci hai fatto caso!!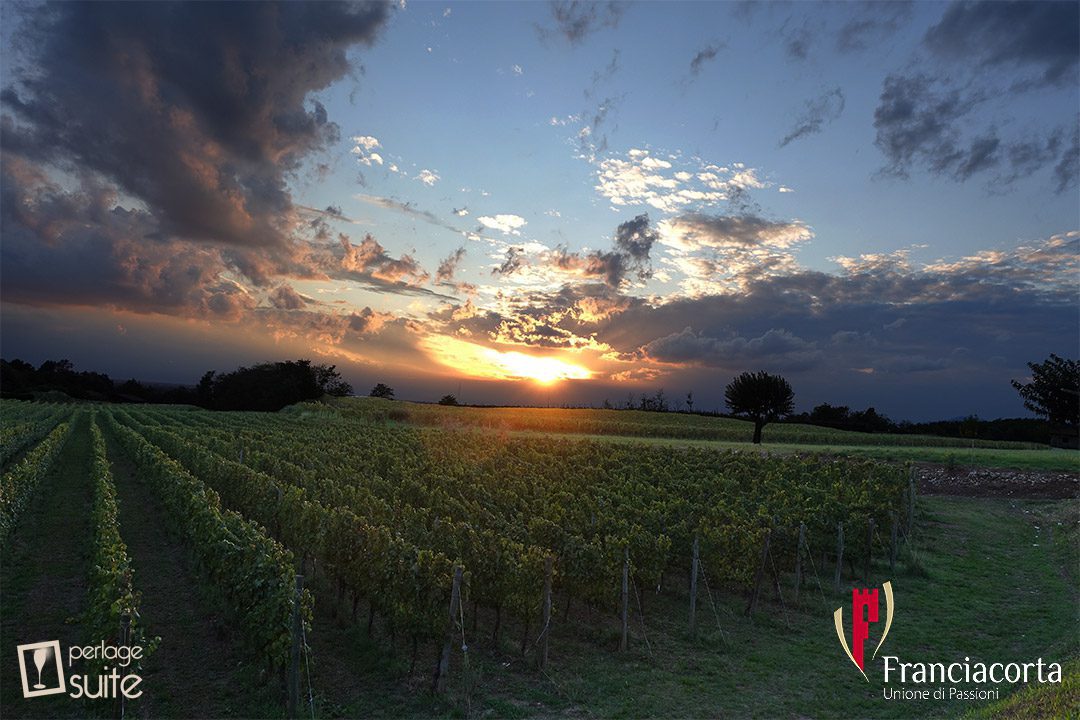 .
P.P.S. E tu sei stato al Festival Franciacorta? Cosa hai bevuto di buono? Scrivimelo in un commento 😉