I love Christmas. If I think of a time of year that makes me happy, it is this time of year. I love hot chocolate, snow, little lights that warm the rooms, streets and hearts. I love watching films full of Christmas spirit with enchanted villages, old loves and happy families. I love drinking a good glass of red wine with my husband under the blanket on the sofa. I love the burning yankee candle and the scent of apple, cinnamon, nuts, vanilla, melted butter and amber that warms any room (by the way, today I took advantage of the pre-black friday days to get this yankee candle 'Red Apple Wreath' in large jar at €19... unbelievable!). Tonight we are drinking 2 glasses of Vino Nobile di Montepulciano 2015 'Settecento' by Podere Casanova and it is so magical!
In this period of quarantine I am living as if suspended and somehow wine is the link between past and future. The days are running the same, but I must say that overall I feel happy. I'm studying a lot because in 20 days I have my first exam: Food and Wine Science and Technology. There is so much stuff, but I don't think I have ever studied something so valuable in 35 years. I must say that I love following the video lectures and taking notes while enjoying a glass of special wine.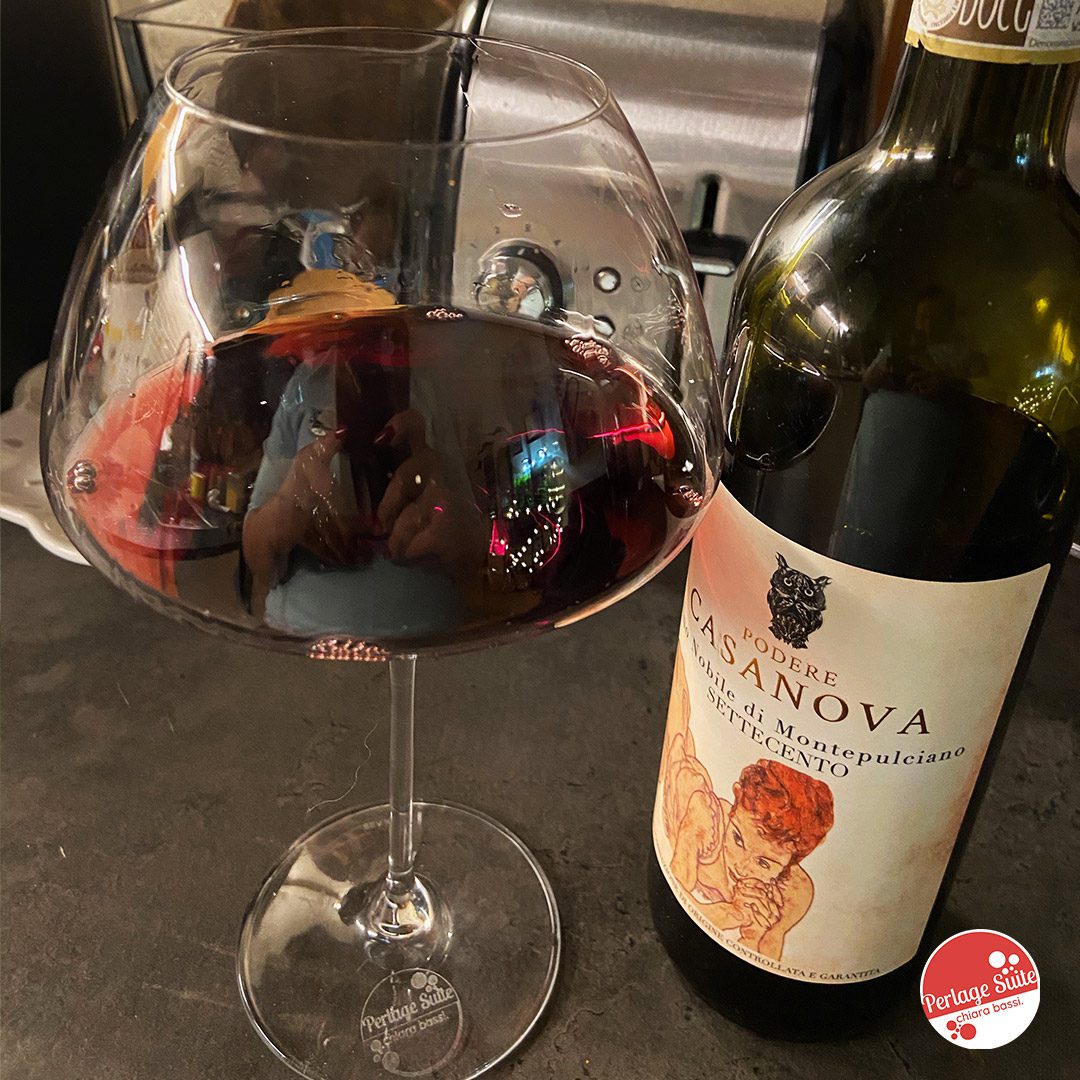 Nothing I love more, however, than writing about wine lulled by the sound of water intertwined with the jazz of Jonh Coltrane. How much he relaxes me. I remember the first time I listened to him, at the home of an old friend, Guido Barosio, then director of La Presse. It was 9 July 2012 and he had found a couple of days to spare in his Turin to accompany me to the Brian Eno concert at the Reggia di Venaria. I am tasting a glass of Euphoria right now, and this is how I feel remembering that wonderful evening! It seems incredible to me that eight years have already passed, and even more incredible that the only time I have been in a gondola in my life I did it in Turin and not in Venice!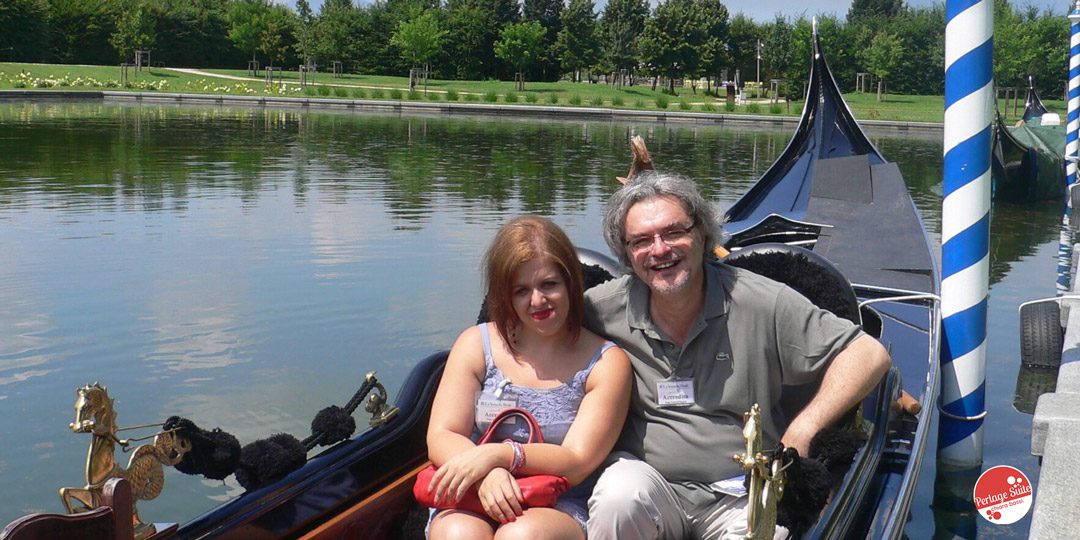 Here, one of the gifts of wine: the ability to make you travel through space and time. Of awakening memories, moods and emotions. Thanks to its colours, its perfumes and the warmth that goes down your throat. Euforia is a splendid white wine, starting with the label that reminded me of a Mondrian painting. It is made from chardonnay, grechetto, and verdell grapes from a vineyard in the commune of Piegaro, in the province of Perugia. Tomorrow morning I just have an appointment for a virtual tasting of Umbrian white wines for my next article and I consider it almost 'a sign'... just a week ago I was complaining that I don't often drink wines from this region! Actually, Euforia is a true 'Tuscan Poetry', but the vineyards are just a stone's throw from the splendid Città della Pieve!
Podere Casanova: Euphoria 2019
It has a beautiful, intense and brilliant straw yellow colour. The nose has a broad and elegant bouquet, with notes of candied tangerine, banana yoghurt, apple juice, passion fruit, pineapple and mountain pine resin. In the mouth it is fat, warm, savoury and enveloping. It has a very long finish. A great white, perfect on its own to relax and get lost in... but with raw shellfish - especially scampi - it can be exciting.
The grapes are harvested by hand in small crates and selected with great care. The pressing, whole cluster, is very soft. Alcoholic fermentation takes place partly in small steel tanks and partly in tonneaux. At the end of fermentation, cold clarification is carried out. Ageing lasts 6 months and is done partly in steel and partly in wood.
The Val d'Orcia and the dichotomy between Cosmos and Taxis
I think this wine, indeed these wines are so good because they are born in Val d'Orcia. Have you ever been to the Val d'Orcia? I think it really is one of the most beautiful places in the world. I have before my eyes these roads climbing up hills, the golden fields alternating with tidy vineyards punctuated by imposing cypresses that seem to have been painted by the hand of the most skilful of artists. Italy is all beautiful and each region holds wonderful hills... but those in the Val d'Orcia have something incredible. LExcellence is born of Order, cosmos and taxis. Have you ever heard of that genius of Friedrich August von Hayek who - among other things - was born on 8 May just like me? Well, a few years earlier... if I remember correctly it was the late 1800s! Anyway, in his book 'Law, Legislation and Liberty' he writes: 'order is a state of things in which a multiplicity of elements of various kinds are in such relation to one another that one can learn, from knowledge of some spatial or temporal partition of the whole, to form correct expectations of the other parts of the whole, or at least, expectations that have a good chance of proving correct'. Cosmos is the endogenous order, proper to nature while taxis is the exogenous order, proper to human artifice. Here, I believe that in this dichotomy lies the secret of Tuscan wine.
Have I gone off topic? Maybe... but then again, my wine blog is called Perlage Suite and the Suite is a succession of various similar elements constituting a homogeneous whole. I mean, that I have a fixation on the concept of order is now clear to you... but really think about it: can you work well in an ugly, chaotic environment?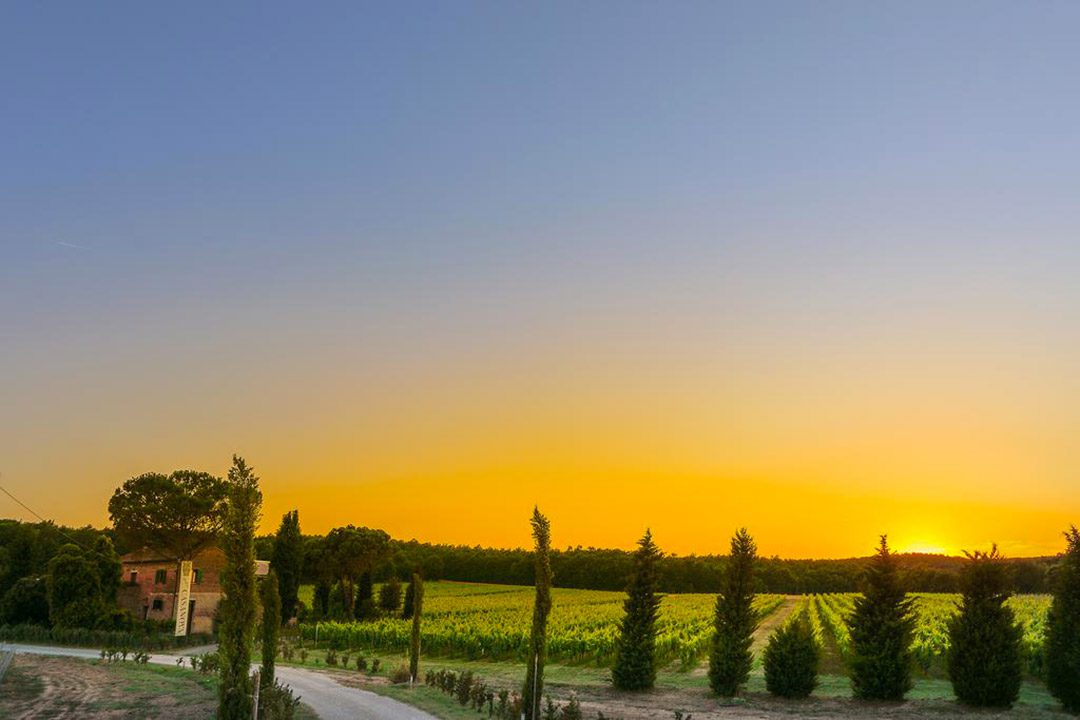 I won't tell you about Podere Casanova or who created it because I haven't been there yet. As soon as we get out of quarantine, I can't wait to visit them and tell you all about it! I can already see myself and my husband relaxing, strolling through vineyards, enchanted villages and centuries-old woods. For now, therefore, I will 'limit' myself to telling you about three other wines that impressed me.
Podere Casanova 'Leggenda', IGT Toscana 2016
It is dark ruby red, barely transparent and consistent. The nose is intense and elegant, the wood is used with great skill. One recognises vanilla, chocolate, truffle, porcini mushroom, leather, fresh and jammy mulberry that fade into a smoky finish. In the mouth, it is soft, fresh and slightly savoury. A very long finish of sweet spices and chocolate enchants. This was the first wine from the winery that I drank. I liked the name and I liked the label. The pairing was a hit: I made crespelle with tomini with Alba truffles that I found in the wonderful Christmas basket from Cantine della Franciacorta... but I'll tell you about that tomorrow!
This wine is made from syrah, merlot, sangiovese and cabernetsauvignon grapes from vines rooted in a soil of Pleistocene deposits consisting of yellowish brown sands. High-density vineyard planted in 1998. Manual harvest at the end of September - beginning of October. Fermentation in barriques and tonneaux for 15/20 days. Maceration on the skins for 10 days. Matured in wood in new barriques for 18 months and 6 months in bottle before release.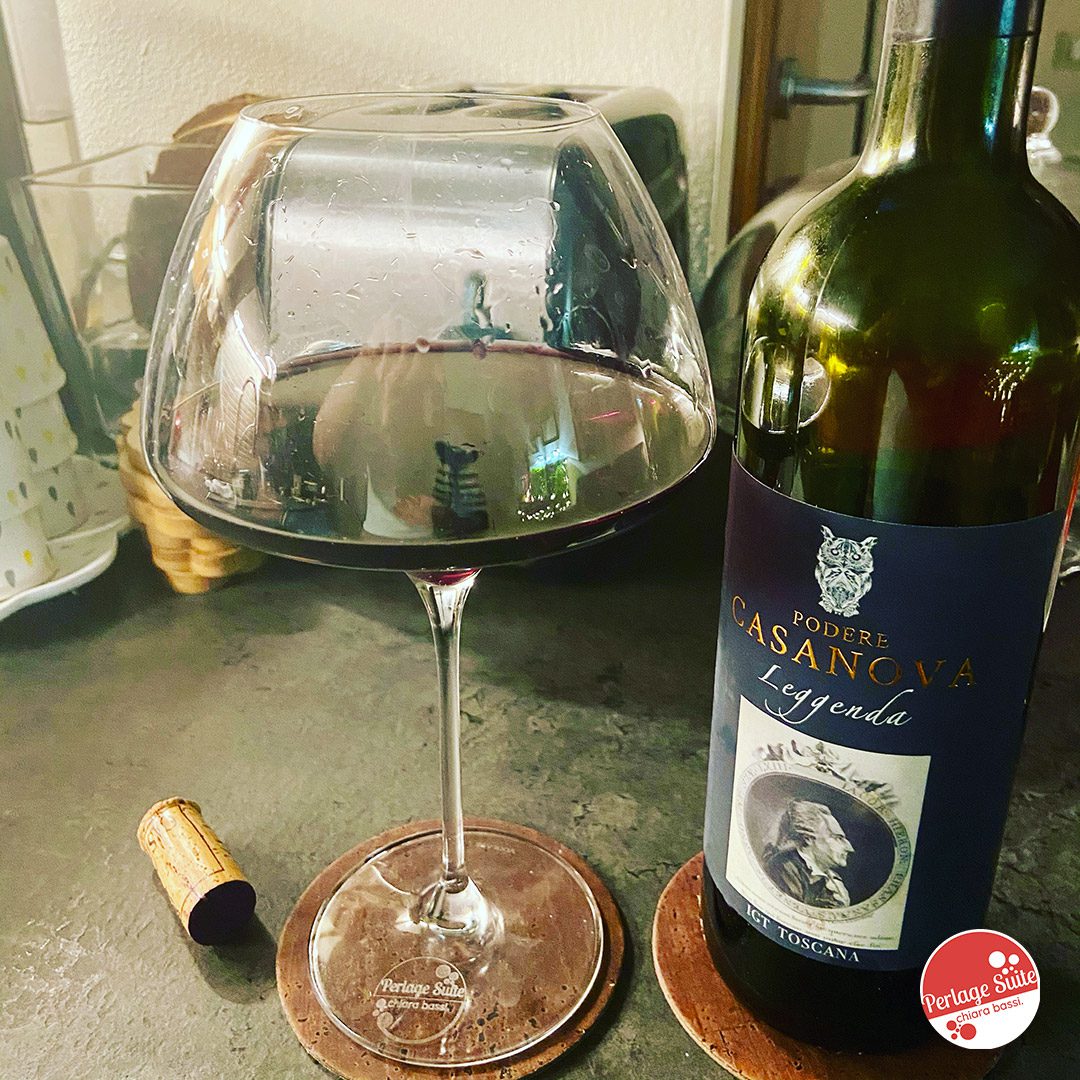 Podere Casanova 'Irripetibile' IGT Toscana 2016
It has an impenetrable and consistent ruby red colour. The nose is intense and very fruity with notes of berry jam and ripe fruit such as figs, chocolate and spices. In the mouth it is very young and has tannins that are still a little aggressive. The great acidic backbone suggests extraordinary ageing potential. To be bought now and absolutely forgotten in the cellar... again, I really got the pairing right. I made an amazing pasta and beans with the maltagliati I made at home and a delicious cannellini cream! Too bad I didn't have some pork rinds too! If you know how to wait a few years it will certainly also excel with cheeses, today I prefer it with tasty meats such as lamb or wild boar.
This wine is made from Sangiovese, Merlot, Petit Verdot and Cabernet Sauvignon grapes that are hand-picked and selected in the last ten days of September. Fermentation of the entire blend in barrique/tonneau for about 15 to 20 days. Maceration on the skins for about 10 days. Malolactic fermentation and ageing for 6 months in new barriques. It rests in the bottle for 4 months before being put on the market.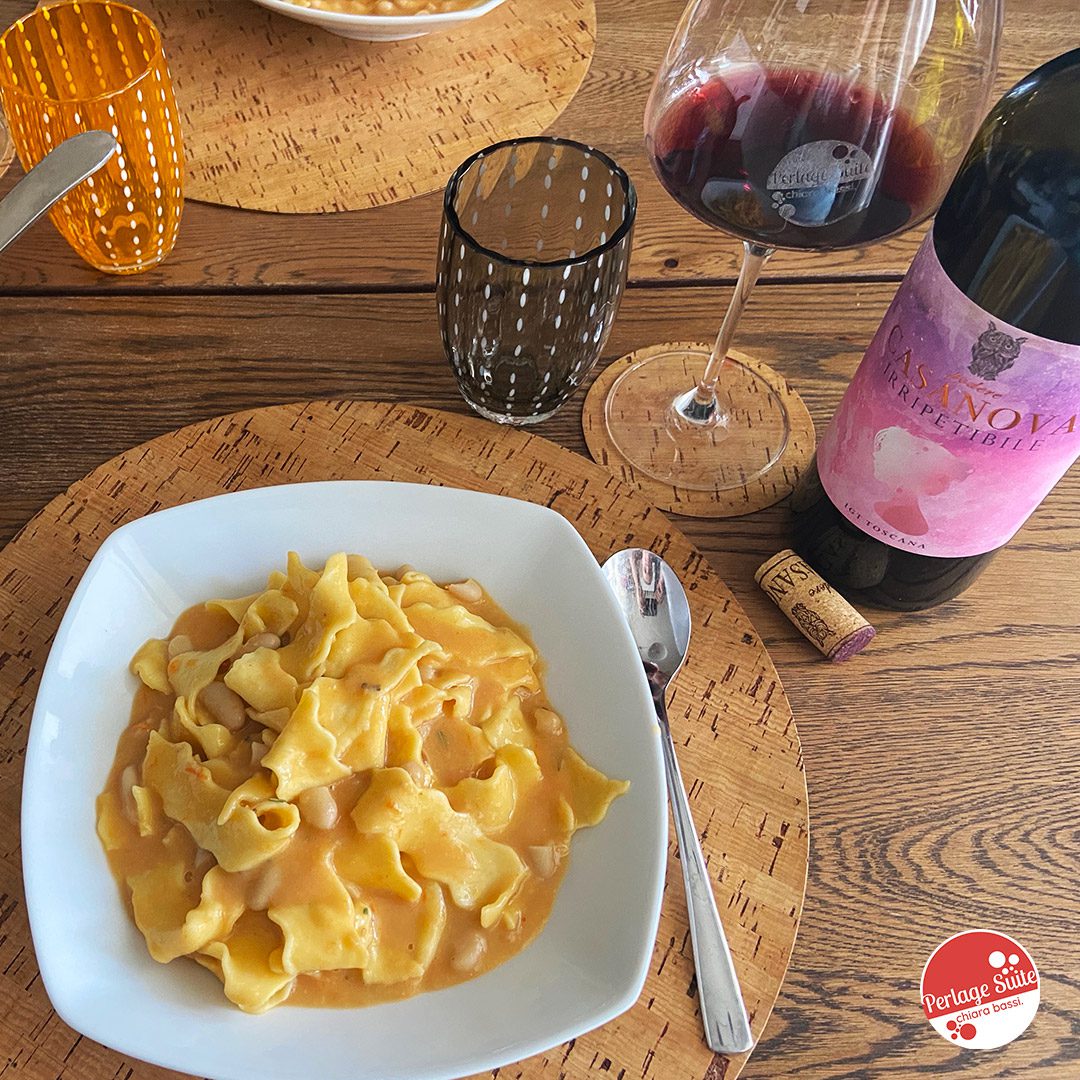 Podere Casanova 'Settecento' Vino Nobile di Montepulciano 2015
It has an impenetrable and consistent ruby red colour. The nose is fine and elegant, a succession of balsamic, toasted and spicy notes. Bitter cocoa, tobacco leaf and an animal finish. In the mouth it has crazy, but well-blended tannins that suggest an ageing potential tending towards infinity. Here too there is a great acidic backbone, but the pleasantness is just as great despite the fact that it is still shifted to the hard parts. Nice sapidity and a very very long finish. Outrageous value for money... what did I pair with it? Absolutely nothing! This for me is a meditation wine... you can just pair it with Coltrane's 'My Favourite Things' as I am doing now! 
This wine is made from Sangiovese grapes from an area of the vineyard familiarly known as 'Il Bosco'. After manual harvesting with selection of the bunches in the first ten days of October, the grapes ferment for about 30 days in steel conical vats at a controlled temperature of 26-28°C. This is followed by soft pressing and selection of the different fractions of must. Malolactic fermentation takes place in steel, then it is transferred to French barriques, tonneaux and 1000lt barrels for 24 months. It rests in the bottle for 6 months before being put on the market.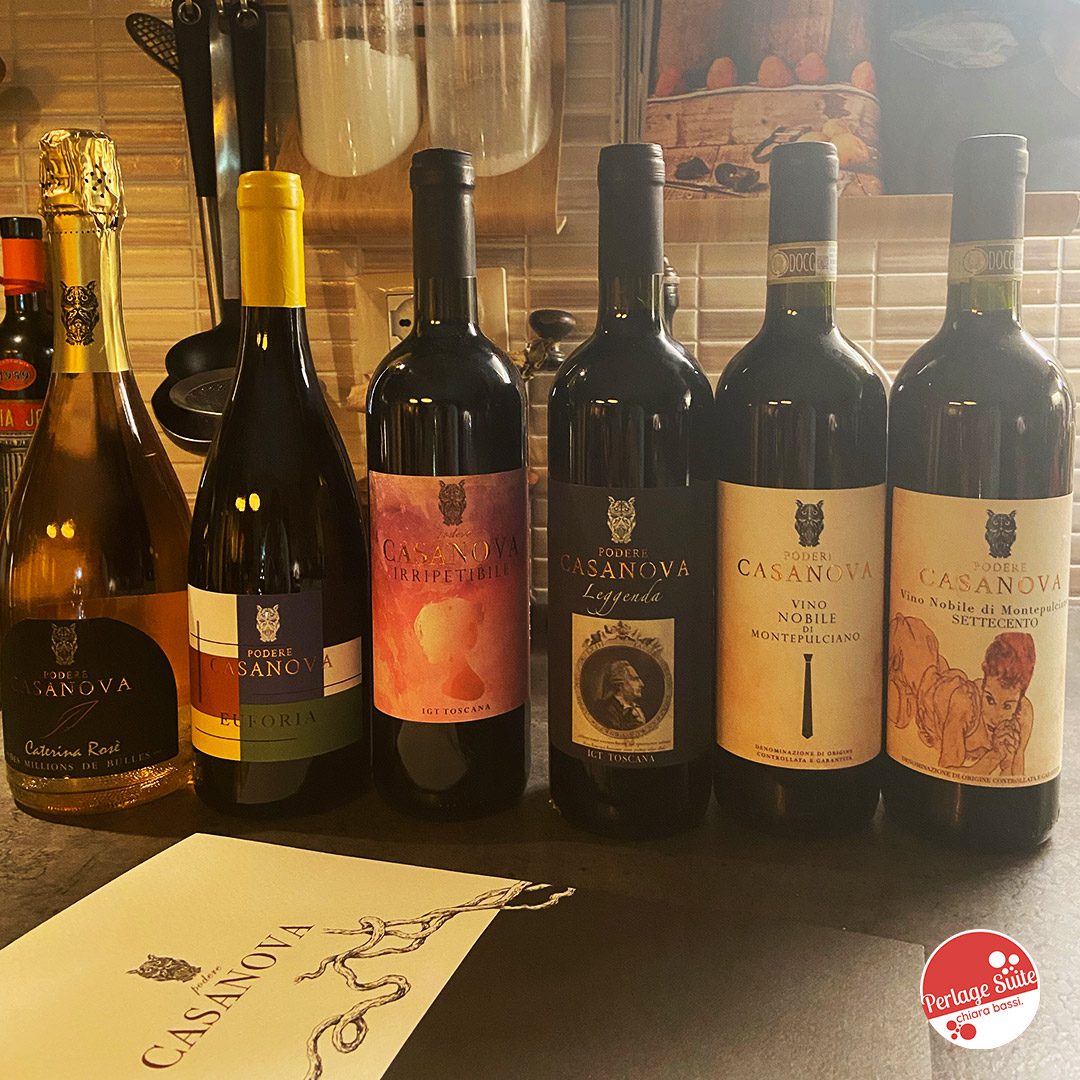 Another thing I love is the owl they have chosen as their logo, and not just because of its excellent graphic design. I don't know how many people know that the Venetian adventurer Giacomo Casanova, whose passages in this area inspired the name of this company (and is also a tribute to the Venetian origins of the owners), was also an alchemist and always carried a talisman in the shape of an owl. I remember that in Fellini's 'Il Casanova' his male amulet was a kind of music box in the shape of a golden bird that looked like an owl. Curious that this animal, which has always been a symbol of wisdom, here becomes a symbol of virility. The mechanical bird comes to life by lifting its head and beating its wings to a metallic, screeching music wrapped in a frenetic rhythm when Casanova is engaged in his sexual exploits.
I find the owl in the logo so similar to the one in the film... or is it just me being such a movie buff that I find references to it everywhere?
Cheers
Chiara