That Tuscan wines are a legend I'm sure I don't have to tell you, but this time I want to tell you about a company of Volterra, beautiful area that I had not yet explored. When my best man - Marina Tagliaferri of the Agorà press agency - he suggested that I go and visit Marcampo farm and dine in them Enoteca Del Duca restaurant - right in the center of Volterra - returning from our honeymoon in Matera we were thrilled. 😍😋
Okay, I admit it ... there's another reason too! Raise your hand if you haven't looked there at least once Twilight saga! I certainly did not expect to meet Robert Pattinson as a glamorous shiny vampire on the streets of Volterra, but the race with Bella and Allison's yellow Porche in New Moon to save him from the Volturi is a scene that an enthusiast can hardly forget. Now, I don't feel particularly fanatical about those films, but I'm definitely pretty passionate about the role of Edward Cullen! 🤣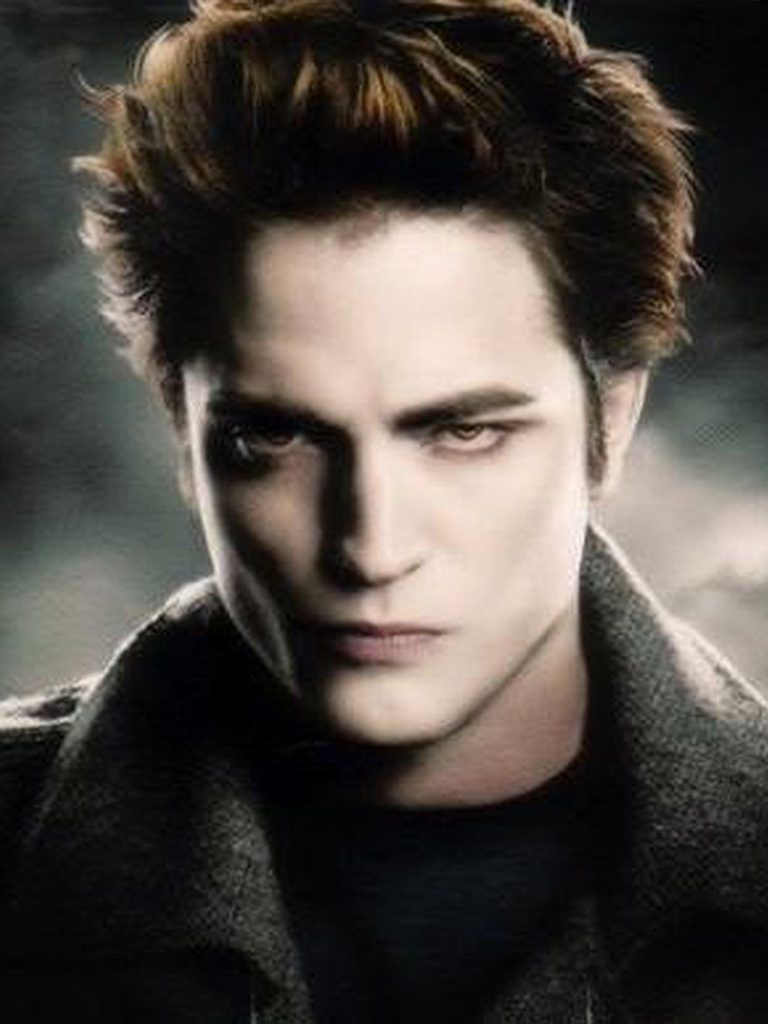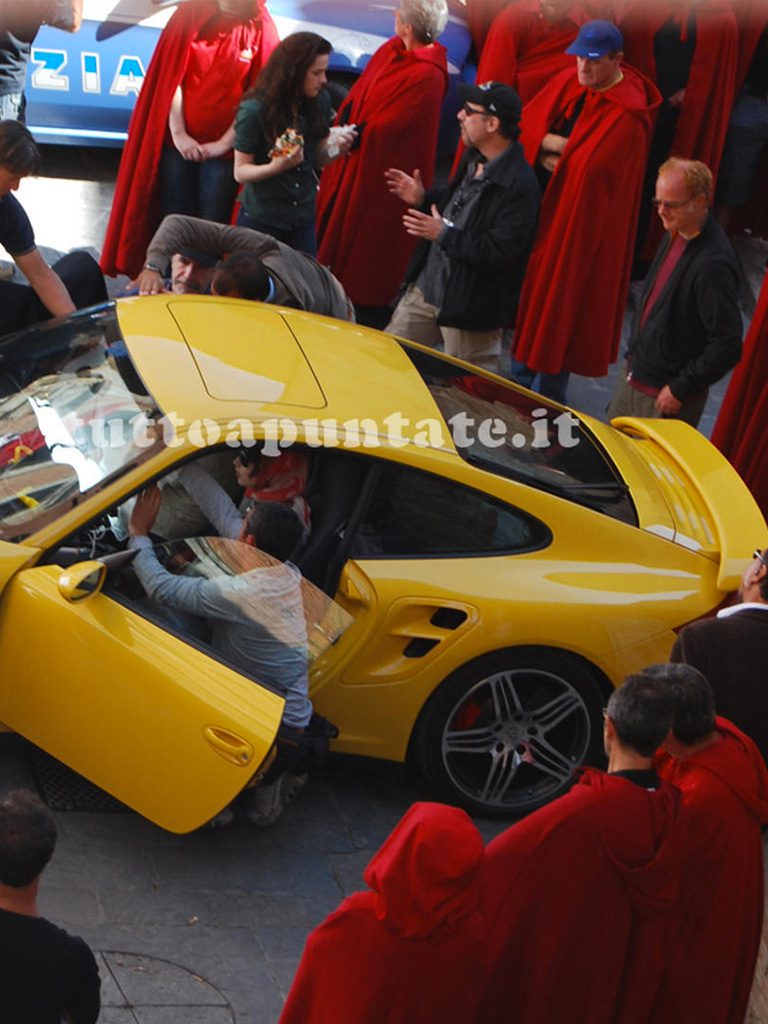 We arrived just in time to enjoy a beautiful sunset… too bad we are too tired for a dip in this one wonderful panoramic swimming pool overlooking the vineyards! Volterra is a splendid medieval jewel set in these hills of red earth that seem to literally go on fire in the hot summer sunsets. We greeted the owners and brought the trolley to our room overlooking the pool, warm, welcoming and with an exquisite "home" scent. We gave ourselves a very quick refresher and we are ready for something that never tires us: a tour in the cellar and tastings from the barrels! 🤩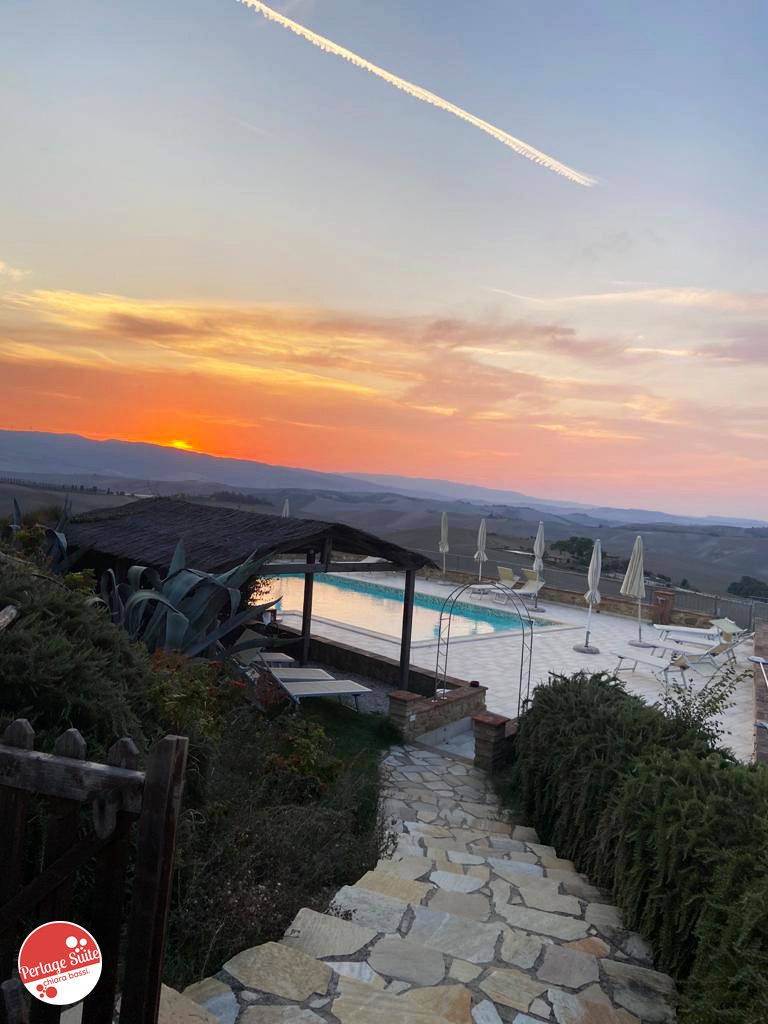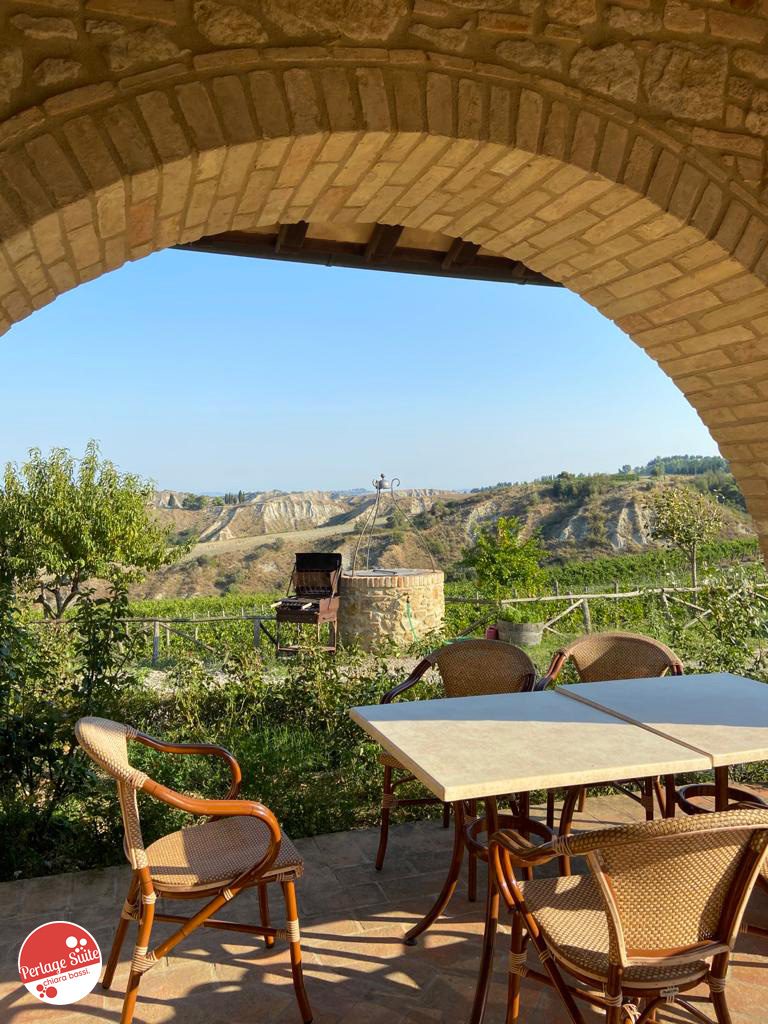 Claudia Del Duca, daughter of Genuine, a former Abruzzese carabiniere who moved to Tuscany who after 20 years left the service to fulfill his dream of creating an oasis of peace between good wine and good food, followed us for the duration of our stay. Claudia is very good and Genuino is lucky to have a girl like her who - I'm sure - will be able to grow what he has built with love. Podere Marcampo was purchased in 2003, when instead of today's splendid estate there was only a ruin from the 1700s that had been abandoned for over 50 years. In 2005, in the heart of the Natural Park of the Balze - among the badlands - this little one is born cellar of about 5 hectares well-kept and capable of producing wines of great depth and longevity. This is also due to the land of Volterra, an ancient sea today characterized by clays and mineral salts.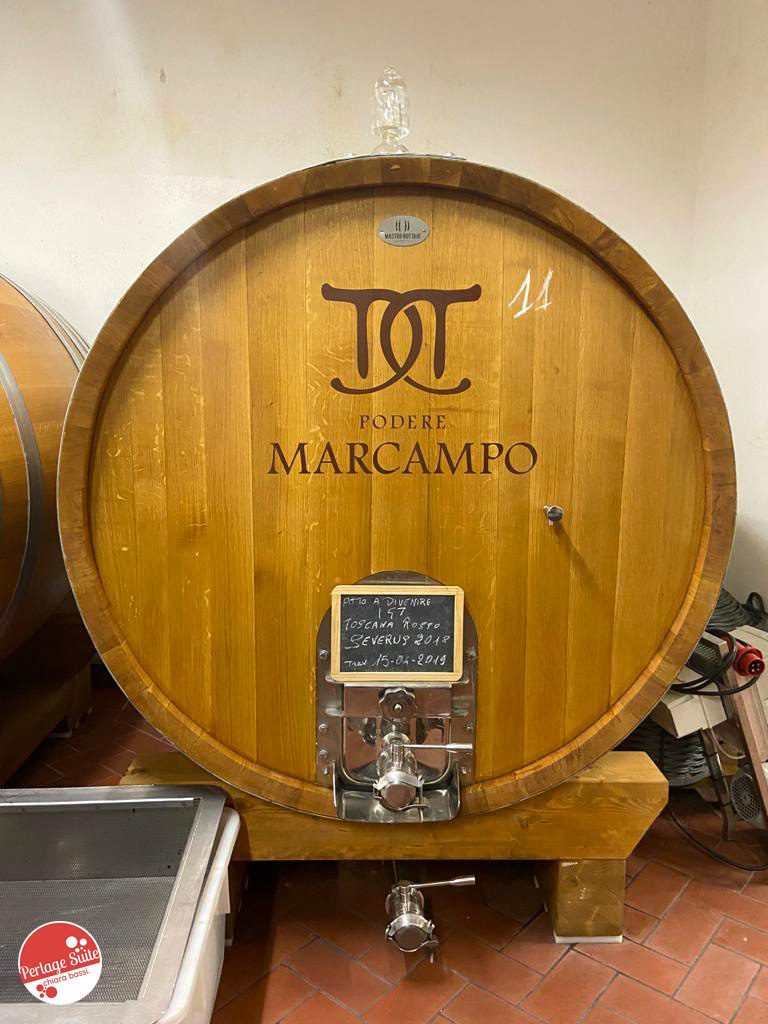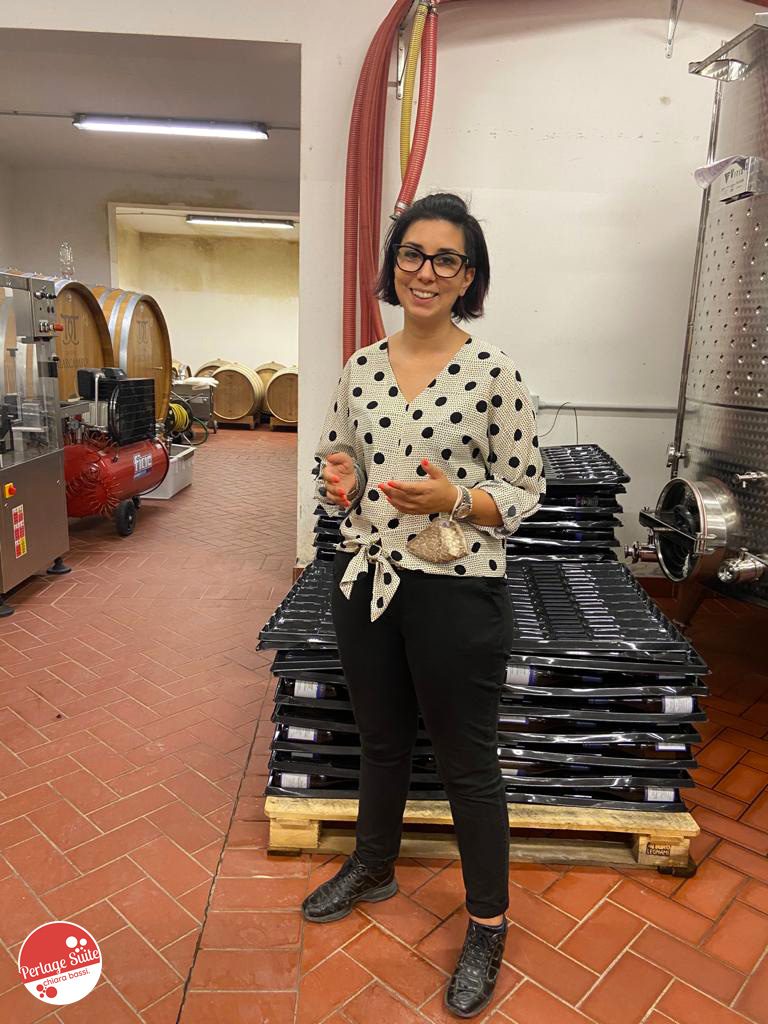 After the winery visit we went to the center of Volterra for dinner at Del Duca wine bar restaurant located right next to the beautiful Piazza dei Priori. A building from the 1500s that once housed the carriages, recently a dealer and finally since 2001 it has housed the family restaurant. Over 600 wine labels are housed in an ancient cave: it's a little paradise!
Another gem of this restaurant in Volterra is definitely the internal garden, a dehors enclosed in the ancient stone quarry where we had the pleasure of dining. The mise en place is simple and very elegant as I like it. Claudia made us one splendid tasting of the company's most significant dishes and wines: a riot of aromas and flavors of excellent quality.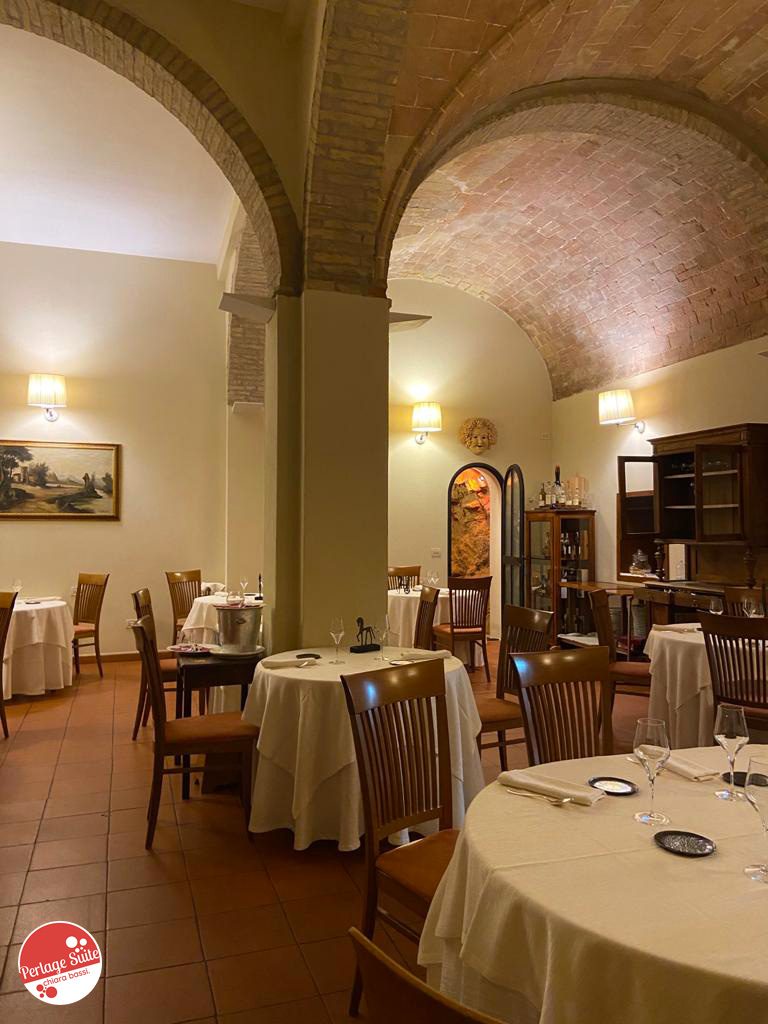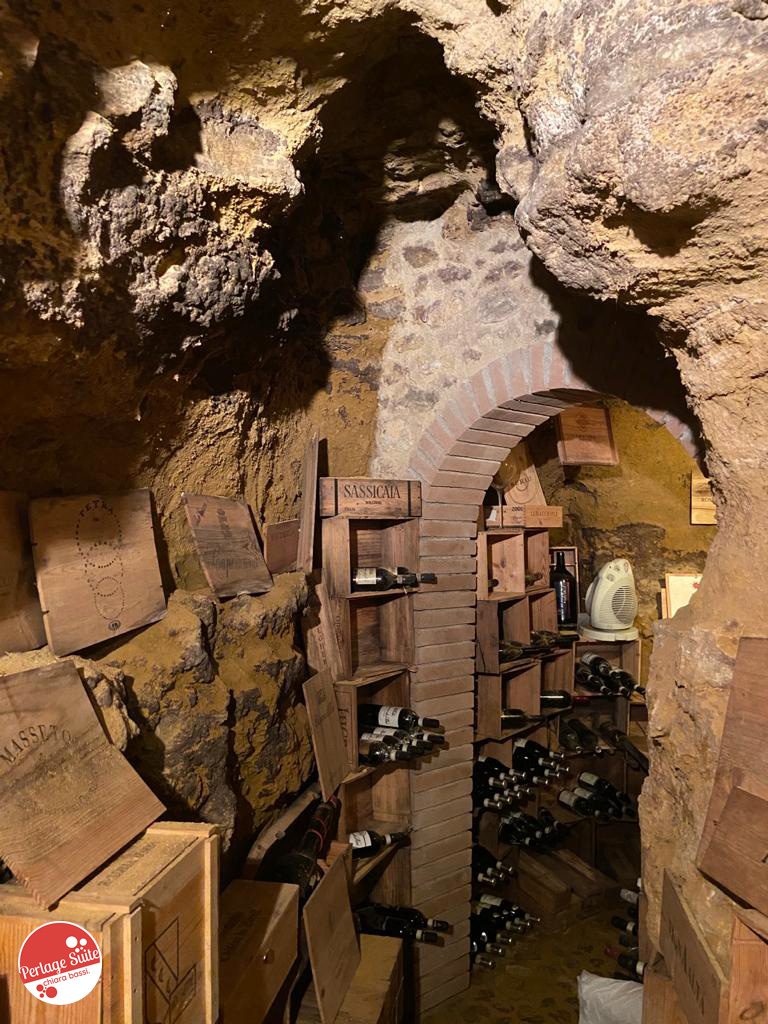 Marcampo farm
/ Restaurant Enoteca del Duca Volterra

- Gazpacho peppers and cucumbers, ricotta mousse, Cantabrian anchovy and mushroom wafer

Terrablu Toscana IGT Vermentino is made from pure Vermentino grapes that maceration for 12/24 hours at 5 ° C on the skins, and then undergo a soft pressing. Fermentation takes place in tanks at a controlled temperature of less than or equal to 11 ° C. The batonnage is carried out for 3-4 months and then it is refined in the bottle until it is put on the market. Around 2.500 bottles are produced each year.

It has a bright and consistent straw yellow. The nose is floral with notes of sugared almonds, acacia flowers, banana and salt. In the mouth it is dead vertical, warm, intense and soft. Consistent and increasingly brackish it is long on the finish. It has a style that reminds me of Sardinian Vermentini and is particularly savory.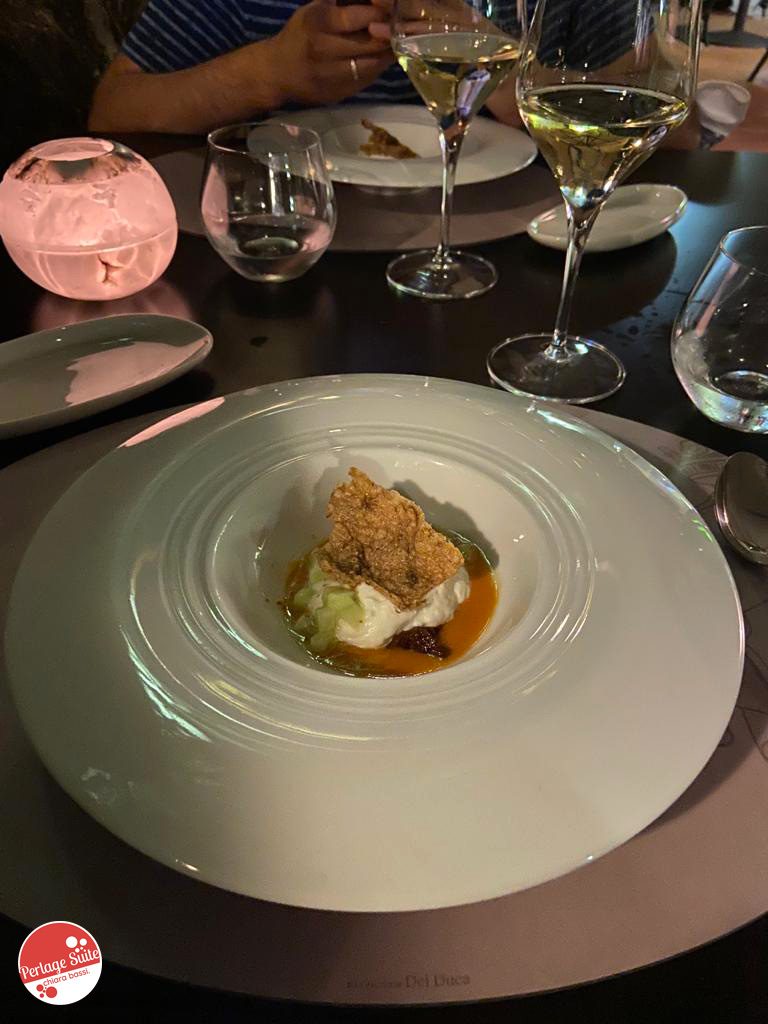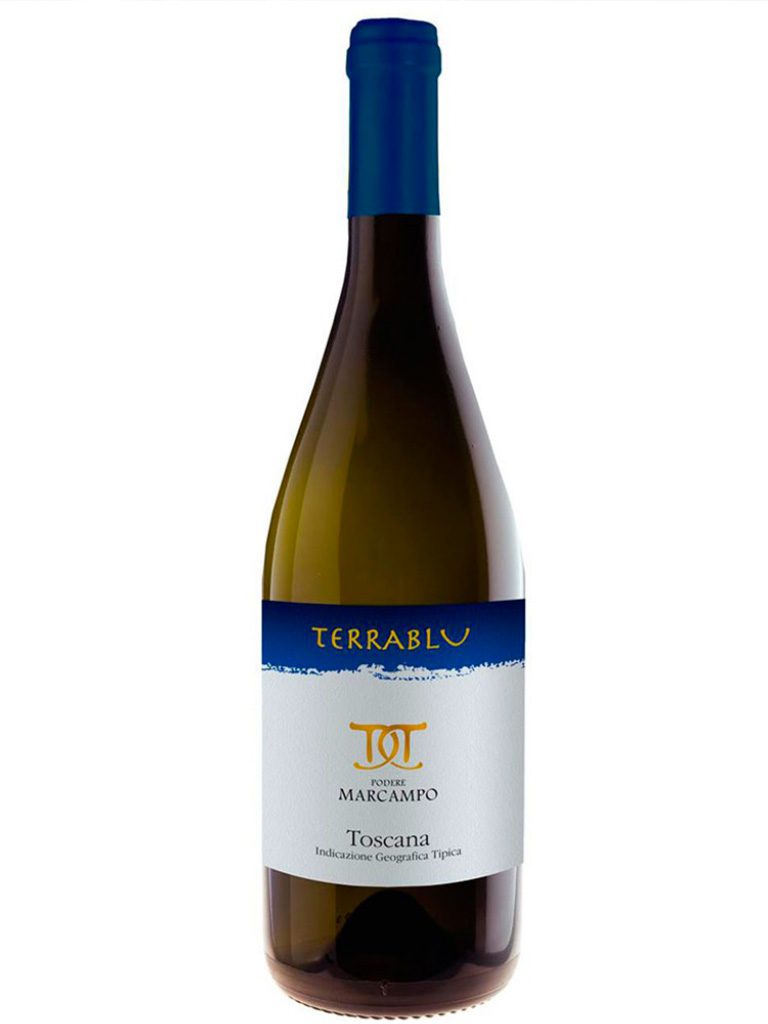 Podere Marcampo / Ristorante Enoteca del Duca Volterra - Smoked beef carpaccio with rosemary with courgette flowers, light mayonnaise, courgette and crispy cuttlefish ink
Genuine Toscana IGT Rosso is obtained from a blend of Sangiovese (80%) and Merlot (20%) grapes. Maceration lasts about 10 days in stainless steel at a controlled temperature, malolactic fermentation takes place naturally and aging takes place in steel. Around 7.000 bottles are produced each year.
It has an intense and consistent ruby ​​red color. The nose recognizes notes of vanilla, white chocolate, pastry and sour cherries. In the mouth it is very fresh, soft, well balanced and with a perfectly blended tannin. Drink too easy, long finish. Perfect to drink right away.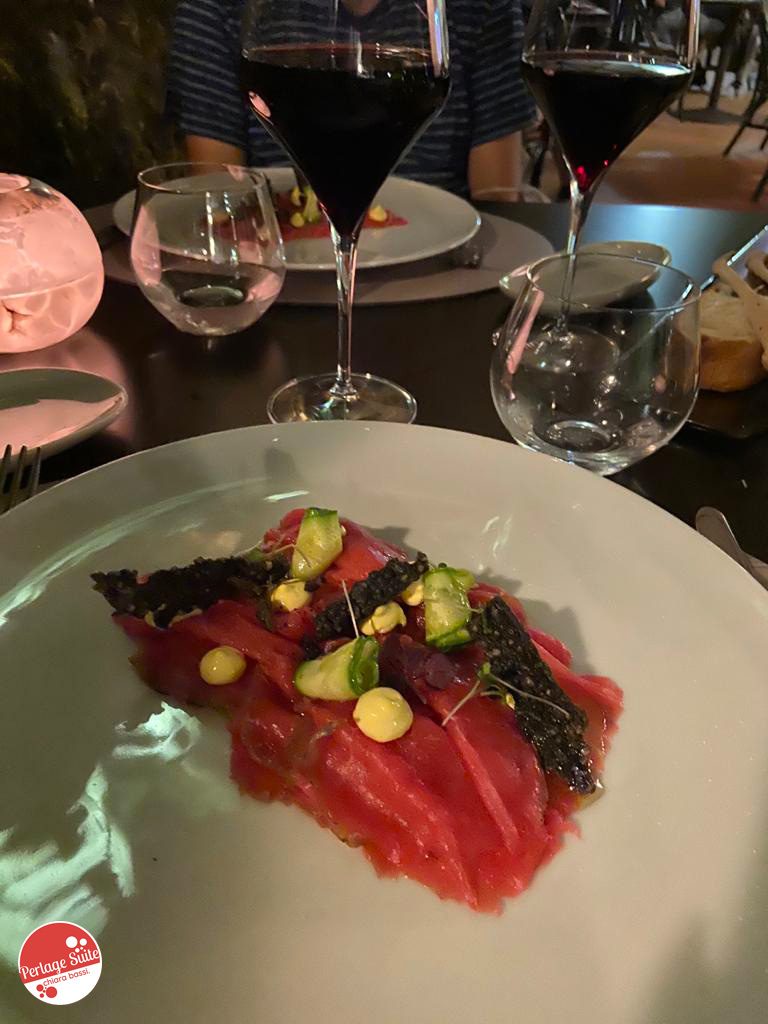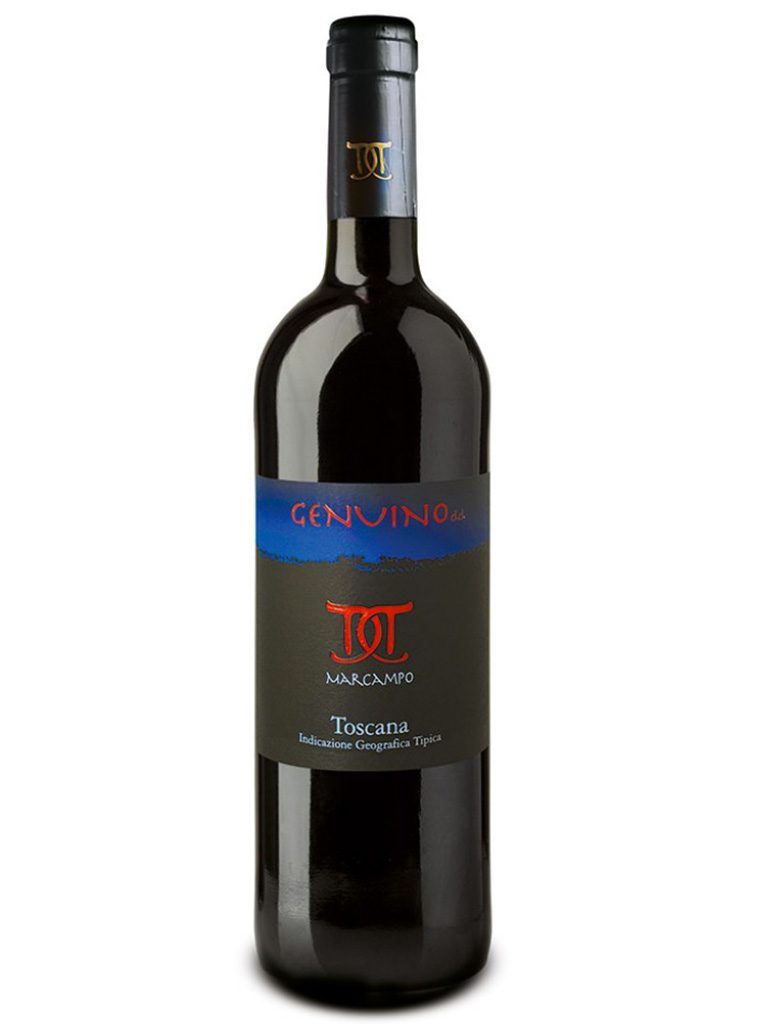 Podere Marcampo / Restaurant Enoteca del Duca Volterra - Spaghetto di Gragnano Pastificio dei Campi with truffle carbonara
Severus IGT Toscana Rosso is a pure Sangiovese that macerates in steel vats at a controlled temperature, carries out the malolactic fermentation naturally and ages 12 months in 20 hectolitre Slavonian oak barrels. Around 2.500 bottles are produced each year.
It has an intense semi-transparent ruby ​​red and quite consistent. Notes of pink pepper, milk chocolate, dried rose, Greek basil and porcini mushroom intertwine on the nose. In the mouth it is fresh, soft, balanced and very elegant. Excellent drinkability, tannin that still tightens, length and great aging potential.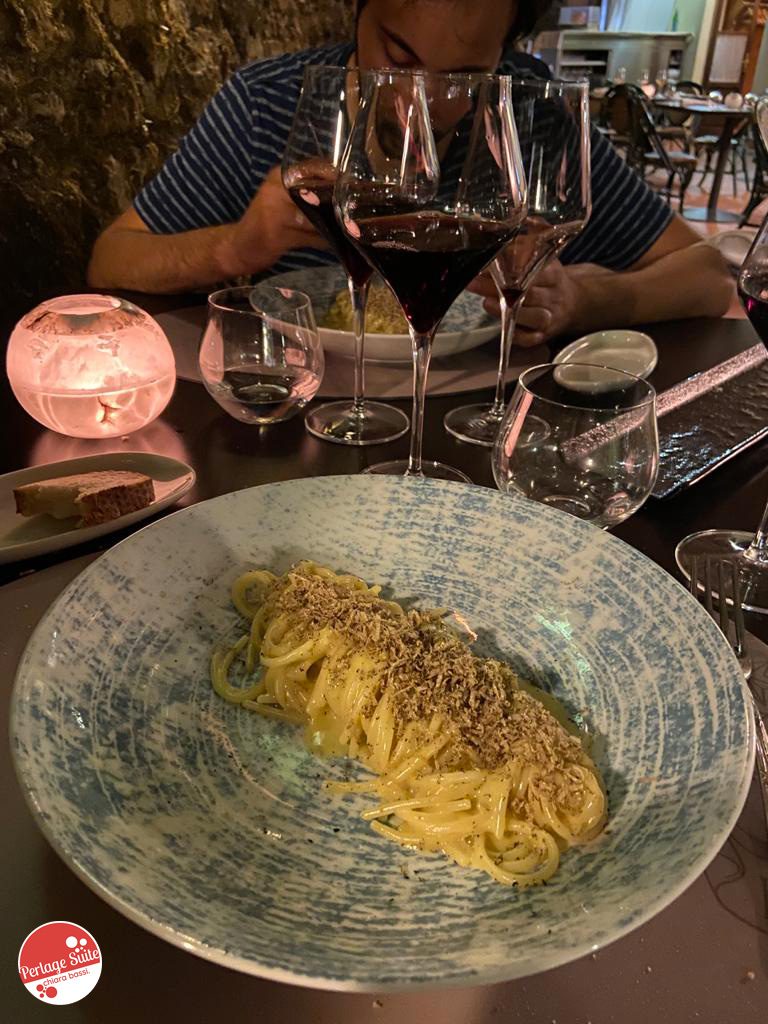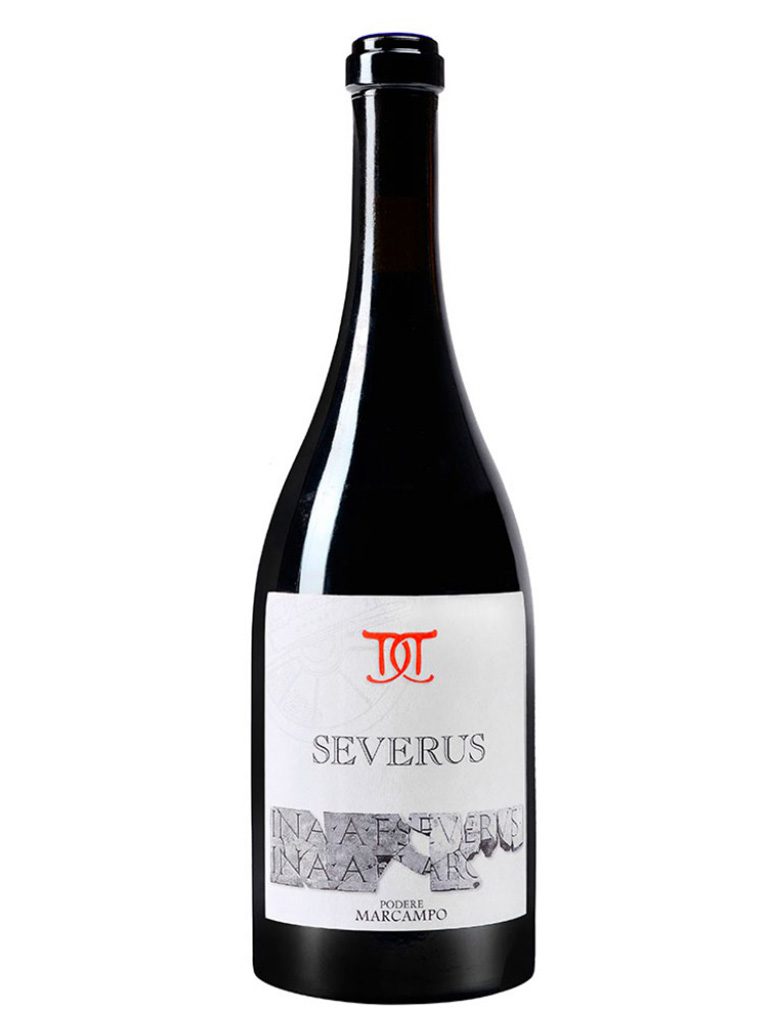 Podere Marcampo / Ristorante Enoteca del Duca Volterra - Laura Peri breeder's pigeon: leg on roasted eggplant, fillet on livers, breast with reduction and black garlic sauce
Right at the Balze IGT Toscana Rosso is the company's flagship wine, a pure vinified Merlot that macerates for about 25 days in stainless steel at a controlled temperature, undergoes malolactic fermentation in barrique and then refines for 12 months in tonneaux. Around 2.500 bottles are produced each year.
It has a deep ruby ​​red color, rather dark. The nose is mineral and earthy with notes of cocoa, undergrowth, dark chocolate criollo, an accent of hay, violet flowers and ink. In the mouth it is intense, fresh, savory, a powerful tannin and the finish is very long. He still needs time to express himself at his best, confirming the great longevity of the wines produced by this company.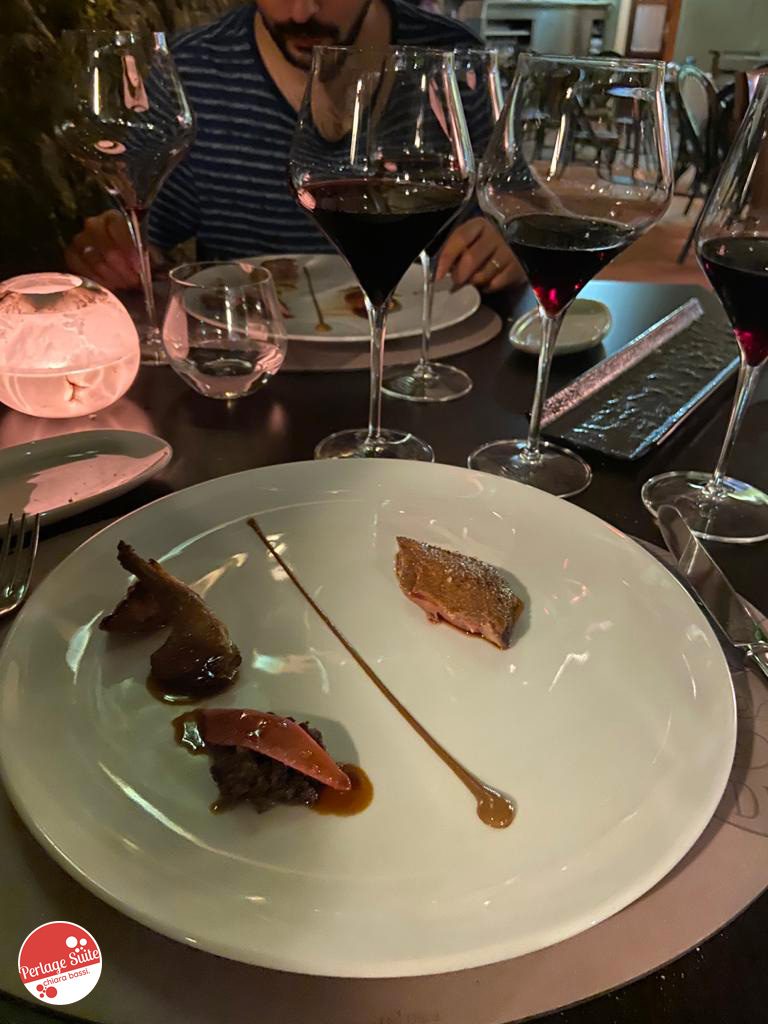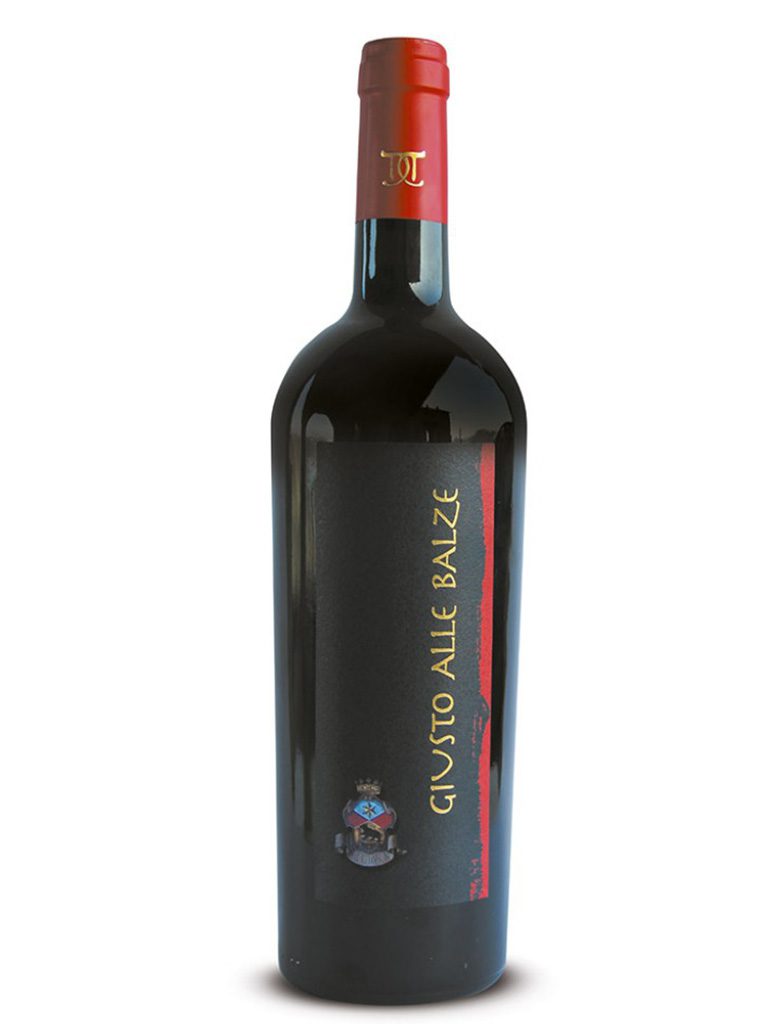 After eating a slice of cake for Genuino Del Duca's 67th birthday together with his family, his staff and the owners of the Salina di Volterra, we returned to the farm happy and relaxed. The following day I wake up at dawn with bread, salami and the delicious walnut cake that Claudia made (I hope I hope I hope you pass me the recipe because it was wonderful!) All washed down with a glass of Genuino: here we are ready to our first harvest! What a great experience! 🤩🍇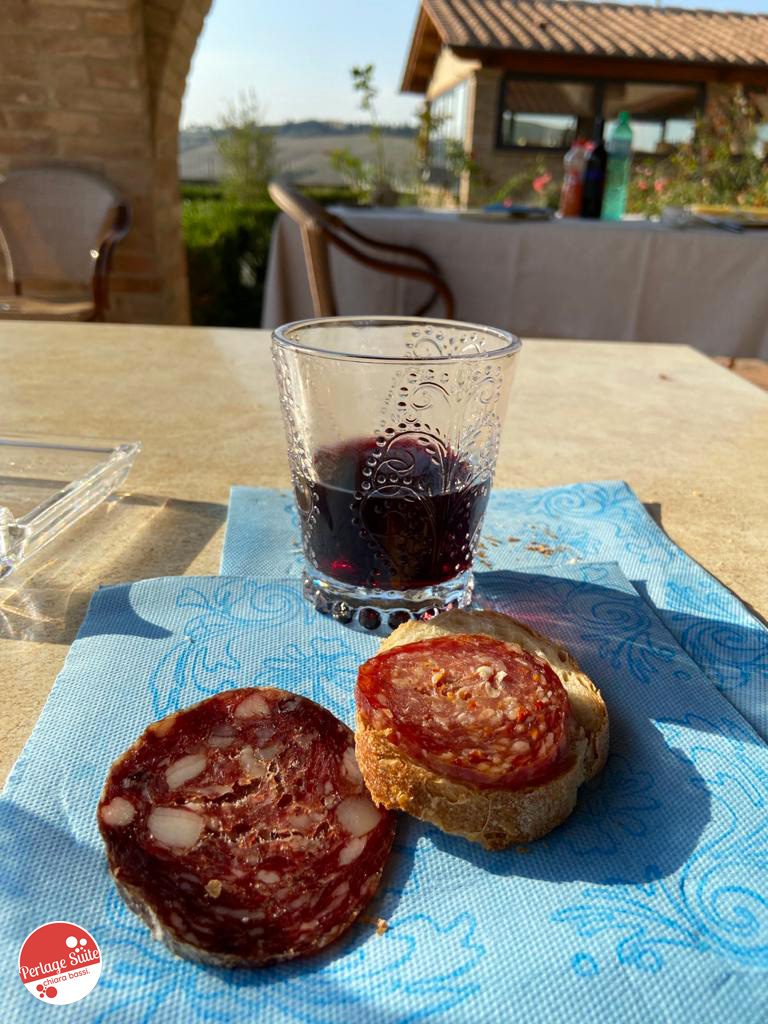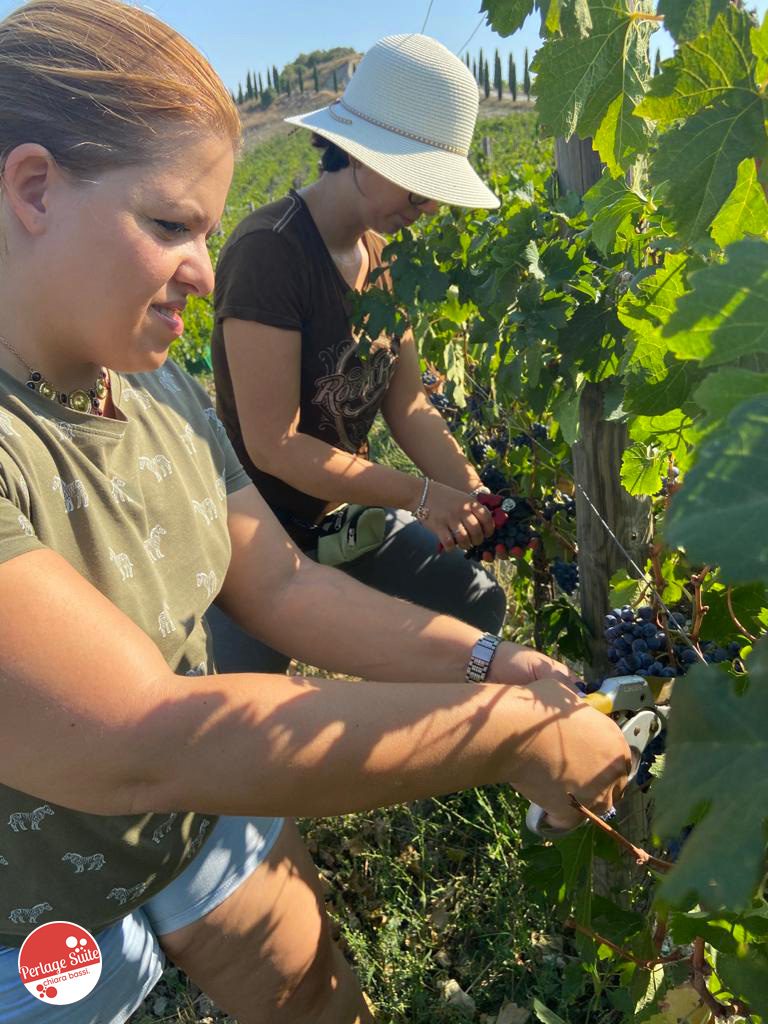 Thank you very much for these two fantastic days!
Cheers 🤗🥂
Chiara
How to become a sommelier
Everything you need to know about wine in one book. The manual is designed for all aspiring sommeliers, but it is also very useful for "already sommeliers" who want to revise, for winelovers who want to start giving concrete foundations to their passion and for the operators of the sector who want to earn more by learning both to manage the cellar of their restaurant and to sell the right bottle to their customers.
I Edition: 31 October 2018, 16,5 format x 24 cm, 300 black and white pages - ISBN 978-88-943070-1-6 [SOLD OUT]
II Edition: 1 December 2019 - 16,5 format x 24 cm, 430 black and white pages, ISBN 978-88-943070-8-5 [ON SALE]
COMPLIMENTARY, only for those who buy my book on Perlage Suite, a copy of the First Collector's Edition of my Sparkling Wine Guide "500 Bubbles in 500", cover price € 25,30.