On Saturday, for the first time in 7 years, I left Moleskine at home. Not only that, I also made an effort not to take notes. It seems like a trivial start, but the reality is that to savor an Experience you just have to live it. For the same reason I chose not to even leaf through the brochure and rely on what little - very little actually - that I knew about this estate. I hadn't left my house since December 20th and I found myself savoring every moment I took for granted for 33 years. I learned not to take anything for granted when my beloved dad passed away just a couple of years ago. I learned to contemplate nature. I learned to enjoy food and wine in a different way. I have learned not to postpone. I have always been hungry in life: to be satisfied is a word that has never belonged to my vocabulary. I believe that I and Giuseppe Prestia, the owner, we have the same hunger and I understood it when he defined Venturini Baldini as an Emilian château. But the gem for me remains theAcetaia di Canossa: a small temple of pleasure that is absolutely worth the trip to Food Valley.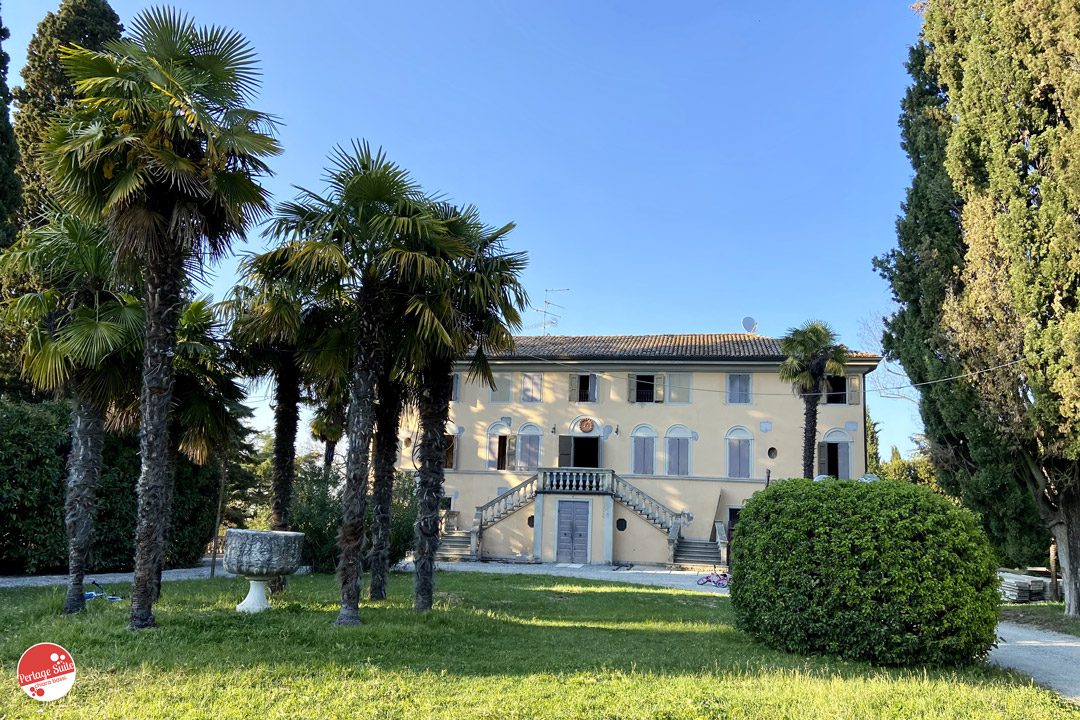 Venturini Baldini: a future Chateau in the Food Valley
Nobody tried to call itself Chateau in Italy, or at least I have never heard this definition. And I have visited wineries that are nothing short of spectacular that defining castles is an understatement, especially in Piedmont. In the same way, in Bordeaux I was repeatedly disappointed by structures that had the right name for royal. To think that someone could define Chateau an Emilian winery? You have to be crazy or visionary, and if I understand the character I am inclined to reach out for the second.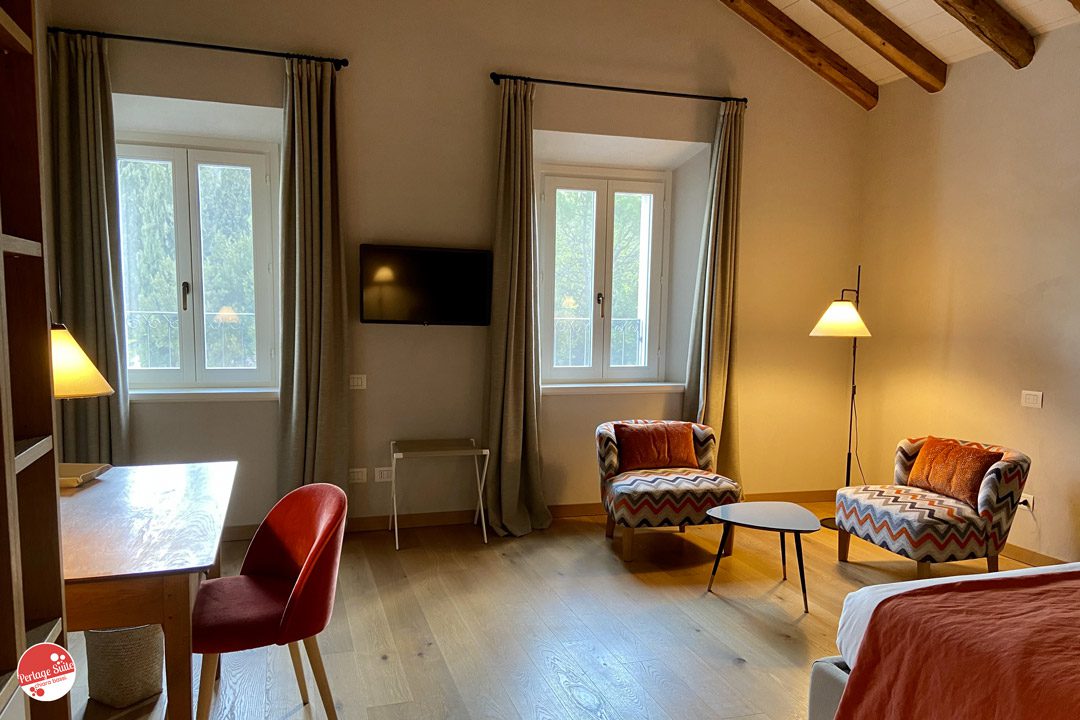 I was born in Romagna. In me beats a heart from Emilia Romagna of which I am extremely proud. I admit, I live in Lombardy only because in Emilia-Romagna there are no lakes and I could not live anywhere that is not facing the lake. The lake gives me a sense of calm that I cannot give up. Yet, when I go to Emilia-Romagna, I am not able to feel at home more than anywhere else. The truth is that I only feel at home where there is a good glass of wine, a bathtub and a medium to write. Here, at Venturini Baldini, even if only for one day, I felt at home. Giuseppe will succeed in creating a château in Emilia? This it is a land that has never really focused on wine because it already had too many things to focus on. However, his ability to make an audience feel at home luxury internationally I think it can really make a difference.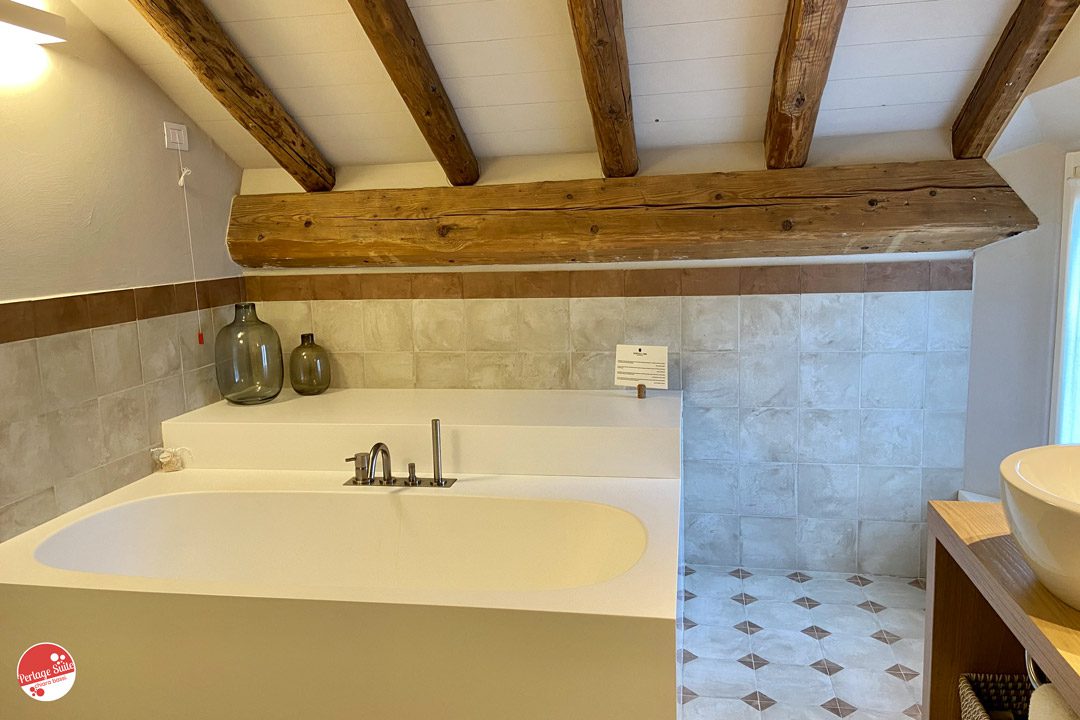 Giuseppe, Julia - his beautiful and brilliant wife - and their 4 children (who are so angelic that they seem to have suddenly become animated by a painting by Vasari) welcome you with discreet and familiar hospitality, emblem of a contemporary luxury tired of the formalities of traditional 5-star hotels.
And since Giuseppe has made this parallel with the French château that I know very very well, net of having visited over a hundred of them in Champagne, Bordeaux, Châteauneuf-du-pape, Languedoc to Provence, I dare to say that it has all the credentials to make it. Senior non-business travelers prefer secluded - but affordable - family luxury over the 5-star on the main square. And I learned it right in Bordeaux, when during my stay at the InterContinental Le Grand Hotel right in front of the Opera, I met certain characters around for work. Don't get me wrong: my suite was amazing and discovering that serial screamer Gordon Ramsay has more orchids in his restaurant than I have at home showed it to me in a whole new light - lobsters crammed into a separate micro aquarium. … - but there was a lack of family warmth and luxury was a perfect formal bias especially for a working context. In the same way, when I was a guest of château Pichon Baron I also saw the same type of people orbiting around it, but more relaxed, where the hands slipped from a hug to the computer and the lips from an argument to a kiss.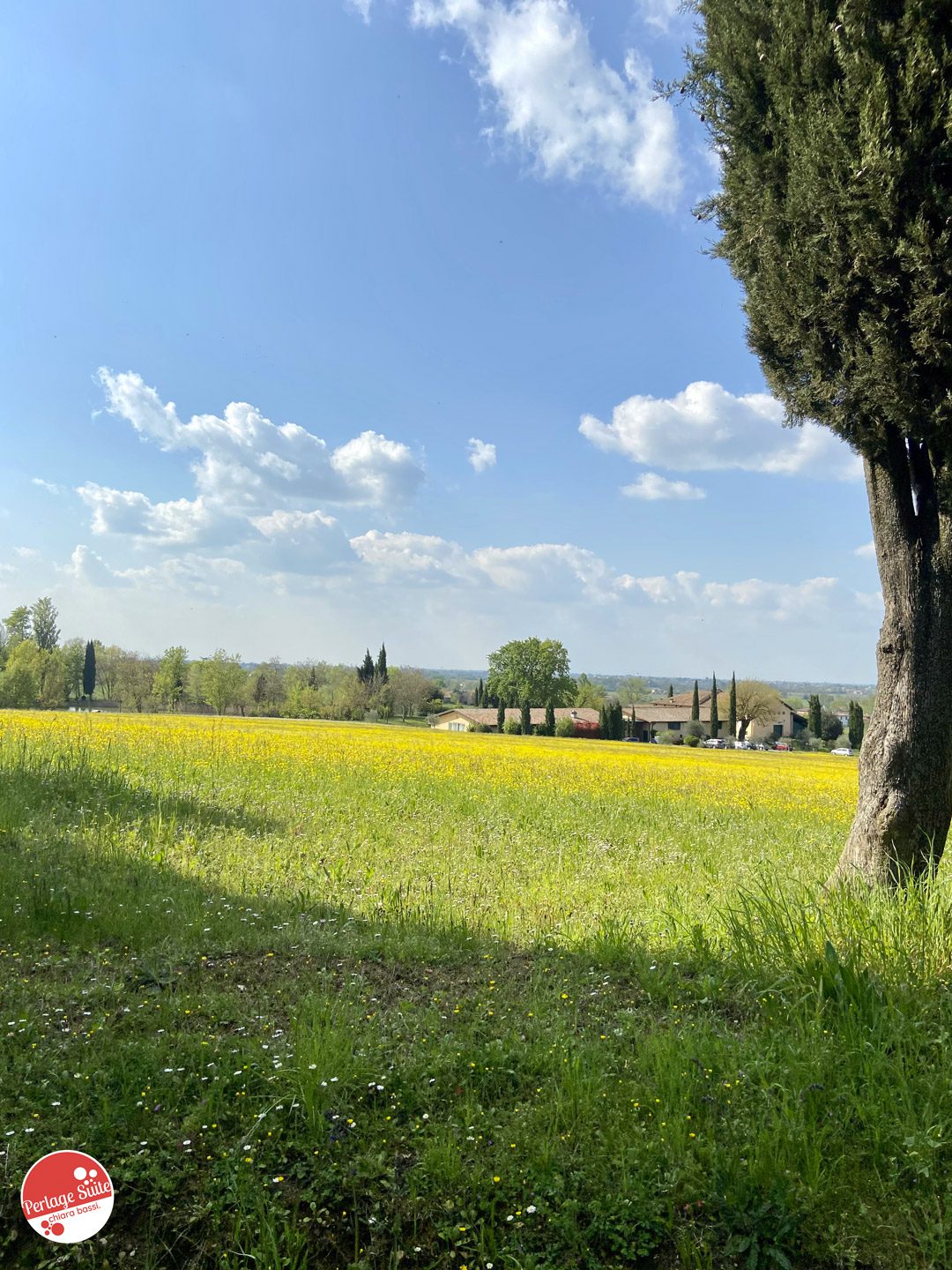 So Giuseppe is not crazy, rather a visionary entrepreneur: Venturini Baldini's kind of hospitality is exactly what the target customers he addresses love. If he knows how to create a family luxury even in the suites of the villa currently under renovation which will be equipped with a butler - a figure I love - he will absolutely have created his Emilian château. Certainly the estate and talent are not lacking either to him or to Julia! I'm 32 hectares of organic vineyards who have been able to embody the Emilian tradition making a wink even a little cheeky at the world. I'm landscapes that seem stolen from the Col d'Orcia, with these cypresses that chase each other breaking the yellow of the sunny meadows. So close to the city of Reggio Emilia, yet so far away.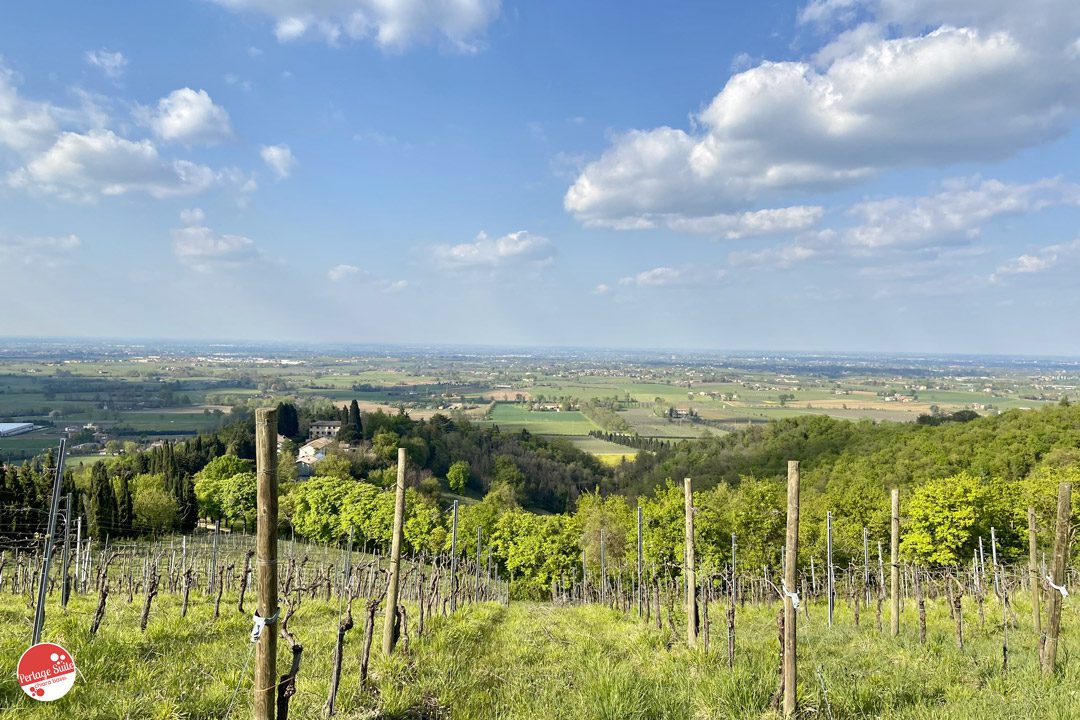 After a tour of the vineyards with Giuseppe, we visited the Canossa vinegar factory with Julia. What a little favor of taste! Today I was studying food and wine law and in one lesson we talked about balsamic vinegar. Indeed, soon I will dedicate an article to this topic because it is an Italian gastronomic jewel in my opinion not sufficiently valued. Probably because it is not yet the subject of a sustainable culture suitable for both the professional and the novice.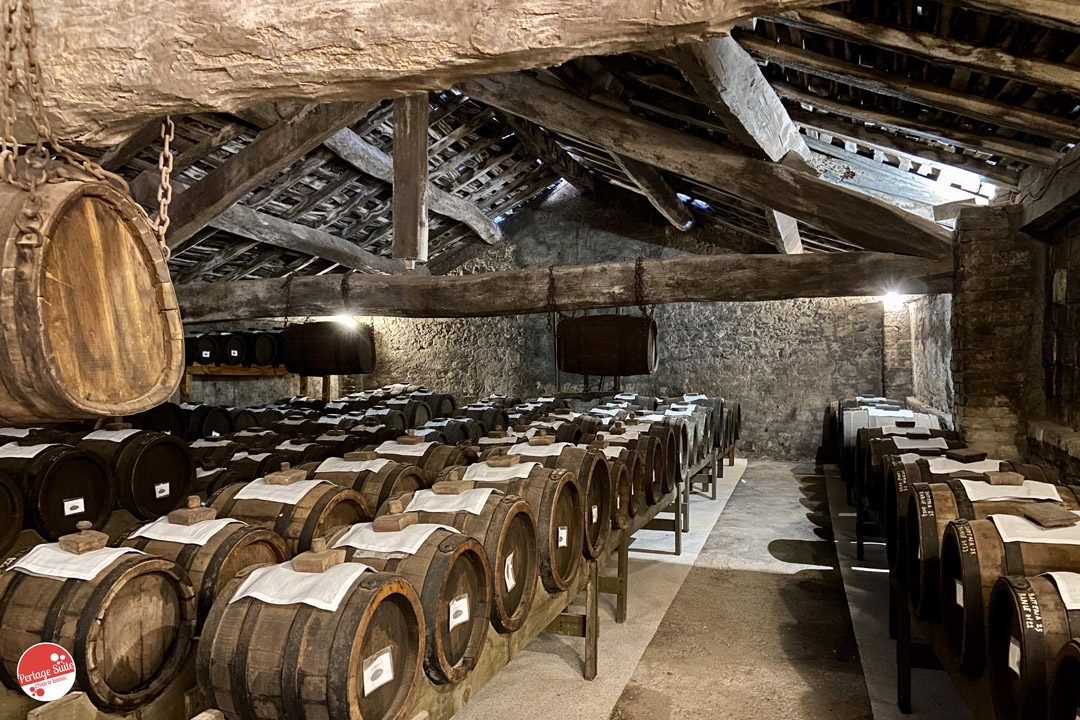 The vinegar cellar is really nice, neat and clean. There is an enveloping scent of must that steals your heart. And when you go down the stairs and a "Julia" style room welcomes you - a country chic with a Nordic touch - you are really happy.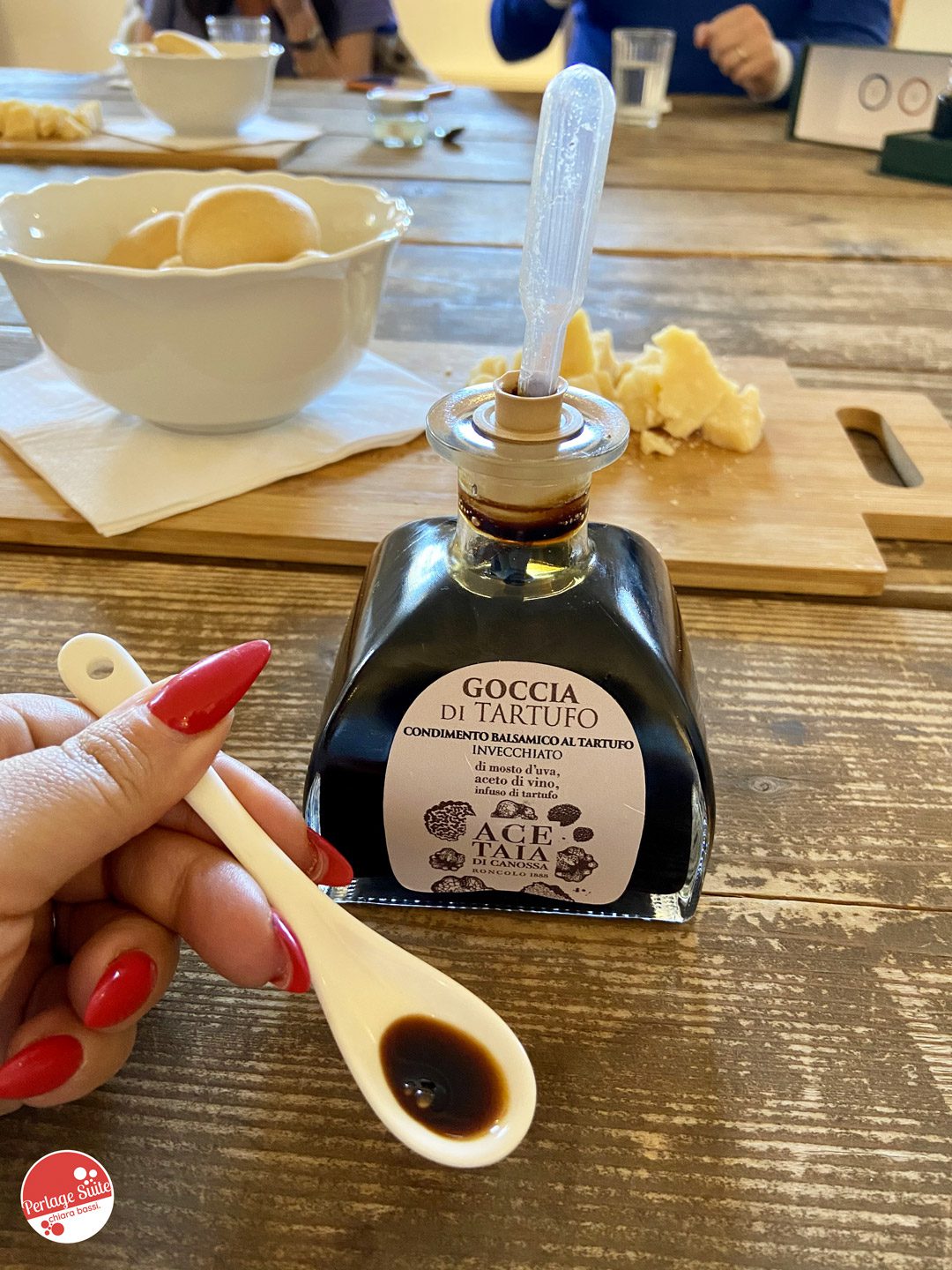 We have tasted a lot of vinegar-based products, all designed for an audience that seeks not only quality, but also presentation. I loved this balsamic with truffle because it is really balanced: both the balsamic vinegar and the truffle feel great, and above all the truffle tastes like truffles and not chemists as often happens. Dense and delicious, I find it perfect to enhance a classic risotto, perhaps creamed with Venturini Baldini rosé sparkling wine, a good butter and a good Parmigiano Reggiano. Just put a few drops or a spiral and a "starry" saucer pops out with very little effort, other than making a good risotto all'onda.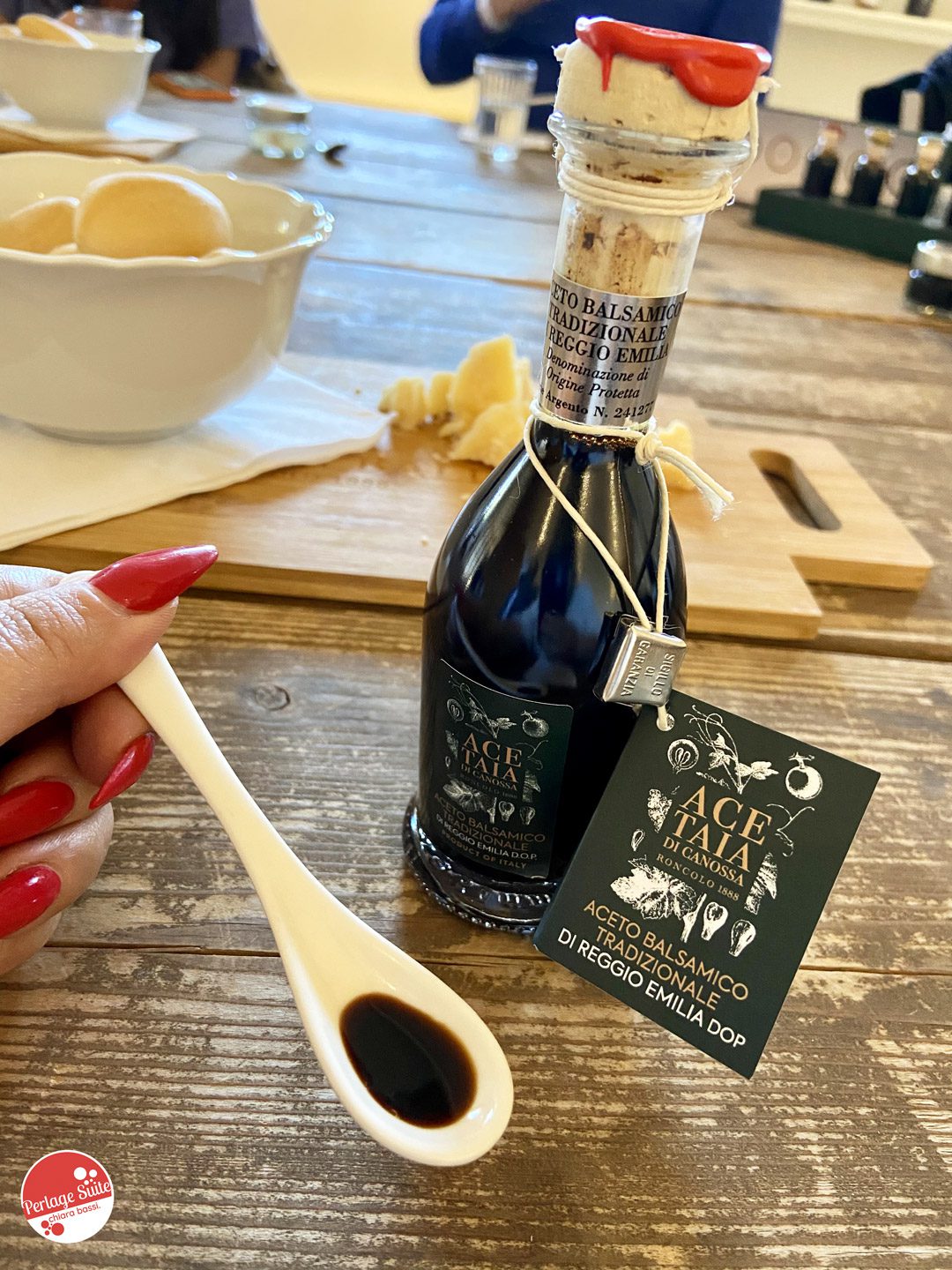 Wasabi pearls are one of the most interesting products I have tasted: it's not easy to balance something strong and spicy like this Japanese root so well. Moreover, it has a fabulous ability to clean the mouth, just like the vinegar in this precious spherical recipe. Unmissable to make a good impression while giving taste and decorating the dish. To be paired with tuna belly, salmon and sea bass in carpaccio.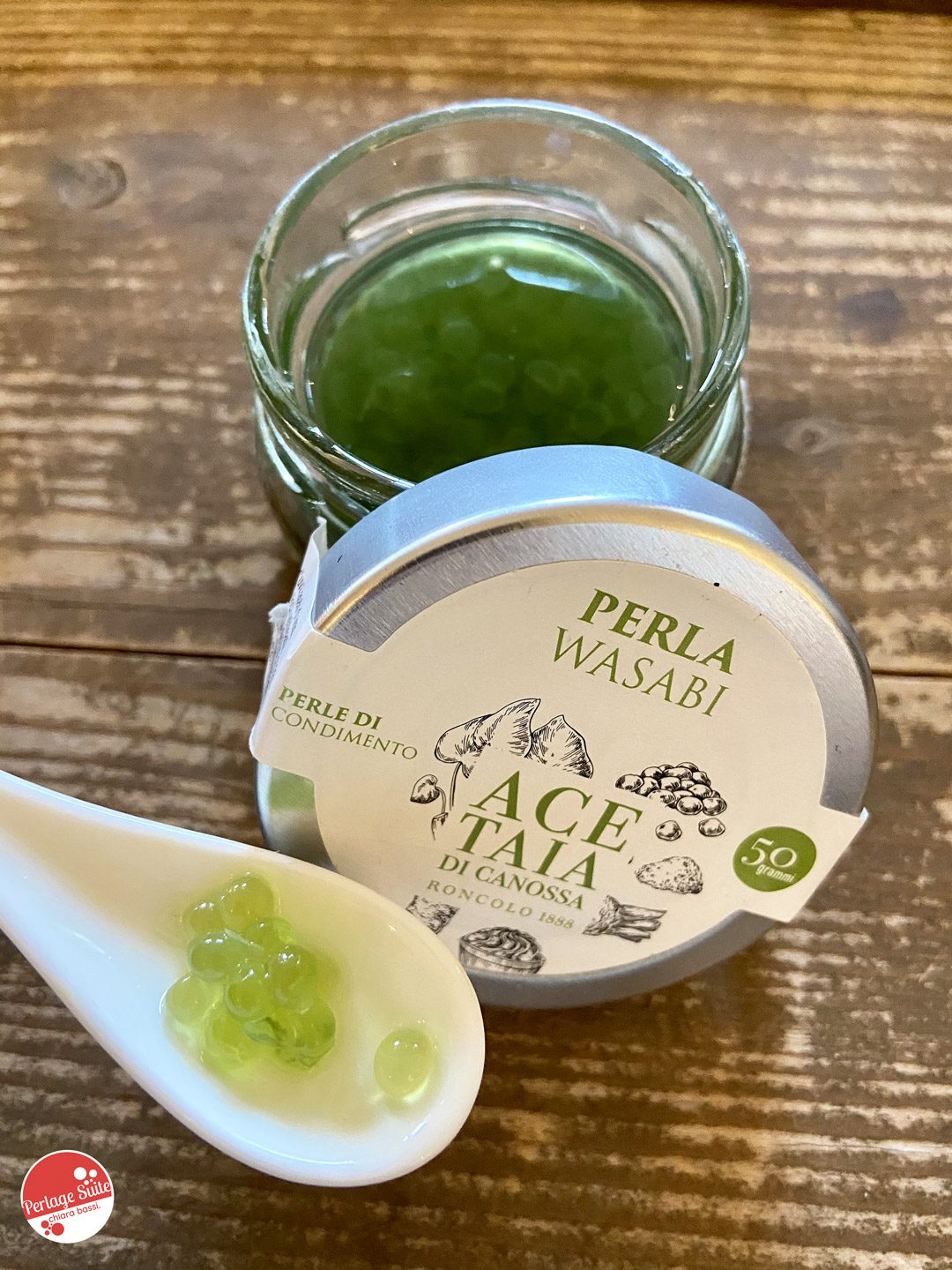 After the visit to the vinegar factory we walked up to the splendid panoramic terrace and we admired some corners of the villa as a preview the pretty and cozy gym. I loved the icebox and Giuseppe told us that he will host something with an artistic theme… I can't wait to see it. There is also an outdoor panoramic corner where you can relax after fatigue and drink a refreshing bubble… Oops I meant a dietary herbal tea.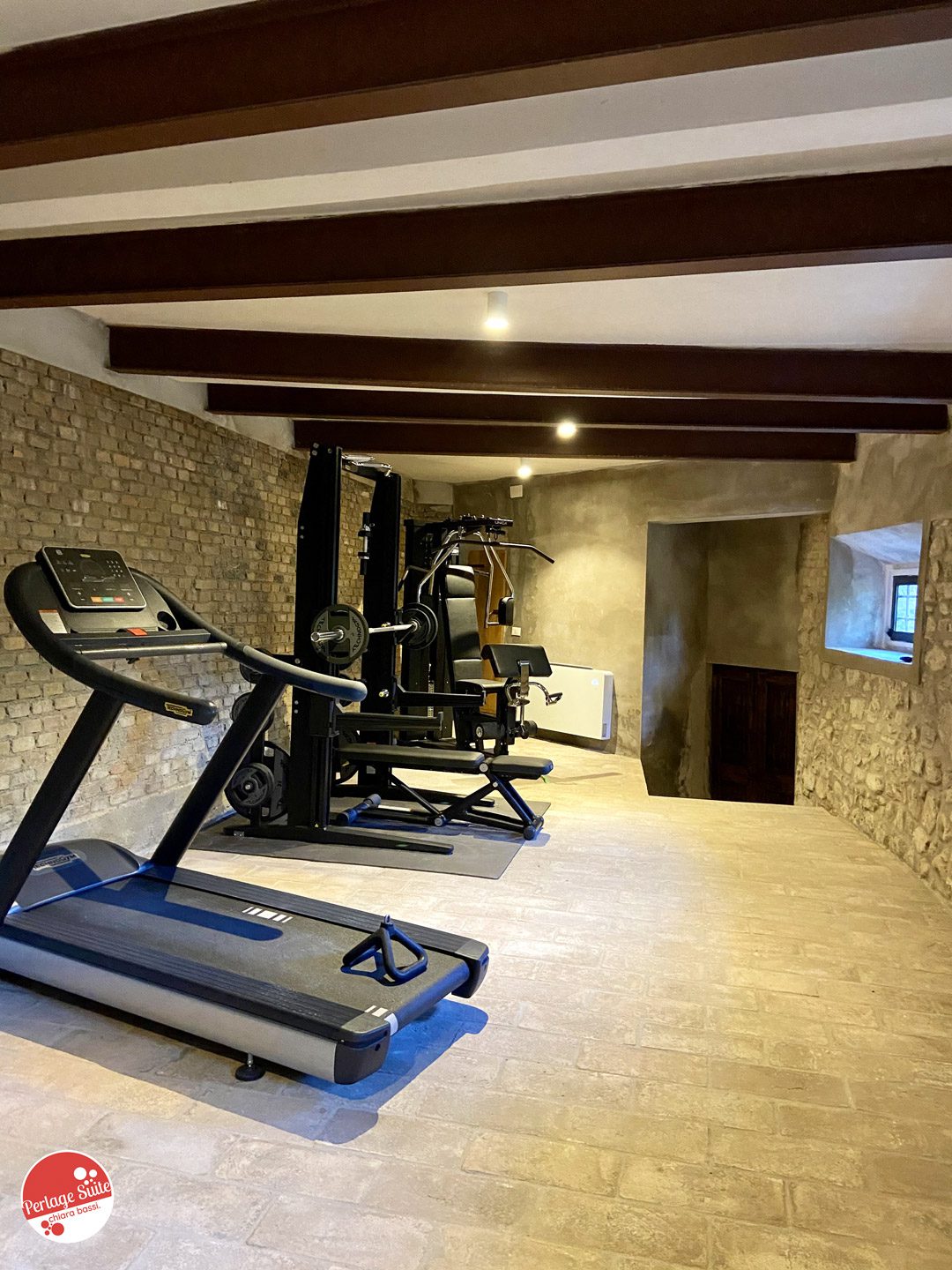 Our tour continued in the small and very tidy wine cellar. I found it more representative than really "operational", but I think this is mainly due to the recent management of Giuseppe who took over Venturini Baldini only in 2015 and we know well that in the world of wine, times are a slightly dilated.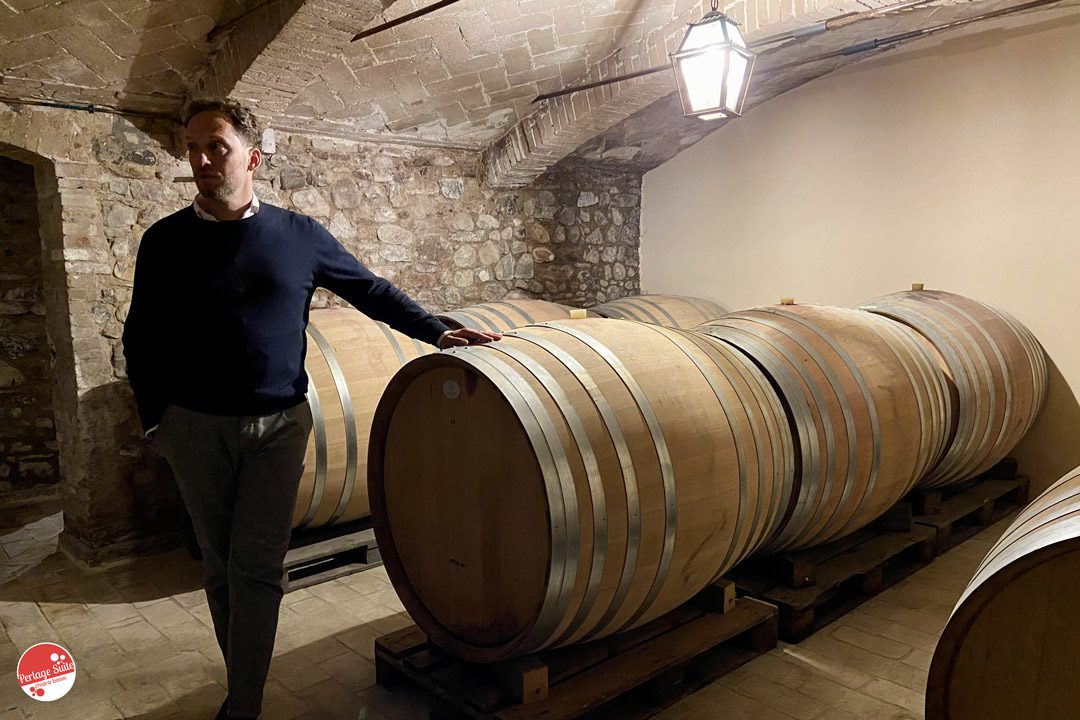 This environment to make a dinner or a good Emilian aperitif based on lambrusco, parmesan and balsamic vinegar is absolutely perfect. No I say, but can you imagine this setting decorated just for an event? What a great atmosphere!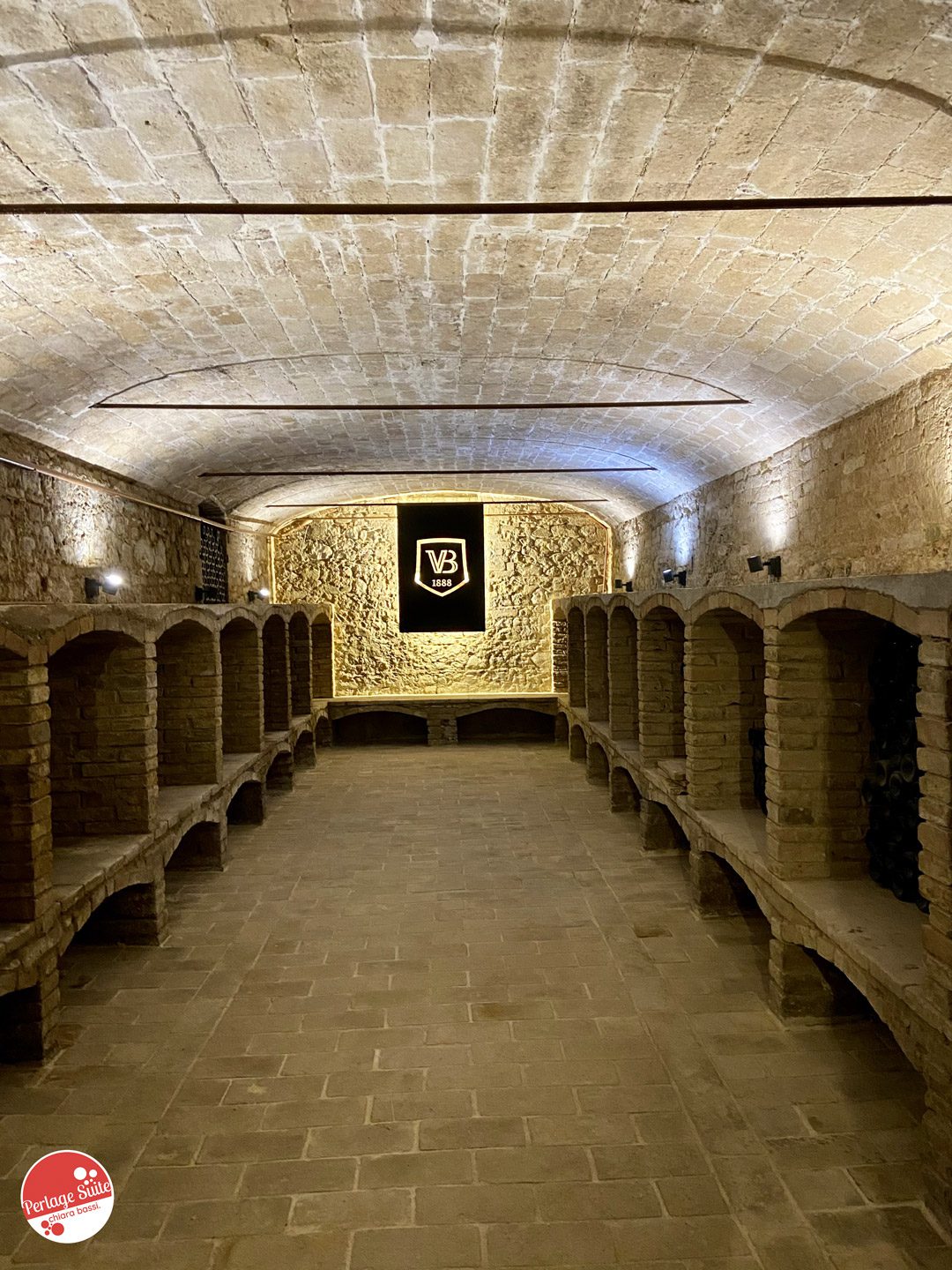 I collect orchids and have a thumb of a beautiful emerald green color inherited from my mom. So I don't hide from you that my favorite place is the lemon house, an environment that has INCREDIBLE potential. We still saw it a bit bare and nearing completion. As I suggested to Julia, I hope the "warmer" with bamboo objects and some beautiful paintings by Tamara de Lempicka and / or Mucha.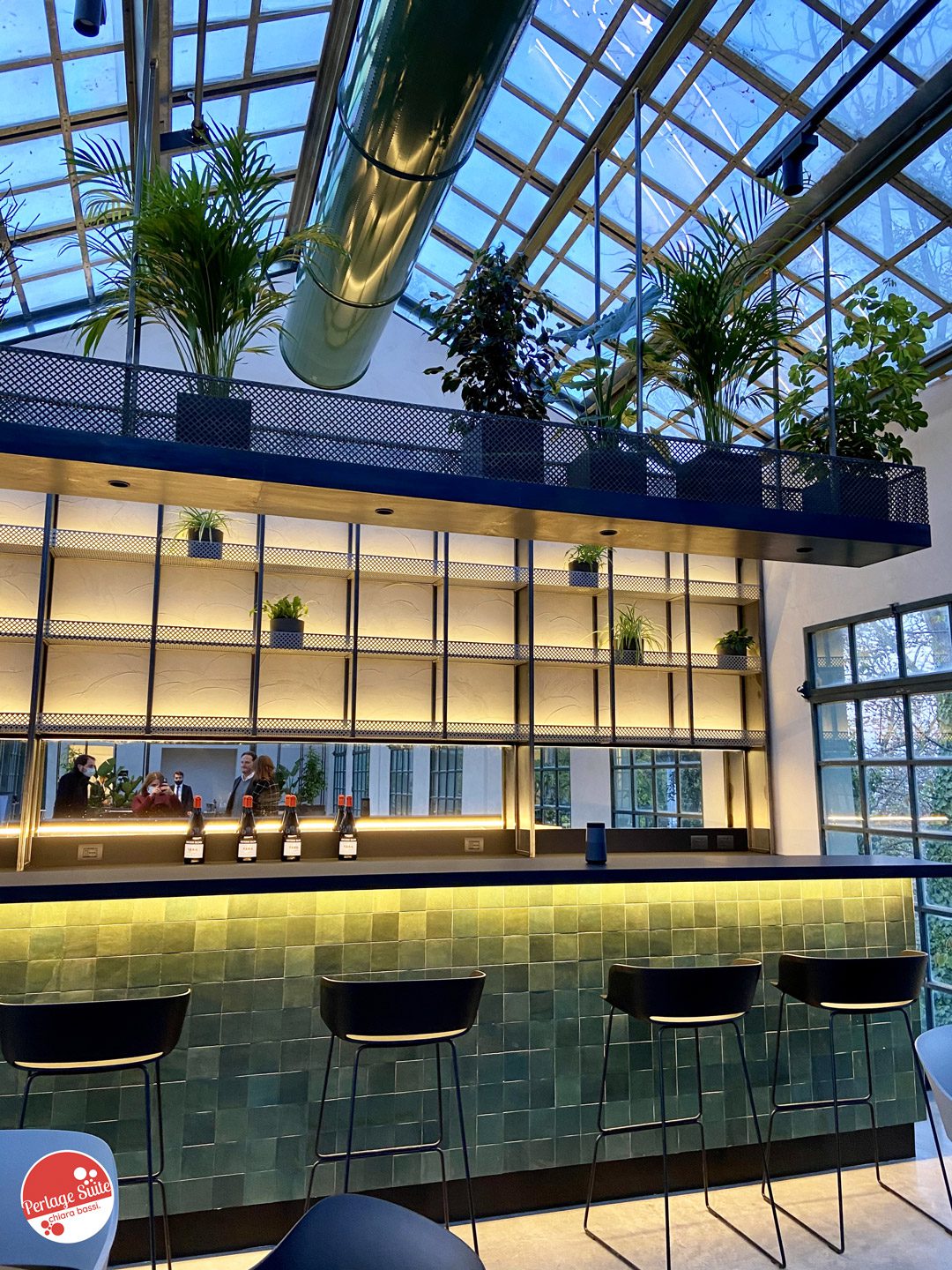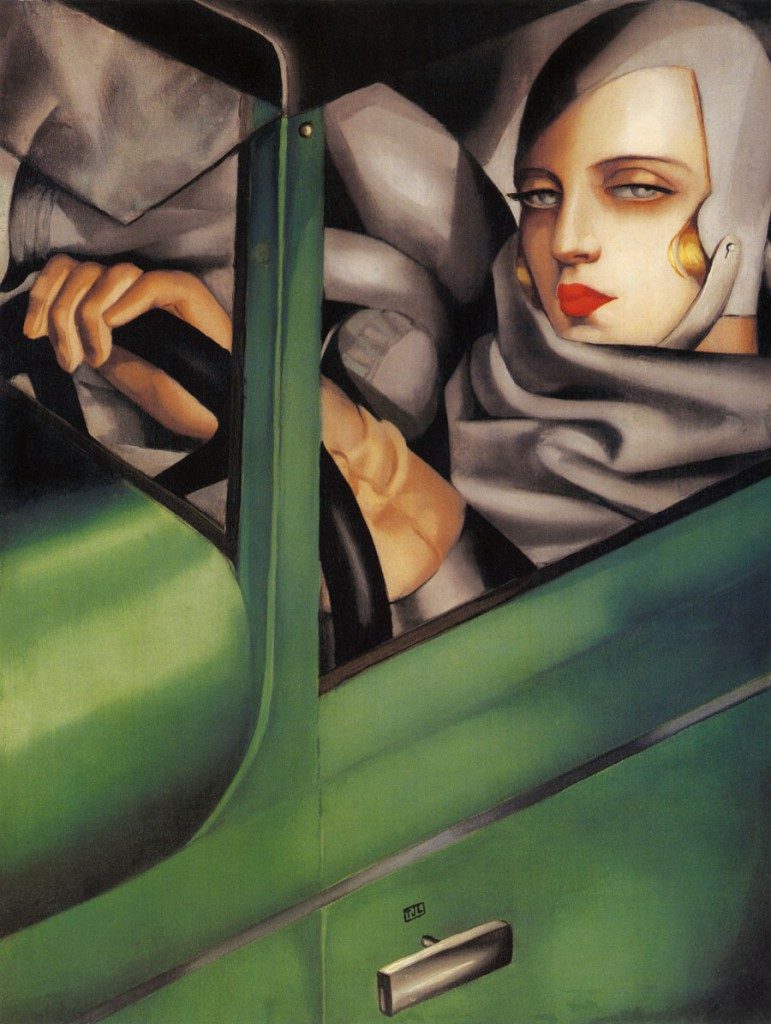 There are still many plants missing: I would fill it with Vanda orchids that love a lot of light and with aerial roots and flowers are very scenic. And the monanstera? Cabbage they would be there in a wonderful way ... anyway, on this lemon house I have already made a little thought about it that I can't wait to share it with Giuseppe.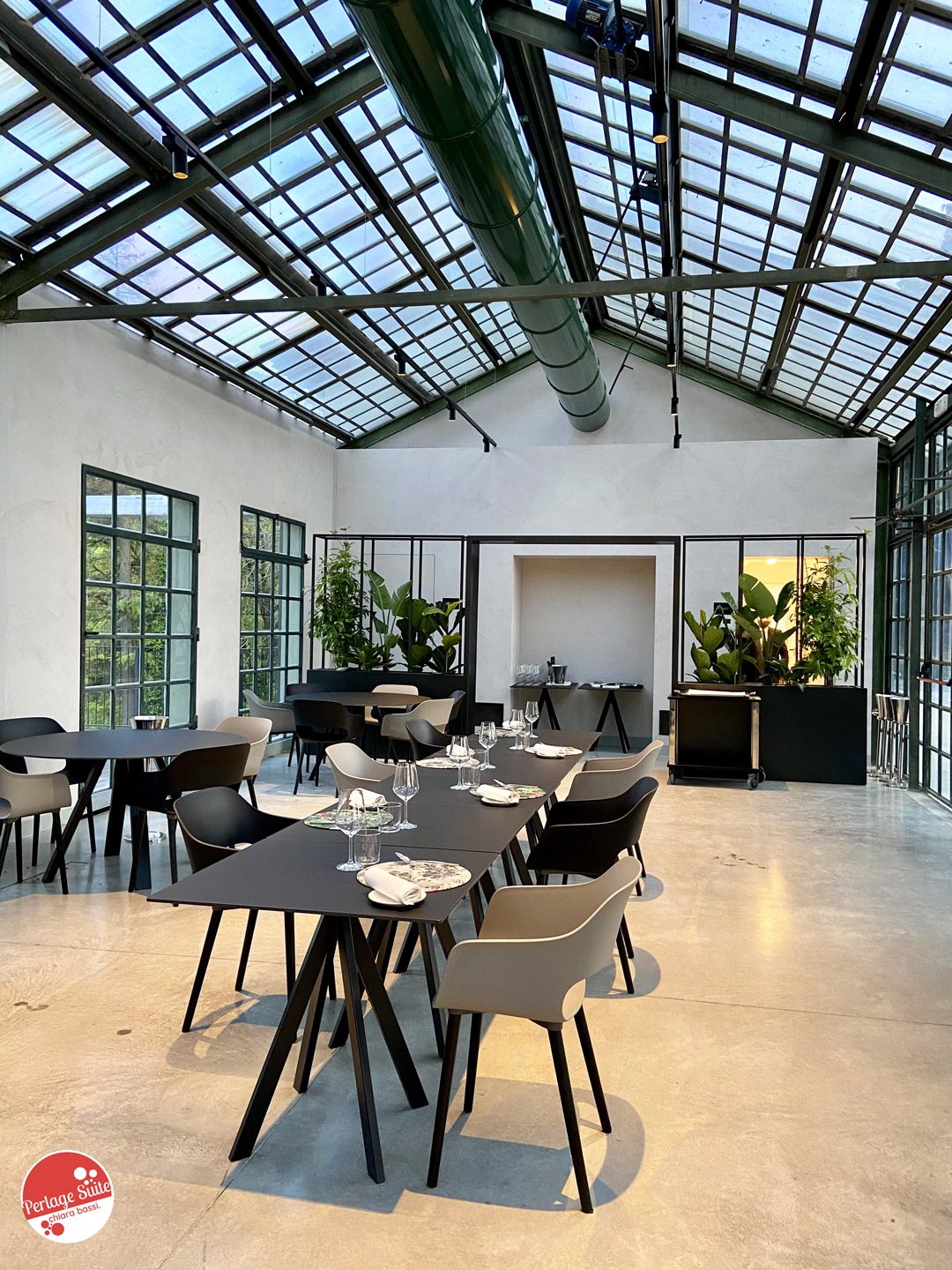 If I don't go to the kitchen to spy and break the bales while they work, I'm not happy… so here I am to discover the menu in preview. A "smart" menu, made with preparations that are easy to manage even outside your own kitchen and certainly prepared comfortably beforehand. It takes intelligence to make certain choices, so already good for it.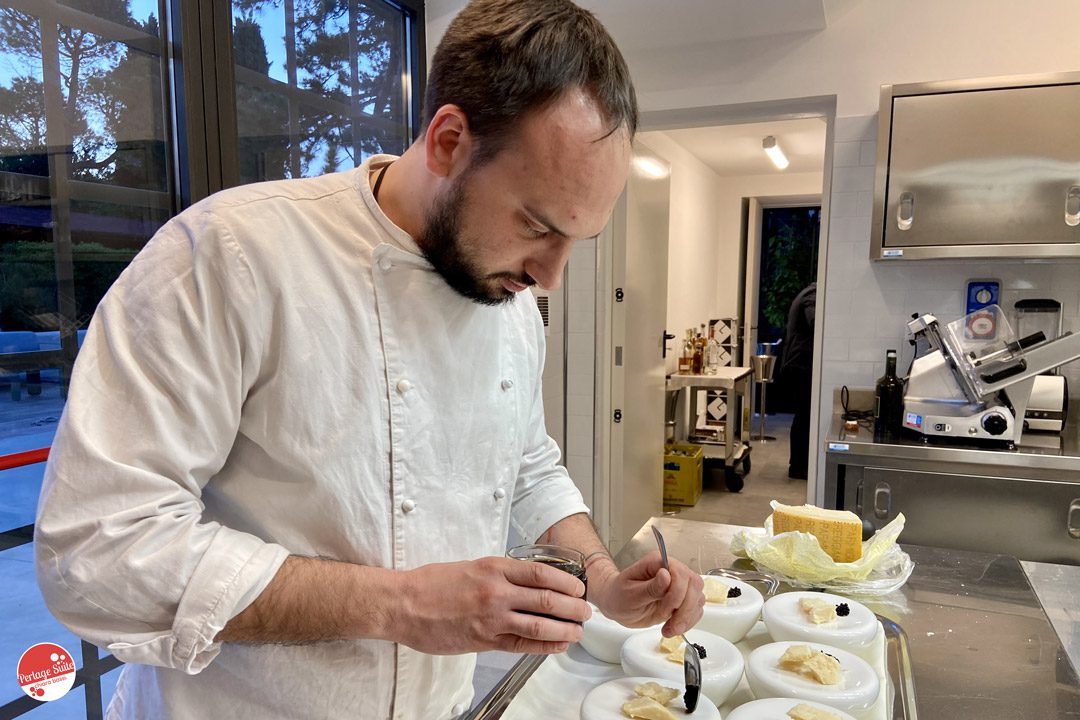 Credit note for the bread: in the first basket they brought me there was a delicious hot brioche that I served in no time. I really appreciated it: I hate it when they bring me sad baskets with shabby or worse old bread! And unfortunately it happens too often to me, even in restaurants where you eat really well.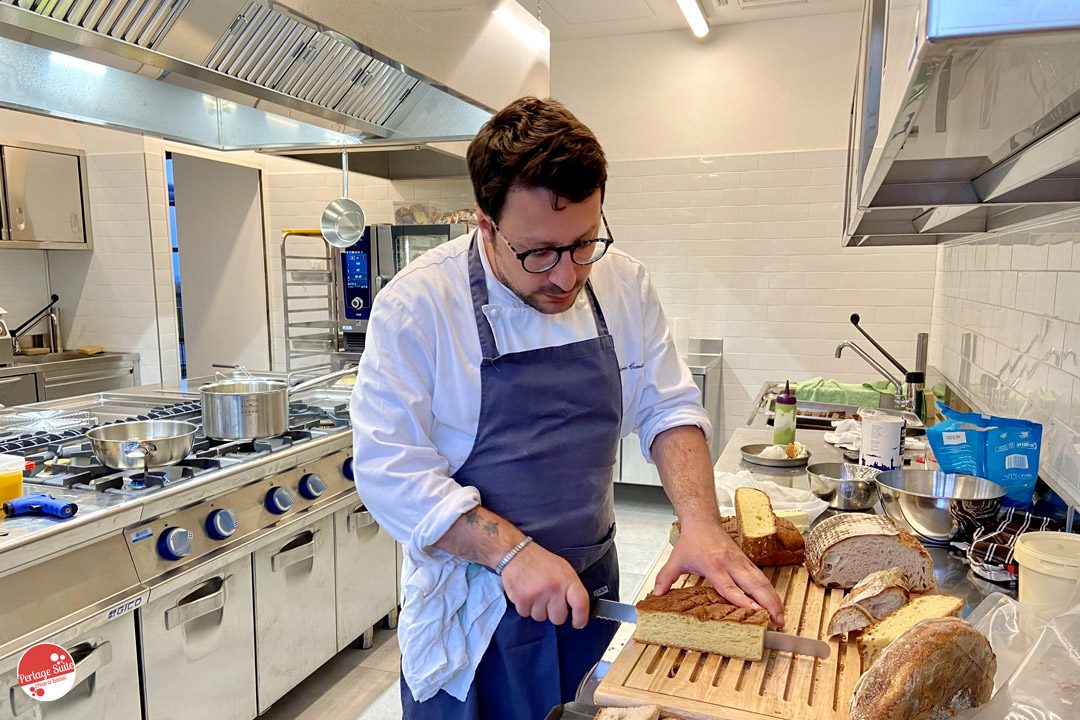 The "caviar" of balsamic vinegar looks really good and is a smart purchase for any restaurant that wants to make a good impression with little, or for a private consumer who wants to amaze his guests with moments of tasty freshness. The Spritz made with Ca del Vento is also very good, the rosé sparkling wine I will tell you about shortly. The Parmesan was a little young for my taste, but really good quality. We got off to a great start with this welcome drink!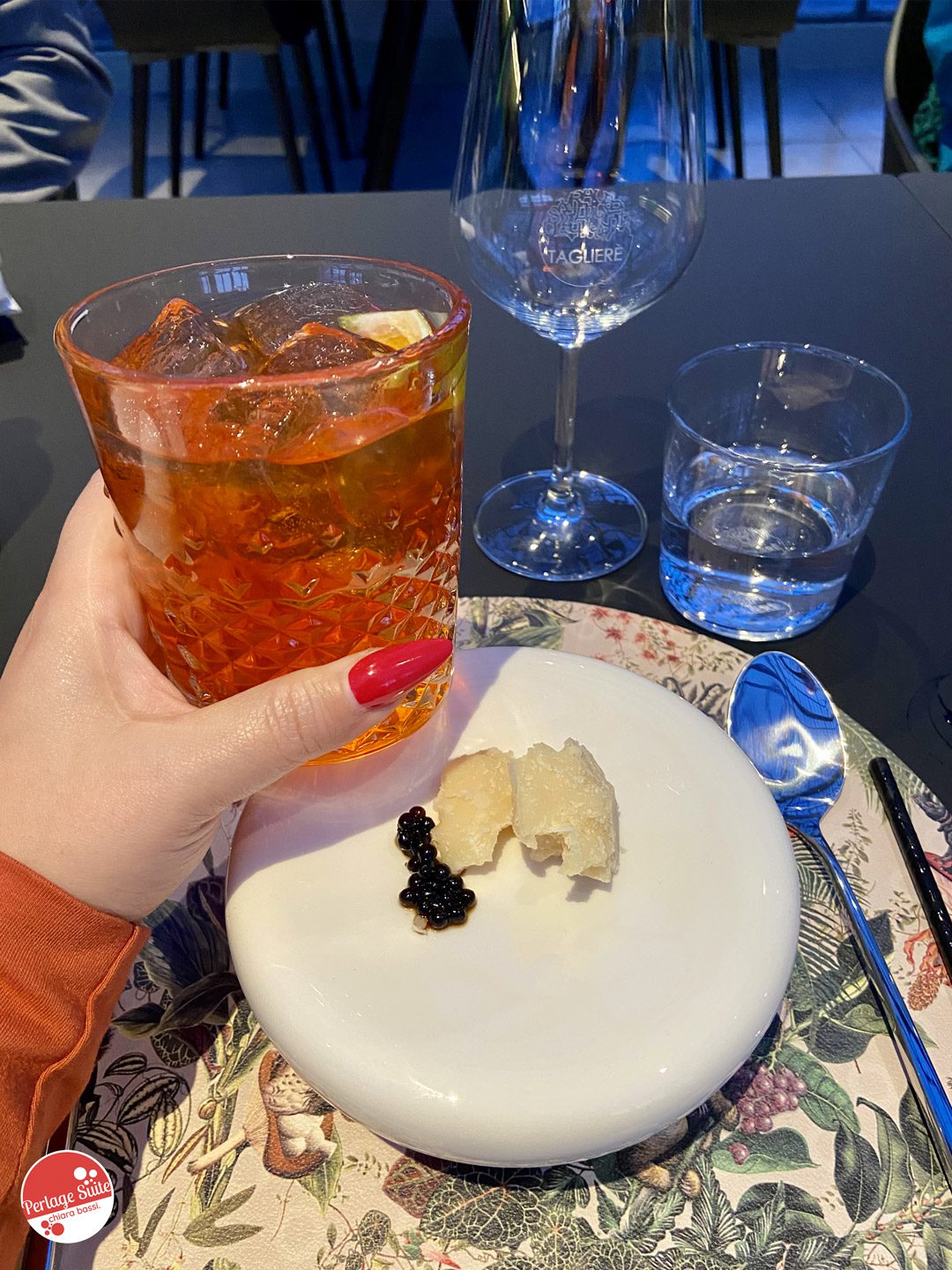 If you propose me poached fried eggs you like to win easy: I love them. And these were cooked to perfection, which is absolutely not to be taken for granted! Perfect pairing with rosé sparkling wine that perfectly degreased the mouth with its masterful effervescence. Ca del Vento Rosé is a Martinotti Method of incredible quality, perfect as an aperitif or for delicate risottos. Very elegant like all the Venturini Baldini wines that I have tasted.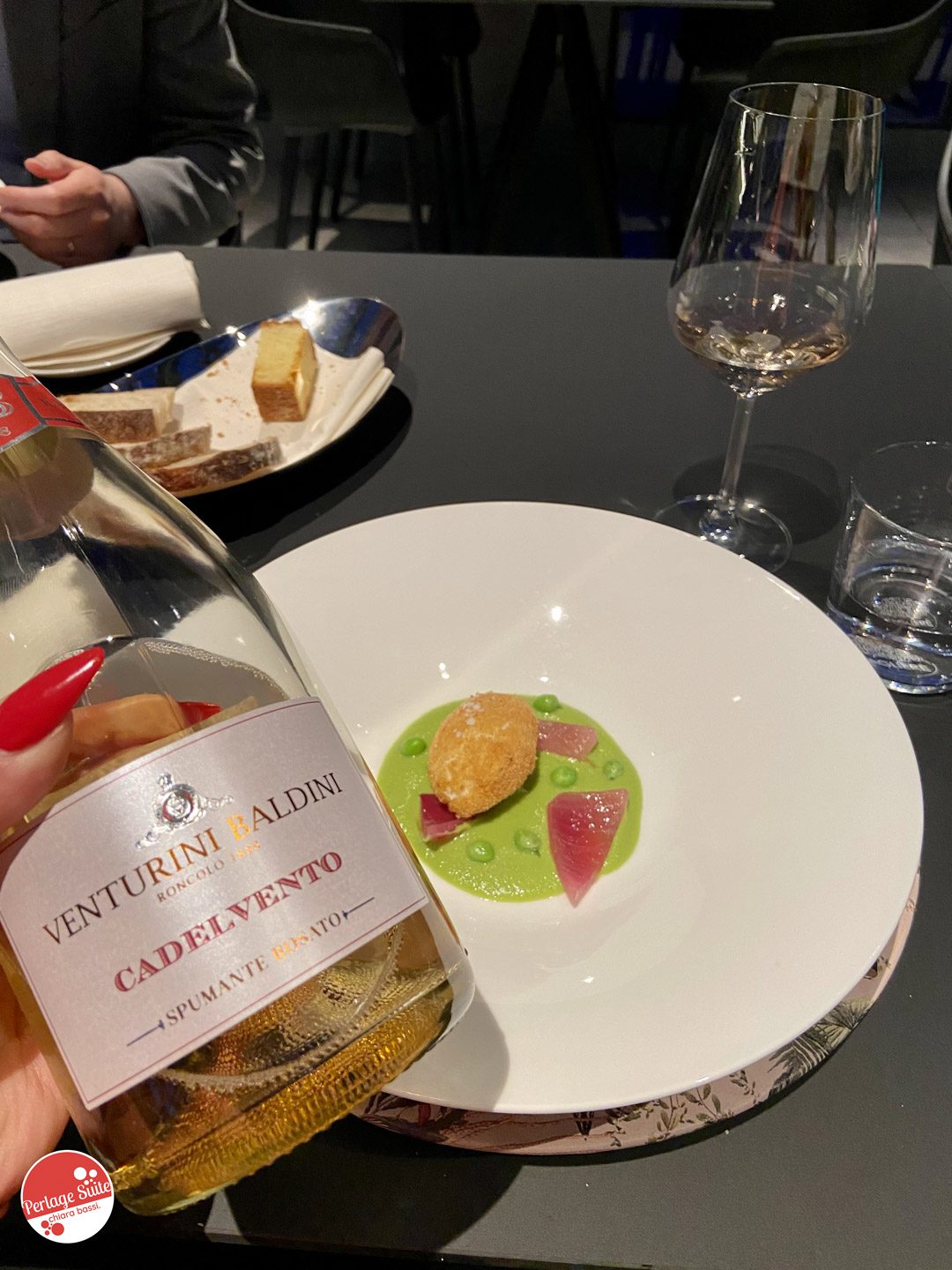 In Reggio Emilia they call them cappelletti, but to me they look like the classic Bolognese tortellini, only with a different filling. For me, who am from Romagna, the cappelletto is a beast with a kg of filling, other than in the nail of the little finger, it fills my palm! Delicious, and perfect pairing with wine, the Rubino del Cerro, one of the best Lambrusco wines I've ever drunk. Really really good, I highly recommend it! Try it slightly fresh and combine it with your favorite cold cuts to enjoy in total happiness! A good dry and savory sparkling Lambrusco, with berries dancing with sweet spices to envelop the palate with intriguing softness and a silky effervescence. Very good!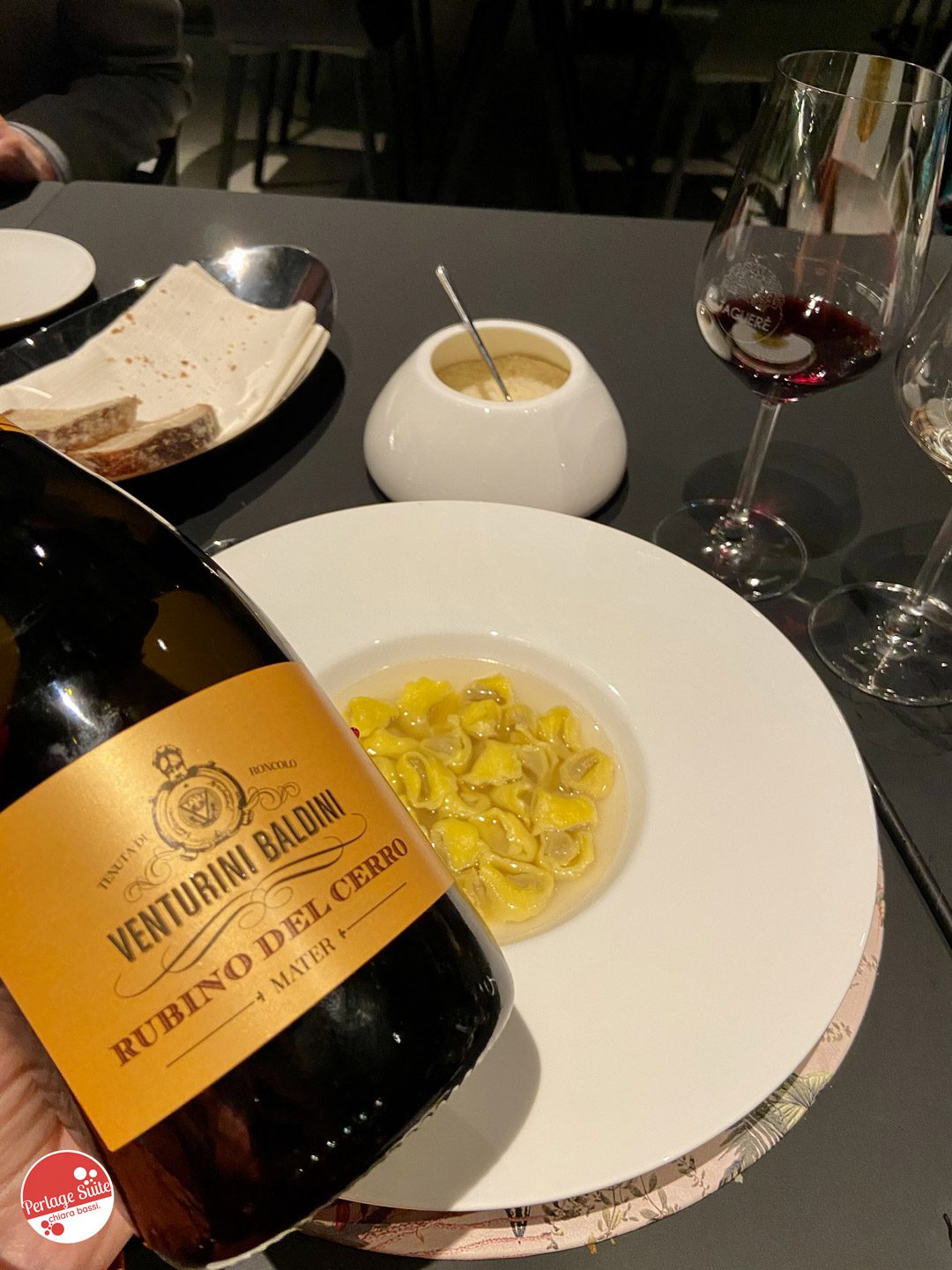 The braised cheek on carrot soup was really good. This TERS is a beautiful project by Venturini Baldini: to create a super tuscans in Emilia, that is a Super Emilians. To do so, he chose Malbo gentile, a native vine of Emilia-Romagna a little mistreated, but with great potential, mainly due to the richness and quality of its anthocyanins, its important structure and its ability to develop a great sapidity especially if grown in calcareous soils. It smells of black berried fruits, licorice, ink and tobacco leaves, especially after a long aging in bottle. In this specific case the tannin was a little green, but we know that the vintage was not the easiest. I can't wait to taste it again of a luckier vintage!
Now that the oenologist is Riccardo Cotarella, I would like to hear his position on this matter: what if we tried to make this TERS style amarone or a dry passito? The thick skin and the discrete aging potential would make me want to play this card, and what do you think, Giuseppe?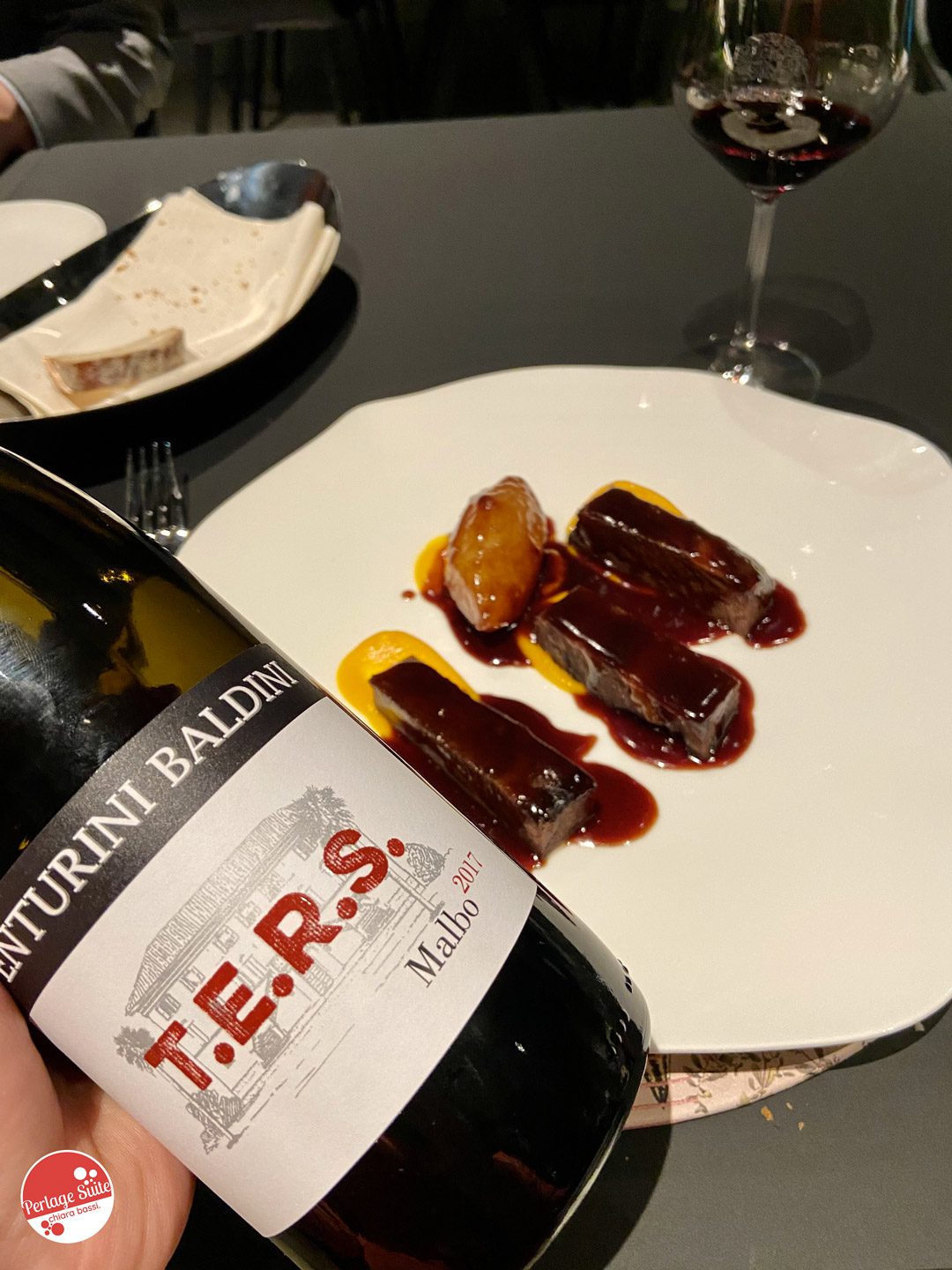 I really enjoyed finishing with a classic ice cream: refreshing and digestive. Ice cream was not my kind of ice cream: probably water-based or in any case with a little cream, while I like the cream much more "rich". Still a good ending to a delicious dinner, even if obviously the sparkling wine had nothing to do with it! I tasted it before asphalting my mouth with the cold of ice cream. By the way, do you know that the perfect pairing for an ice cream is a hot sake?
However, this is Venturini Baldini's flagship sparkling wine that we tasted and Giuseppe is very ambitious: he wants to place it in the top 10 Italian bubbles. Will he succeed? There is certainly still a long way to go, but the basis is there and the conditions are good. The bubble needs to refine a little more, but it is endowed with a great elegance.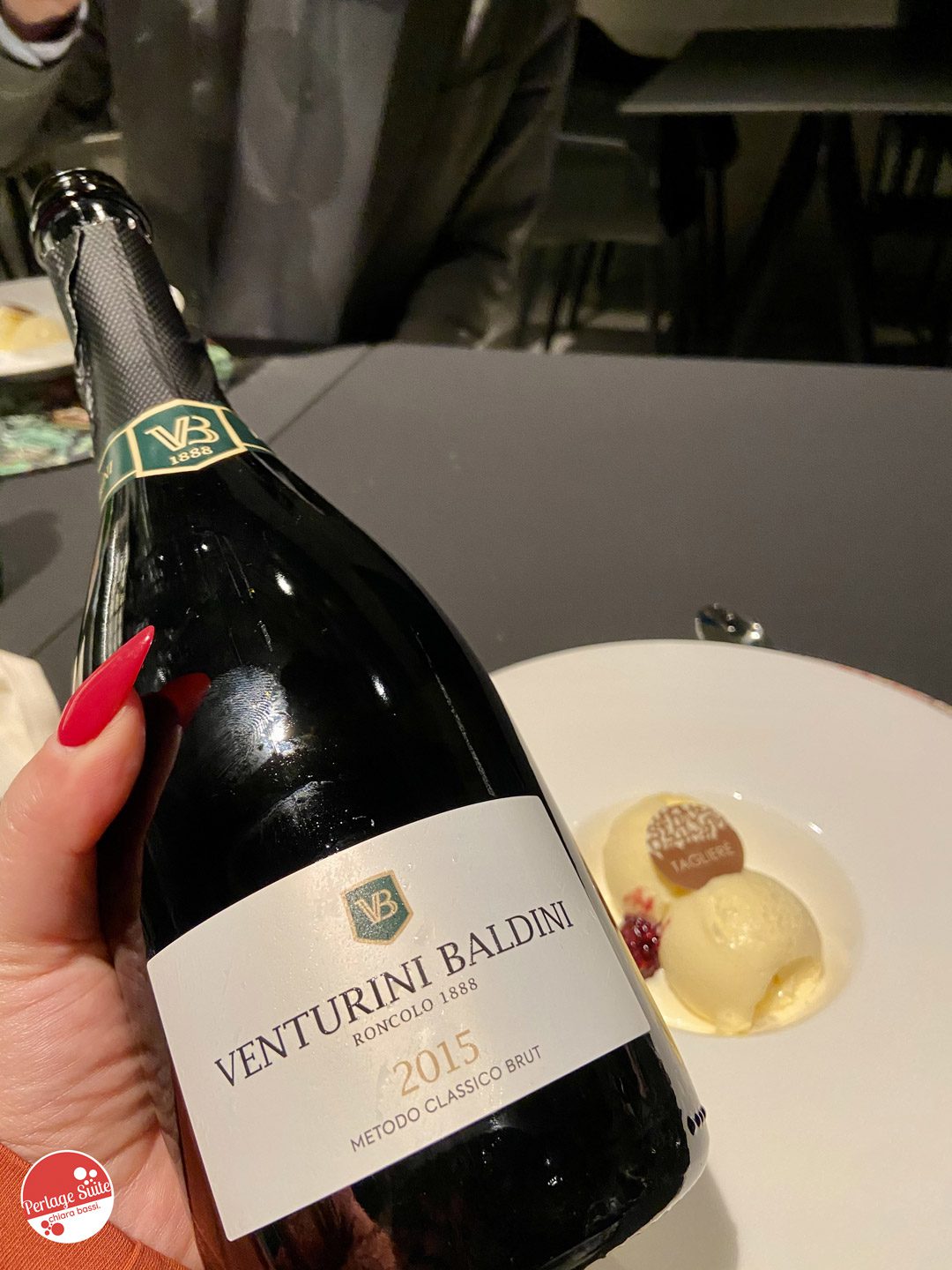 "Let's lemon?"As soon as you enter the bathroom of the lemon house you are amazed by a wallpaper that is too cute, a mixture of pop style and irresistible vintage style. The writing then is a clear invitation, too bad my husband didn't get up from the table!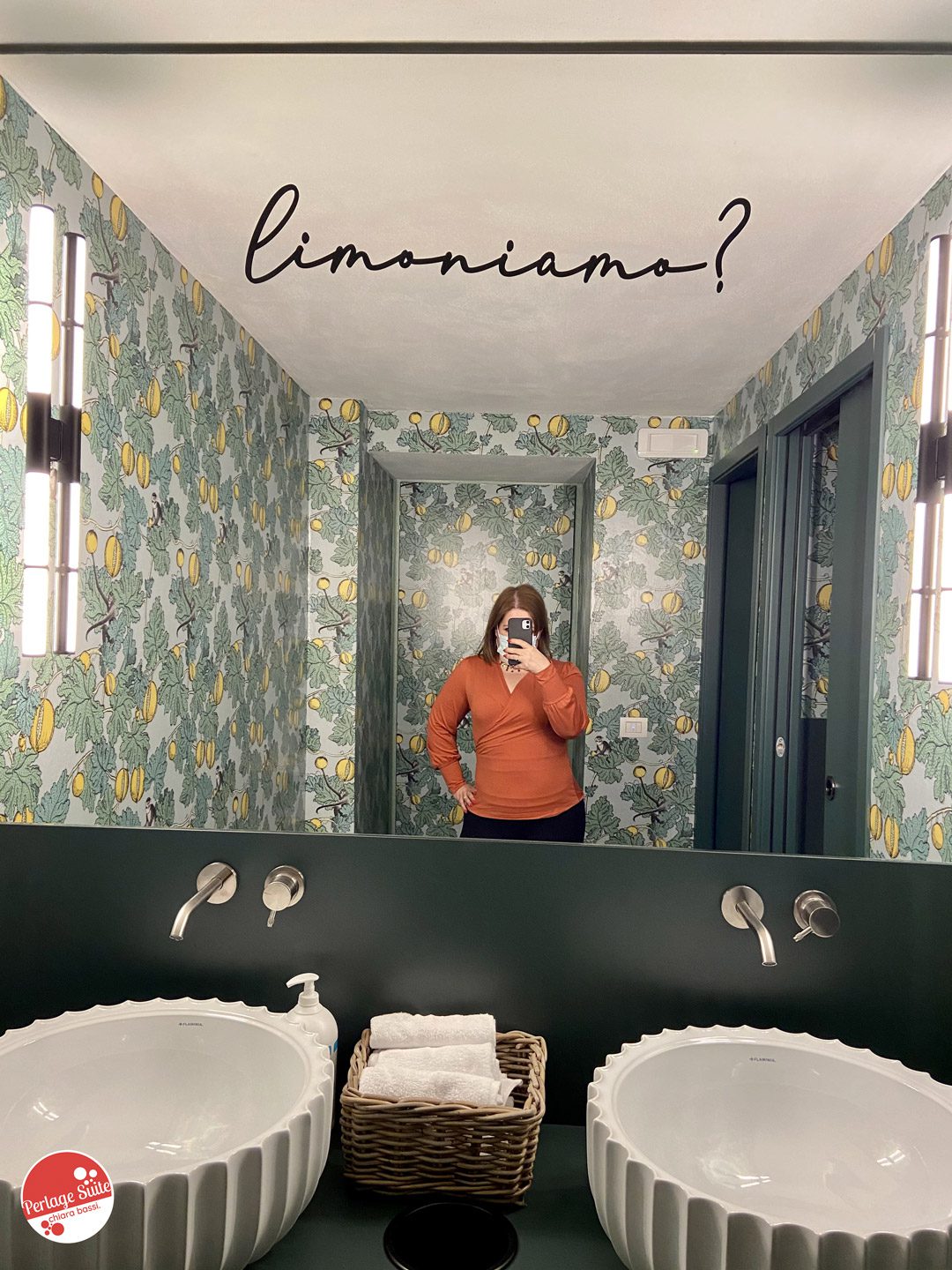 I have slept out so many times in my life that I am amazed myself at how different the breakfast you can find is. Here, at Venturini Baldini I found my favorite breakfast: a good brioche with lots of butter that makes it fragrant, an artisan jam and an exquisite tea. The luxury of excellent simplicity.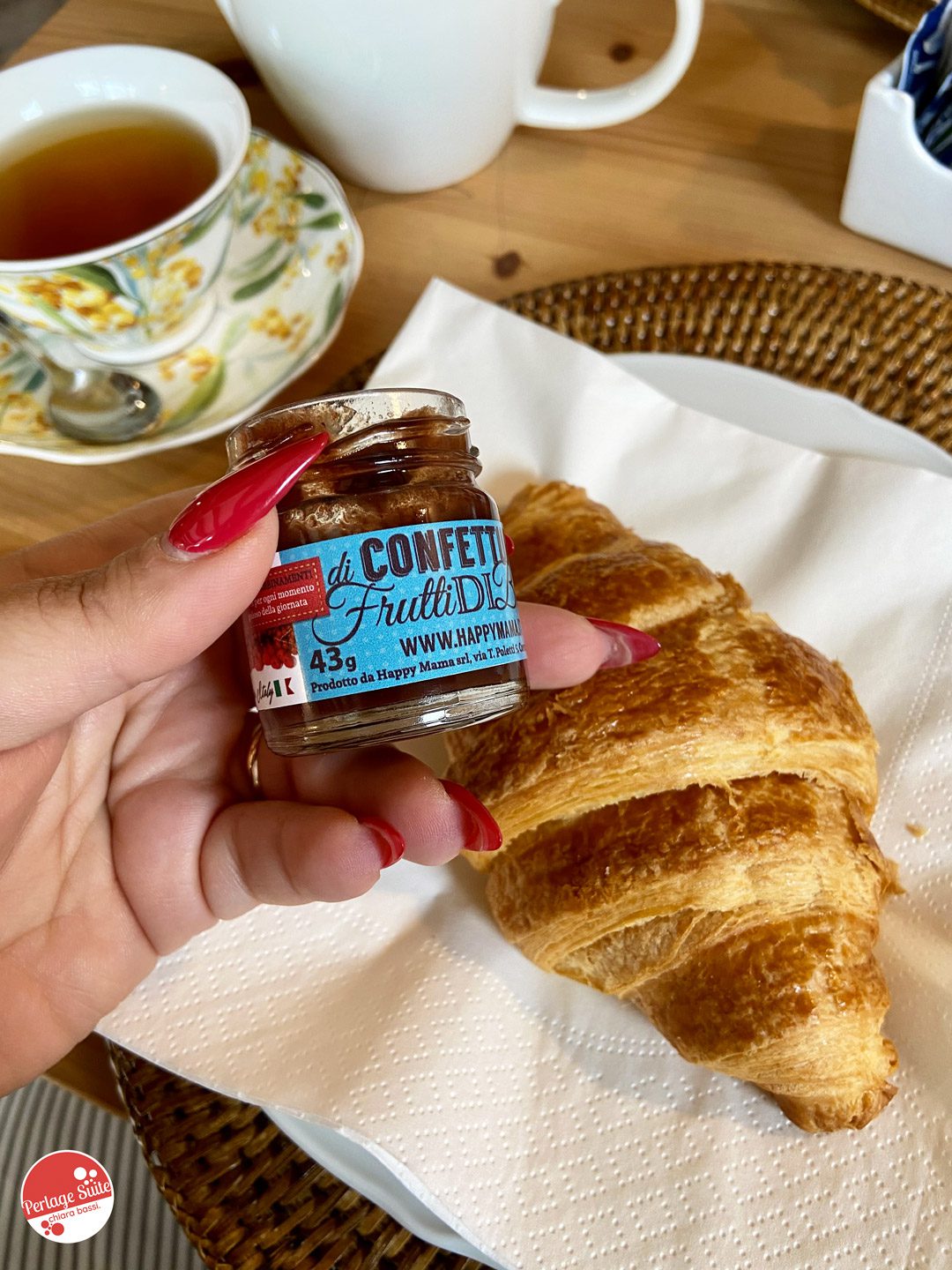 Our Experience ended with an old acquaintance: the honey Drops of Light I told you about just a few months ago in this article. By the way, the wildflower is delicious… but the lime tree has an irresistible balsamic tip!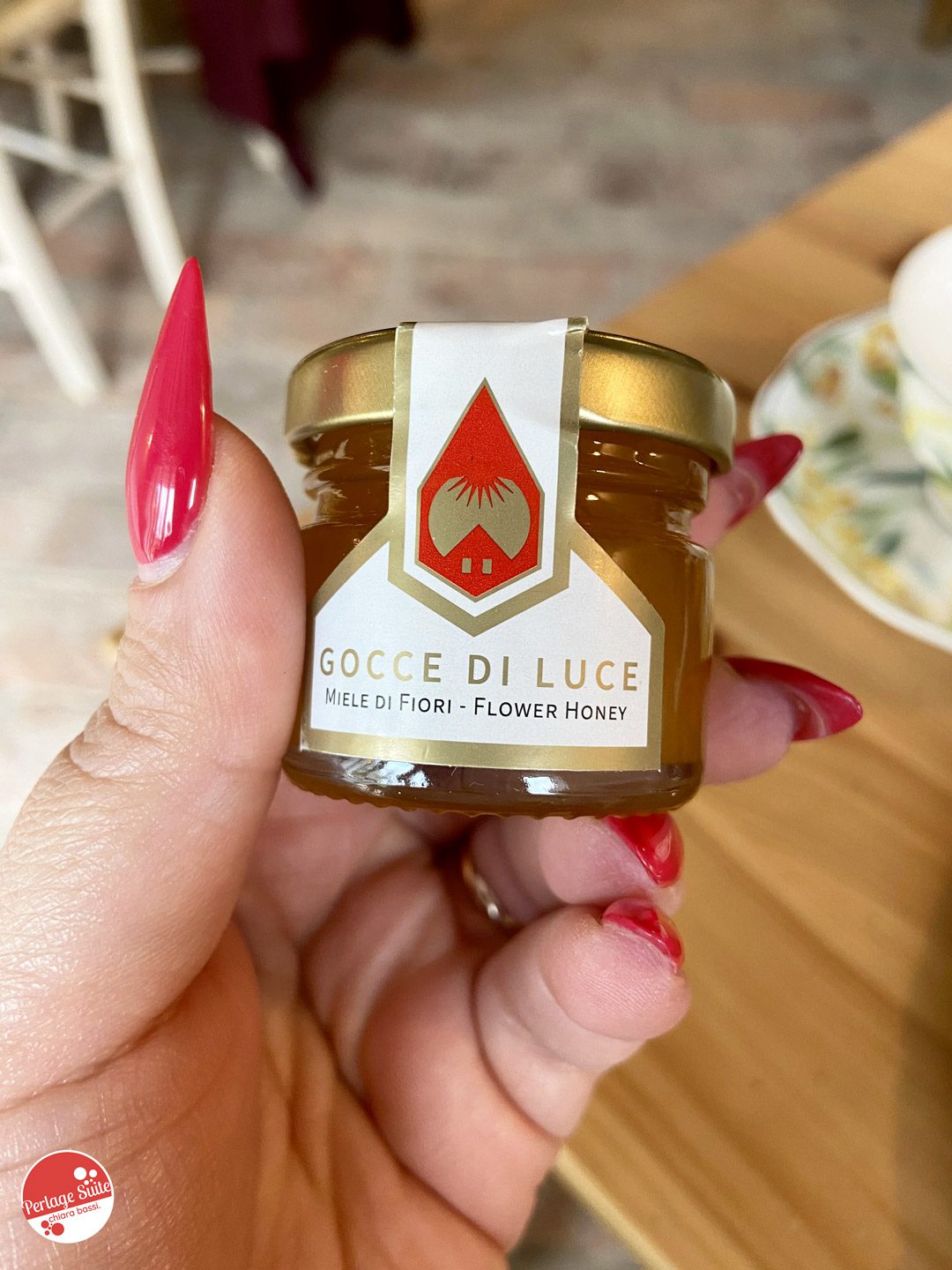 This reportage was perhaps a bit long .. but in this splendid Emilian chateau there is so much to discover! As for me, I can't wait to go back… thanks again for the wonderful experience!
Cheers ????
Chiara
PS This article took a while to wait, but in the middle I took the exam of Applied Statistics and Economic History, so I'm justified… right? Now I bid you good night that in 4 hours I am leaving for a wonderful Press Tour in Tuscany ... curious?
Book "Sommelier: the Illustrated Manual" Ed. 2021
All my notes on wine and food in one book.
COMPLIMENTARY, only for those who buy my book on this blog, a copy of the First Collector's Edition of my Sparkling Wine Guide "500 Bubbles in 500", cover price € 25,30. [While stocks last]