This morning I got up comfortably, also because the bed at Sartori's Hotel in Lavis (TN) was really comfortable! Tomorrow I have a really full day so today I'm taking it easy in Bolzano, a city that I always like a lot! I arrived at around midday, parked at the centrale which is a stone's throw from the centre and reasonably priced (€1.50 per hour) and arrived at Walther Platz. With great sadness, I discovered that the temple of the sacher cake was closed... darn! I promised myself I'd go there tomorrow....
Today I took it easy, to write and enjoy the beautiful castle in Eppan where I will sleep tonight. Before I got to my room, however, I decided to look for a suitable 'office' in the centre of Bolzano. When I visit a city I like to wander the streets without a map and discover places almost by chance, and so it was by chance that I arrived at Mareccio Castle, right in the centre of Bolzano.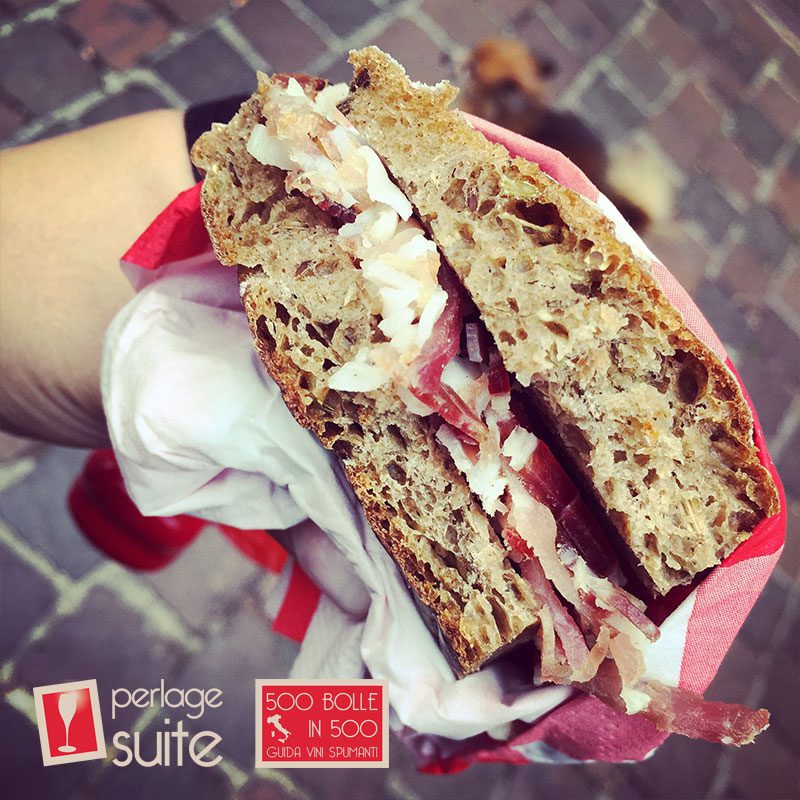 Walking through the centre I came to a very very South Tyrolean stall where I got this delicious sandwich! Both the bacon and the bread were excellent! Continuing my walk, a truly spectacular scenery opened up for me: Mareccio Castle (on the cover photo). Here, this really is the perfect place to take out my iPad (I'll point out that these days on Amazon my iPad Air 2 is discounted by about 200 € and there are only 8 left... HAVE A LOOK HERE), equip it with the extraordinary Logitech Ultra Thin keyboard (which I'll never get tired of saying is the best purchase I've made this year, always bought on Amazon, but at €99 and I saw today that it's at a discount of €49... darn it, why don't I ever get these promotions? Anyway I'll give you the link to the offer HERE), and start writing.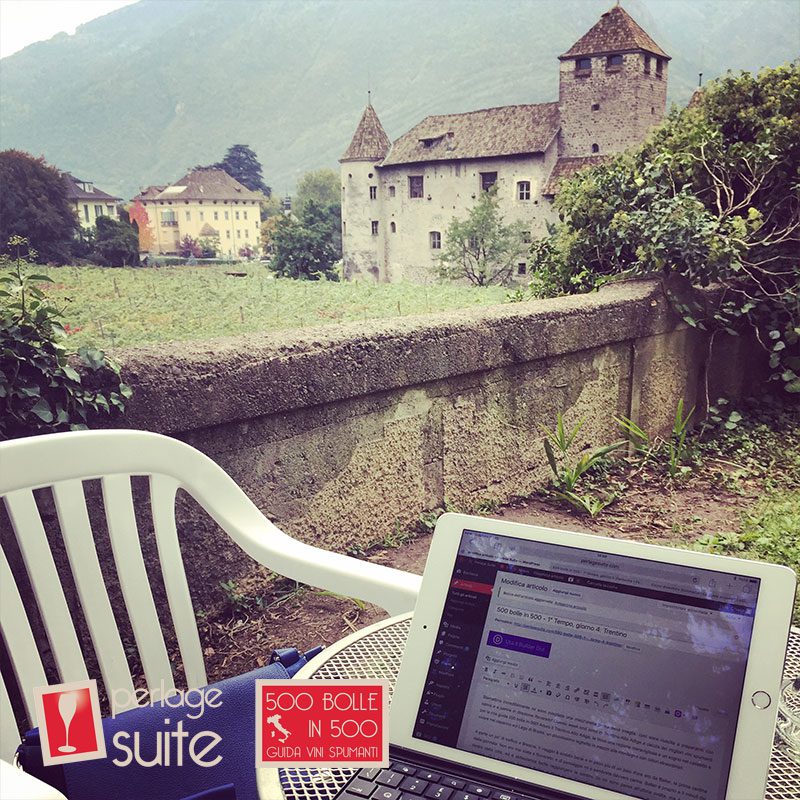 And here is the photo!!! How wonderful to work like this! I stopped at a little kiosk along the Lungo Talvera promenade to have a Ginseng coffee (it was really dirty water) to occupy this beautiful little table overlooking Mareccio Castle. I only got up because it started raining and, of course, I was without an umbrella! (You know Bridget Jones when she declares herself to Mark Darcy in the pouring rain? There, I looked the same! Luckily there was no potential Mark Darcy in the area... 😀 )
I would like to make a small note on Castel Mareccio o Schloss Maretsch in German (here it is most often written in this second idiom). The oldest nucleus dates back to 1200, when the founder of the Maretsch family, at that time holders of justice in Bozen, commissioned it. The castle has been home to various noble families over the centuries, the last being the Thun family who owned it until 1851. Later Mareccio Castle was sold to Countess Anna Sarnthein, who leased it to the Treasury and it later became first an arms depot and then the seat of the State Archives.
At this point I left for the Schloss Hotel Korb, a 4-star superior hotel in Eppan... to enjoy my pre-delirium evening on Monday! Finding the hotel was quite easy, even the iPhone navigator managed it without difficulty! The road up the hill among the vineyards is beautiful... I went really slowly to enjoy the view! I parked comfortably and found myself in front of a castle overhanging these beautiful, breathtaking hills! The reasons for choosing Schloss Hotel Korb are the peace and intimacy, the friendliness and charm, the style of the castle and the silence in which it is immersed and, of course, the pleasure of excellent food accompanied by some really interesting wines from their own production!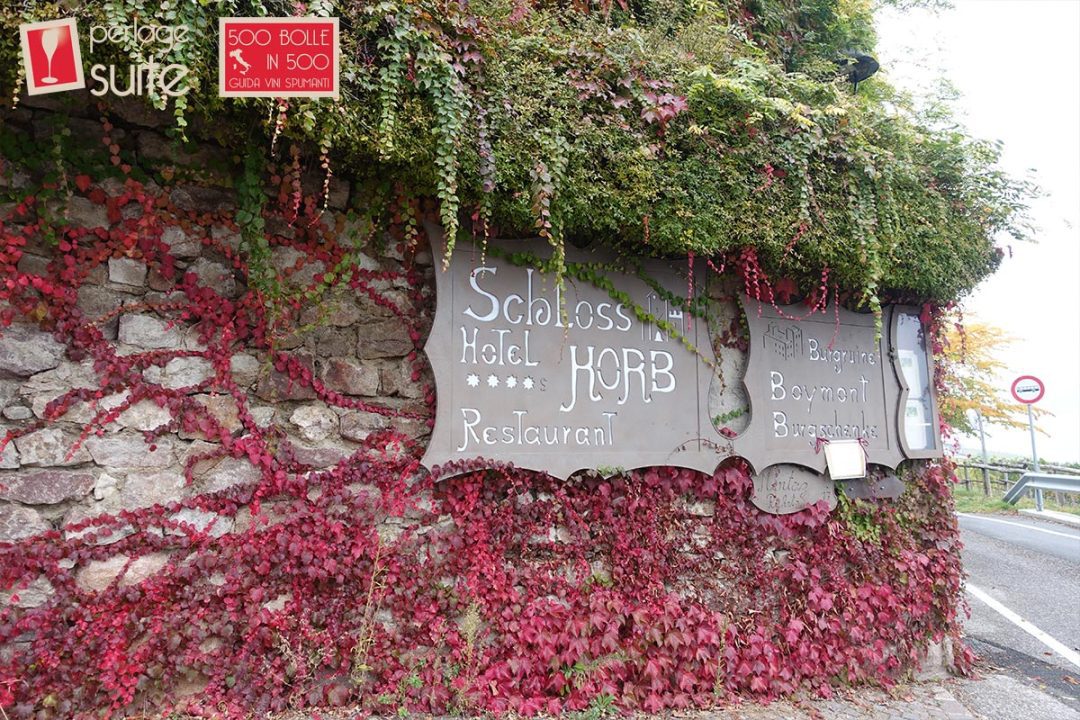 The entrance is very atmospheric, although surely this is not the season that makes the most of it: I have seen photos in spring, and the rose garden really gives it a magical touch. As the wine lover that I am, however, I also enjoyed this period when the vines are tinged with various colours and give a beautiful effect.
After passing through a beautiful wrought-iron gate, we enter a truly original atrium where we find the reception and the doors leading to the various rooms. The decor is unusual: stone blends with wood and creates a truly fascinating mix! What struck me most is that although there are many things, even of different styles, they are all in perfect harmony. The light is just the right shade: warm and welcoming, it tinges everything with romance.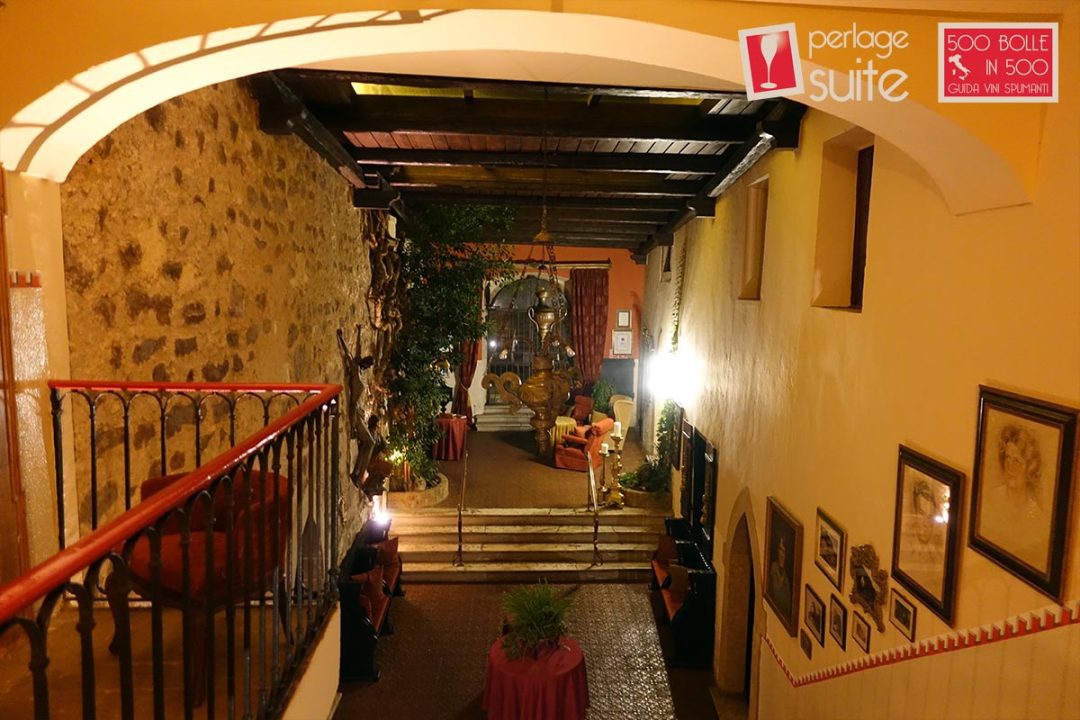 After a short walk to my room to drop my suitcase and take a shower, I went straight down for dinner. I was seated at a nice, spacious table with a cushioned bench and pillows that both Paco and I loved!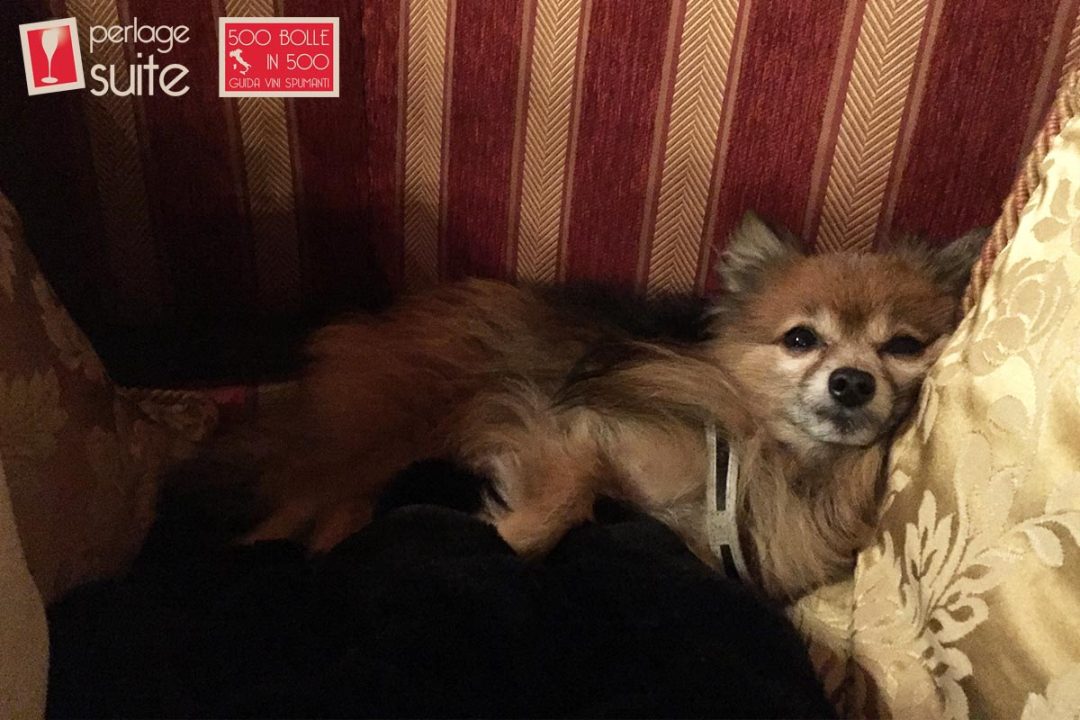 The restaurant is in the same style as everything else and is also full of charm! Here too, the stone of the walls blends harmoniously with the wood of the exposed beams and columns. The chandeliers are wonderful and take you back in time. From the large windows you can enjoy a splendid panorama of light and every drape of the curtains seems to be placed with a ruler so precisely. The table is well set, simple and elegant, with flowers, plants and a long-stemmed candle that is lit every time the guest sits down regardless of the time of day or the degree of lighting. Here too, the light is just right: neither too much nor too little.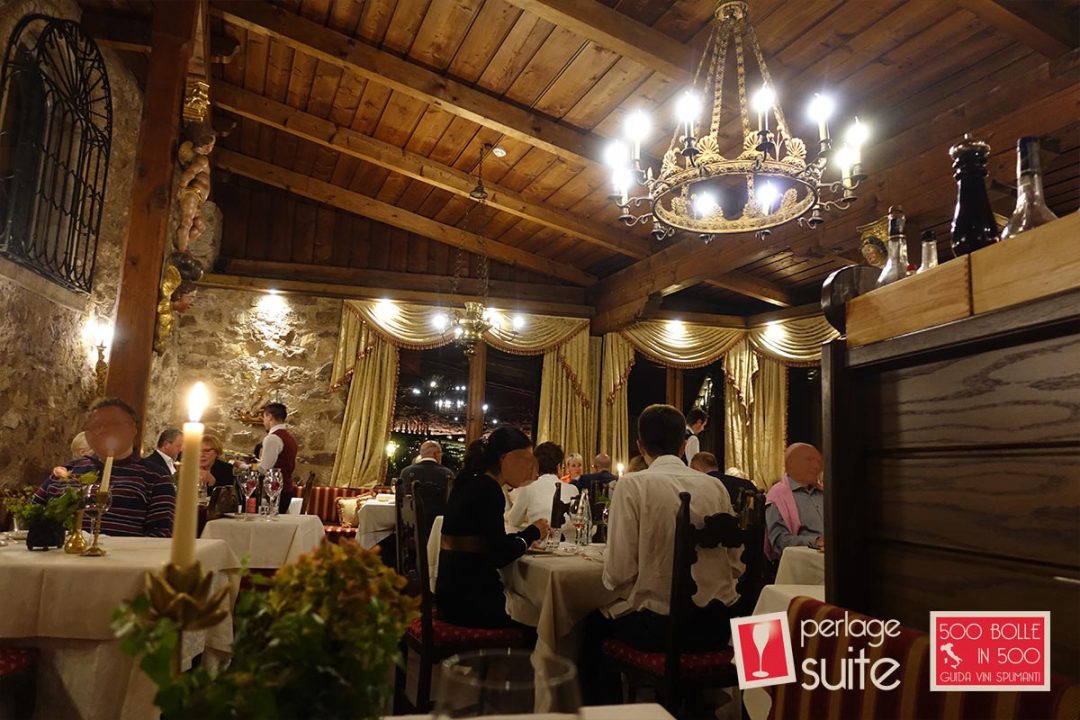 The kitchen here works really well, but as the sommelier that I am, I first inquired about the wine list. I discovered that, apart from the Dallago family wines, there is a wine cellar of over 35,000 bottles with an extraordinary selection of labels. Here you can also find true rarities: from the newest Chateau Rothschild to that of 1934, sumptuous Amarone from 1928 to 2001 or the incomparable Château d'Yquem from 1921 to the famous Château Petrus from 1975 and many more. What a marvel!
Of course I wanted to taste the Dallago family's sparkling wine: I'm out for a sparkling wine guide, by golly! Fritz Dellago's winery consists of six and a half hectares and boasts 14 different grape varieties cultivated with passion and personal dedication.
As for the food, I opted for the half-board option, which accounts for 35 € on the room price and is a really interesting tasting menu. I want to emphasise that it is really a tasting menu in the sense that the portions are rather small, but for my appetite it was perfect and I certainly didn't get up hungry! The proposal is called Gala Dinner and in my case it included these courses: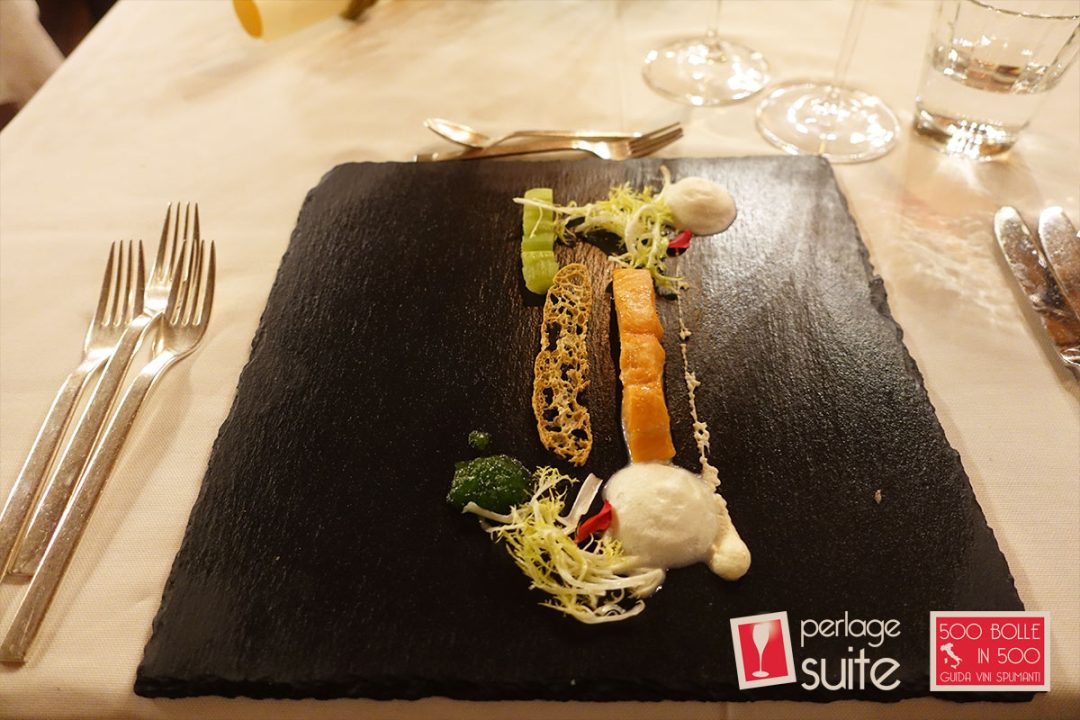 Norwegian smoked salmon with horseradish mousse and buckwheat blinis. The quality of the salmon was very good (although I preferred the morning salmon for breakfast) and the horseradish mousse was balanced and unobtrusive. It is not easy to dose the horseradish and they managed it very well.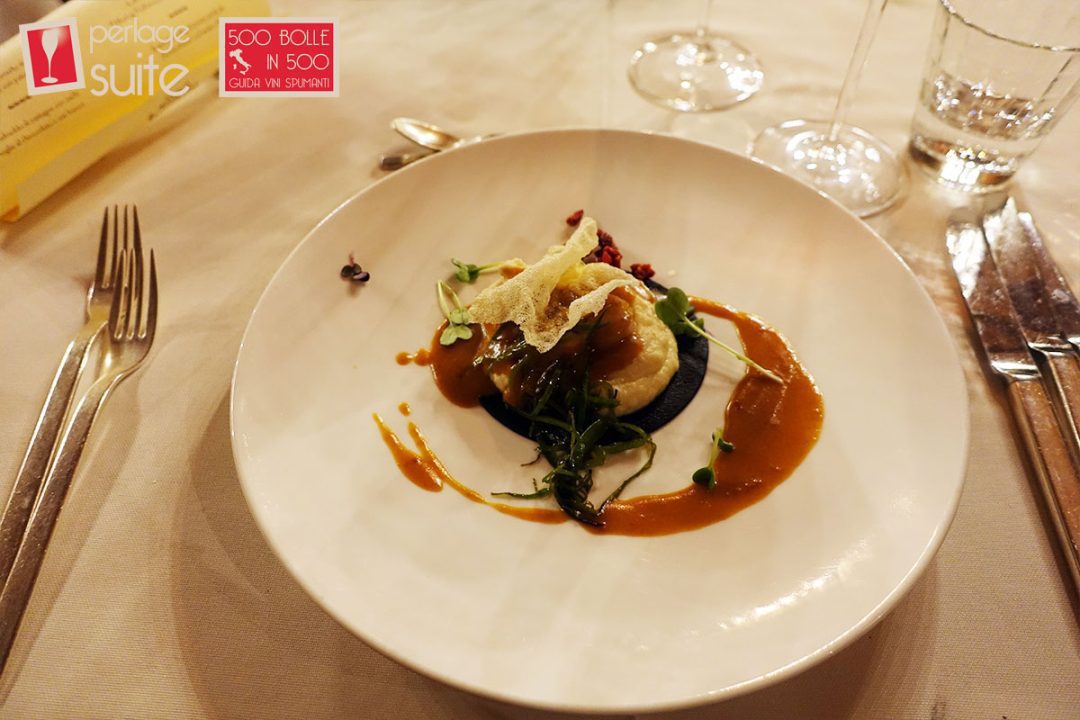 Scallops with celery puree, crispy rice sheet with crustacean sauce. The little black disc, in my opinion, was a lasagne and therefore the dish can be considered a first course. I liked the crustacean bisque very much, it was just a pity about the rice sheet that had softened slightly with the heat of the mash. I found the mash quite creamy and with a good consistency, with a balanced taste. The scallops were well cooked.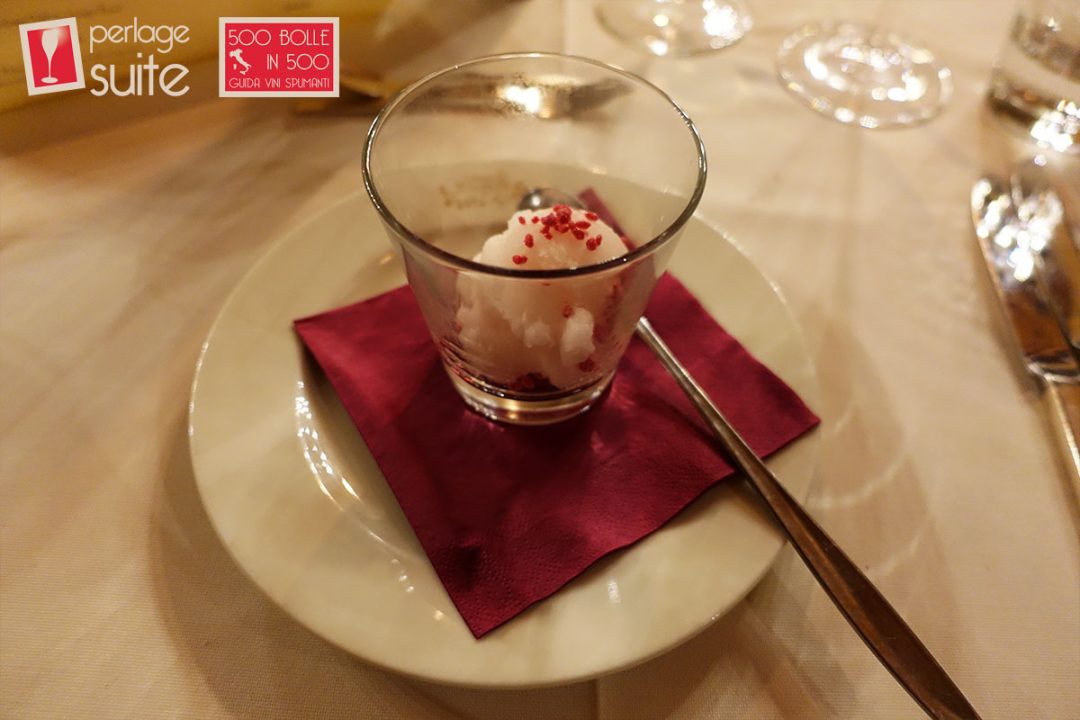 Dellago Ginger Rosé sorbet. How delicious is this sorbet! Ginger Rosé is the Dellago philosophy of life and is a creation based on quality sparkling wine. A secret recipe for a 'sparkling wine' that is well suited as an aperitif. It is a wine flavoured with ginger and rose essence, served with an ice cube and a rose petal, with a very low alcohol content. Here, I know that if you are a wine purist you are making a strange face, but I would like you to take this product for what it is: an aperitif, just like the Hugo that I personally love. Ah, for those who don't know, the Hugo is a South Tyrolean variant of the Spritz made with Prosecco, elderflower syrup, seltzer and mint leaves. My thanks again to Andrea for his delicious elderflower syrup with which I made myself some wonderful Hugos at home!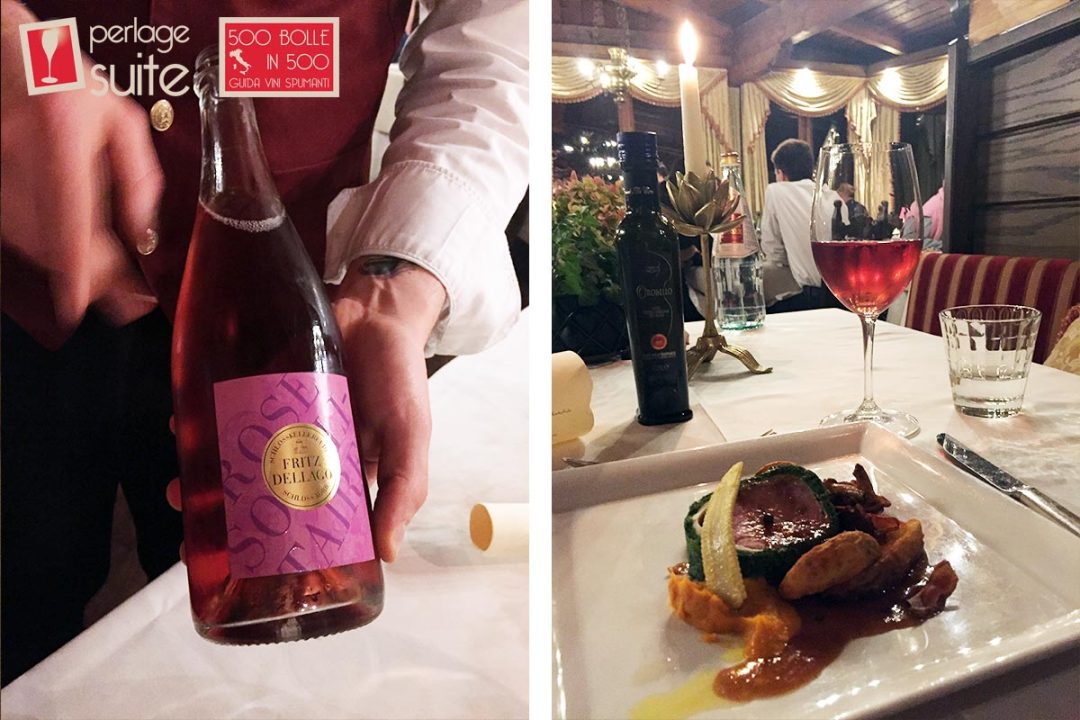 Veal fillet in spinach coat, chanterelle and pepper sauce with rosemary potatoes. An overall pleasant dish, with a veal that you could really cut with a breadstick for how tender it was. The rosé wine was pleasant, fresh, not particularly complex but intense and elegant with hints of raspberry and white flowers. Light and elegant in the mouth, shifted to hardness but overall quite balanced.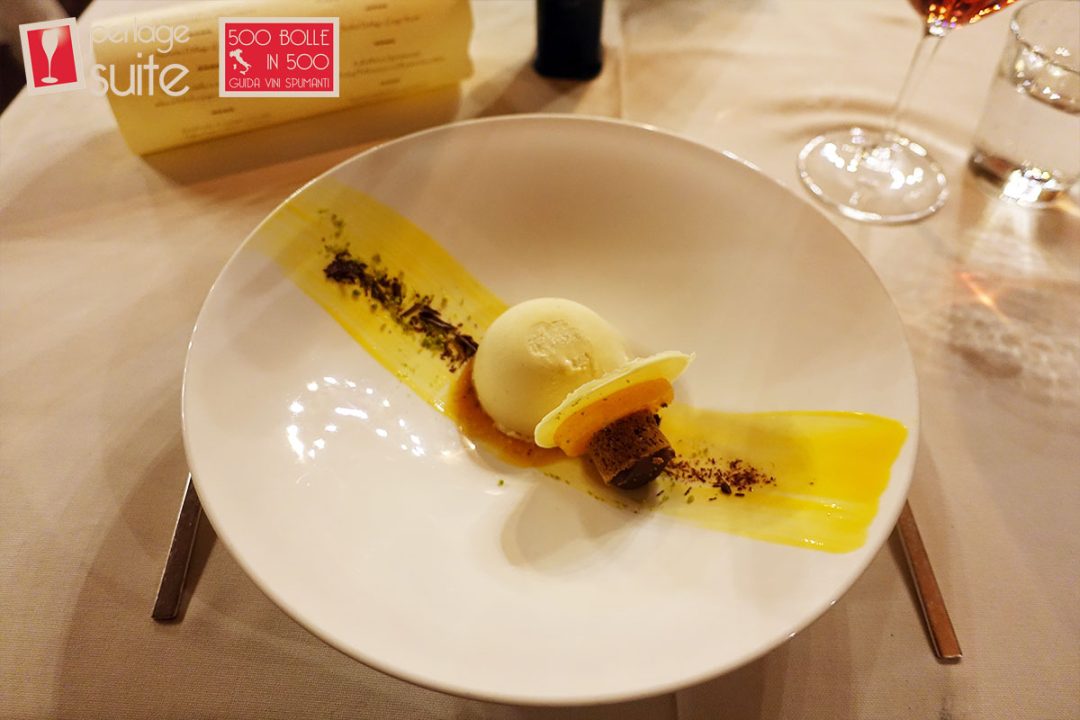 Chestnut semifreddo with persimmon, chocolate leaves and white rum. Despite the fact that I am not a persimmon lover, I absolutely loved this dessert! Simple, well constructed, it presented itself very well on the plate and expectations were abundantly repaid in the mouth. Balanced the taste of the chestnuts, the unobtrusive persimmon, the quality white chocolate petal... bravo!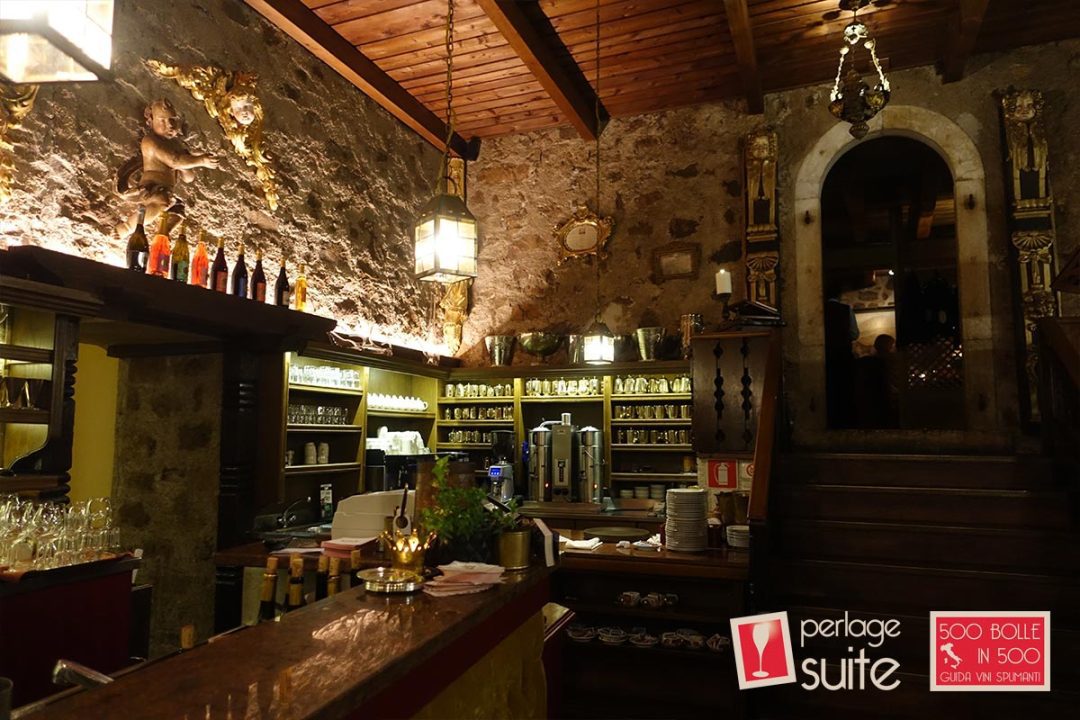 A shot of the restaurant entrance, cafeteria area.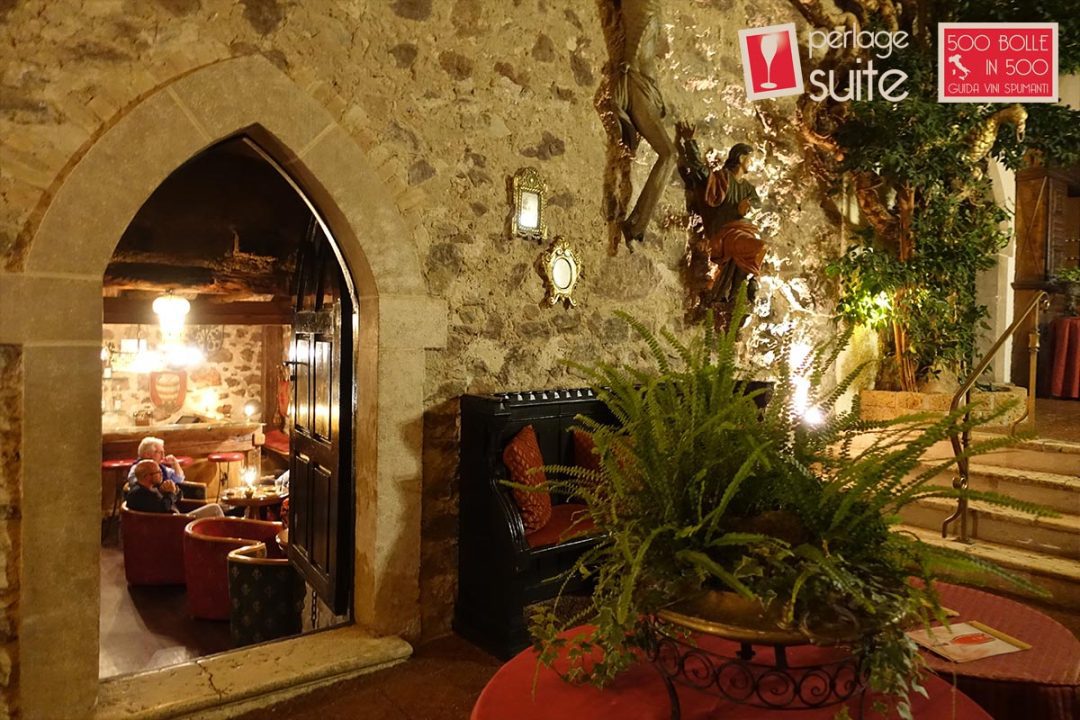 This ambience is what I liked best!!! The bar in the bitters/liqueurs area, the perfect setting to end an evening in intimacy. I felt like I was inside history here, it really is a charming little room and if I wasn't alone I would probably have happily ended the evening there.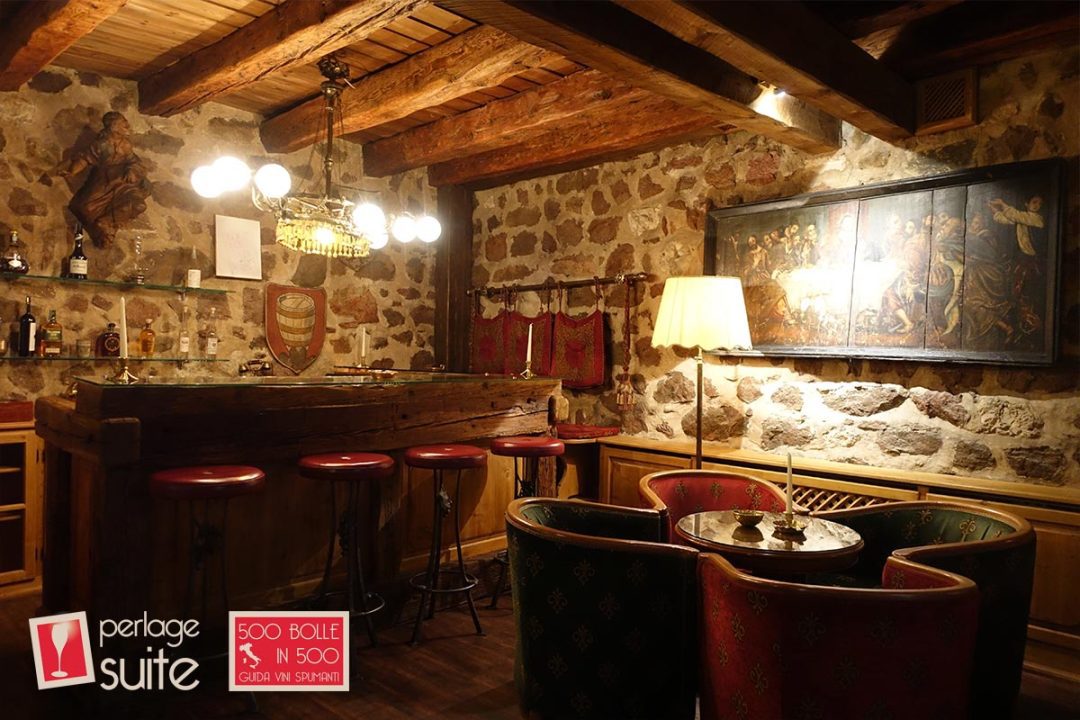 After dinner I went for a walk on the panoramic terrace with Paco, but I came back early because it was raining, albeit slowly. Beautiful the study of the lights and the lush vegetation... in summer it must be a real sight!!!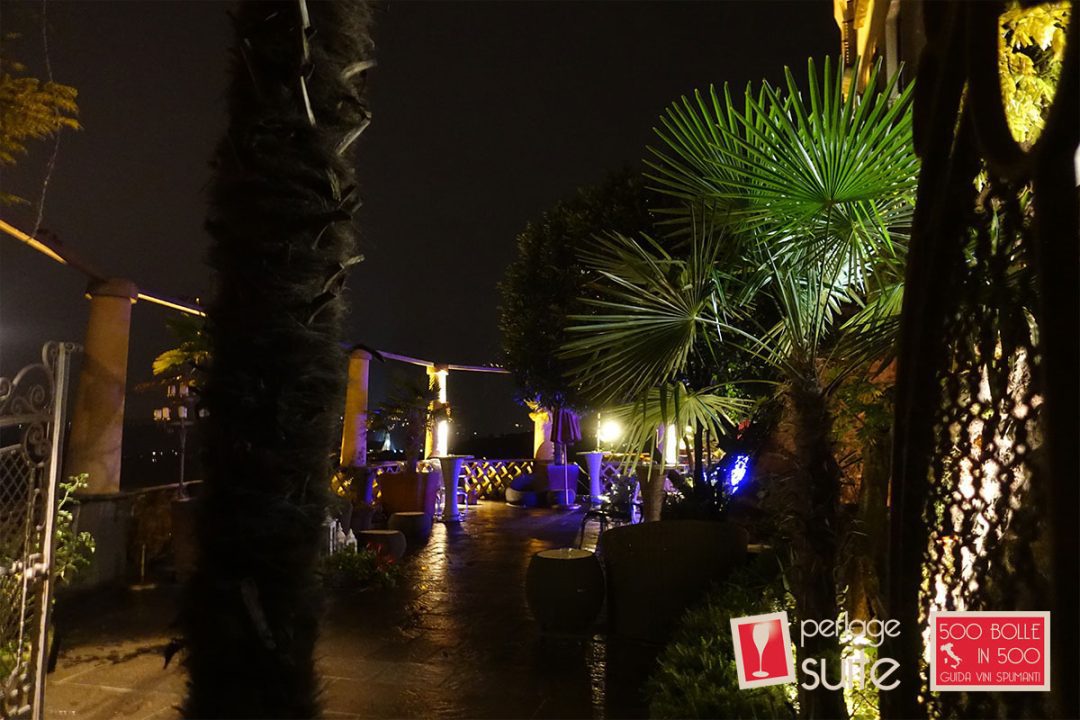 I stayed in one of the Castello Suites, in a room of about 40 square metres for 2-4 people (comfortable) with a view of the vineyards. The Suite is beautifully furnished, with an obsessive attention to detail that shines through in every corner. The use of wood is beautiful, warming the room without being heavy. The style is classic, skilfully elegant and never heavy. The bed, like all period beds, is high, but the mattress is comfortable and there are some very interesting Cirmolo pillows, complete with explanation. I thus discovered that Cirmolo lowers the heart rate, relaxes and soothes sleep. Honestly, I didn't find them very comfortable, also because they are filled with shavings (but there were very comfortable traditional pillows), but I must say that I slept very well, like a child! And I always have trouble falling asleep!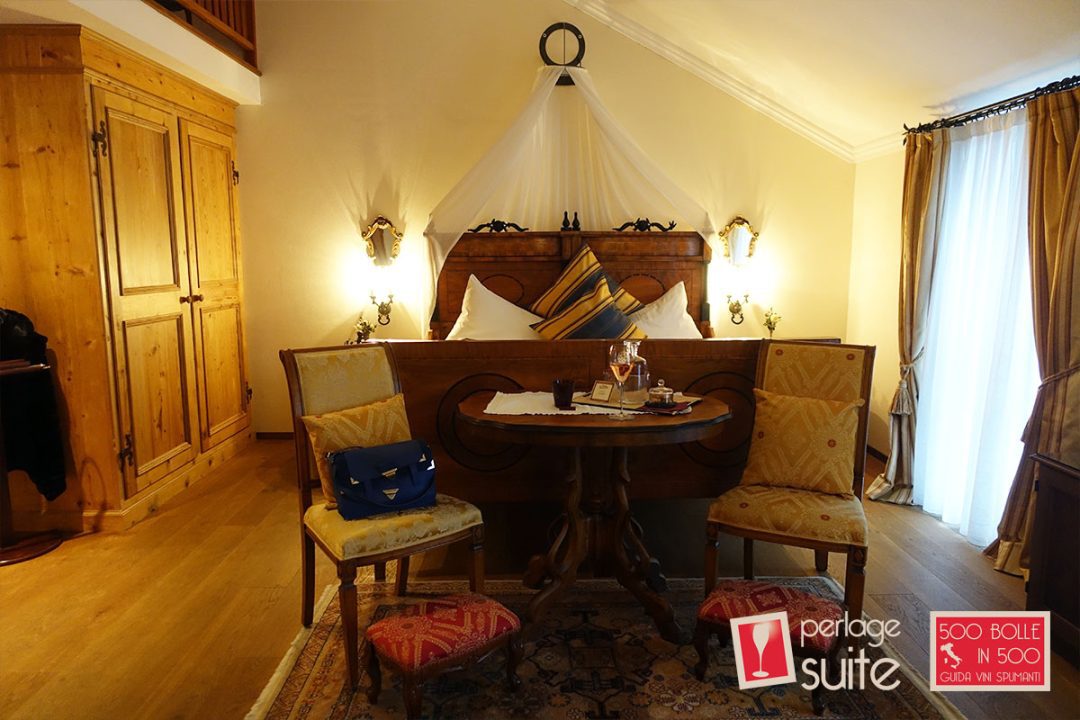 The living room is also delightful: at the foot of the bed are two comfortable upholstered armchairs with a stylish coffee table, where I found some biscuits and fresh water. Opposite, a comfortable desk with a wonderful retro telephone. I took this particular photo from the mezzanine, where there is another double bed with a world map installation of different sizes falling at different heights that is truly stunning! The room is equipped with every comfort: LCD TV, Wi-Fi, safe, telephone and minibar filled on request. I also really liked the fact that the minibar is only filled with things you request instead of things you don't even like: it makes you feel really special!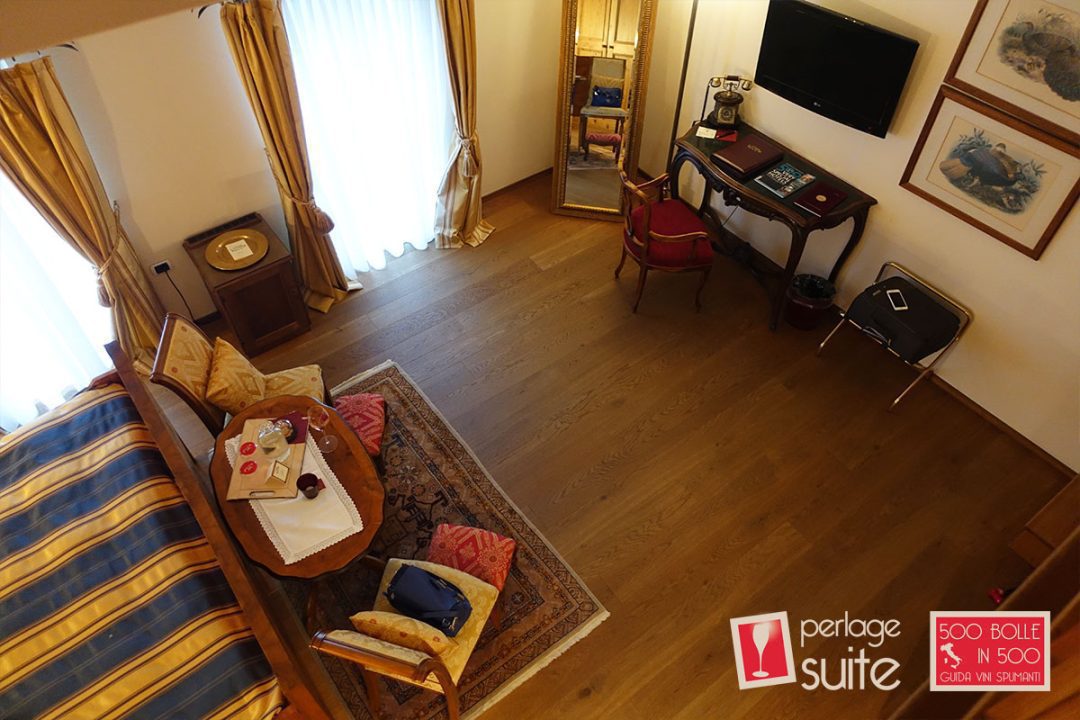 The bathroom is very nice and well-kept, completely clad in light marble with golden details. Although I would have preferred the bathtub, there is a private sauna in the room which I also tested even though I am not a fan of saunas. I find it a real pampering though! I appreciated the 'real' hairdryer, the bathrobe, the towels, the bag for dirty laundry....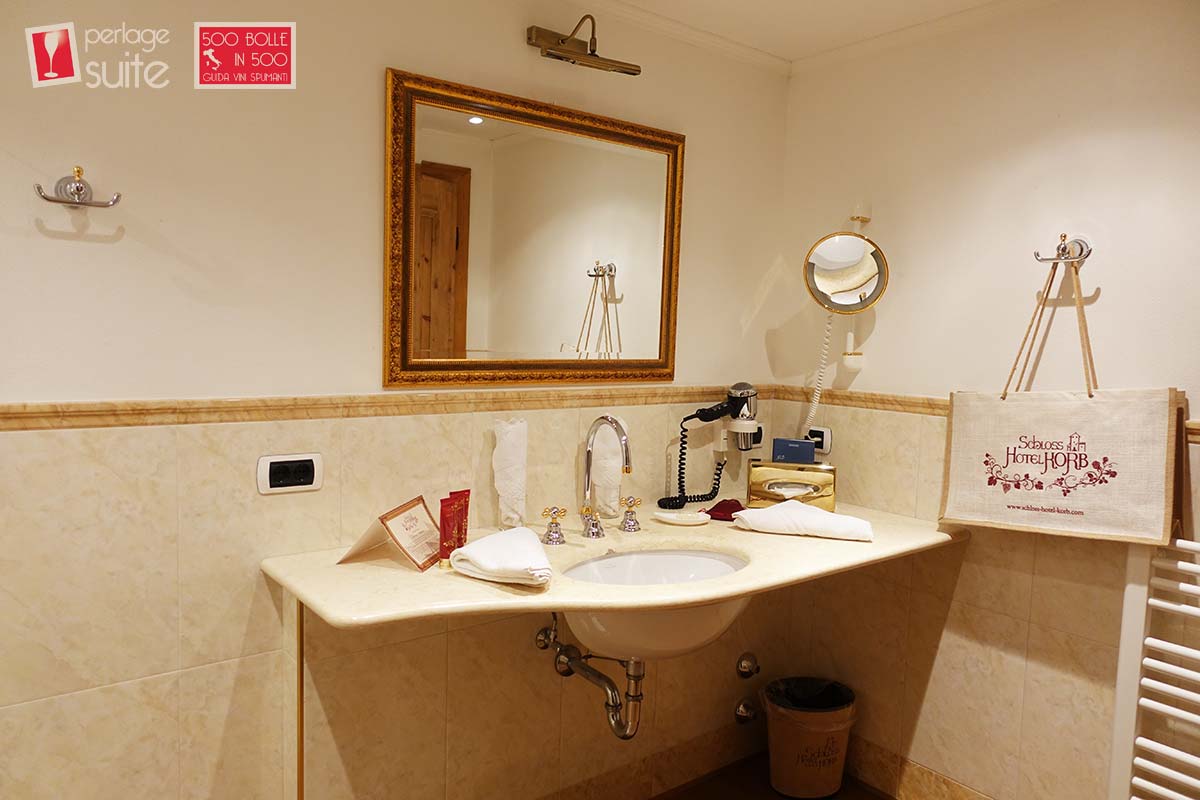 ... but it is above all the vin pur products that have impressed me, both for the pleasant fragrances and the softness of my skin after using them. Beautiful packaging and good products, but above all what a great idea that they are wine-based! Very good! In the kit there is a shower gel, a shampoo, a conditioner and a body cream!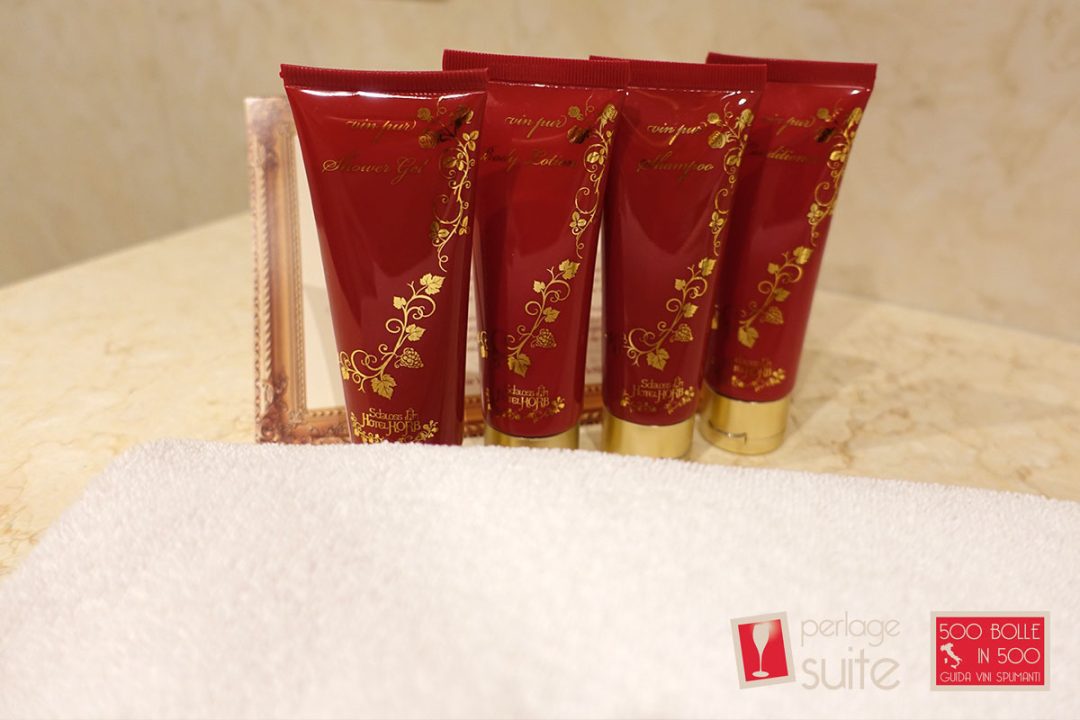 Monday 24 October - morning
When I woke up in the morning, I opened one of the windows in my room and admired this beautiful landscape, a spectacle despite the overcast sky. A castle in the distance, the mountains, the colours, the vineyards, the mist... everything looks like it was painted by an artist's hand and it is really relaxing.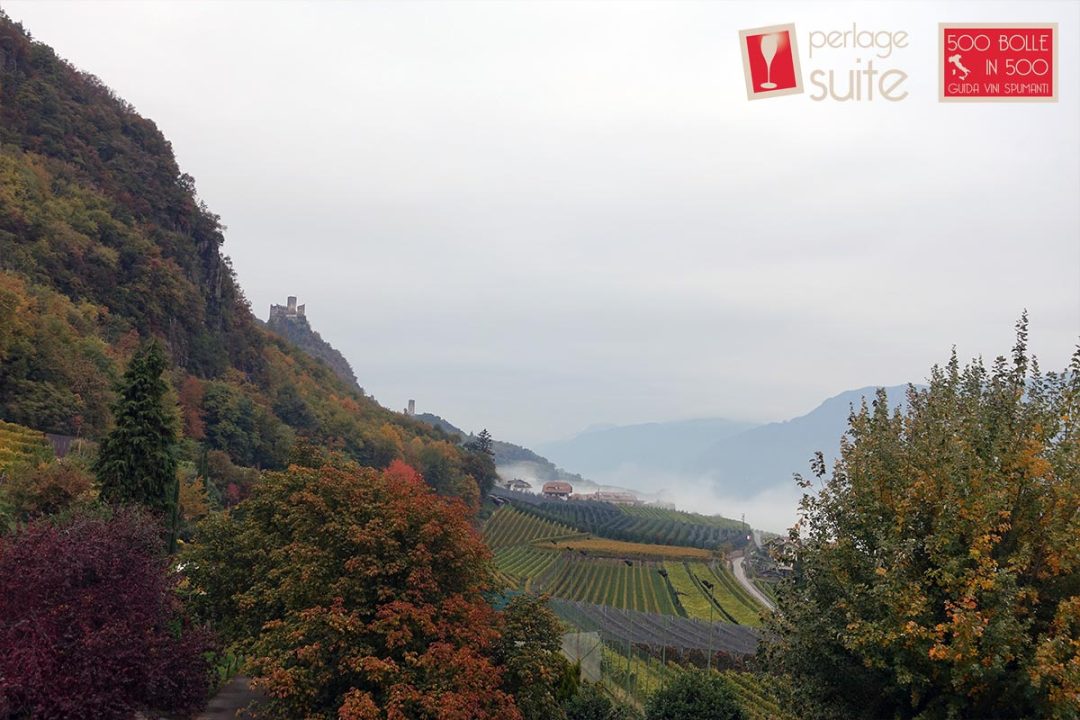 Breakfast is served in the same restaurant as in the evening, also with a view of the vineyards. There is an extensive buffet with everything you could wish for, all of the highest quality. To drink you can ask for coffee, cappuccino, chocolate, fresh fruit juices, Dellago Ginger Rosé sparkling wine... I tried one of the 12 types of tea they provided and it was excellent and well served. There's really everything to eat, from sweet to savoury: cereals, yoghurt, brioche, homemade jams, all kinds of bread, various types of Tyrolean cheese, Speck from Alto Adige, Parma ham, fresh salmon, veal sausage... I opted for the fresh salmon because I'd already tasted it that evening and it's of an unspeakable goodness. Word of a true salmon lover who has eaten a lot of salmon in her life!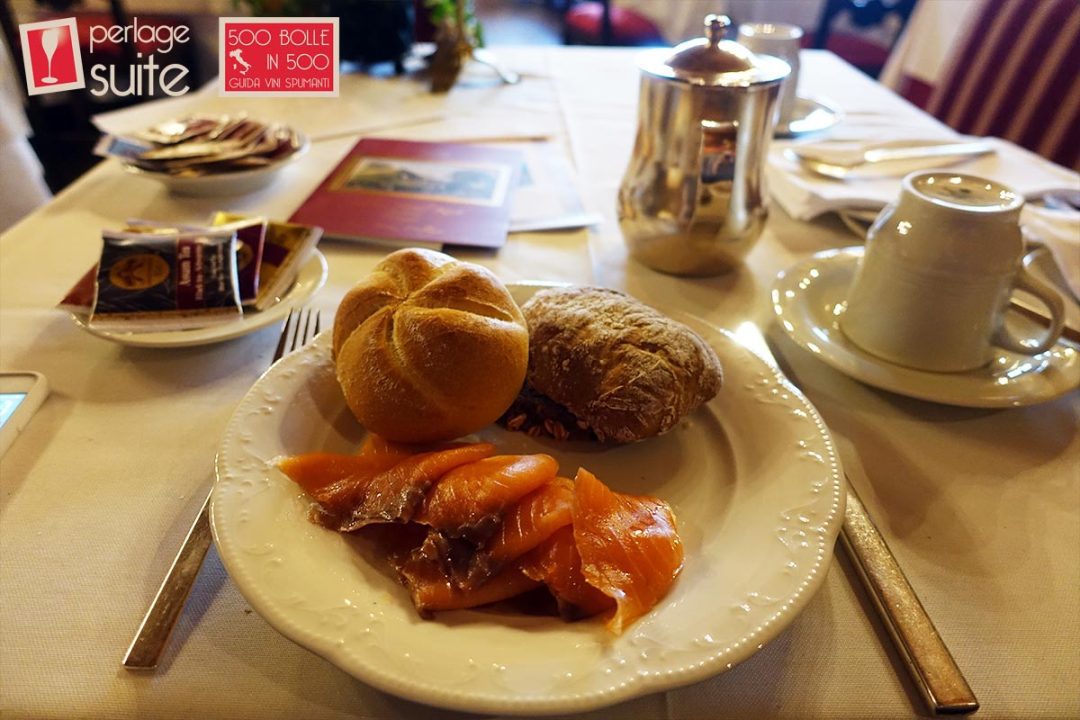 And here ends my wonderful stay at Schloss Hotel Korb! It is now Monday morning, and today is a very busy day of tasting in the heart of Bolzano!
If you are in a couple, I absolutely recommend spending a weekend at this establishment to be pampered by your partner in a romantic, old-fashioned atmosphere.
a hug,
Chiara
Thanks are due:
For the kind hospitality.
Address: Via castel d'Appiano 5, 39057 Missiano/Appiano - Bolzano
Telephone: +39 0471 636000
E-mail: info@schloss-hotel-korb.com