In mid-September I went to Porto with my closest friend - and partner - Fabrizio and I was delighted that he too was able to admire the magic of this city and taste these wonderful wines. When I hear of liqueur wines, and in particular of Port wineI hear and read rather confusing information. This is because even in the lectures of the various sommelier associations and the like, very little is said about a subject that is actually very multifaceted and complex. I am a great lover of Porto, just as I love the city of Porto so much! I found Lisbon beautiful, but it was in Porto that I left my heart! That is why I hope with this article to clarify once and for all what Port is and how it is produced... and also to give you some ideas on which Port wine to buy! This won't be the only article on Port that I'll be publishing in the next few days: expect some great stories on Burmester, Kopke, Ramos Pinto...
Too bad only for the photos I took during this tasting: the weather was really bad and the light terrible! So I decided to use one of the magnificent shots I took at night thanks to my wonderful Sony RX100MIV sponsored by Photo Universe with the collaboration of Sony Italy... incomparable!
Port wine: 6 things you (perhaps) don't know about it
Port wine/1
Although Port Ruby is certainly the most widespread, Port has many colours: white, pink, red and tawny! In particular, Port Ruby and Port Tawny are both fortified red wines that differ in the type of ageing. Port Ruby ages in large casks while Port Tawny ages in small casks. For this reason, Ruby Port has a beautiful, concentrated ruby red colour while Tawny Port is garnet red in the case of a Fine Tawny or a Tawny Reserve, and increasingly lighter bronze in Old (Aged) Tawny. White Port, on the other hand, is a white fortified wine that ranges in colour from straw yellow for the younger ones to dark amber for the older ones.
port wine/2
On the label there is an indication of the vintage in only two cases: for Vintage Port and for Port Colheita. Vintage Port is always and only a Ruby Port produced only in vintages declared exceptional by the Vinho do Porto institute. So we are talking about a fortified red wine that first ages in large barrels for 2 years, then matures in bottles for at least 10 years (although the best are appreciated after at least 30 years and even up to 100 years). In a decade, on average, only 2 or 3 vintages are declared Vintage. Since it is unaccustomed to contact with oxygen, once opened it must absolutely be consumed within 3-4 days, but the older ones change to the negative already after a few hours. Colheita Port can be White or Tawny. Colheita literally means 'harvest' and this type is also produced in the best vintages, but at the discretion of the individual wineries. Both its White and Tawny versions age in small casks for many years, from 7 to 50, then it is ready to drink. Once uncorked, being accustomed to contact with oxygen, it keeps intact for several weeks.
port wine/3
The Vintage Late Bottle Port is the low-cost version of the Vintage Port. So it is a fortified red wine from a single vintage that is aged in large casks for a period of 4 to 6 years and can do a very short bottle ageing, although it tends to be ready to drink. Like Vintage Port, once opened, it must be consumed within a very few days. There is also a 'Crusted' variant, i.e. 'unfiltered' and rich in sediment at the bottom, although this style is now 'obsolete' for LBVs (I did however drink an interesting one from Quinta de Noval). Today, Crusted Ports are mostly Ruby Ports made from blends of several vintages, unfiltered. Again, once uncorked it should be consumed quickly.
You can now buy my book Sommelier: the illustrated manual or scroll down the page to continue reading the article.
Book 'Sommelier: the Illustrated Manual' Special Edition 2022
All my notes on wine and food in one book.
Port wine/4
Port wine is not produced in Porto, but along the Douro riverin an area that is also several hours away from the city. In Porto, or rather in Vila Nova de Gaia, Port only ages. Depending on the area of the Douro where it is produced, it can have a superior (upper Douro) or inferior (lower Douro) quality. To understand Port, we have to imagine a very different oenological fabric from that of Italy: along the Douro there are Quinte (i.e. wine cellars) that produce the wines to be given to one or more Port cellars, which then age and refine the wine, creating a final product that reflects their style. In this logic, Port from a single Quinta is to be considered of lower quality than Port wine produced from a blend of several wineries. First of all because if you looked for the only winery, the vintage was probably not that special, even though it is often justified by saying that there was an exceptional harvest on that estate! But if the vintage was exceptional for real, a Vintage would have been produced, with grapes from different estates...
Port wine/5
Aged Ports can be White or Tawny. Once out of their small cask, these Ports are ready to drinkSo it is useless to keep them in the cellar hoping for some improvement: if you have bought a sòla, it will be a sòla even in 10 years, rest assured! I've heard rumours from Colheita that the longer you leave them in the bottle the more they improve, it's completely false! There is just a big confusion with Vintage Port, that's all! The Colheita follows the same fate as the Aged Port because, although it is made from a single vintage wine as with Vintage Port, the vinification process is the same as for Aged Portand that is what counts. In addition, the corks of Colheita and Aged are almost always designed to limit oxygen exchange as much as possible. In practice, between a Colheita 1980 and a 40 years old the difference is that the Colheita is only produced with wines from the 1980 vintage while the 40 years old is produced with a blend of wines of which only a part is at least 40 years old while the other part, at the producer's discretion, can use even older or younger wines.
Port wine/6
If I ever hear a sommelier, a lecturer on any course, a journalist, a wine blogger, a cat or a fox tell me that White Port is a young summer aperitif wine, I swear I will beat him up. I swear, damn it! But keeping quiet makes you look better? I don't start talking about football if I don't know how to play! In an article on Port I happened to read that White Ports are 'Very cheap and easily available, they border on the lowest rung of the hierarchy, if you want to call it that.' But damn it, did you know that the oldest wine currently on the market from Kopke is a 1925 White Port Colheita? I am a great admirer of Aged White Port and a hair falls off my head every time I hear bullshit of this magnitude... actually White Port can be likened, in production and types offered, to Tawny Port... the main difference being that they are fortified wines made from white grapes and not red! End of the fair!
When I read a thousand and one pieces of crap on the web, I get nervous and want to write and rebel against ignorance. So I have been hatching the urge to write this article for a while now... even though in reality The idea of doing a white port wine tasting is not mine, it was given to me by a dear journalist friend, Marco Antonucci, whom I will soon thank personally. While I was in Porto it was his birthday and he suggested I toast in his honour with the White Port that I liked best... well I wish him another 100 years full of success and passion with his wonderful head.
And now to these splendid White Port wines, which, fortunately, are not simple, cheap little wines that are good enough for a semi-dark aperitif as I have often read in wine blogs and wine magazines written by wafflers in various capacities.
 In their defence, I say that in Port, with White Port Secco (which is not so dry because it has more than 40 g/l residual sugar anyway) there are numerous cocktails, starting with the most famous, the Porto Tonic, prepared with Port Wine, Soda and a slice of lemon.
You can now subscribe to my newsletter or scroll down the page to continue reading the article!
Port wine: 6 white port tastings by dalva wines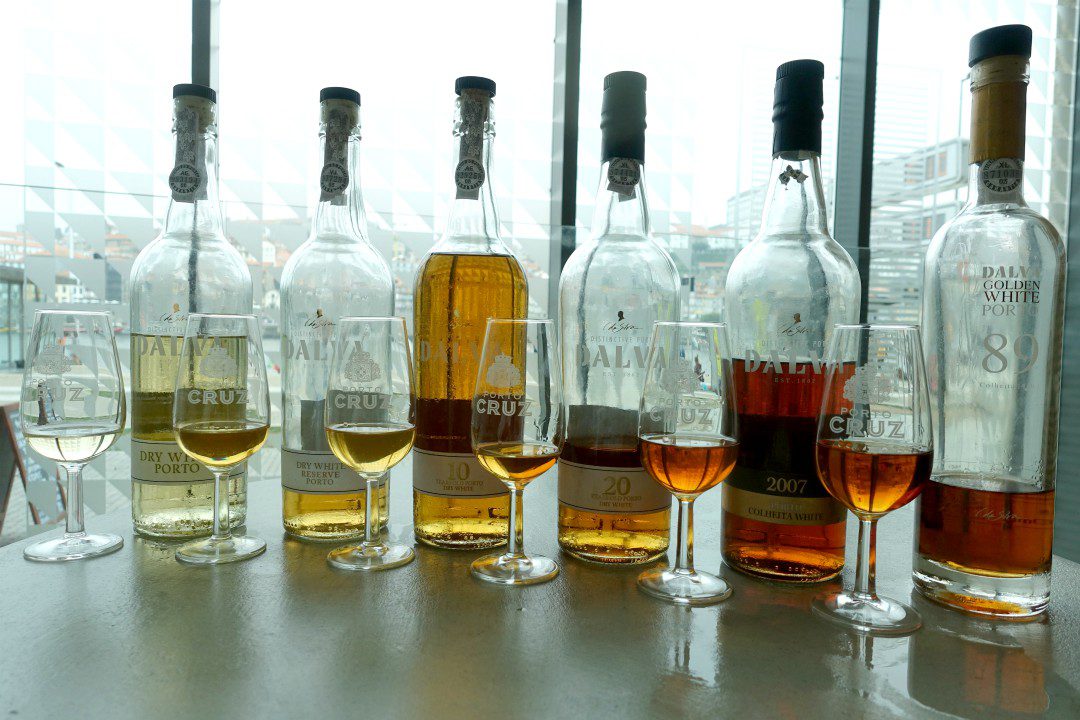 Port wine/tasting 1
"Dry White Port by Dalva Wines - €9.5
It is a beautiful, bright and consistent straw yellow. The nose is fine and elegant, with pleasant notes of white chocolate, vanilla and lemon, with a final trail of aromatic herbs, especially marjoram. In the mouth it has a very pleasant drinkability, the sugar is felt without being annoying. One sip leads to another! Very enveloping on the palate, it is well balanced between softness and acidity. Long and savoury on the finish. Absolutely one of the two best White Ports I have drunk in recent days!
Port wine/tasting 2
"Dry White Port reserve by Dalva Wines - 13 €.
It has a beautiful bright golden yellow colour with antique gold tones. The nose is elegant and complex with notes of fig and apricot, roasted nuts and hazelnuts and brown sugar. In the mouth it is soft, well-balanced, very fresh, consistent and the same pleasant toasted notes can be felt. Rather long soft finish. One of the best White Port Reserves tasted during this Portuguese sojourn, although I would recommend choosing the 10 Years Old because it really has an extra edge while remaining true to it... and with very little difference in price!
Port wine/tasting 3
"White Port 10 years old by Dalva Wines' - 20 €.
It has a beautiful intense and brilliant golden yellow colour with amber hues. The nose is complex, elegant and fine. Notes of caramelised fig, apricot, candied tangerine fade into delicious balsamic notes. In the mouth it is well-balanced and very fresh, coherent, with plenty of toasted notes. Long finish of candied mandarin. Great White Port, also excellent value for money. Closer to the White Port Reserve than the 10 Years Old. Perfect served chilled with goat's cheese or blue-veined.
Port wine/tasting 4
"White Port 20 years old by Dalva Wines - 45€
It has a beautiful bright light amber colour. The nose is completely different from its predecessors. Notes of almond brittle, honey, rhubarb, cream ice cream, raw butter, bourbon vanilla and tobacco intertwine. In the mouth, it is elegant and intense, very fresh, very long on the finish and with a particular intertwining of medicinal herbs and summer honey that lingers on the palate. Closer to the White Port Colheita 1989 than to the Colheita 2007, it is excellent value for money.
Port wine/tasting 5
"White Port Colheita 2007 by Dalva Wines' - €30
It has a beautiful, intense and brilliant dark amber colour. The nose is very elegant and complex, with well-defined resinous and balsamic notes. You can recognise 100% chocolate, coriander, sandalwood and apricot jam that fade into a smoky finish. In the mouth it is very well balanced between freshness and smoothness. When a few minutes pass on the nose, pleasant notes of toasted dried fruit appear. The sugar can be felt, but it is neither intrusive nor cloying. In the mouth it is very fresh and intense, very consistent and with a long, nutty finish. For me, of the whole battery, it is absolutely the White Port of Dalva to buy without a moment's thought. The Colheita 1989 is fantastic, but in my opinion this 2007 is much better! I think that if they left some 2007s in small barrels to age and bottle them in 20 years' time, they will give us unique emotions! 
Port Wine/Tasting 6
"White Port Colheita 1989 by Dalva Wines - 130€
It is a fairly dark and consistent amber yellow. The nose is elegant and intense, with very roasted and smoky notes. Apricot is present in its syrupy form, but is actually very delicate. Instead, the spicy notes of white pepper are more intense. Delicious and definite is the scent of dried fruit, especially almonds and hazelnuts. All these scents are enveloped by a very pleasant note of chestnut honey that fades into a hint of smokiness. As it opens, it is a riot of dried fruit. In the mouth it is soft, very fresh, consistent. The alcohol is more noticeable than in the 2017 vintage.
Thanks to the wonderful Filipa De Castro for the excellent explanation and the wonderful tasting. Thanks to the Boss of Dalva Wines and Espaco Porto Cruz for their hospitality.
See u son, my delicious Portugal!
Chiara 
If you like Port wine, I also recommend reading: