Every day Instagram shows me photos of girls weighing a thousand and one kilos who in the space of a year have put together a physique worthy of a super model thanks to the ketogenic diet. Perfect, I decided to do it too. Basically, I can only photograph the carbs to post pictures and make you drool, while I don't even have to smell them, otherwise I'll gain all the weight I lost within a week. Here, I wanted to tell you that I Chef Franco Aliberti's michetta I photographed it. It was my imaginary friend who ate it instead. He was sitting next to me, I swear! Ah, no... that was the cellar boss. Whatever... 😆 Monday night I went to the presentation of theAmarone della Valpolicella di Garbole at Tre Cristi Restaurant, Milan. In my defence I say that I had asked for the menu beforehand, but was told it was a surprise. I was absolutely sure it was ketogenically perfect, darn it! 😆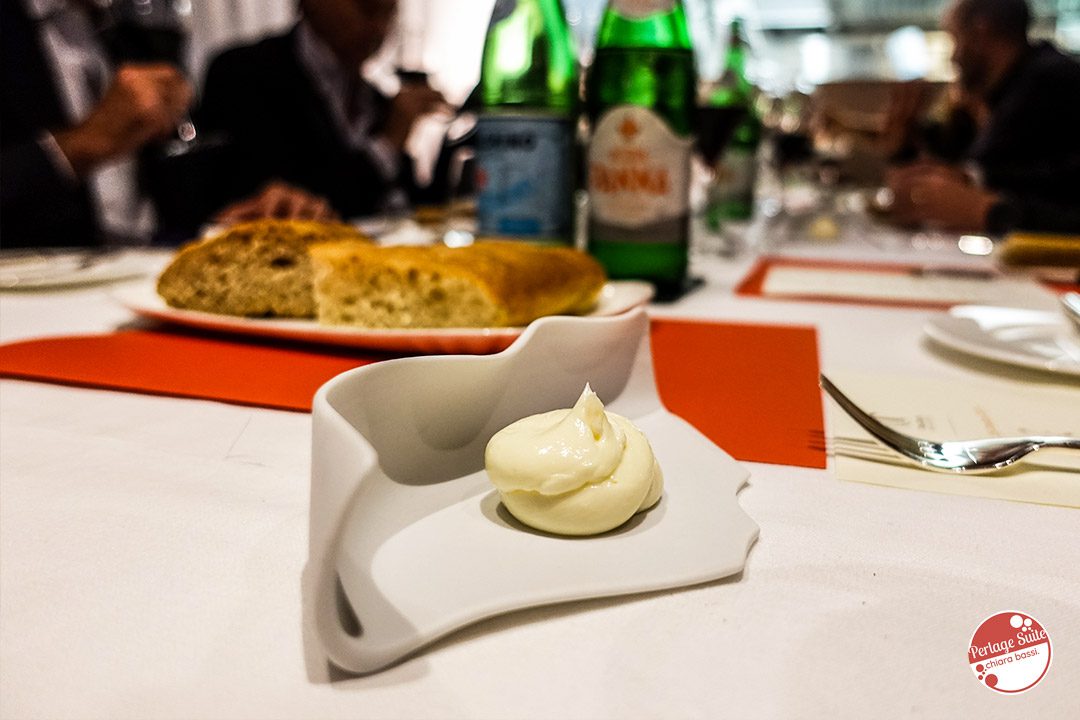 One thing I really appreciate is when they bring me a good, lightly salted butter in combination with fresh, homemade bread. I find bread to be a huge discriminator between a quality restaurant and the place that will never grow. If you bring me bread that sucks, maybe dry and that you bought at the bakery the day before (this often happens especially on Sundays) for me you can close tomorrow, even if you cook divinely! I find that bread reveals care for the customer and culture. Even better if it is accompanied by a good butter -maybe flavoured with herbs- to beguile the wait.
The chef's welcome was spectacular: he created a mousse from the less noble parts of the porcino and reassembled it in the shape of a mushroom with a film created by processing the cooking water... delicious!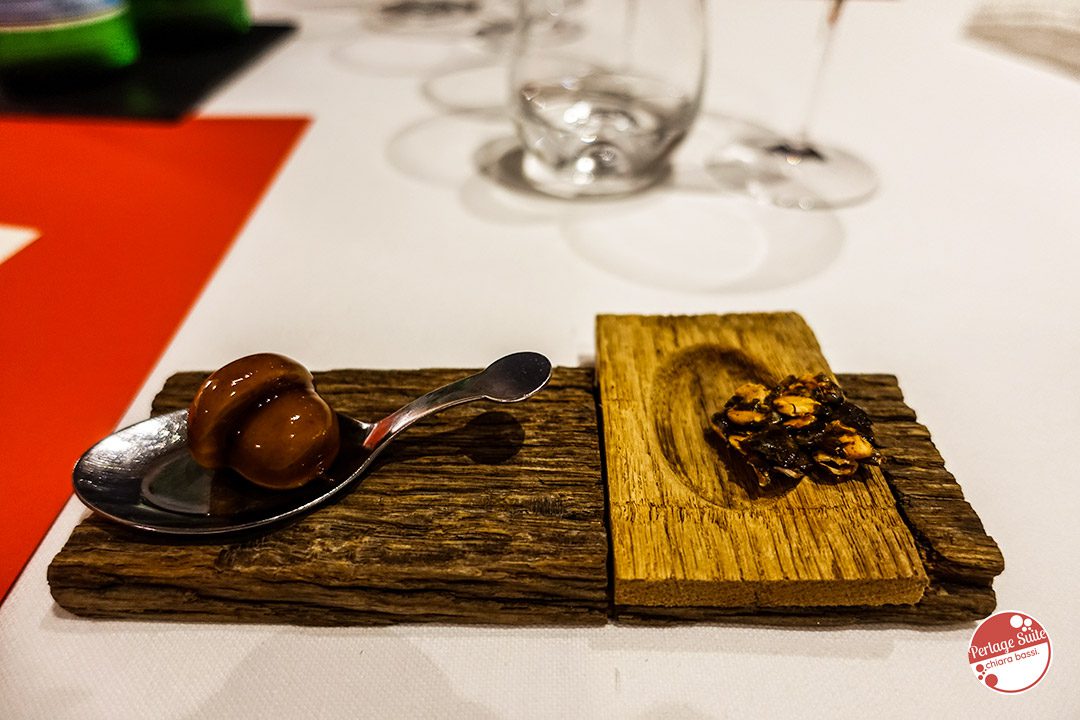 Not only Amarone della Valpolicella: starting with 'Heletto' IGP Veneto Rosso
La Michetta - Tripe stew with Heletto 2012 
I personally love stewed tripe and even cook it quite often, especially in winter. Despite its unpromising name, it is lean, rich in high biological value proteins and low in carbohydrates. The only caveat is the cooking: if it becomes rubbery in my opinion it is horrible! The one Franco Aliberti prepared for us I found perfect in both flavour and texture!
In combination with Heletto, a classic red wine from Valpolicella that comes from drying the grapes, mostly corvina, for about a month. Low yields and a long maturation period of 6 years in new American oak barrels give it very marked wood aromas. Elegant and structured, a very pleasant alternative for a public that appreciates Bordeaux wines.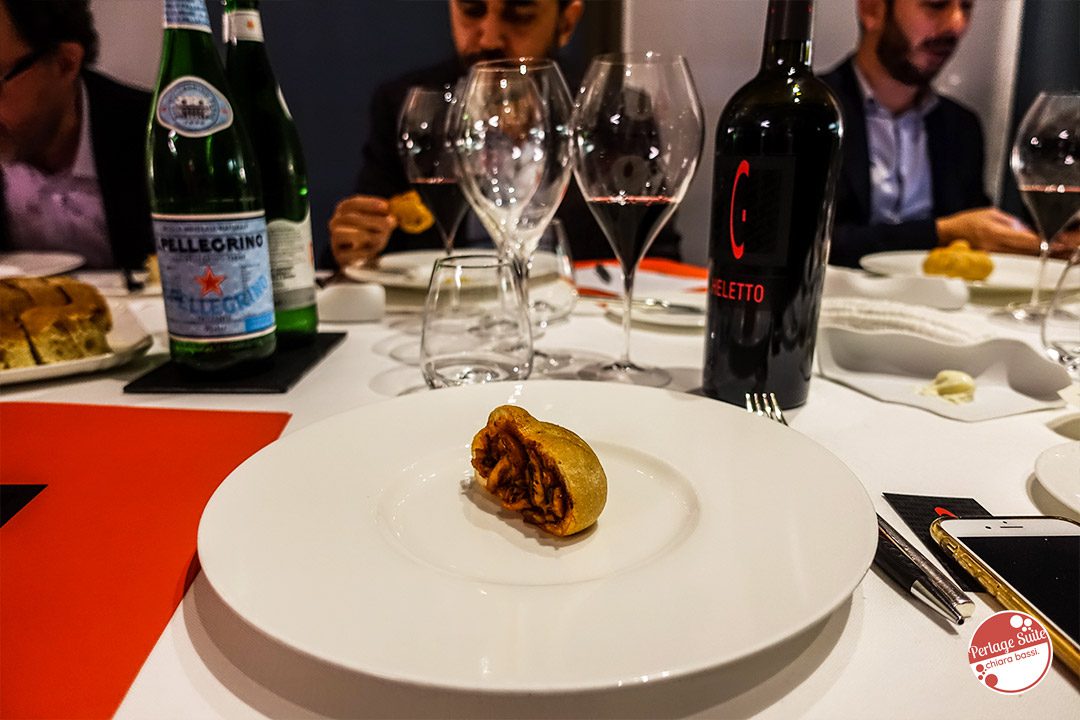 Amarone della Valpolicella Riserva: 'Hatteso'
Pacchero fresco - Beef tail ragout and almonds in combination with Hatteso 2011
Here, I have a limitation at restaurants: I don't like to eat dry pasta. Perhaps more than a limitation, it is a demand, born from the fact that my gourmet lifestyle is all-round and at home, when I eat dry pasta (more often than not I prepare it fresh at home), I only choose the best: linguine and paccheri Afeltra, scialatielli and bucatini Pastificio Gentile, spaghettoni Valentino Monograno Felicetti... I am still suffering for having made a mistake and having bought a spaghetto Matt by Monograno Felicetti that I did not like at all! This is to say that at the restaurant I would like to feel the skill of the chef who prepares delicious fresh pasta for me because I already cook the dry pasta at home quite well by myself. The beef tail ragout was the best ragout of my life, I found it divine in flavour and almost 'frayed' texture as if it was prepared from a piece braised for hours before becoming ragù. But pacchero no, no. If you go to an azdora and tell her to cook durum wheat pasta (assuming she knows what it is) with meat sauce, she'll tell you that it's for Germans... (no offence to the many Germans who read me... a big hug to everyone!) But I have already seen this thing of durum wheat pasta with meat sauce in other restaurants (all outside Emilia-Romagna) so I think it stems from a cultural and traditional approach. The idea of putting a piece of bread on top is nice, as it gives us a clear authorisation to scarpetta!
Paired with Hatteso 2011, an Amarone della Valpolicella DOCG Riserva that I found wonderful. It starts with a painstaking selection of corvina and corvinone grapes that are dried for more than 3 months. It matures in wood for a period of at least 72 months and is refined in the bottle for at least a year. The wood tone is less noticeable than in Heletto. It has a beautiful, impenetrable ruby red colour. The nose is crazy: intense, elegant and complex, it reveals notes of ink, black cherries in syrup and in spirit, cocoa and cocoa butter, Jamaican pepper and cinnamon. In the mouth it is soft, very fresh, savoury, structured and with a long finish reminiscent of white chocolate with bourbon vanilla.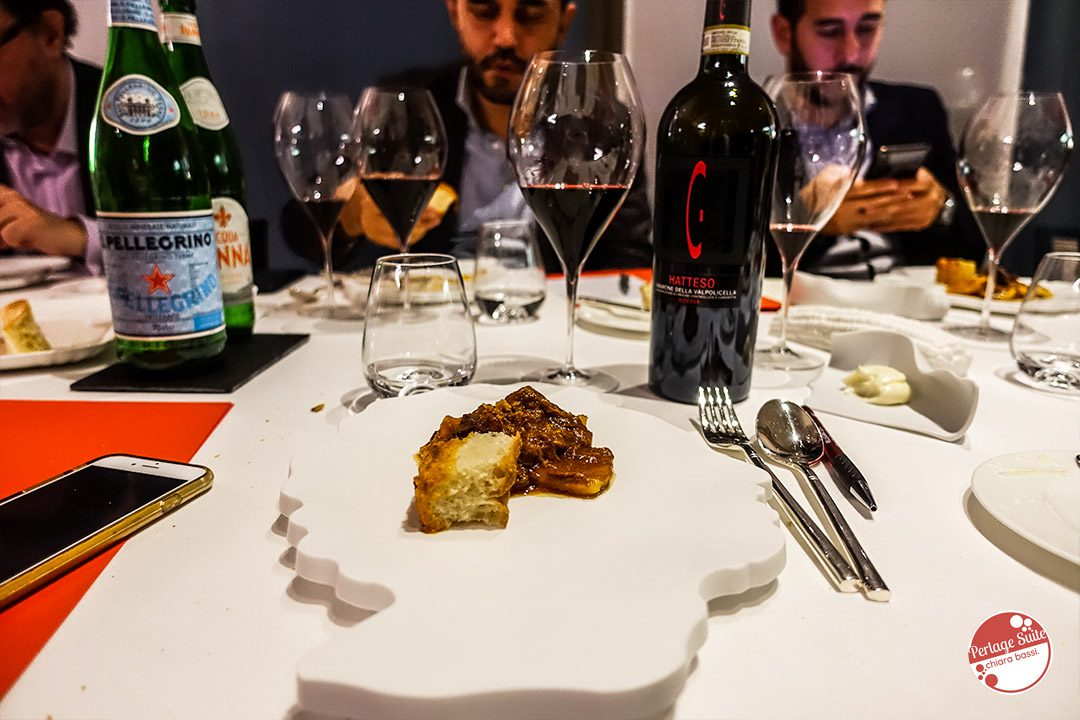 Not Only Amarone della Valpolicella is a Hurlo wine
Biancostato alla brace - chard, caramelised onion, pan brioche in combination with Hurlo 2011
What an appealing idea to demonstrate that a boiled cut can become a tasty filling for a pan brioche sandwich! Franco Aliberti did it to perfection: it was delicious! Certainly this dish once again demonstrated his technique in cooking meat and defining flavours, and the result was excellent. The meat is the protagonist, the butter of the pan brioche is very present, and the chard and onion provide a barely noticeable background.
Paired with Hurlo 2011, an Amarone della Valpolicella that by choice is not called Amarone but is also classified as IGT Veneto Rosso. Although it has the same alcohol content as Hatteso, here the alcohol is felt much less. The aromas are more fruity and the timbre of the wood less marked. It has a very distinctive nose, less toasty than Amarone, where fresh black cherries and liquorice dance pleasantly. In the mouth, it is powerful, but with an ease of drinking that is surprising, given also by a great balance between softness and freshness. As Gabriele said, it is a wine that, if you want to make a good impression on yourself, you have to open a day early.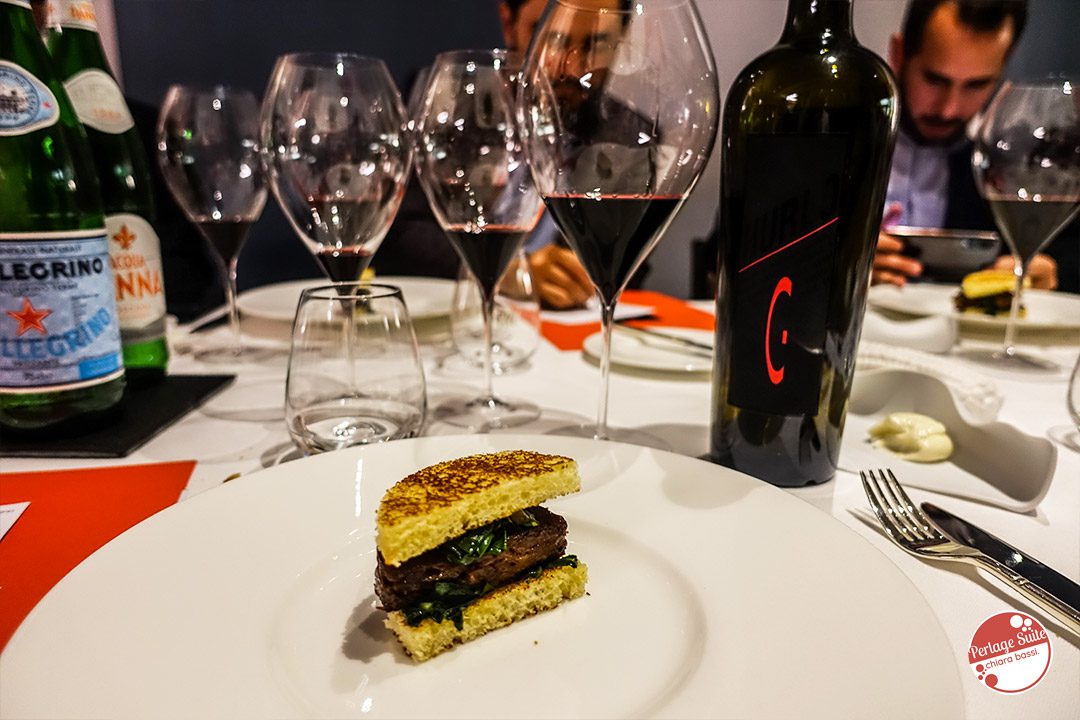 And the father of Amarone della Valpolicella? It has a 'Hestremo' character
Crescenza mousse, fig compote, pear meringue in combination with Hestremo 2011
When I saw this cake, it reminded me of a very similar cake that chef baked for me Gian Piero Vivalda (**Michelin) and I loved it! You think it was months ago and I still remember it! I must say that I was very relieved: when I read 'crescenza' before even thinking of cheese, I thought of a kind of salad! Perhaps an assonance with 'crescione', which for us in Romagna is just the stuffed piadina and at most we put vegetables inside it. A very good dessert, the mousse was not too sweet and inside there was a fragrant bisquit that tasted of figs. I don't like figs, I can barely tolerate them caramelised in ricotta ice cream. But it was all so balanced and well dosed that I ended up liking all these flavours.
Paired with Recioto della Valpolicella DOCG Hestremo, which I found spectacular. There have also been rumours of a few magnums and I look forward to seeing that promise fulfilled! This wine is produced from a very long dehydration of the grapes that lasts almost 5 months with subsequent maturation of 5/6 years in barrels and bottle ageing of at least one year. Great consistency, impenetrable ruby colour with some garnet hues at the edges and a sugary but not cloying being. Like all Garbole wines, it has an almost infinite ageing potential. 😍
PS Thank you Franco for giving me the opportunity, with your exquisite chocolate, to prove that even a woman can park a bus... or a tractor! 😜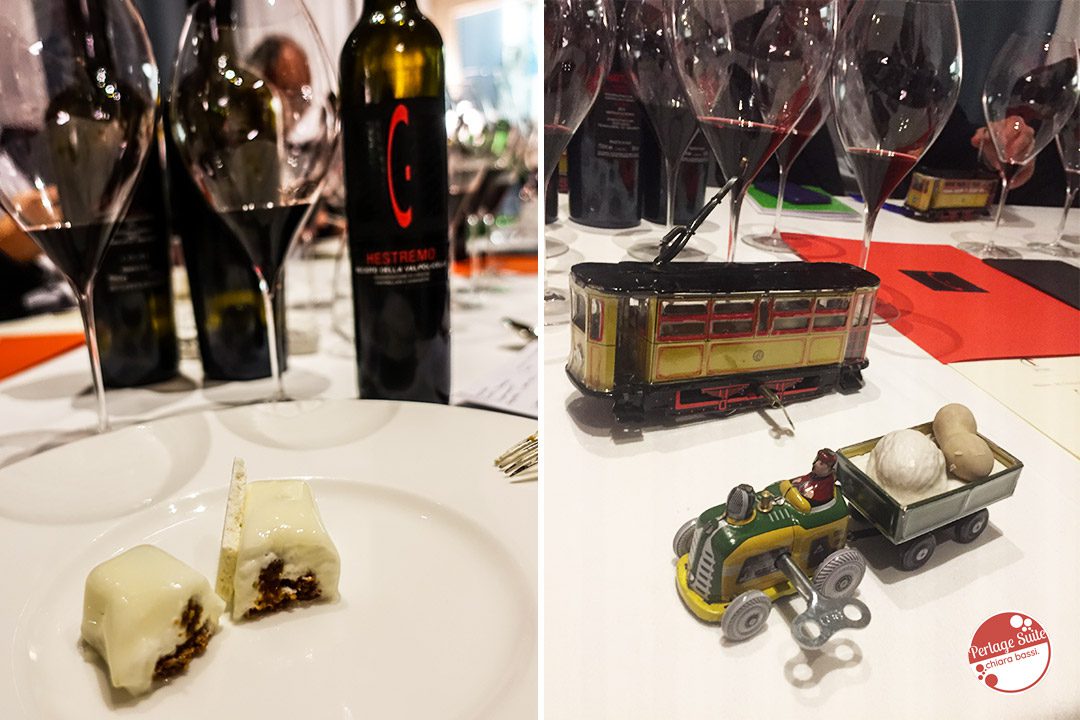 My idea of the garbole cellar...
Garbole is not a winery for everyone, and perhaps that is also why it is so special. I am sure that some connoisseurs find the use of wood excessive. Personally, on the other hand, I found it very well dosed, but nevertheless its use is the signature of the winery. I tasted a lot of French culture in these wines and little desire to compare with their Italian colleagues. No matter, the result is surprising! When you manage to create wines that are so tough and at the same time pleasant and relatively easy-drinking, you've hit the jackpot for me! 😍
Just 20 hectares of vines cultivated between 300 and 450 metres above sea level and an annual production of 25,000 bottles divided between the 4 labels we tasted at this dinner. Since 1994 Ettore and Filippo Finetto produce great red wines in the Valle d'Illasi, the 'Cru' of Valpolicella.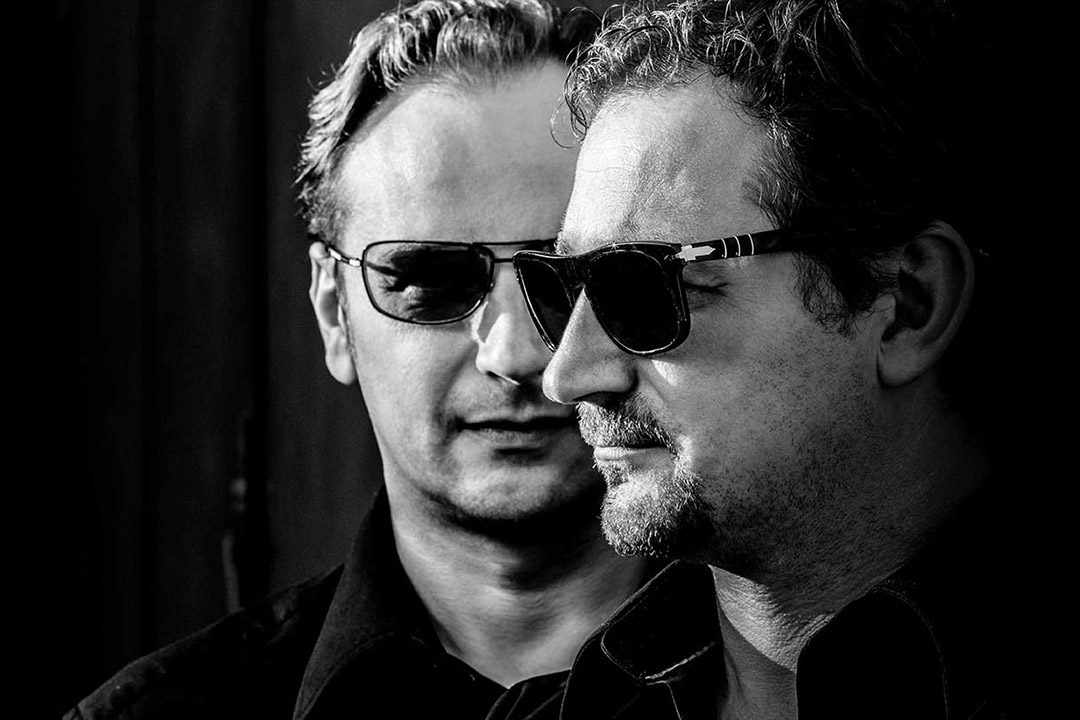 ... and the one I made of Franco Aliberti's kitchen!
The precise taste of tradition. This is the expression that, in my opinion, sums up the cuisine of this young and talented chef. In an era where flavours, textures, cultures and ingredients are mixed with the sole aim of surprising - or overdoing it, depending on one's point of view -, what is truly astonishing is his desire to give us traditional flavours made exceptional by technology. Because let's face it... I am young, but also a bit old and I appreciate this type of cuisine a thousand times more than certain starred extremists!
To paraphrase, it is as if you had to choose between the sculpted and shaved fanta model or the cultured and gallant man who still uses courting.
Which one do you think is more likely to give me Criollo chocolate from Domori? Here. 😜
Cheers 🍷
Chiara
PS As always I thank Sony Italy e Photo Universe for that beautiful little jewel of mine RX100M4 which always makes me take great photos in all light conditions... and which you can buy at a super discount at Amazon by clicking HERE.
P.P.S. it was a real pleasure to personally meet my colleague Raffaele Cumani which I recommend you follow in its Avvinando blog - TGcom24.
Book 'Sommelier: the Illustrated Manual' Special Edition 2022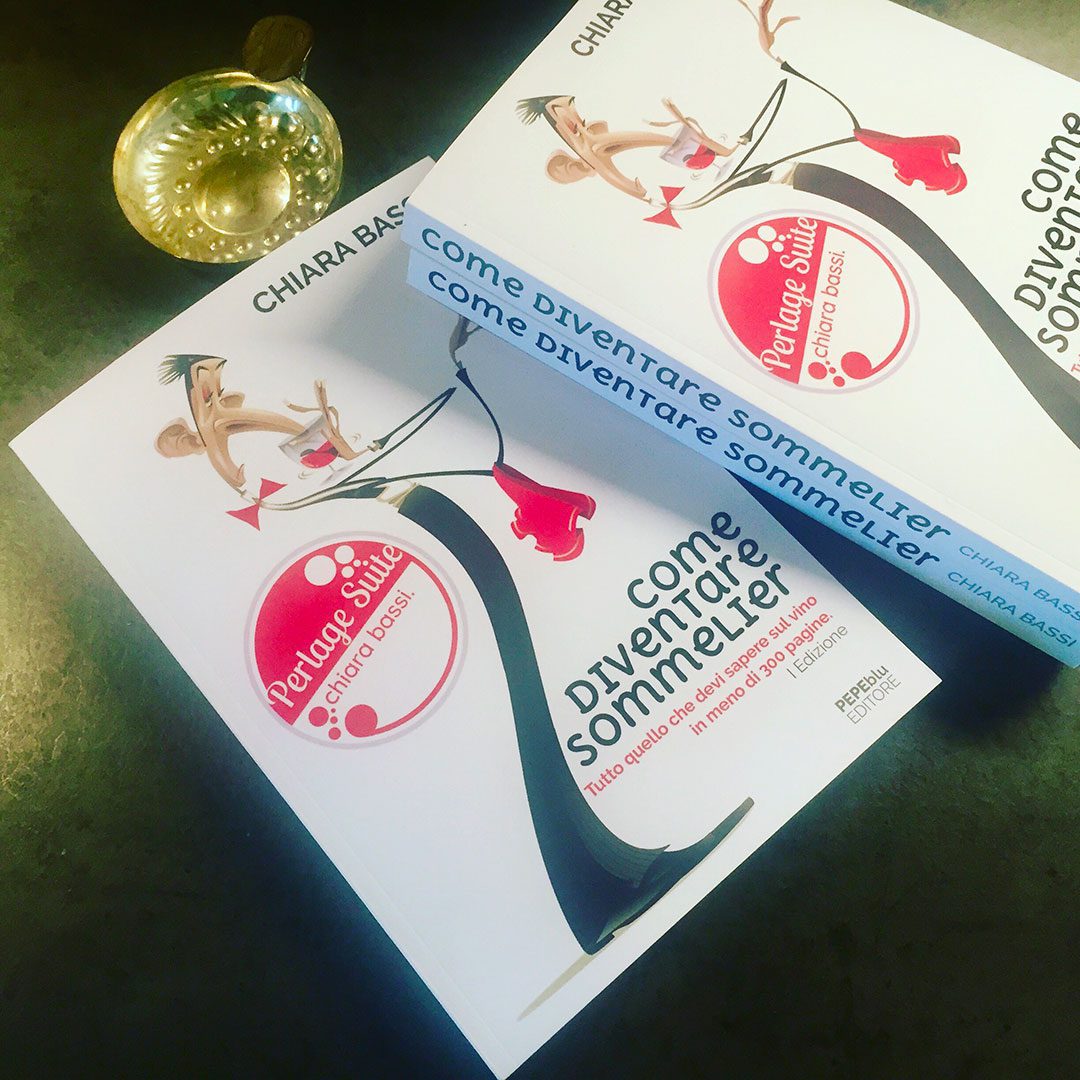 All my notes on wine and food in one book. The handbook is designed for all aspiring sommeliers, but is also very useful for 'already sommeliers' who want to brush up, for winelovers who want to start putting their passion on a firm footing, and for professionals who want to earn more money by learning both how to manage their restaurant cellar and how to sell the right bottle to their customers.
Special Edition: 8 June 2022 - format 15 x 21 cm, 592 black and white pages printed on Crush Uva paper, ISBN 978-88-943070-3-0 [2nd Reprint April 2023].