I don't think I have ever been so behind on my beloved wine blog articles... but I had to bring home a 29 in Economics and Management for Gastronomy... so I am forgiven! However, I have continued to write down my best tastings and this week my favourite was the Grapariol Colfondo di Terre Grosse. They sent me a trilogy of Raboso vinified in different ways that I really enjoyed! So let's immerse ourselves together in this little-known grape variety that I am sure you will fall in love with!
Let's start with the word 'Grapariol': is it a wine or a grape variety? Grapariol is a grape variety that is also called white rabosina (and often confused with white rabosa) and is only cultivated in certain provinces of the Veneto region. In particular, it is suitable and recommended for cultivation in Verona, Vicenza, Padua, Venice, Treviso and Rovigo. Grapariol can be used to produce some IGT wines, in particular Alto Livenza IGT, Conselvano IGT, Marca Trevigiana IGT, Veneto IGT, Verona IGT, Colli Trevigiani IGT, Trevenezie IGT, Vallagarina IGT and Veneto Orientale IGT. Although part of a phenomenon that suffers from the oscillations of fashion, the recovery of indigenous grape varieties in my opinion is a precious fact that should be protected and encouraged. I recently studied a wonderful subject, Ecology and Sustainability, where Prof. Andrea Sonnino particularly 'insisted' on the 1992 Rio de Janeiro Convention. Beyond any possible chatter that can be made about fashions, the objective fact is that preserving biodiversity is fundamental because an ampeleographic heritage such as ours cannot and must not be lost. Moreover, intraspecific genetic variability can fix qualitative characteristics and characterise typicality to the point that wine is recognised and affirmed on the national and international market.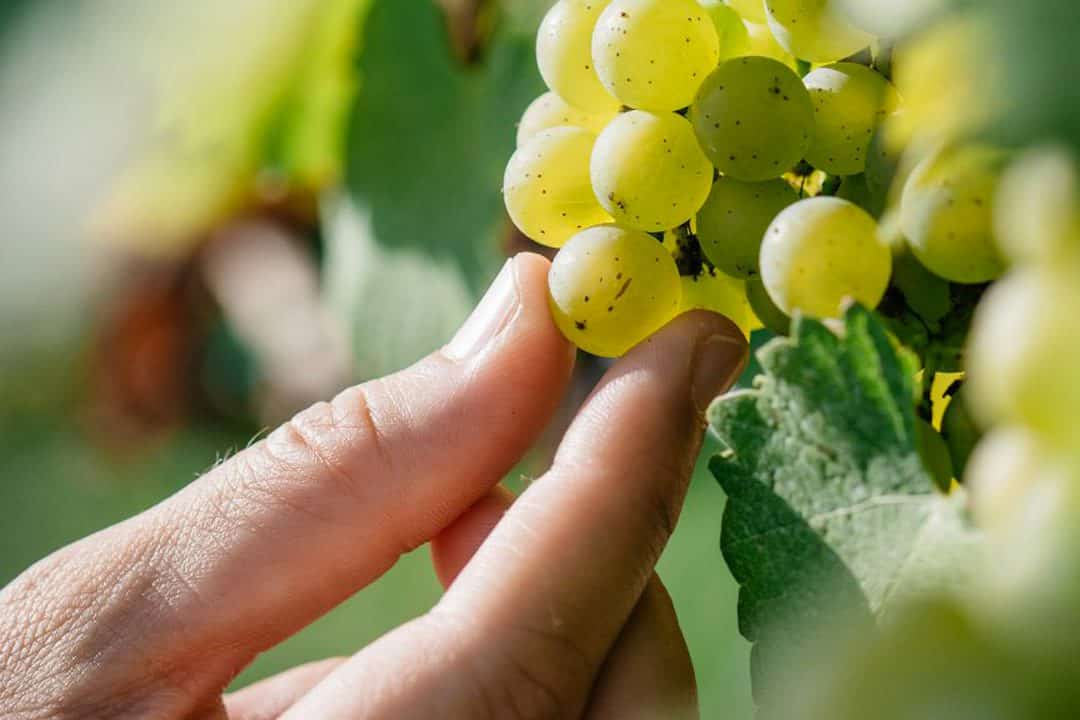 The white rabosina was already known in the Treviso ampeleography in 1870, in particular in the municipality of Oderzo, although the first historical mention of this vine dates back to the 1600s. The leaf of this vine is medium-sized, roundish or pentagonal, pentalobed, glabrous and medium green in colour. The petiolar sinus, apparently closed, is V-shaped. The berry, golden yellow in colour, is medium, round, uniform in size and has a thick skin. The juice has a sweet, non-aromatic taste. The grapes are harvested quite late and this allows them to develop a good sugar content.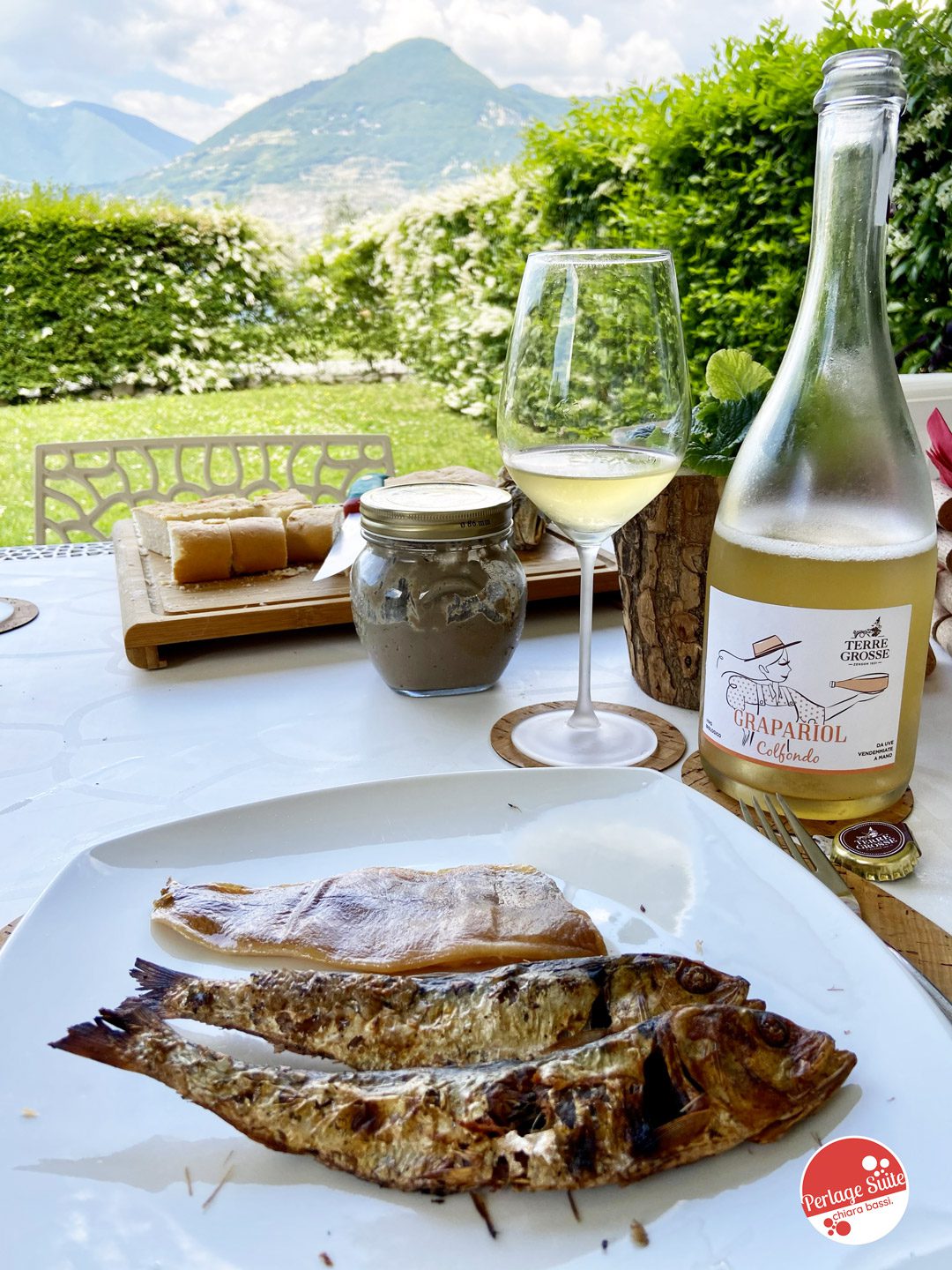 The wine made from grapariol vinified in white is quite colourful, with a vegetal, floral and fruity nose. In the mouth, it is slightly acidulous, rather salty and with distinct hints of unripe apple. The wine made from grapariol vinified with marc maceration is very fragrant, with notes of yellow flowers, ripe fruit, melon and citrus fruits. In the mouth it is consistent, aromatic, savoury and very fresh.
Grapariol Colfondo IGT Veneto 2019, Terre Grosse
It is a beautiful veiled straw yellow, making it impossible to assess the perlage. On pouring, the mousse is abundant, creamy and persistent. The nose is incredible, with citrine notes of yellow peach, apricot, caramelised figs. In the mouth it is consistent, crisp, fresh, very drinkable, quite savoury and very pleasant. Truly one goblet leads to another!
The back label reads:
An ancient grape variety and a traditional vinification method. In this bottle, Grapariol expresses all its strength with a characteristic acidity supported by a fine and delicate bubble, softened by the yeast base that gives structure, harmony and longevity. A wine with a low sulphite content that can be drunk clear to appreciate all its freshness, or veiled to grasp its complexity.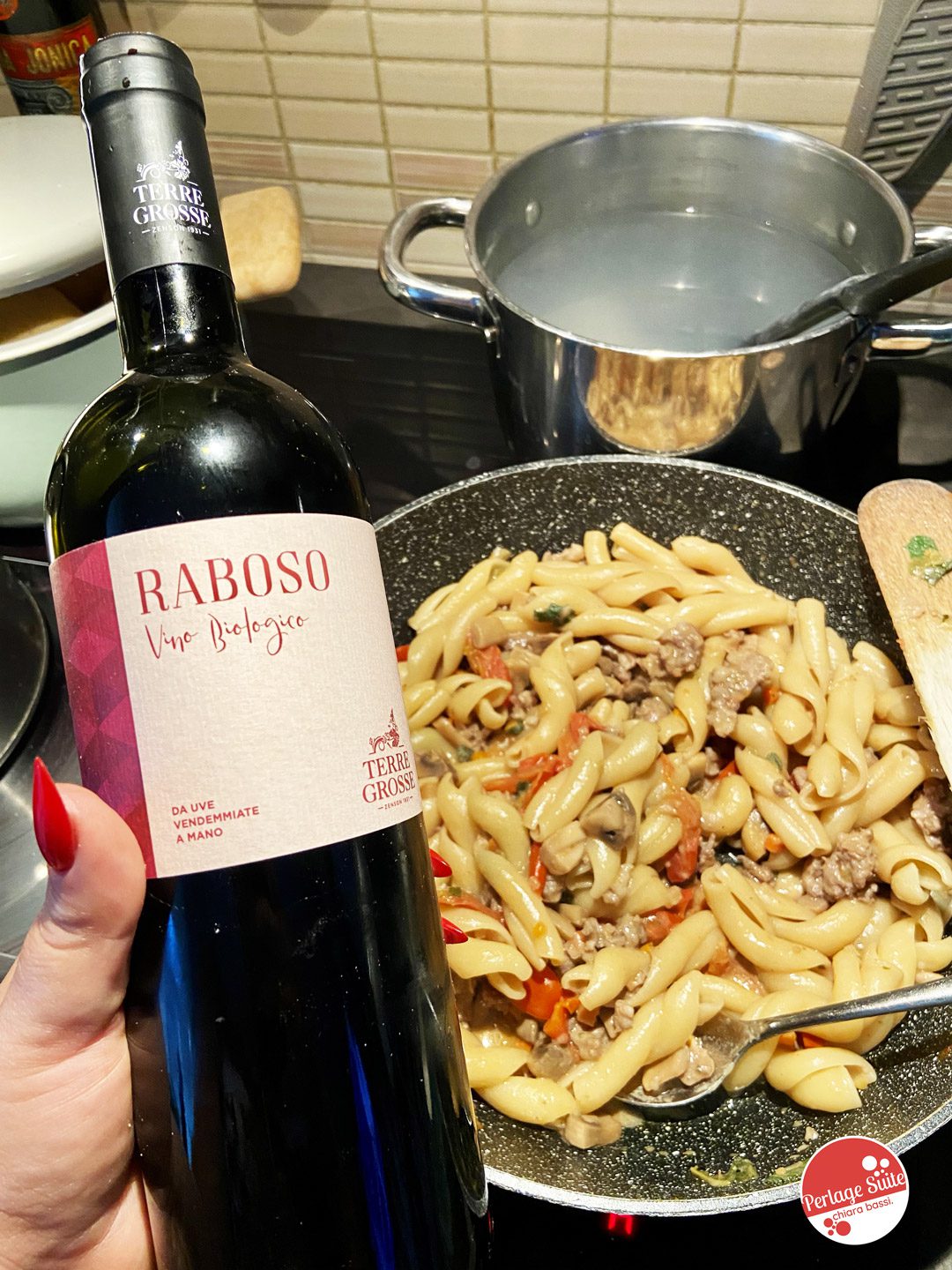 Another wine from the winery that I really enjoyed is ...
Raboso IGT Veneto 2018, Terre Grosse: tasting notes
It comes from old vineyards dating back to the 1960s that are rooted in a soil rich in clay. It is a beautiful, bright, impenetrable ruby red with violet highlights at the edges. The nose is distinctive and very pleasant, very fruity, with notes of morello cherry and strawberry that fade into Jamaican pepper (a black pepper with a slight hint of clove). In the mouth, it is just as you would expect: soft, round, acidulous and with well-presented tannin. As you can see from the photo, I paired it beautifully with a sauce prepared with sausage, champignon mushrooms, cherry tomatoes and lots of sage. Delicious!
The history of Terre Grosse is an ancient one, which began in 1931 with grandfather Piero Toninato and continues today with his descendants. The vineyard is run organically and all the grapes are harvested by hand. However, it is a story that I will tell you after visiting this winery in person, because I can't wait to touch the grapariol, perhaps at harvest time.
Cheers
Chiara