Since I am always looking for inspiration for beautiful wine wedding or for a wine-themed weddingI decided to update one of the very first articles I wrote for this blog, which dates back to May 2015. Could something be brewing? For now, I am not making any statements! 🤐😇😁 Certainly the forced quarantine inspired me some DIY with corksbut I will show you those in future articles!
Marriage is the chemical experiment in which two harmless substances combine and explode."
If you are a wine enthusiast and you are trying to figure out how to organise your diVino wedding, I want to give you some ideas (some even really low cost) for organising a wine-themed wedding really special... with the vintage atmosphere of the Provence countryside, and attention to detail. And if you're not getting married... well, read this article all the way through anyway... there are some interesting ideas for your next wedding too... wine party! Wine weddings have been a must in California for years, but finally the wedding in the vineyard are starting to catch on in Italy too! Before we start, how about buying this beautiful Moleskine wedding planner? In the shops it is practically impossible to find... it is rarer than Max Mara's Whitney Bag!!! Here is the link to buy it on Amazon and take advantage of free shipping!
Wine Wedding: dedicated to guests
Wine-themed wedding invitations
The idea I like best is to make an arrangement with a trusted wine cellar and have the guests receive a bottle of wine with a personalised 'save the date' type label or with the addition of a perforated card to be attached with a ribbon to the neck of the bottle with all the details. However, I understand that if the number of guests is high it becomes a very costly affair as the cost can be between 15 and 20 € per bottle if you choose a good quality wine. What if we only do this for the most important guests?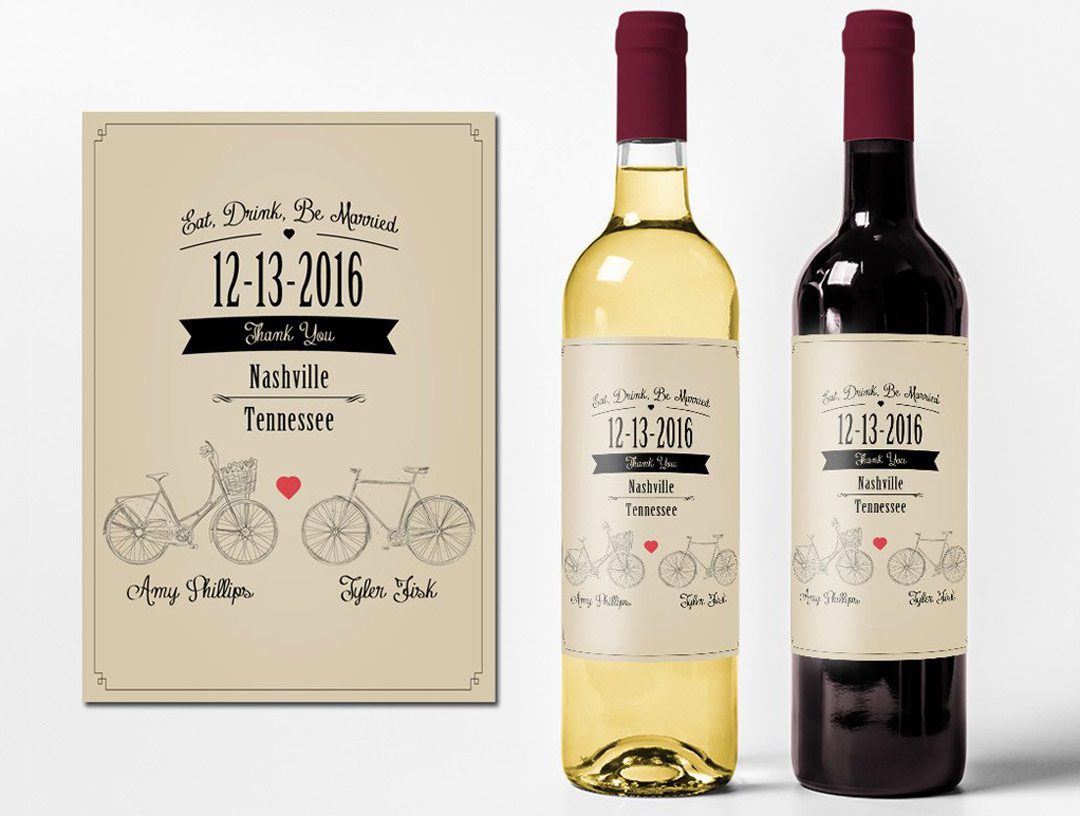 A successful marriage requires falling in love many times, always with the same person.
A much cheaper alternative that I love is to make an explosion box! The explosion box is a multi-layered 'magic box' that contains extraordinary collages! You can save money and make a DIY one or contact Pepilla to create a wine-themed one that represents you! Check out this sushi-themed one: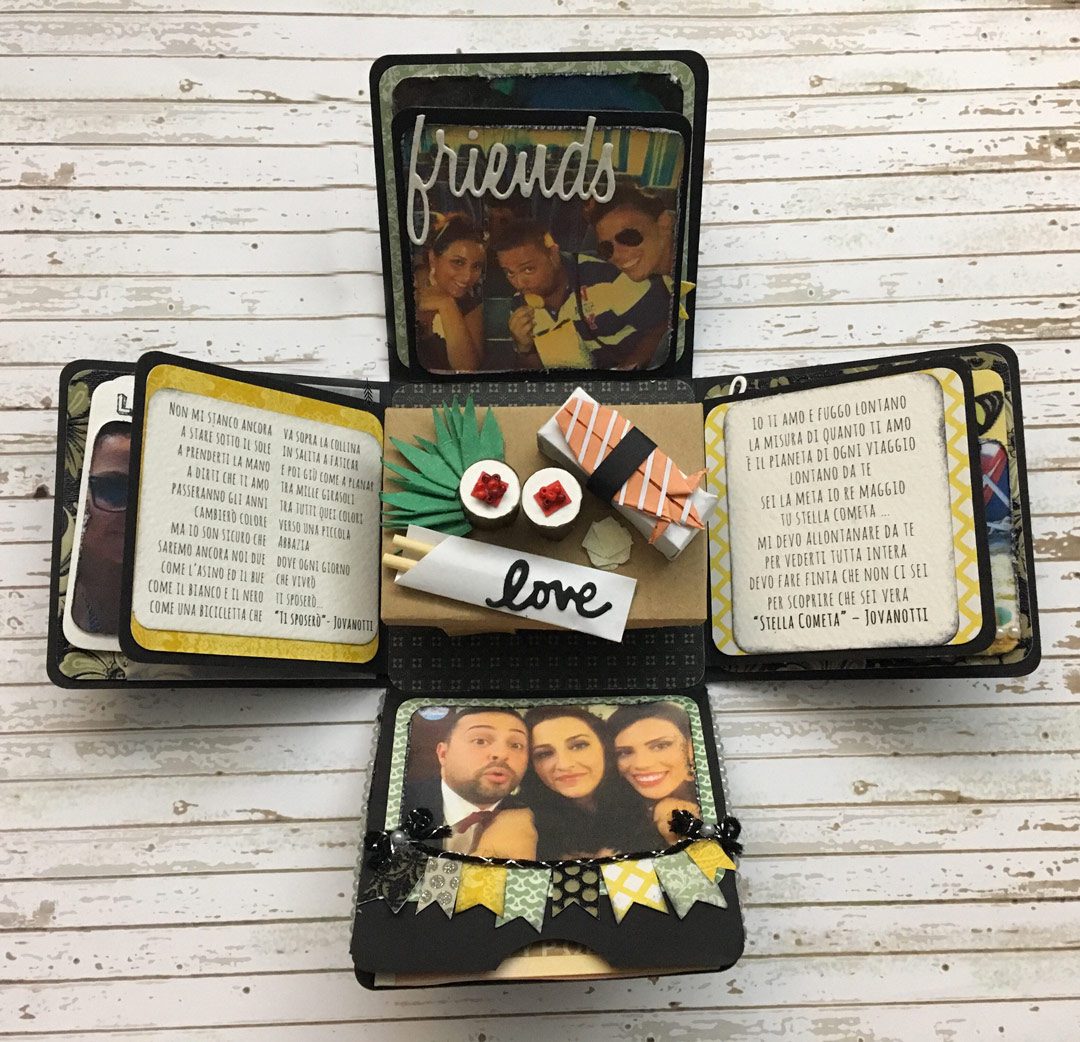 Finally, if you just don't want to give up paper, don't want to spend too much or go crazy, here's an alternative that is nevertheless nice and original! 😍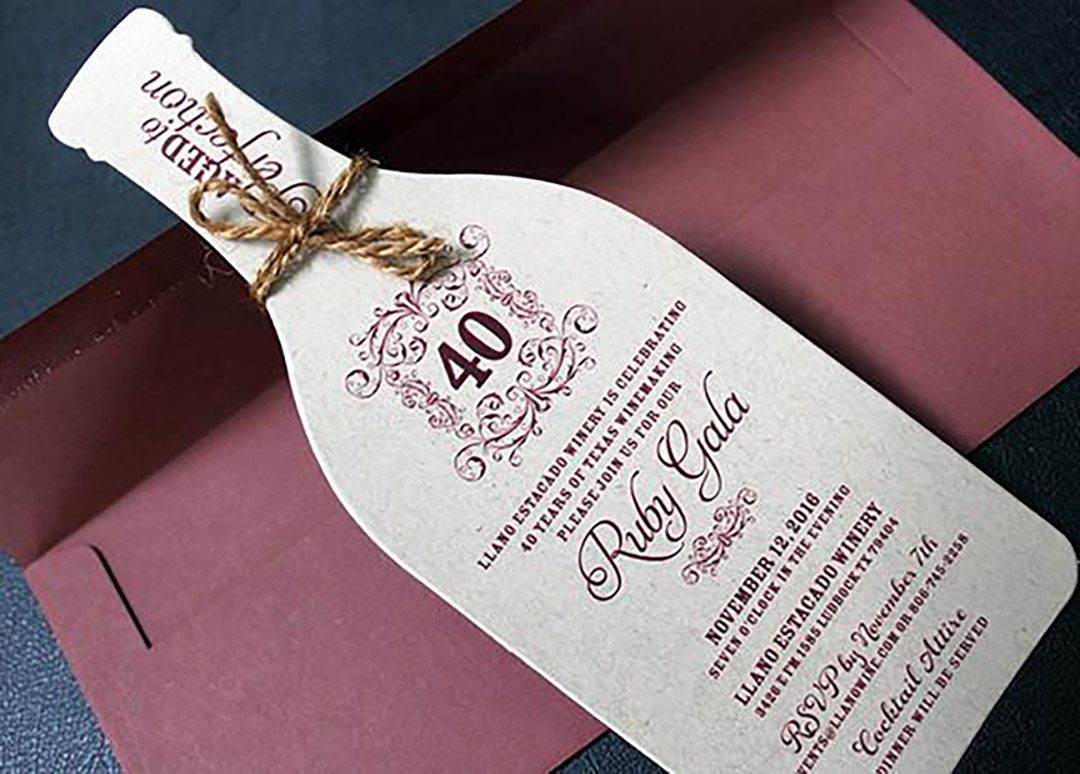 Wine-themed wedding favours
Of all the possibilities there are three ideas that I particularly like! First, I like the idea of choosing a good bottle, perhaps diversifying the purchase budget according to the type of guest:
Witnesses: 75-150 €
Relative - parent: 50 - 100 €
Kinsman - brother: 50 €
Relative - uncle: 10 €
Relative - cousin: 7-10 €
Friend - brother: 50 €
Friend: 7-10 €
Link: 5-7 €
Acquaintance: 5 € (do you really feel the need to invite him?)
If you have few guests I would not make such distinctions: a bottle of about 15 € per family for everyone except parents and witnesses who would take a bigger bottlewith a budget to be quantified also with respect to the type of commitment required and the gifts they will offer to give you (e.g. wedding rings). The added value is to decorate it with acustomised ceramic label which, if you wish, you can detach after consuming the wine and keep as a souvenir!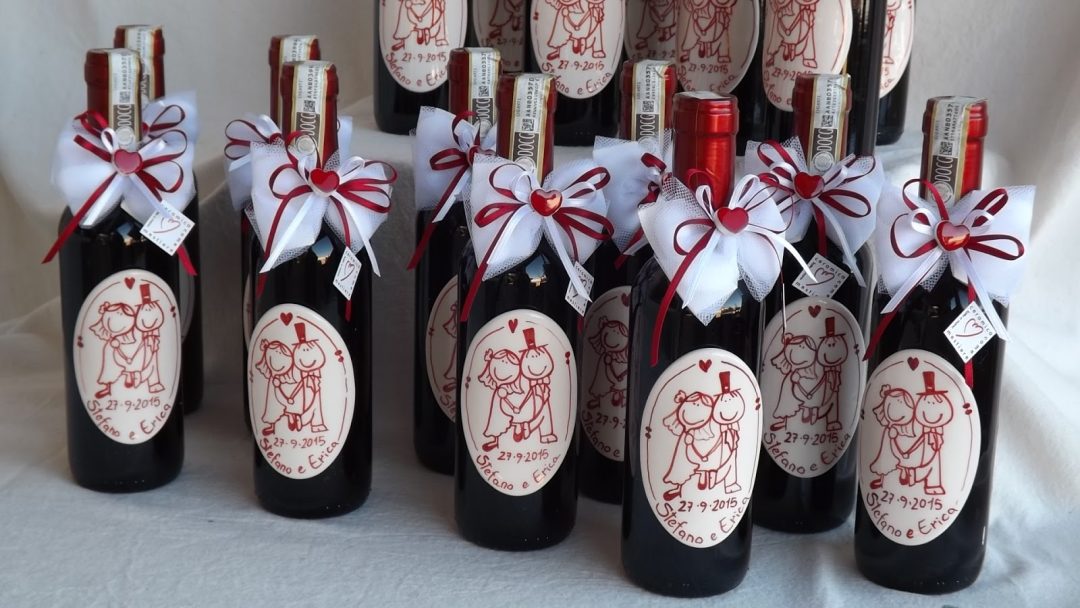 The other two ideas I really like are theIce bag and the customised professional corkscrew. There is no problem of matching the décor, they fit everywhere and are very useful! An original, cute and really low-cost idea are the lights to put inside an empty wine bottle with batteries in the cork and more: they create atmosphere and fit into any home! 1 € each... can be an addition to the wine bottle or a stand-alone favour to add to sugared almonds or other things! Personally I would add them to the wine bottle... I like the idea that they drink the wine and reuse the bottle as home decor!
Wine Wedding: Tableau and table setting
Tableau de mariage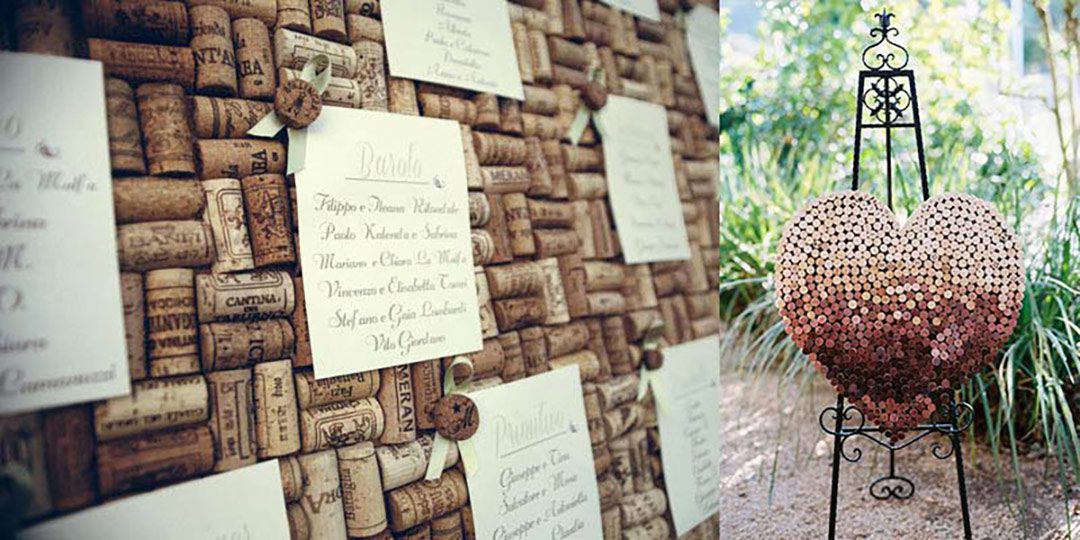 Centrepiece
The bride of the trees gives us the idea of a beautiful DIY for a centrepiece with corks impressive, with dimensions to be modulated according to the size of the tables. Remember that the centrepiece must be present but never intrusive and must always allow guests to look each other in the face. In the case of long tables, make smaller centrepieces to be placed every 3/4 place settings in length.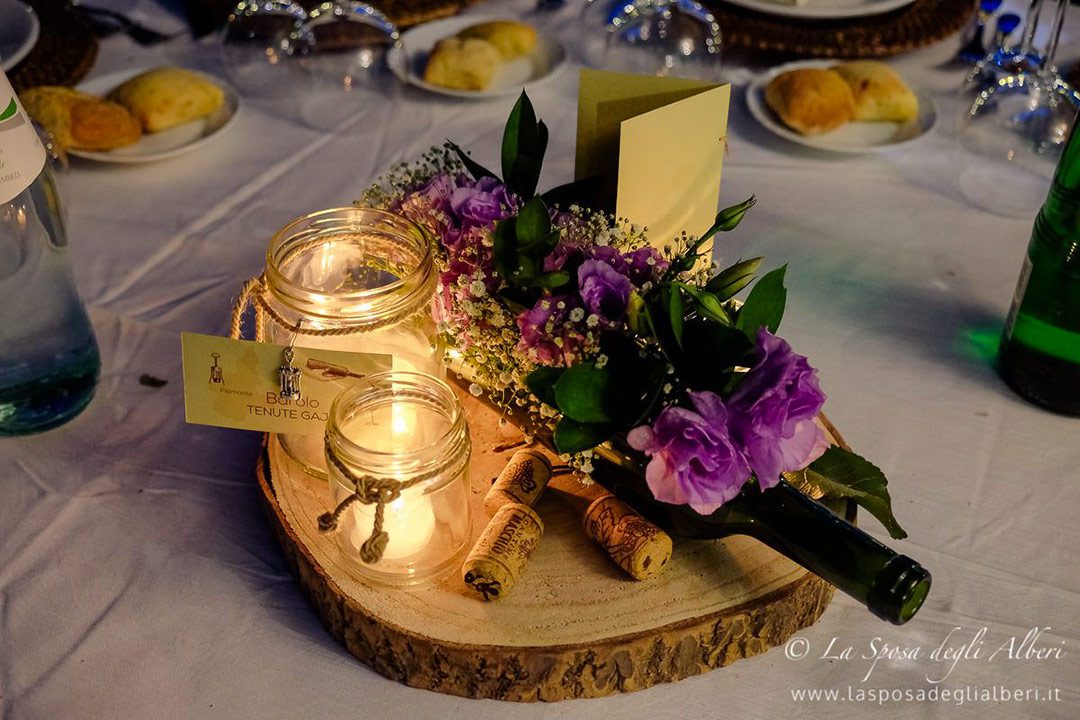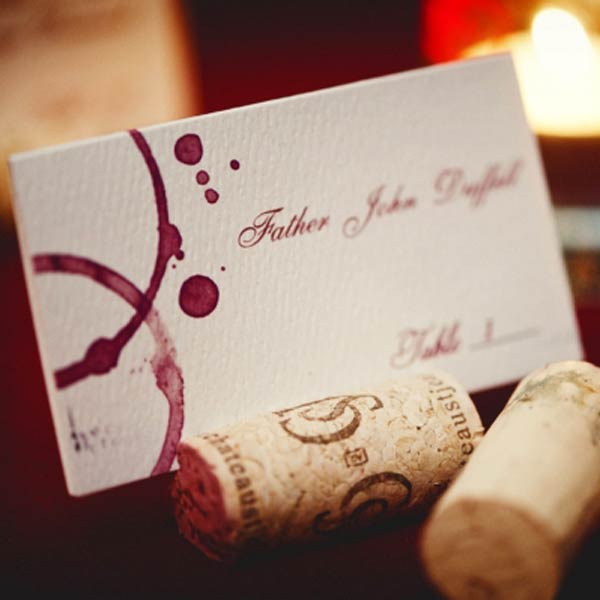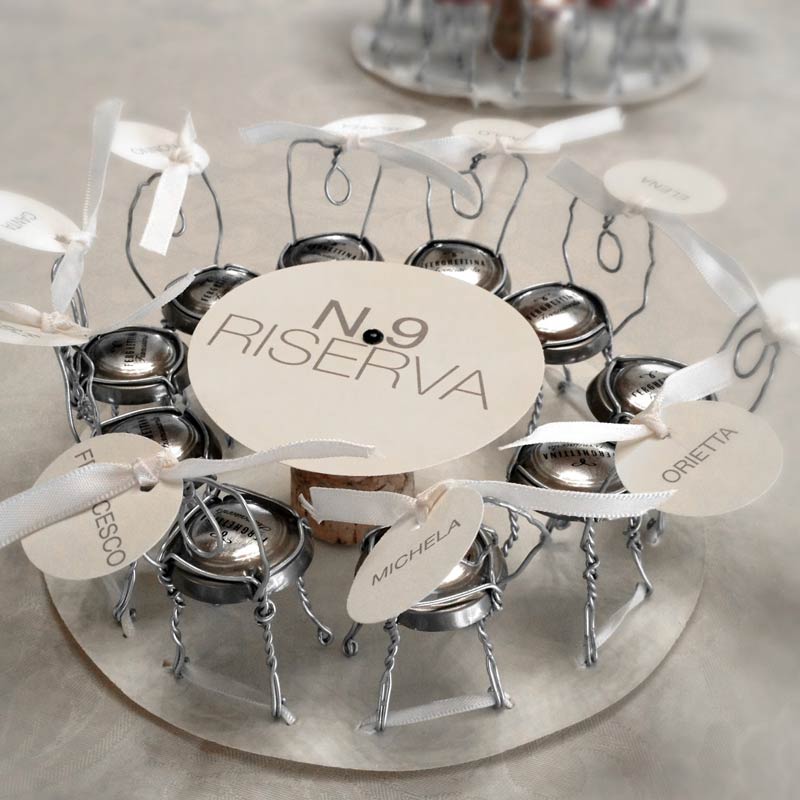 Well, I'd say I've given you plenty of ideas for today... I'll soon show you some more original wine-themed wedding cake ideas and some tutorials for recycling corks... as I imagine you have plenty at home too!
Cheers 🥂
Chiara
Thanks for the cover photo BlueBlandPhotography/ Jose Villa Photographer.