La Tuscany is a marvellous region, made up of a multiplicity of landscapes that may be very different from each other, but all of which are united by the beauty of the landscapes and the cult of oenology. Montepulciano is a town of about 13,000 inhabitants in province of Siena located 605 metres above sea level, in a privileged position between the Val d'Orcia and the Val di Chiana. Here, a splendid entrepreneurial couple from Veneto, Susanna Ponzin e Isidore RebattoThey created Podere Casanova Montepulciano, a wine cellar that produces tuscan wines extraordinary, children of the owners' passion. By the time I arrived at Podere Casanova it was dinner time. Marina Tagliaferri, Agora news agencywaiting for me with the other guests and Isidoro... ready to go to dinner at the Tiziana Restaurant in Tre Berte (SI) and taste Podere Casanova's first wine, the Vino Nobile di Montepulciano.
Tasting #1: Vino Nobile di Montepulciano DOCG 2017, Podere Casanova
It has a beautiful, intense and impenetrable ruby red colour. The nose is intense, with notes of red fruits, bitter cocoa, cigar and coffee powder. In the mouth it is coherent, round, structured and strong with a good acidic shoulder to which one forgives a soft tannin that makes it ready to be enjoyed. We paired it with some very good Tuscan pici with wild boar ragout, with a distinct aromaticity and unctuousness that were supported to perfection by the wine.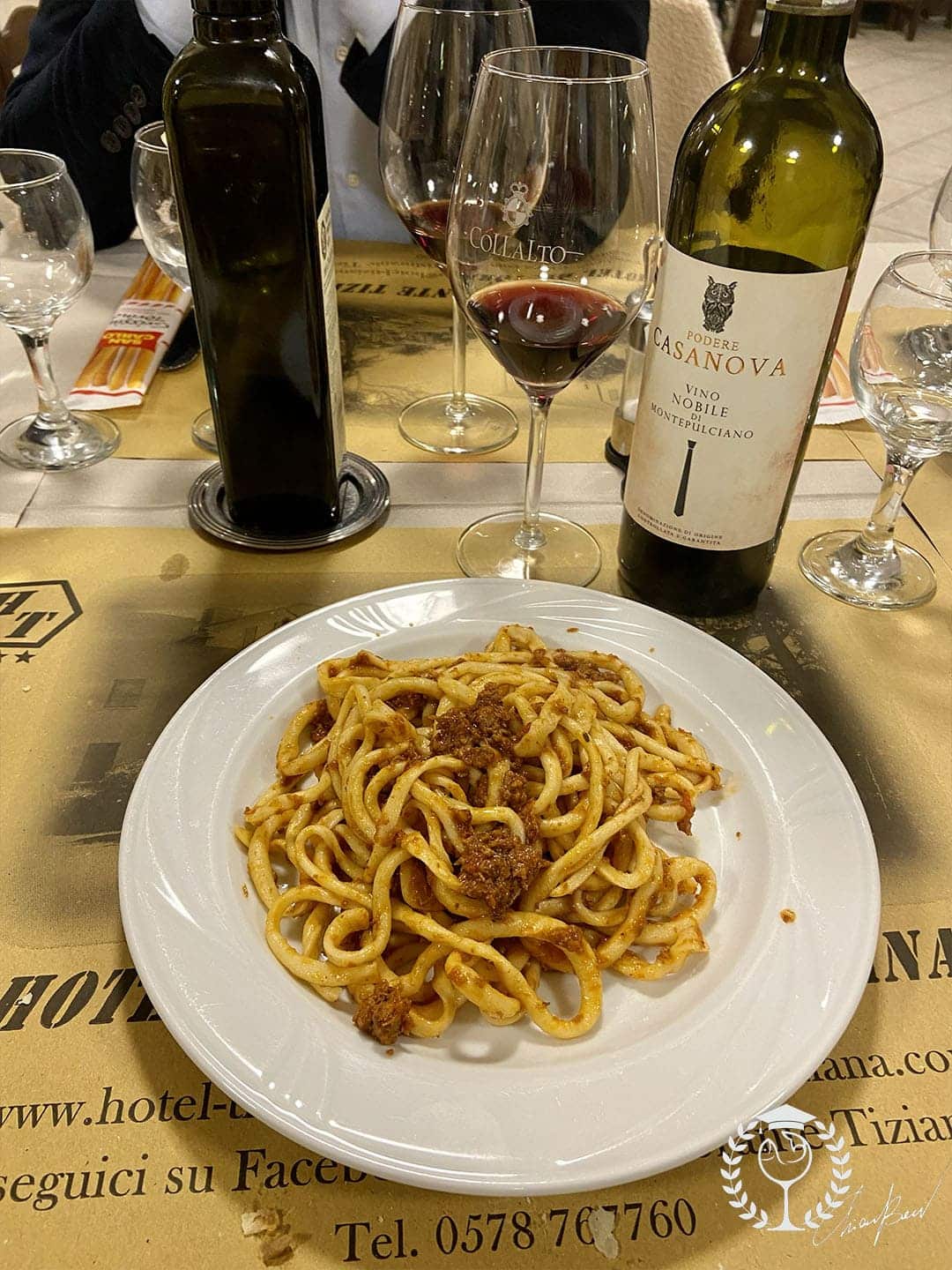 After a very pleasant evening thanks to the company of Isidoro, with whom I absolutely fell in love, we returned to Podere Casanova Montepulciano for a taste of its hospitality part.
Where to sleep in Montepulciano? Podere Casanova, of course!
The flat I slept in - The Sunflowers 🌻 - is very large and simply furnished. There is a nice kitchen complete with everything where I made myself some delicious hot tea.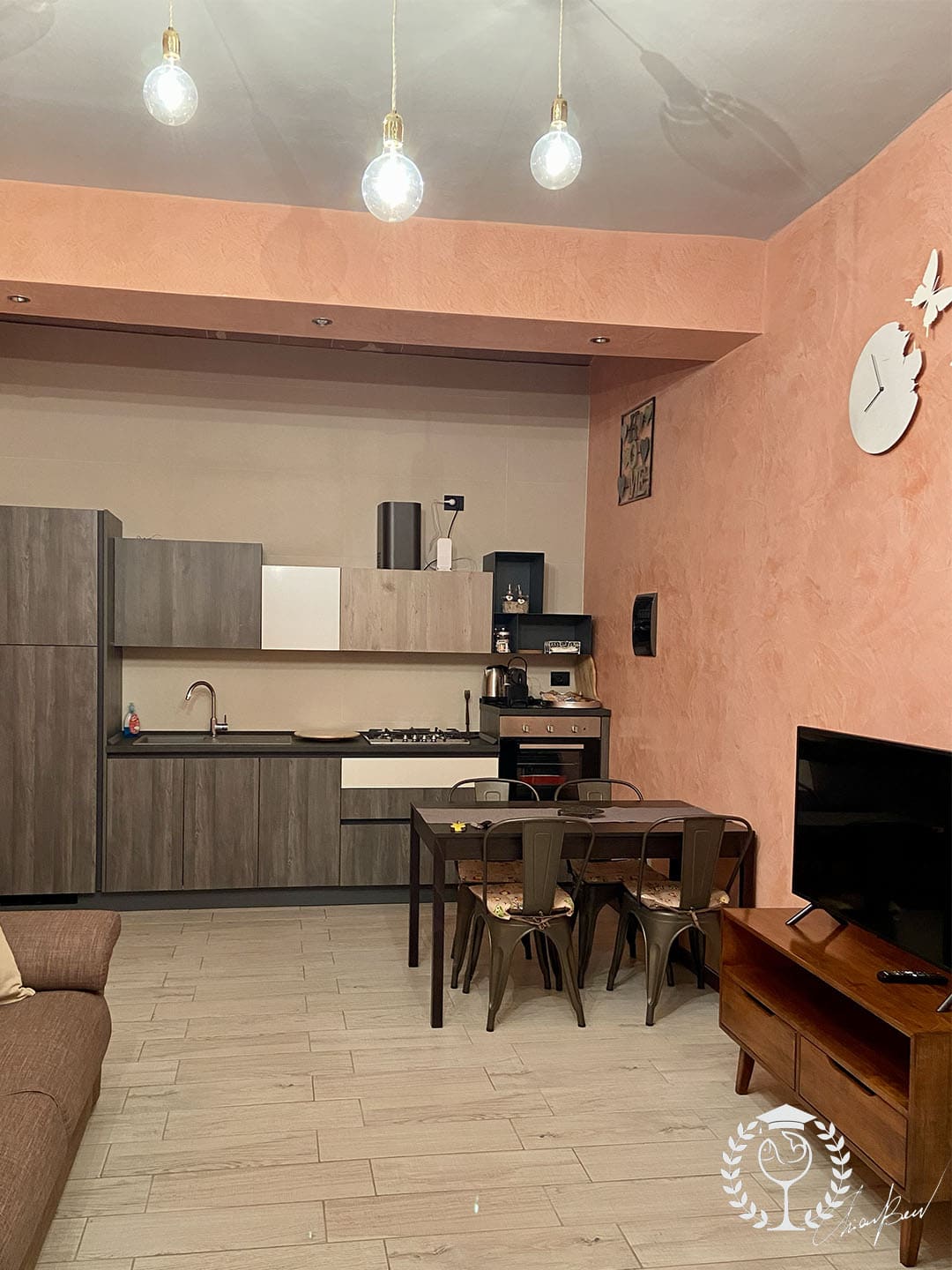 The bedroom is also large and equipped with a comfortable mattress and an attached full bathroom.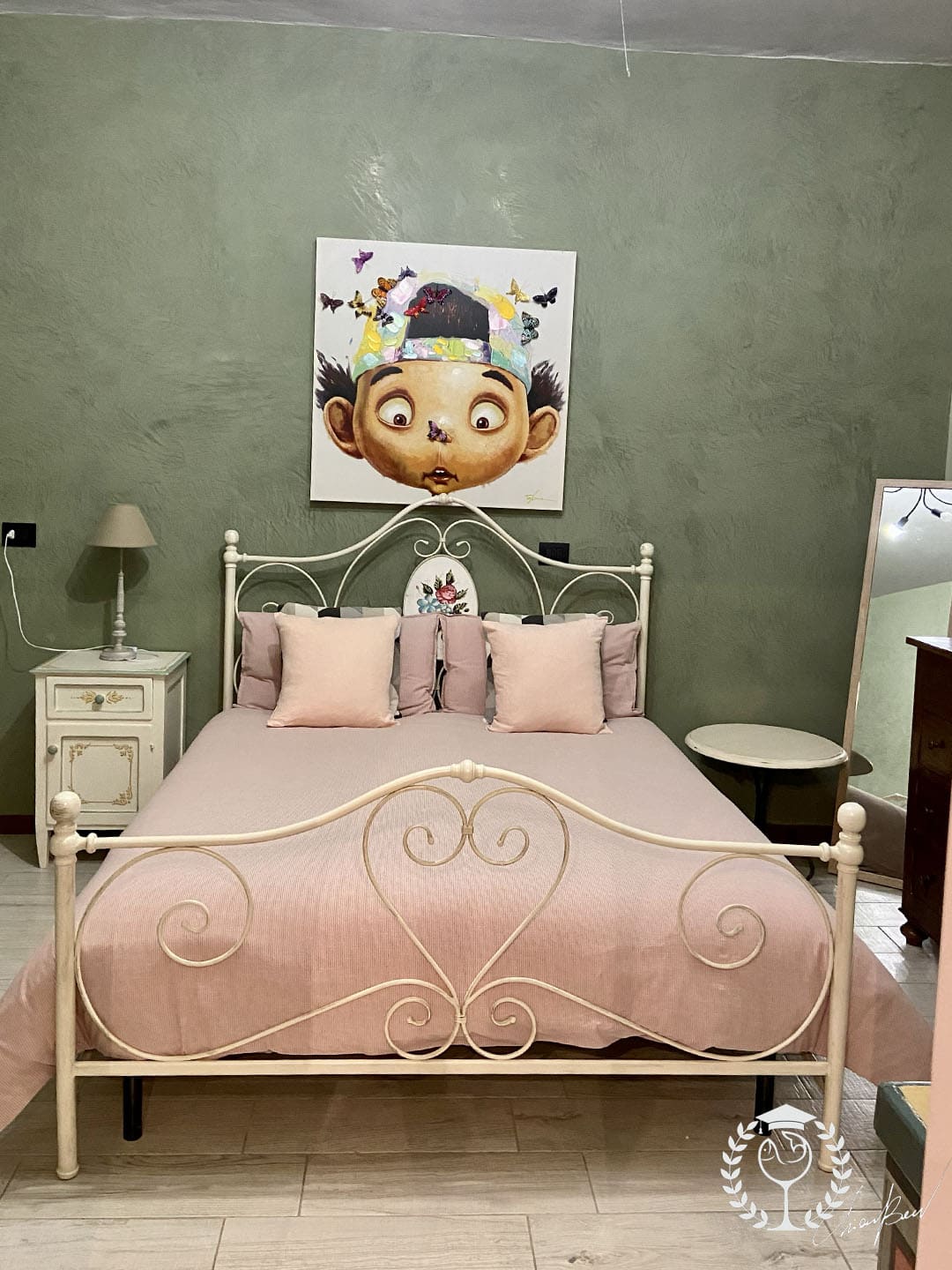 The next morning, when I woke up, I found a small bag of croissants outside the door, so good that I couldn't resist and bit into two of them! 🤭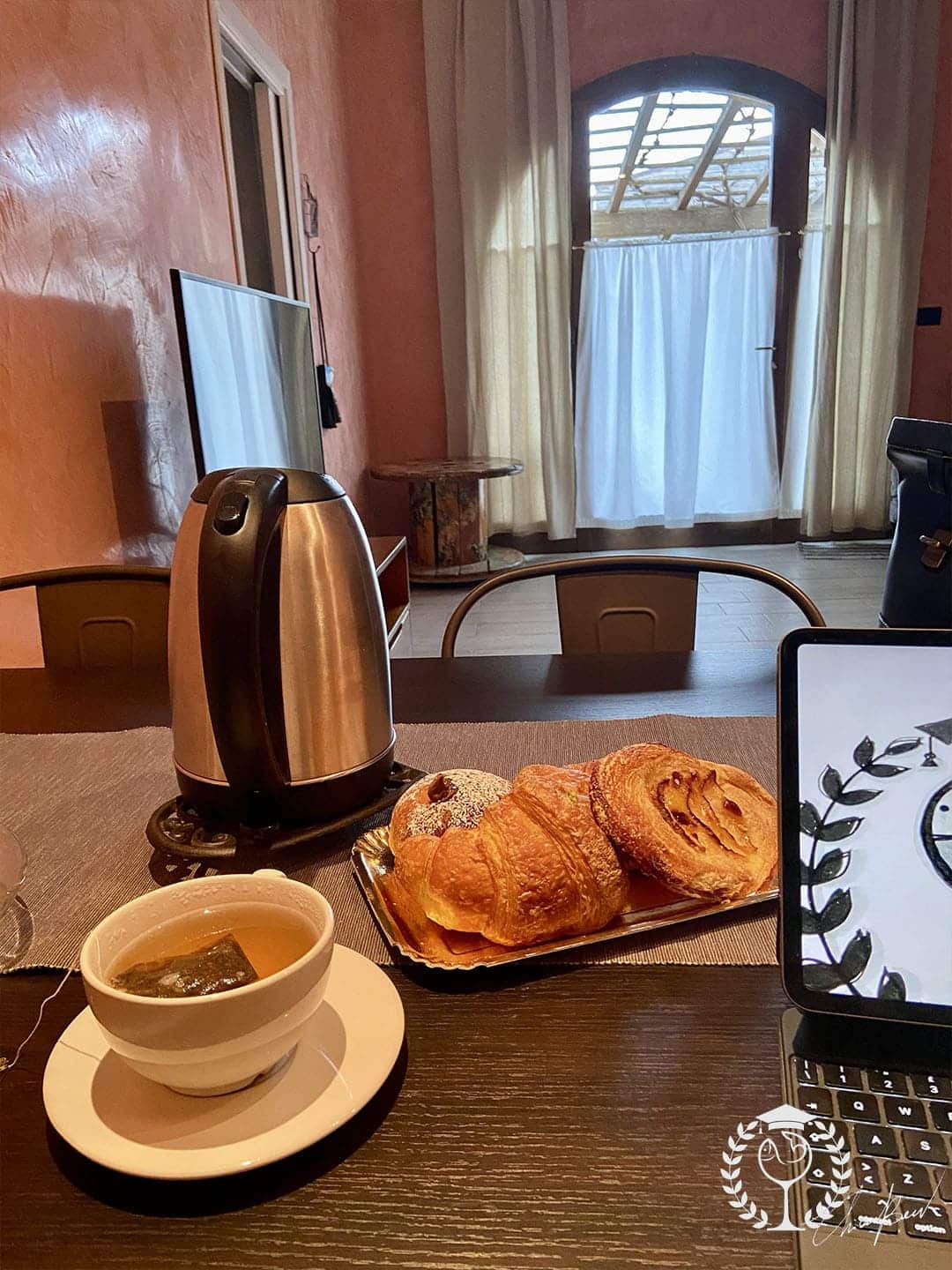 Podere Casanova: a winery immersed in beauty
The cellar is extremely well-kept and you would expect nothing less from such an extraordinary pair of entrepreneurs. Order, cleanliness and technology are the watchwords that support the production of excellent quality wines. After all, this wine cellar, while still a business, is certainly not the family's main activity and qt grants many luxuries, starting with not coming out in vintages considered not up to par. That is why the opposition of the 'Podere Casanova' label only takes place for truly special bottles made from healthy grapes harvested in the right years.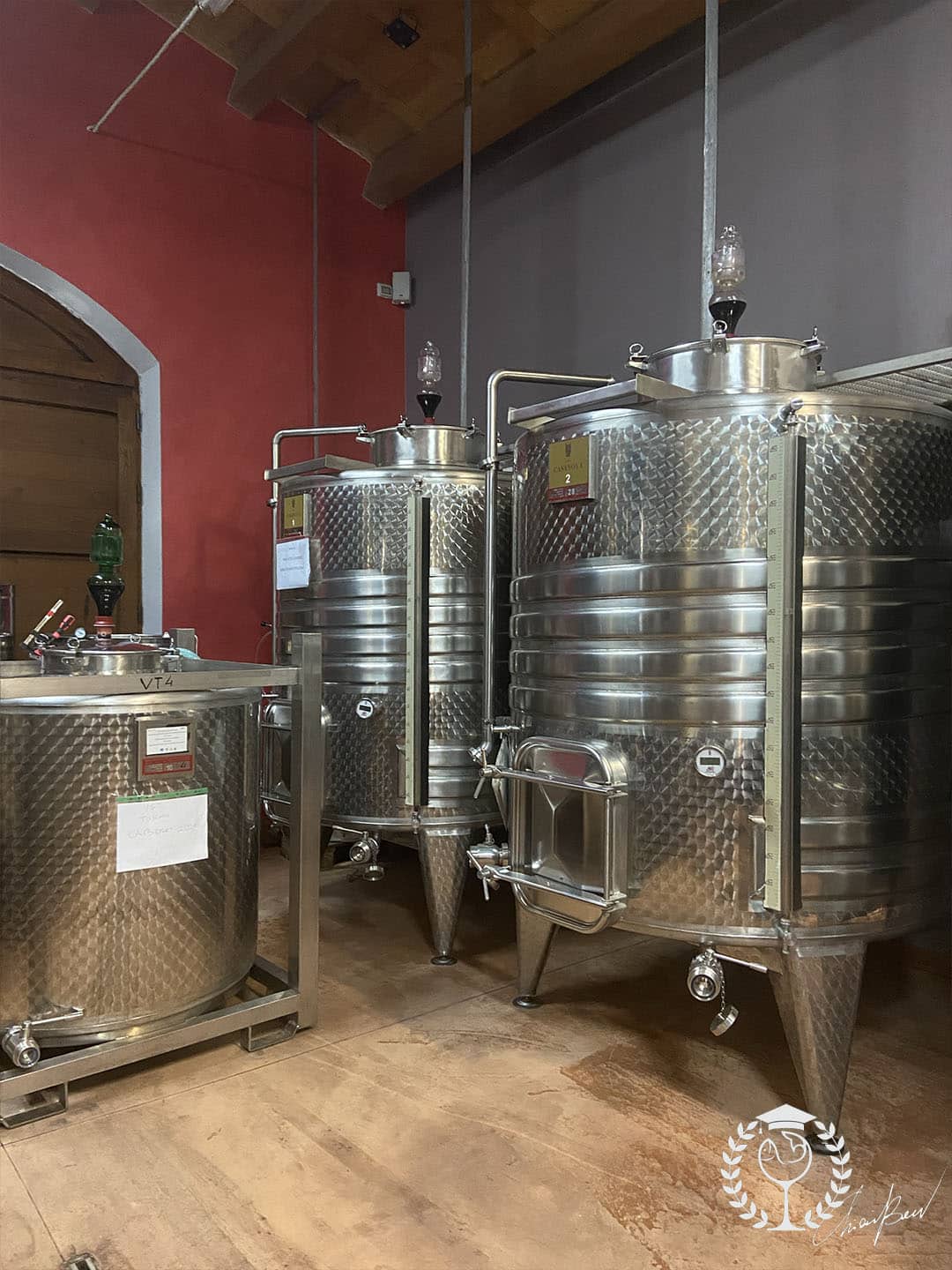 The cooperage, for me, is always one of the most fascinating parts of the cellar (along with the tasting room 😄).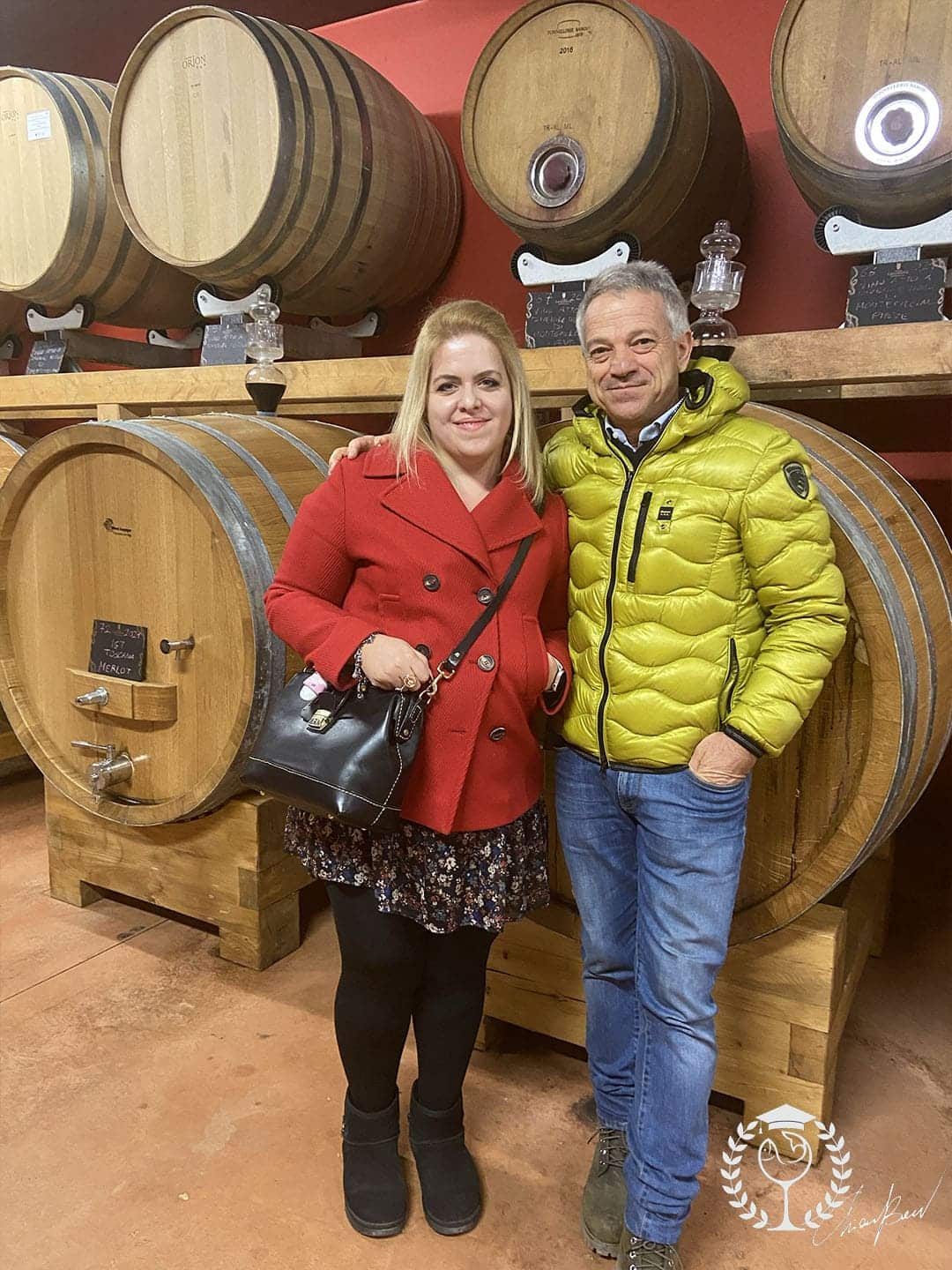 You can now subscribe to my newsletter or scroll down the page to continue reading the article!
Podere Casanova: Taste Experience
The tasting room is beautiful and finely furnished, but what is really fantastic is the large window overlooking the vineyards.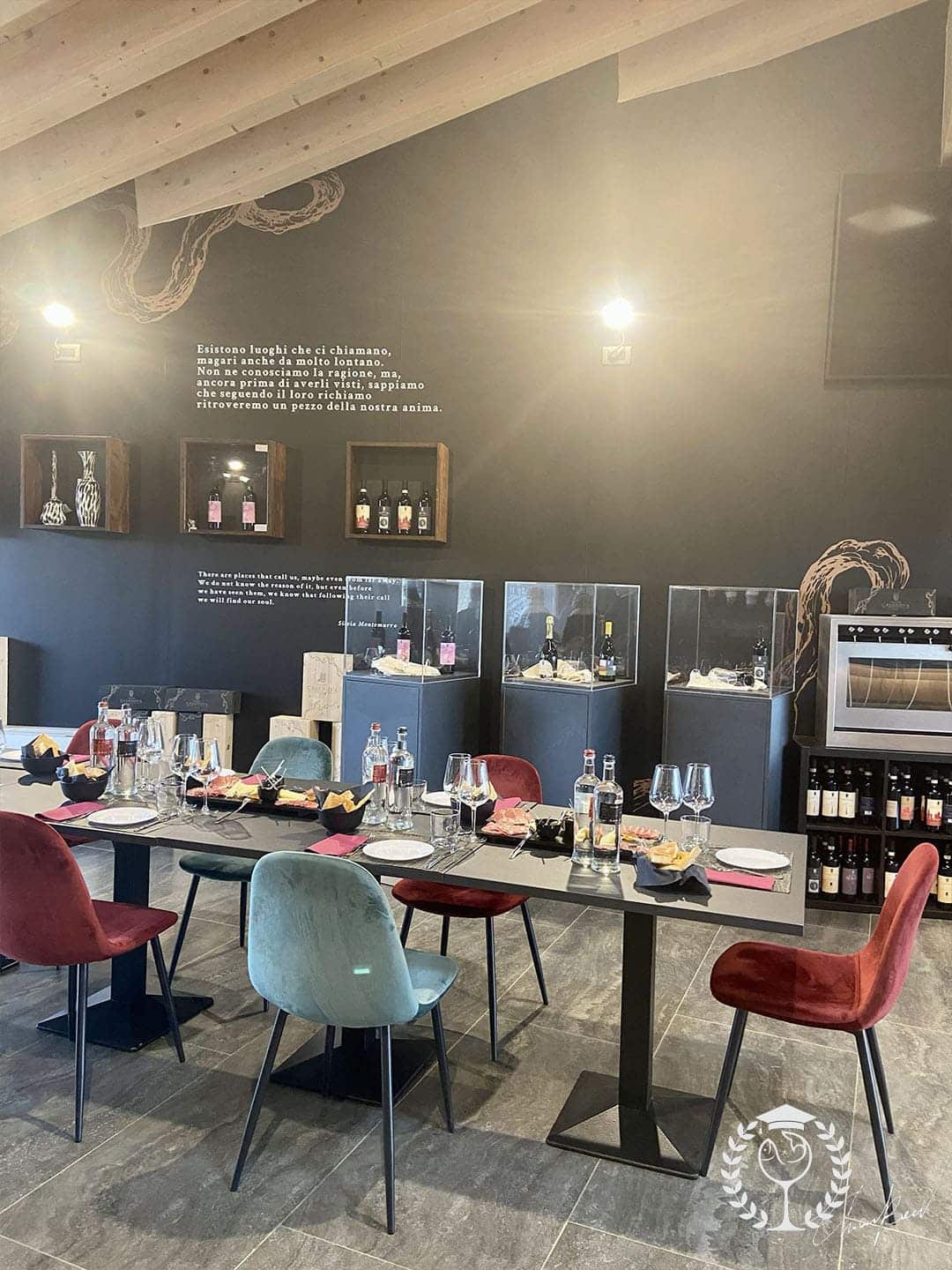 Unfortunately I was not lucky enough to see it on a sunny day, but even so it feels like looking at a painting. And that swimming pool in the vineyards must be a fantastic thing, perhaps after a picnic in the vineyard with a good salami and your favourite bottle... by the way, I hope with my tastings to help you choose it!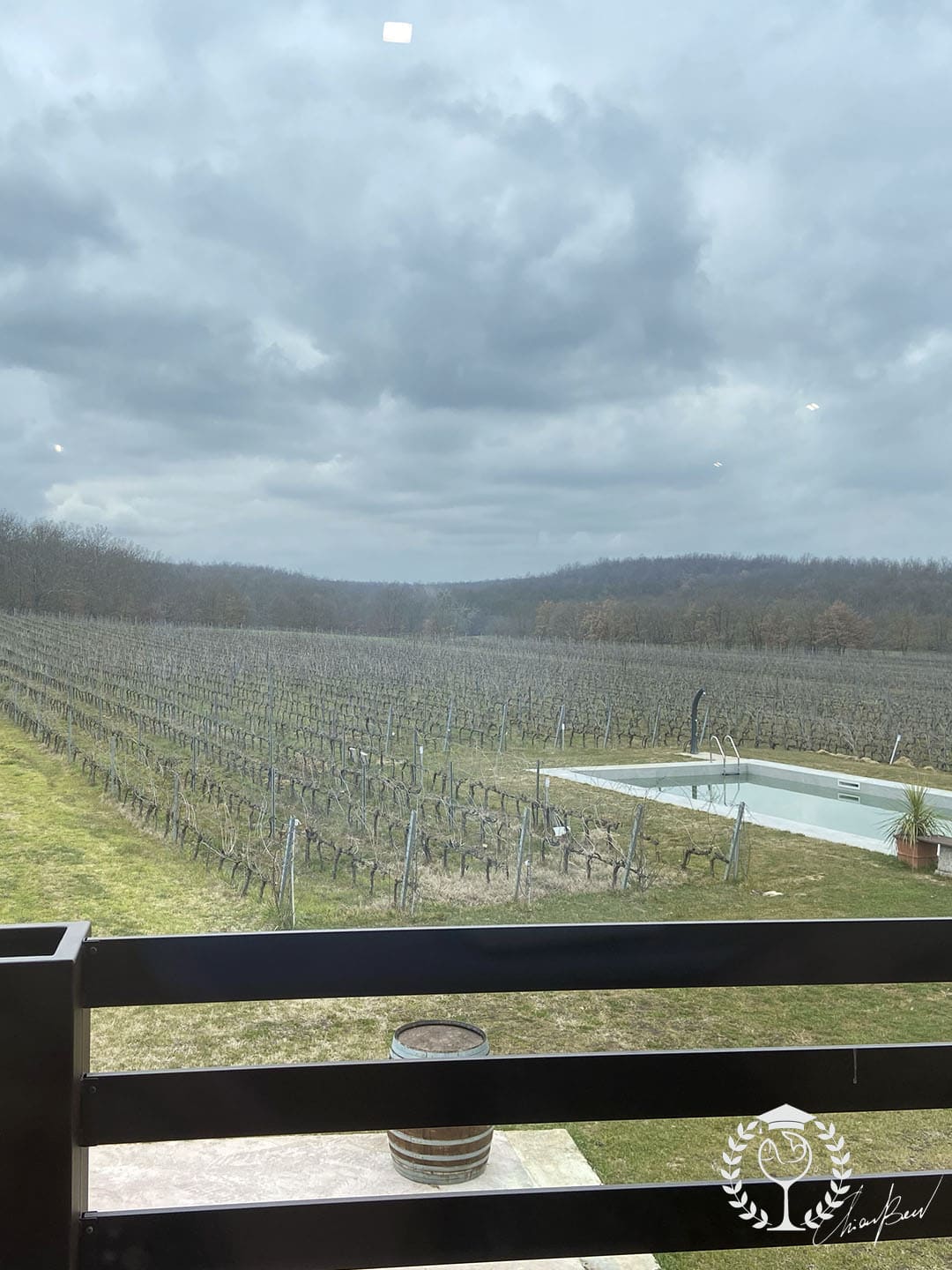 Delicious bread and focaccia accompanied some excellent cured meats and I had to restrain myself from overdoing it. I really liked the combination of the prosciutto and the Euforia white wine.
Tasting #2: White wine 'Euforia' 2019, Podere Casanova ❤️
It is straw yellow and brilliant, consistent. The nose is intense, fine and elegantly complex with notes of vanilla, pineapple, orange, apple and lime blossom. In the mouth it is consistent, soft, fresh and structured, warm and long.
For me, this white wine is an absolute masterpiece, to the point that I cannot believe that a white wine that I like so much can be produced in Tuscany... since I am usually only excited by white wines from Alto Adige and Friuli. Yet here for me the miracle takes place: chardonnay, grechetto and verdello dance together so harmoniously that they amaze the most demanding palate.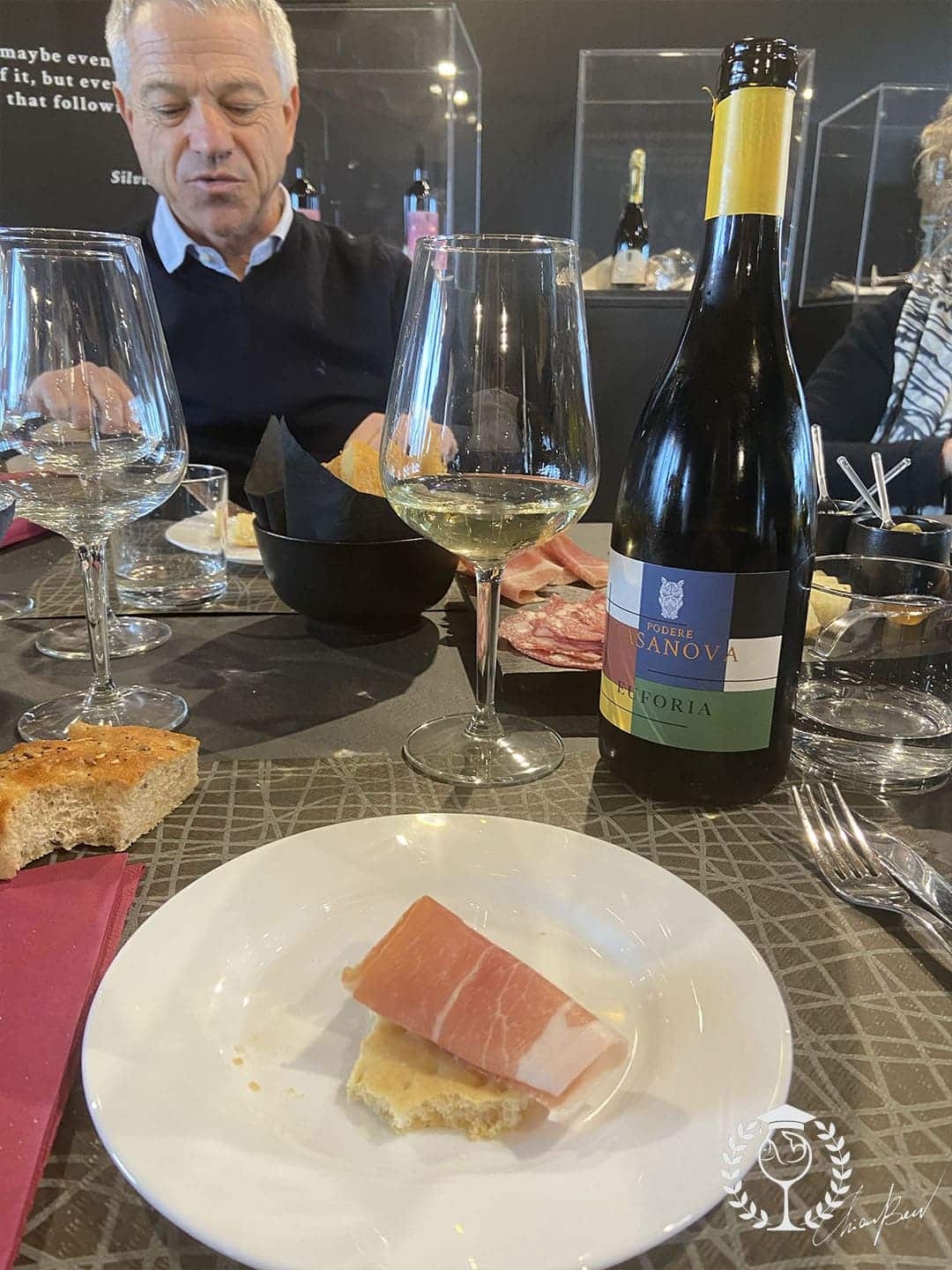 Tasting #3: Red wine 'Mane' 2020, Podere Casanova
It is intense and brilliant ruby red, consistent. The nose is delicate with notes of spices and cherry. In the mouth it is consistent, fresh, structured, but very drinkable and with nice tannin. Perfect to be served slightly chilled and paired with fried fish or stewed eel.
In this case we paired it with Tuscan ribollita, a poor peasant dish that owes its name to the fact that it was cooked in large quantities one day a week and consumed the following days by boiling it each time. As it is in fact a soup made with beans, black cabbage, tomato and bread that is quite tasty and seasoned with a drizzle of Tuscan oil, Podere Casanova's Mane red wine went well with it.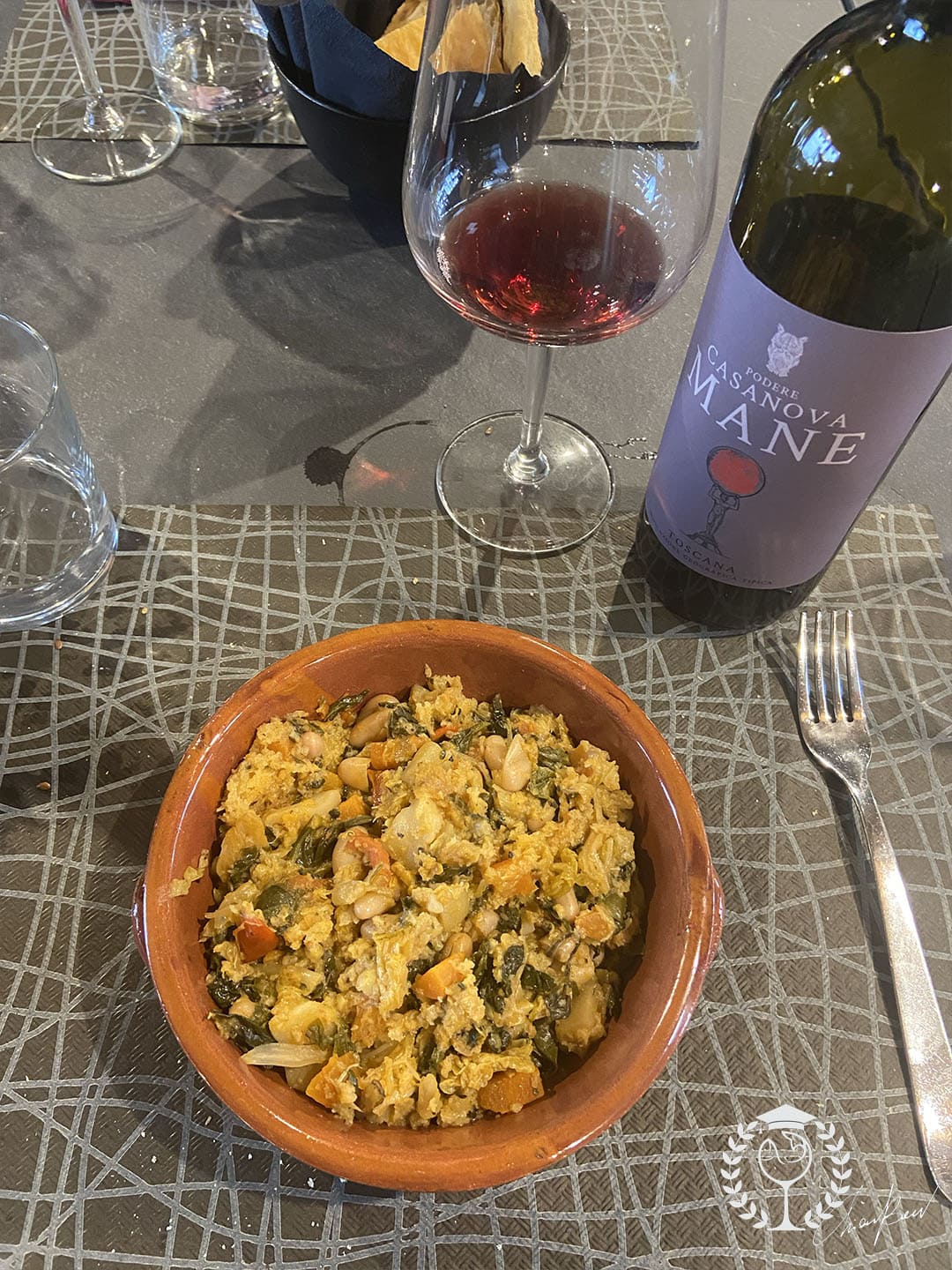 Tasting #4: 'Mistico' raisin wine, Podere Casanova
It is a deep amber yellow and bright, consistent. The nose is intense, with notes of walnut and honey that fade into a balsamic accent. On the palate it is consistent, savoury, fresh, structured and very little sweet. Long apricot finish.
Never was the name more apt: Mistico is truly a meditation dessert wine, especially when paired with blue cheeses. And this unobtrusive sweetness also makes me want to try it with certain oysters…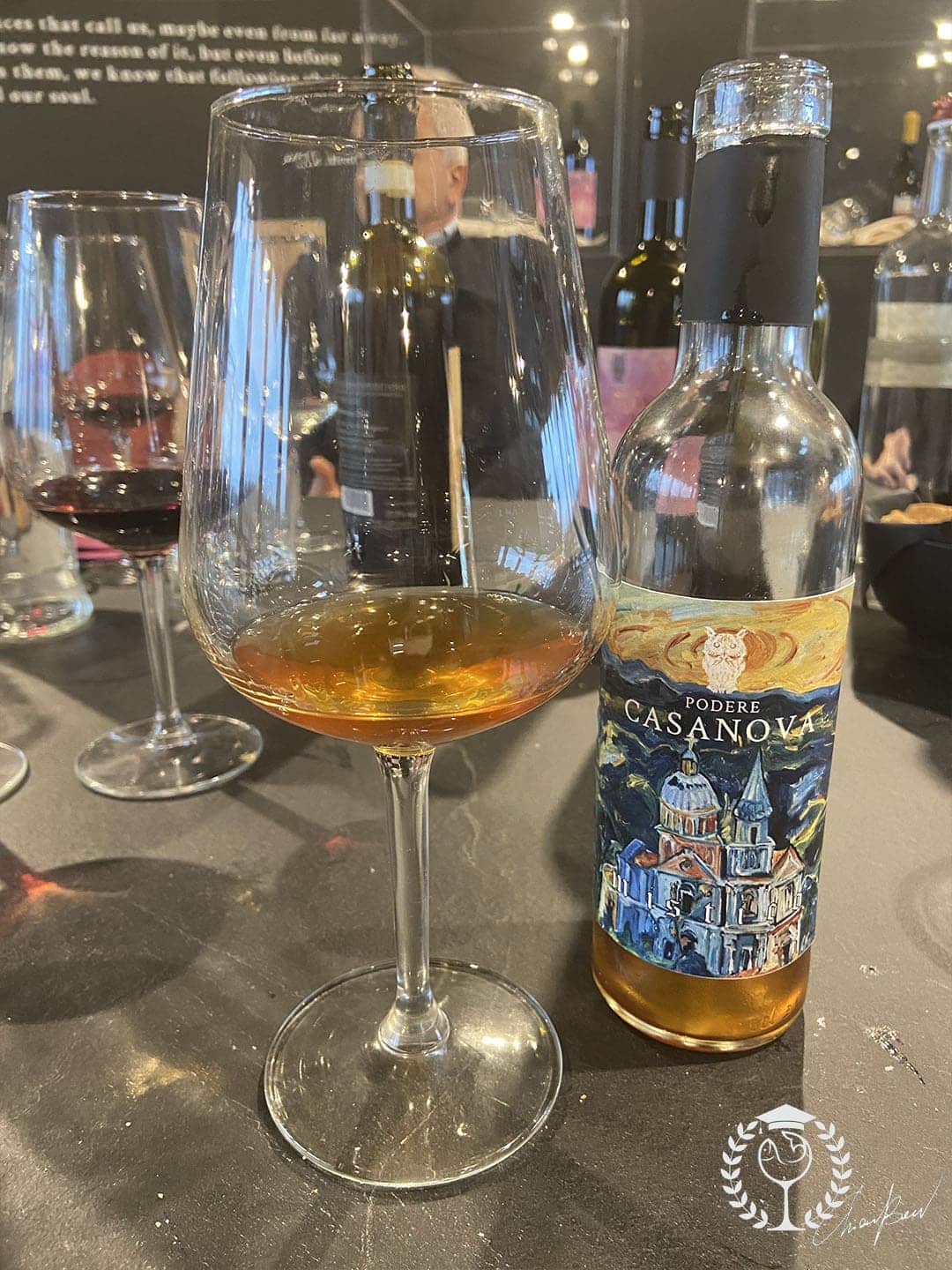 You can now buy my book Sommelier: the illustrated manual or scroll down the page to continue reading the article!
Book 'Sommelier: the Illustrated Manual' Special Edition 2022
All my notes on wine and food in one book.
In stock (can be backordered)
Tasting #5: Rosso di Montepulciano 2018, Podere Casanova
It is deep and brilliant ruby red, consistent. The nose is intense and complex with notes of tobacco, spices, undergrowth, cocoa and violets. In the mouth it is consistent, fresh, tannic and structured. Long fruity finish.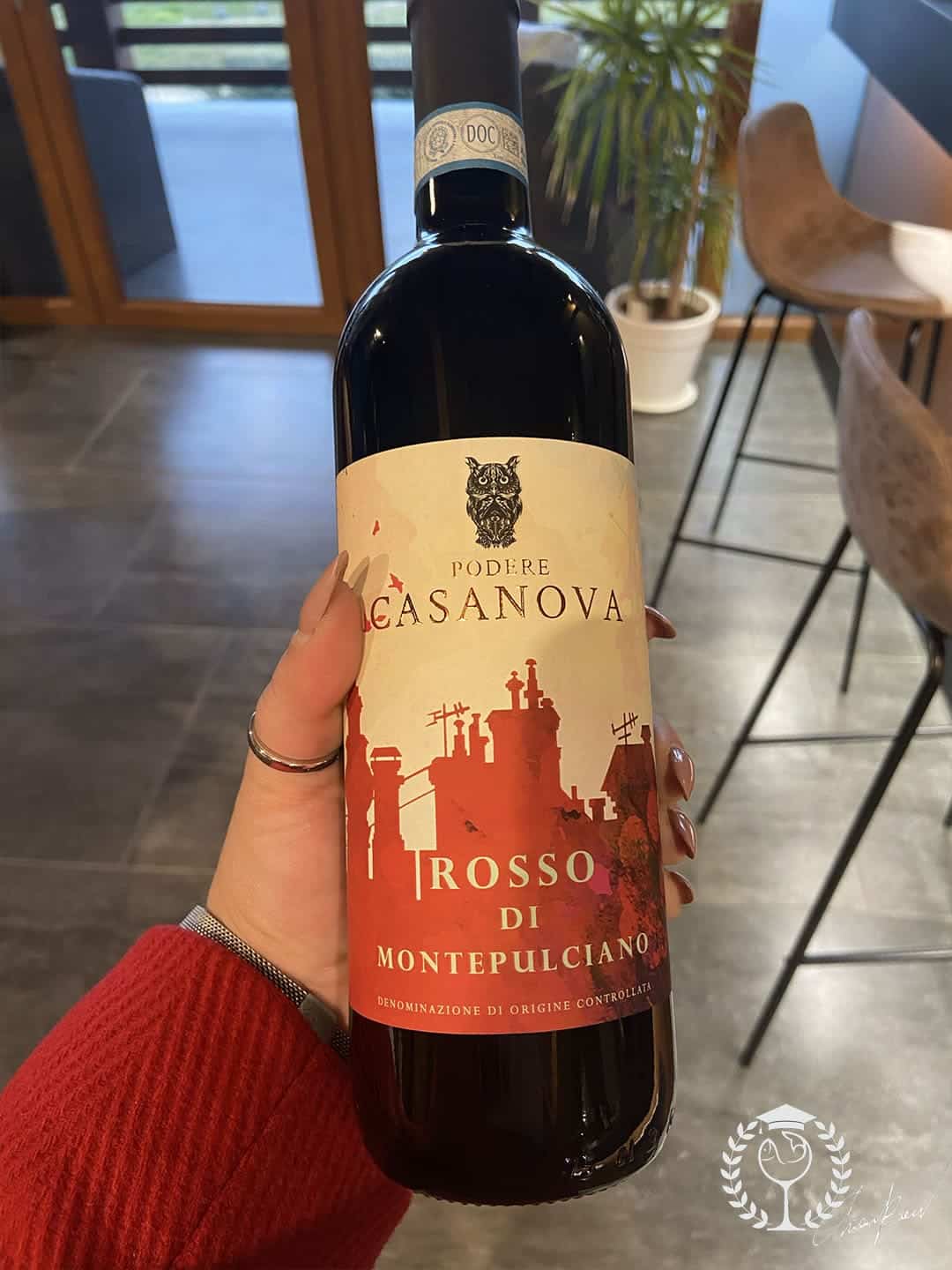 Tasting #6: Vino Nobile di Montepulciano 'Settecento' 2016, Podere Casanova ❤️
It is intense and brilliant ruby red, consistent. The nose is intense, broad, elegant and fine with notes of white chocolate, pastry and morello cherry. In the mouth it is consistent, soft, tannic, structured and with a long finish.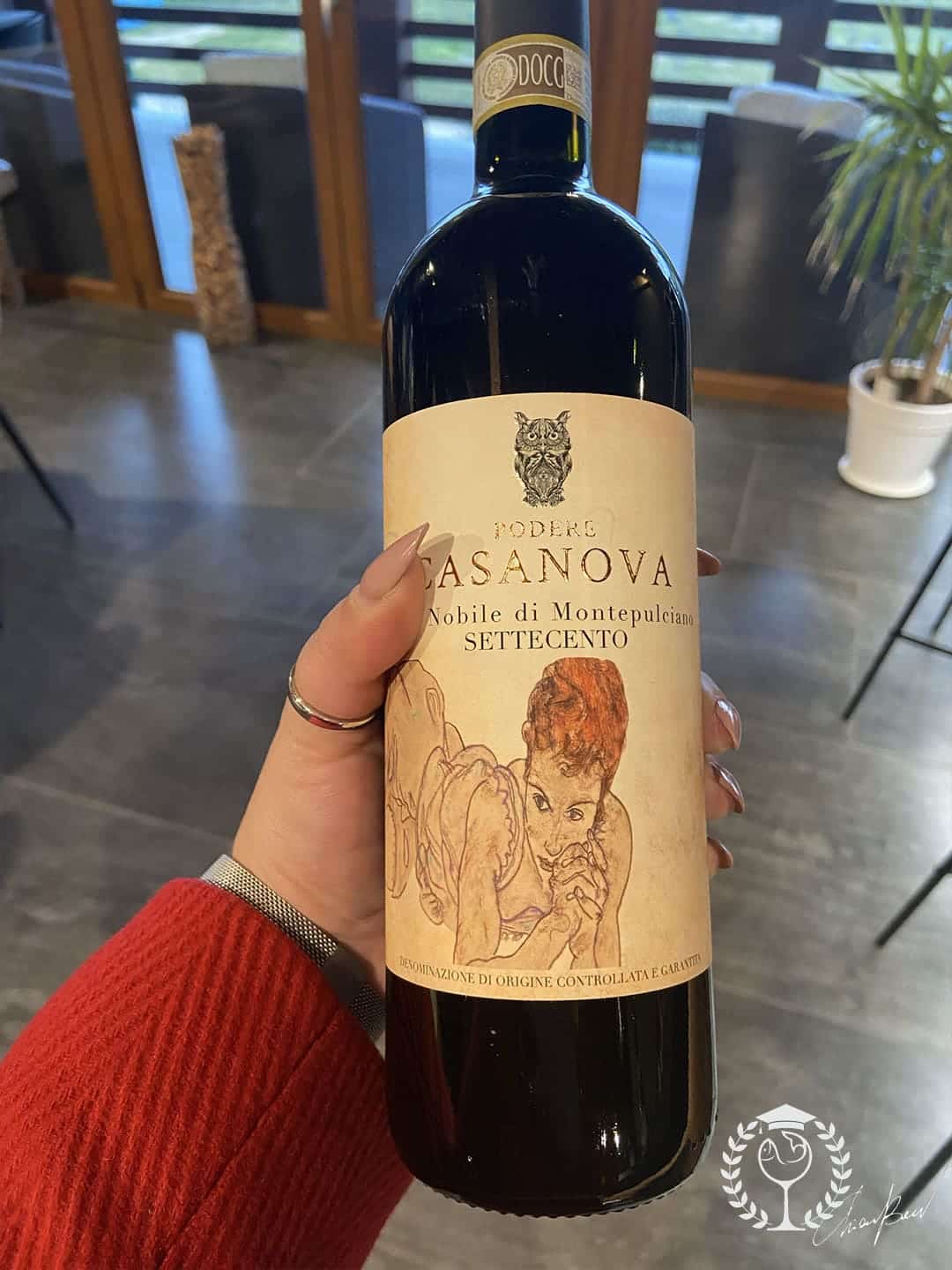 Tasting #7: red wine "Irripetibile" IGT Toscana 2018, Podere Casanova
It is intense and concentrated ruby red, impenetrable. The nose has notes of coffee, chocolate and liquorice with a finish of black cherry under spirits. In the mouth it is consistent, pleasant, soft, fresh, warm, tannic and structured. Very long sip.
I tasted it again at Vinitaly 2023 with great pleasure... but I'll tell you about the most interesting wines at this Vinitaly in the next few days!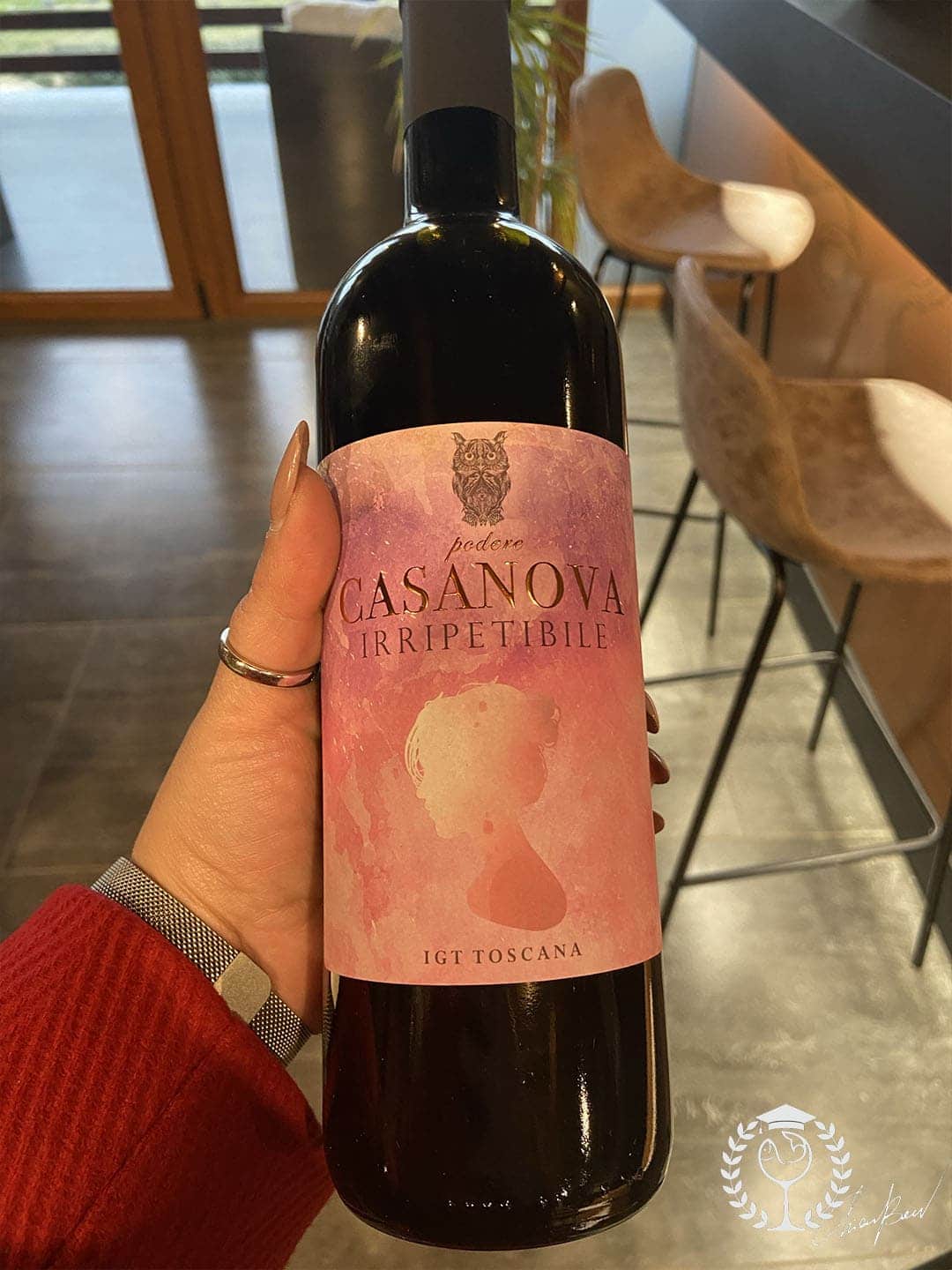 Another great red wine from Podere Casanova was missing from this tasting because it was not yet ready: Leggenda. I invite you to read my tasting in this article I dedicated to the company.
Podere Casanova for me is a special place, where love, commitment, courage and passion translate into magical wines. A great reason to spend a few days there and enjoy the beauty of Tuscany... in fact I took the opportunity to visit Montepulciano and Cortona!
Cheers 🍷
Chiara
Ah, I was just forgetting! Right in Montepulciano Podere Casanova has just opened a really lovely little wine shop where you can have a glass of wine and even buy a bottle! They also host exhibitions of contemporary artists and when we were there there was the opening of Marina Tagliaferri's husband's exhibition, Antonio Devetag. Well, I greet you with the painting I liked the most and I advise you to keep an eye on it because for me it has a rare talent.