Provence - Côte d'Azur is a region in the deepest south of France that fascinates with the colourful and romantic image it has masterfully built up over the years. For this reason, Francesco and I chose it as the perfect destination for the wine and food tourism that characterised our summer 2016. Until a week ago, I didn't know that there was a Porquerolles, a small Mediterranean island between Toulon and Saint Tropez with wonderful beaches and vineyards overlooking the sea!
#WineDiary: Day 1, Castro - Porquerolles
19 August 2016 - Croassaint 1, Chaussons aux pommes 1, baguette 1/2, patisserie 2, km walked 5.93
Destination Porquerolles, France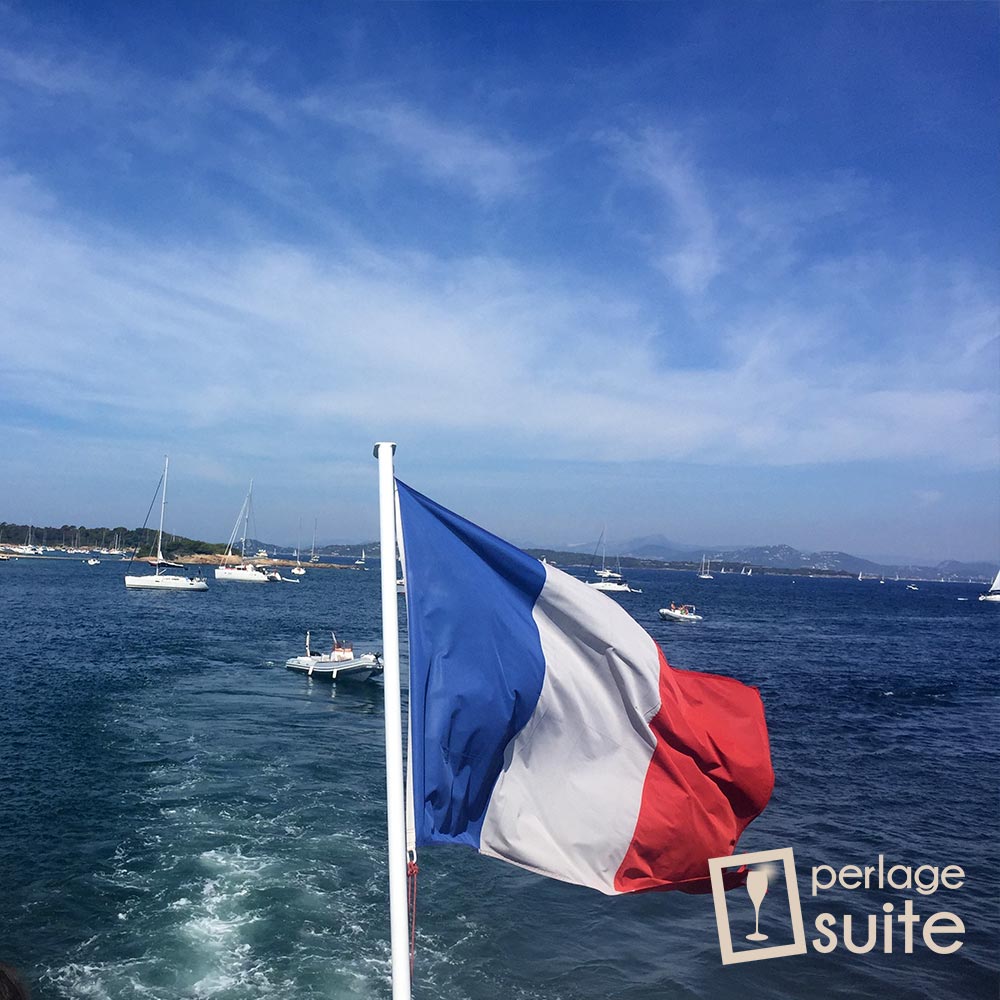 Porquerolles is definitely a piece of paradise that not even heavy tourism has managed to spoil thanks to strict environmental protection regulations banning cars, camping and outdoor smoking. Porquerolles can be reached in about 20 minutes by ferry (€17 per person return) from Hyères every 30 minutes. from 7.30 a.m. to 7 p.m.. There are 3 car parks in the area, and they recommend arriving by 9am to be sure of finding a space (€15 per day). We arrived later and they were already full, but we parked less than a km away for free! We left home (Castro, Lago d'Iseo - Lombardy) on a Friday night at 2:15 a.m. and we arrived in Hyères at 9.15 a.m.And apart from the half-hour lost at a tollbooth on the French motorway because we didn't have any money, they didn't accept banknotes and the card didn't read it, the trip went very well!
First a special thank you
Stéphanie Pellegrino, a beautiful French mum who works at the Hyères tourist office was really special: I wrote to her on 15 August to ask if it was possible to organise something for 19 and 20 August and she really exceeded my expectations despite my very short notice! She welcomed us into her beautiful home with a coffee and delicious patisserie, kept our luggage so we wouldn't have to leave it in the car all day, and organised for us to visit 2 of the 3 wineries in Porquerolles and another winery in Hyères very well! In short, an ode to efficiency!
Some useful information on Porquerolles... and what not to miss!
Porquerolles is an island only 7 km long and 2.5 km wide, but it has a history of over 2000 years in which numerous civilisations have followed one another. Always a land of trade and agriculture, around 1800 it experienced industrial development with the establishment of a soda factory. Porquerolles passed from hand to hand from century to century until its redemption in 1912 by the gold mining entrepreneur Founier who gave it to his wife as a wedding gift. So much for the present 😀 Today Porquerolles is the heart of the Port-Cros National Park, with 3 wineries reachable on the more than 60 km of roads and paths that can only be covered on foot or by bike as we did! By the way, Stéphanie was kind enough to reserve a bike for us as well, but from what I have seen, it is very difficult to find one despite the fact that there are places to rent one on every street corner! The daily rental costs 12 €, they ask you for a deposit and give you a lock to lock it. The bike is old and battered, but the brakes work perfectly and it is agile on dirt roads. I found it absolutely essential in the various journeys!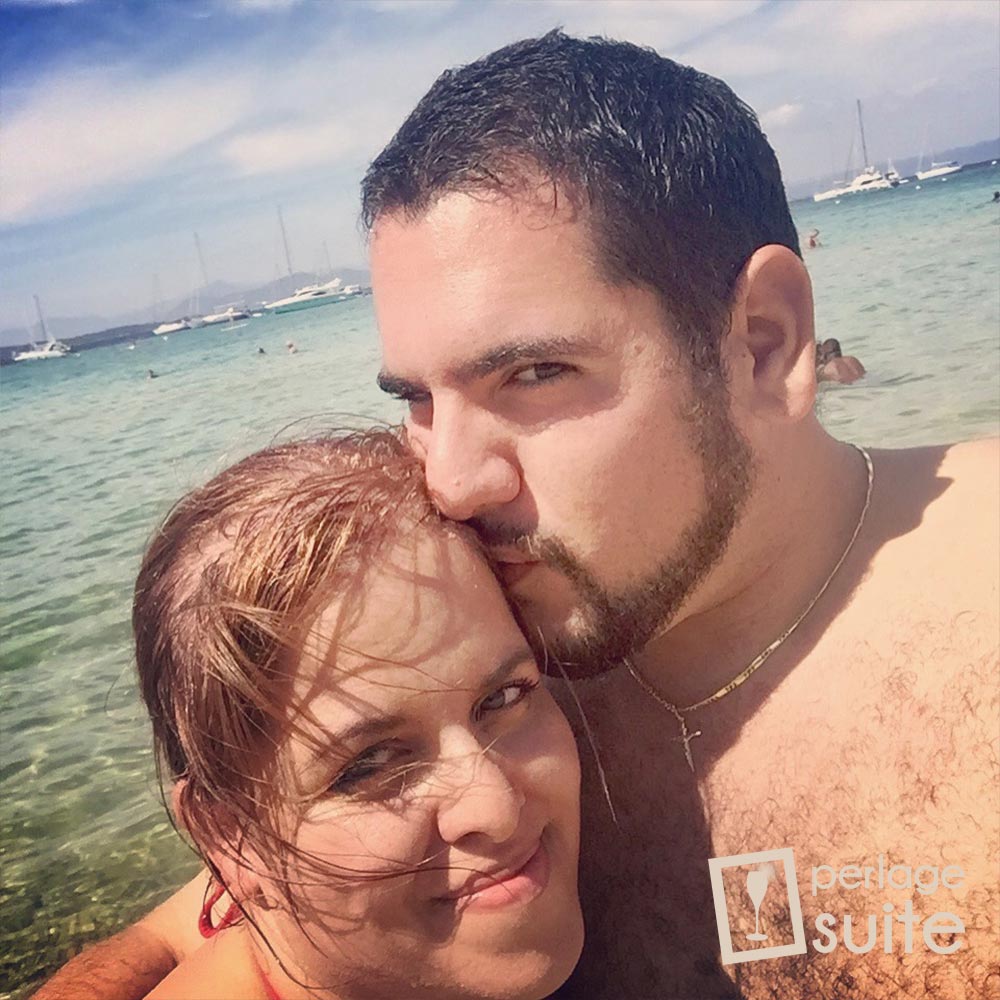 Stéphanie made our first appointment at 12 noon at the Domaine Perzinsky, and the second date at 15:30 at the Domaine de La Courtade, named after the beach of the same name. The first winery took us a little over half an hour, just enough time for a tour of the vineyard and a tasting of the three wines, so we were able to spend a couple of hours on the beach at La Courtade, perhaps the busiest of all the beaches, but truly marvellous with its white sand and water so blue that we immediately understood why it is called the Côte d'Azur!
Not to be missed!!! La Courtade beach, from what we understood, is not even the most beautiful beach in Porquerolles! Stéphanie told me that there is another beach, Notre Dame, reachable on foot or by bicycle, which is the most beautiful beach in Europe! Well, I would say that at this point Porquerolles is worth a visit if only for its wonderful crystal-clear sea!
Domaine Perzinsky
The first wine cellar I visited in the Ile  de Porquerolles was Domaine Perzinsky. It was 1986 when Alexis Perzinsky discovered the Ile de Porquerolles and realised that this was the ideal place to realise the dream he had shared for years with his brother Cyrille, then cellar master at Chateau de Pibaron: to create his own vineyard.
History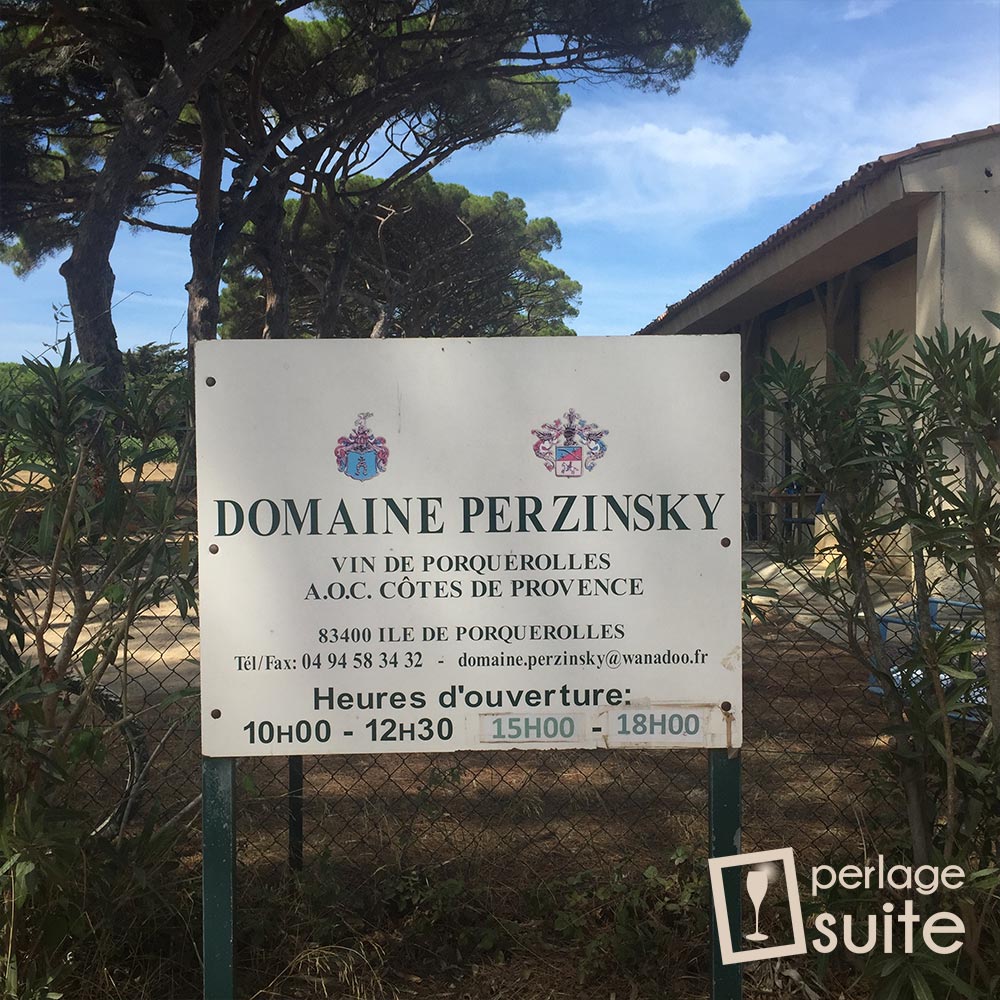 Alexis is encouraged by the National Park, which grants him a lease. It considers that converting a part of the numerous forest plots into vineyards is a protective practice for Porquerolles. 1993 is a year of satisfaction and happiness for the Perzinsky brothers, who harvest their first vintage. In 2015, Perzinsky has 10 hectares of vineyard, but Alexis and Cyrille wish to increase this surface area. A new impetus to this project comes from their younger brother Richard Auther, an oenologist with great experience on the terroir of Porquerolles.
The Territory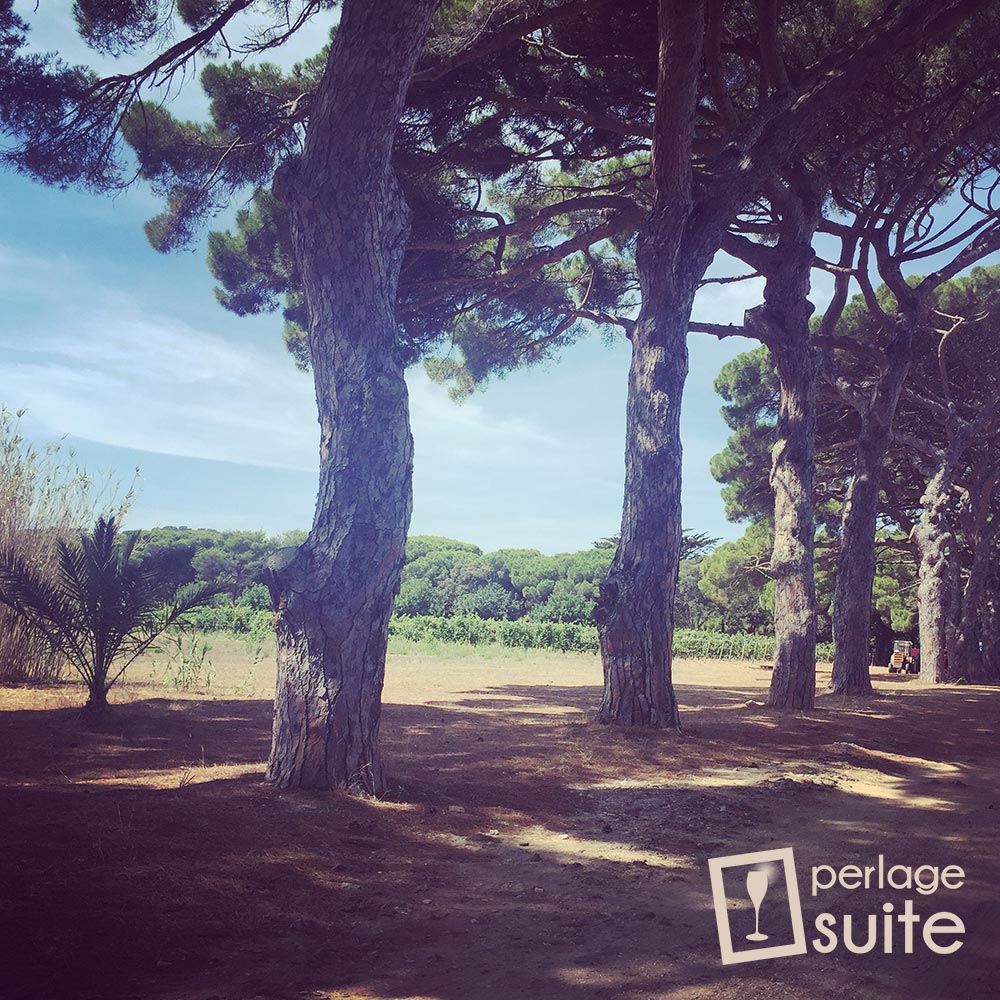 The island is made up of phyllites, fine-grained metamorphic rocks rich in quartz and feldspars that give the soil, and consequently the wine, a special and very recognisable character. Due to the absence of watercourses, erosion and alluvial phenomena were greatly reduced in the Quaternary era, and deposits such as those in the Rhone Valley and Bordeaux are also completely absent here. Shales are sedimentary rocks with the oldest layers on Earth and allow roots to penetrate deeply. The increased contact area between the plant and its substrate makes the plants less sensitive to lack of water.
The Climate
Although Porquerolles is located at the southern end of France, there is a similar climate to northern France that stems from its being a 'boat' in the middle of the sea. These large temperate masses give it a temperate climate with maximum and minimum temperatures between 6 and 26 °C all year round. This low temperature range due to insularity gives it a very mild winter and a cool summer. The vegetation, and in particular the vines, withstand the summer droughts well. Rainfall is very limited, the rainiest period being between 15 October and the end of February. The Mistral blows on the vineyards, which protects the grapes from fungal diseases and favours ripening in September.
The working method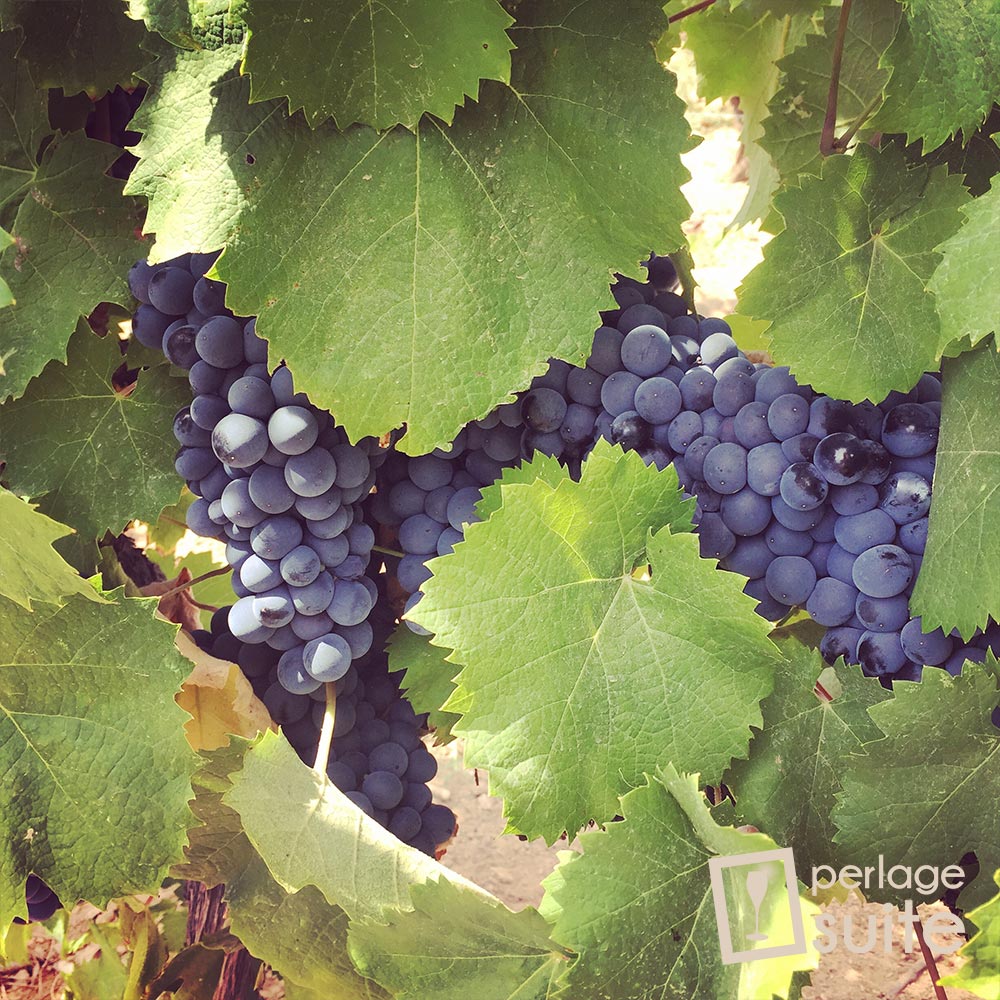 Domaine Perzinsky is located in the heart of the National Park, in an area traditionally oriented towards natural and organic farming. The working method is organic, with care taken to give maximum respect to the local expression of its terroir.
Tasting
Domain Perzinsky has vineyards some 20 years old that produce a white wine, a rosé wine and a red wine, all of which share a strong mineral component. Three wines different from the usual, but above all extremely different from continental wines... despite the same AOP Côtes-de-Provence. Moreover, the white wine is among the best I have drunk in Provence, in my opinion thanks to this temperate climate I just mentioned which does not 'cook' the grapes as it does on the continent. In Provence, I have experienced the scorching heat myself, and all the white grapes really have a cooked smell and the wines suffer from a lack of acidity.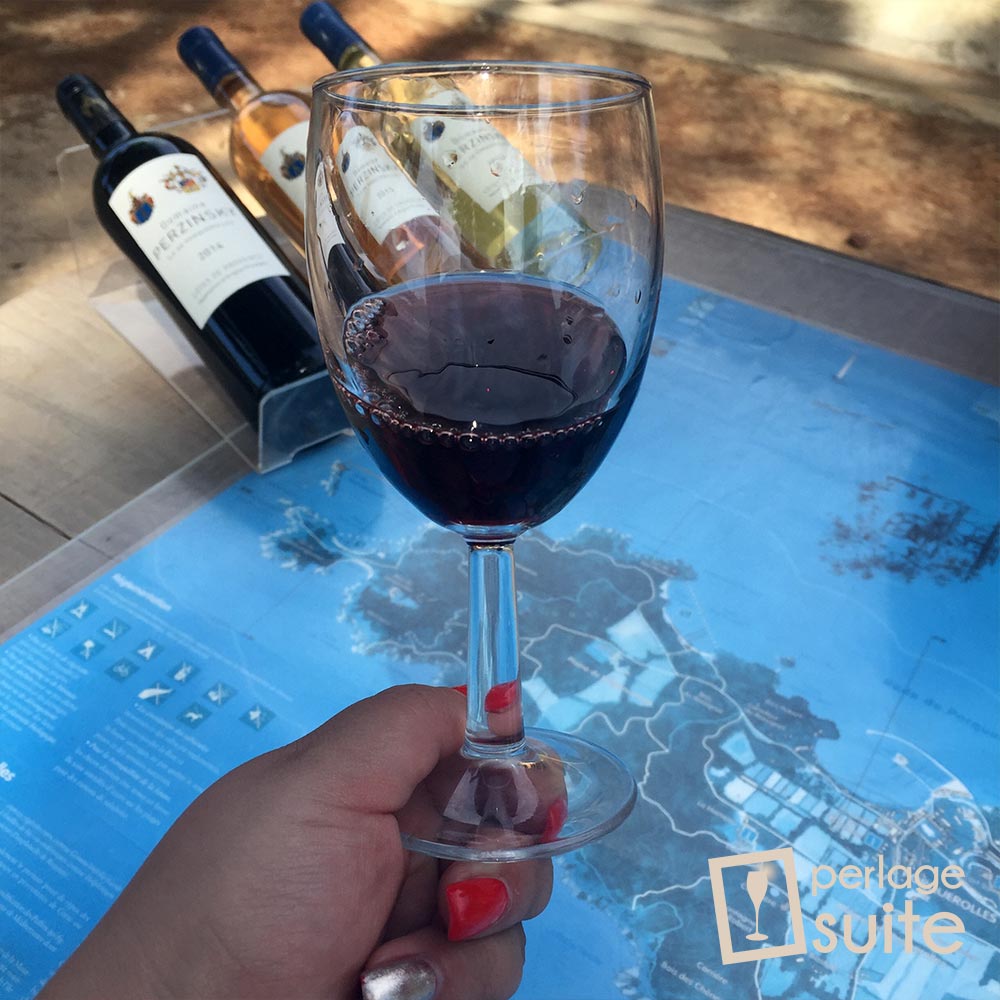 Domaine Perzinsky Blanc contains 90% of Vermentino and 10% of Sémillon. The day of harvest is crucial for obtaining perfectly ripe grapes. After complete destemming, fermentation takes place between 18 and 22 °C and lasts approximately 12 days. The wine remains on its fine lees until January. During this period, weekly racking is carried out to promote autolysis. To the eye, it is a brilliant straw yellow with green reflections on the sides. The nose is elegant and refined, with a bouquet of fresh flowers and white fruits with a citrus finish. This wine is perfect for light dishes, steamed dishes, meat or fish tartare, but above all as an aperitif thanks to its excellent drinkability. I would add that in Provence I have tasted white wines that generally lacked freshness, but the Domaine Perzinsky Blanc does not have this problem, quite the contrary!
The Domaine Perzinsky Rosé contains 30% of Granache, 35% of Mourvèdre, 20% of Cinsault and 15% of Sirah and is a brilliant pale pink. The nose is delicate, with a bouquet of flowers and white fruits. Great freshness, a pronounced savouriness and a firm but delicate mouthfeel make it extremely fine and suitable for degreasing foie gras, duck and goose meat, confit vegetables. Of all the Domaine Perzinsky wines, this is the one I liked best!
At this point I want to tell you an anecdote! It was Wednesday, and there was a wonderful market of delicious food in Arles, just outside the door of Rue de La Cavaliere where we had taken our flat for a week. While Francis was having his second or maybe third breakfast croissant at a nearby Boulangerie, I headed off to do some shopping for dinner. I arrive in front of this oyster stand and see that there are shells of all sizes and prices, from 2.80 € to 4.40 €. Naively I think that the price refers to an oyster, and I ask the old man to give me four so that I can have a small aperitif without spending too much. The old man tells me that he sells them in multiples of 6, and that he has no change for the €20 I gave him. So I ask him for 6 oysters, but he tells me that they are still too few for the 20 €. I only had another €5 note in my wallet and I show it to him... puzzled! He smiles, gives me 12 of his best oysters and 60 cents change! Ah, the whole thing took place with him speaking in French and me in Italian! 😀 Basically, for 15 € I got 2 prawns (350 grams in 2), 12 oysters, 1 baguette, 2 green peppers, 2 tomatoes, 2 lemons, a bunch of fresh mint, tropea onion, AOP butter and creme fraiche, a special kind of sour cream that I love, especially with salad and fish.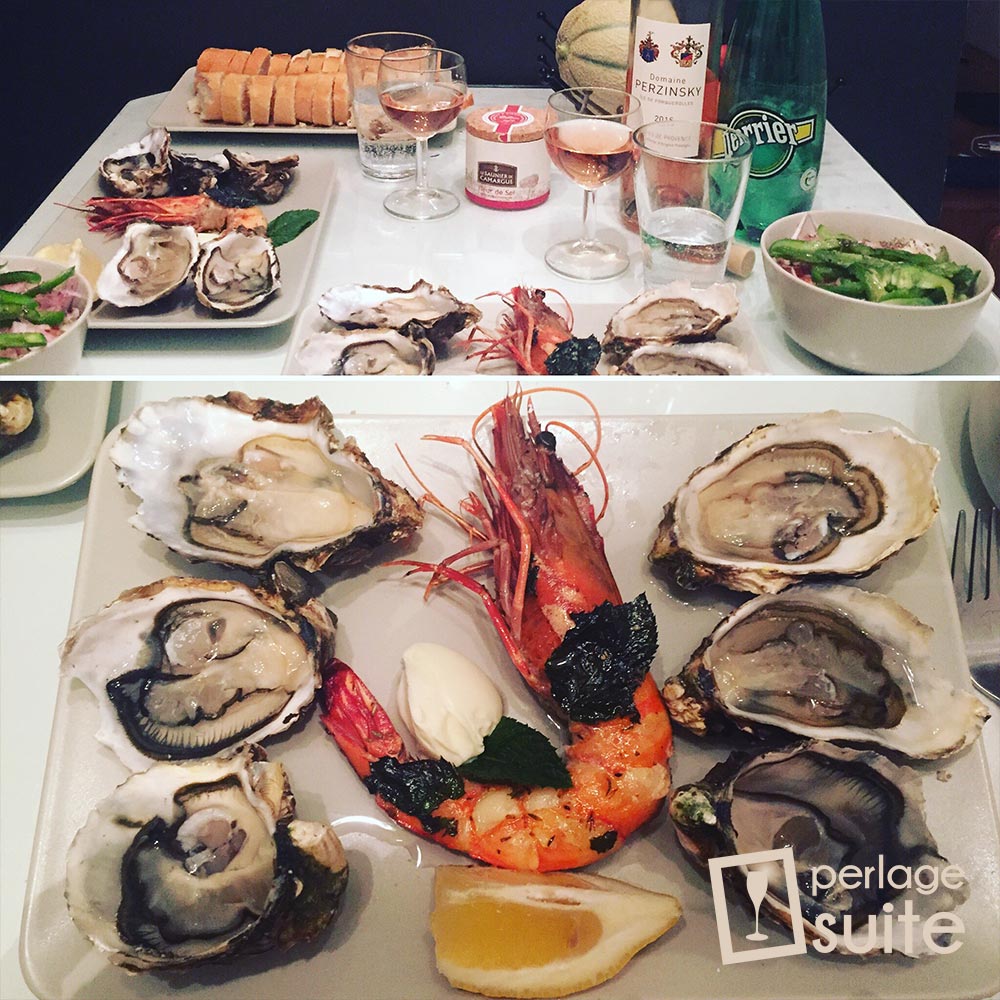 Absolutely the best oysters and prawns we had ever eaten! With a budget of 15 € for 2 of us, we ate this amazing dish... and a very fresh accompanying salad! I would go back to France just for this! The Rosé from Domaine Perzinsky also proved to be an excellent choice here, so I'd say it also goes well with seafood thanks to its elegance!
The last wine tasted from Domaine Perzinsky was the Rouge, whose spiciness really surprised me, and certainly indicates a wine that has had a significant passage in wood! A good wine, composed of 55% Mourvèdre, 30% Sirah, 15% Cabernet. In the glass it is garnet red, the nose is of red fruits and spices, in the mouth it is intense, persistent, round and with elegant, silky tannins.
Domaine La Courtade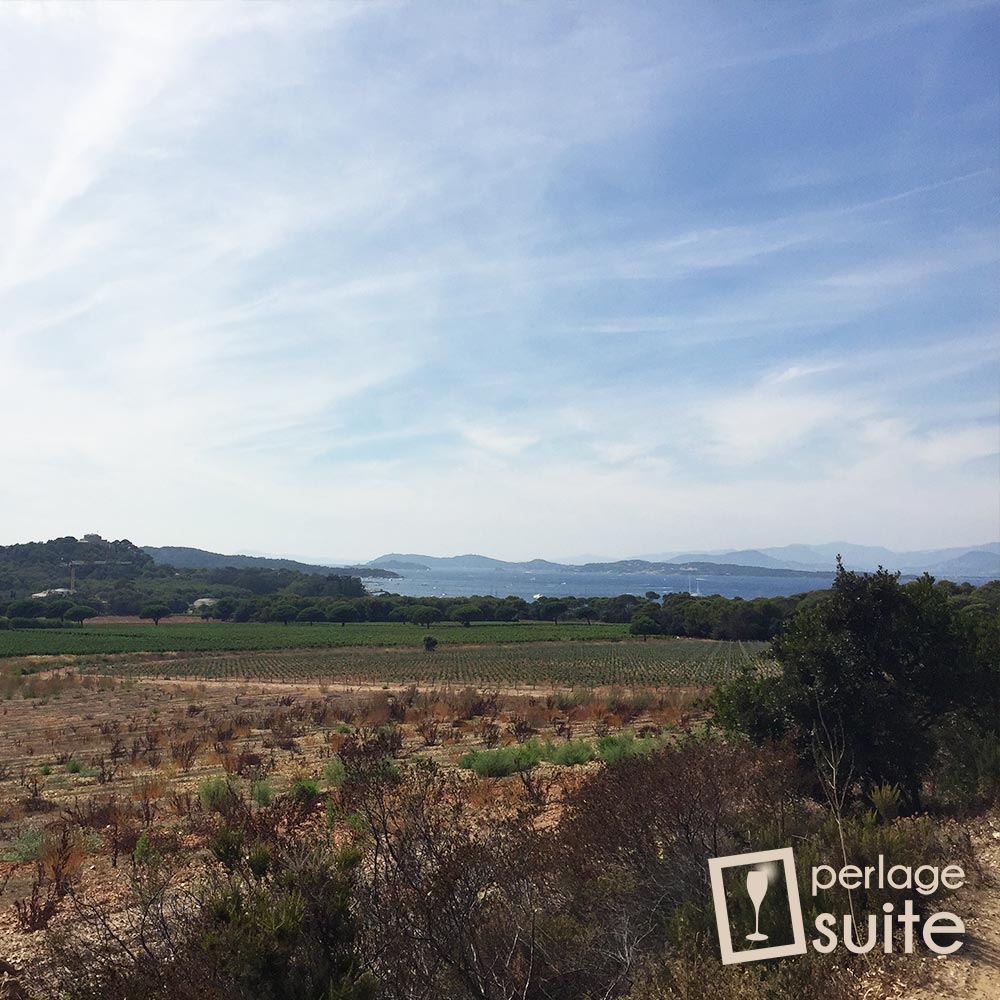 After swimming at the beautiful beach in front of the vineyard, we met up with Florant, who spoke beautiful Italian and was waiting for us to take a tour of this winery. The visit was beautiful: we got into the car and drove around among the vineyards admiring breathtaking views. During our walk, Florant told us that Domaine La Courtade is the story of a man, Henri Vidal, who fell in love with Porquellos while still a child. The creation of Domaine La Courtade is the work of Richard Auther who, on a September morning in 1985, had the profound and instinctive conviction that an extraordinary vineyard could and should be created there. Since 2006, the life of this treasure has been in the hands of Laurent, Henri's son, who has inherited the same passion for the Isle de Porquerolles. They have chosen to plant typical Provençal vines, Vermentino and Mourvèdre, and since 1997, all the vines have been organically managed.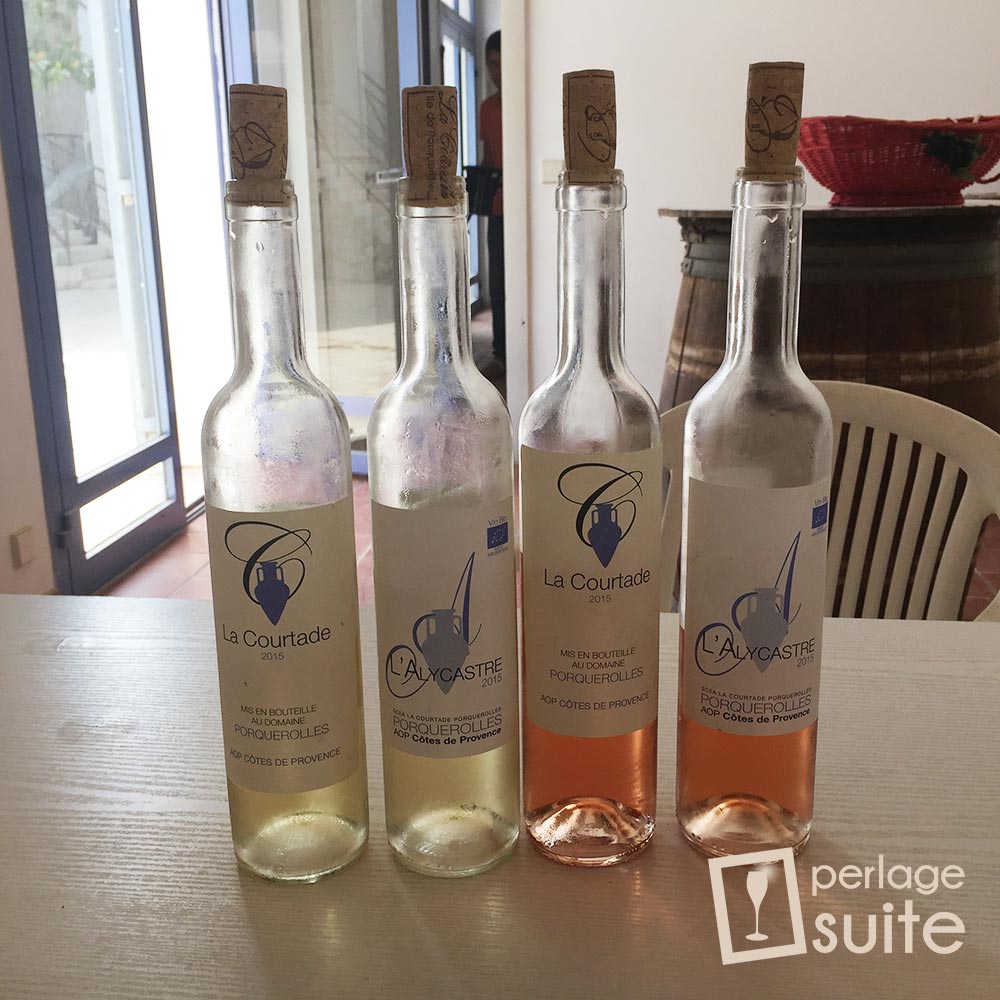 I will be honest, I did not like the white wines from this winery: the grapes are overcooked, hints of banana bother the nose and palate. The hint of vanilla and exotic fruits is pleasant, but really overpowered by this strong hint of ripe banana and the lack of acidity. There are two lines: La Courtade, which generally presents wines of superior quality, and Alycastre. The Rosés were pleasant, especially La Courtade, where you can feel the woody note. But the real surprise of this winery were the red wines: these were really good! I actually tasted them straight from the cask, and I have to imagine what they will be like when they are bottled, but the premises for an excellent result are there. Definitely worth trying!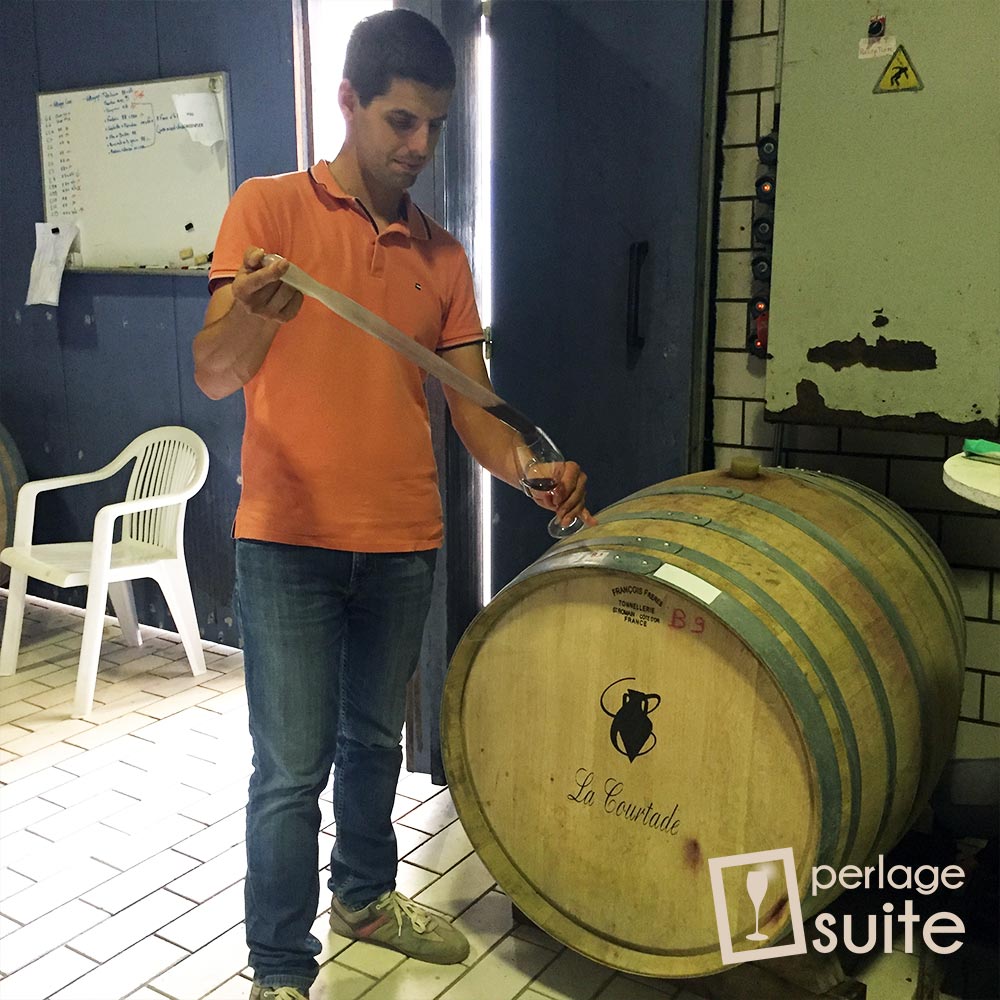 Thanks again to Florant for the wonderful visit!
Finally...
The first day of our holiday ended magnificently: having returned to the mainland, we first picked up our luggage at Stéphanie's house, then stopped at Maison Sarroche with a killer hunger because we couldn't find anything interesting to eat in Porquerolles! Don't get me wrong, there are plenty of places! But they are really too touristy for our taste! The Maison Sarroche heartened us from the wait: delicious baguettes and coffee cream puffs so filled with a delicate cream that we literally licked our fingers! The caramelised apple cake was also splendid... I'm only sorry we didn't take a photo because of our gluttony: we ate it all in the car!
We finally arrived at the Ibis Hotel where we only stayed the first night, which I admit I liked from the photos because it had the rocking Eames chair in the waiting room... what can I do if I am literally a design junkie?
See you soon for the next instalment,
with affection
Chiara
PS Have you ever been to Provence? Where did you spend your summer holidays? Leave me a comment, it gives me immense pleasure  ???