As I wrote yesterday in this article on managing the wine cellar, wine for a restaurant can be a great source of income or a huge source of financial problems. However, before sharing the AIS wine recharge that I learnt during the sommelier courses and before we comment on it together, I want to make a few clarifications.
First of all, there is no universal price for the same bottle of wine, but rather ranges in which the restaurant is placed according to its target group. Do I find this fair? Honestly no, but if it works they are right. As always. For example, for my birthday in Portofino I ate at Da i Gemelli and I found bottles that I knew very well, such as Gabriele Scaglione's delicious Roero Arneis DOCG 'Excellent with fish', a bottle that you can find in a physical wine shop or online at around €15, on the wine list at €72, to give an example. After all, it is a good restaurant, not the kind that stays in your heart, but with excellent service in a wonderful location. And given that they are two restaurants in Portofino, I recommend you book Da i Gemelli Al Molo, because for the same menu this is just below the Cracco restaurant and is infinitely more refined in terms of ambience. However, it is clear that this is a place that I would once have defined as 'for Russian tycoons', but nowadays, with the current climate, I don't know... maybe for Asian tourists. This is to tell you that there are establishments which exaggerate the acceptable range of wine charges, but being aligned with their target market they can afford it. And indeed both restaurants were full.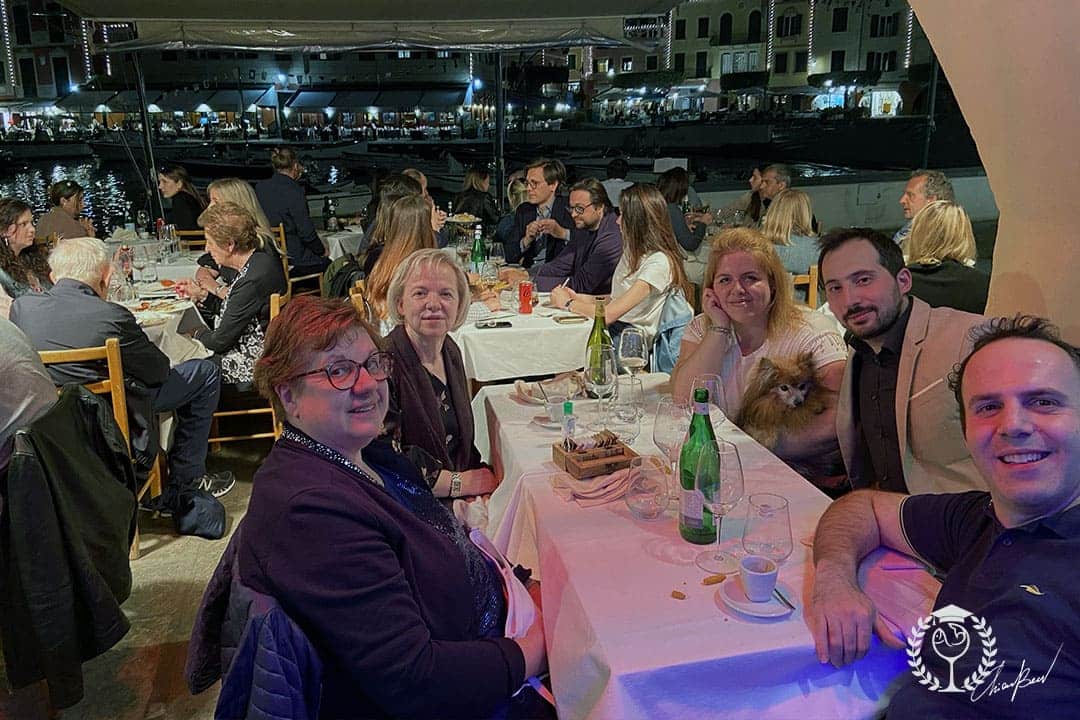 However, if your restaurant is not in the piazzetta in Portofino, on the Costa Smeralda or in front of the Colosseum in Rome, you should be more careful when setting prices. There are industry studies that have set some sort of correct mark-up parameter, but to think you can adapt them to every restaurant is stupid beyond measure. Do we really want to compare the rental/purchase costs of a restaurant in a small square in Portofino or in front of the Duomo in Milan with those of a restaurant in the countryside or in a small village in the middle of nowhere?
So let's say that the parameters of the sector studies may be indicative, but they must then be adapted to the specific case. After all, even if there are universal rules in marketing, it is essential to tailor them to be successful. And establishing the correct price for wines can be considered a gigantic and efficient marketing operation.
Before we delve into this mouth-watering meander of the definition of the wine mark-up, let us look at stock rotation methods: this is where we start to price wine!
You can now subscribe to my newsletter or scroll down the page to continue reading the article!
AIS wine reloading: stock rotation
During sommelier courses, we were taught that the cellar inventory must be thorough and periodic. It can be done using one of these methods:
FIFO (First In First Out) = The first bottle in is the first bottle out, enhance stock with newer pieces.
LIFO (Last In First Out) = The last bottle in is the first one out, it enhances the older pieces. I personally prefer this method, but every restaurateur has to choose according to the target clientele of his restaurant.
CMP (Weighted Average Cost) = It does not find much acceptance because the producer sets the price of wine of a certain vintage at the time it is placed on the market and this price is unlikely to change until the following vintage.
For each wine, the ideal supply quantity must be established by averaging the cost of storage with that of the order. The ideal is to record all movements in a cellar logbook, yesterday paper-based and today computerised - even a trivial Excel sheet - with all the details of each individual bottle.
AIS wine recharge: restaurant recharge percentage
Based on the purchase cost, there are:
low-end wines < € 5 per bottle with a recommended mark-up of 200%. For example, if a bottle of wine costs 5 € with a mark-up of 200% it will be on the wine list at 15 € [Formula: wine price (5 €) + price of wine x 2 (5 x 2 = 10) so 5 € + 10 € = 15 €];
mid-range wines 5-10 € per bottle with a recommended mark-up of 150%. For example if a bottle of wine costs 8 € with a mark-up of 150% it will be on the wine list at 20 € [Formula: wine price (8 €) + price of wine x 1.5 (8 x 1.5 = 12) so 8 € + 12 € = 20 €];
high-end wines 10-20 € per bottle with a recommended mark-up of 120%. For example, if a bottle of wine costs 15 € with a mark-up of 120% it will be on the wine list at 33 € [Formula: wine price (15 €) + wine price x 1.2 (15 x 1.2 = 18) so 15 € + 18 € = 33 €];
very high-end wines 20-50 € per bottle with a recommended mark-up of 100%. For example, if a bottle of wine costs 35 € with a mark-up of 100% it will be on the wine list at 70 € [Formula: wine price (35 €) + price of wine x 1 (or even wine price x2, but let's not complicate life by making two extra synapses...) so 35 € + 35 € = 70 €];
off-price' wines > € 50 per bottle with a recommended mark-up of 50%. For example, if a bottle of wine costs 80 € with a 50% mark-up, it will be on the wine list at 120 € [Formula: wine price (80 €) + wine price x 0.5 (80 x 0.5 = 40) so 80 € + 40 € = 120 €].
The % is not fixed because the price is made up of so many factors, including the service of the wine, which, however, is the same regardless of the bottle, which is why, for me, it is wrong to consider a fixed %.
This 'wine mark-up table' is obviously very 'honest', but obviously in defining the % you have to take into account your costs... i.e. whether you have a restaurant in front of the cathedral in Milan or in the industrial area of Cinisello Balsamo. If you are in front of the cathedral in an extraordinary place with a famous chef even a slightly higher mark-up won't shock anyone, if you are behind the factory with an average kitchen and in a trattoria-style place you can lower the % a little and your consumption will benefit...
In a wine shop the mark-up is around 40%, while in a restaurant the mark-up can exceed 300%. A mark-up with a variable percentage inversely proportional to the purchase price may favour the consumption of more important wines, having a lower profit in percentage terms, but higher in absolute value.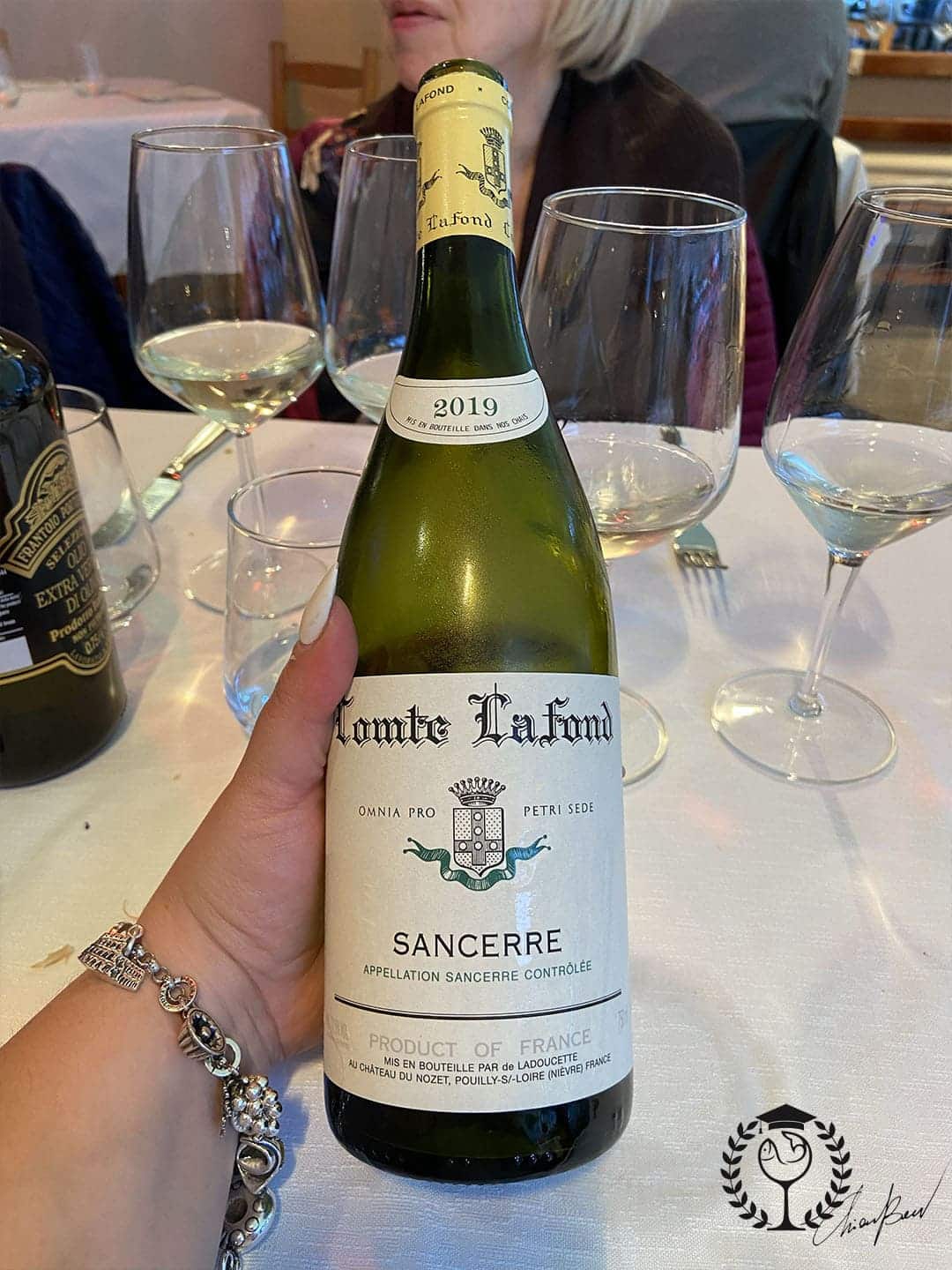 Wine reloading: some personal reflections
In most cases an ignorant restaurateur follows an ignorant wine list with outrageous, sometimes embarrassing, wine prices. This is not always the case: in most Michelin-starred restaurants the wine prices are absurd, and there it is certainly not a cultural problem. Also, I continue the example with Da i gemelli in Portofino, there I have seen a good wine culture because the menu is very nice, but the prices are totally out of line. In this case, as I said, in my opinion it depends on the target clientele... and in any case I found a wine with a reasonable price: the Sancerre Conte Lafond 2019, which costs about €25 a bottle and is sold, if I remember correctly, for €72 (200% mark-up, even if we have just seen that for very high-end wines the recommended mark-up is 100%... in any case, in Portofino it can be...).
It is understood that an educated and intelligent restaurateur is one who does not create a crazy wine list: as I mentioned before, one has to see what the mark-up entails in absolute terms. A shrewd mark-up allows you to sell more bottles and above all more important bottles and thus earn more money.
You can now buy my book Sommelier: the illustrated manual or scroll down the page to continue reading the article!
Book 'Sommelier: the Illustrated Manual' Special Edition 2022
All my notes on wine and food in one book.
Finally, I always urge restaurants to offer two services:
Right of stopperis the possibility of bringing to the restaurant a bottle of wine that you bought elsewhere or simply had at home, possibly charging a service fee that includes uncorking, actual service and washing glasses. The price for the corkage fee is around €5-10, but thinking about offering it free of charge is a really cheap way of building customer loyalty.
Bringing the bottle homeis the possibility of taking home a bottle of wine bought at a restaurant. All you have to do is prepare a cork - branded, to be given as a gift with a view to customer loyalty - and special bottle bags, also branded, and you're done. The possibility of drinking the leftover wine at home reassures all those customers who do not buy the bottle because they know it will not be finished (although this is not our case!).
What do you think about the price of wine bottles in restaurants? Write me in a comment below and let's talk about it together!
As always, I hope I have been helpful!
Cheers 🍷
Chiara