When I think of the most beautiful and best organised events in the field of food, at the top of my list is definitely the presentation of the Buon Ricordo Restaurant Guide 2023. I love the format from appetiser to dessert: you start with a welcome drink where you taste the sponsors' products (the same ones you can find inside the member restaurants), introduce the newcomers to the association and the restaurants that change specialities, and finally you taste those very specialities (and possibly others) in a buffet cooking show. Beautiful! This year I managed to taste practically everything (my husband everything), I only missed the fillet of sea bass from the Michele Chinappi restaurant in Formia (LT) because when I decided it was finished.
I won't dwell on the first part of the evening because I'm sure other newspapers have covered it abundantly before me and I'll get to the point, which is what I think of the dishes I tasted and the restaurants I recommend you go to (the ones that have at least a heart next to their name). Even if you cannot get a complete idea of a restaurant from a single dish, the approach with which it is executed - especially on an occasion aimed at showcasing one's talent to an audience of journalists - is enough for me to make an initial skim and at the same time to make me curious to try the cuisines that have really managed to excite me.
I have listed the dishes in order of tasting.
11 specialities of Buon Ricordo Restaurants 2023: my tastings
Buon Ricordo Restaurants 2023: Al Colombo, Venice - Grancevola femena ❤️❤️+
A presentation that is a bit '80s but does its job: it tells you what you are going to eat and entices you to choose it. In fact, it was the dish I started with and I did well as it was finished almost immediately. The spider crab - a delicious crustacean - is cooked to perfection (so very little) and seasoned with wisdom (so very little) in full respect of its delicate flesh. I did not give it three hearts (my maximum) only because of the choice of extra virgin olive oil: very good, but too bitter and spicy for the spider crab.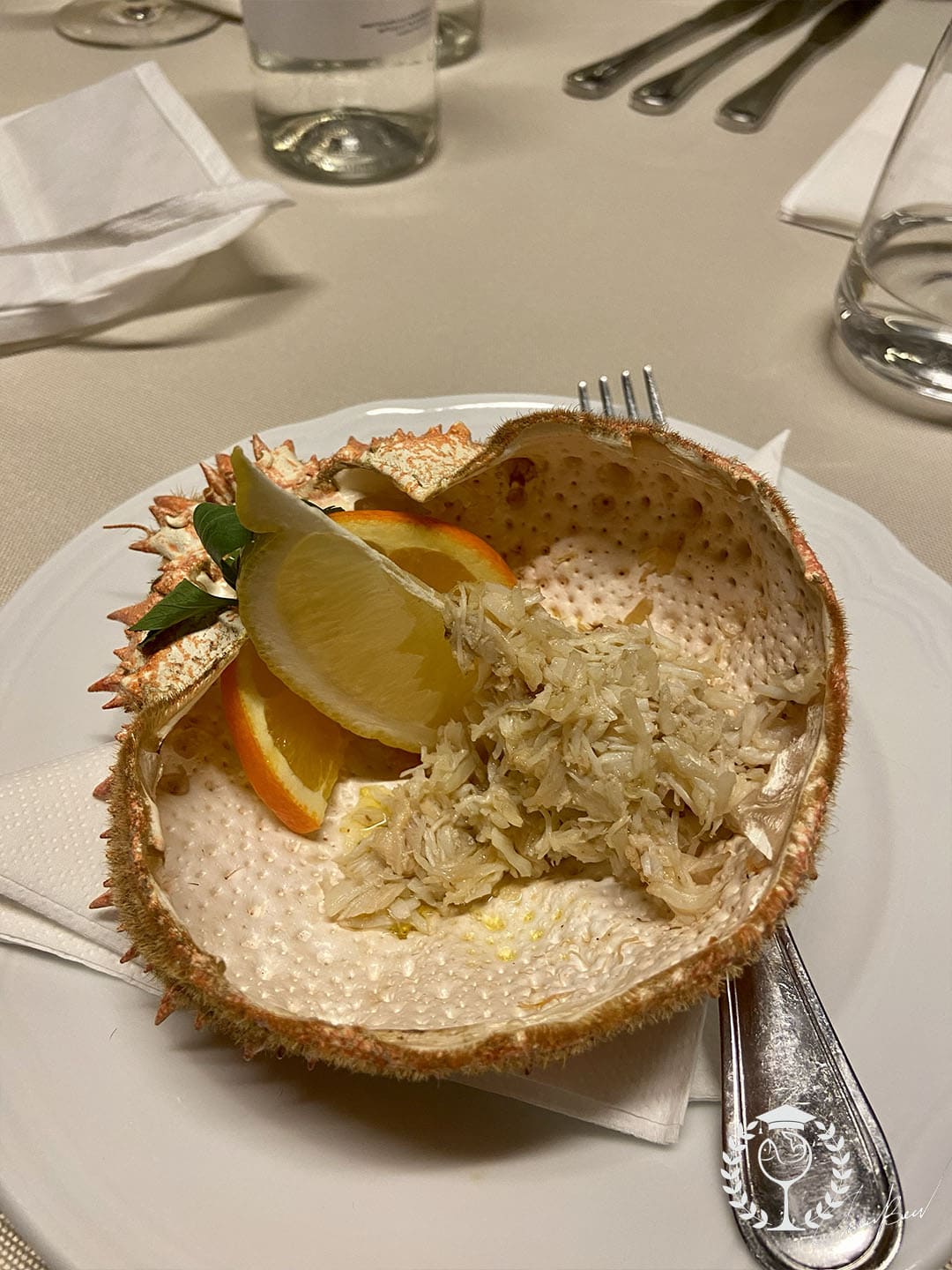 Buon Ricordo Restaurants 2023: Mater Terrae, Rome - Rinascimento Italiano ❤️❤️❤️-
Rinascimento Italiano is a dish that represents Romanity: artichoke-filled tortelli on a pecorino cheese mousse with crispy artichokes, purple potato chips and truffle. I must say that this is the dish I liked best: the pastry is perfect, the artichoke filling is crisp and the pecorino mousse delicate. The potato chips give it colour above all, because the crunchiness is already taken care of by the sautéed artichokes. I found the truffle 'a plus', a desire to ennoble with simple ingredients that reflect the city's tradition. As my beloved Ludwig Mies van der Rohe used to say, less is more! The dish is so perfectly executed that you don't need to know what's in it to distinguish each ingredient, which is perfectly enhanced.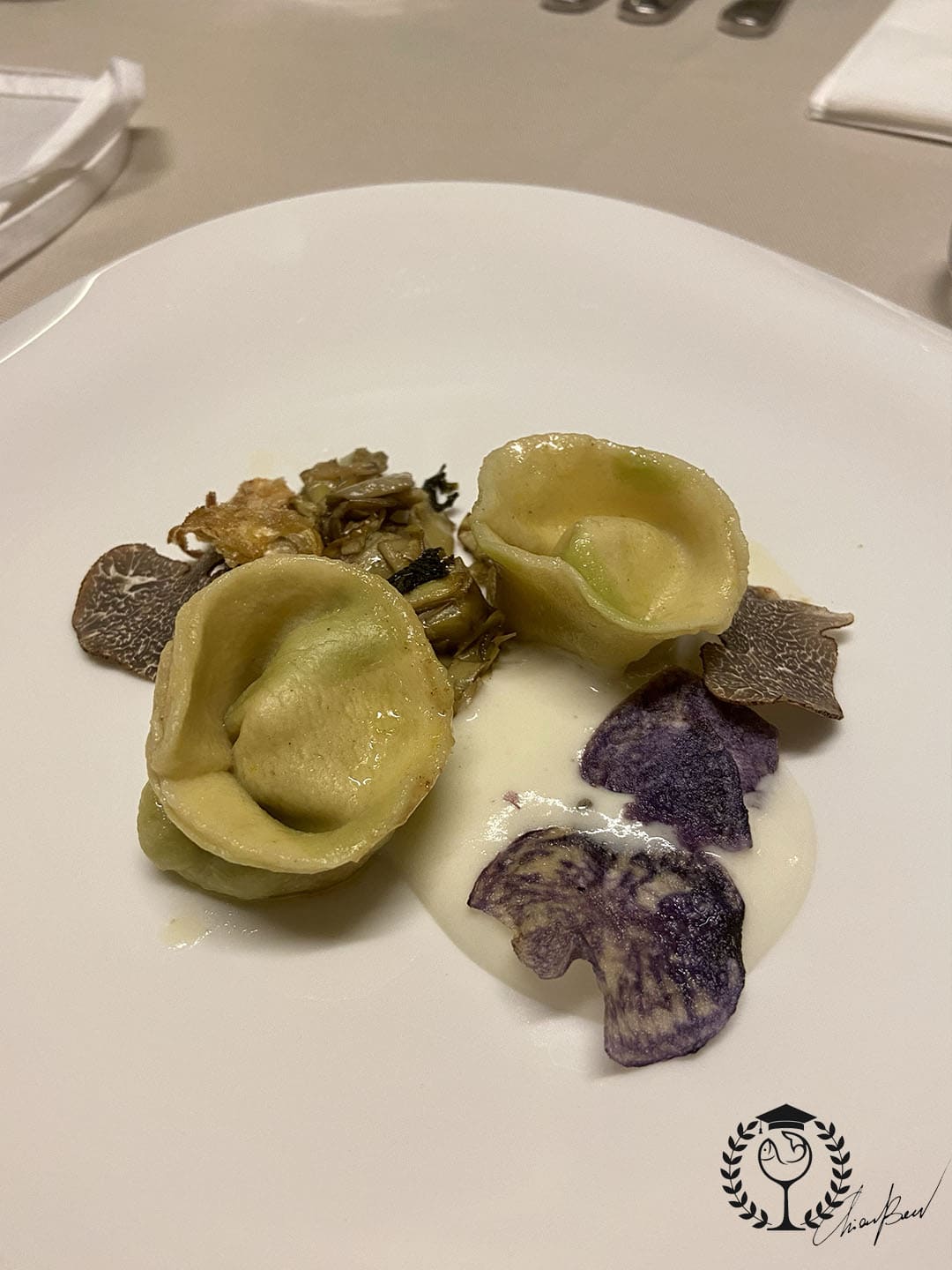 Buon Ricordo Restaurants 2023: Olona da Venanzio since 1922, Induno Olona (VA) - duck in 4 sauces ❤️
Duck cooked to perfection (although I prefer it a little further back) and thinly sliced, then laid on a creamy sauce with mushrooms (morels perhaps?), a sauce of cooking juices and a fragrant green sauce. Difficult to distinguish all the sauces, but I must say that the whole is very harmonious.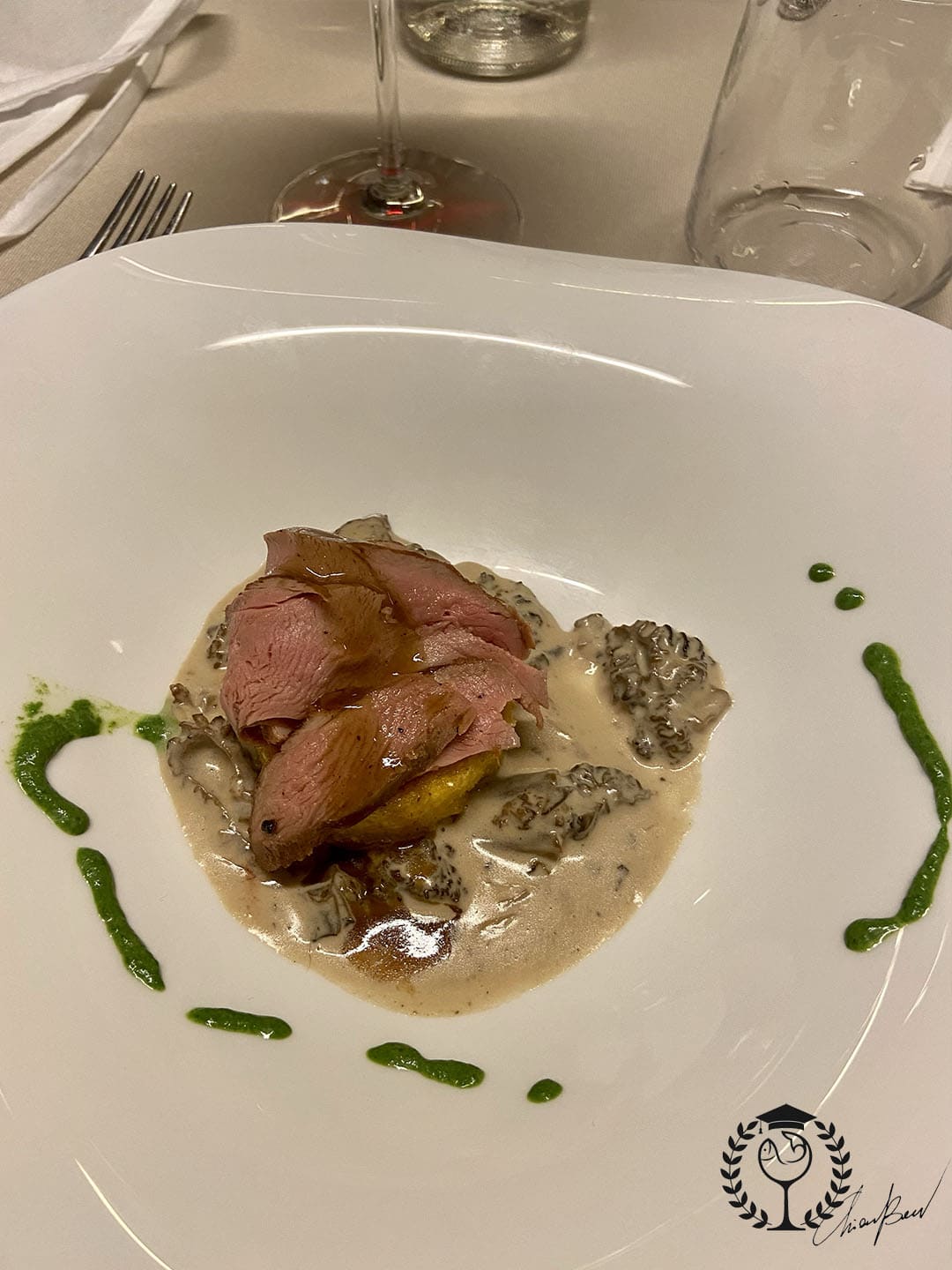 You can now subscribe to my newsletter or scroll down the page to continue reading the article!
Buon Ricordo Restaurants 2023: culurgiones ogliastrini with veal demi-glacé, cannonau and truffle ❤️❤️++
An extraordinary dish that makes it possible to eat well Italian in Paris, albeit under the sign of French cuisine with demi-glacé sauce. The culurgiones is filled with potatoes and mint as tradition dictates, the mint above all being perfect for refreshing the demi-glacé, which here is proposed as a delicate caramel for the culurgiones thanks to the sugars of the cannonau. The texture and cooking of the pasta is perfect. The truffle in this dish is the icing on the cake. A perfectly studied dish where Sardinian tradition is modernised and adapted to the French palate. Bravo.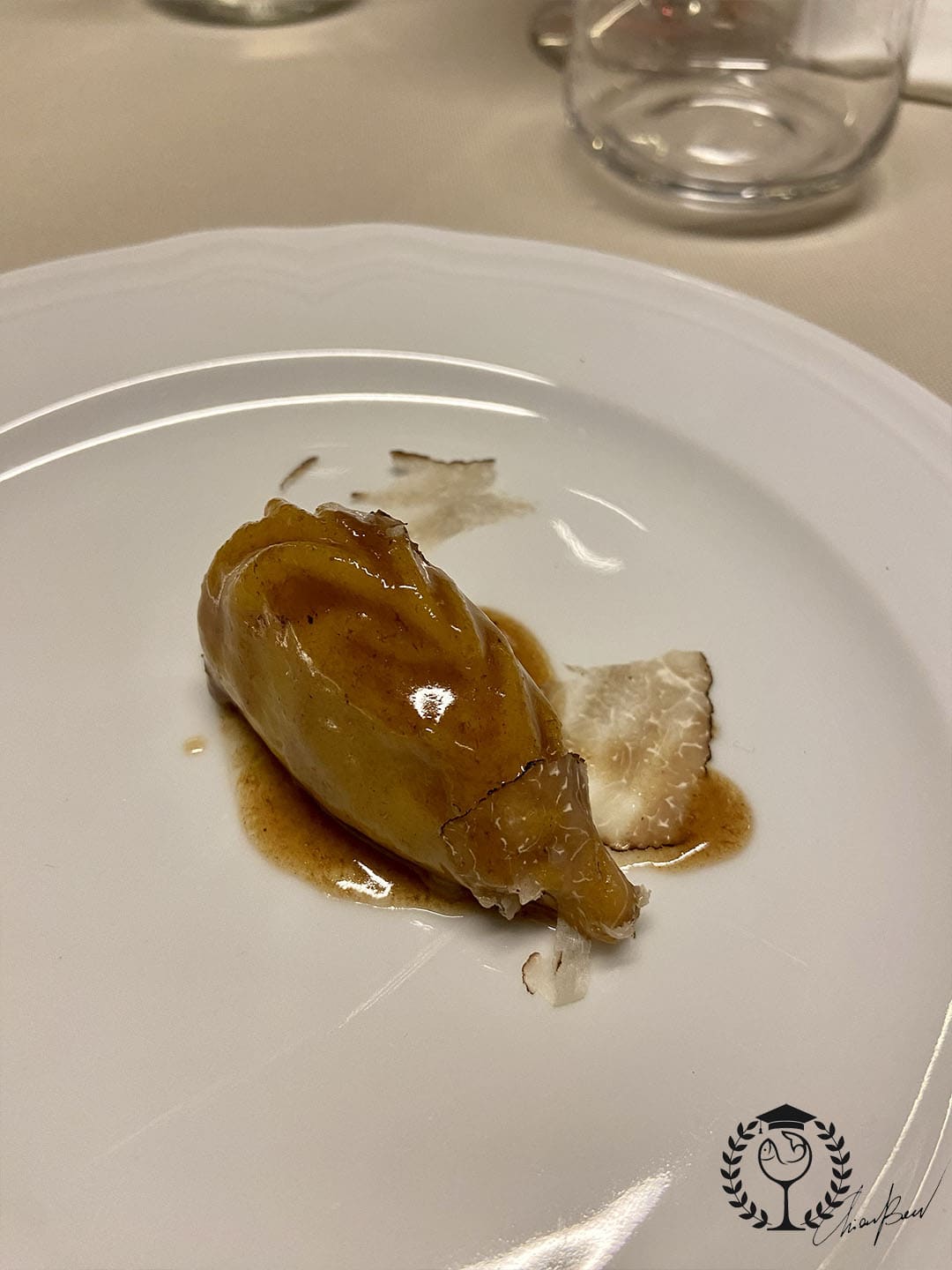 Buon Ricordo Restaurants 2023: Il Grill del Lovera since 1939 - chestnut flour gnocchetti with Castelmagno cheese
A well-balanced dish, where the sweet tendency of the chestnut flour is balanced by the savouriness of the Castelmagno cheese. It remains, however, a little flat in taste and lacks a crunchy element, such as a roasted chestnut crumbled on top.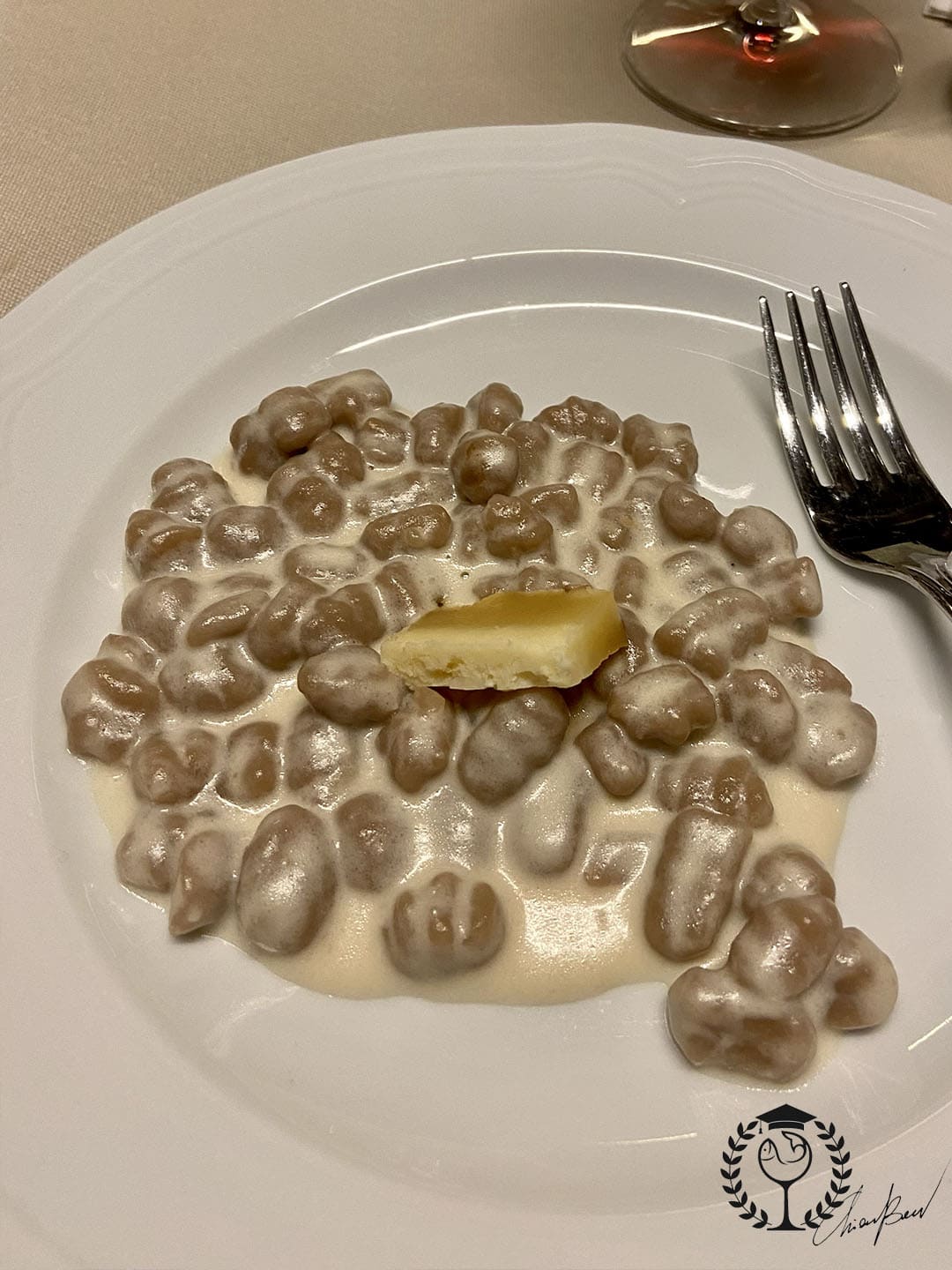 Buon Ricordo Restaurants 2023: Locanda al Castello, Cividale del Friuli - Longobard-style maltagliata of beef 😖
This, for me, was the only really unsuccessful dish among those presented, a dish I would describe as 'not for a restaurant'. The maltagliata alla longobarda that we ate was pan-cooked beef strips, no more, no less. The meat was tough, a sign perhaps of a rough marinade on not excellent meat. The pepper sauce put on the side did not mix well and seemed a bit 'thrown in' there.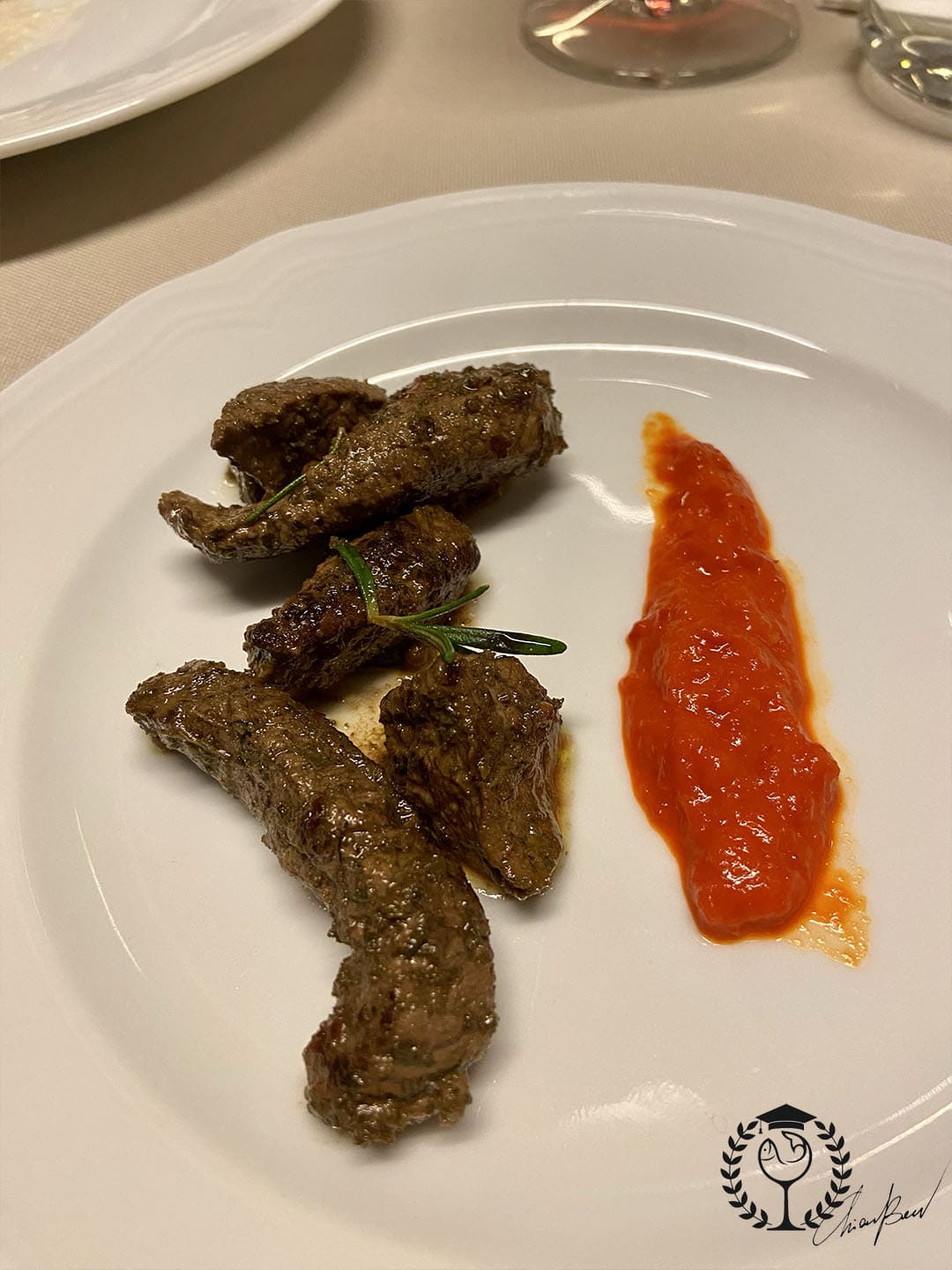 You can now buy my book Sommelier: the illustrated manual or scroll down the page to continue reading the article!
Book 'Sommelier: the Illustrated Manual' Special Edition 2022
All my notes on wine and food in one book.
Buon Ricordo Restaurants 2023: Al sole, Forni Avoltri (UD) - Cjarsons di Lia +
Too bad the presentation is not too neat, because the taste is intriguing. It seems to be closed like a raviolo, but the dough is reminiscent of gnocco and has a texture that doesn't drive me crazy. Inside ricotta and cinnamon, outside extra virgin olive oil, more cinnamon and a grating of salted ricotta. Overall delicate taste in which the salted ricotta and cinnamon are protagonists.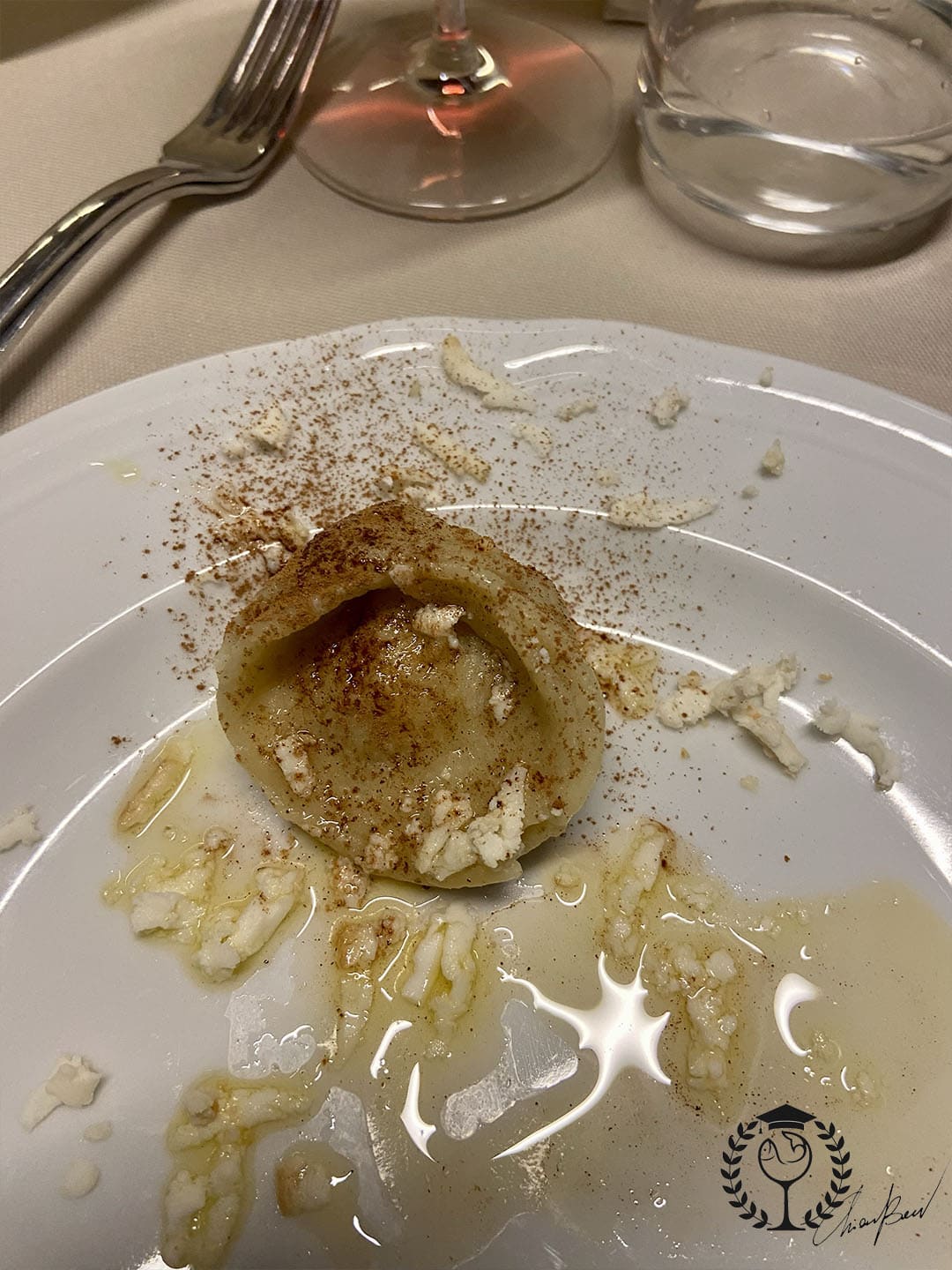 Good memory restaurants 2023: La cascina 1899 - Spaghetti alla corte d'Assise alla vecchia maniera di Gaetano ❤️
This dish is the (good) taste of simplicity: just spaghetti, tomatoes, chillies, parmesan cheese, garlic and extra virgin olive oil (I don't think there is anything else) for infinite enjoyment. Quality spaghetti wrapped in a lightly spicy sauce, nothing else to add.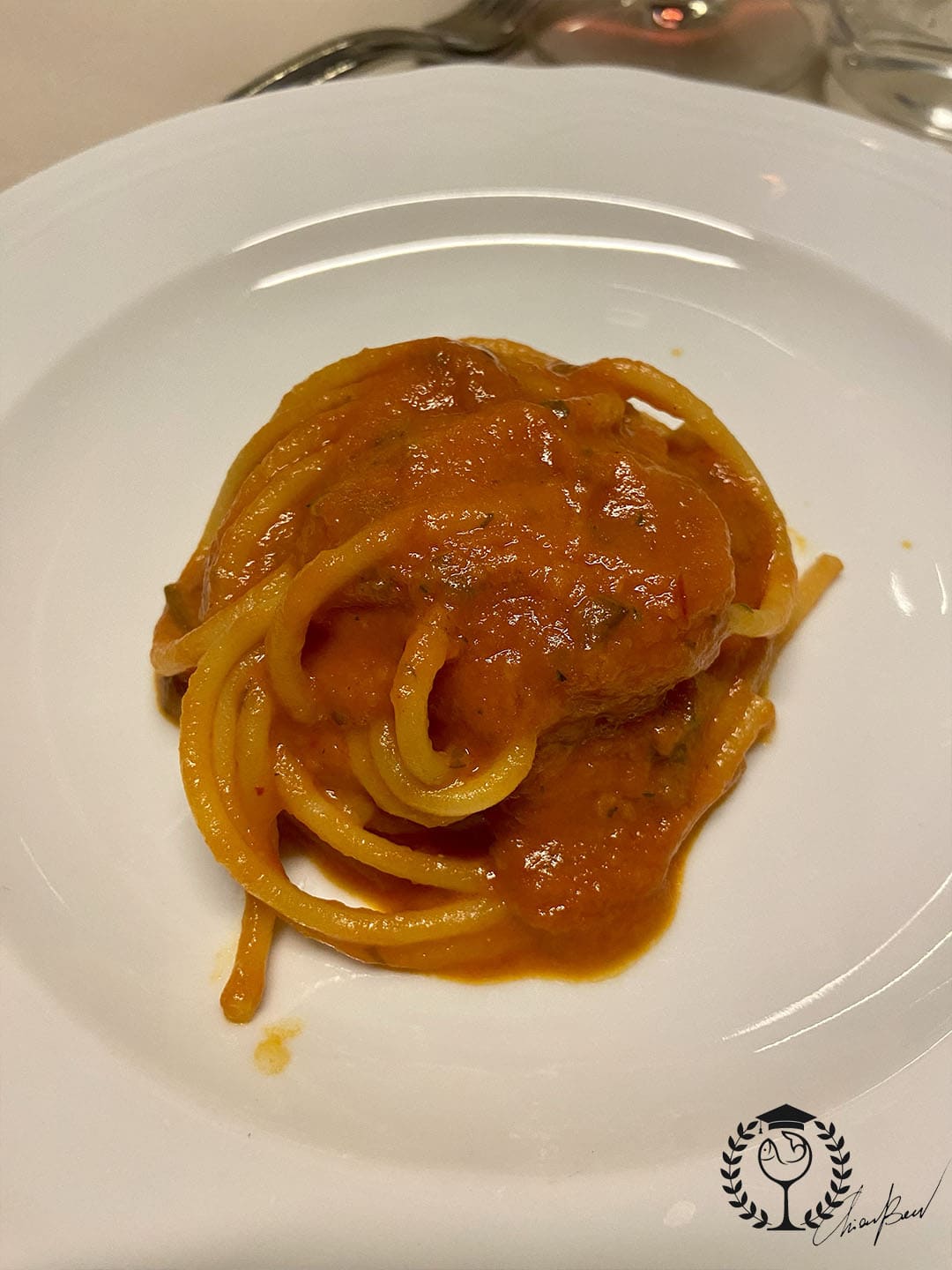 Buon Ricordo Restaurants 2023: osteria La Tecchia Pietrasanta (LU) - spaghettino Cavalieri with Viareggio's arselle ❤️❤️
The perfect noodle, even for me who doesn't like noodlesinibut only the spaghettioni. Few ingredients, only the ones you need, and a perfect mantecatura with the starches. Balanced and rightly savoury taste.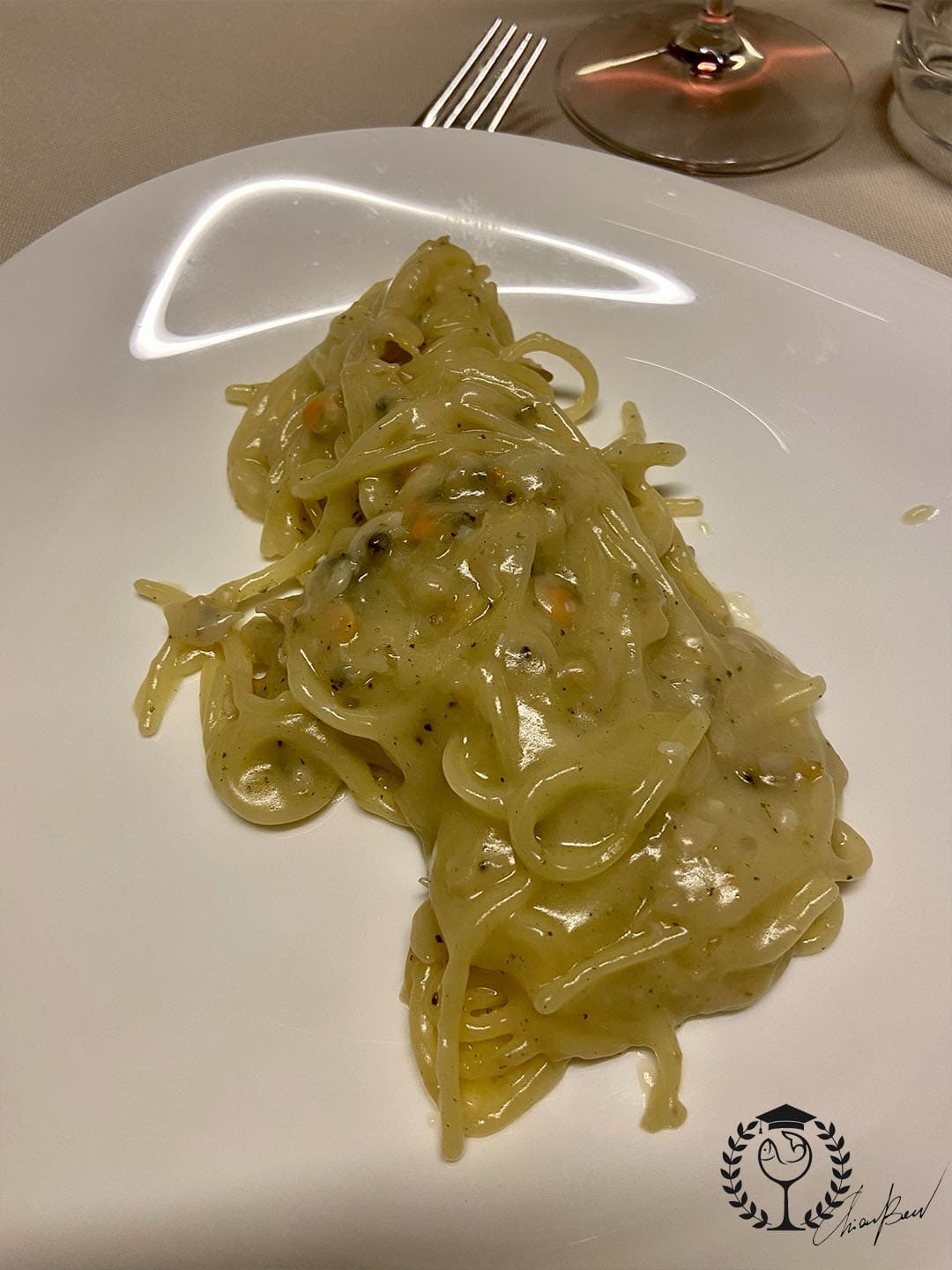 Restaurants of good memory 2023: Sabbia d'oro, Belvedere Marittimo (CS) - tagliolini giallo mare
Rather than tagliolini, I would call them pici because of the shape, even though it was in fact an egg pasta. A pleasant first course, but not incisive. I didn't recognise all its ingredients, only the cuttlefish and zucchini flowers, and because I saw them, not felt them. The fresh pasta was very good and well seasoned, but I could not award them for this somewhat flat taste.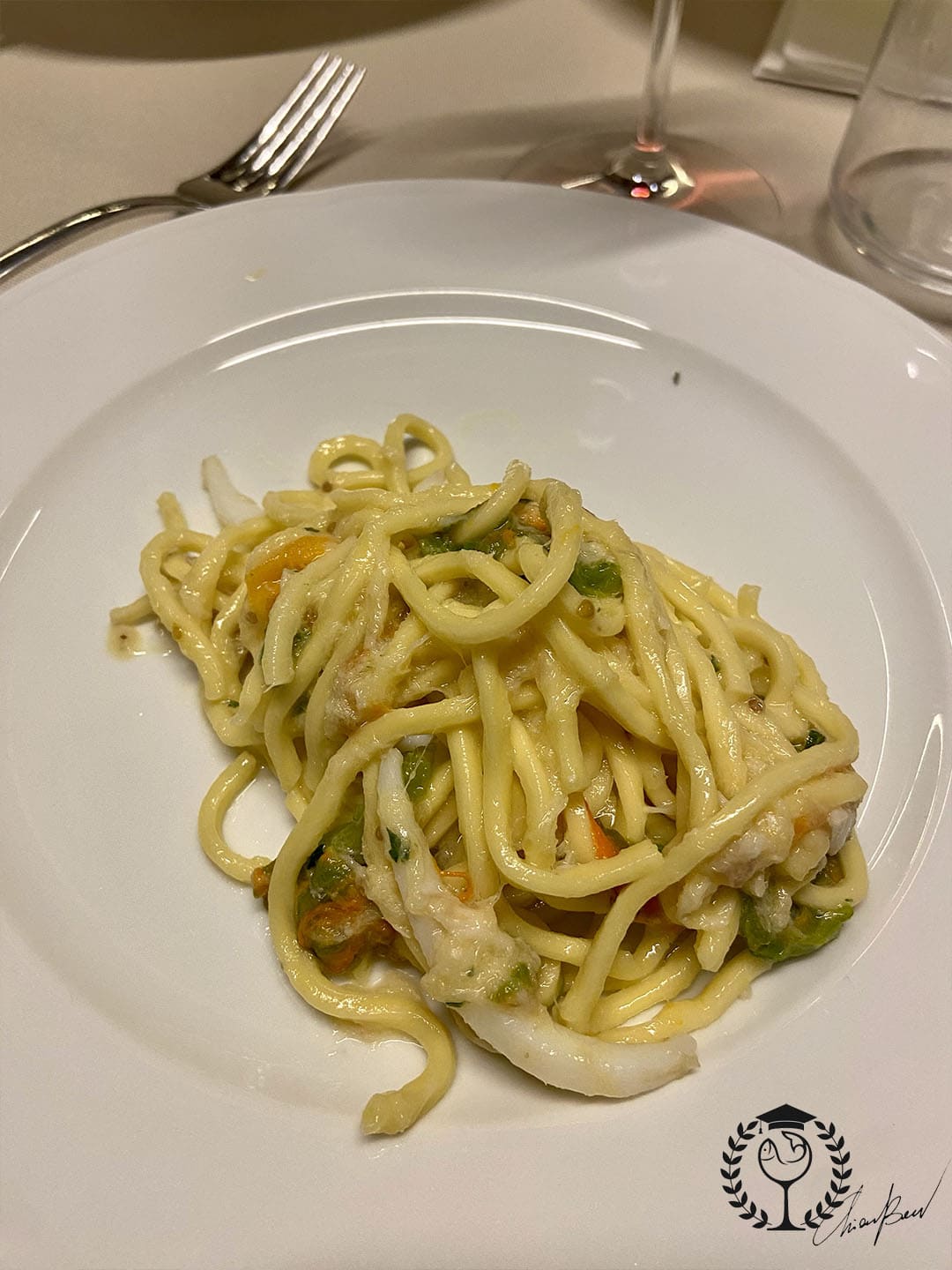 Buon Ricordo Restaurants 2023: Antico Francischiello, Massa Lubrense (Na) - lemon delight ❤️+
A truly delicious lemon delight, with a well-wet sponge cake, a lemon cream where the lemon is a non-invasive protagonist and a very fine icing. A creaminess that is not cloying also thanks to a perfectly dosed sweetness.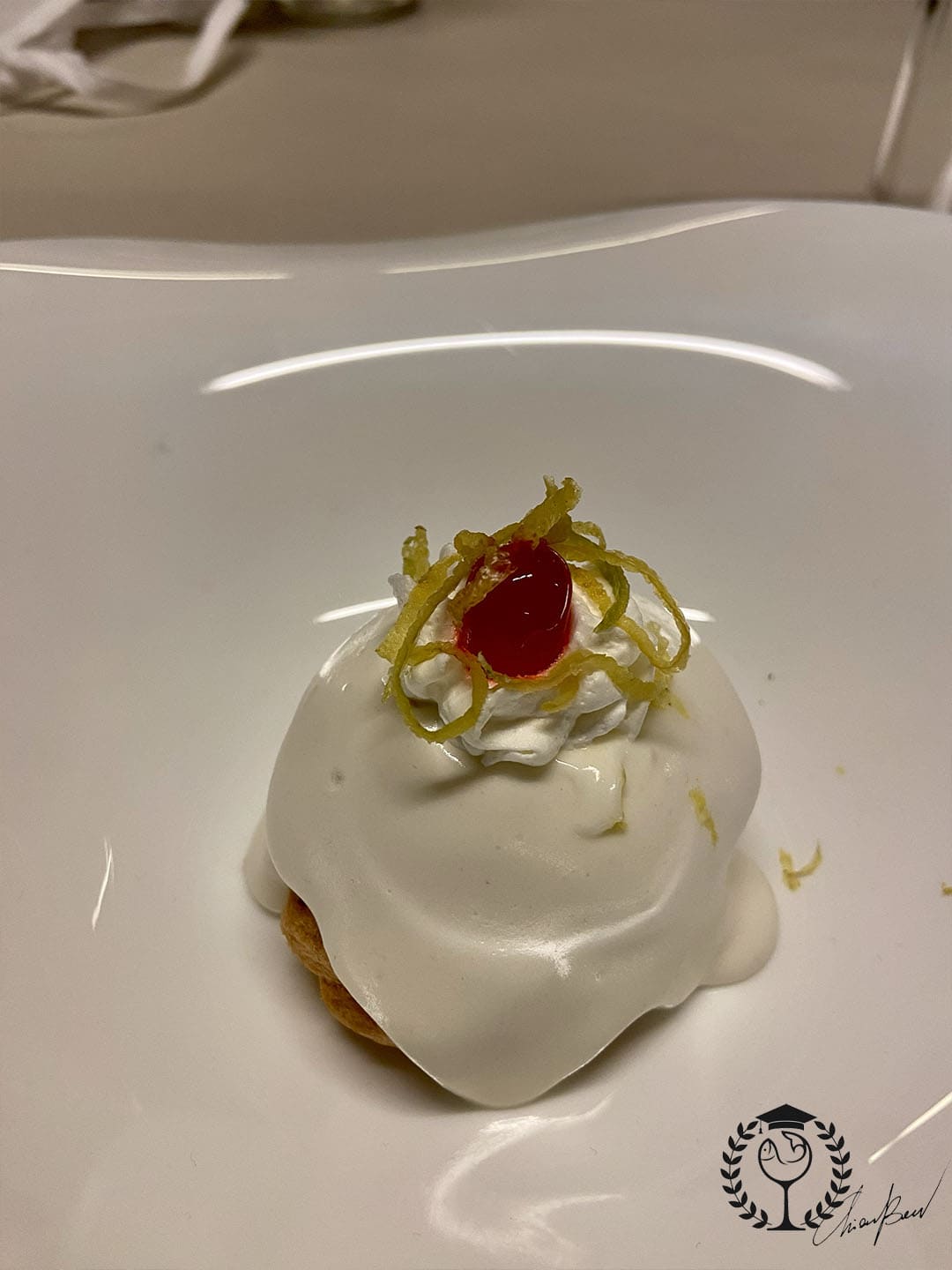 The Buon Ricordo 2023 Restaurant Guide is nice and will surely accompany my husband and I on delicious spring and summer gastronomic jaunts that I will gladly tell you about... I have seen many specialities that I can't wait to try such as the pappardelle al pike in Garda sauce of Villa Luisa Resort in San Felice del Benaco (BS), the goose leg under onto of Trattoria Al Ponte in Bormio (RO) and the tortelli di baccalà (salt cod tortelli) on bean puree with fried onion, crispy guanciale (cheek of bacon) and rosemary-scented oil of Ristorante Antico Brolo in Padua.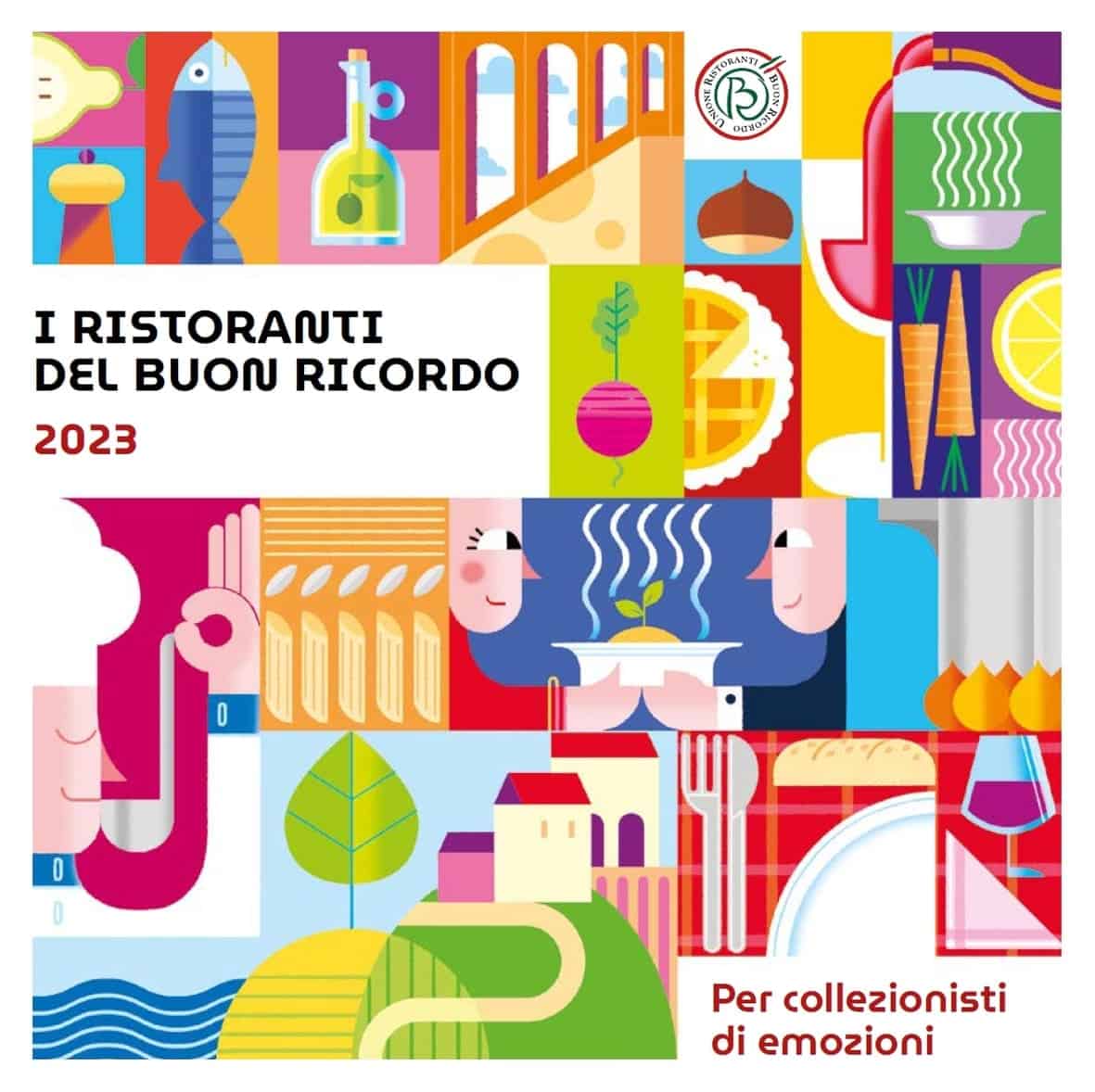 The The level of Buon Ricordo Restaurants remains very high overall and the 2023 guide is a valuable reference tool for this for all those gourmands who prefer the luxury of simplicity to sophisticated dishes. Thanks to Marina Tagliaferri from the Agora press office for the invitation and I would like to take this opportunity to wish you a very happy birthday! 
Cheers 🍷
Chiara