On Friday evening I was in Bergamo Alta at the Sette Terre Wine Festwhich on this evening was sponsored by AIS Bergamo and I had a really great experience! The Sette Terre Wine Fest It is really worth a visit, also because for only 10 € you can taste the excellence of 7 producers from our region. The common denominator of this association is the quality so beloved of Maestro Veronelli, and I must say that I perceived it in every taste... so bravo to you all!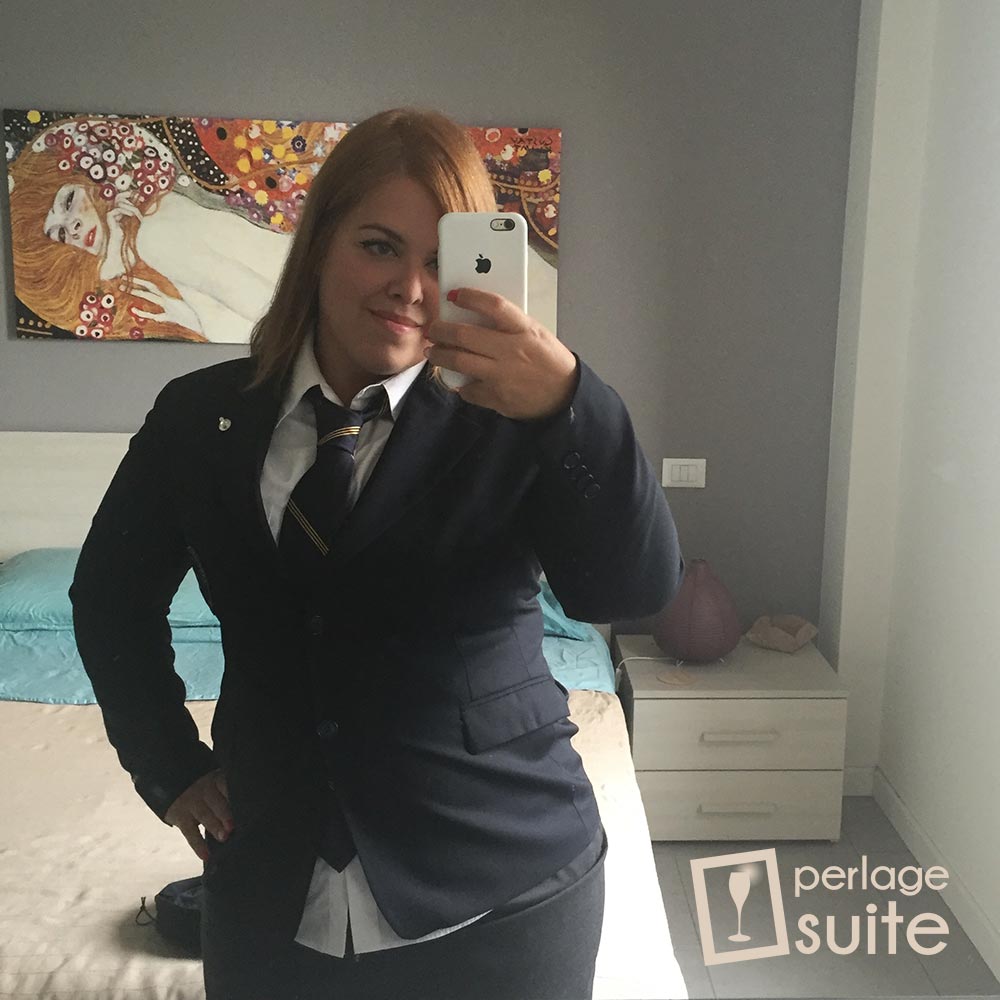 I leave home around 4 p.m., the rain is unrelenting. I put on the AIS uniform with great diligence, but I admit that I feel like a sausage in a too-tight casing, and I wish I had the mythical Bridget Jones knickers that could take off at least 2 sizes and make the worst of the rolls disappear! Since returning from France I have lost 4 kg, thanks to a fairly strict diet combined with some sentimental stress. Great, 'only' 29 kg separates me from my ideal weight by now... but I have promised myself that the present I will give myself for my 32nd birthday, on 8 May 2017, is to reach my ideal weight and never let go of it again, and you can bet I will! Who knows then that I won't finally have a Mark Darcy ready to adore me too like Bridget did... by the way, her new movie comes out on Friday! Can't wait to go 😉
But back to Bergamo Alta! But how the heck was it raining on Friday? I don't think I've ever been so wet... and with the sommelier's uniform I had even worn a 10 heel: crazy stuff! Luckily I had a spare pair of ballet flats in my bag, but they were barely dry either. I parked in San Lorenzo (they practically robbed me: €12 parking fee for 5 hours!), walked a few hundred metres, and here I am in the Seminarino, which is an oratory/theatre with a beautiful cloister. I really like these tastings organised in the cloisters, like at Voluptates in Imola o Welcome Brunello in Montalcino!
I tasted all the wines present at the Sette Terre Wine Fest and I must say that the standard of quality was really high. From what I understood, the beauty of this area is its diversity of soils and viticulture that often becomes heroic. Sette Terre is an association of independent winegrowers from Bergamo, they are 'wineries that share the search for the maximum expressiveness of their wines and their territorial identity, starting precisely from the seven profiles of the soils on which they root their respective vineyards located from one end to the other of the hilly area of Bergamo'. I like their belief so intensely in their land... and their logo is also wonderful: the wine moves in the glass to form the Bergamo landscape!
It has been three days since the tasting, but I still have the taste of three wines in my mouth:
Sette Terre Wine Fest 2016: Tellurit - Bergamasca Riesling IGT 2013
This is the wine I liked best of all. As the great Franco Ziliani, patron Berlucchi, told me on Saturday, you either like a wine or you don't. Here, I liked this riesling extraordinarily well! In particular, I found the nose perfect: great minerality, an intense solvent note, endless hydrocarbons, a hint of cedar grass and white peach. In the mouth, it entered vigorous and savoury, with great structure and acidity. I am sure it is a wine suitable for ageing, and I would like to taste it again in four to five years' time. Definitely a wine that can do the whole meal, but I find it perfect for the aperitif, served chilled but not too much. It reminded me of a tasting made at Voluptates a couple of years ago! Tonight I was looking for some information about this wine online... and since the winery's site doesn't open for me (or rather there is a splash page that leads to nothing and without any information - I suggest the owner take a look at my winery web design 😉 ) I found on another website that the oenologist is Angelo Divittini! Angelo, is it always you who makes us extraordinary wines? Bravo, bravo bravo!!!  ???
Sette Terre Wine Fest 2016: Caminella - Metodo Classico Brut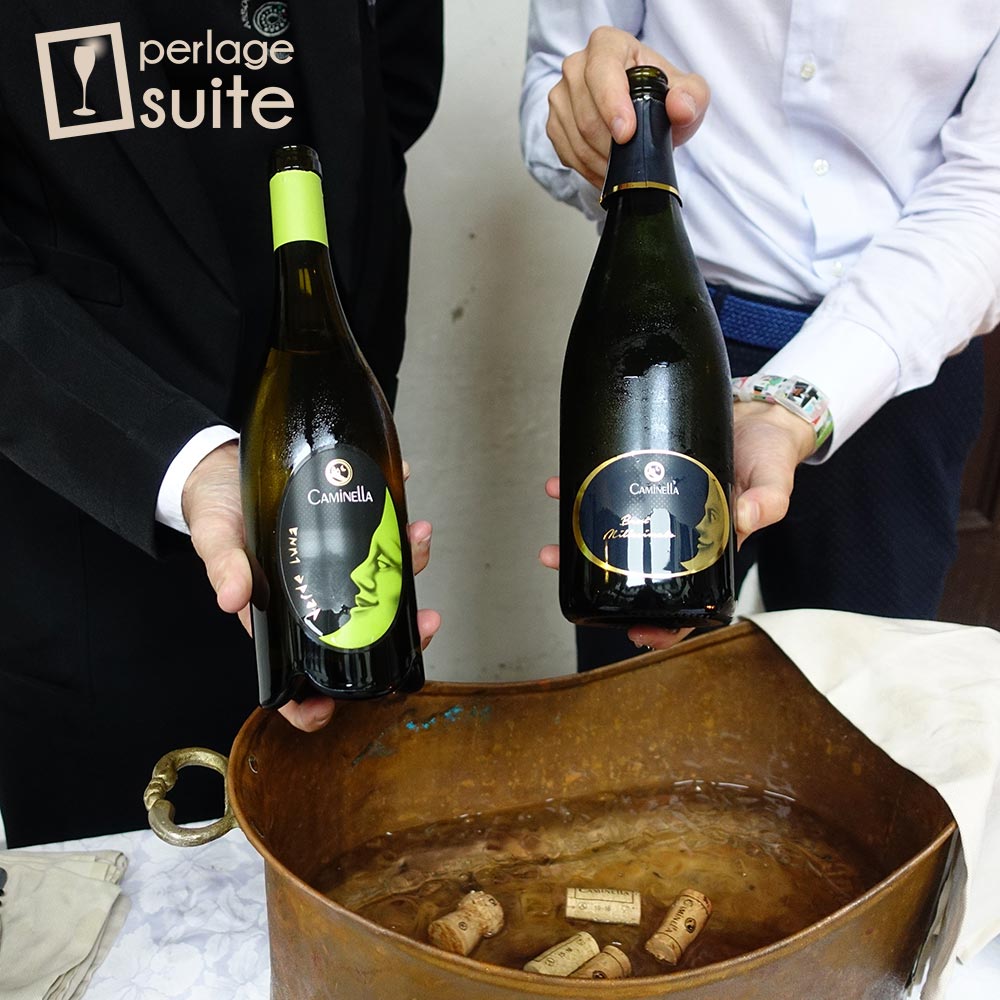 Here, this is a nice classic method that impressed me. If I had to define it in one word I would say 'crisp'. Fortunately, I have more words and I can tell you that it is also silky, fresh... its main difference with Franciacorta (whose lands it borders on) is the role of yeast. In this wine, although it too is a Metodo Classico sparkling wine, the hints of yeast are well integrated with those of the two grape varieties from which it comes, chardonnay and pinot noir. For this reason, I consider it perfect for those who are not crazy about the yeasty scents of the Metodo Classico, which I like very much! The nose is not particularly intense, still retaining some notes of white flesh fruit and vanilla, with a hint of bread crust. In the mouth it comes in strong, not particularly intense but persistent and elegant. I find it perfect with sushi and smoked fish.
Sette Terre Wine Fest 2016: Cascina Lorenzo - Marzemino IGT 2013 - Foppello 18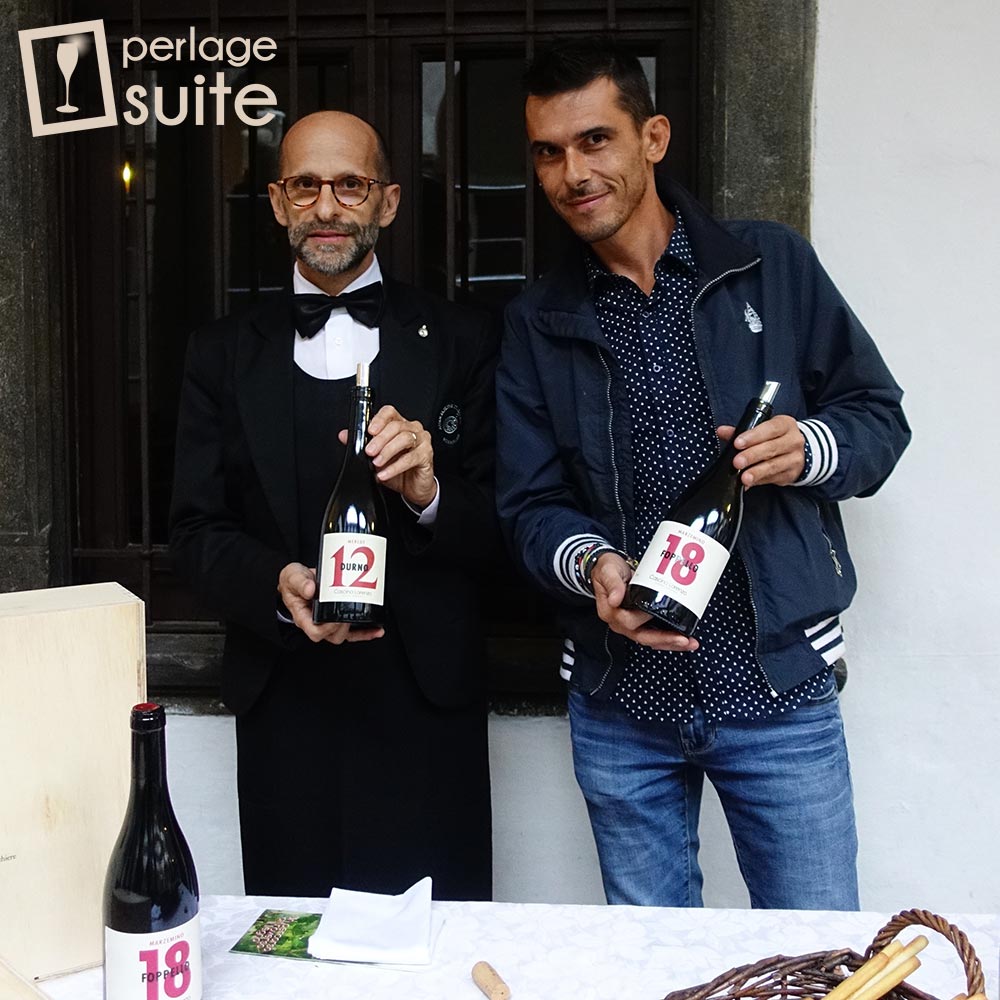 A beautiful wine, with an intense ruby red colour. The nose is intense and complex, with notes of dry hay, underbrush, blackberry, vanilla. In the mouth it enters decisive, fresh, savoury, with round but consistent tannins. Its great freshness certainly makes it a wine suitable for ageing. The wood is perhaps a little present, but not exaggerated... and I like woody wines! Talking to the owner I discovered that they are my neighbours and I didn't know this winery... incredible! To make it up to you I promise to visit Daniel very soon also because by now I'm curious to see these vineyards clinging to our beautiful mountains and I still have a red to taste 😉 !
Sette Terre Wine Fest 2016: Sassi della Luna - from dried Moscato di Scanzo grapes - Rossopassione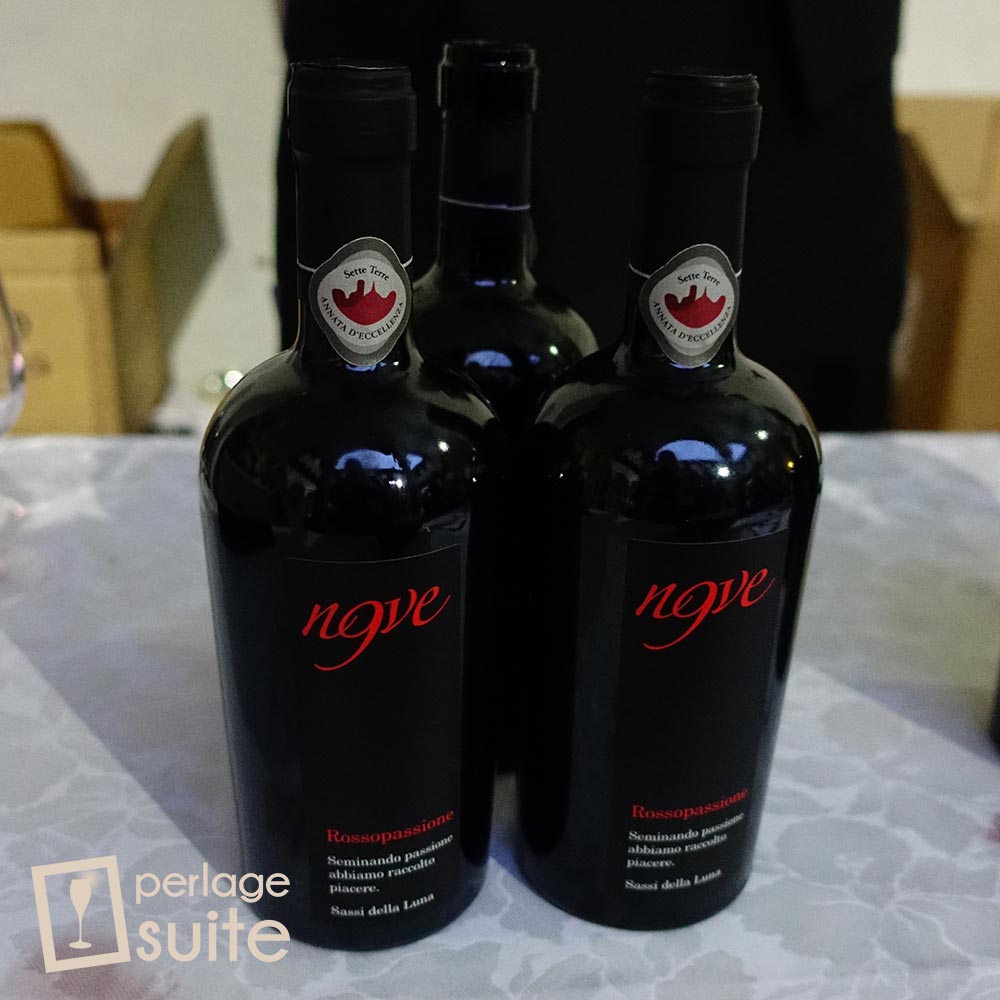 A delicious passito, in a beautiful bottle (Mattia didn't find it too comfortable to serve hahaha) that reminded me of a Port Kopke  drunk locally a few years ago. I would have loved to taste it with a nice blue cheese or dark chocolate but not too much. Not cloying at all, I found it suitable even for those who do not like dessert wines. The nose is ample, with notes ranging from morello cherry in spirit, dried rose, sage, chestnut honey, porcini mushrooms and cocoa. In the mouth it is very soft, balanced, elegant, sweet but not too sweet. I happily tasted it again while I was waiting to go and make the meal 🙂 🙂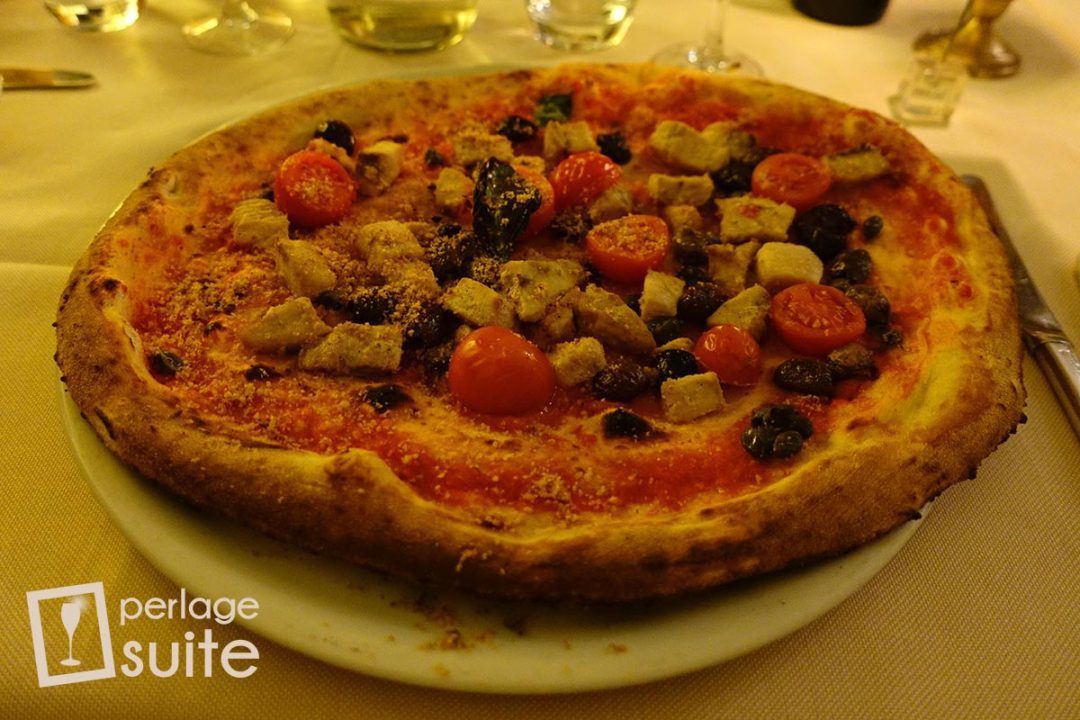 And finally, a very pleasant pizza 'da Mimmo' always there in Bergamo Alta with fellow sommeliers who were really nice and excellent company! The pizza at Mimmo's was really very good, the pieces are swordfish, then Taggiasca olives, cherry tomatoes, breadcrumbs... and then excellent leavening and great digestibility! I absolutely recommend it and can't wait to go back 😉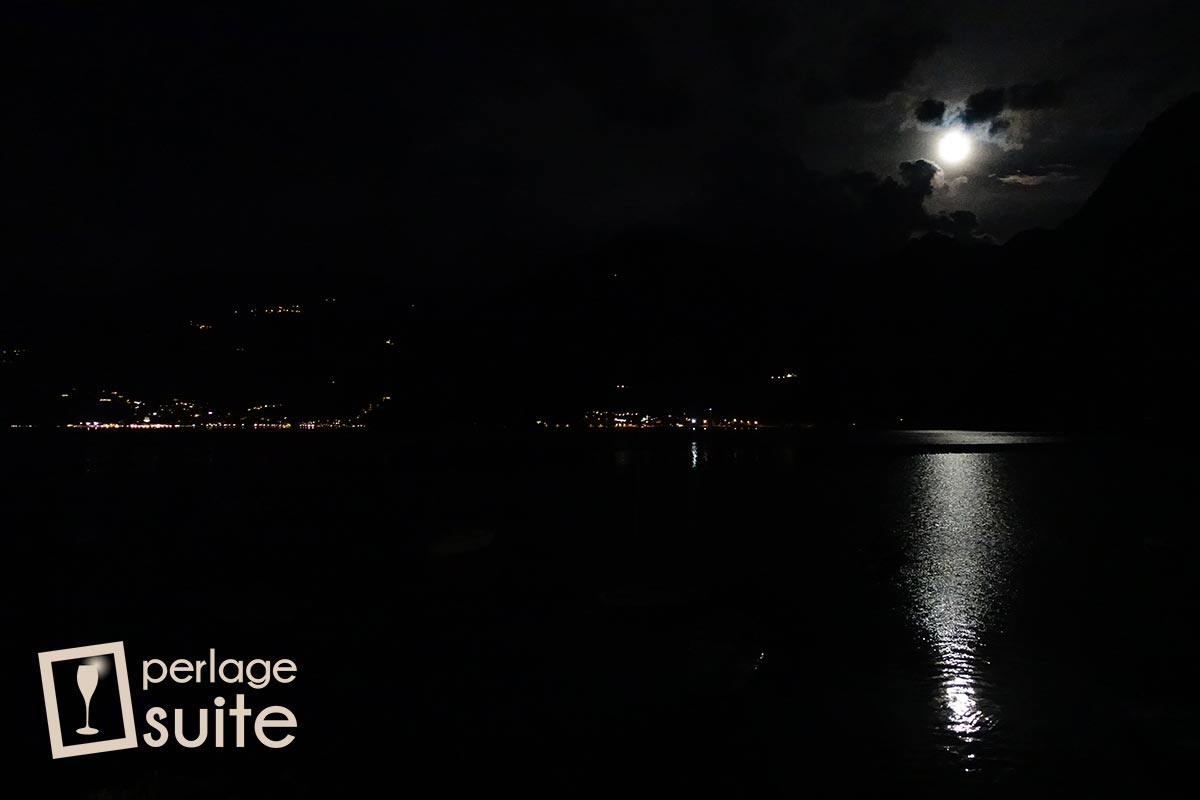 Now I say goodbye, that tonight the moon from my window is wonderful... and deserves to be admired with a good glass of wine in hand. The beauty of its reflection in the black water, the lights in the distance of Pisogne across the lake... and I am reminded of that song by Francesco Renga, 'La tua Bellezza'. I've been listening to it a lot these days, and it never tires me out.
Here, I think I'll listen to it again now, swirling this glass of Valcalepio Rosso di Medolago Albani that Viola and Alessandro brought me last night. Really good wine, I need to delve deeper 😉 And super good pesto that they picked up in Porto Venere at the Bajeicò pesto shop! Last night we paired it with my now famous tagliatelle 😀 I won't post the photo this time because then Daniela tells me she doesn't like my industrial style watch hahaha! Have a nice day #winelovers  ???
See you soon,
Chiara