Just like the Spessa Castlealso the Valentine's Day was born in the Late Middle Ages. In those years, a certain English writer named Geoffrey Chaucer wrote his masterpiece entitled "The Canterbury Tales". It consists of 24 short stories that have the merit of having consecrated Middle English as the language of literature, at a time when poems were mostly written in Latin. One of these tales, a repository of all the clichés of theAmor Cortese, was dedicated to the marriage between Richard II and Anne of Bohemia. Here, for the first time, Cupid is associated with Valentine's Day. In fact, he had already been consecrated by Christianity as the patron saint of lovers, but this was only to clear customs of certain barbaric pagan customs of Ancient Rome that wanted naked young boys, with a cry for fertility, to whip willing matrons during Lupercalia (13-15 February). Before telling you about the first stop of our Valentine's Day in the restaurant la Tavernetta al Castello in Capriva del FriuliI want to make a small note on Amor Cortese that I consider absolutely fundamental.
Amor Cortese between sacred and profane
Amor Cortese is not a beautiful thing, in fact, for me it is the consecration of the utter decadence of romantic values. Behind this name, whose assonance with 'courtesy' makes us think of something good, there is a love that is rooted in the torment given by the impossibility of fulfilment. The object of desire for the more or less valiant knight is a married, sublime and 'perfumed' woman whom he, completely submissive, serves. This love is adulterous, in my opinion, mainly because in those times people married for dynastic or economic reasons and love had little to do with these arranged marriages. Paradoxically History has distanced Giacomo Casanova far more from Love to the point than these courtly lovers.... and yet... Casanovaeven if only for a short period, he truly loved his conquests and treated them with great courtesy, until his exit when he always left the lady with a romantic nostalgia.
The Castle of Casanova
Valentine's Day is the festival of lovers, condemned by some as a commercial holiday, often by the same people exchanging gifts under an unlikely, glittering, Christmas tree! For this for me, celebrating Valentine's Day with my partner is sacred. Let it be clear that for us every day is Valentine's Day, every day we wake up embraced and enjoy a daily routine of small gestures and big dreams. However, proclaiming a date to remind us how great is what we build day after day should really be a ritual for all lovers! When the Pali family, entrepreneur Loretto and his 'sidekick', his beautiful and very elegant wife Barbara, invited us to spend it in their Spessa Castle, I thought it was absolutely the perfect place. In 1773, Casanova, a guest of Count Luigi Torriani in this splendid manor house, seduced his servant Sgualda, who struck up a sensual friendship with him. I do not know how much Sgualda could consider herself a slut since she refused the owner of the castle to give herself to the Venetian adventurer! What is certain is that the Castle of Spessa, with its stories, its loves, its wines, its food was the perfect setting for an unforgettable Valentine's Day!
Tavernetta al Castello: Valentine's Day dinner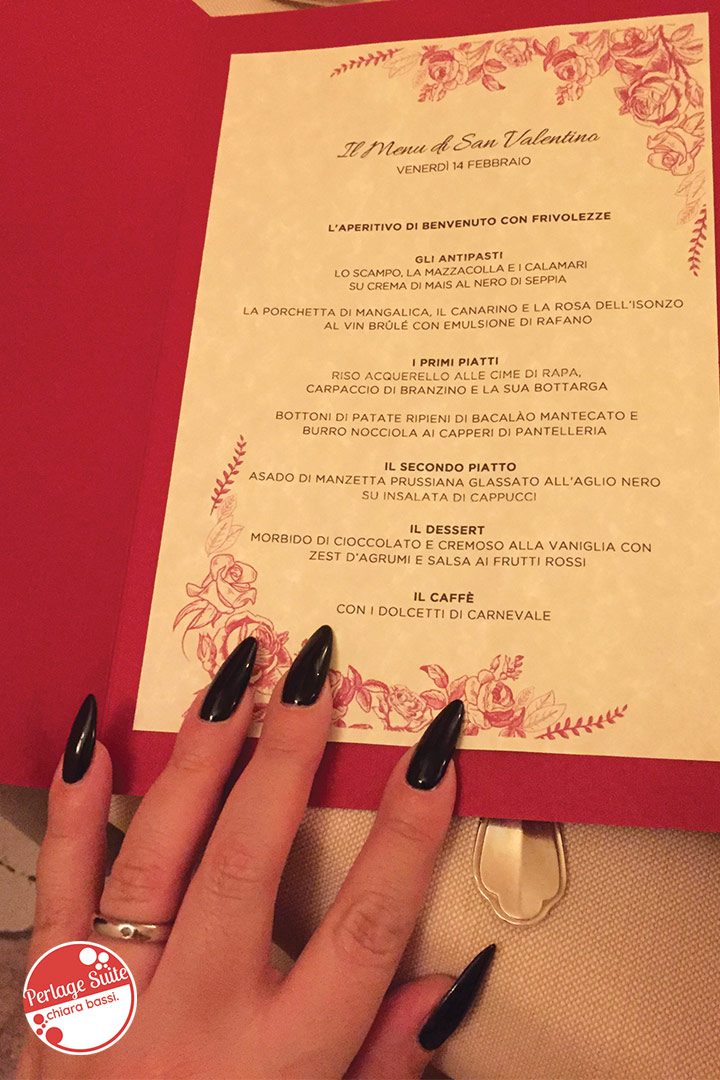 This is just the first of a trilogy of articles that I will dedicate to Castello di Spessa. I decided to start telling you about their restaurant Tavernetta al Castello partly because it was the scene of our delicious Valentine's Day dinner, but mainly because it was here that I received an important 'lesson' for my professional growth that I would like to tell you about.
Already from the menu you can guess the deliciousness of the dinner... ah, don't worry! The canary mentioned above is a beautiful yellow rose radicchio!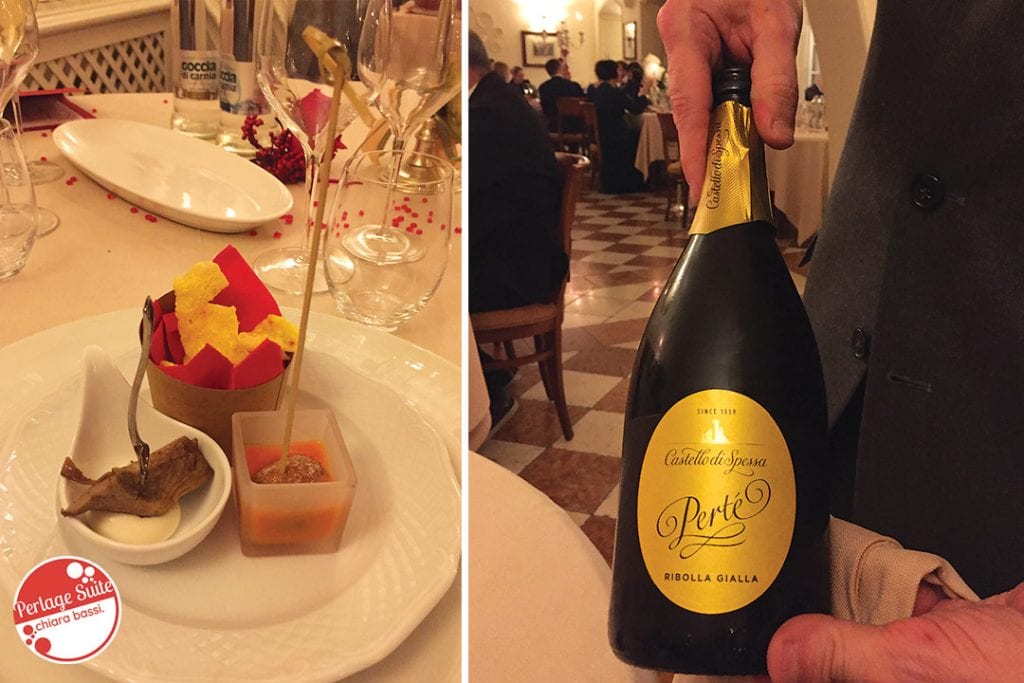 The langoustine, prawn and squid on creamed corn with squid ink
After the aperitif, we were served this tasty appetiser based on very fresh fish, to which we paired the Perté, a very pleasant long Charmat Method sparkling yellow ribolla.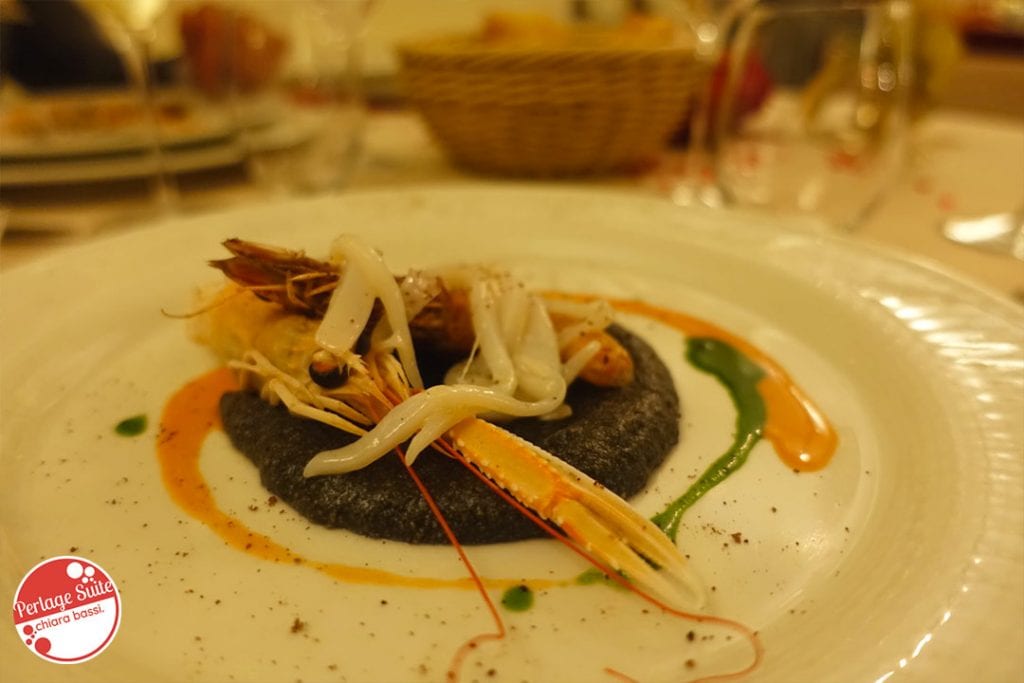 Mangalica pork, canary and Soča rose in mulled wine with horseradish emulsion
Loving Japanese cuisine, how could I not love horseradish? The cross and delight of all great chefs, well dosed it has an unrivalled ability to cleanse and degrease the mouth! A simple and delicious dish.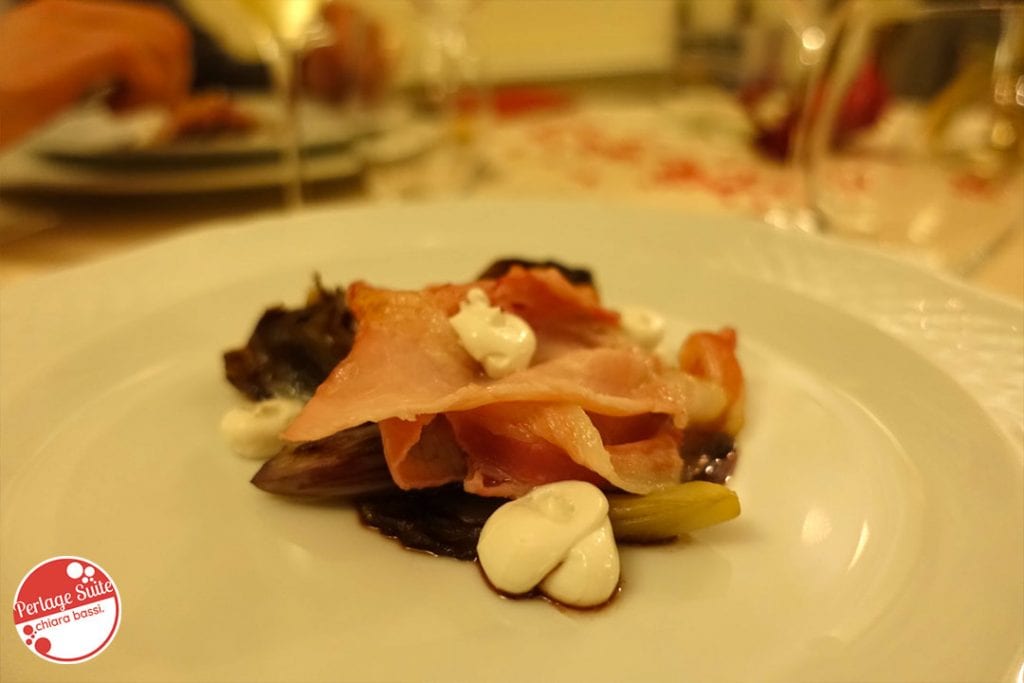 While waiting for the two first courses, we were served Bajta's splendid Vitovska which reminded me of the wonderful days I spent last year in the Karst! Of all the 2018 Vitovska I remember that this was perhaps one of the most 'modern', if you'll allow me the term, due to its virtually absent maceration and its delicacy. Excellent choice!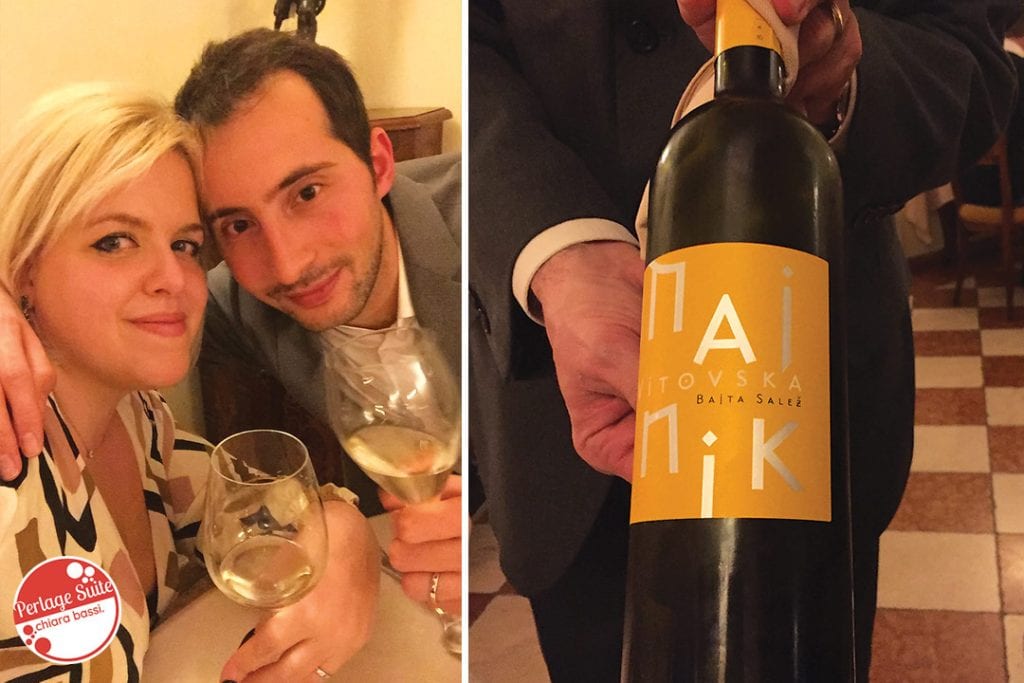 Turnip greens watery rice, sea bass carpaccio and its roe
I found particularly interesting the choice to mantecare this dish mainly with plenty of turnip greens cream, leaving the butter a rather discreet presence. In my opinion, this is a winning solution to enhance a delicate carpaccio such as sea bass.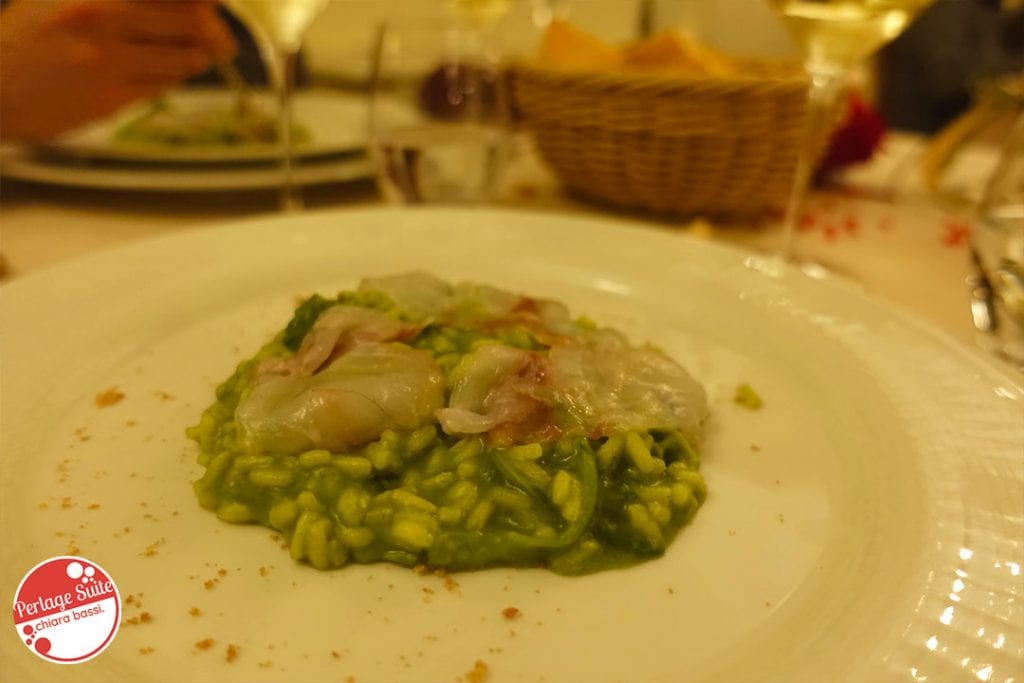 Potato buttons stuffed with codfish mantecato with hazelnut butter and Pantelleria capers
That I love codfish mantecato, hazelnuts and capers is a well-known fact... but I would like to emphasise the skill of the chef (which I will only present to you with the next day's dessert) to create a perfect taste balance even where there are strongly aromatic and identifiable ingredients like capers.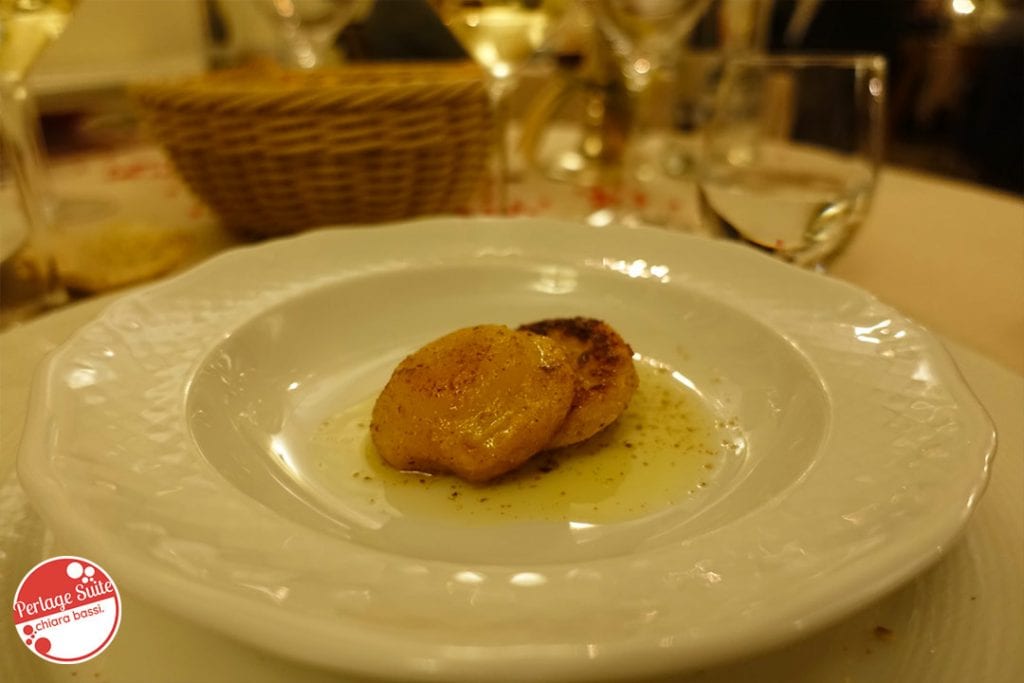 Black-garlic-glazed Prussian beef asado on cabbage salad
A main course like this, among other things, reminds me why I could never be a vegetarian! How delicious! I discovered black garlic in Lisbon and fell in love with it: delicate, it doesn't upset the most passionate kisses! Francis, who besides waking me up every morning at dawn to study Russian, has travelled a lot in Europe, told me that he found the flavours of Prague in this dish. Indeed Spessa Castle can be traced back to for all intents and purposes to a splendid residence of the Mitteleuropa.
In combination Marco (remember this name because I will tell you about him in a moment) offered us the 2005 Castello di Spessa SanSerff Collio Rosso Riserva, a wine I recommend you buy and forget about in your cellar for the next 7/8 years. 80% Merlot and 20% cabernet sauvignon for this barricaded wine of a beautiful ruby red colour with some light garnet reflections. The intense and elegant nose offers a complex bouquet of sweet spices, liquorice, cocoa, tobacco and leather. The palate is consistent, very fresh, with modulated but powerful tannins that tirelessly ask for time to tame. It leaves persistent vanilla notes in the mouth.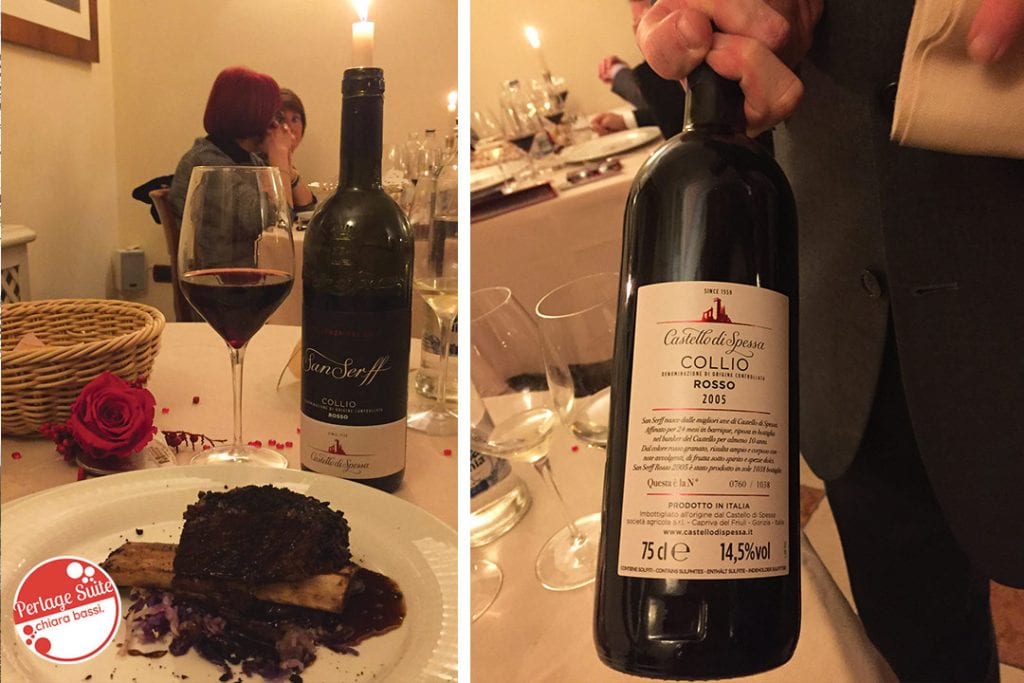 Soft chocolate and vanilla creamy with citrus zest and red fruit sauce
Delicious dessert and perfect pairing thanks to this Moscato d'Asti, which I did not know and enjoyed very much! This sweet bubbly served very fresh was able to degrease the vanilla creamy and support the aromaticity of the chocolate and orange zest!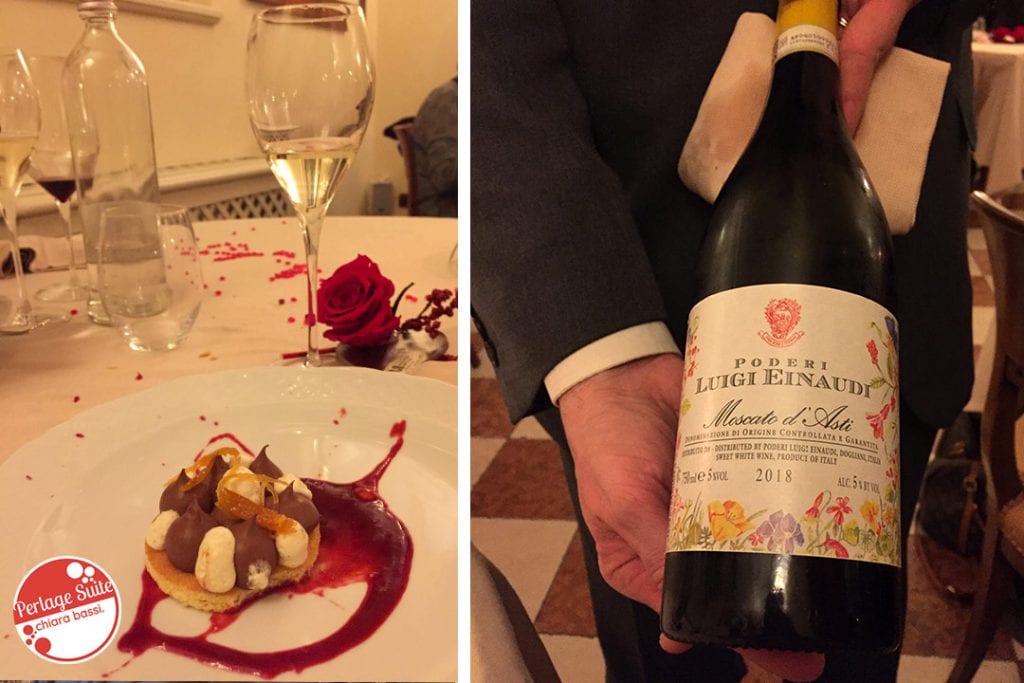 Valentine's Day 2020: the night at Spessa Castle
After dinner, and after crossing into Slovenia (but I'll let you read about that in this article on Francesco's blog), we returned to our beautiful suites at Spessa Castle. There the Pali family left us a very welcome gift: the coppery pinot grigio Joy that we tasted on the giant bed, amidst soft lighting and fine fabrics.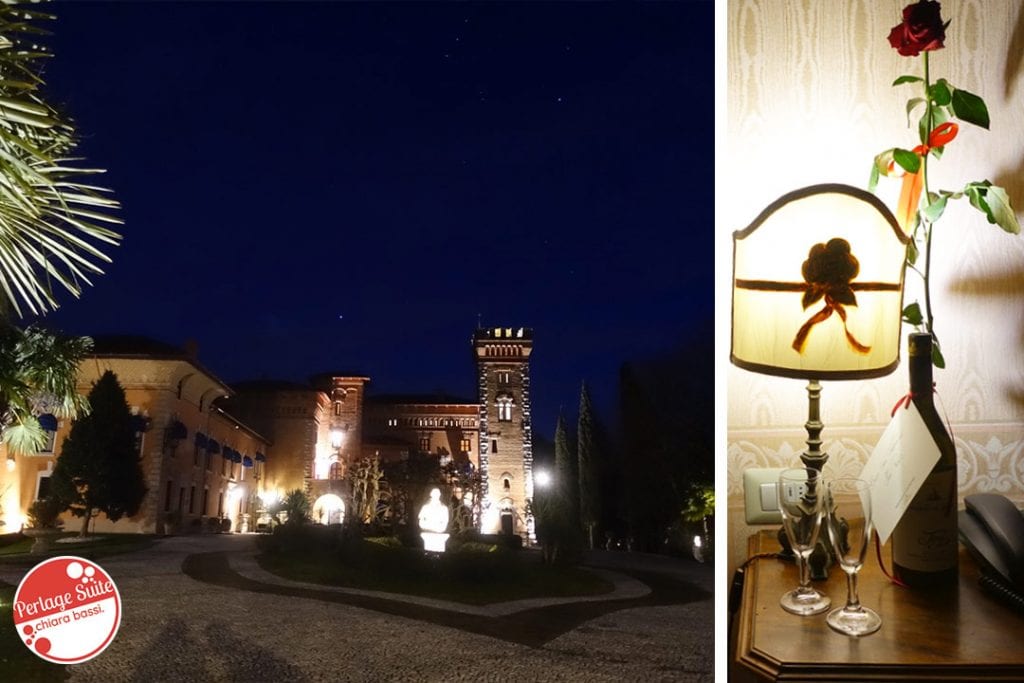 Tavernetta al Castello: lunch the next day
So, at this point, rather than talking to you about wine and cuisine, I will limit myself to telling you about the best dish and the best wine that, in my opinion, we drank in three days in Collio. First, however, I want to tell you about that important lesson I received which I mentioned at the beginning of this piece and which revolutionised the way I see a restaurant.
On the left the welcome from the kitchen, on the right the first starter 'Gorizia Rose Salad, Cantabrian Anchovies, Quail Eggs and Local Vinegar'.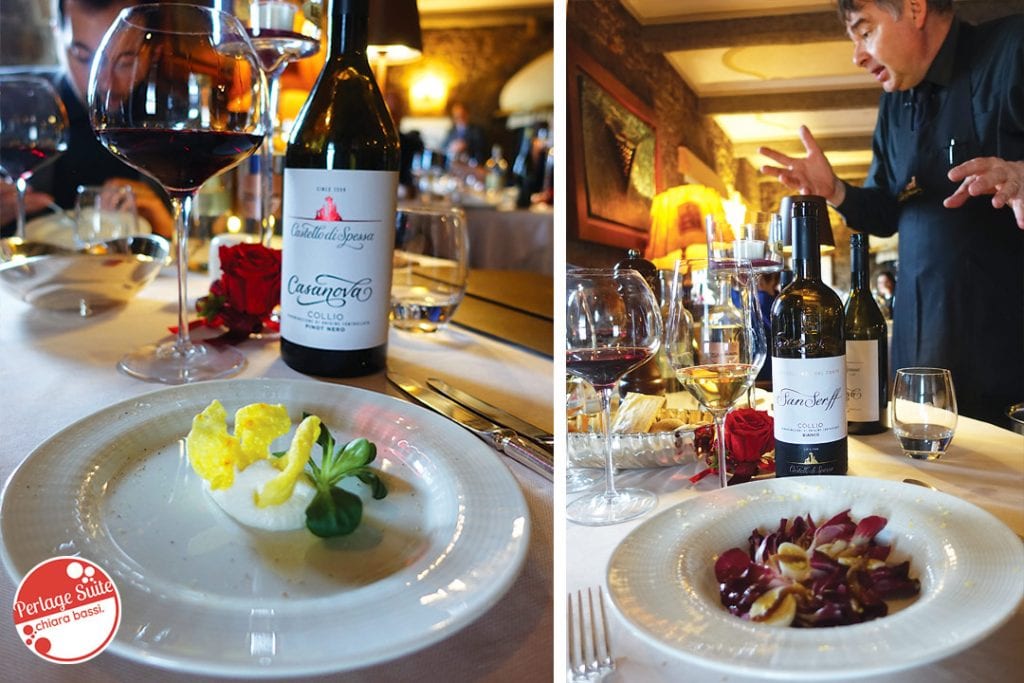 With a hint of presumption and despite having an AIS Sommelier diploma, I apologise to all my colleagues for what I am about to say. During these three days in Collio, I met a man who made me realise once and for all the value of dining room service in a good restaurant. Nothing can help even excellent cuisine if the dining room is non-existent or worse.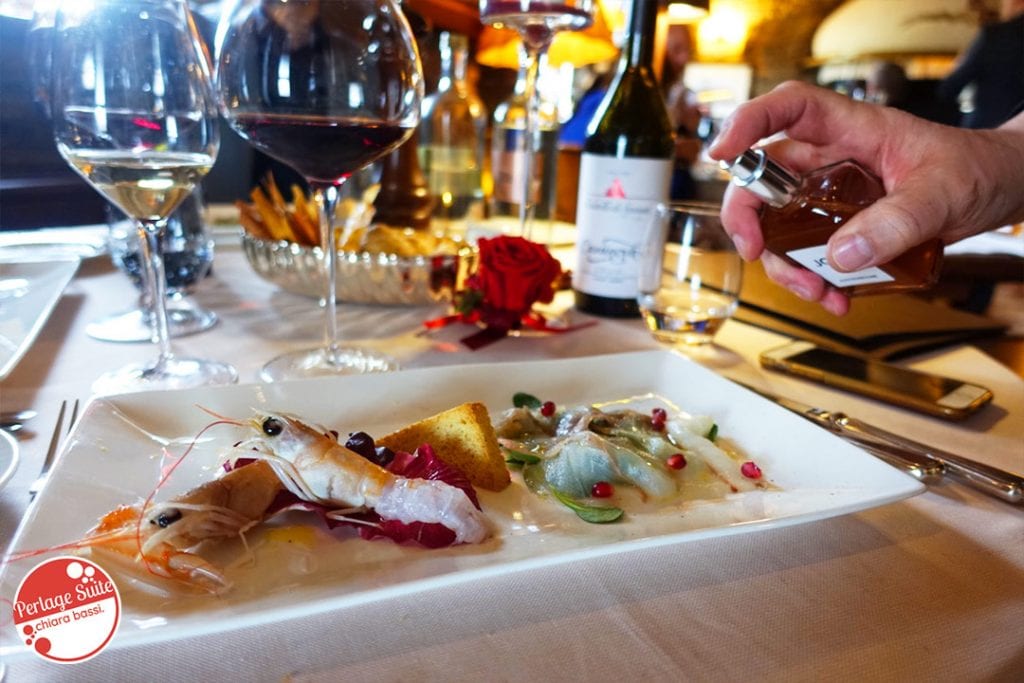 Until this living room I have always considered the kitchen the leading actor in the restaurant and the dining room the most important of the supporting actors. What a big mistake I was making, precisely I who am fighting for the enhancement of the figure of the Sommelier! The maître Marco Andronaco (pictured on the cover of the article) has succeeded in revolutionising my thinking and placing the Sala as the undisputed co-star of good cuisine. With his elegance, his sincere smile and his discreet presence, Marco struck me to the heart and unhinged my ideas that today, alas, I realised were really limiting. Thank you Marco for teaching me how a professional like you is everything in a gourmet (and non-gourmet) restaurant. I hope to see you again soon!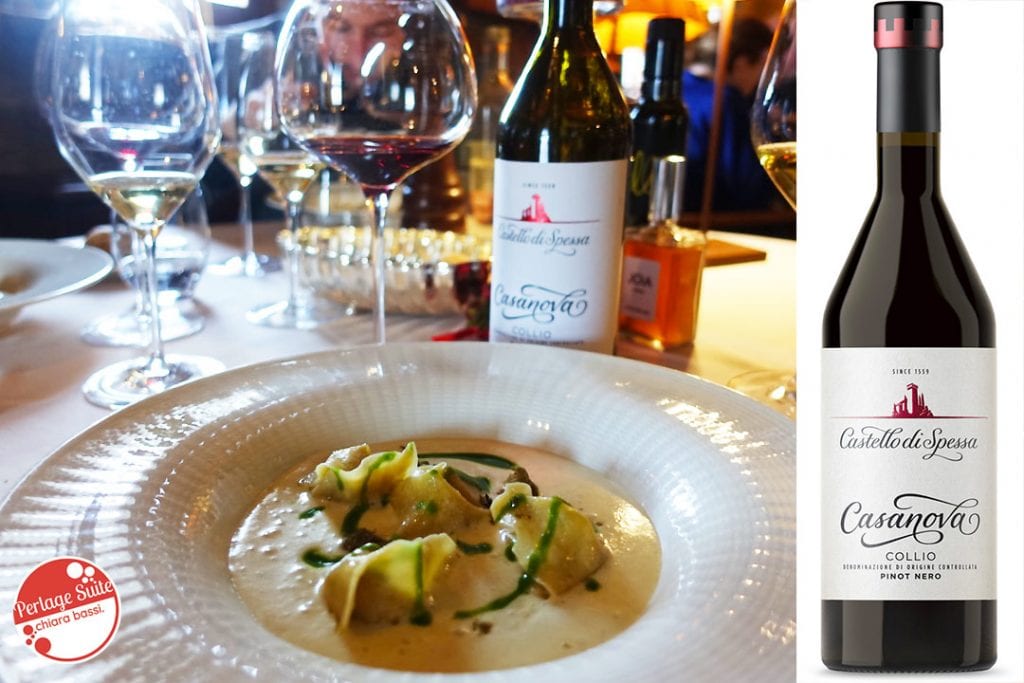 Ravioli di baccalà mantecato on caper air and parsley water with pinot noir 'Casanova
And now we come to the dish and wine that stole my heart in the beautiful Spessa Castle! What a wonderful combination to experience them together, in a combination of enhancement that I consider masterful! Endless compliments to Chef Antonino Venica who in this photo is holding his 'Creamy Yuzu Heart in a Half Sphere of Chocolate, Pineapple, Winter Melon and Persimmon Coulis'. I don't particularly like either melon or persimmon, but I found it fresh, balanced and delicious!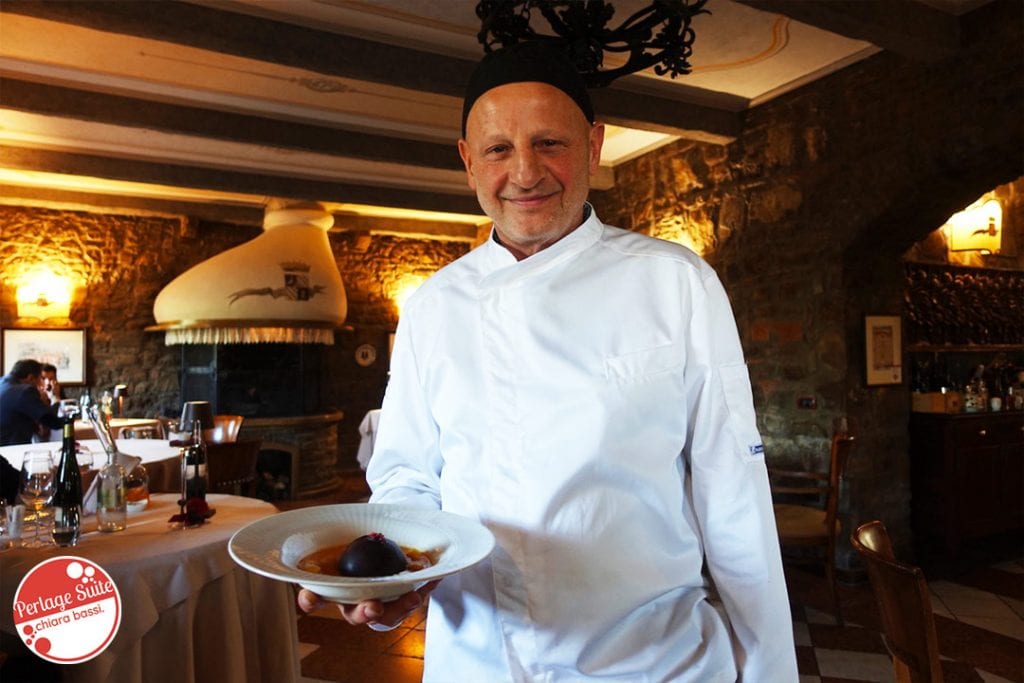 Many thanks to Marina Tagliaferri of the Agora Press Office for keeping me company during these wonderful days. You are special. And many thanks to Barbara and Loretto Pali for the wonderful invitation. 😍
See you soon and cheers 🥂
Chiara