I had already been to the Veronelli Gold Guide Sun several times, but choose Palazzo Te in Mantua was the trigger that made me consider this event 'not to be missed'. I have adored Giulio Romano and Mannerism since high school and had already been there several times. In the Hall of Giants I cried: art and beauty create emotions in me that I can hardly bear. The editors of the Veronelli Gold Guide award the Special Prize☀️ independent of the evaluation in hundredths. Suns are wines with a story to tell, made up of capable hands and ancient traditions, the courage to innovate and the desire to create the same wonder in the spectator that Giulio Romano aspired to as he passed from one room to another.
Among the curators Alessandra Piubello, an extraordinary professional who inspires me and with whom I believe I have a lot in common. His presentation in the Hall of Horses was moving and not at all rhetorical. A concrete poem made of deep reflections and love for that Italian spirit represented by wine. Wine understood not only as a food, but as an emblem of Italian culture and skill that we are 'envied' all over the world and should make us proud.
.
Veronelli gold guide 2022: Tasting notes of the 10 Suns at the Preview - Spazio Te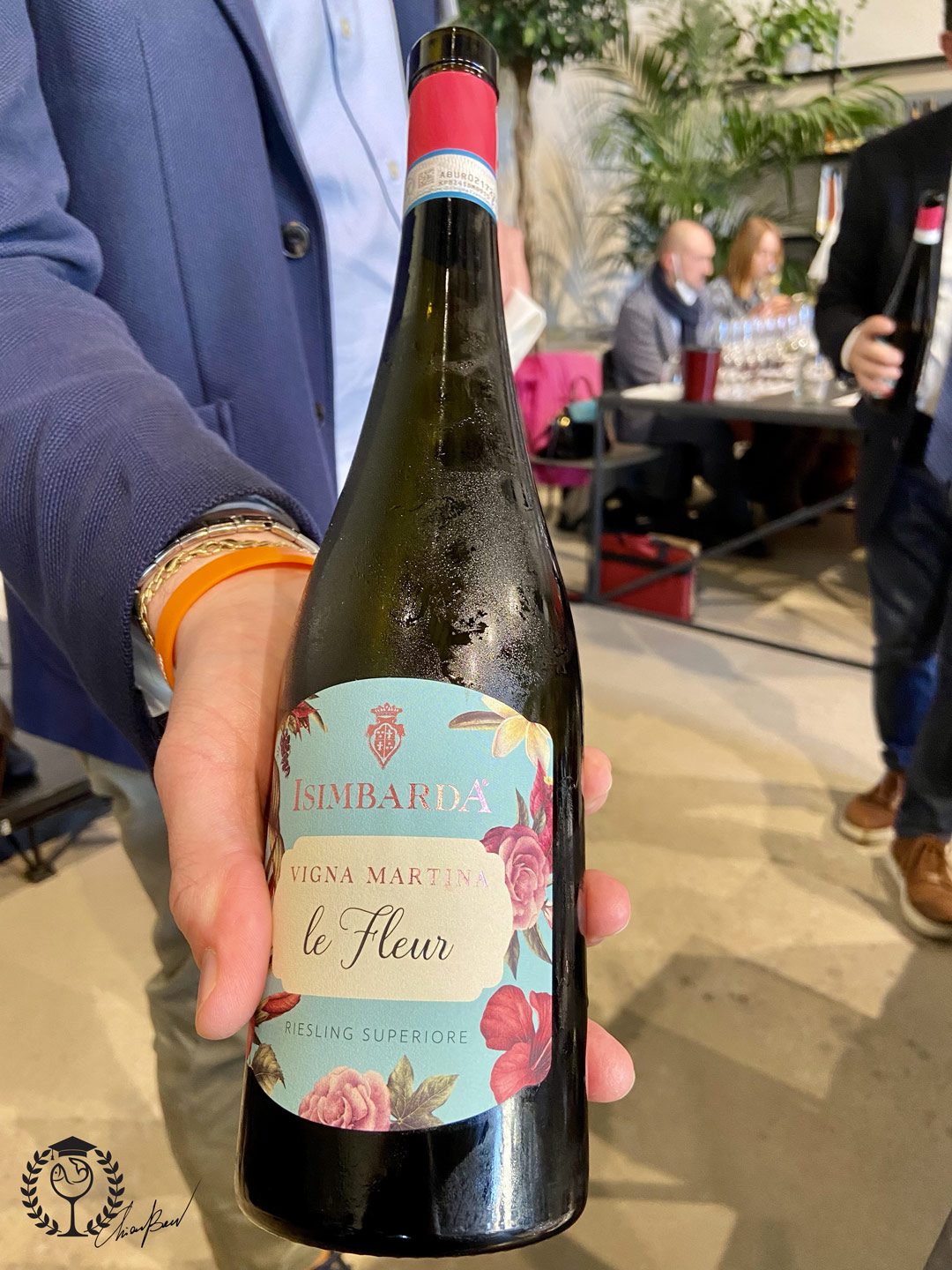 Veronelli Vini Sole 2022: White wines
Oltrepò Pavese Riesling Superiore Vigna Martina Le Fleur 2019, Isimbarda winery
My tasting. Brilliant and consistent straw yellow. Very intriguing nose, intense and elegant with resinous notes and a hint of hydrocarbons, fresh dates and dwarf pine. In the mouth it is very pleasant, very fresh with a broad mouthfeel. Moved to hardness it needs a few years in the bottle, acquiring a citrus taste. Long bergamot finish.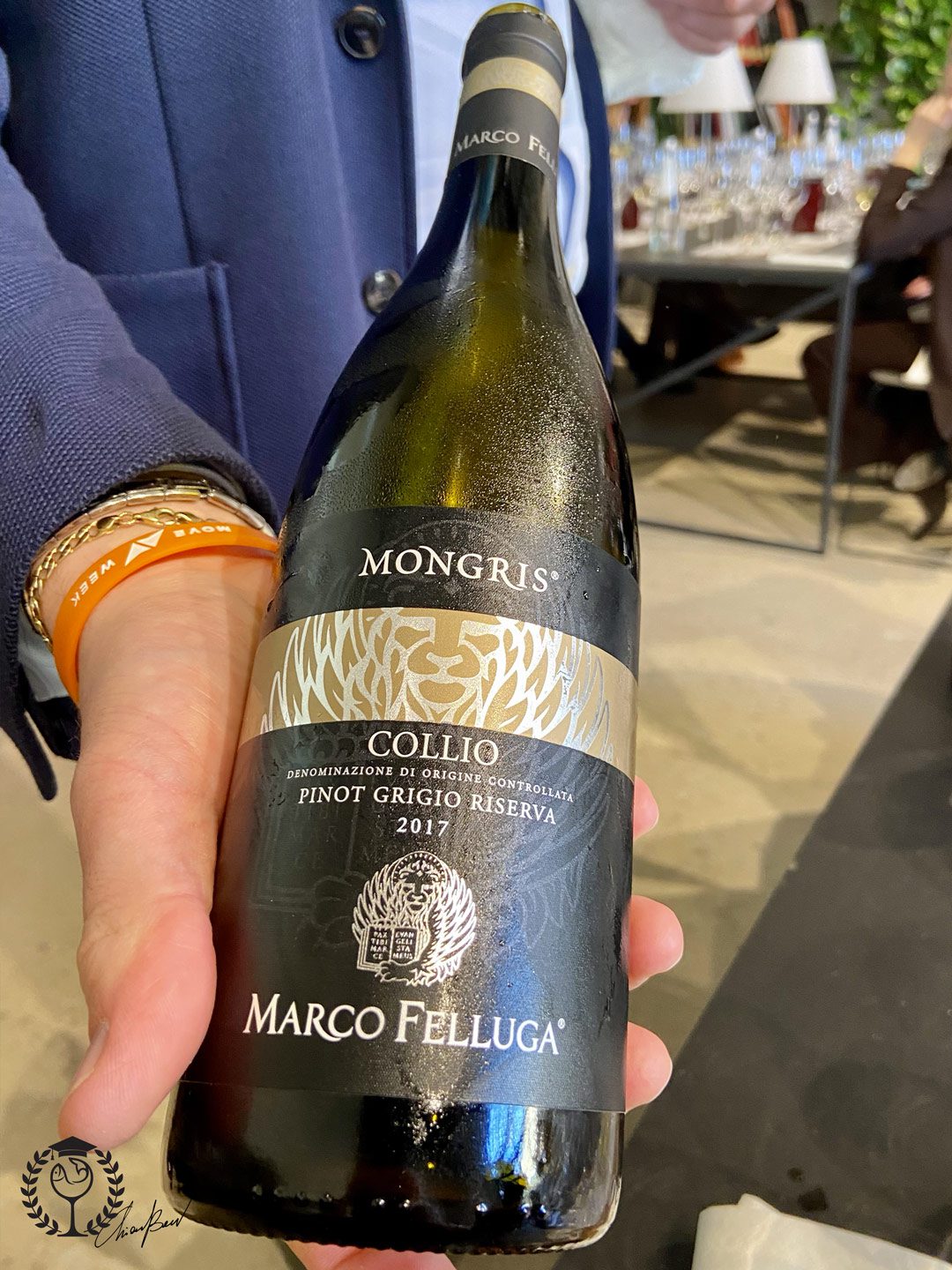 Collio Pinot Grigio Riserva Mongris 2017, Marco Felluga winery
My tasting. A wine that makes me reconsider Pinot Grigio, an incredible nose! Brilliant straw yellow with green gold hues, consistent. On the nose it is intense and enjoyable, with buttery notes of white chocolate and mineral nuances, there is a lot of wood. Mango, vanilla, pineapple and acacia flowers. In the mouth it is very consistent, with a still very marked acidity that hints at a long ageing potential in the bottle. Long buttery finish.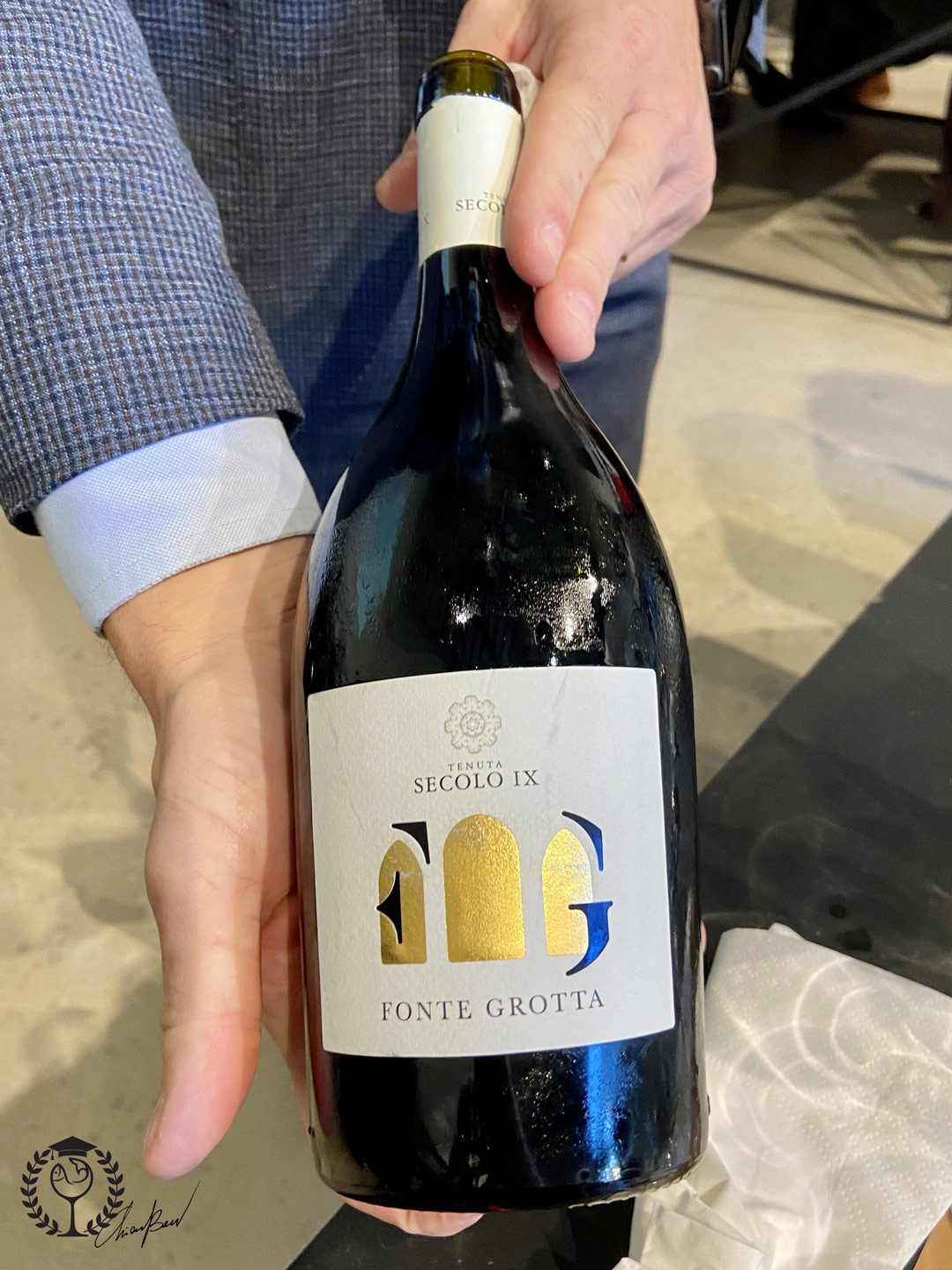 Fonte Grotta Moscato Secco Colline Pescaresi 2020, Secolo IX winery
My tasting. Brilliant straw yellow with greenish highlights. The nose is very intense, with notes of ripe pear, fresh and dried apricot, lavender, black tea with lemon peel. On the palate it is ample, enveloping, consistent, citrusy, with a somewhat challenging pseudo-caloricity but balanced by great acidity. Savoury. Not very long, but extremely pleasant to drink.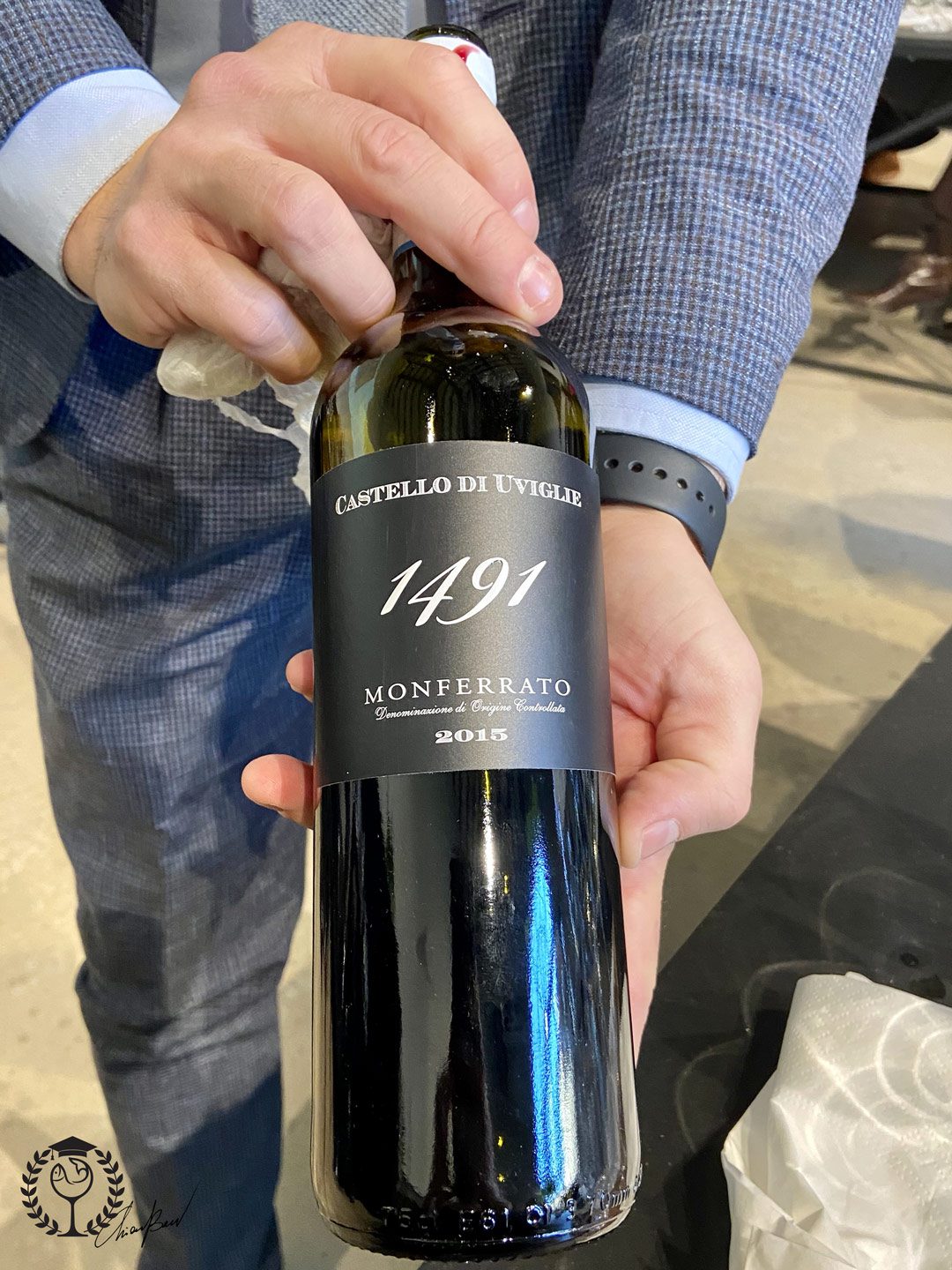 Veronelli Vini Sole 2022: red wines
Monferrato Rosso 1491 2015, Castello di Uviglie winery
My tasting. Ruby red with impenetrable violet hues, very consistent. The nose is very intense with very spicy notes of ink, black cherries in spirit, underbrush and fermented tobacco. In the mouth it is consistent with a slightly rough tannin and lots of flavour. Fairly consistent taste, more 'simple' than the nose. Long on the finish, still not ready because it lacks a little softness. It completely tarred my palate, I just didn't like it.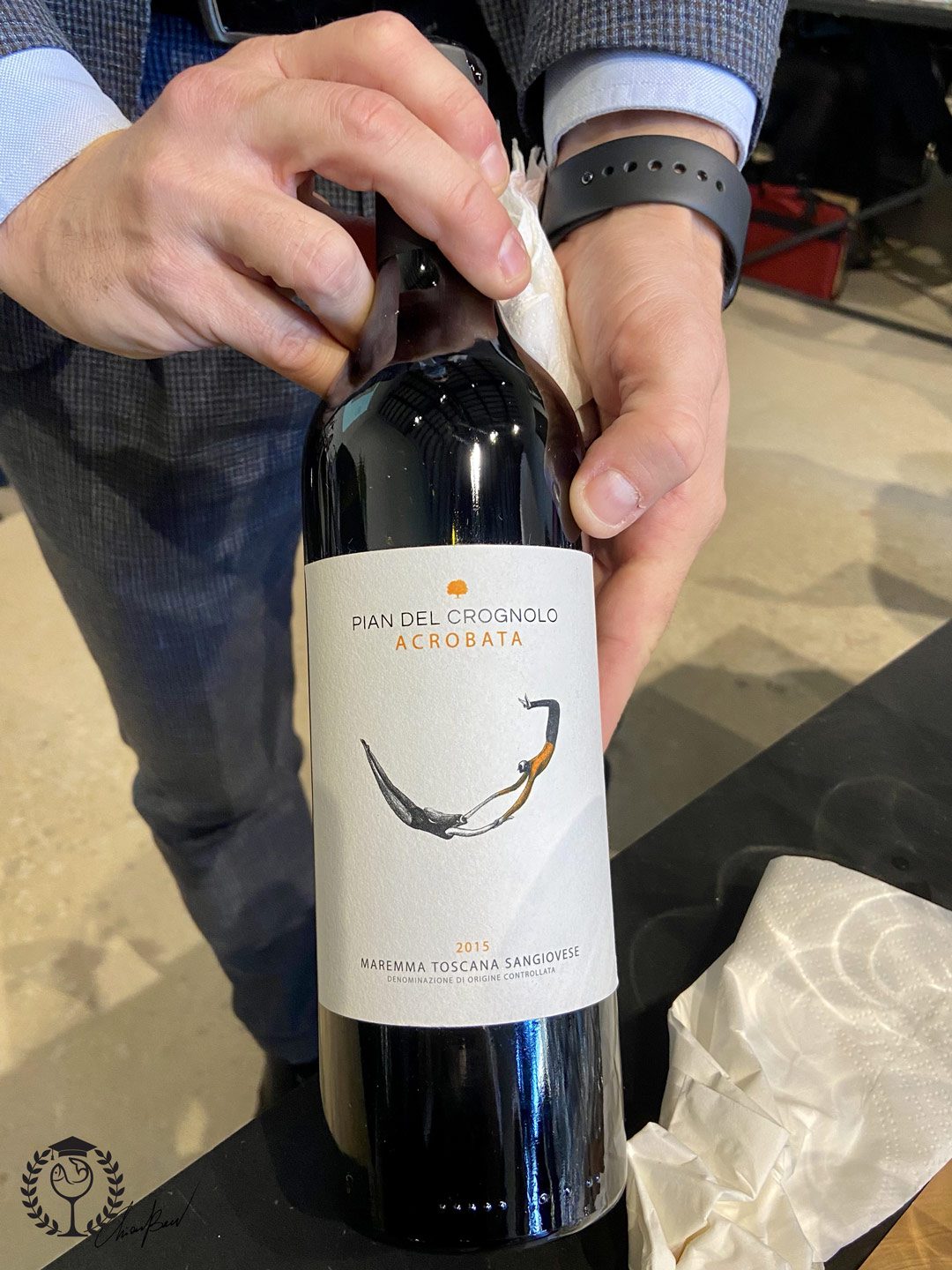 Maremma Toscana Sangiovese Acrobata 2015, Pian del Crognolo winery
My tasting. Almost impenetrable ruby red, consistent. Quite intense nose with spicy notes of cinnamon, milk chocolate, black mulberry both fresh and jammy, dark sugar, fermented tobacco leaf, leather, rhubarb, shoe polish. In the mouth it is very pleasant, consistent, fresh, with well-blended tannins, soft, rather savoury. Quite long finish of sweet spices.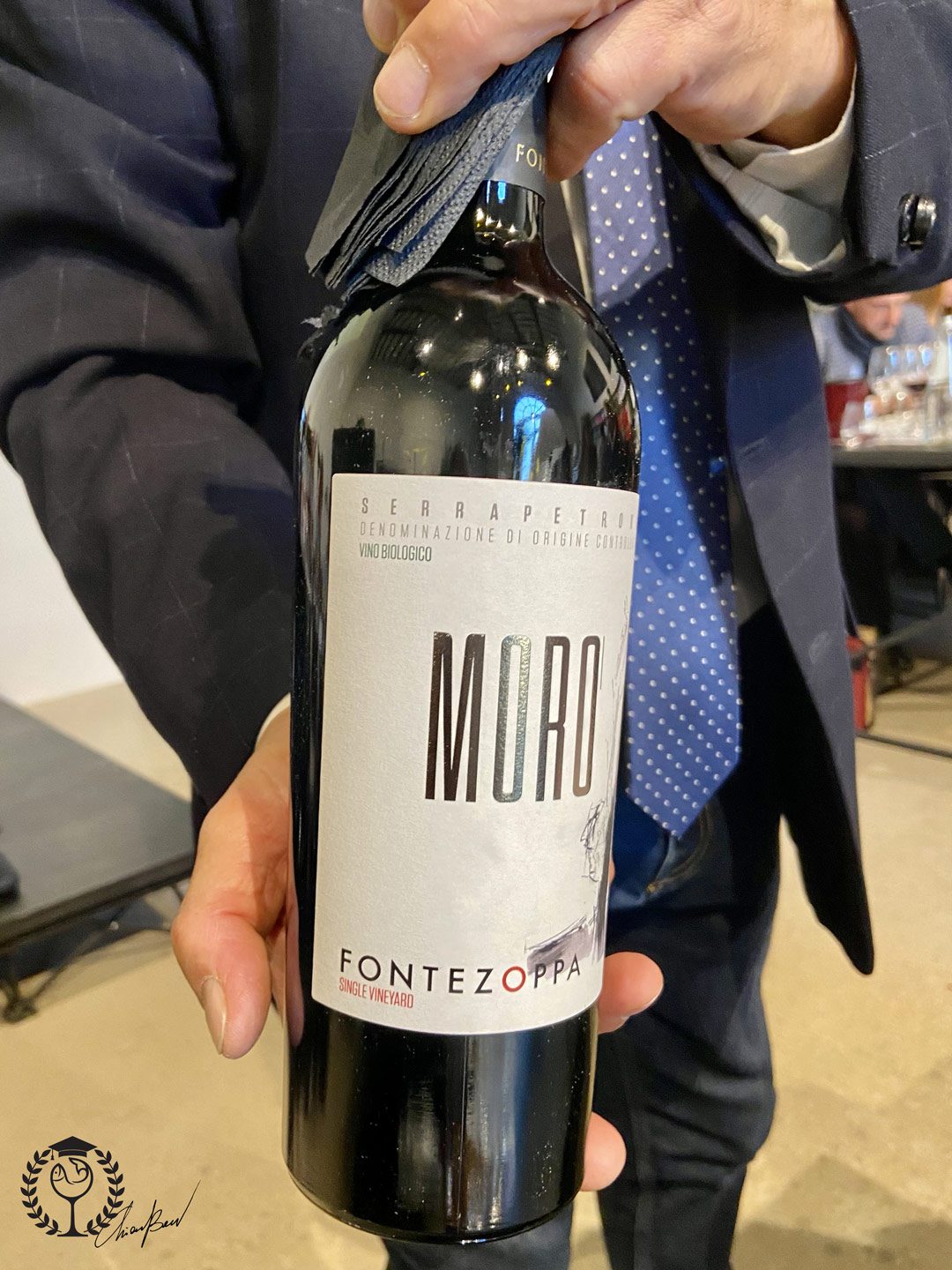 Serrapetrona Rosso Morò 2018, Fontezoppa winery
My tasting. Impenetrable ruby red, quite consistent. The nose is very delicate with ethereal notes of solvent, pipe tobacco, dried rose. In the mouth it is very distinctive, not particularly consistent with 'perfume' notes, so floral is it. Very structured, the tannin is still a little rough but still pleasant. Long spicy finish.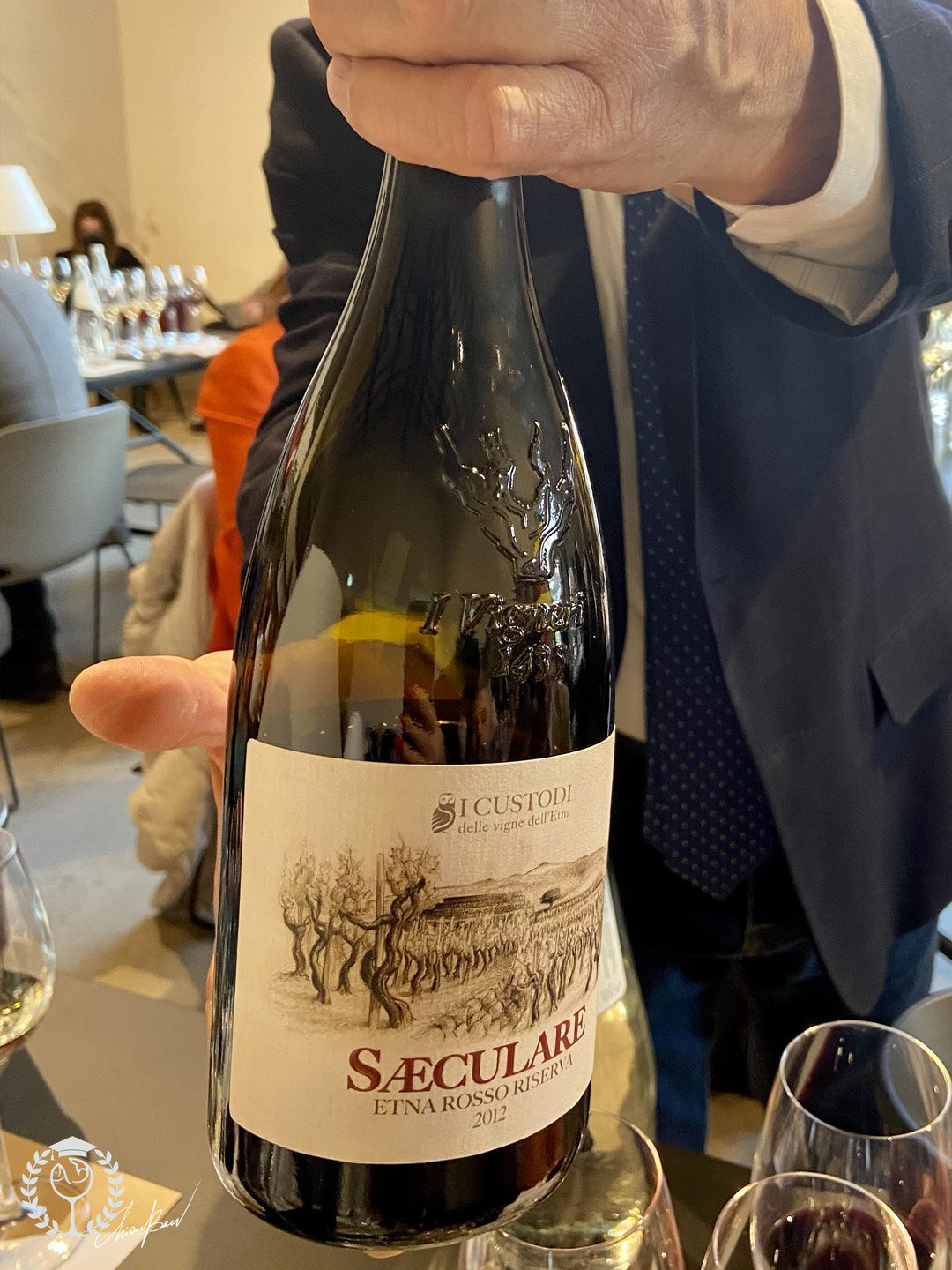 Etna Rosso Riserva Saeculare 2012, winery I Custodi delle vigne dell'Etna
My tasting. Impenetrable ruby red with brick red highlights, very consistent. Intense nose with notes of jammy red fruit and spices. Cloves, liquorice root, dried hay, gentian. In the mouth it acquires a camphor taste (which does not particularly excite me, but improves with the second sip). In the mouth it has very dense tannin, seems much younger than its age and still has great potential in the bottle. Very elegant with a long, savoury finish. It still lacks some softness, surely a couple of years in bottle will allow it to express its full potential.
If you like this content subscribe to my newsletter or scroll down the page to continue reading the article!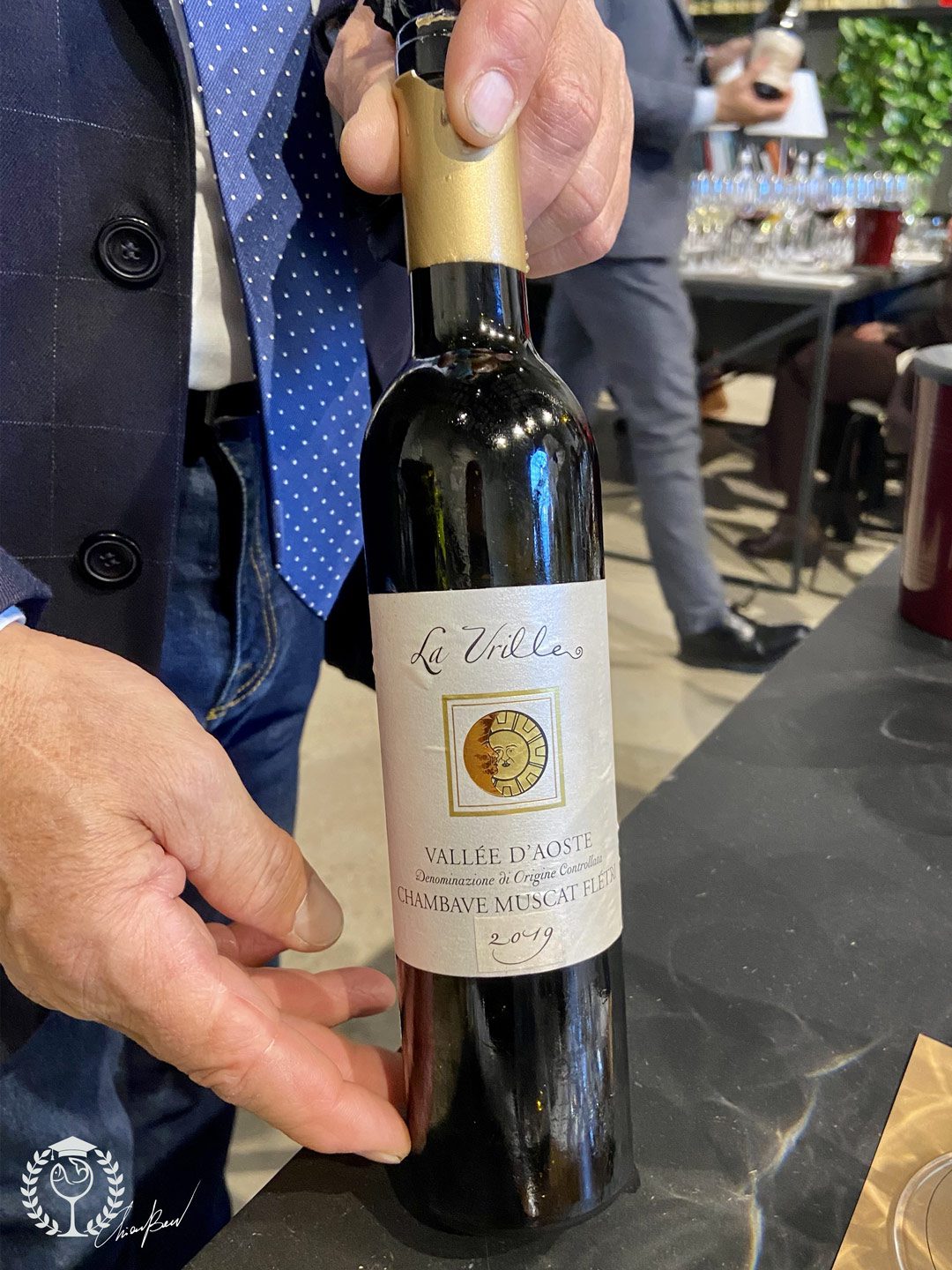 Veronelli Vini Sole 2022: dessert/meditation wines
Aosta Valley Chambave Muscat Flétri 2019, La Vrille winery
My tasting. Intense, bright golden yellow, particularly consistent. Intense and characteristic nose with notes of fresh and jammy apricot, candied fig, sage fried in butter. In the mouth it has an extraordinary balance, lots of freshness, soft, with a non-invasive sugar balanced also by a nice savouriness. Long buttery finish. Definitely the most precise of tastings, it is exactly what you expect from a Chambave Muscat... with an extra kick!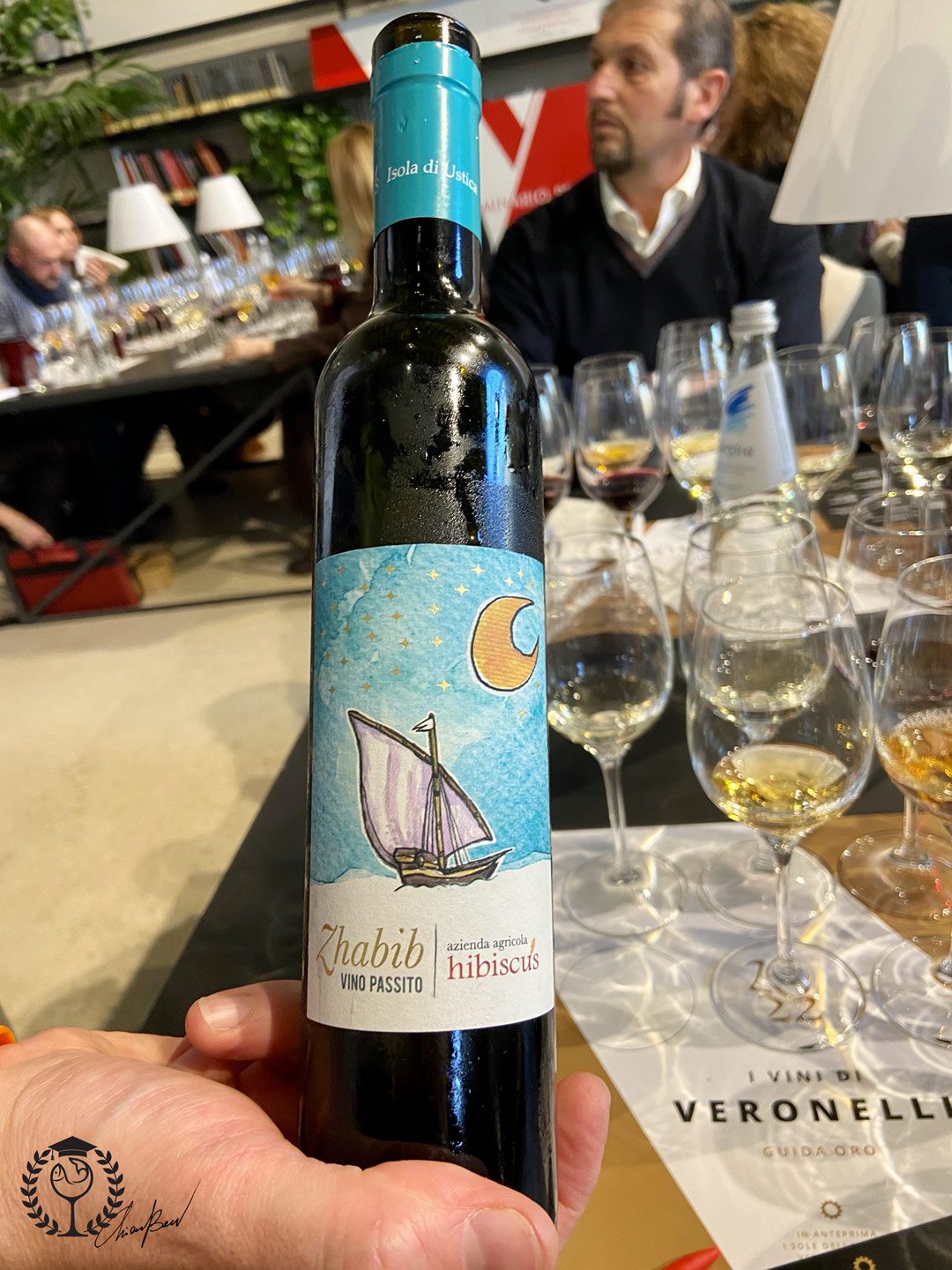 Zhabib Terre Siciliane Zibibbo Passito 2020, Hibiscus winery
My tasting. Very consistent bright copper. On the nose, the very intense lavender explosion 'covers' a little the other scents that appear shyly later. Delicate chamomile flowers, dried fig, dried apricot, eucalyptus honey, tea tree. In the mouth it is  Intense, dense, consistent, it shifts to chamomile and takes on a delicious 'drop' candied mandarin flavour. Great balance between sweetness and savouriness, it may be the perfect serving temperature, but the sugar is hardly noticeable.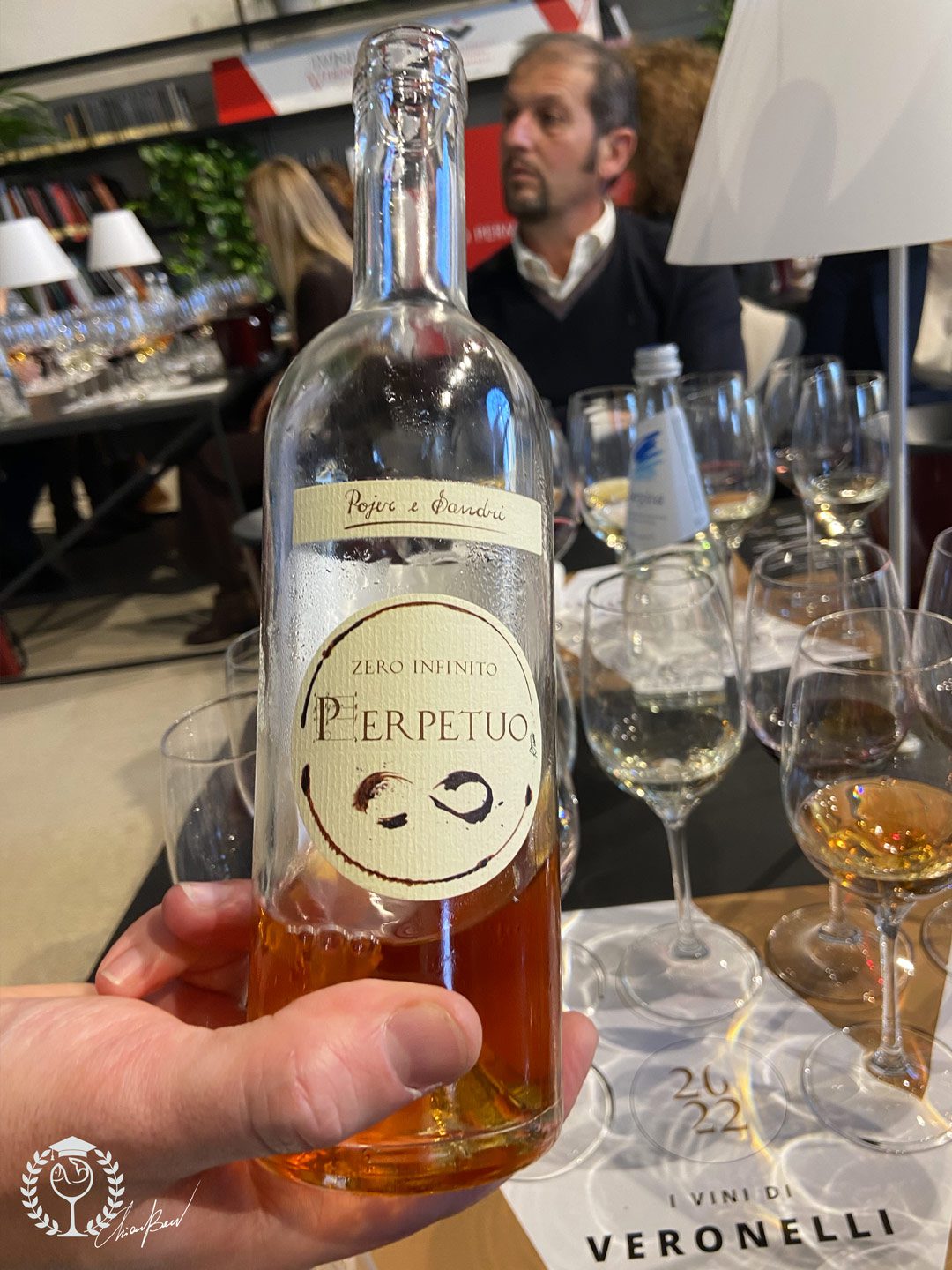 Zero Infinito Perpetuo S.A., Pojer & Sandri winery
My tasting. Intense and really bright amber, quite consistent. The nose is intense with notes of sweet liquorice, peanut, orange, flor oxidations. In the mouth it is dense, very fresh, long. If, like me, you appreciate this kind of wine, I recommend you discover Adorado 1967 by Bodegas Menade.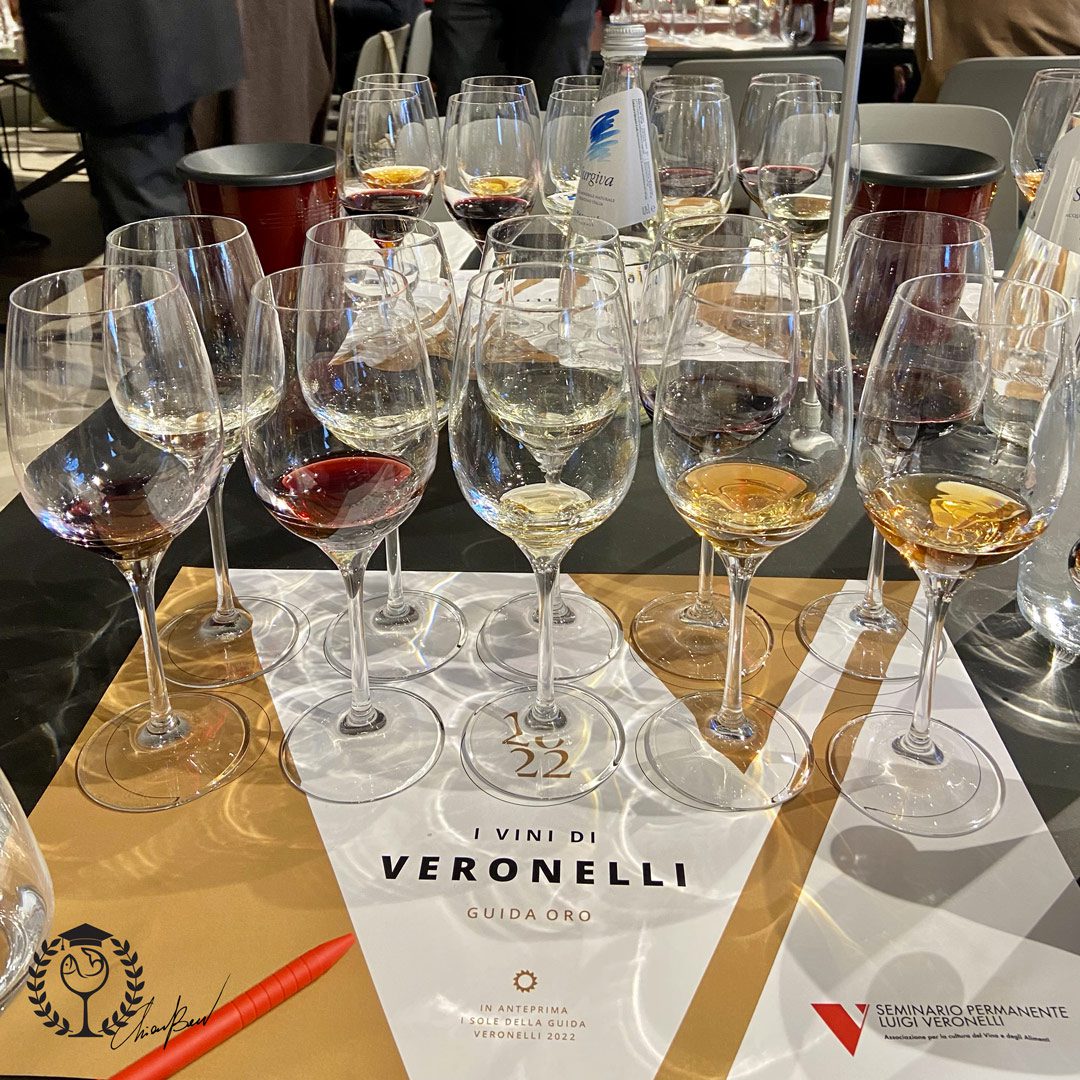 The tasting was organised to perfection: it is a pleasure to taste the wines with time to take notes and comfortably seated. On the choice of suns, I have to say that I was pleased to discover wines I did not know and a couple of wineries I was unaware of, including Isimbarda and Hibiscus. However, I believe that in Italy there are many wines with great personality from different wineries that deserve to shine among the suns in the Guida Oro Veronelli. Who knows, maybe I won't find them next year!
Thanks to the Luigi Veronelli Permanent Seminar - Association for Wine and Food Culture - of the invitation and see you soon!
Cheers 🍷
Chiara