There is a story of love, passion, cities, art and beating hearts that, in between preparing the articles for this Vinitaly 2018, I have decided to tell you. This story has as its protagonist the people of Abruzzo and takes place between Pescara and Città Sant'Angelo, in those rare perfect moments where work, family, friendship and love have such blurred boundaries as to be indistinct. A privilege of the few, I dare say. After all, the world is populated by two categories of people, those who experience work as a visceral passion and those who experience work as an obligation they would gladly do without. On a sunny afternoon, while they are working, try asking them what time it is:
are already the five
are again the five
Is it possible that a simple adverb says so much about a person? This is the story of 13 people of different gender, age, culture, city, profession, background, who met in Abruzzo to communicate wine and to that question they would certainly answer 'it's already five o'clock'.
The first person in this story is me. As you probably know, in addition to writing about wine on this blog and editing the sparkling wine guide 500 Bolle in 500, I develop websites and e-commerce and do copywriting for wineries and operators in the international wine world. I define myself as a 'director' of wine communication, and I enjoy creating stories and coordinating people to achieve results of great aesthetic and communicative value. In this story, my work took me to Abruzzo with the aim of creating an institutional video and two product spots for the Tenuta Tre Gemme winery in Pescara.
I had never been to Abruzzo, although I had been able to appreciate its character ever since my university days, when I shared first a piece of life in Bologna and then one in Ravenna with Maria, a girl from L'Aquila with a disarming smile who was my direct neighbour for years. I remember very well the sweetness and warmth of her mother, so far removed from the culture I grew up with and which I always fondly envied. And here I am today, looking at the sky-blue sea of Pescara from my hotel room while I wait for tomorrow, the day of the shoot.
In the heart of Pescara, Maison Nuances is a temple of style and elegance. Andrea Luciani e Fausto Fonticoliart buyers and interior decorators, they are so in tune with the environment that they are absolutely part of it. Beautiful, with a sensitivity and empathy as rare as their aesthetic taste. They move sinuously from one room to the next, taking care of every detail with the attention of those who put not only their technical preparation, but above all their heart into it. What they are able to create is simply perfect, and Maison Nuances goes beyond the 'furniture shop' scheme to be a more intimate place, of friends united by the same passion. They provided us with this beautiful SET for our shoot.
Carla and Anna Perrucci are the true protagonists of this story. Two sisters from Abruzzo with very different lives who now share the transformation of their family's wine project. A winemaking tradition that began two centuries ago and has now blossomed into a luxurious collection of signature labels. Carla is enterprising and dynamic, passionate, a woman of Abruzzo of rare beauty, tough, fragile and precious as a beautiful diamond. Anna is like a dancer who has just retired from the stage, even if she does not want to be the centre of attention, she moves on stage with the mastery of someone who has always lived it. Their strength is to be first and foremost together in pursuing their family's winemaking path, which has now merged into a dream they have just realised: their own brand.
Stefano Pellizzaro and Riccardo Vencato are the two professional videomakers who work with me in the production of videos for wine cellars. Watching them work is absolutely thrilling: to say they have an edge is simplistic. Riccardo, the director, is a sweet and sensitive guy, an artist and at the same time a great professional. Stefano, the producer, is a hard worker with an innate ability to combine the most diverse people into one. Working with them is a pleasure.
Paola Kosz is a Make Up Artist from Abruzzo with a crazy talent and passion. I follow her on Facebook and she manages to enchant me, who understands very little about hair and make-up and doesn't even care much about it, and the only thing I can put on decently is mascara. Paola is able to engage people, to speak from the heart... and then boy, she could turn a frog into a prince without even needing to kiss him with one stroke of the brush. She, as I understand it, calls it camouflage. 😄
Laura Valenti is a model and dancer with whom I fell in love at first sight. I remember when we used to browse through the books looking for the leading lady for the two commercials. I saw dozens and dozens of beautiful girls. Laura, Miss Universe Italy 2009, however, told me everything. In the end, each of us had proposed a possible candidate, but when I saw her move in a YouTube video, I really had no more doubts: she exactly embodied the style of Tenuta Tre Gemme wines. Sophisticated, yet also 'the girl next door' (eh, you'd like to have her as a neighbour 😄). Laura plays a mature woman coming into her own with the innocence of a child. I think this somehow represents her, which is why she exceeded our wildest expectations.
Gabriele Bonito is Carla's sidekick in more than 'one enterprise'. The ring that allowed us to meet and whom I cannot thank enough. A serious and competent man, a hard worker. Friendly and brilliant, he has a strong spirit of initiative and never gives up a new challenge.
The last three characters, as I call them, are the Three Gems of the Future! I'm talking about Carla and Anna's children, of course! Chiara is now a woman, beautiful and intelligent with strong problem solving skills. Francis, the youngest of Anna's children, is a cheerful and very friendly child. James instead he is already a little man who wants to get busy!
In the latest chapter of this Abruzzi story, Fausto and Andrea had the brilliant idea of taking us to the Osteria il Grottino di Città Sant'Angeloone of the most beautiful villages in Italy. Strolling through the historical streets of the city, adorned with marvellous medieval religious architectureon a rather cool evening, we felt our hearts beat in unison. Mama, these arrosticini are so good! It's just a pity that I wasn't so well that evening and I didn't get to enjoy them as much as I would have liked!
"Before Abruzzo, he had been a professor a year in Calabria; another year, in Basilicata. In Città Sant'Angelo, overcome and blinded by the burning need for an affection that would fill the void in which he saw himself lost, he had committed the folly of taking a wife; and he had nailed himself there, forever. His wife, born and bred in that high, damp village, devoid even of water, with its narrow prejudices, its petty gretrettyness and the surliness and laziness of lazy, silly provincial life, instead of keeping him company, had increased his loneliness around him, making him feel every moment how far he was from the intimacy of a family that should have been his, but where neither his thoughts nor his feelings could ever penetrate. "

Luigi Pirandello
In short, this is a story of courage and passion that was born in a very important year for the Abruzzi grape variety. 2018 is the 50th anniversary of the DOC of Montepulciano d'Abruzzo, a wine that in recent years has been stealing the scene even from more noble labels. Abruzzo has historically always been a peripheral region when it comes to quality in the world of wine, but in recent years there has been a real U-turn in favour of ennobling the product. Carla and Anna Perrucci's desire to create a brand of their own into which the best grapes could flow to obtain a product that is as sophisticated as it is easy is perfectly in step with the times. Assisted by the Consortium of Abruzzo Wines, which protects both the consumer by safeguarding the quality of the product and the producer by protecting the denomination from plagiarism and unfair competition, Carla and Anna have harvested the best grapes from the 65 hectares of the property set like a precious gem between sea and mountain to bottle the true flavour of their land.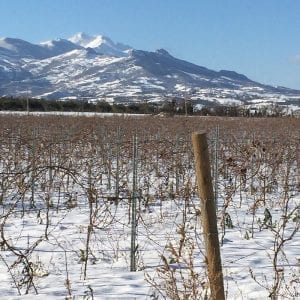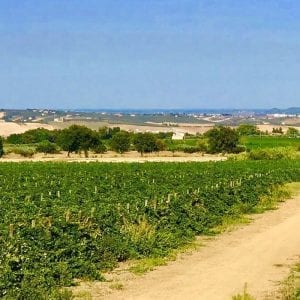 I tasted the new vintages and I must say that the growth was as crazy as it was strategic. If Montepulciano d'Abruzzo, in both its basic and Riserva versions, has remained a product with a very strong traditional character, Cerasuolo d'Abruzzo has taken on traits almost of a Provençal rosé, while keeping its varietal characteristics intact, in order to be increasingly easy on an Italian public that is now learning to appreciate rosé wines. This year's Passerina is simply wonderful. I admit that the previous vintage did not entirely convince me, and for this reason the growth I have experienced is all the more commendable.
In short, this is the story of a company that also stands out for its wine communication project, which is absolutely innovative, especially for an Abruzzi company. White labels for the Dedica Line, with bottles sold in combination with the Perpetua pencil. A unique idea: leave a message on the bottle written with the hands of the giver for the receiver. A thought, a date, a memory. The Versi diVini line project is also very interesting, between culture and emotion, all bottles are sold wrapped to hide the phrase on the label, always different. In fact, dozens and dozens of the most beautiful quotes on wine by great poets have been chosen with the aim of arousing pleasant emotions and creating topics for discussion among the people who drink these wines.
But now I'd say watch at least one of these videos... and I'll choose the one that touches me
more 😍
After this experience I think the people of Abruzzo are good people. They are not people from the south, but neither are they people from the north. The people of Abruzzo have a mentality, a desire to work and a passion to which it is impossible to remain indifferent.
I hope we will see each other again soon in Abruzzo.
Chiara
P.S. As always, thanks for the photos UniversoFoto.com for sponsoring the stunning Sony RX100MIV compact professional camera.