Every day I read articles of the lowest quality and posts to make my nipples stiffen, and not for pleasure (to stay on topic, that is), and let's just say that I choose to make my so-called clusters of mine (have you ever noticed that certain somewhat scattered, 2-winged clusters have a certain shape?)... but not today. Today I want to reflect on a post that gave me reflux despite the fact that I don't suffer from it at all. A post where you criticise other people's minnows, but the first thing you notice is precisely the the author's big tits. And I would like to survey the 545 likes received on Facebook by Ms. Fabiola Baldanza to see how many have: a) read the content of the post; b) understood the content of the post.
At the end of my investigation, then, I would drop by to discuss with the Ministry of Education because I have a few things to ask. To begin with, why can't a person with a university degree write with acceptable grammar? Why is it that a person who has finished all the years of compulsory schooling cannot express a concept coherently? How is it possible that, after years of study, and in a western country where education is free thanks to the libraries that are present throughout the country, one can write such a post?
I ask because on the profile of the lady with the beautiful big tits strictly #nofilter it says:
attended the Leonardo Da Vinci scientific high school in Agrigento;
studied Biological Sciences at the University of Palermo;
studied at the University of Florence (we do not know what);
studied at FISAR Florence;
studied cellar technician and vineyard management and pruning technician for IFOA (where my partner used to teach, by the way);
attended IED Florence (cool, I would have liked that too!).
So it seems that the lady has a superlative educational career (two degrees, a sommelier diploma, a diploma in some area of design and a diploma as a professional pruner etc.).
It therefore escapes me how someone so studious can throw away all the sacrifices made - financial, time and quality of life - to get diplomas, degrees and certifications by insinuating that - and I quote literally - "being wine and vineyard experts without ever having held a shear in their hands, received wasp stings, suffered the cold in January, having run because a hose would come unhooked, [...] taking holidays every summer...".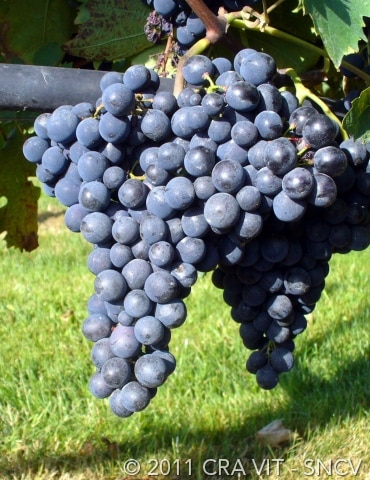 Oops, that's a good one: either you get stung by wasps while holding shears or you have no right to talk about wine. So this lady spits on her FISAR diploma, to name but one. I don't know what she graduated in at the University of Florence, maybe viticulture and oenology? In any case, it doesn't matter... a bunch (always that scattered, two-winged bunch we were talking about earlier heh)!
Dear big-boobed Ms Fabiola, who was so keen to peep in to point out how she too could get hundreds - thousands - of likes if only she chose this communicative approach on her profile, I now invite you to have three thoughts with me.
Big tits, wine and ignorance/1: the dress code does not like it!
I wrote just a few days ago this article on the sommelier uniform and dress code following the fuss between FIS and American student Nicole Hesslink over the skirt of her (former) association's official uniform.
Are we really talking about boobs in the western world of 2022? Really? I don't like 'coming out of the boobies' and I only have a third, certainly not the jaw-dropping boobs of the lady or many wine influencers. I don't like communication that uses commodification of the body. So what? Does that entitle me to mock my colleagues who have made it a workhorse? Also no. If my product is not aligned with that communication I simply do not involve them in my marketing, end of story.
And then come on, every environment has its dress code. And even a plunging neckline is a dress code in a certain environment. The dress code must be aligned with the place, whatever that may be. A stupid example? In a disco, is a (scantily) dressed sexy girl more welcome and more unnoticed, or one who sports a high-necked wool jumper? And in certain discos/clubs, isn't Champagne literally flowing? I am also talking about very very expensive bottles.
(It's not like there are only shabby places serving watered-down drinks in the world...)
I'm not aware that the aforementioned Wine Influencers that Ms Fabiola refers to in another post as #winezoccole show up with these minnows outside in the Chamber of Deputies, right? (This comparison arises because I am currently taking care of the entire marketing part of the election campaign of an important Member of Parliament and I am practically alienated from the world of wine...)
It makes my eyes bleed that Miss Wine Spice Girl calls herself a blogger with a site full of marquees, when a blogger is supposed to be a free columnist and not a content creator. However, India Donisi (@winespicegirl) has a bachelor's degree in Italian culture, a master's degree in publishing and a second degree in oenology, plus a WSET 3. In short, in my book, she has the qualifications to talk about wine... it's her choice whether to do it irreverently or classically.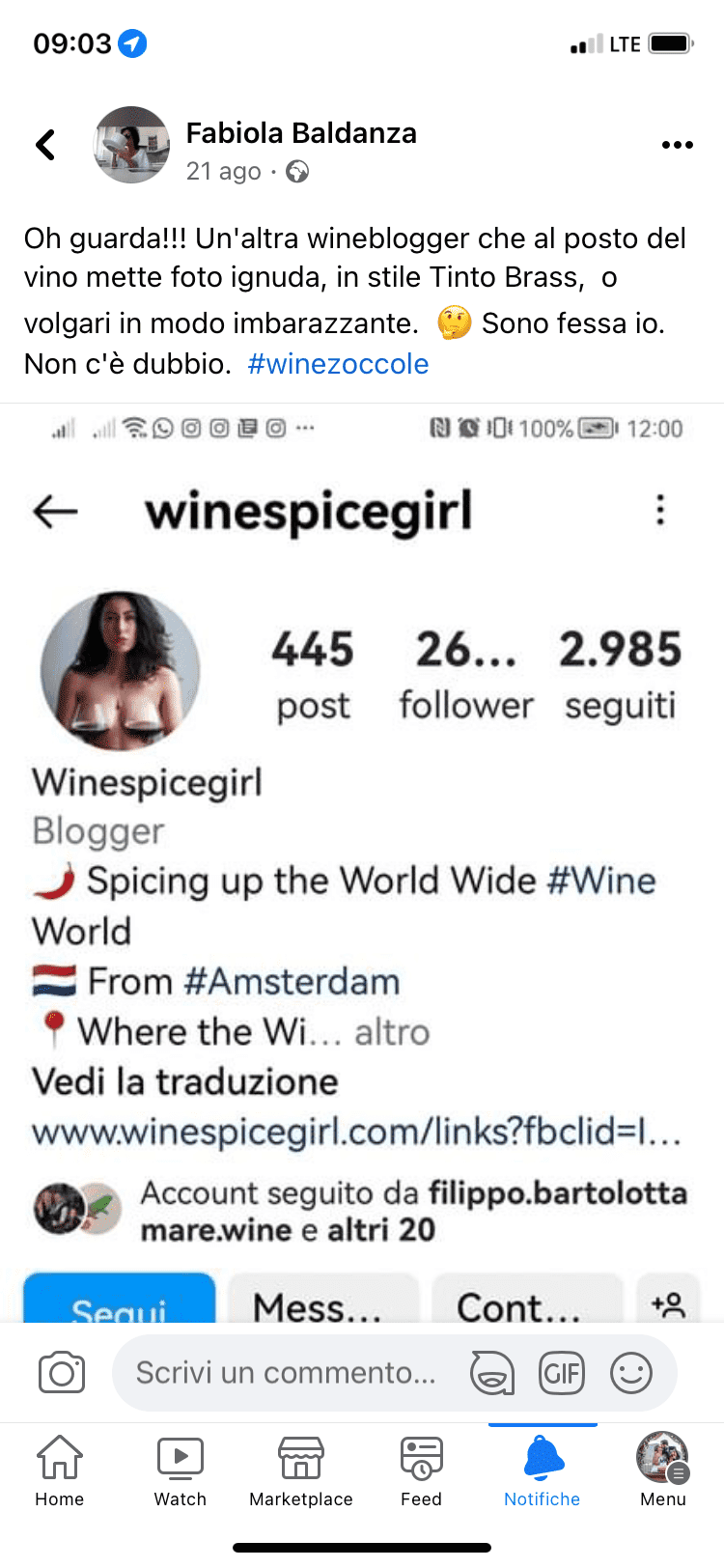 You can now subscribe to my newsletter or scroll down the page to continue reading the article!
Big tits, wine and ignorance/2: marketing, this stranger!
Without going into the details of what marketing is and in particular the product marketingI would now like to make a small reflection on the wine communication. Let us start with a fundamental concept: there is no wine, there is no winery/company and there is no consumer. In Italy alone, there are 300,000 companies producing wine and more than a million labels produced. Italian and foreign wine consumers differ not only socio-demographically, but also and above all in terms of wine culture. If all these companies were to target the same type of consumer with all their labels, as one can easily guess, they would go bankrupt very quickly as there would be no room for everyone and the educated consumer is, in fact, a niche.
When I read Ms Fabiola's post I immediately wrote to two friends, Elisa Gubellini e Simona Geriwho are in charge of promoting wine, which I, for example, do not do. I teach wine marketing (the last courses I did were in collaboration with the Veneto Region between May and June) because I do not like being the centre of attention (the same old story!). I chose them because I find them both good at content marketing and, having two very different target audiences, they are two perfect case studies for this article. I would like to say that both are correct and exquisite people, as well as very knowledgeable about wine.
Big tits, wine marketing and target audience: Elisa Gubellini
Elisa Gubellini is apparently very far from me. She fascist, I radical. She no vax, I tri-dosed in hopeful anticipation of the fourth. She pro-chest, I only have one low-cut dress my husband gave me on Valentine's Day the first year we met and I think I wore it no more than twice. She wears heels and sexy shoes, I love Birkenstocks in the summer and Dr Martens in the winter. And I could go on for a very, very long time....
Yet I value Elisa even with our differences. Elisa doesn't give a half a cluster what others think, she has built her business and is good at it. Where Mrs Fabiola only sees two tits on show, I see a profession of hostesses and wine models, all graduated sommeliers, who offer themselves for events at wineries. I don't know about you, Mrs Fabiola, but at Vinitaly I see many beautiful, more or less bare-chested hotties who don't know how to make an O with a goblet in their hand, and when I ask them questions like "when was it foul-mouthed?" they look at me as if I had asked about the vomit of their friend's son the night before. But there are hotties who are also sommeliers at events! Because I don't know about you, but I cellars that do reception at events choose women and men of unpleasant appearance have never seen any. Just as I rarely see ugly people advertising products in newspapers and on television.
Does Elisa Gubellini have a communication style that is not mine? Of course. Am I Elisa's target audience? Absolutely not. Elisa Gubellini has the right communication style for her target audience which - hear hear - is a wider target audience than mine. Does this mean that Elisa's communication is better or more effective than mine? No. Does it mean that my communication is better or more effective than Elisa's? No.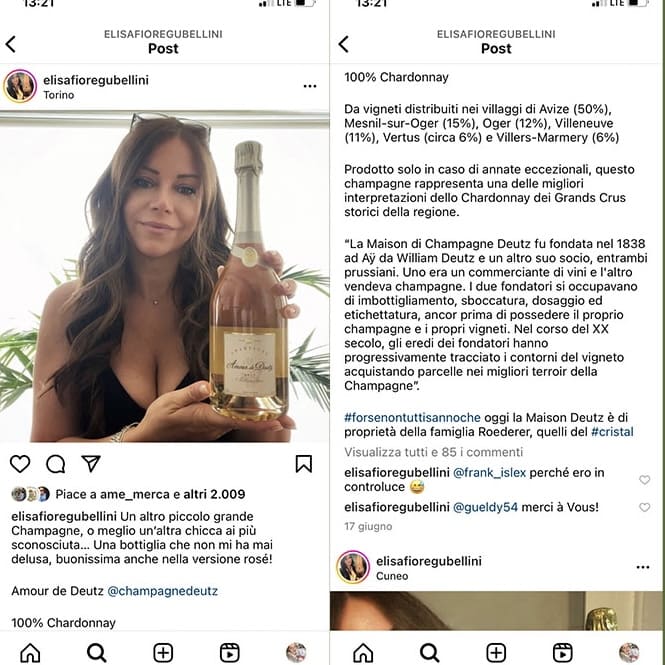 Big tits, wine marketing and target audience: Simona Geri
I can't tell if Simona Geri has big tits, I've never seen them (super Simo, get your tits out, come on! 😄). I can't tell if she votes left or right because she doesn't talk politics and I don't know if she's vaccinated. Frankly, I don't even really care. For sure Simona wears heels that I didn't even wear on my wedding day, she has some tattoos - which I don't particularly like - and she is a mother, which is another thing far from me.
Each person has points of contact and points of distance and diversity, for intelligent people like me, Elisa and Simona, is an asset, not a limitation. We are certainly three women sommeliers who first invented and then built their own business. Not chicharrones nowadays (however, if you have some chicharrones or pork to send me, write me an e-mail, I don't just taste wine and I am a great pork lover).
Simona makes beautiful videos, funny reels and posts with her rarely seen photos. Does this mean that a post by Simona is better or more effective than one by Elisa? No. They are two pieces of advertising content aimed at two different targets and both are effective within their target audience. It means that if you are a winery and you want to promote your brand or your particular label, think about your ideal customer, draw a sketch and ask yourself: is it Simona's target audience or Elisa's target audience? Then work with one of them. Or neither of them. If you work with both you are wasting money, because differentiation is important, but differentiating the media does not mean intercepting a media outside your target. Unless you have a lot of money to - literally - throw away. But that's another matter...
Nelle due foto che ho scelto di entrambe vedete una comunicazione diversa di un vino Champagne AOC. A me sembrano entrambe belle e preparate.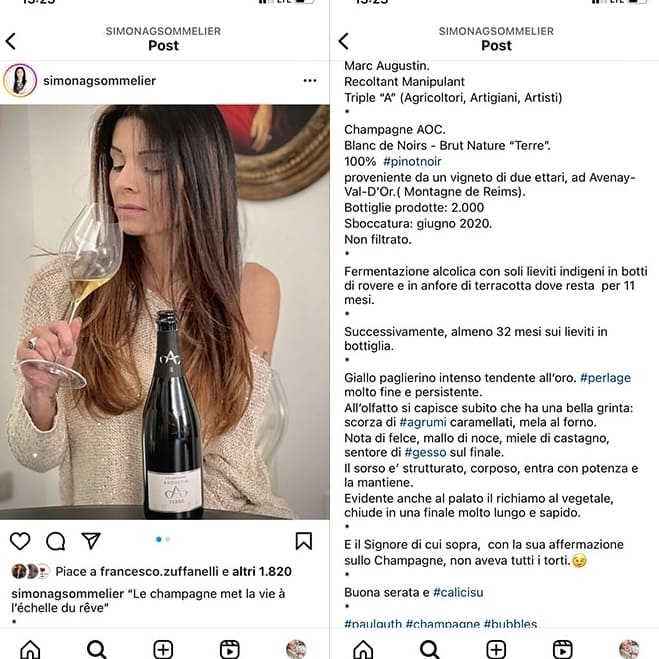 Tette grosse, vino e ignoranza/3: sono scelte, rispettatele!
Potrebbe non crederci signora Fabiola, ma a me di fare la cantiniera, vendemmiare, possedere una cantina e compagnia cantante non me ne frega un grappolo! Per quanto adoro il film "Un'ottima annata", se un lontano zio mi lascia uno chateau in Provenza con vigneto annesso lo dò in gestione e ci vado a fare le vacanze… a differenza sua anche ad agosto. Allo stesso modo, anche se sono Sommelier, non mi interessa servire il vino. Io sono un topo da biblioteca e mi sento a disagio a girare in mezzo ai tavoli per servire le persone. A me il vino piace degustarlo e raccontarlo, soprattutto dal punto di vista didattico. Non so se lei fin da bambina sognava di fare la cantiniera, ma so per certo che io sognavo di fare la scrittrice e mi sono applicata per diventarlo.
Ogni essere umano ha talenti, limiti e attitudini e dovrebbe seguire le sue inclinazioni. Sono profondamente convinta che se un individuo studia ciò per cui prova passione e poi lo fa diventare un lavoro, studierà con piacere e farà un lavoro eccellente. 
A qualcuno piace degustare il vino.
A qualcuno piace vendemmiare (a me no).
A qualcuno piace insegnare il vino.
A qualcuno piace studiare il vino.
A qualcuno piace scrivere di vino.
A qualcuno piace fare il vino.
A qualcuno piace fare l'imprenditore di vino.
A qualcuno piace vendere il vino.
A qualcuno piace comunicare il vino.
A qualcuno piace disegnare e/o realizzare prodotti per il vino.
Ogni lavoro è sacro e va rispettato se fatto con competenza, dignità e passione.
Infine ci tengo a ricordare che non tutti si possono fisicamente permettere di vendemmiare: il caldo e il sole eccessivi possono essere un problema per alcune malattie o per chi – come me – ha la pressione bassissima.
Quindi a volte non sono nemmeno scelte libere.
You can now buy my book Sommelier: the illustrated manual or scroll down the page to continue reading the article!
Book 'Sommelier: the Illustrated Manual' Special Edition 2022
All my notes on wine and food in one book.
In stock (can be backordered)
Signora Fabiola, mi dispiace contraddirla, ma avere esperienza di qualcosa senza averla studiata non dà nessuna garanzia di saperla fare. Anche lei è cantiniera, ma è partita da un corso professionalizzante tenuto da un ente famoso e riconosciuto a livello nazionale come IFOA. Può aver fatto 1, 10 o 50 vendemmie. Un esempio? Trova più "esperto di vino, di vigna e di vendemmia" (qualunque cosa per lei significhino) l'anziano viticoltore che è felice se raccoglie tutto e non sa nemmeno cosa sia il diradamento dei grappoli o il giovane che ha studiato, che fa diradamento quando serve e sceglie con cura solo i grappoli più sani?
Una cosa è certa: "la parte "e i Minni un su istruzione" non l'ho capita, potrebbe essere così gentile da tradurmela?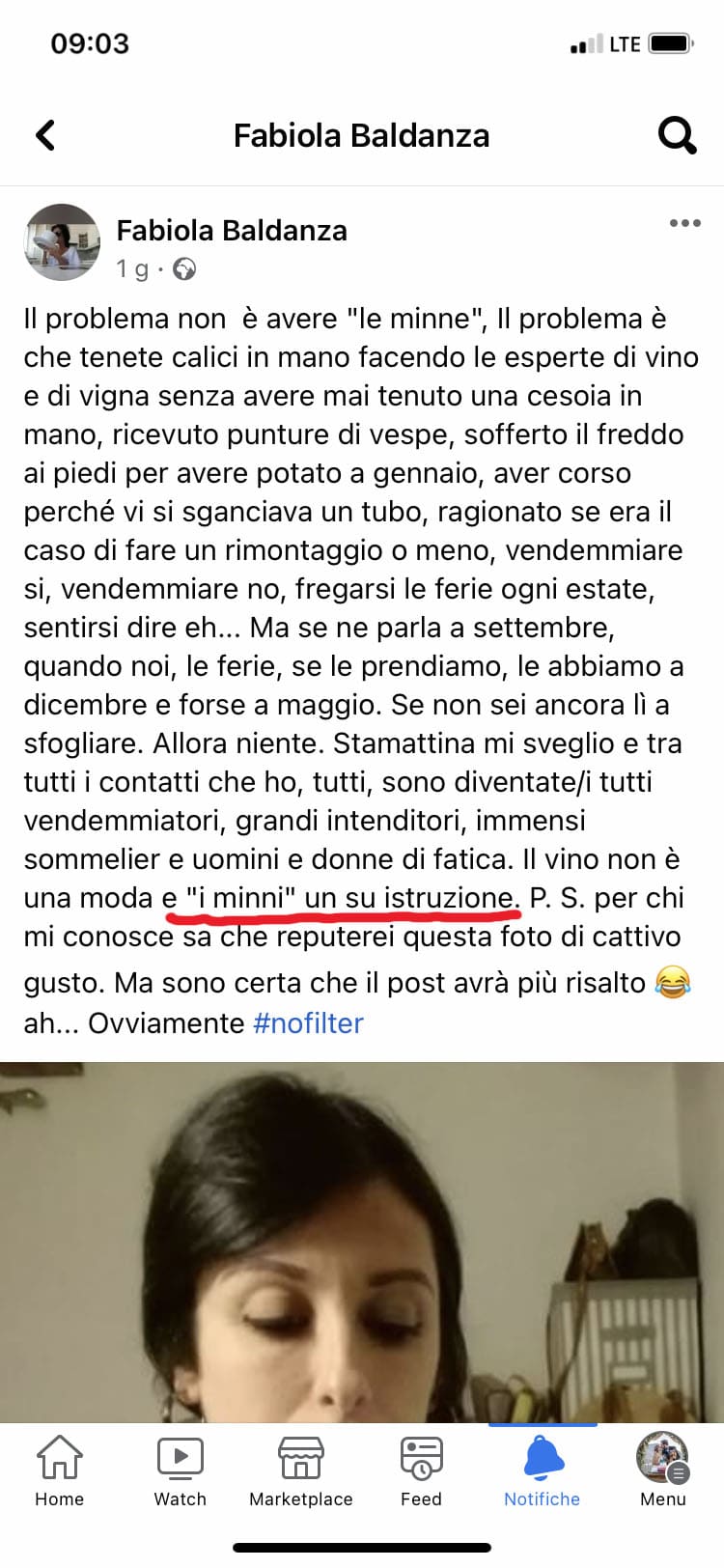 Vi potrei raccontare dell'ennesima cantina che mi voleva pagare per parlare dei suoi vini e io ho risposto che non accetto soldi per parlare di vino e di un vino ne parlo solo se mi piace. Ho detto loro che potevano mandarmi i vini o potevo andare io in cantina e sarei stata felice di scrivere un reportage completamente gratuito con le degustazioni (come i tanti che trovate qui sul mio wine blog) se i vini mi fossero piaciuti… e non mi hanno più risposto. Questo accade diverse volte al mese.
Cosa significa? Significa che per alcune cantine io non sono la loro comunicatrice ideale e di conseguenza nemmeno il mio target è ideale per loro. Ma ad esempio possono – forse – esserlo Elisa o Simona. Dipende.
E dato che la signora Fabiola Baldanza ha detto che il problema non è avere "le minne" (ovvero le tette grosse), uscitele senza paura, care colleghe.
Male che vada ve le pungerà una vespa mentre prendete il sole la prossima estate e sarà per voi tutta esperienza enologica guadagnata.
Forse addirittura avrete i titoli per "fare le esperte di vino" dato che il vostro diploma sommelier AIS, FISAR o di qualsiasi associazione e/o la vostra laurea in Enologia e Viticoltura o Scienze Enogastronomiche (nel mio caso) per la signora non è qualificante come il morso di una vespa.
Cheers 🍷
Chiara
P.S. Scusi signora Fabiola, in questo commento lei scrive "anche io non vendemmio. Sono cantiniere, letteralmente si dice che sono alla ricezione uve… ". Ma allora 'ste vespe l'hanno punta o no?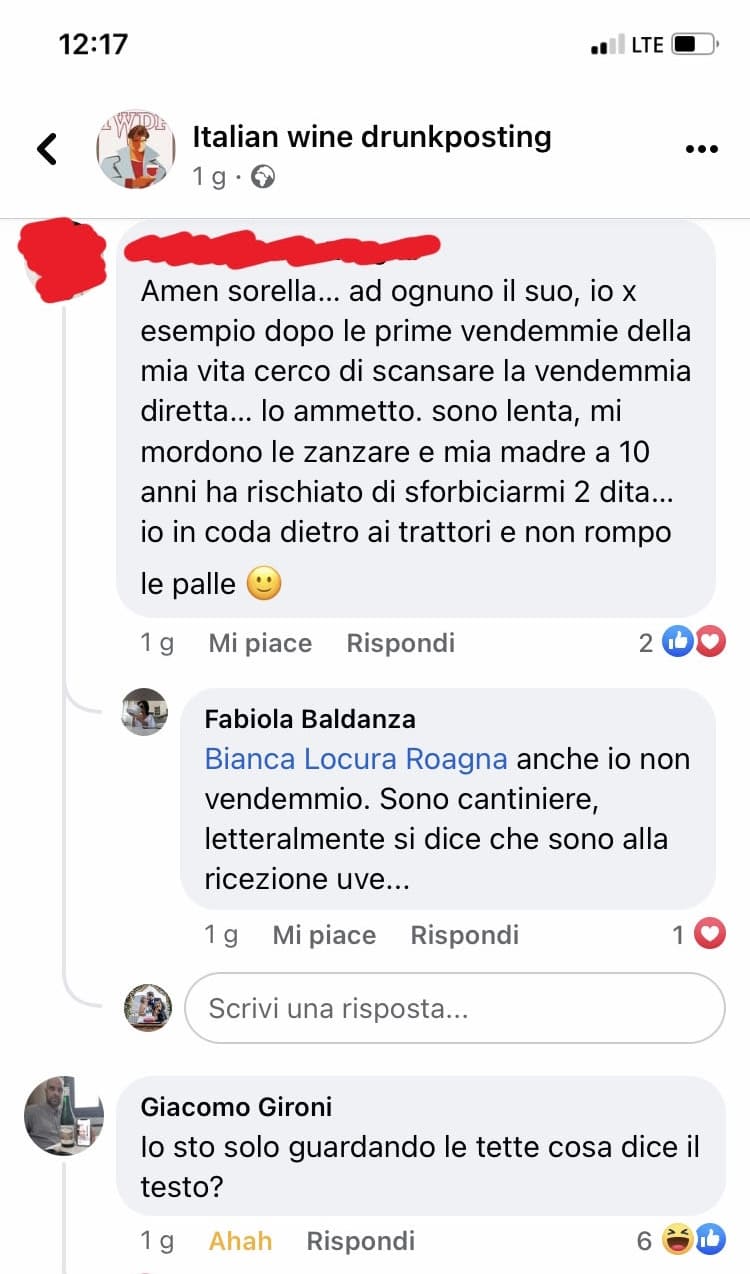 P.P.S. Mi sono permessa di lasciare il nome del collega sommelier Giacomo Gironi perchè il 23 gennaio 2018 ho pubblicato questo articolo con il decalogo del perfetto sommelier!