Yesterday I had the classic example of a pleasantly exhausting day: I woke up at 6 a.m. after 3 a.m. to finish the graphic design of the back label for one of my clients (I'll tell you about this company as soon as it's ready, we're doing a really beautiful job of which I'm very proud!), then I left with Dad (he's driving me because my car is dead and I'm without a car at the moment... phew!) for Asti to make various appointments with wineries for TASTEvie.com with Alessandro and Francesco (our Valle d'Aosta salesman, who I'll call 'Fonty' from now on so there's no confusion... with all the Fontina there is in Valle d'Aosta? ).
The first winery we visited was Poderi Gallino... and boy what a surprise I got! I had never heard of this winery, and now I can say that I was really missing something from Piedmont! And Piedmont is wonderful... and Piedmontese wines are absolutely in my blood, so when I visit this region I am always very happy and satisfied... but here we really are on another planet!
Even before I tell you about this company, I just want to say one thing: since I created Perlage Suite I have never bought a bottle of wine because every day I receive samples from Italian wineries hoping for an article from me (but I almost always write about them only if I visit them in their cellars... because I prefer to tell about emotions, travels and stories... ) and yesterday I fell so much in love with these wines that I even bought 4 bottles (one was given to me as a present... thanks?)! This is really significant for me because I have a lot of bottles of wine at home, but despite this, my wine cellar just couldn't be without Poderi Gallino wines... and when I tasted them I immediately asked them to buy them! Very impressive for me! I'll post a photo of my haul right away (note the dusty bottle of the family reserve... Barbera d'Asti 1990):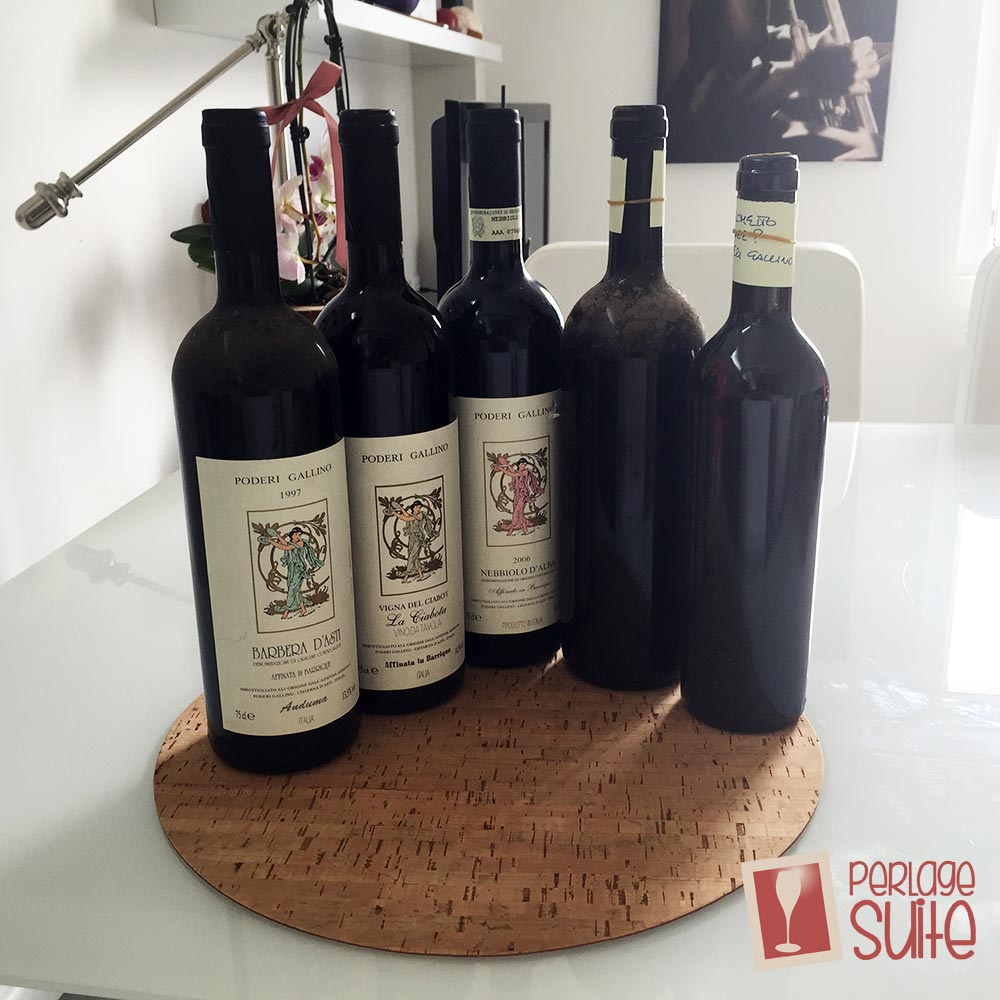 The Winery Gallino Estates is located in Via Cassigliane 41 - Fraz. Valle San Matteo, 14010 Cisterna d'Asti and makes available to its guests (who probably drank too much given the warm hospitality), a bed & breakfast above the tasting room.
Leonardo and Luca made us taste some wonderful wines, vintage after vintage of real emotions! The wines that impressed me most were three:
Nebbiolo 2006
Barbera d'Asti 1997
Brachetto (I don't remember the year... I ask Luca and Leonardo to leave me a comment at the bottom of the article to tell me!)
First of all, I would like to say a few words about Brachetto d'Acqui, an indigenous Piedmontese grape variety that until yesterday I snubbed big time because of its being raped by big productions. I'm sure that you too, at some underage or just-aged party, have at least once drunk a lousy sweet Brachetto that has chagrined you for years to come! It happened to me more than once... then yesterday I tasted this Brachetto... I was sceptical... so first I sniffed with diffidence... but man! Already on the nose a world of chocolate and marasca cherries in spirit, withered roses, with a balsamic hint and a slight musky and undergrowth note opened up to me. A very fine, intense and persistent bouquet, in the mouth it was warm but not too alcoholic, with a nice structure, great balance and harmony that pervaded my senses. They told me that they produce less than 300 bottles a year and that they do not normally sell it... well, I insisted on taking a bottle to my Love... is the jetty on the lake at sunset waiting for us ?
La Barbera d'Asti It struck me because I love Barbera very much... but I normally prefer Alba because I find it tends to be more structured, intense and fine. For Poderi Gallino it is exactly the opposite: they have a Barbera d'Asti like you really don't see around... and I drink a lot of Barbera (d'Alba and d'Asti)... and I hear a chorus from my liver saying 'too much'!!! Fine and elegant bouquet, not too vinous but very prone to red fruits and spices, especially black pepper and finally a nice note of liquorice. It has done a lot of wood, and you can feel it! I have tasted that of various vintages... but the 1997 was absolutely spectacular... and then do you know what it tastes like to see the bottle with the top all dusty? Perfect with cured meats and cheeses, the cocoa note, the toastiness, the strong alcohol content, and the soft but insistent tannin also make it wonderful with fatty meats like goose and duck!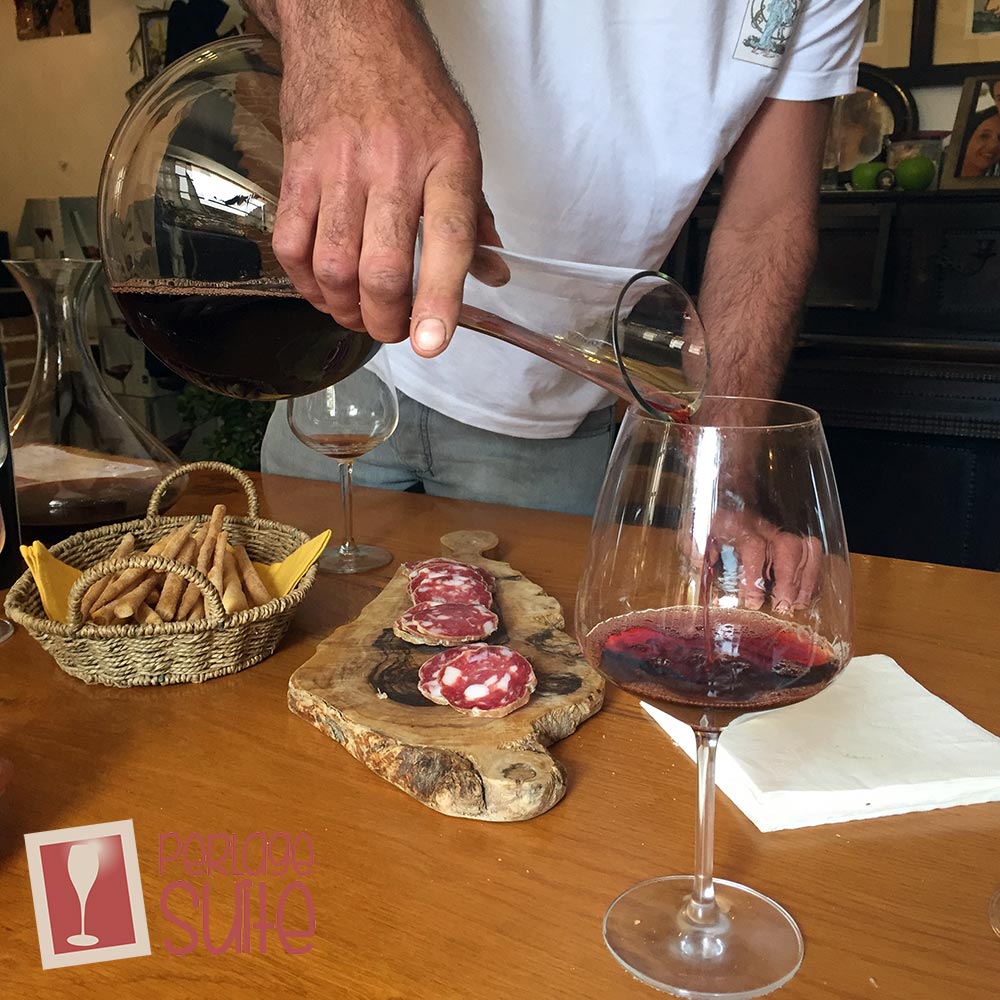 The salami that accompanied the wines during the tasting was also very good! The Nebbiolo 2006 was sublime... provided you love wood as much as I do. Ruby red in colour tending towards garnet, clear and transparent, the nose blends ethereal notes with enveloping spacing, especially of vanilla and nutmeg. In the mouth, it is elegant, persistent, fine, velvety and very harmonious. It is certainly an austere wine, an interpretation of Nebbiolo not within everyone's reach... but one that you will certainly appreciate if you like to experience a wine made to perfection on the measurements of those who produce it, without compromise. A pairing? Definitely a tagliata di scottona with maldon salt and aromatic herbs!
Last of the reds but certainly not for goodness The Ciabota (Ciabot in Piedmontese dialect means 'little house' if I have not misunderstood), from overripe Croatina grapes, a beautiful garnet colour, a very rich nose and a velvety mouth feel make it the ideal wine for important cheeses, even very aromatic and mature ones.
I Roero Arneis which we also tasted were delicious, striking for their distinct minerality and complex nose, unusual for this grape variety that I like to call 'a good cool water' (please don't hate me...)! Finally, I found out that in a few months' time they will also be bottling the first bubbles of Roero Arneis... which I tasted from the cask and I must say are more than promising... I can't wait to taste them ready!
Very nice the Art Nouveau labels, they reminded me of Alfons Mucha's paintings which I love: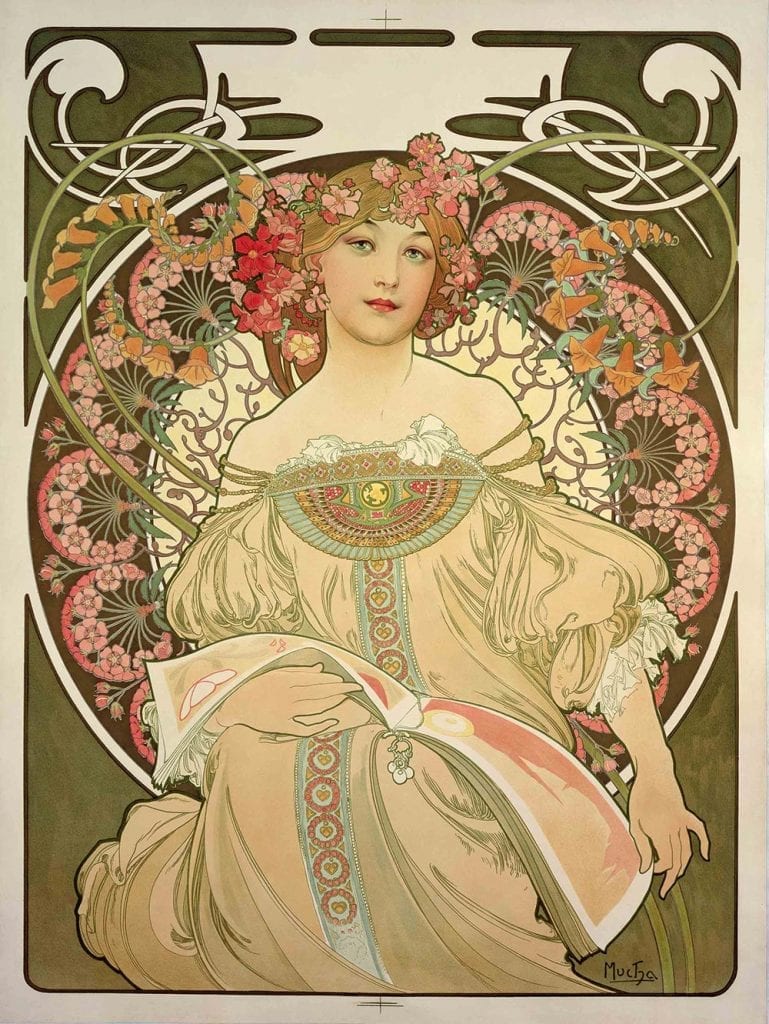 Although, forgive my professional distortion, I would redo the labels by paying more attention to the design but always respecting the same style, indeed enhancing it! (In case you remember me... it's really my style ?)
And now a clue to my next article... look at the picture, that's all I'm saying for now! By the way, I'd like to take this opportunity to thank Dag Style for the beautiful cork sets they sent me: that's the table of the perfect #winelover ? And then I love their eco-sustainable philosophy with which they create their design pieces... because for me these are not just plates, coasters and bread baskets (I warn for wine cellars, wine bars and restaurants: they also have menu holders)... they are really design pieces that match the environment completely made in Italy (the company is from Brescia!) My favourites are these ones in natural cork... but the new ones in coloured cork are also really beautiful (especially the dark chocolate one that I used as an under-bottle)... I'm obsessed with the table and I fell in love! If you like them have a look at their website by clicking HERE!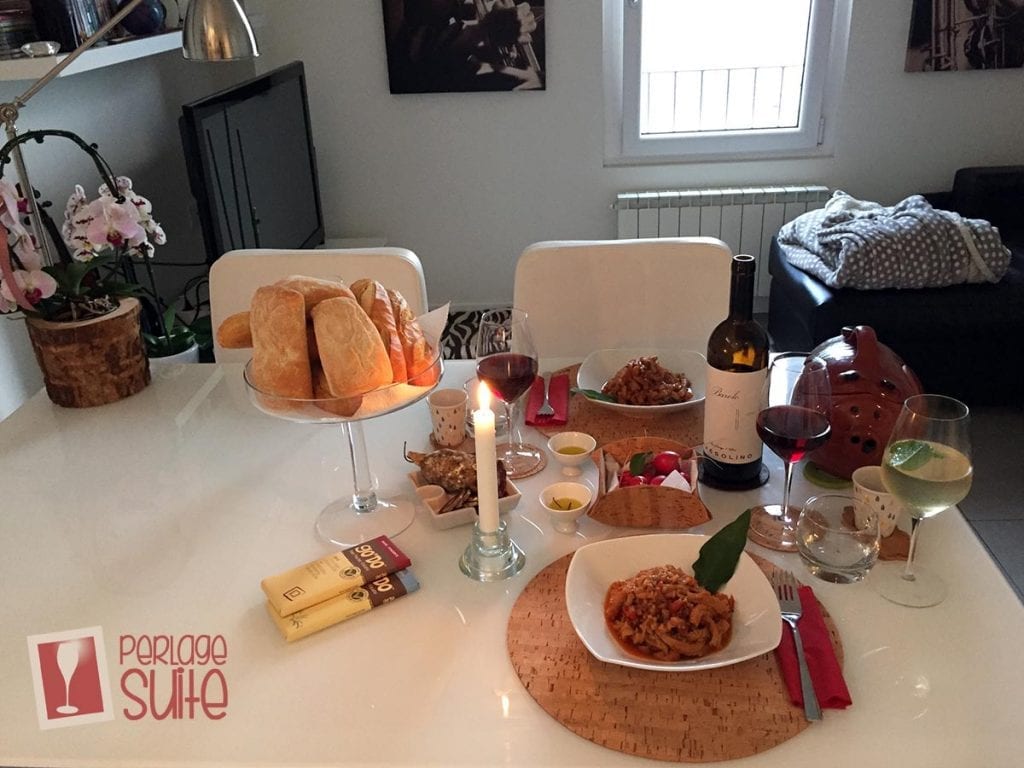 See you soon and thanks again to Luca and Leonardo for their hospitality,
to Francesco 'Fonty' for finding this wonderful winery,
to Alessandro for involving me in the tastevie.com project,
and to Dad for almost always being a very good driver and escort (I don't understand how he managed to drive and stay awake from 6 a.m. to 2 a.m.).
Chiara
P. S. What was I doing in La Morra with Fabio Carisio 'Mr Art & Wine' apart from a delicious aperitif in the Osteria More & Macine ? You'll soon find out 😉