I waited until the last minute to write an article I had already decided to write. For the 'unbirthday😔 of my beloved father I have learnt to avoid the subject in order not to cry, yet I wanted to uncork something special again this year just for him... and I chose the Collio Bianco DOP Fosarin di Ronco dei Tassi because I had already fallen in love with this wine when I visited the winery with my best man at my wedding Marina Tagliaferri from the Agora Press Office and my husband Francesco. In this article I will also tell you about the new Collio Bianco PDO Malvasiabut I had that a few days ago as an accompaniment to my home-made 'fish and chips' with a salmon trout fillet stuffed with herbs, breadcrumbs and lemon to die for!
The Piadina Romagnola: Recipe with a delicious filling
I paired the Fosarin 2018 with a piadina romagnola 🤩 delicious that I am now going to teach you how to make! Making piadina romagnola at home is so quick and easy that there is no excuse for buying one of those ready-made junk food from the supermarket just to be reheated. Besides, the ones you find around really have nothing to do with piadina romagnola. The use of lard is a must: I assure you that with butter and extra virgin olive oil it will never turn out well! The choice of flour is decisive, personally I prefer to use stone-ground durum wheat semolina. You can cut about 1/5 of it with 1 or 2 flour to make it even tastier. You will then need 500g flour, 60g lard, 10g fine salt, 2g baking soda and hot water in % variable depending on the flour you use (also varies from brand to brand). The dose of water is included in any case between 250g and 300gso I advise you to put 250g first and add the other 50g or less only if necessary. You can knead everything with a planetary mixer (I use this wonderful Kenwood Chef which you can buy on Amazon by clicking HERE). When you have obtained a homogeneous ball, cover it with the jar of the planetary mixer for about ten minutes while you heat a non-stick pan over medium heat. Divide your dough into 4 parts and roll out the piadinas - not too thin - with a rolling pin, preferably non-stick silicone which is more hygienic. Cook the piadine for a couple of minutes on each side until the characteristic dark brown dots appear. You can season it with caramelised onion, sausage and mozzarella cheese... if you then have grilled sfiandrine I swear it will be the end of the world! Dad and I always used to get it this way from Ale, our favourite piadinaro in Ravenna, at the end of Via della Lirica. The one in the photo was prepared by Francesco, who by now - with this recipe - has learnt to make piadina better than me... 😎
Collio Bianco DOP Fosarin 2018 - Ronco dei Tassi
Characteristics of the production territory. Tocai friulano 30-40%, malvasia 20% and pinot bianco 40-50%. The 3 ha Fosarin vineyard has a south, south-eastern exposure and is located 180 metres above sea level. The soil is composed of sandstone marl of Eocene origin. The training system is twofold: double inverted and guyot. The density is 4,000/5,000 plants per hectare with an average age of 55 years. Each vine produces about 1.5 kg of grapes and the grape-wine yield is about 70%. Manual harvesting takes place in the second ten days of September. The grapes are fermented in stainless steel tanks and small oak barrels at a temperature of 18-20°C for about 8-12 days. Malolactic fermentation is carried out partially. This is followed by ageing in steel tanks for the Friulano and Malvasia and in small oak barrels for the Pinot Bianco.
My tasting. It has a beautiful, intense and brilliant straw yellow colour, consistent. The nose is crazy delicious, elegant and fine. I recognise notes of white chocolate, apricot yoghurt, vanilla, aniseed and pink pepper. In the mouth it is soft, fresh, very savoury, warm, structured and lush on the finish.
Collio Bianco DOP Malvasia 2019 - Ronco dei Tassi
Historical background. Its introduction is believed to have been by Venetian merchants in the 1300s who brought it from Greece and planted it along the entire Adriatic coastline, from Dalmatia to Istria to the Karst hills of the Gulf of Trieste.
Characteristics of the production territory. Malvasia 100%. The vineyard is located in the highest and best south, south-east facing areas of Mount Quarin and the hills surrounding Còrmons. The Eocene soil of marl and sandstone is poor in organic substance but rich in mineral salts. The youngest vineyard is 15 years old and trained using the guyot system with a density of over 5,000 plants per hectare, while the oldest vineyard is 80 years old and trained using the double upside-down system with a density of 4,000 plants per hectare. The grape-wine yield is about 60%. Manual harvesting takes place in the last ten days of September. The grapes are crushed, destemmed and left to macerate for about 18 hours at 10°C. The must obtained from the soft pressing is statically decanted for a day and, after separation from the solid part, is fermented at around 18°C for 10 days. After racking at the end of fermentation, the wine obtained remains on the noble lees until March.
My tasting. It has a beautiful, very intense straw yellow - almost gold - and brilliant, very consistent colour. The nose is stunning, intense and elegant. I recognise fruity notes of apricot and yellow peach, acacia honey, fennel and nutmeg. In the mouth it is intense, savoury and structured, with good acidity and a long finish.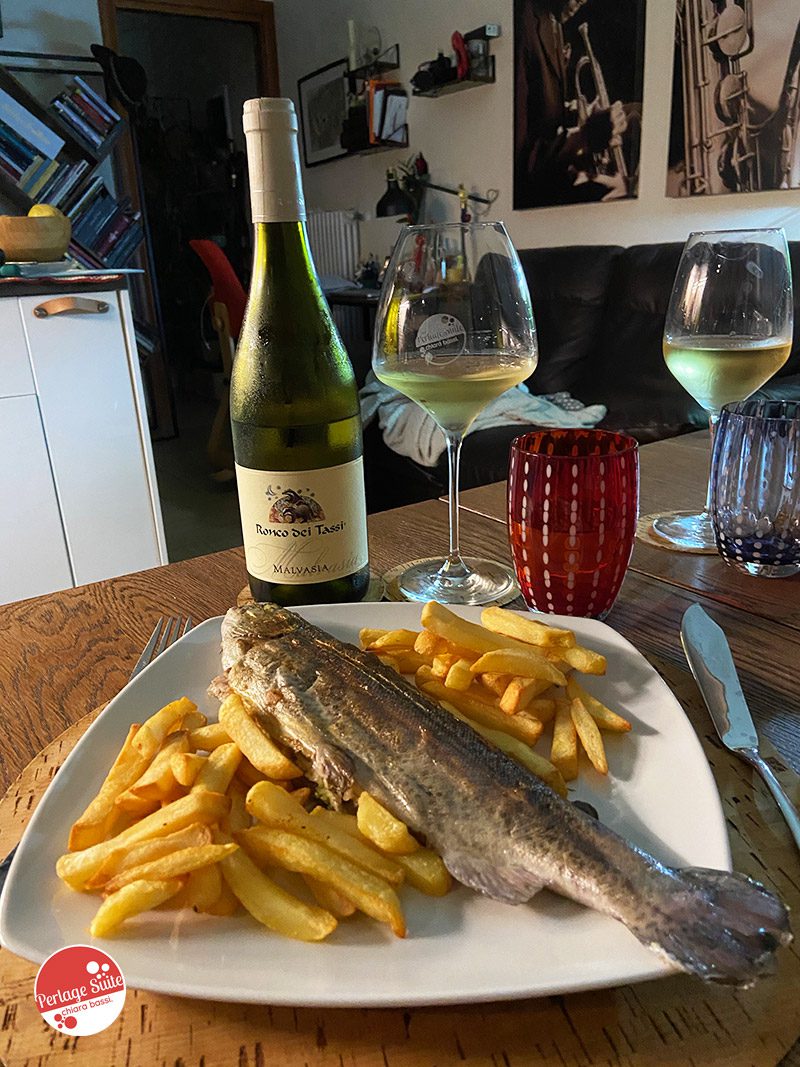 Today my dad would have been 64 years old. This is the second birthday without him and I miss him terribly. On top of that, being - again - in the middle of lockdown makes his absence even heavier. Knowing him, had he lived through this terrible pandemic, he would have kept charts and calculated everything - incidences, scenarios and solutions - with a precision to which no virologist could aspire. Then again, it wasn't his job and he didn't have their knowledge on the subject! This photo dates back tohe last birthday we all three celebrated together before he fell ill in one of our favourite restaurants: Temptations by Sandro and Giacomo Pittellinow in the Bersaglio Residence in Costa Volpino (BG).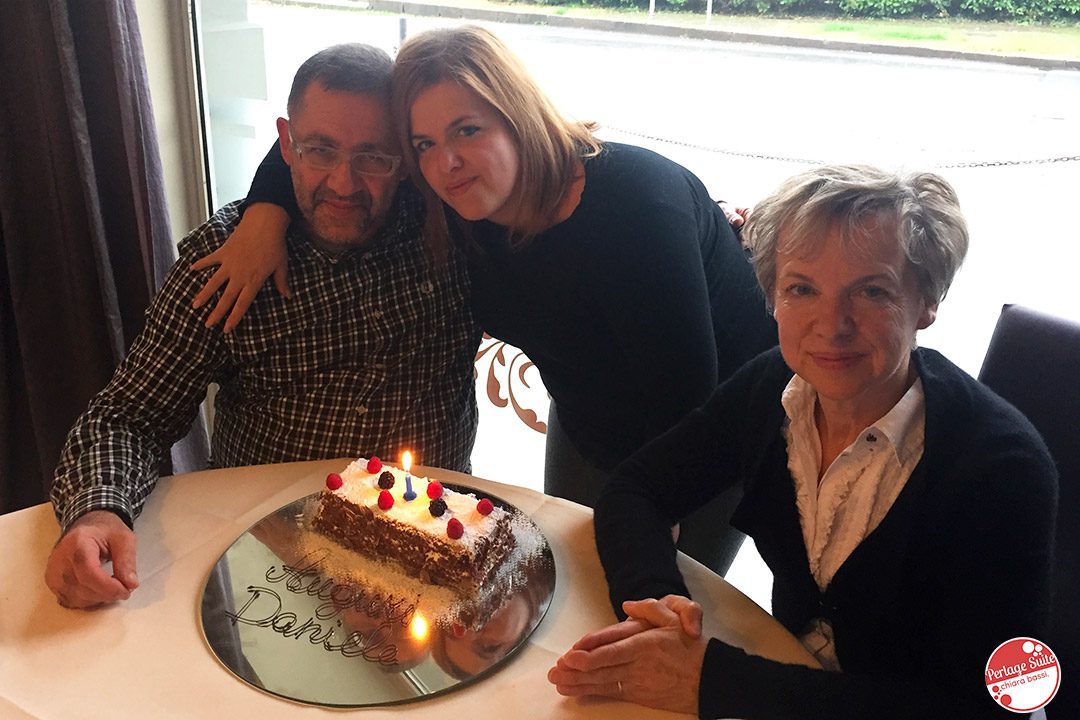 Collio wines: my choice in honour of Dad
Today I started university distance learning classes. I am studying History of Enogastronomya wonderful subject I thought that, since there are unlikely to be any food and wine events until the end of March 2021, I would have some time to study. My father taught me that when faced with a negative situation, one should not get down, but rather try to learn and benefit from it. I will study and enrich my knowledge so that this educational wine blog becomes even richer with valuable content and my book How to become a Sommelier is even more complete and useful.
And maybe I will write another book, this time on food and wine pairing since some of you have already asked me over and over again. Best wishes Dad, sicuramente un giorno – in un'altra vita o in un'altra dimensione – ci berremo un calice di Fosarin insieme e ti presenterò mio marito Francesco. Vi ho immaginato più volte a discutere di politica davanti a un piatto di passatelli in brodo (trovi la ricetta della mia nonna QUI)! ❤️
Cheers 🍷
Chiara
P.S. Ti invito a leggere questo articolo che ho scritto su questa cantina Ronco dei Tassi: 5 reasons to fall in love with its wines 🤩