I do not normally write news articles, not even about wine. In this case, however, I feel like making an exception because this hallucinating news I read this morning on the website of Slow Food is about the world I left behind, construction, and the world I live in today, wine. Yes: Giglio Island winegrower Francesco Carfagna was sentenced to pay a fine of €8,000, including €2,750 in lieu of 11 days in prison, for protecting the environment in which he lives and works by removing brushwood from a plot of land (his) without authorisation. Maybe it's because I have wonderful memories of Giglio Island, maybe it's because my parents went there on holiday every August for many years in a row... or maybe it's because when I worked in construction I saw the worst speculation in the Po Delta National Park end in 'cappelletti and sangiovese' with some ridiculous amnesty compared to the damage done to the environment and the rubbish built... in any case, I can't pretend that I'm not doing anything today.
Francesco Carfagna and his neighbour were condemned as two palazzinari (of wine the former and peas the latter... I swear!) for having cleared a tiny 100 square metre (!!!) piece of land on their respective properties of weeds and brambles without requesting prior authorisation. The neighbour is also guilty of planting broad beans and peas in his vegetable garden, and when asked to plant tomatoes he was told that it would 'aggravate his position'. So, let's say that Isola del Giglio is part of the Tuscan Archipelago National Park... but to criminally condemn Francesco Carfagna and his neighbour for clearing a small piece of their land of brambles on charges of building abuse is creepy. The neighbour then finds himself in an even more serious situation for having been caught red-handed planting peas in his garden and your land has been seized by the judicial authority. 
This would be the Italian maljustice... no, really, are you serious?
Since when did cutting down brushwood become tantamount to building abuse? Without going to the trouble of Central and Southern Italy, I would take you on a tour of the Riviera Romagnola to see the building abuses, the real ones. Not to mention all the 'shit' spilled into the rivers and the sea... And mind you, all these things that do not comply with the law are done purely for profit, not to protect the environment where you live or to plant tomatoes.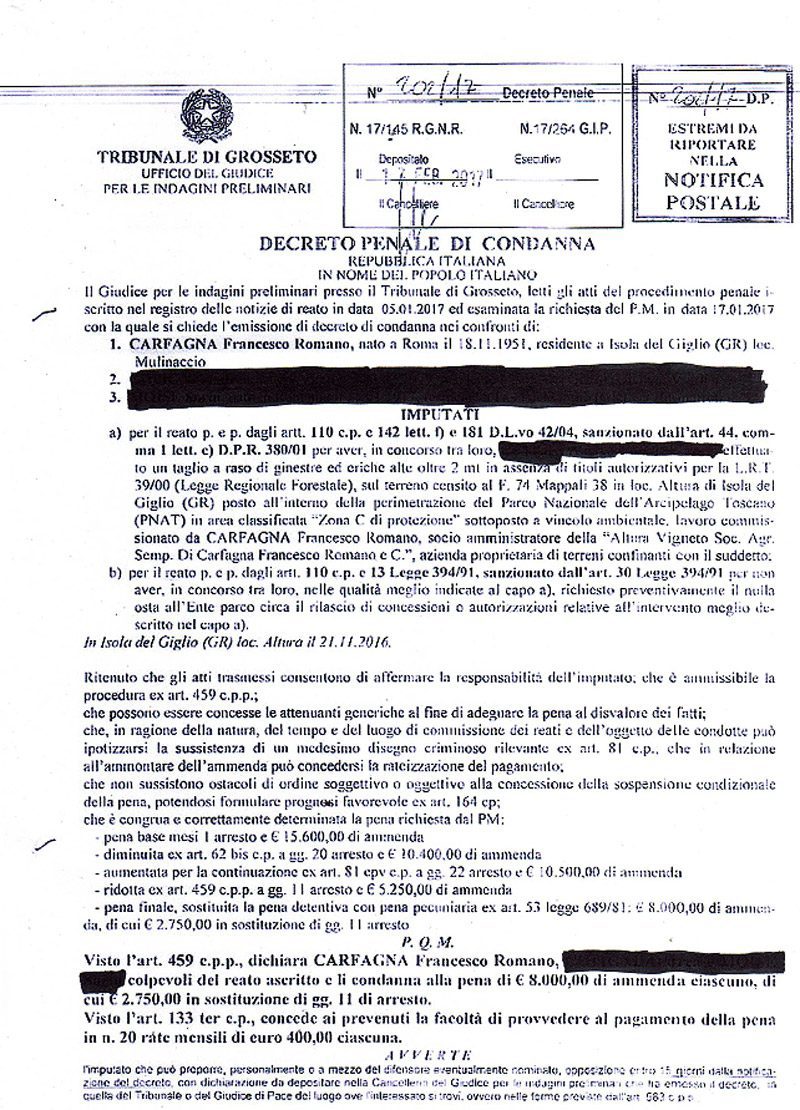 I would add that I live on Lake Iseo, on the Bergamo side of the lake, an area of stupendous beauty but of great hydrogeological disruption. Our mountain is 'abandoned' and wooded, full of our own brushwood. Leaving it to its own devices causes daily landslides, even of small portions of the mountain, to the point of real disasters (last year, a piece of rock the size of my car fell just five minutes before I drove past...). How on earth can you condemn for building abuse a vineyard owner who protects the environment by cleaning the same brushwood that ruins walls and terraces with its roots and causes these disasters? And seize land for planting broad beans and peas on it? Mr. Judge of the Court of Grosseto (ah how I would love it if you would respond to this article...), are you telling me then that given the provisions of Presidential Decree 380/01 Art. 44 where building abuses are dealt with someone is going to seize pea shoots after seizing the land?
D.P.R. 380/01 Art. 44 establishes that, once the abusive allotment of land has been ascertained (which the judge managed to do by condemning Francesco Carfagna and his neighbour), there is the confiscation of the land, which becomes the property of the municipality, which acquires it free of charge (ah, that's it... ) together with the works built there.
And do you know what the most shameful thing is? That on the Slow Food website I read comments proclaiming this condemnation to be just. Let me be clear, I am the first to say that laws must be respected. But they must be sensible and sensibly written. And one cannot confuse normal agronomic practices with allotment interventions out of ignorance. The drift of this country is that criminals and swindlers, the real ones, get off with ridiculous sentences and are often not even convicted, while a farmer who plants peas in his vegetable garden has his land confiscated because he has cleared it without authorisation, even though it is widely declared that he has also benefited the environment.
Yes, this time I went off topic and did not talk about wine because of my indignation. I hope, however, that this will be the occasion to go and taste the wines of Francesco Carfagna, a mathematics professor, rural foreman, innkeeper and winemaker, now a legend on the island of Giglio for having 'resuscitated' the ancient vineyards that cling to the island's jagged shores in splendid terraces overlooking the sea where he himself has built, stone by stone, 10 km of dry stone walls. And so he has brought an indigenous grape variety, the Ansonica, back to life on the island, with which he produces his 6000 bottles of Ansonaco del Giglio, a still white wine made using the 'traditional method'. I remember my parents bringing me a bottle a few years ago, even though at the time I was not yet a sommelier and did not yet do professional tastings. However, I do remember its extraordinary sapidity, its truly brackish taste and that 'orange juice' scent that characterised it so much.
I want to say thank you to Francesco Carfagna for recovering the 4 hectares of abandoned vineyards on the island with 10 years of hard work. I hope that all wine lovers will buy his wines to help him pay this very heavy penalty.
By the way...
Who benefits in the end from this maljustice?
If anyone knows the name of the Judge of the Court of Grosseto who issued this ruling, I would kindly ask you to inform me. I would really like to invite him to answer this question publicly. This is indeed my thought, but I would like to trigger a constructive debate on this ruling, on Italy's wine-growing heritage and the protection of the environment.
Cheers <3
Chiara
PS. I greet you with this detail of a photo taken by my dad from his room in the Saraceno Hotel in 2012 at the time of the Costa Concordia shipwreck... by the way, how much punishment did Commander Schettino get for killing 32 people and (almost) causing an environmental disaster of catastrophic proportions on Giglio Island itself? 16 years. Some will tell me that 11 days is a far lesser sentence, but I see here too a non-proportionality and sensibility of punishment. Schettino killed 32 people and injured 100, after wrecking and abandoning a ship with 4,449 passengers, 1,351 m³ of grey and black water, 41 m³ of lubricating oils, 280 litres of acetylene, 5,120 l of nitrogen, 600 kg of grease for mechanical apparatus, 855 litres of liquid enamel, 50 litres of liquid insecticide, 1 tonne of sodium hypochlorite (bleach), 2,040 m³ of fuel oil and 230 m³ of diesel oil. Francesco Carfagna and his neighbour weeded 100 square metres of their land. They have been put on the same footing (meaning a criminal trial) as those who shipwrecked the Costa Concordia. This is not acceptable. Be it 11 days, 11 minutes or 11 seconds.
Maljustice is wrecking our country.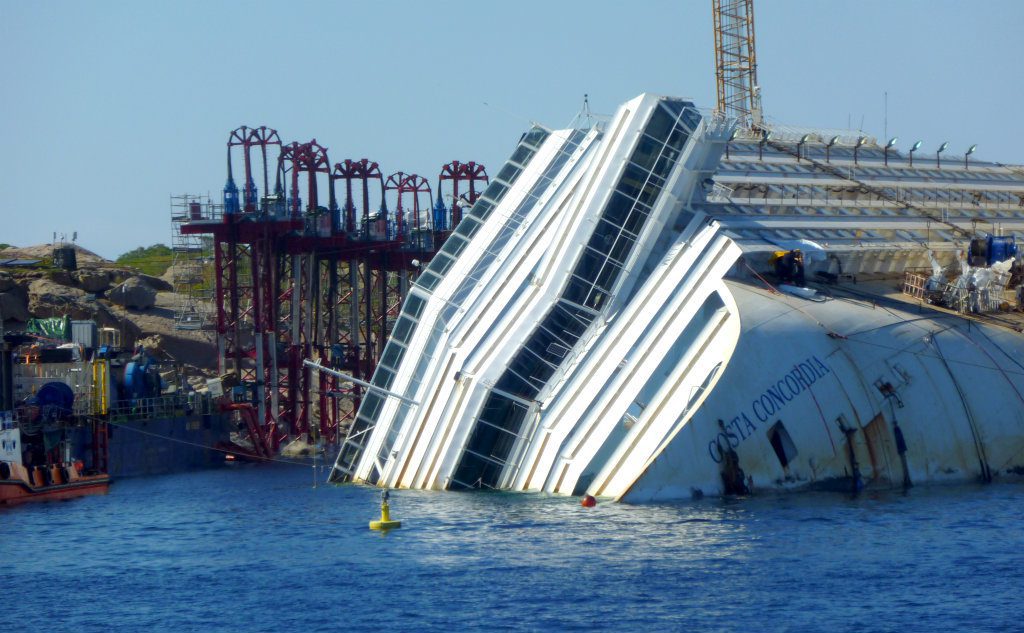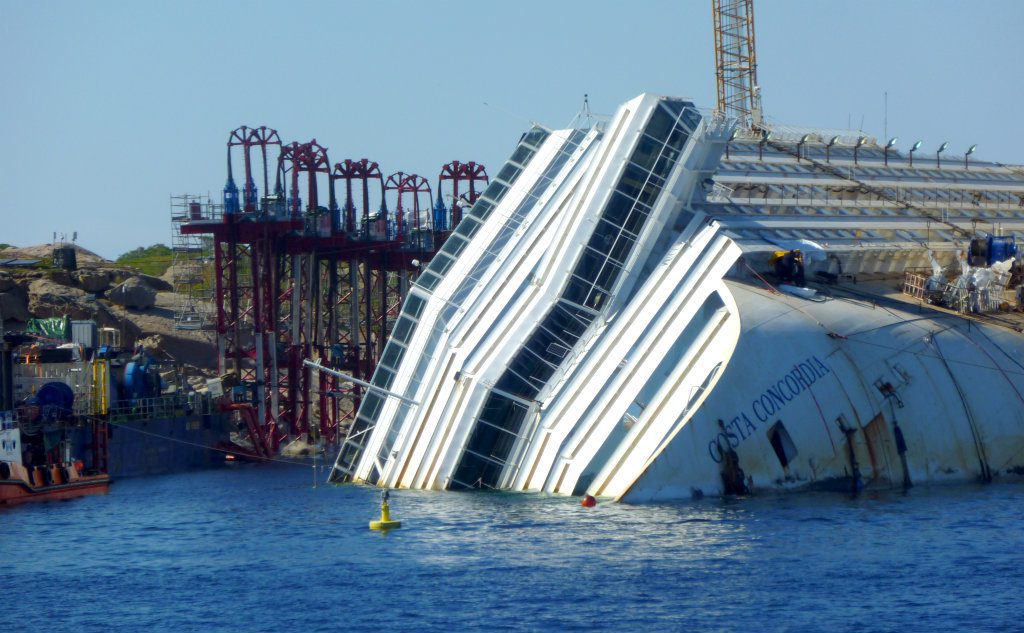 P.P.S. Francesco Carfagna has responded with a brilliant and comprehensive report, which I now publish in full, as I found it on the Giglio News website.
Winemaker Francesco Carfagna's response
To the Chairman of the House Agriculture Committee, Mr. Luca Sani
To the President of the Regional Council of Tuscany, Mr Enrico Rossi
To the commander of the Carabinieri Forestry Region Tuscany, Mr Giuseppe Vadalà
To the President of the Tuscan Archipelago National Park, Mr Giampiero Sammuri
To the President of CERVIM, Mr Roberto Gaudio
To the Councillor for Agriculture Tuscany Regional Council, Mr. Marco Remaschi
To the Director of the Tuscan Archipelago National Park, Ms Franca Zanichelli
To the Mayor of the Municipality of Isola del Giglio, Mr Sergio Ortelli
And p.c. to Ladies and Gentlemen
Carlo Petrini, Giancarlo Gariglio, Rinaldo Rava, Alessandro Mugnaioli, Secretariat President Sani, Diego Santi, Gennaro Giliberti, Fabio Fabbri, Maddalena Guidi, Stefano Barzagli.
Subject: Exceptional agricultural assets, Environment-Degradation, Legislation-Interpretations-Contradictions-Sanctions, Theory-Practice
Foreword 1)
Exceptional agricultural landscapes, practically always terraced, difficult and often located in marginal and extraordinarily beautiful locations, which cannot be mechanised and cannot be phagocytised by the multinationals of globalised food, GMOs and agro-industry, are considered everywhere to be of very high value and importance, not only environmentally, but also economically and socially, as a source of employment and a remedy against depopulation.
Institutional bodies pay lip service to their preservation and restoration. UNESCO lists them as a World Heritage Site. (Appendix U)
Regulations, both national and regional (in our case the Region of Tuscany), and their interpretations, on the one hand call for its recovery, and on the other prevent it, or make it very difficult, and condemn its cultivation, equating it to a horrendous building crime* [SIC!]
*see conviction decree and relevant sanction (annex F1 and annex F2 + art. 181 dlgs 42/04)
Foreword 2)
We (the Carfagna family, vine growers) and others like us, owners of land previously cultivated and worked for hundreds of years, are in the wrong for clearing brambles and shrubs without asking for permission:
us a surface water drainage ditch and a small buffer strip.
others the historical family vegetable garden.
A few dozen square metres respectively. (see photo below)
We are both heavily criminally indicted for building offences and the other, who cleaned up the family garden, also suffered a criminal judicial seizure (of his garden) because, in addition to cleaning it up without authorisation, he also committed the crime of hoeing it and planting broad beans and peas in it!!!
We are still in the wrong.
But is a law that equates the cutting of a fracas with illegal building subdivision right?
And is a law (annex G) right that says that agricultural land, if abandoned for at least 15 (fifteen) years [lrt 39/2000 art.3 paragraph 5 letter c)], which increases to 8 (eight) years in the Tuscan forestry regulation [art.82 paragraph 1 (annex H)], is equated with forest or firm land even if previously cultivated perhaps for centuries (as is our case)?
Is it a crime to cultivate your own garden?
Colour note: having been appointed custodian of his confiscated vegetable garden and having asked if he could plant tomatoes in it, he was answered: - For God's sake! That would aggravate his position! ...
Foreword 3)
Are brambles and weeds following abandonment 'the environment' and are vines, gardens and fruits 'defacement' or 'degradation'?
In view of the premises, and by joining and interacting the topics in question:
Both national and regional regulations ... below, two articles of Law 238/2016
28-12-2016 GAZZETTA UFFICIALE DELLA REPUBBLICA ITALIANA Serie generale - n. 302
LAW No. 238 of 12 December 2016
Organic regulation of vine cultivation and wine production and trade.
The Chamber of Deputies and the Senate of the Republic have approved;
THE PRESIDENT OF THE REPUBLIC PROMULSES the following law:
TITLE I
INTRODUCTORY PROVISIONS
Chapter I
SAFEGUARDING WINE AND WINE-GROWING TERRITORIES
Art. 1. National Cultural Heritage
Wine, the product of the vine, the vine and the wine-growing territories, as the fruit of work, the combination of skills, knowledge, practices and traditions, constitute a national cultural heritage to be protected and valorised in the aspects of social, economic, productive, environmental and cultural sustainability.
Art. 7. Preservation of heroic or historic vineyards
The State promotes interventions for the restoration, recovery, maintenance and safeguard of vineyards in areas subject to the risk of hydrogeological instability or having particular landscape, historical and environmental value, hereinafter referred to as "heroic or historic vineyards". The vineyards referred to in paragraph 1 shall be located in areas suitable for vine cultivation in which the particular environmental and climatic conditions confer on the product unique characteristics closely linked to the peculiarities of the territory of origin.
And they tell us that the State, in addition to maintenance and safeguarding, promotes interventions for the RESTORATION and RECOVERY ... of "heroic or historic" vineyards. (see, in the case of Tuscany, also Article 80 of the Forestry Regulations, paragraph 2 letter b) and c)). (Annex J)
But the Forestry Guard is harassing them with CRIMINAL complaints on a massive scale. It is true that an authorisation or declaration is required. But is such rigour necessary? (see annex F1 and annex F2 again) This is nothing new, it is already in the Scriptures: - They filter the gnat and swallow the camel -.
If we were jungles, our heritage would be jungles. But we have always been vineyards, gardens, fruits. Heritage then should be vineyards and agricultural landscape. "Insula suavissimo vino celebris"... (Paolo Giovio - Historiarum sui temporis tomus secundus, in officina Laurentii Torrentini, Florentiae 1552). Viticulture was so important that it was mentioned in Andrea Bacci's 'Storia Naturale dei Vini', [a 1595 publication discussing the wines of the whole of Europe!!!] (Appendix K1 and Appendix K2).
Hundreds and hundreds of hectares cultivated until before the Second World War, vines survived amidst brambles everywhere (see photo below), terraces everywhere. Exceptional agricultural landscape, not jungle. Abandonment of agriculture and depopulation, tourist monoculture and emotional desertification. They call it progress.
However, the recovery of this arduous and difficult agriculture entails, in addition to a very high dose of good will and love (pure heart), equally high costs and enormous manual labour. So much so that opportunists, speculators, subsidy hunters and creators of ghost farms are quite rare in these territories, which are hardly suited to their purposes.
Why, then, give those who sincerely devote themselves to it jail time, abnormal penalties, lawyers, trials, bitter blood and the like? No aid or rewards are asked, only to work in peace. The main heroism, I believe, consists precisely in having to face all these horrible extra complications ...
One last thing: if it is true that you want to promote the recovery of this agriculture, let the abnormal interventions that prevent it stop. If not, let it be stated openly that you want brambles and not vines.
Something is moving: historic agricultural landscapes, aerial photos of sixty or seventy years ago, evidence of old crops, recognition of 'heroic' vineyards in a national law ... Almost an awakening of awareness of something ... A little 'common sense' peeping out ...
However, the fact remains that here (Isola del Giglio), there are people who have been waiting for months and months for authorisation to be able to hoe their vegetable garden. And those who have done so without authorisation are criminally charged and heavily penalised for unauthorised allotment for building purposes.
There was a programme on television when I was young called 'The Twilight Zone' ...
In essence we, sincere cultivators of 'heroic' places
Given the above
We ask
To women and men of goodwill who have the power to legislate on the matter,
That exceptional agricultural territories may have their own regulations, even derogating from those current for ordinary places.
That these regulations apply irrespective of whether these territories fall within the perimeters of the parks or not (we appeal here to the park managements to transpose them into regulations etc.).
That, in the case of terracing, any terraced site can be considered a historical agricultural landscape, regardless of how long it has been abandoned. Our predecessors did not make terraces for nothing. And terraces are the first to have been abandoned.
That for exceptional wine-growing territories, in addition to the possibility of recovering terraces by clearing them, it should be possible to replant vines with special authorisations or privileged allocations, as some regions, and Tuscany in particular, did just a few years ago with its meritorious plan to revitalise island wine-growing, assigning free replanting rights to 'heroic' territories. That is, if one then has the strength and money to do so. Contrary to the subsidy hunters (we have already reached the point of applying for subsidies ...), we DO NOT ASK for subsidies, we only ask to be able to work in peace. Colour note: it seems to me that we have not yet reached the point of applying for permission to apply for permission ...
That in the implementing regulations, without prejudice to the safeguard criteria and the prohibition of distorting the places, there should be a strong emphasis on restoring and recovering and returning 'to the ancient splendour' of agriculture, with all its enormous positive values as an environmental, social, cultural, economic, employment and human and landscape resource.
That, without prejudice to the dutiful and rightful vigilance, abnormal criminal initiatives and sanctions, contrary to this recovery, be discouraged instead.
With that, I will close here.
Cordially I greet and sign
Francesco Romano Carfagna - winemaker
ALTURA Vineyard soc. semplice agricole
If it is a petition, where do I sign?