Identità Golose is the first Italian Congress dedicated to Cuisine d'Auteur conceived by Paolo Marchi in 2004, which this year celebrates its 11th edition in grand style. I was a few days ago at Taste on Stage in Venice, and as 'admirable' as it is to ape the Identità Golose format, seeing the latter really makes you realise what an Enogastronomic Congress should be.
Before I even begin to tell you about my experience, I want to say a word about Magenta BureauAlways extremely punctual in their organisation: all the events I have attended where their work was behind it have always stood out for communication that was not only well done, but impeccably organised. I also appreciated the area reserved for the Press, a small silent corner where I was able to share - in total relaxation - on social networks some impromptu photos of the event thanks to the Wi-Fi dedicated to the Press (and therefore less clogged) while enjoying a Lavazza coffee with San Pellegrino water, sponsor of Identità Golose 2016.
At the invitation of the wonderful Francesca Facchinetti of Berlucchi who advised me to go to Identità Golose on Monday 7 March (and I did very well to listen to her!) I was able to have some truly wonderful experiences. But let's start in order...
First of all, Francesco was good at convincing me to go by Metro because from Cologno Nord we did it quite quickly - half an hour in all - and we avoided queues and parking problems. MagentaBureau explained in detail how to get to Gate 14 from the Metro and it was really easy. The Milan Metro is also quite modern for being in Italy and there are trains continuously throughout the day, with few bad guys around.
At the entrance I didn't like that they didn't give me the badge holder! Given that you had to take out your ticket at the entrance to each hall, I think it was right, at least at the press, to hand out this really handy accessory... and instead, despite my request, nothing! But I saw that some people had it... patience!
The day was opened by Carlo Cracco, as always extraordinary, who already shows an uncommon talent in the composition of the dish. His watchword in my opinion is dictated by a mix of originality and provocation, harmony and disharmony... and in everything he does he knows how to amaze like few others. Like the great Chef Massimo Bottura, whom I did not see because I was at the preview of the new vintage of Franciacorta DOCG Riserva Palazzo Lana by Berlucchi to taste the 3 fingerfoods prepared by Enrico Cerea of Ristorante Da Vittorio *** in the Michelin guide, Cracco too chooses Macelleria Zivieri. I have often tasted their meats and, in another life, had the pleasure of meeting this great family at 'Chef... al Massimo' and they, and their products, are of extraordinary quality.
Berlucchi as always organised things with a real focus on quality and the fingerfoods prepared by chef Enrico Cerea and his staff were a real treat for the palate. The combination I liked best was just that: tuna sauce, anchovies from the cantatrice and hazelnuts. Everything was there: the sweetness of the sauce, the savouriness and unctuousness of the anchovies and the crunchy toastiness of the hazelnuts... while the bread remained appropriately neutral.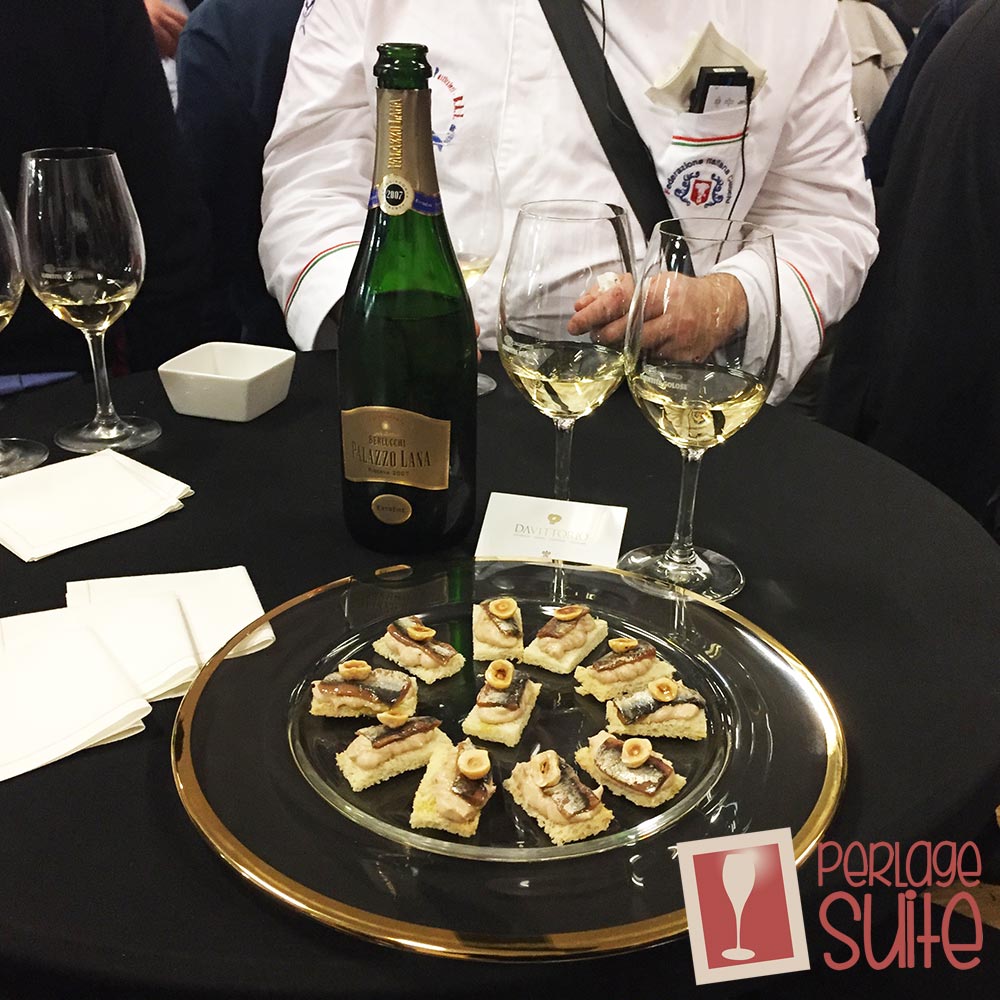 The fingerfoods prepared by Enrico Cerea amazed me. The simplest was actually the one that was really in my favour: amberjack carpaccio on Altamura bread with herbs. The herbs included chives, mint and dill... and with the Palazzo Lana Riserva Extreme 2007 it was a combination that didn't tire you even at the 181st canapé!
The polenta made with chestnut flour was very fine, in fact maybe I will try making it too 🙂 🙂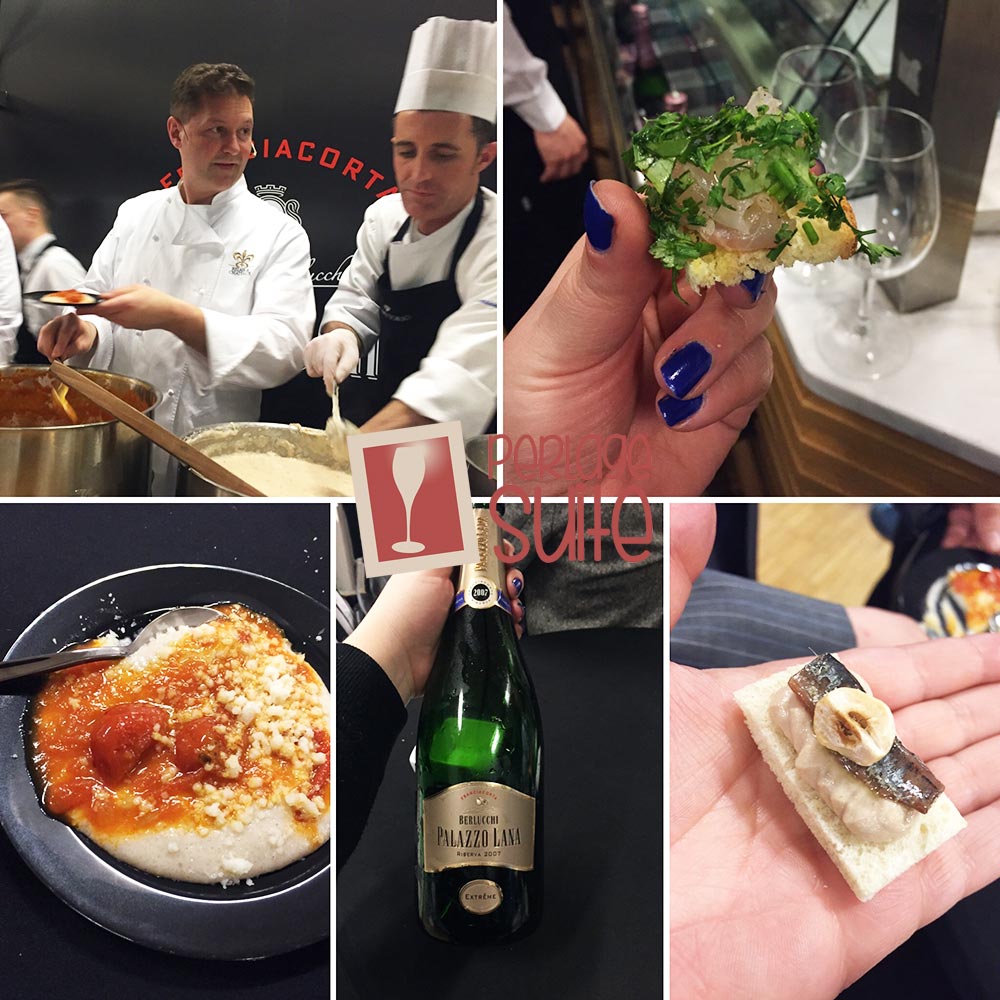 Cristina and Arturo Ziliani are always two very hospitable and kind 'hosts', and I really thank them for a great experience!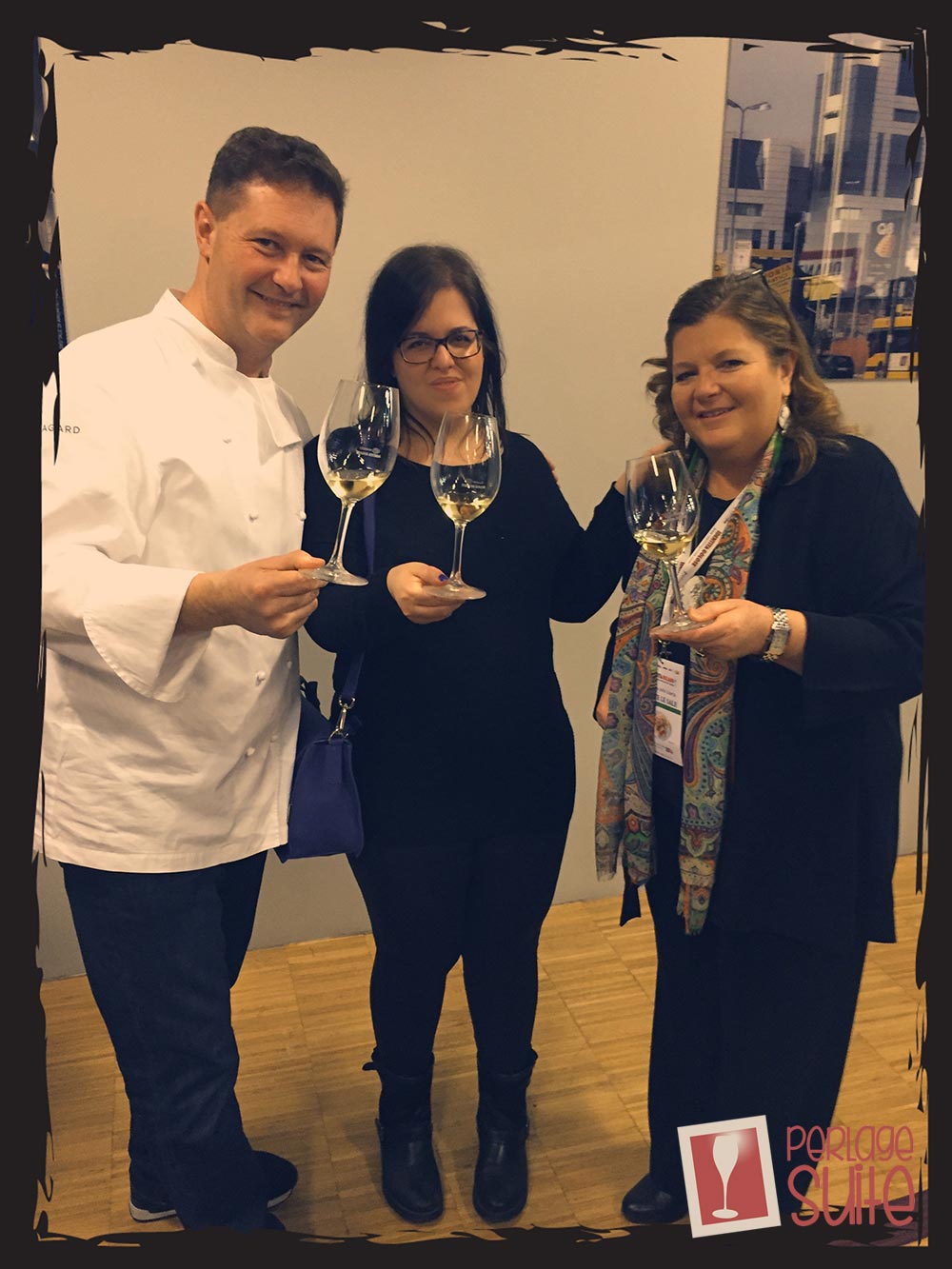 Afterwards, Francesco and I went to see Chef Moreno Cedroni's lesson... and I loved it! He created a beautiful dish full of contrasts, which deserves a taste! And then I always appreciate those who try to match artichoke which is almost impossible, let alone with the addition of coffee! I would have loved to pair this dish with a wine... and if I have to say what immediately came to mind when I tasted it... it was a recioto della Valpolicella, perhaps Argille Bianche from Tenuta Sant'Antonio! Exquisite!
Between Moreno Cedroni and Davide Oldani we had a little tour of food and wine specialities and I also found Antica Corte Pallavicina who had excited me at Gusto in Scena for their Culatello strolghino! But a mention goes to Monograno Felicetti (one of the sponsors of Identità Golose 2016) with a really beautiful stand where I tasted a really delicious pennetta with cheese, pesto and walnuts! Another mention goes to Autogrill with their Bistrot project: a culinary journey to the heart of Europe with food and wine specialities rich in taste and tradition. The stand reproduced one of its Bistrot spaces and was carefully designed by the Costa Group, a partner of the most important international food entertainment groups, which has always built exclusive furnishing solutions for food, elevating the product to be displayed to the point of enhancing it.
I tasted the Ragusa pizza made by Salvatore Vullo, a really good master baker! I think you only have to look at the alveoli of this pizza to understand what it was... sourdough and top quality local products! I ate several slices because it was too good! And they even gave me some sourdough... I also make a fabulous pizza, read the recipe HERE, it's very easy!
A Trento DOC tasting in the space dedicated to the Merano Wine Festival... which, thanks to a sommelier colleague of mine, was really interesting! I admit that Trento DOC is an area that I have not yet beaten, but I will try to remedy that as soon as possible 😉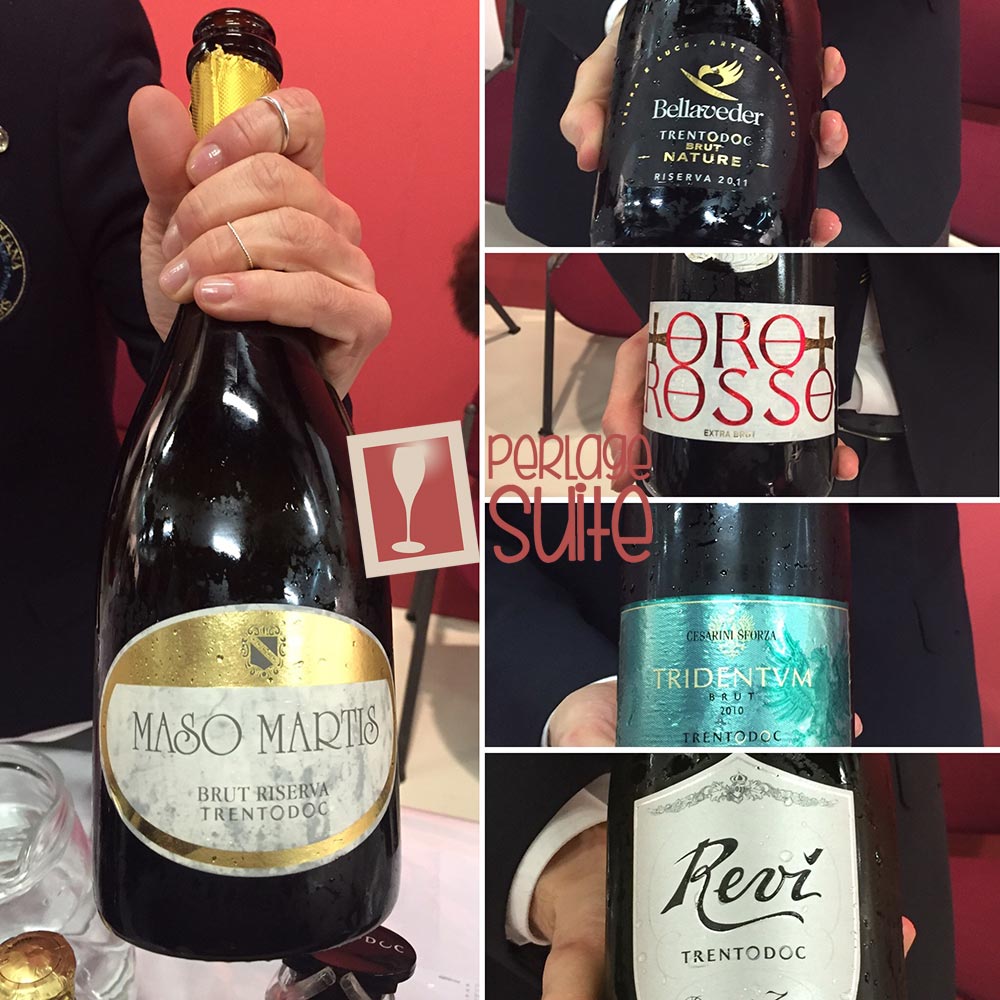 The next step was to combine it with something... so we tasted the delicious fingerfoods of wild salmon and other selected fish from the Alaska Seafood Marketing Institute! I loved them!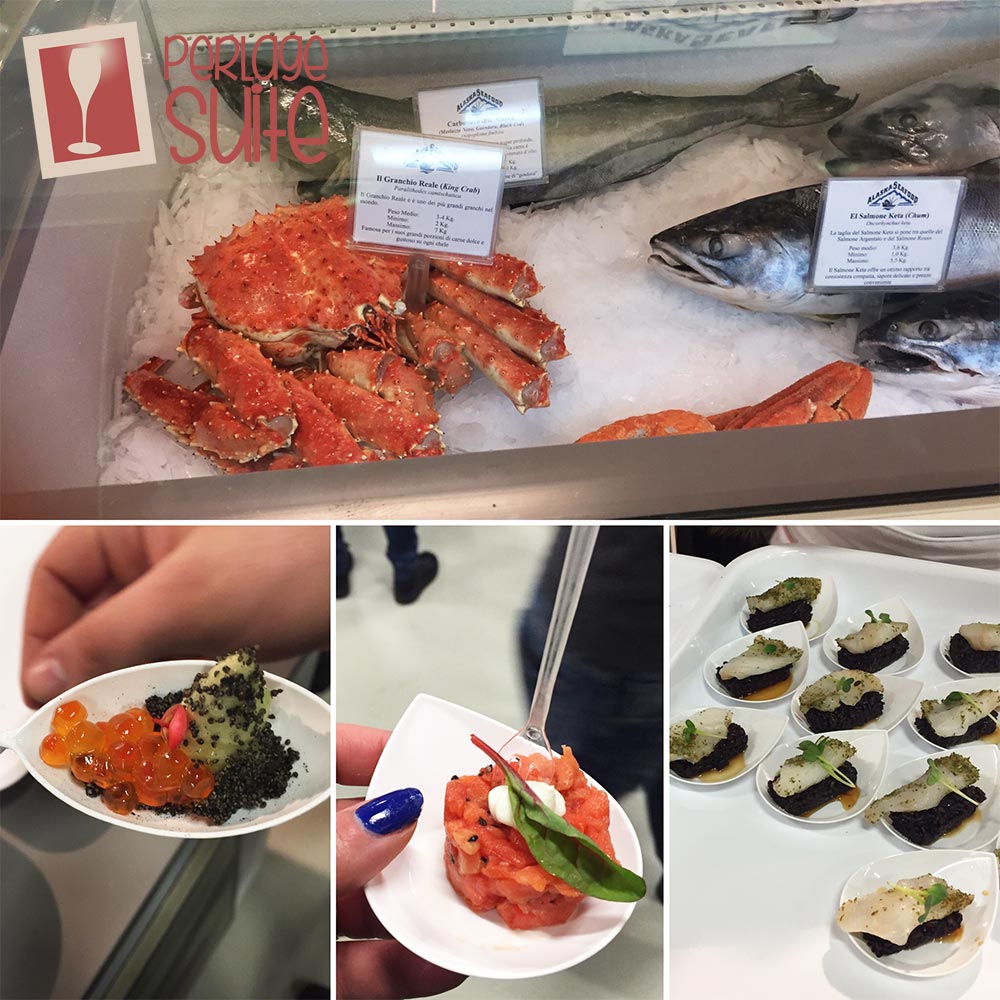 Now we are really ready for Chef Davide Oldani!!! *_*
This Davide Oldani dish I found the most ingenious of all. First of all because of its extreme simplicity: a few poor ingredients, a lot of craftsmanship. In Blue Room 1 at 17:30 Davide Oldani gave us a taste of the Coffee-flavoured crackers served with a horseradish saucewith Solidified port and sea grapes, which his second Alessandro Procopio prepared while Oldani explained the recipe. A very simple waffle scented with coffee powder in which Alessandro demonstrated great skill in the preparation, which was neither sweet nor salty to the taste. Touches of molecular cuisine with the port spheres gave a touch of sweetness, while the savouriness came from sea grapes, a seaweed whose morphology resembles a bunch of grapes. The horseradish cream was simply perfect. Until recently, I did not like horseradish, due to the low-quality wasabi I had always tasted as a kid in Chinese-Japanese restaurants. I recently rediscovered horseradish with pleasure and I must say that I now love it, provided it is well balanced and this, absolutely, was. What I liked most about this dish was its simplicity combined with the poverty of the ingredients. I believe that a great chef is seen when with little he can give so much, because 'we are all good at making a tartare with tuna belly that is the end of the world'. Oldani showed great humanity by always putting his boys first, and this is something I really liked. He also told us about the new restaurant he is opening in which he has even designed the furnishings, where there will be an evolution: from POP cuisine to ACCOMPLISHABLE cuisine.
I look forward to visiting him and, for now, wish him all the luck that a great master of cuisine like him deserves.
In summary, the 2016 edition of Identità Golose was the most extraordinary ever! See you in Milan for Identità Golose 2017... and I hope next year not to miss the pizza - Champagne pairing which must be something memorable *_*
See you soon,
Chiara
P.S. And have you been to Identità Golose? What did you see? Leave me a comment 😉