If you are looking for how to cook mozzarella you can try this delicious comfort food. La mozzarella in carrozza recipe typical of Neapolitan cuisine, later spreading throughout Campania and even Lazio. Born at the end of the 19th century to recover leftover mozzarella and stale bread cassette, it was a poor man's dish. The name of the baked carriage bread derives from the preparation: the outer part of the bread was removed and it took on a rounded shape reminiscent of large carriage wheels. La fried mozzarella in carrozza is the version originalbut today I want to propose the recipe "light baked mozzarella in carrozza"lighter and more delicate. Mozzarelle in carrozza al forno can be eaten as an appetiser or as a main course. In this case, I added cooked ham because I think it goes really well with it. At the end of the recipe for mozzarelle in carrozza in the oven you will also find a fabulous combination that you can also use if you decide to fry it. Keep in mind that ingredients and recipe are identical in both cases, only the baking changes.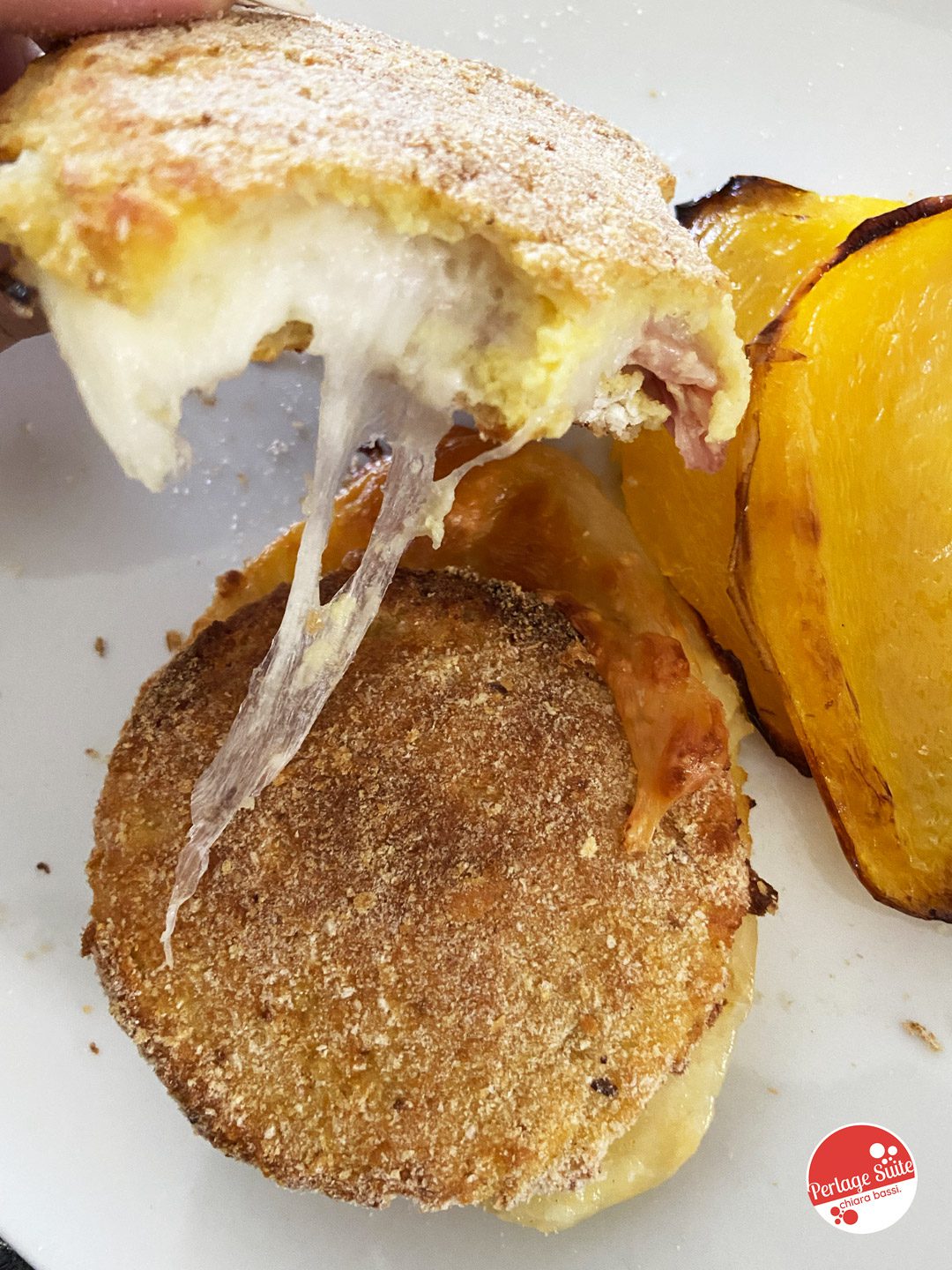 There are so many baked mozzarella recipes and I can say that I have tried almost all of them, but this one is undoubtedly my favourite.
Baked mozzarella in carrozza recipe:
Ingredients for 6 wheels:
6 slices of bread

2 x 100 g mozzarellas

3 eggs

3 slices of bread

2 tablespoons Parmesan cheese

2 tablespoons of whole milk

a pinch of salt

to taste 3 slices of cooked ham or 12 anchovies
You can now subscribe to my newsletter or scroll down the page to discover the baked mozzarelle in carrozza recipe! 😇
Baked Mozzarella in carrozza: preparation
1. Cut the mozzarella into slices about half a centimetre thick.
2. Beat the eggs, Parmesan cheese and milk for a few seconds and add a pinch of salt.
3. Cup the bread with a pastry cutter to give it a regular shape, or cut it with a knife to remove the crust or edge.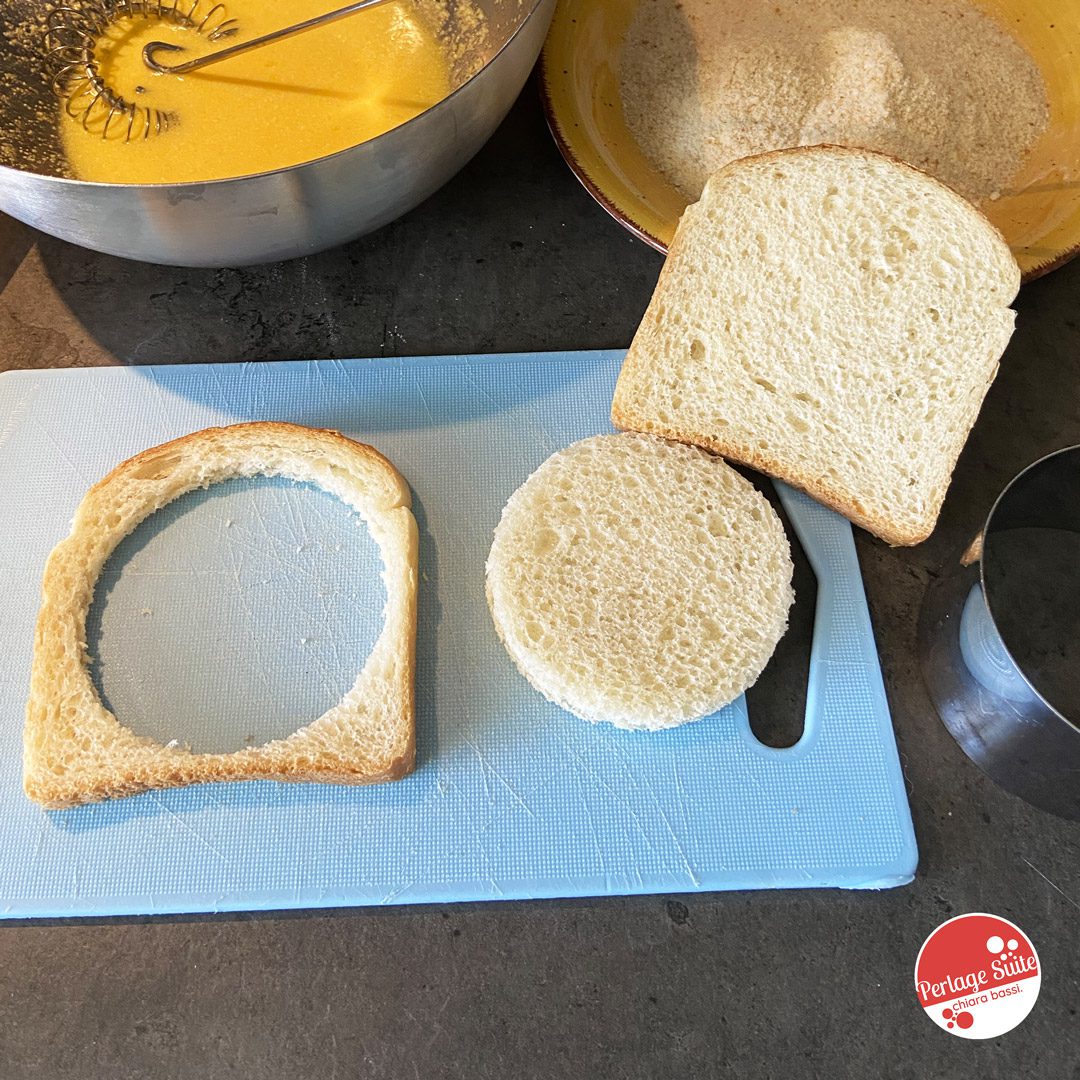 4. fill the bread discs with the mozzarella and pieces of ham;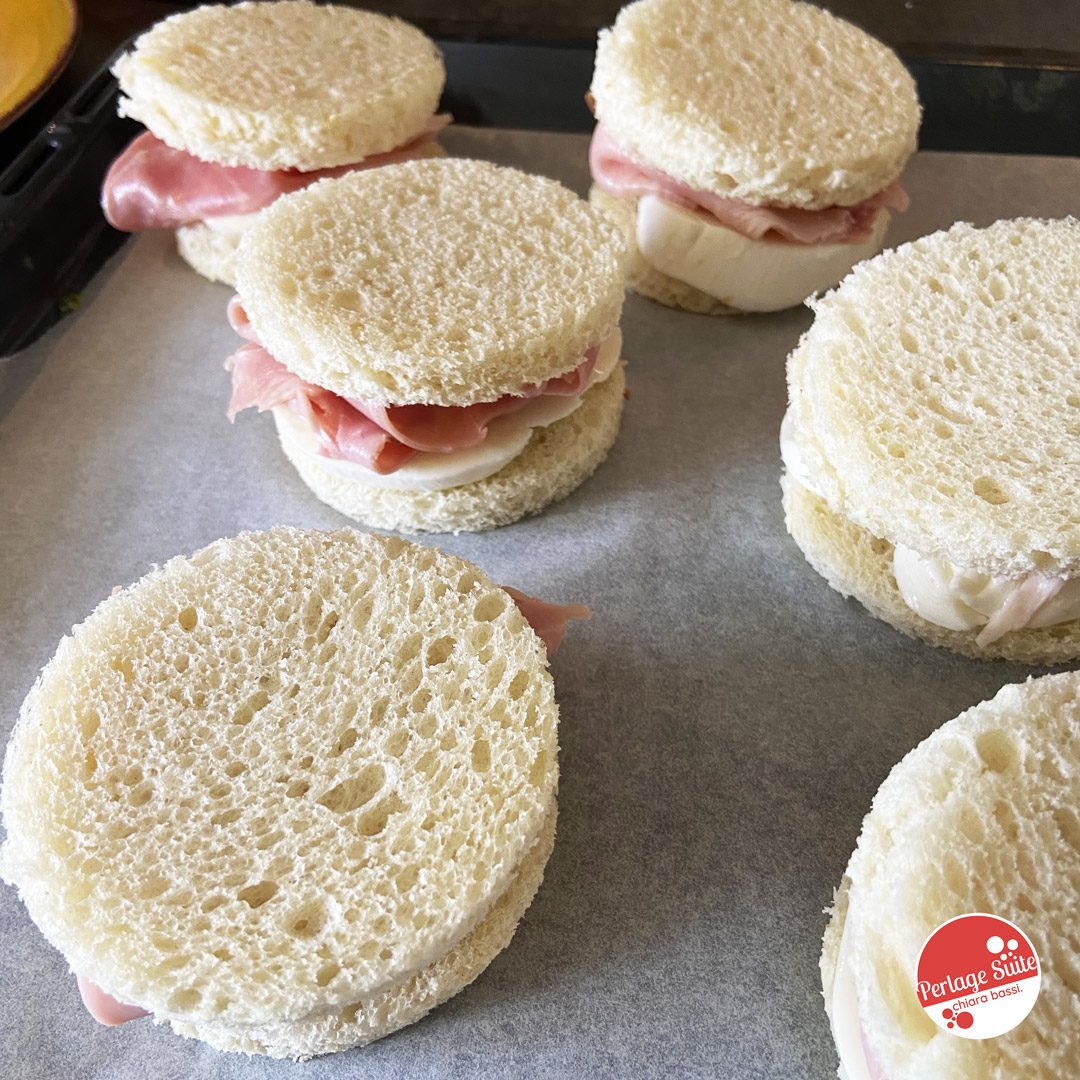 5. roll the mozzarella in carrozza in flour carefully to seal it so that the mozzarella does not come out during cooking. If it does come out, however, it's still good....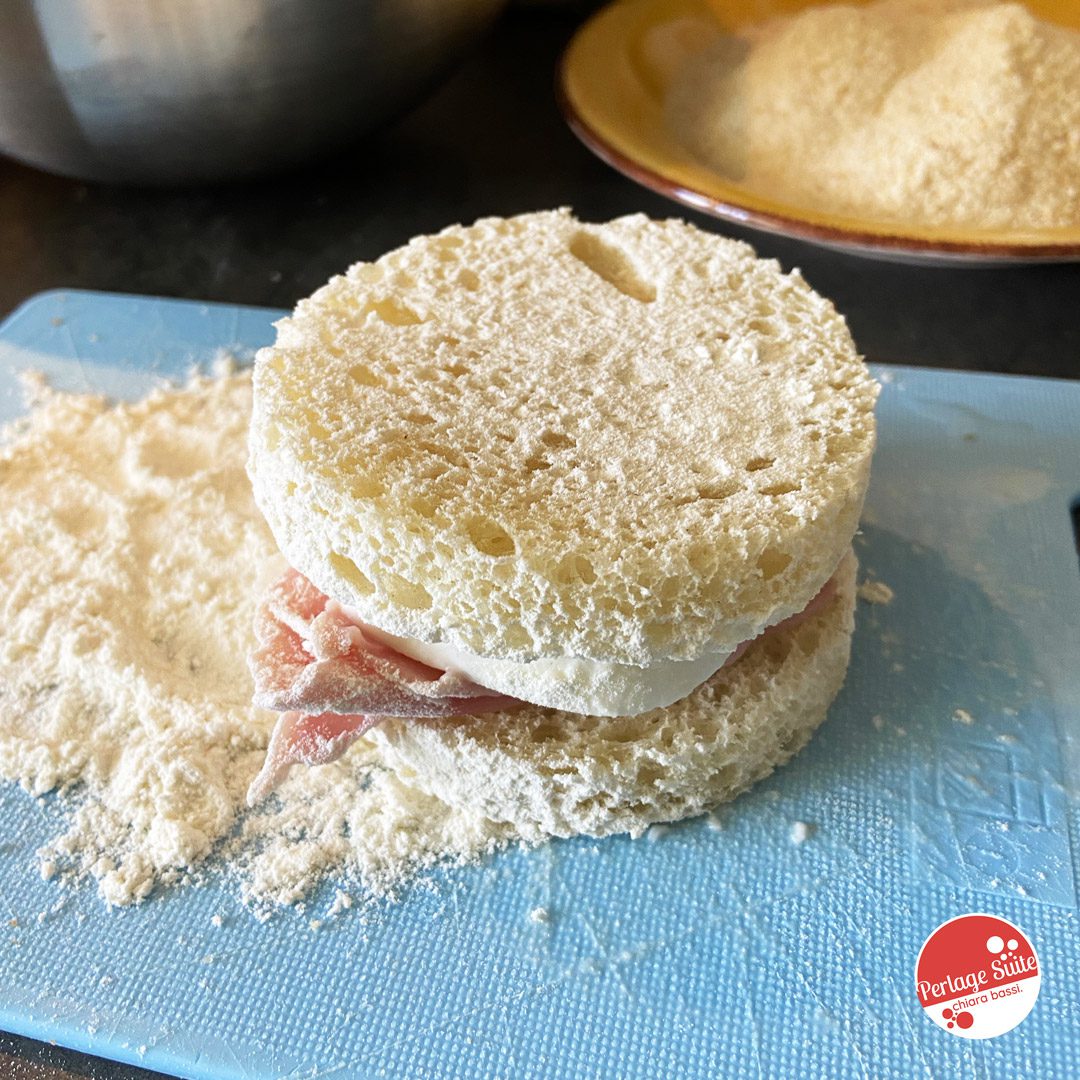 6. Tap the discs into the beaten eggs and then dip them into the bread from all sides, taking care to get everywhere;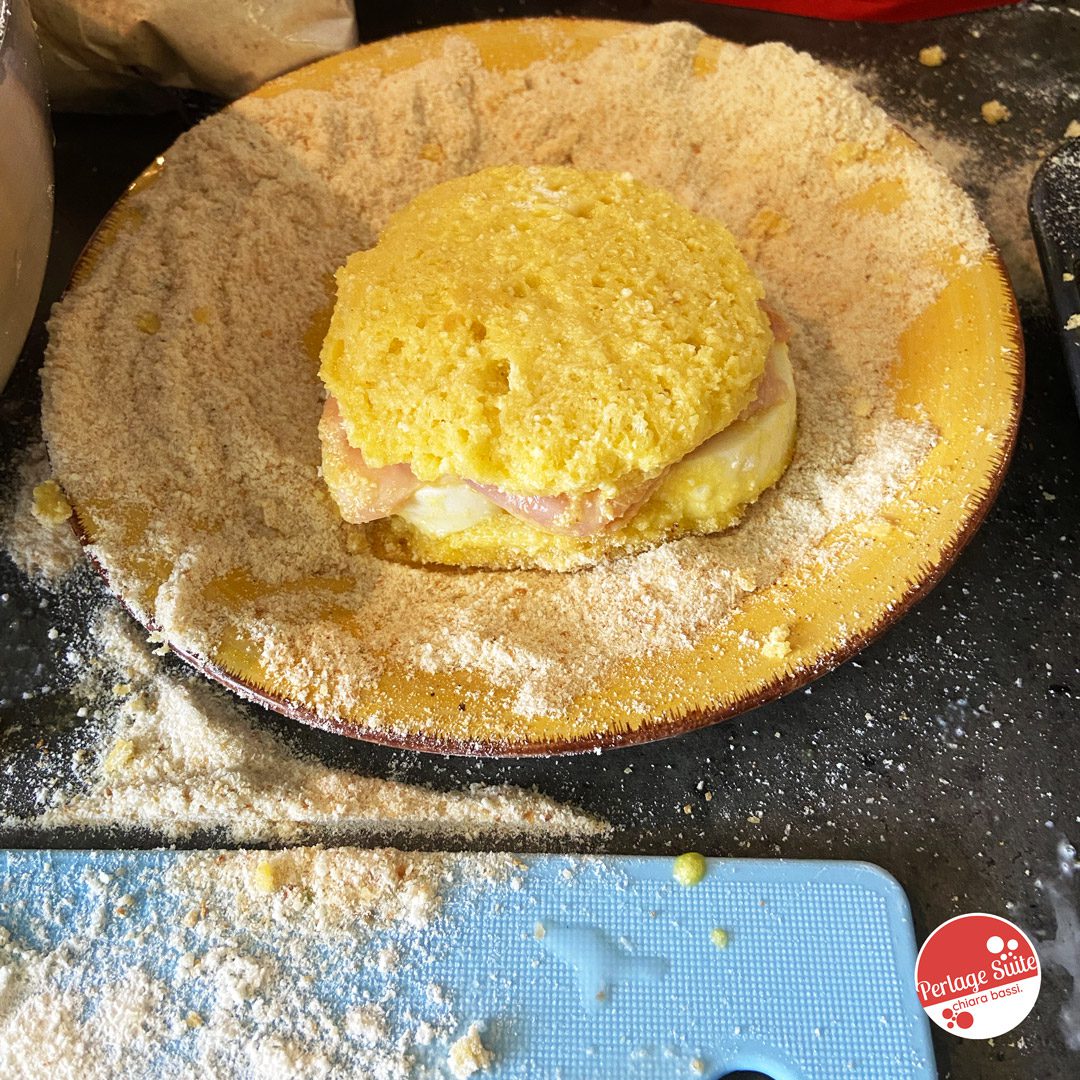 7. place them on the baking tray with baking paper;
8. place them in a ventilated oven preheated to 190 °C for 15 minutes per side, then bake for a total of 30 minutes.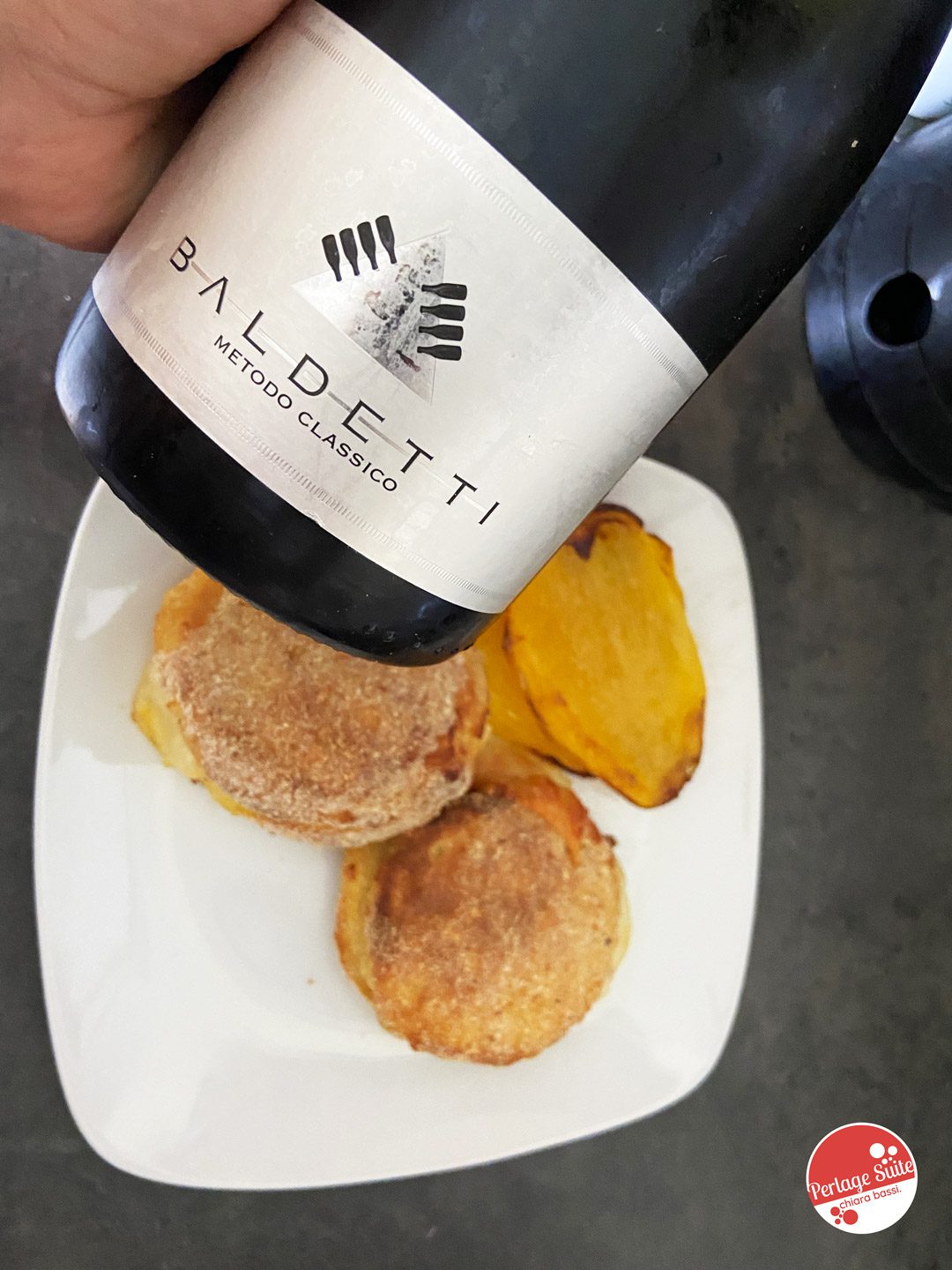 Two yellow peppers cut into 4 parts each can be added as a side dish because they cook in the same time.
Baked Mozzarella in carrozza: wine pairing
Oven-baked mozzarella in carrozza is less fatty than fried mozzarella in carrozza, however melted it is still fatty so choosing a savoury bubbly with a few years on its back is a good idea. Mozzarella also has a pronounced sweetness and acidity.
Baldetti Spumante Brut Metodo Classico, disgorgement 2018
A very pleasant metodo classico from Cortona made from chardonnay and grechetto grapes that I had in the cellar to refine for a couple of years. It is an intense straw yellow with golden reflections with a very fine perlage and abundant, creamy and persistent mousse. The nose is citrine, with notes of fruit tartlets, custard and jelly. In the mouth it is very fresh, creamy, overall vertical and suitable for the whole meal.
Cheers 🍷
Chiara
PS and what baked mozzarella in carrozza recipe would you recommend? Have you ever prepared mozzarella in carrozza al forno? Leave me a comment!