Today I received a very welcome gift from the The Fish Square following my appreciation of their innovative format I Love Oyster which I discovered at GourmArte 2016. I personally love oysters, but especially I love experimenting with unconventional food and wine pairings... then I also decided to create an easy and impressive recipe by combining the oyster with Champagne Risotto and Pesto alla Genovese DOP.
This pairing comes about because the oyster I chose for the recipe after the tasting is the Pousse en Claire Label Rougesweet and not very savoury, which contrasts perfectly with the marked saltiness of Pesto alla Genovese. Furthermore, the Champagne gives an unmistakable, rounded flavour to the risotto, and goes well with the mantecatura butter. And let's face it, oysters and Champagne is a great classic, even if it is often refuted by some oeno-snobs who call it a poor pairing reserved for those who don't understand much about wine.
Allow me, as always saying Champagne does not say enough about wine, it is like saying Franciacorta. Are you trying to tell me that all wines produced in Champagne or Franciacorta are the same? It is terroirs and production areas that give us important indications, but not enough to judge a pairing as good or bad! And the same applies to the oyster as to the 'Merroir' and the various types are very different. I think there are very good Champagnes for very good oysters. For example, for this recipe, I chose the Pousse en Claire precisely because it is sweet, complex, delicate and not very salty and goes perfectly with the fresh, savoury creaminess of a Champagne such as the Lanson Black Label.
Oysters: 4 things to know before eating them
#1 oysters: how to store them?

Fresh oysters will keep in the fridge for up to a week, but in general the rule applies that the sooner you eat them the better! Put the wooden box of oysters in the coldest place, trying to touch it as little as possible. If you can, also limit the openings of the fridge! I always keep them in the original box as, in this case, the one in the picture!
Oysters #2: how to open them?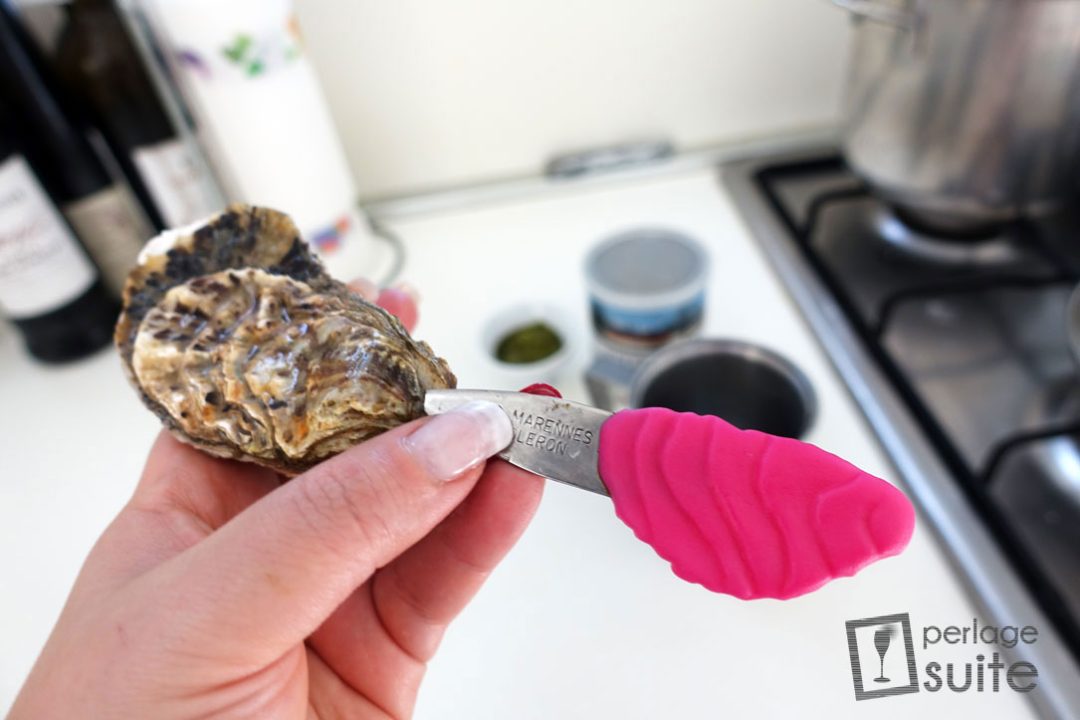 OK I admit it, when I opened the first oyster it was a trauma: I just couldn't do it and I didn't even have a glove at home so I was afraid of hurting myself. Then I understood the trick and it became really easy! To open the oyster, you have to insert the knife into the narrowest part of the valves, where there is a breaking point in the 'hinge', and pry it open until you hear a small popping noise (of the upper valve). At this point you can run the knife around the edge and gently pull the shells apart, taking care not to break the mollusc (help yourself with the knife).
#3 oysters: how to recognise fresh ones?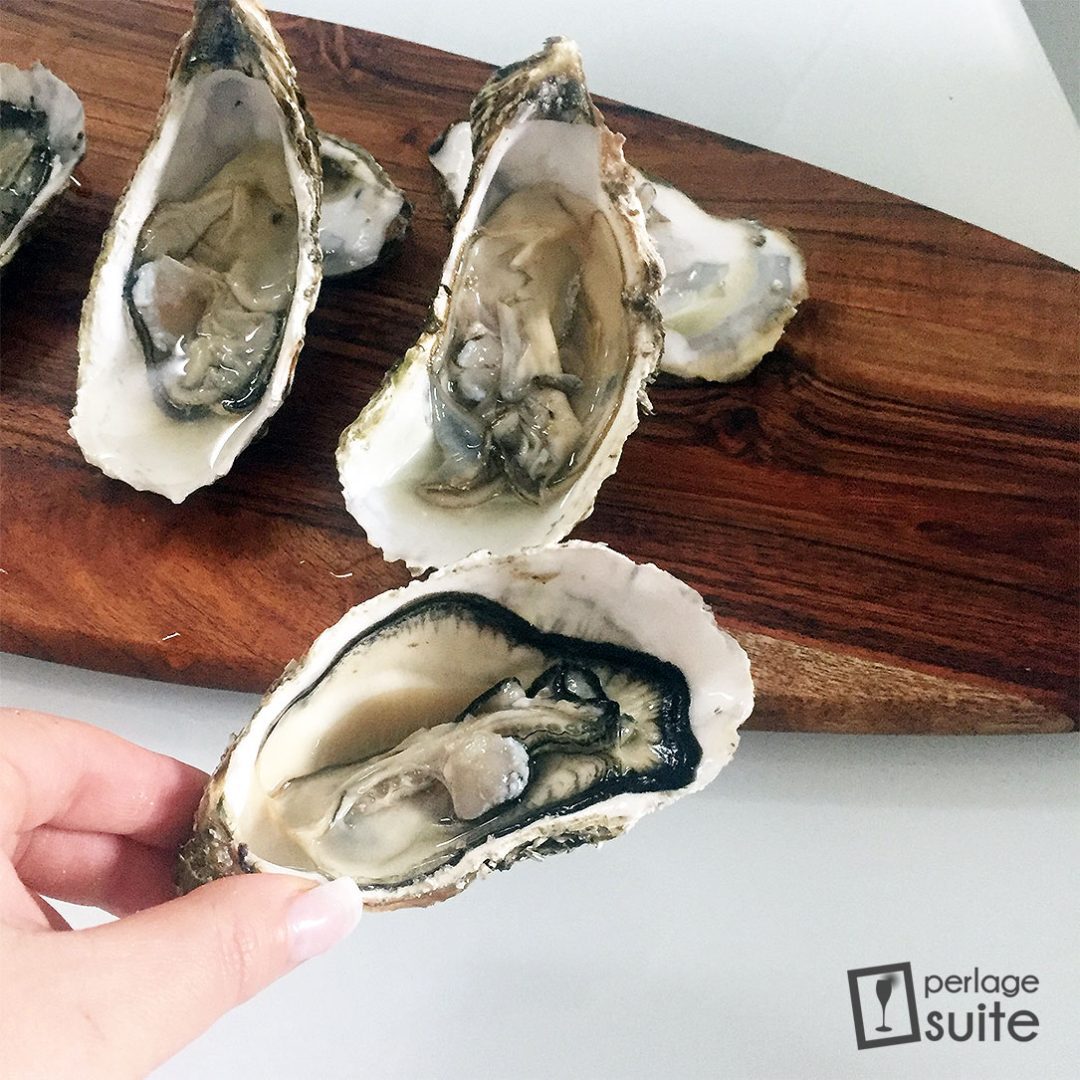 Open oysters are to be discarded a priori because they are already dead. Oysters that once opened do not contain much liquid and have the flesh beginning to stick to the sides of the shell have been out of the water too long. These are only to be eaten cooked. Fresh oysters are alive and, if opened correctly, will fall off the valve and have a good supply of liquid. A good tip for recognising a healthy oyster is to look at it and smell it: if it is closed properly and if the shell has a good sea scent then it is almost certainly a fresh and healthy oyster!
For example, the one I am holding in my hand in the photo was already open and therefore dead, which is why I discarded it. If you pay attention do you see that the colour is darker than the other 2 of the same species? Dead oysters have a grey colour tending to black and in the photo it is more than obvious the difference between the live oyster (good to eat) and the dead oyster (not to eat)!
Oysters #4: oyster serving temperature and tasting tips
The ideal temperature for eating oysters is between 6 and 8 °C to bring out all the organoleptic characteristics. The best way to taste the oyster is to sip the salty liquid inside and then take the oyster between the lips and chew it slowly, making sure to pass it over all the corners of the tongue to receive the different tactile sensations.
---
Oysters: tasting & pairing 'in purity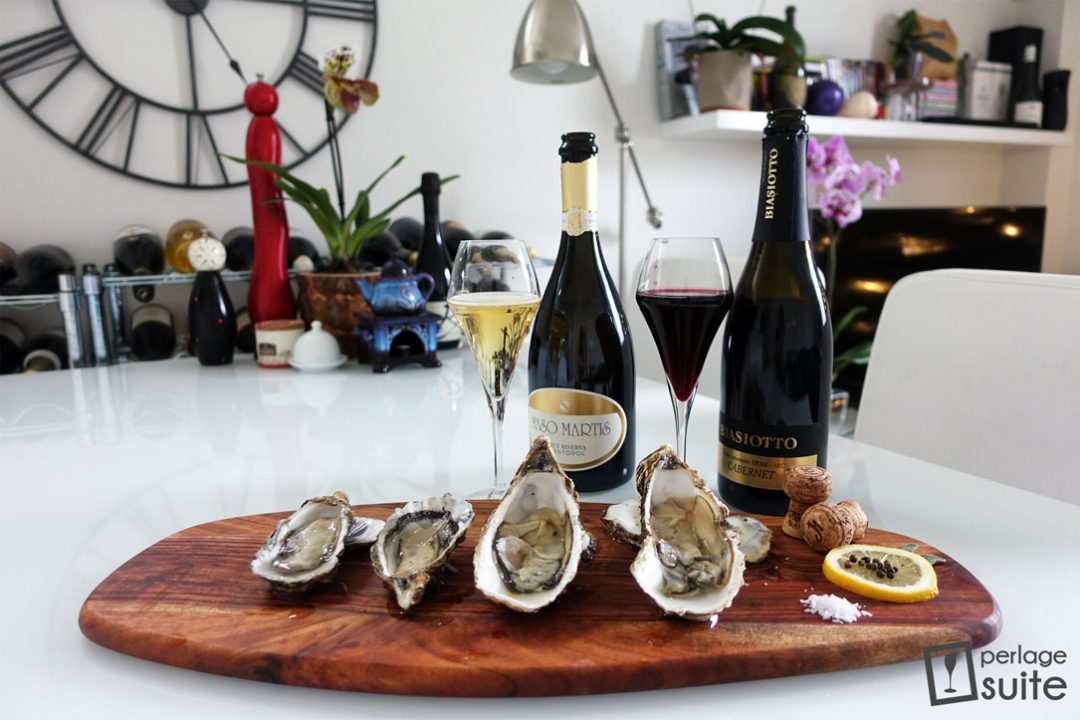 The tasting samples he sent me The Fish Square have two different sizes: size 0 and size 3. The gauge defines the size of the oysters and varies from 0 (the largest) to 5 (the smallest). To learn more about the cultivation, size, origin and sustainability of oysters, I recommend reading this article.
In the photo: Pousse en Claire PGI Label Rouge, size 3  (to your right), Special Bouzigues, 0-gauge (to your left).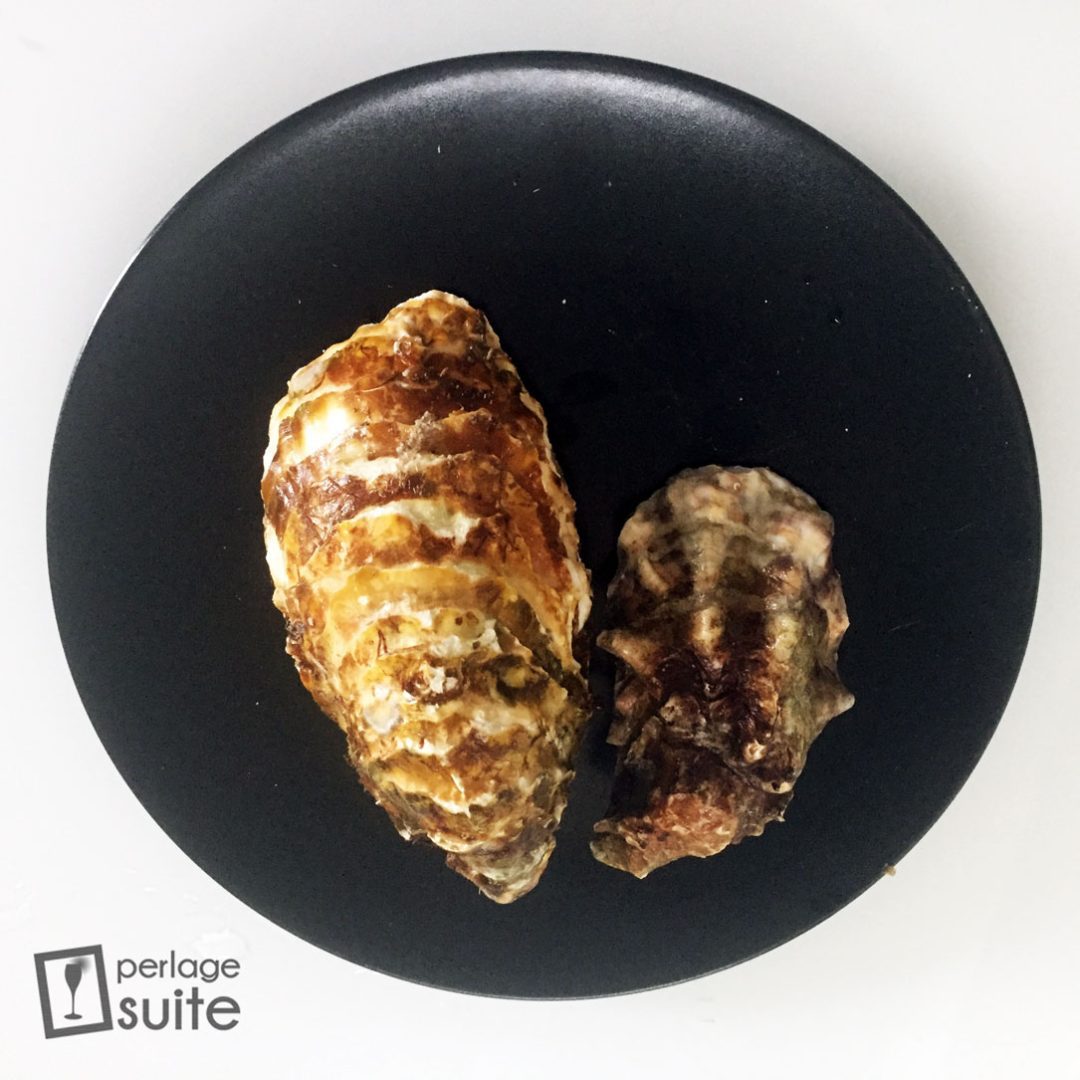 .
Pousse en Claire PGI Label Rouge oysters, size 3 with Trento DOC Brut Riserva Maso Martis (Champenoise Method)
Origin: France - Charente maritime - Marennes-Oléron
Shelf life:10-12 days
Catching method: Farmed
Scientific name : Crassostrea gigas
Season:from October to March
Approximate weight each gr 80
Calibre: 3
Some information on this type of oyster
La Pousse en Claire is an exceptional oyster and is the pride of the oyster farmers of Marennes Oléron because it can boast the prestigious Label Rouge: the red label that makes the heart of every oyster enthusiast beat faster as it is a sign of perfection. The Label Rouge is the official French recognition that guarantees the superior quality of the food products to which it is awarded. Originally, this particular oyster was produced almost in secret and only for a lucky few palates. Even today, it is produced in limited quantities (5 oysters per square metre) and therefore remains a niche oyster, reserved for a small circle of connoisseurs. While in the claires (4 to 8 months) achieves a high amount of meat and a refined taste, as refined is also the conformation of the shell with the characteristic lace called 'lignes de pousse". Already to the eye it is a compact and solid oyster, whose shell is tough and does not crumble easily.
The Terroir, or rather the 'Merroir'
The district of Marennes-Oléron is the most important oyster production site in France thanks to its optimal natural conditions for oyster farming. In the large basin in the shadow of the island of Oléron, fed with nutrients by the changing tides, there are pure waters that are ideal for growing oysters. Over the centuries, the oyster farmers of this region have been able to elevate oyster farming to an art by using the claires to refine their oysters. The claires are small concave basins dug into the clay in which the oyster completes its growth. The combination of fresh and salty water and the nature of the nutrients give rise to the differences in colour and flavour typical of this family of oysters, a bit like terroir influences wine.
Oyster-wine pairing
The Pousse en Claire oyster has a delicate, round, sweet, mineral, persistent flavour and a firm, crispy flesh. For this I chose the Trento DOC Brut Riserva by Maso Martis, an excellent Trentino-Alto Adige winery that I discovered during my bubbly-hunting trip for the Sparkling Wine Guide 500 bubbles in 500, characterised by a great softness and distinct flavour. This Champenoise method sparkling wine is made from a cuvée of Chardonnay and Pinot Noir and rests at least four years on the lees to get its full body, creamy bubbles and extraordinary persistence.
---
Bouzigues Special Oysters, 0-gauge with Biasiotto Cabernet Demi Sec sparkling wine (long Charmat Method)
Origin: France - Herault - Pond of Thau - Mediterranean
Catching method: Farmed
Scientific name : Crassostrea gigas
Shelf life: 10-12 days
Season: October to June
Approximate weight each gr 120
Gauge: 0
Some information on this type of oyster
The Bouzigues Special Oyster is the ideal product for those looking for rare and special oysters, awarded the Gold Medal in 2005, 2007, 2008.
The Terroir, or rather the 'Merroir'
The Bouzigues Special Oyster is cultivated exclusively in the Etang de Thau (Séte) in France in the Mediterranean following an original and unique method of suspended farming. The technique of placing the oysters one by one, on a rope, allows them to bloom freely under the poles where they are suspended, thus developing a round shell with a harmonious shape, rich in flesh with a lingering taste.
Oyster-wine pairing
This oyster is very different from the previous one, so for the wine pairing I wanted to experiment with the same contrast I found between the two oysters. I chose for this one a sparkling wine charmat method Demi sec, i.e. with an important residual sugar, perfect to contrast the marked savouriness and iodine taste of this oyster. Whereas in the previous oyster I found great complexity on the palate, this oyster has a simpler and more delicate taste, and simple and delicate had to be the wine. For this I chose a charmat method with a few aromas of ripe fruit and a light spicy note from Cabernet grapes. In short, the combination with the cabernet demi sec red sparkling wine from Biasiotto may perhaps appear to be daring too much, but when seen from the perspective of its motivations, there is a logical thread that has given me great satisfaction.
---
Recipe: Risotto with Champagne, drops of Pesto alla Genovese, Oyster Pousse en Claire Label Rouge IGP, Black Pepper
Oysters have always been rumoured to be an aphrodisiac (thanks to their high zinc content, which increases spermatozoa and testosterone), but another good reason to eat them (perhaps in the company of your better half to check if there is an actual increase in sexual desire) is that they have very few calories and very little fat. They are also rich in potassium, calcium, iron, phosphorus and vitamins A, B1, B2, C, E, PP. In short, they are also perfect for me who (from next Monday) am on a diet! 😀
"By pure chance, an oyster I was about to put in Emilia's mouth slipped out of its shell and fell on her breast. The girl made the gesture of picking it up with her fingers, but I prevented her, claiming the right to unbutton her bodice to pick it up with my lips at the bottom where it had fallen..."

Casanova
Personally, I think that more than increasing sexual desire, they provide a kind of fun that makes us lower our defences and relax... and one thing leads to another! 😆

TIME: 30 minutes | Difficulty: MEDIUM | Cost: HIGH
Calories: ARE YOU SURE YOU WANT TO KNOW?
Ingredients for 2 sweethearts
For Pesto alla Genovese DOP:
50 grams of Basil Genovese DOP
100 grams of Extra Virgin Olive Oil
75 grams of Parmigiano Reggiano aged 36 months
25 grams of Pecorino DOP Fiore Sardo
20 grams of pine nuts
1 clove of garlic (optional)
a little rock salt
For the risotto:
250 grams of Year-old Acquerello rice
200 ml Champagne or Spumante Metodo Classico Brut
1 small Tropea onion
60 grams of high-quality butter
50 grams of Parmigiano Reggiano aged 36 months
2 Pousse en Claire Label Rouge PGI oysters
a little rock salt
Sarawak Gold' fine pepper
vegetable stock QB (I recommend preparing at least 1 litre to make sure you have everything you need to cook the rice).
Preparation:
For Pesto alla Genovese DOP:
The traditional recipe for Pesto alla Genovese DOP requires a lot of patience and elbow grease. In fact, to prepare it, you need a mortar and to pound the various ingredients to 'crush' the basil so as to concentrate the essential oils and not grind it as in a blender.
However, we are desperate housewives, an extraordinary cross between Bridget Jones and Kate Armstrong, the very talented Chef of Tastes and Dislikes played by the beautiful Catherine Zeta-Jones, and we just can't stand to pound those little basil leaves for an hour with a mortar like this.
Quindi la mia ricetta prevede di mettere il bicchiere e le lame del frullatore in frigo un'ora prima di partire in modo da limitare i danni dell'ossidazione che si possono avere con il calore prodotto dalle lame in funzione e frullare come non ci fosse un domani tutti gli ingredienti insieme. Non ti devo ricordare di lavare il basilico e togliere la buccia dall'aglio, vero? 😆
For the risotto:
La Kate Armstrong che è dentro di te ti dirà di scegliere una costosa pentola di rame, ma sei pur sempre Bridget Jones e sceglierai la comoda padella antiaderente… Sulla quantità di riso a persona c'è chi dice che una porzione varia tra i 60 e gli 80 grammi. Mia nonna quella quantità te la avrebbe data per sentire se il riso era cotto… quindi direi che per due una confezione come questa di riso Acquerello invecchiato un anno è perfetta! 😍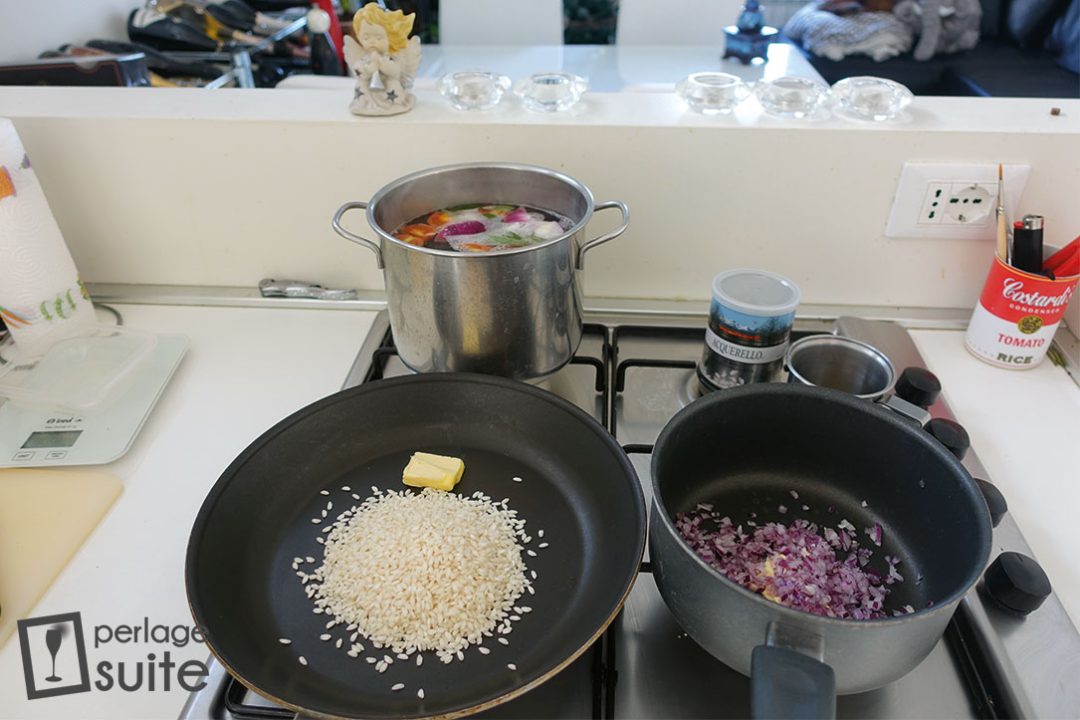 Taglia la cipolla fine al punto da essere quasi invisibile quando è cotta e falla soffriggere con 20 grammi di burro in un tegamino antiaderente non troppo grande. Dopo aver scelto il tuo tegame di cottura del risotto (la famosa padella antiaderente :D) tosta il riso in 20 grammi di burro per un paio di minuti a fuoco vivo.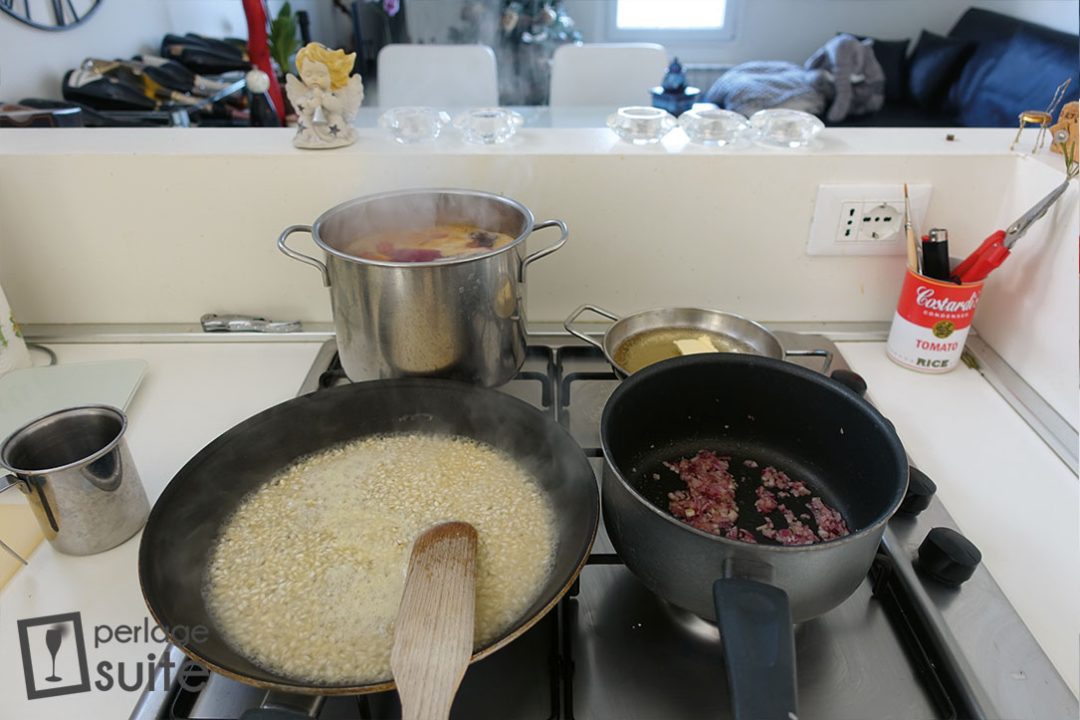 Aggiungi il soffritto di cipolla e sfuma con 100 ml di Champagne. Inizia ad aggiungere il brodo bollente precedentemente preparato un mestolo per volta e lascia asciugare (non attaccare!) prima di aggiungere il mestolo successivo. Gira delicatamente tra una mestolata di brodo e l'altra con un cucchiaio di legno. Lascia sciogliere a temperatura ambiente il restante burro nel restante Champagne. Quando il riso è quasi cotto, accendi a fiamma bassissima il tegamino che contiene burro e champagne e fai sciogliere il burro. Emulsiona con una frusta.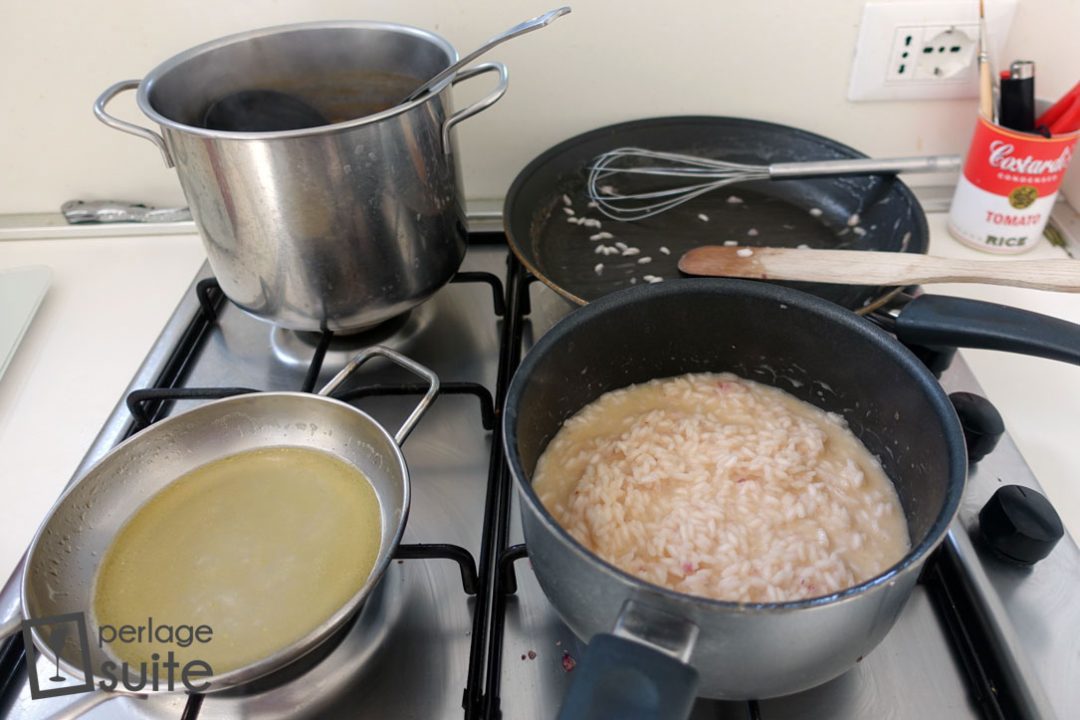 Assaggia il risotto: deve essere cotto, non pappa. Quando è cotto spegni il fuoco, toglilo dal fornello grande e spostalo su quello piccolo, a fuoco minimo. Per non fare asciugare troppo sposta il risotto nel tegamino dove hai soffritto il burro. La favolosa Chef che è dentro di te ti dirà di non accendere il fornello, ma la realtà dei fatti è che per una perfetta mantecatura casalinga un calore leggero aiuta. Aggiungi il Parmigiano Reggiano e il liquido di mantecatura composto da burro e Champagne e manteca velocemente finché non ha una consistenza cremosa.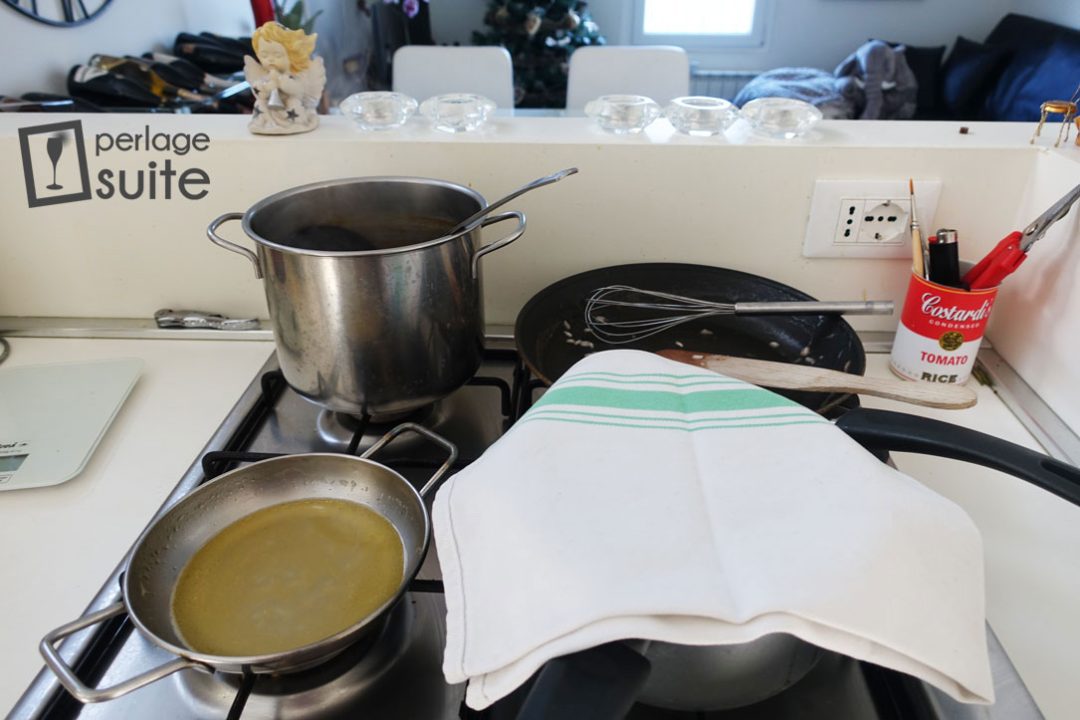 Copri il risotto per 2 minuti con un canovaccio pulito…. giusto il tempo di aprire le due ostriche augurandoti di essere più veloce di me! Manteca il liquido delle ostriche col risotto nel tegamino finché non è assorbito.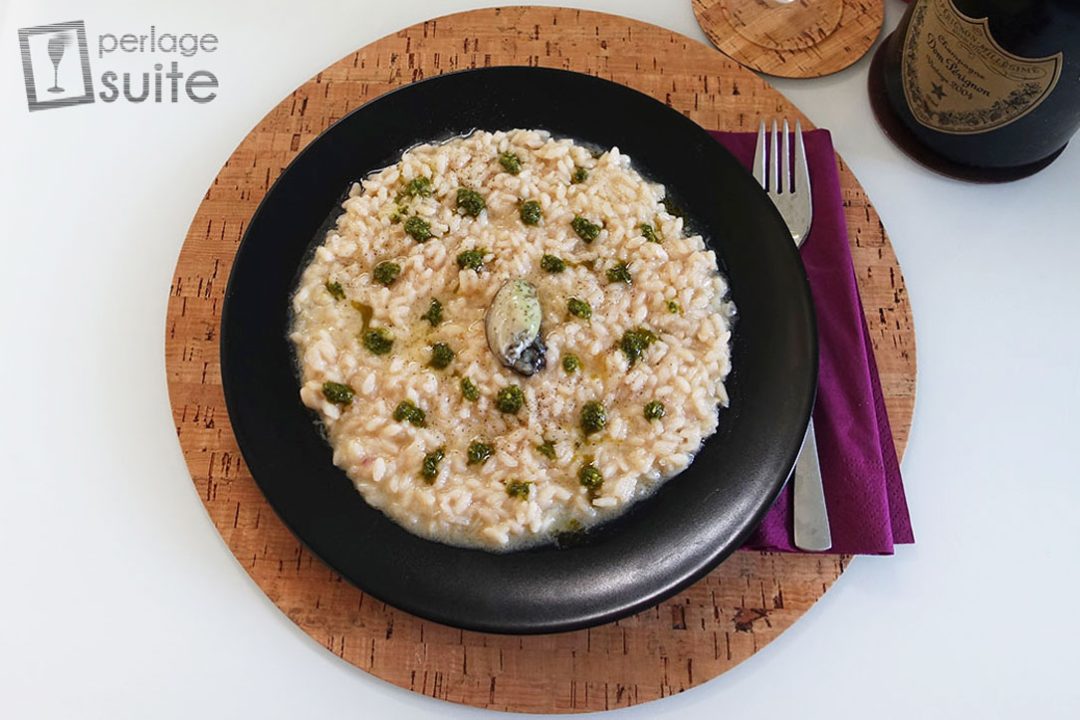 Impiatta mettendo due mestoli di Risotto in un piatto nero per creare un bel contrasto. Sbatti il piatto con il palmo della mano per stendere il risotto sul piatto, che deve essere all'onda. Aggiungi qualche goccia di pesto (con quello che ti avanza ci fai gli spaghetti domani) e posa l'ostrica cruda al centro.
Spolvera di pepe e godi. Ovviamente in abbinamento lo stesso Champagne o Spumante Metodo Classico che hai usato per preparare il Risotto. Vedrai, sarà perfetto: la bollicina sgrasserà l'abbondante burro e la sua sapidità insieme a quella del pesto contrasterà la dolcezza dell'ostrica. A questo punto non ti resta che scegliere il tuo Champagne preferito e preparare questo delizioso risotto per la persona che ami!
Prova a fare questa ricetta e fammi sapere in un commento se ti piace… io lo trovo uno dei migliori risotti della mia vita! 😍
Buon anno 😌… e mi raccomando, tutti a dieta dal prossimo lunedì! 😅
Cheers 🍷
Chiara