On Saturday I went to the Red Woodpecker 2018 dedicated to new wine of Valtidone Winery. I always like to go to this winery because the people who work there are all exquisite and so I happily combine my love of wine with quality human relations. Cantina Valtidone is located in the Tidone Valleyin the area of Colli Piacentiniin Emilia-Romagna. It may be that, although I live on my beloved Lake Iseo, I am still a proud '.azdora romagnola"(among the guys from Romagna there is the saying "you can be as cool as you want, but if you don't know how to make pasta you're nobody"... luckily my grandmother taught me 😂), here I feel at home like in few other places. But there was a humidity in the morning that made me fight with my hair all day long... I would have liked the perfect curls of Antonella who looked really great!
As far as new wine is concerned, as you probably know if you read me frequently, I am by no means a lover of it, but I always like to have a glass in memory of my childhood, of chestnuts cooked in the cauldron with my grandmother and wine diluted with grandfather's water. I also remember when I used to pick grapes in our garden, and when grandma and I would press them with our feet in the wooden vats to make must: our feet were purple, and I felt like an elf dancing a dance that only the two of us knew. So, even though it is not in my league from a strictly oenological point of view, I love new wine precisely because of its ability to awaken sweet memories for me.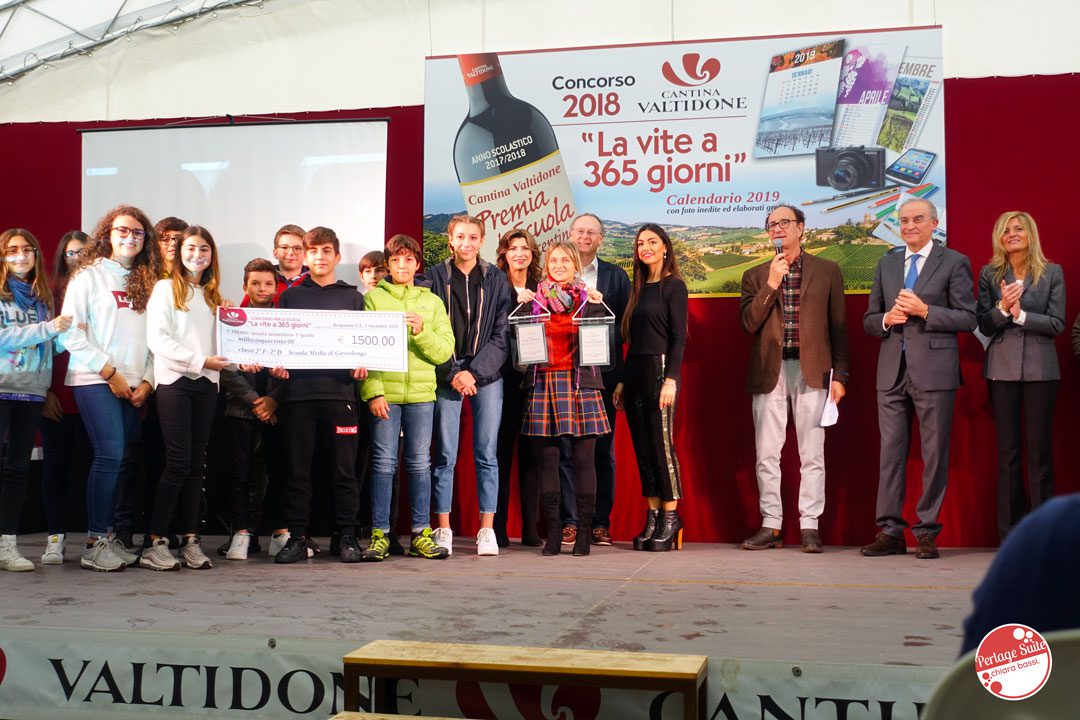 I really enjoyed the first part of the day: it was dedicated to the prize-giving for the creativity of pupils from local primary, middle and high schools. Vice-president of the jury the architect Daniela Pillaa beautiful and brilliant woman who was a real pleasure to meet and who introduced the competition with passion. The theme was to make the graphic design of a calendar telling the vine in 365 daysand I must say that I saw some really nice works among those on display. It reminded me of when I won a similar competition when I was still attending the Liceo Artistico in Ravenna... what a good time! The prizes were presented by numerous authorities attending for the occasion, thanks to the established presence in the territory of the Chairman Gianpaolo Fornasariwho, with his skills, was able to restore the winery and make it take off. Novello wine after all lends itself to such a competition: it has always been able to unite generations, and the children will certainly associate Cantina Valtidone with a very rewarding experience! Too cute then, those who, instead of the usual boring 'educational material' suggested giggling and with a dreamy look on their faces to spend the amount at the 15th Cioccolandiathe chocolate festival organised by the Pro Loco di Castel San Giovanni (PC)next Saturday, 10 November.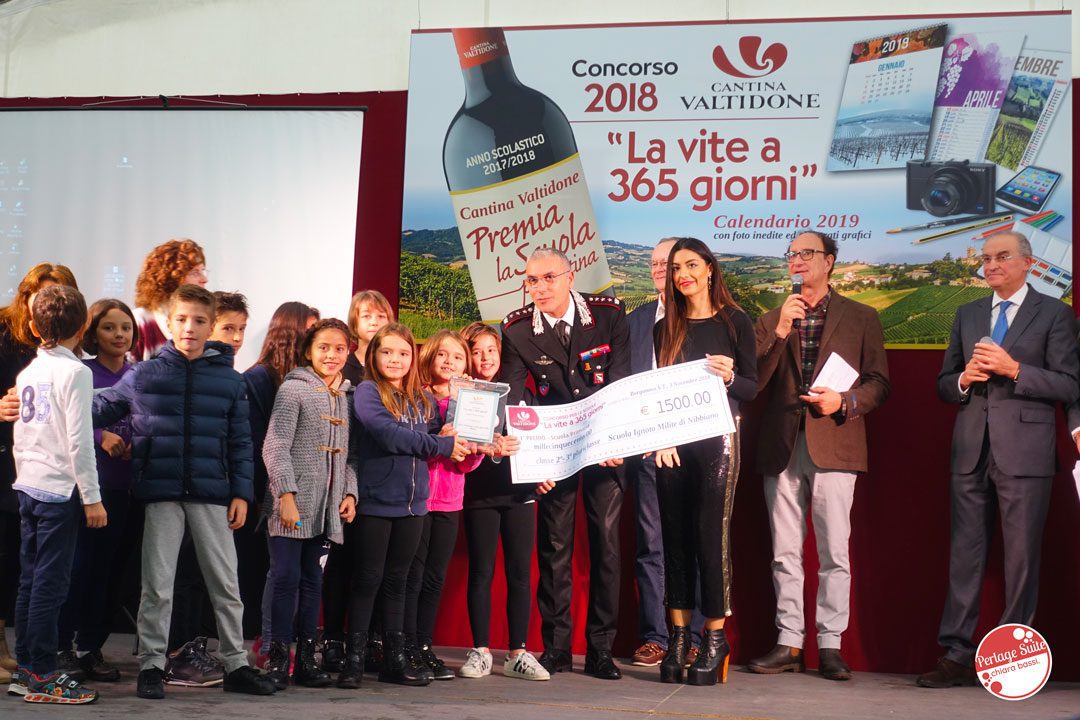 Picchio Rosso 2018, Cantina Valtidone: Do you know what 'vino novello' is?
The new wine, not to be confused with 'new wine' is a particular type of wine obtained from the carbonic maceration of whole bunches (at least 40% of the total wine must be obtained in this way) of grapes of the same vintage that may not be blended with wine from previous vintages. These clusters are placed inside an airtight tank saturated with carbon dioxide for a period of time ranging from a few hours to a few days. In practice, intracellular alcoholic fermentation of the sugars is induced due to the absence of oxygen. In reality, the cells continue their 'respiration' thanks to the Krebs cycle (fundamental metabolic cycle of cells using oxygen for cellular respiration) and consume the malic acid present in the cells. Since malic acid is rapidly consumed, even though the wines are very young and do not undergo malolactic fermentation, the resulting wines do not have that characteristic 'sour' taste induced by this acid. This is also thanks to thehigh glycerine production (responsible for softness of a wine) which is more than double that obtained from normal red wine vinification. Once the carbonic maceration is complete, the grapes are first crushed and then macerated in containers saturated with carbon dioxide at a controlled temperature of 30-35°C. During this period, the grapes crush under their own weight and release more and more liquid, but gradually. At the end of this period, the crushing is completed and any residual sugar is transformed into alcohol in the traditional way. The vinification total between phases must last at least 10 days and can be placed on the market as from 30 October of the same year and in any case no later than 31 December. The new wine is only produced in PDO or PGI areas, can be still, quiet or sparkling and must have a minimum alcohol content of 11% vol and a residual sugar content of less than 10 g/l. Vino novello must absolutely be consumed 'as soon as possible' and is a very suitable wine for accompany simple home cooking dishes. Traditionally symbol of the autumn seasonis a classic eaten with chestnuts. Grandma and I used to make delicious sweet ravioli filled with chestnuts, bitter cocoa, a kind of mustard and the tip of a teaspoon of coffee, which we would bake in the oven and dust with icing sugar. I remember grandpa coming home from the shop very punctual at 4:30 p.m. to eat them while they were still warm, and taking the new wine from the demijohn (mine was very diluted with water since I was barely in primary school...).
From left: Me and the beautiful Cantina Valtidone staff: Antonio Montano (brand ambassador), Francesco Fissore (oenologist) and Marco Civardi (press office).
Picchio Rosso, Cantina Valtidone: How is this year's new wine?
I talked a little about this year's new wine with theoenologist Francesco Fissorewho I find absolutely brilliant. From what I tasted, he gave the winery's wines an extra edge, especially in the anticipation he gave me last time with the new Perlage sparkling wine. The Picchio Rosso' new wine from Cantina Valtidone is an absolute child of this particular vintage: less structured of that of the previous year, with a alcohol content of only 11.5% vol., however soft e drinking bottle. Like any self-respecting new wine, the aromas are the undisputed protagonists of the tasting: from the raspberry at Big Babolwith a slight note of cut grass of freshness. It goes well with simple and aromatic cold cuts, the first thing that comes to mind and that I would like to try it with is a mortadella sandwich, but I'm on a diet! 😇 However, I have tasted it in combination with the tortelli from the Antica Trattoria Giovannelli in Agazzanowhich were a little undercooked for my taste (but at least the mushroom sauce was good) and I would say it was very good. I'm for a tortello cooked just right and with a well-mixed sauce with good butter, and certainly not for tortelli served freshly drained and with the sauce on the side, but I can see that many people like it that way too... it's a matter of taste!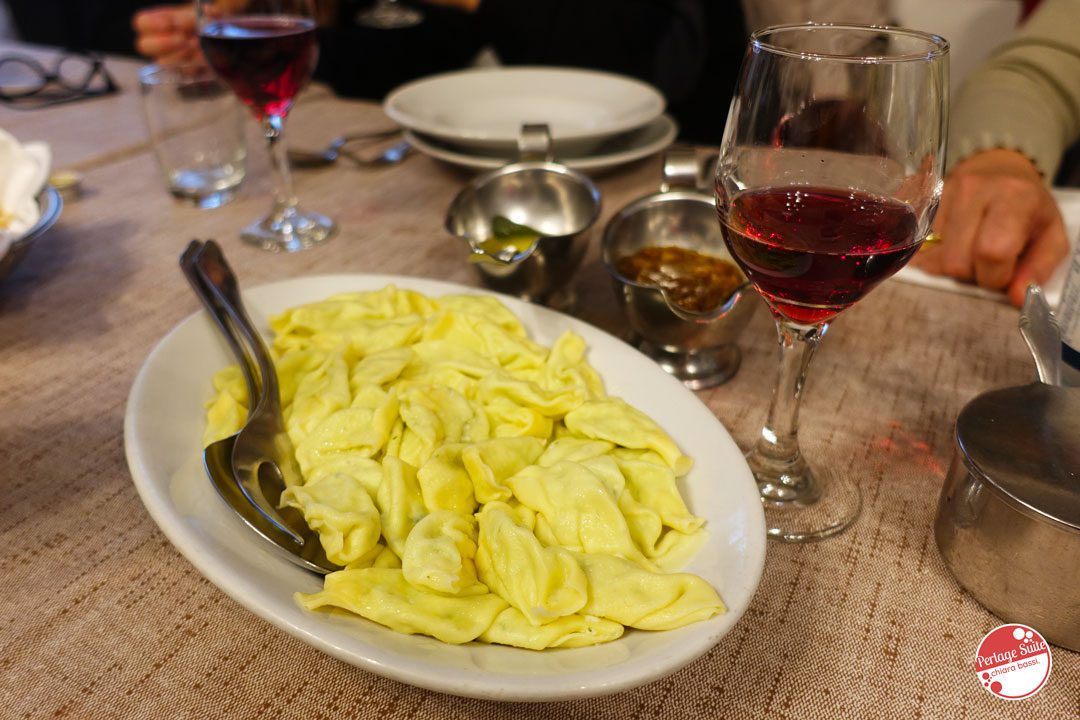 The lunch was very pleasant, thanks also to the company: from Mauro Fontana, commercial director of Valtidone (whom I adore and by now every truck I see on the motorway I think of him, and I'm not kidding!) to Claudio Salluzzo (and his delightful blonde colleague whose name I cannot remember), coordinator of the agri-food chain of the Milan Confcommercio, to Andrea Tagliabuebuyer of Gulliver supermarkets (and his mother) and to Marco Saccardi, a civil engineer from Oltrepò Pavese devoted to the production of flour from ancient grains. Being a bread-making enthusiast myself, could I not take an interest in the subject? 😁
Picchio Rosso: not only new wine, but also a memorable Gutturnio Riserva!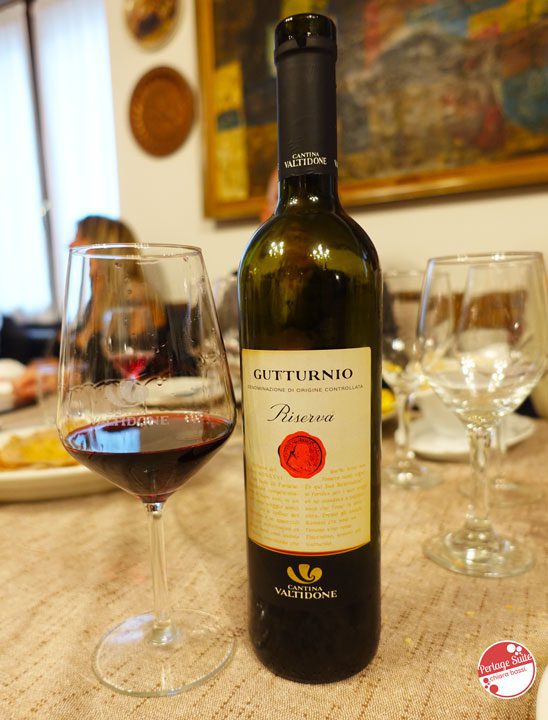 I really enjoyed this 'off-planet' wine! Born from the skill of oenologists Beppe Caviola and Francesco FissoreI call it a small masterpiece for its power and balance. Then I fell in love with its inky note shading into marasca cherry and the spicy finish... to be tasted again more slowly!
Picchio Rosso, Cantina Valtidone: have you ever visited a winery?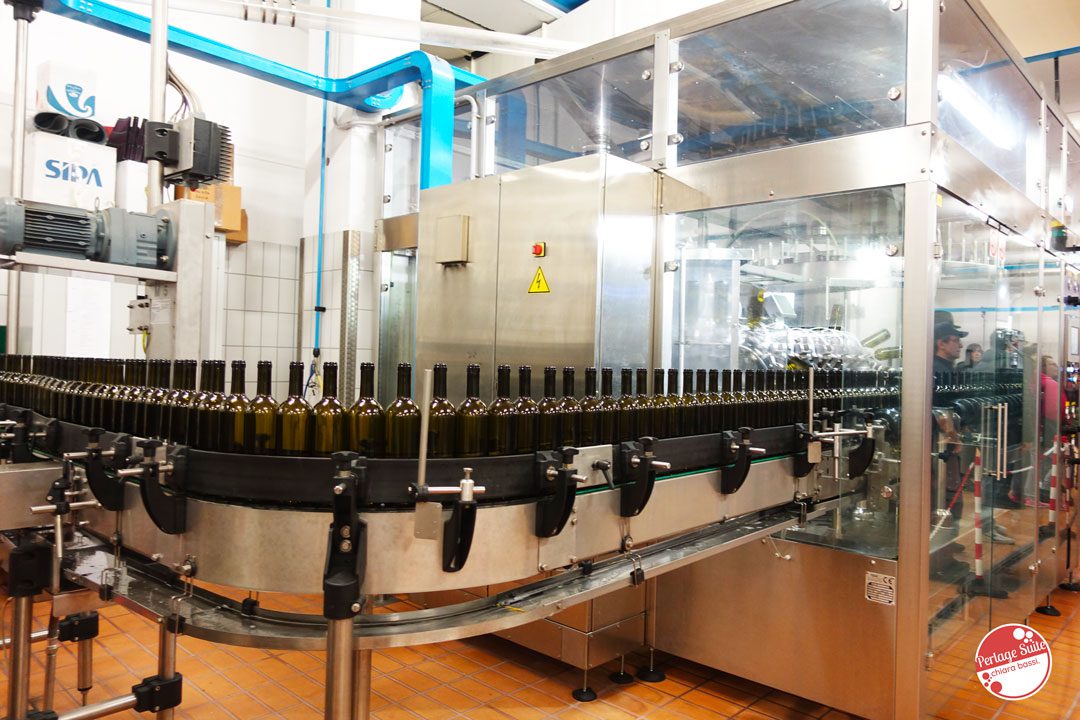 I must say that both Mauro and Antonio are very good at making cellar visits. Then to see so many curious people, both among the insiders and among the 'ordinary people' really made me happy! Cellar as always neat and cleanbut it was the bottling machine that captured all my interest: the bottles seemed to dance and I could stand to watch them for hours! What a fascinating spectacle! So many delightful little soldiers ready to conquer the world of wine!
Post Picchio Rosso, Cantina Valtidone: by day new wine, by night Champagne!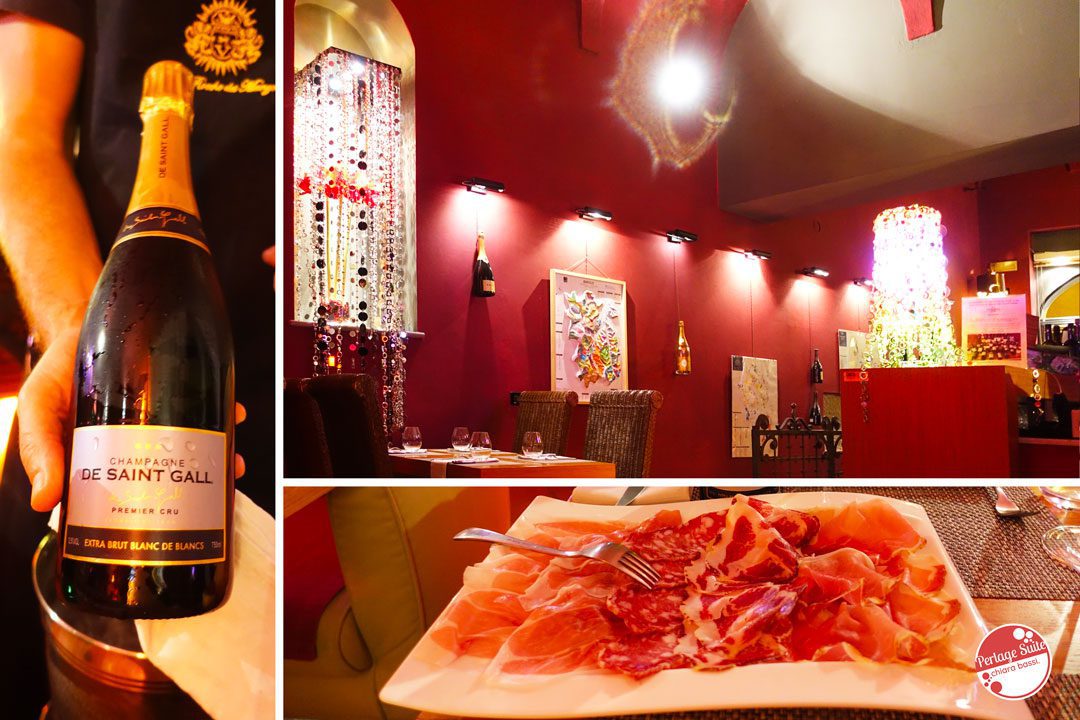 Antonio introduced me to a delightful place in the centre of Piacenza that naturally also stocks Cantina Valtidone wines! La Taverna del Gusto Aesthetically it's just my kind of place: very neat and elegant, but still informal. The armchairs are really comfortable! Andrea, the owner, showed us the Champagne Extra Brut Première Cru Blancs De Saint Gall! Very well prepared, he told us about this great cooperative that produces this particular line in the heart of Champagne. I must say that the nose is capable of making one fall in love, with an extraordinary expression of chardonnay that takes on notes of ripe exotic fruits and citrus. In the mouth it is shifted to hardness, with lots of freshness and savouriness, but it is still soft and the bubbles are creamy. Fine and elegant, one sip leads to another, despite the tiredness! The concept of the restaurant then is one I like: Wine bar, kitchen and shop with excellent productswith a special mention for a French goat cheese with flowers to die for and a really delicious black pork neck. In short, here you can spend a pleasant evening or simply buy your favourite products to eat at home! What better decor is there in a restaurant than a large counter full of delicacies to be discovered?
Before going to bed, we stopped by to say hello to the Danila Ratti of Le Proposte Restaurant. Do you remember? I described its delicious cuisine in this article: Cantina Valtidone wines at Ristorante Le Proposte: the perfect pairing of Piacenza tradition. I slept in the B&B Koran House where I found a clean and comfortable environmentwith a exquisite Sigrid whose posed manner, rhythm of voice and dialectics I greatly appreciated. At breakfast I had a really well prepared teawhich I rarely do nowadays, and ate a very good homemade apricot jam. The table was well laid, the ambience warm and intimate, and between one chat and another I admit that I didn't take any photos... but I'll soon remedy that! Thanks to Sigrid's husband, the breakfast room is full of art books... and I have a couple that would be wonderful to read sitting under a tree in this enchanting food and wine crossroads on an early spring day. Well, actually I would read them all....
I understand from the director that the Red Woodpeckerwhich continued throughout the day on Sunday, received a huge successCantina Valtidone was full of enthusiastic people for the events and tastings. So many compliments to President Gianpaolo Fornasari and his very special staff.
Cheers 🍷
Chiara