You are a aspiring sommelier and in a few days (or a few months) you have theAIS examination? Strength and courage, I am sure you will overcome theAIS examination and become a sommelier!! ? Surely you are looking for AIS examination questions and answers to practise studying... well you've come to the right place! As always, my readers have written me questions on which other sommelier colleagues are preparing, the same questions that many aspiring sommeliers have found at thethird-level examination!
So what I'm sharing with you is a very valuable resource for your study... and it took me so long to respond and write the article... how about thanking me by sharing this post on your favourite social network? Thank you from the bottom of my heart 😍🍷
.
Do you want to prepare for the sommelier exam in half the time?
Would you like to pass the AIS examination at the first time and make a good impression even if you work and have little time?
Even before I tell you the questions, I want to remind you that I have just written a book that will surely be useful to you and contains all my notes on wine. It is entitled "How to become a sommelier: Everything you need to know about wine in less than 300 pages'. The handbook is designed for all aspiring sommeliers, but it is also very useful for 'already sommeliers' who want to brush up or for winelovers who want to start giving their passion a concrete foundation. The great thing about it is that it's exactly the same size and weight as your iPad and contains all the essential wine knowledge... and then some! So you can really take it everywhere, I for example in this photo was browsing while waiting my turn at Ikea 💪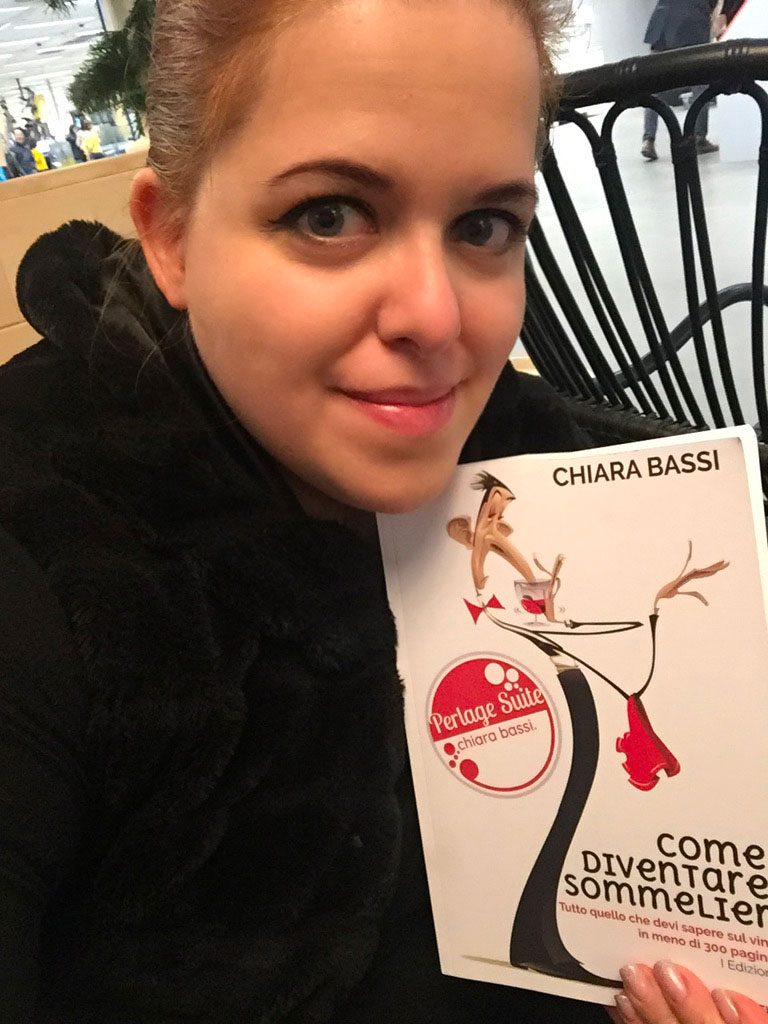 .
Questions & Answers of the AIS Examination - written test
What are the wine macro-areas of Tuscany?
The wine-growing areas of Tuscany are:
Chianti
Chianti Classico
Carmignano
San Gimignano
Sant'Antimo
Val d'Orcia
Colli di Luni
Candia
Pomino
Lucchesi Hills
Bolgheri
Montalcino
Elba
Maremma
Describe the olfactory quality and write down the corresponding scale of values.
Olfactory quality is a subjective aspect of tasting and expresses the synthesis of the evaluation of intensity and complexity. The scale of values for olfactory quality is:
MUNICIPALITY Poor perfume, lacking in merit
LITTLE END Bordering on mediocrity
FINE ENOUGH Sufficiently fine and pleasant
END Pleasant, distinct, frank, balanced
VERY FINE Particularly pleasant, distinguished, frank
Lists the values and their multiplication coefficients of the points card.
VISUAL EXAMINATION - Appearance x1
VISUAL EXAMINATION - Colour x2
OLFACTORY EXAMINATION - Intensity x1
OLFACTORY EXAMINATION - Complexity x2
OLFACTORY EXAMINATION - Quality x3
OLFACTORY TASTE TEST - Structure x1
OLFACTORY TASTE TEST - Balance x1
OLFACTORY TASTE TEST - Intensity x1
OLFACTORY TASTE TEST - Persistence x2
OLFACTORY TASTE TEST - Quality x3
Harmony x3
What are the effects of'carbon dioxide in the visual, olfactory and taste-olfactory examination?
VISUAL EXAMINATIONDepending on the sparkling method, classic or charmat, there will be finer and more persistent bubbles or coarser and less persistent ones.
OLFACTORY EXAMINATIONIntensifies fragrances.
TASTE-OLFACTORY EXAMINATION: creaminess in the mouth, accentuates hardness (freshness, savouriness), attenuates softness (sweetness, alcoholicness), improves wine balance.
List 10 Apulia DOCs.
Aleatico di Puglia
Alezio
Galatina
Gioia del Colle
Gravina
Muscat of Trani
Negroamaro di Terra d'Otranto
Ostuni
Primitivo di Manduria
Red of Cerignola
Describe the bitterish tendency of a food, give 3 examples and propose 3 matching wines, giving reasons for your choices.
The bitterish tendency can be perceived in radicchio, spinach, cooked herbs, blue cheese, liver, black pepper, and extra virgin olive oil. It also belongs to some desserts, such as crema catalana (here it is given by the caramelisation of sugar on cream) or those containing dark chocolate. It is often linked to grilling or roasting.
Examples and combinations:
Sliced beef with herbs: here I have to contrast the succulence of the meat and the bitter tendency of the herbs. Serve a wine with good alcohol content and great smoothness such as Romagna Sangiovese Superiore Riserva.
Bruschetta aglio olio e peperoncino: here I have the bitterness and unctuousness of extra virgin olive oil, with the aromaticity of garlic and the spiciness of chilli pepper. You need a very soft wine with lively tannin, such as a Barbera d'Alba that is not too young.
Crema Catalana: here I have the bitterish tendency of the caramelised sugar and the sweetness and aromaticity of the cream. You need a sweet and smooth wine, a passito like Recioto della Valpolicella is perfect.
Describe the sensations of the prawn and courgette risotto and propose 3 matching wines, giving reasons for your choices.
This dish highlights the sweet tendency of shrimps and the fatness and succulence of the mantecatura (butter and parmesan cheese) of the risotto. A match for concordance can be a Classic Method Demi-secwhile a match by contrast can always be a Classic Method, but Dosage Zero. If on the other hand we do not want to go for a bubbly (which is however perfect for degreasing the mouth from the butteriness of the risotto), we can venture on a wine with a marked acidity, perhaps a rosé wine that helps us balance the slight succulence left by the Parmesan with its delicate tannins. I propose a Lagrain very young rosé served at 6°C.
Describe technological maturation.
La technological maturation is evaluated on the basis of the ratio between sugars and acids; with the passage of time, sugars increase and acids decrease, especially malic, which is the most bitter and aggressive; consequently, when one wants to obtain a must richer in fixed acids, the grape harvest is brought forward a little; if one wants to obtain a must rich in sugars, the harvest must be delayed.
Describe the phenolic ripening.
La phenolic ripening involves the phenolic component of the grapes, which is more concentrated in the skin; by letting the grapes ripen a little longer, there is an increase in the phenolic component, which contributes to the the most structured and tannin-rich wineand a slight decrease in the one that makes the colour full and compact.
What are the key vines and areas in Burgundy?
Key areas: Yonne, Côte d'Or, Côte de Nuits, Côte de Beaune, Côte Chalonnaise, Mâconnais, Beaujolais Villages, Beaujolais
Key grape varieties: Chardonnay, Pinot Noir, Gamay
What are the key grape varieties and areas in South Africa?
Grape varieties = white berry: chenin blanc (20% of the vineyards, very productive, can give very different wines depending on the yields per vine, the objectives and the oenological techniques applied. Perfect for making dry and fresh wines, fruity and not very intense. If aged a few years, it offers unexpected aromas of ripe fruit and gardenia, aniseed and smoke with an almondy finish. It also lends itself to late harvesting with noble rot, not excellent), colombard, sauvignon blanc, chardonnay; black berry: cabernet sauvignon, syrah, pinotage, merlot
Key Zones = Stellenbosch, Paarl, Worcester, Constantia, Walker Bay
Describe the distillation process, give 5 examples with relevant production areas and raw materials.
A physical procedure that enables the volatile components of a fermented product to be separated according to their different boiling points with a twofold objective: on the one hand, the ethyl alcohol in the fermented product is concentrated from 5 - 12° % to 65 - 94° %, and on the other hand, the substances that make a distillate valuable are selected and the poor ones are eliminated.
Preparation of must - from cereals, tubers, grapes, wine, sugar cane, fruits and honey.
Must fermentation - adding saccharomyces yeasts in 3-4 days yields about 12 % ethyl alcohol.
Distillation - separation of the volatile components of a fermented product due to their different boiling points.
Stabilisation - Barrel rest, dosed addition of distilled water, refrigeration and filtration.
Examples of distillate:
Cognac: wine distillate typical of the Cognac area, France
Rum: sugar cane distillate (or molasses for industrial products) typical of the equatorial belt
Calvados: apple cider distillate typical of France
Grappa: marc distillate typical of Italy
Vodka: grain and tuber distillate typical of Russia
Here you will find all the in-depth information on distillates and notes on the different types of distillates!
Questions & Answers of the AIS Examination - oral test
What are the acids in grapes?
Organic acids from grapes:
l'tartaric acid is one of the most important acids found in grapes, whereas it is not widespread in nature. It is a stable acid from a microbiological point of view, as it can be attacked by a few microorganisms, but it is unstable from a chemical-physical point of view, as it can precipitate in certain solutions. Quantitatively in grapes it varies from 15 g/l in the early stages to 6 g/l in the late stages of ripening;
l'malic acid has inverse characteristics to tartaric acid, i.e. it is more stable chemically and physically, as its salts are soluble in water solutions, and is instead unstable microbiologically, as it can be easily attacked by yeasts and bacteria (malo-alcoholic and malo-lactic fermentation). Quantitatively, it is present between almost 25 g/l to 1-2 g/l;
l'citric acid is a minor acid and is mainly present in wines and musts before the start of malolactic fermentation (approx. 0.5-1 g/l). It is also permitted to add this acid to wine as a stabiliser.
.
Organic fermentation acids:
l'pyruvic acid is very important as its reduction leads to the two forms of lactic acid; it is also transformed into ethanal, which then gives rise to ethanol;
l'acetic acid is a by-product of alcoholic fermentation and is present at 0.2-0.3 g/l;
l'lactic acid is present in two forms: L(+)-lactic and D(-)-lactic, which are the results of one from malolactic fermentation and the other from the metabolism of various bacteria.
Describe the malolactic fermentation.
La malolactic fermentation is triggered by the lactic acid bacteria because of the temperature rise (18-20 °C) that is usually created in spring and that brings the wine to maturity. Increasingly, selected cultures of these bacteria (pediococcus, lactobacillus and leuconostoc) are being used that are able to transform a molecule of malic acid into a molecule of lactic acid + a molecule of carbon dioxide. The consequence of this transformation is that the wine becomes softer and more balanced. This is because lactic acid is sweeter and milder than malic acid, which is more sour. Also its perfume is less marked by herbaceous tones and takes on nuances of butter, nuts, vanilla, spices, leather and toast.
For this type of fermentation to begin, the following conditions must be simultaneously fulfilled:
PH of the wine not excessively low (3.2 - 3.4), hence not excessively acid wines;
limited concentration of sulphur dioxide;
ethyl alcohol of less than 15 %;
temperature above 20°.
Traditionally, it is most welcome for red wines, but nowadays it has also been introduced in important white wines with great smoothness, perhaps fermented or rested in barriques. It is not performed in ready-to-drink white wines, which base their characteristics on acidity.
What sparkling wines are there in Europe? Key areas and their grape varieties.
Champagne - Key zone: Champagne, France - Grape varieties: pinot noir, pinot meunier, chardonnay
Crémant d'Alsace - Key zone: Alsace, France - Grape varieties: pinot blanc, pinot gris, pinot noir, riesling, chardonnay
Quarry - Key zone: Penedés, Spain - Grape varieties: Macabéo, Parellada, Xarel-lo
What sparkling wines are there in Italy? Key areas, grape varieties, DOC and DOCG.
Liguria: Val Polcevera Bianco Spumante DOC
Piedmont: Asti Spumante DOCG, Alta Langa DOCG, Brachetto d'Acqui DOC, Malvasia di Casorzo DOC, Malvasia di Castelnuovo Don Bosco DOC
Valle d'Aosta: Blanc de Morgex et de La Salle DOC
Lombardy: Franciacorta DOCG, Oltrepò Pavese Spumante DOCG
Trentino-Alto Adige: Alto Adige Chardonnay DOC, Pinot Grigio DOC, Pinot Nero DOC, Trento DOC
Veneto: Valdobbiadene DOCG, Prosecco DOC, Fiori d'Arancio DOCG, Durello DOC
Friuli-Venezia Giulia: Lison Pramaggiore Spumante DOC
Emilia-Romagna: Colli di Scandiano e di Canossa Spumante DOC, Romagna Albana Spumante DOC
Marche: Offida Passerina Spumante DOC, Vernaccia di Serrapetrona Spumante DOCG
Umbria: Colli del Trasimeno Spumante DOC
Tuscany: Elba Bianco Spumante DOC
Lazio: Marino Spumante DOC, Velletri Spumante DOC
Abruzzo: Controguerra Spumante DOC
Molise: Molise Chardonnay Spumante DOC
Apulia: Lizzano Bianco Spumante DOC
Basilicata: Aglianico del Vulture Spumante DOC
Campania: Aversa Asprinio Spumante DOC
Calabria: ?
Sicily: Riesi Bianco Spumante DOC
Sardinia: Vermentino di Sardegna Spumante DOC
Finally, thanks again to Chiara from the Verona delegation who allowed me to write this article by posting, in a comment below this article that I recommend you read, the questions from her exam!  ???
And finally, don't forget to buy the Moleskine Wine Journal! I am an incurable paper worshipper (you know, we sommeliers are a bit vintage....?), but it's really something else to note down wines with this diary... it changed my life!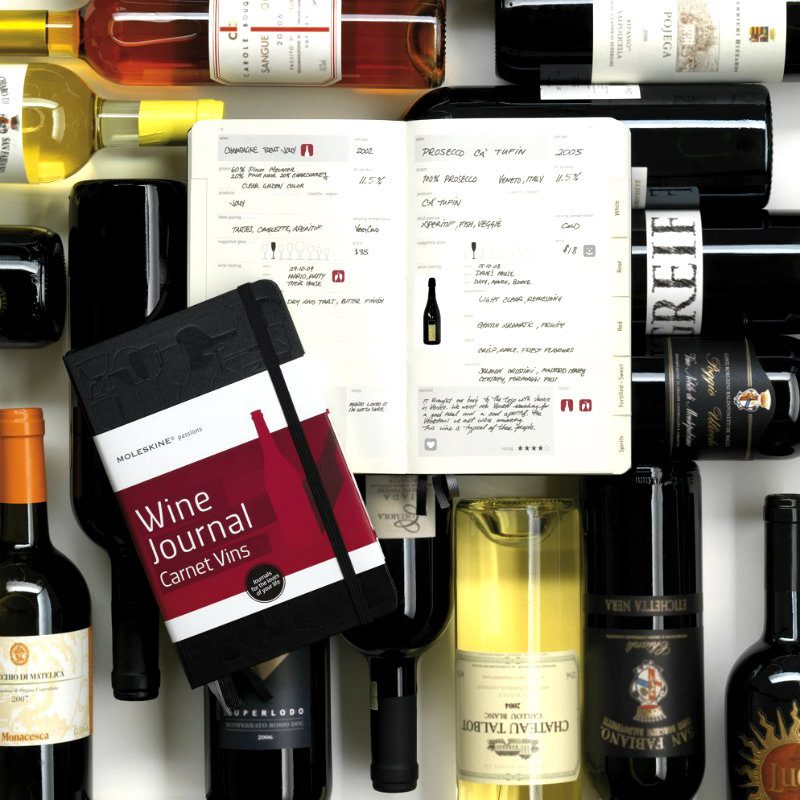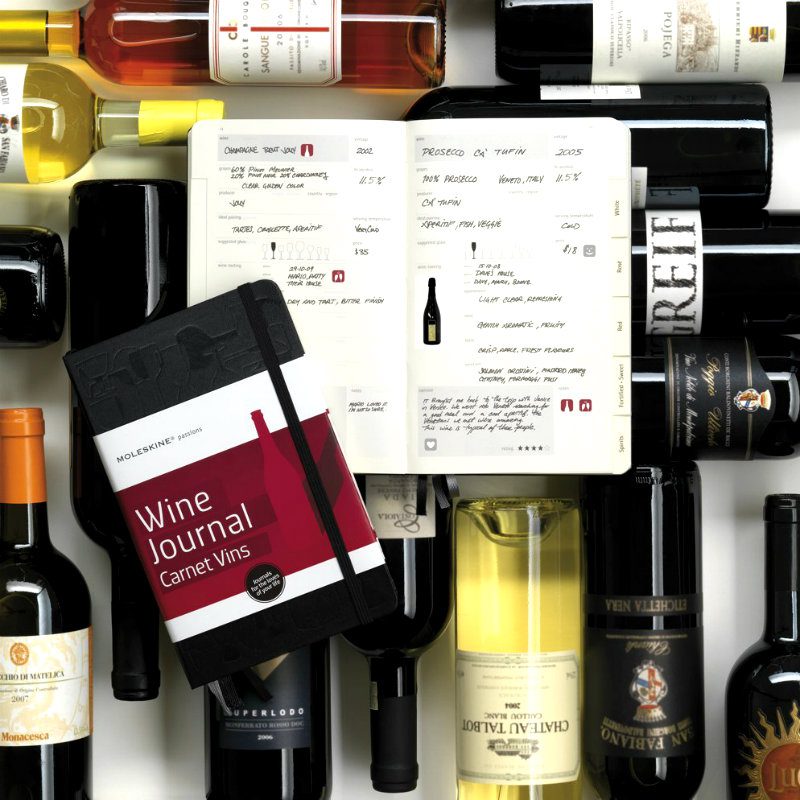 WINE JOURNAL - MOLESKINE
 Raise your hand if you don't have a non-technological sommelier for a friend! Or yes, even technological but... do you want to put the beauty of paper? Imagine transferring your ideal wine cellar onto paper. Fully punched cover, 3 ribbon bookmarks and double expandable inner pocket. 6 themed sections to complete: Sparkling Wines, Whites, Rosés, Reds, Fortified/Sweet, Spirits, 6 notched sections to customise and 10 blank pages to insert notes and comments. 40 labels to use on the white notches, 150 with coloured icons and 12 to customise the cover. 13×21 cm, 5 x 8 ¼, 240 pages of chlorine-free paper. Beautiful! I saw it the other day at Buffetti's but then decided to buy it on Amazon because it costs €5 less including shipping! Here's the link: Passion book - wines
  costs less than 14 €
See you soon,
good luck to all for the AIS exam! 🍀
If you like, leave me a comment and tell me what you will uncork or have uncorked for the exam!
Chiara
P.S. I hope as always that I have been helpful! If you disagree with any of my answers or want to supplement them, leave me a comment!