I have always wondered why an Italian would go to a Italian restaurant in Paris. In an Italian restaurant in any other foreign city. Why not discover different tastes and flavours and seek out a taste that is often not so 'at home' when you are in a foreign country? Then I moved to Milan. Milan, which is an Italian city in the region where I have lived for eight years now, Lombardy. And I understood. I understood the desire to feel at home, both when you feel your home is far away and when you no longer know exactly where your home is. And so you look for the flavours you know, the familiar furniture, your language among the book shelves or on the prints on the walls. Among all the Italian restaurants in Paristhe little Shardana restaurant is just that: a corner of Italy among the splendid Art Nouveau buildings that adorn the busy streets.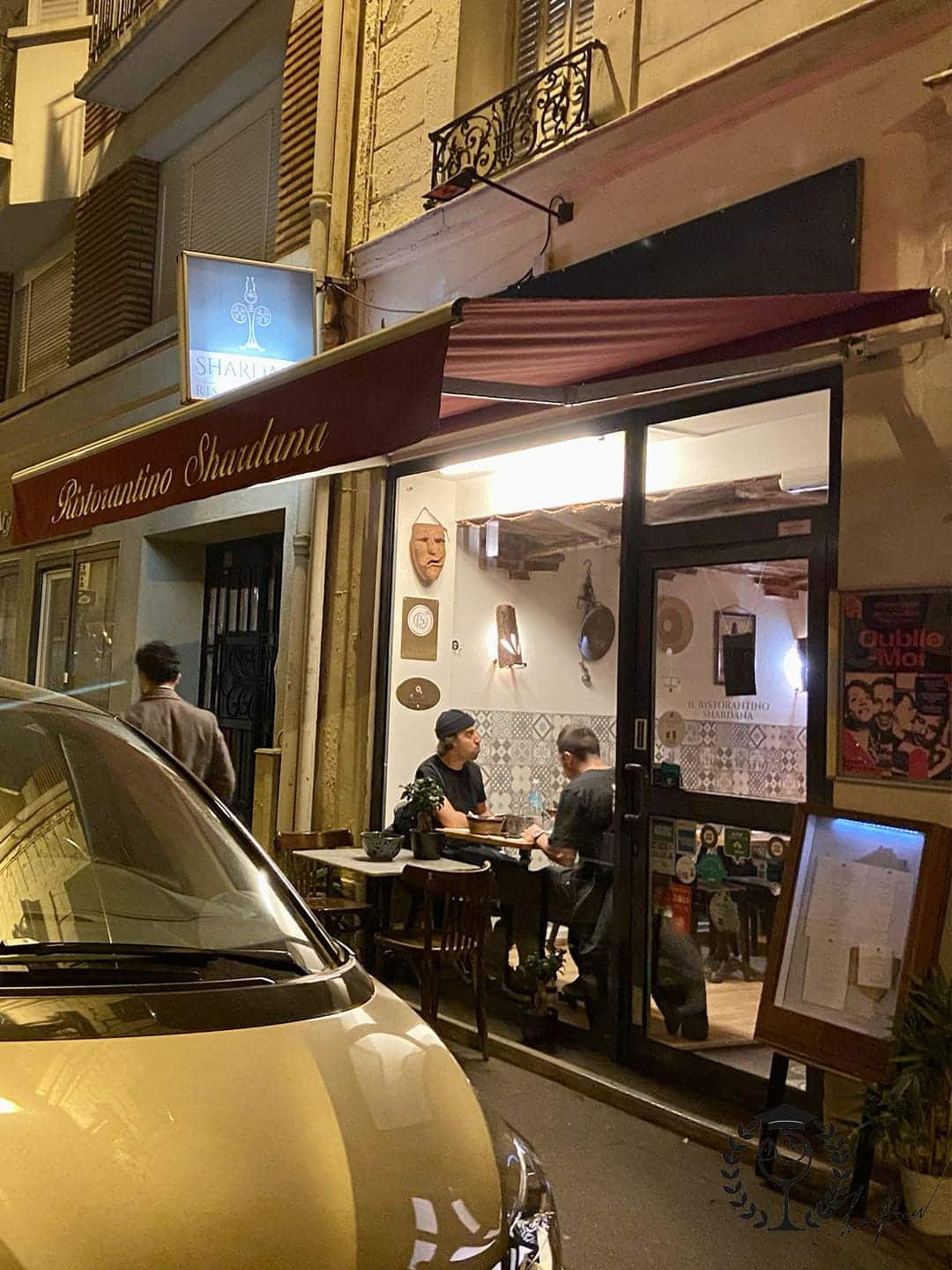 Italian restaurants in Paris: the little restaurant Shardana
I love intimate, cosy surroundings. This small Sardinian restaurant is perfect for feeling at home. There are a few well-organised tables and on the walls many references to the beloved island of the protagonists. The whole ambience exudes a feeling of warmth and cosiness... it feels really good here. The mise en place is simple and quality, with no tablecloth (as I like it).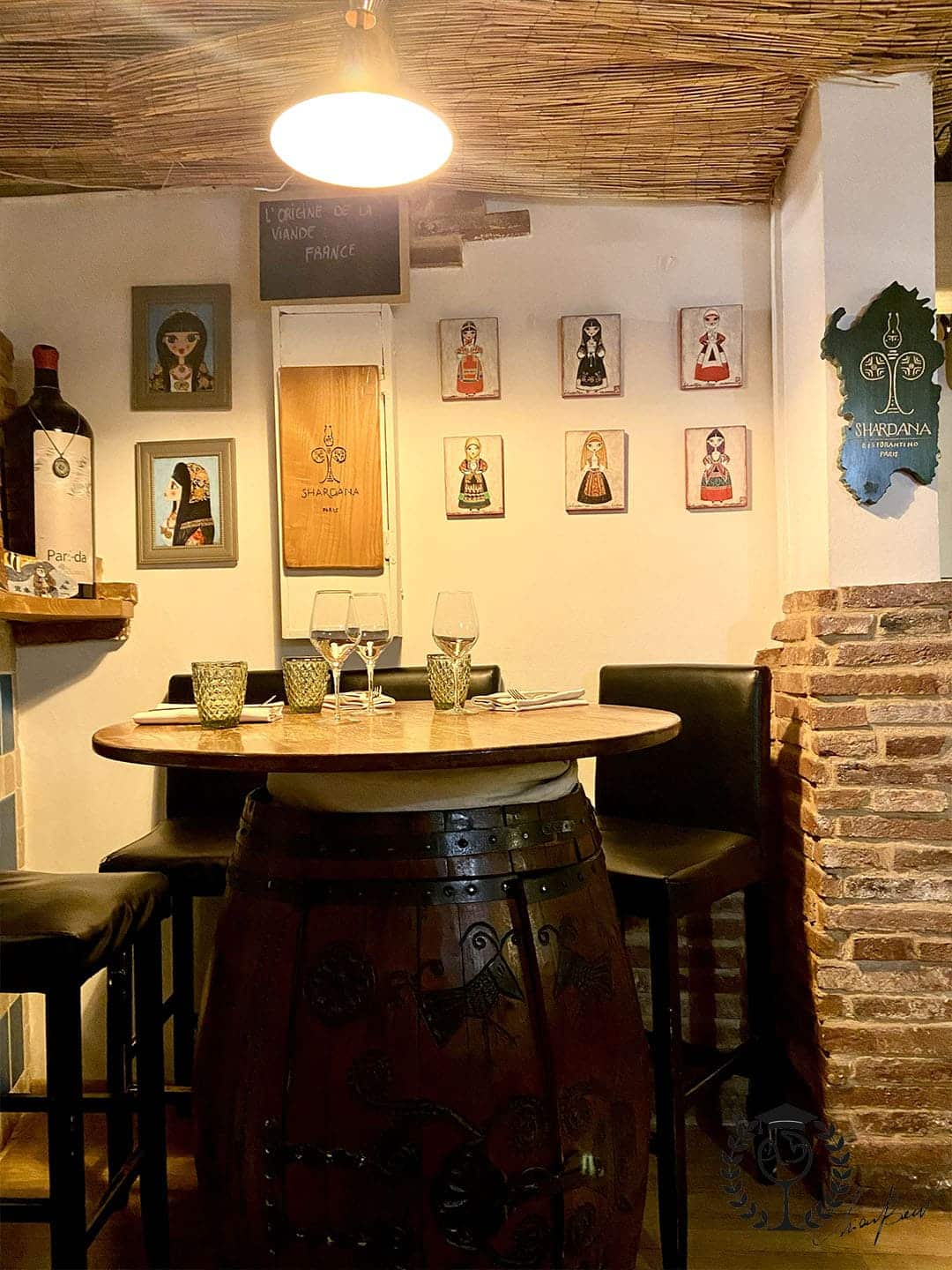 As I was fresh from 104 tastings at the Wine Paris Expo, I drank very little. I did, however, appreciate all the wines I was served, true Sardinian excellences. We started with a sparkling wine from Quartomoro, a winery I already knew and whose 'Q' classic method I had awarded as the best Sardinian sparkling wine. Even this sparkling wine on yeasts did not disappoint me: a little bit I love wines on yeasts, a little bit I am convinced that Sardinia - although not exactly a land of bubbles - reserves unexpected surprises even in this segment.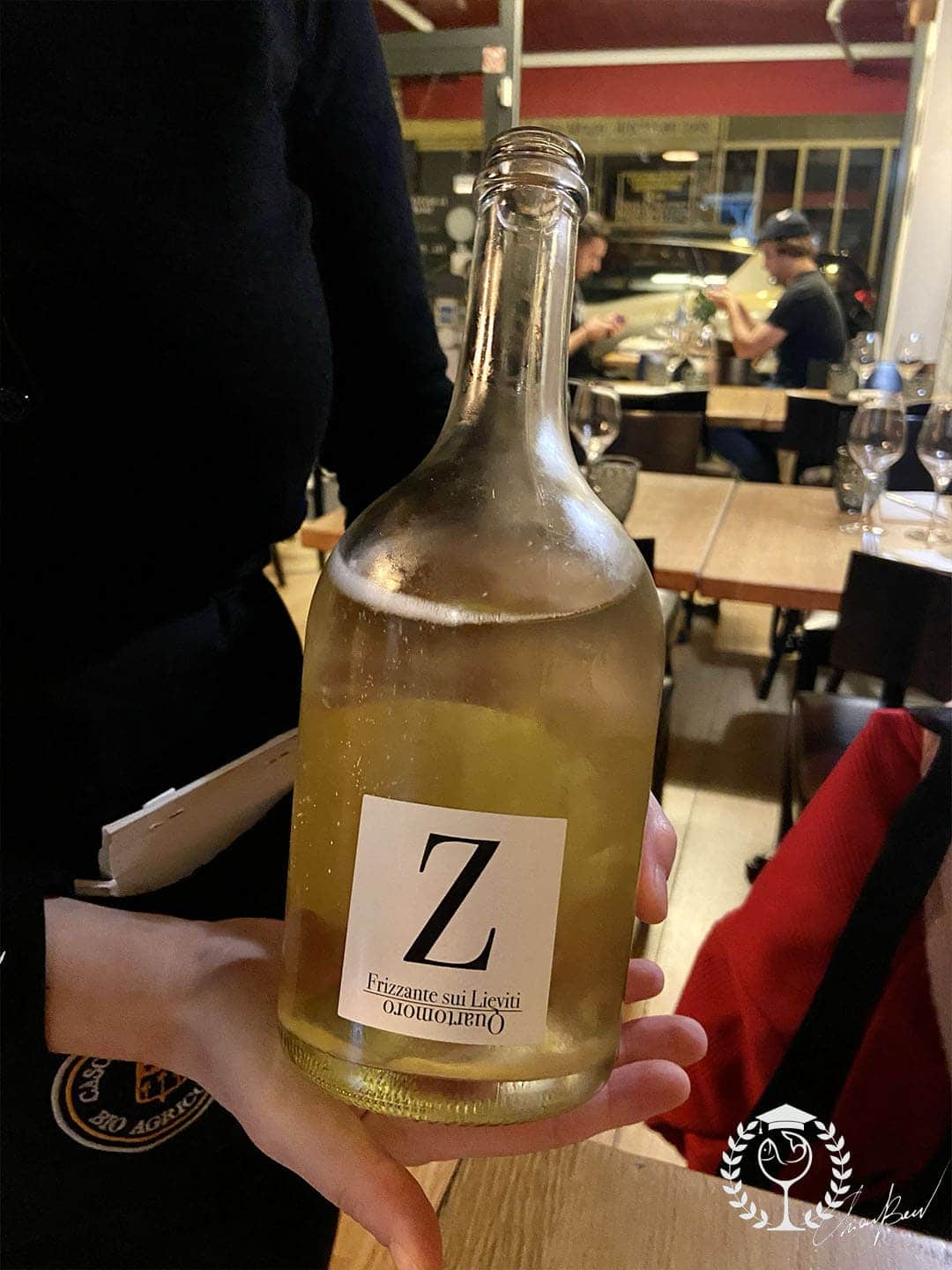 Italian restaurants in Paris: the menu at the little restaurant Shardana
Italian restaurants in Paris: the balance
Amberjack carpaccio with caramelised myrtle onions, burrata emulsion, cherry tomato confit, orange and dill oil
When the chef explained it to me, I feared for a moment that there was too much preparation and too many flavours for a delicate fish like amberjack. At the first bite, my senses were pleasantly surprised by the balance: no prevailing flavours, but all extremely clean and defined. The amberjack, raw and very fresh, is cut like sashimi very thick, which I love in order to appreciate the texture of the meat. The caramelised onions with myrtle give a pleasant bitter-sweet touch that is balanced with the slight acidity of the burrata emulsion, already defatted by the orange. Delicious!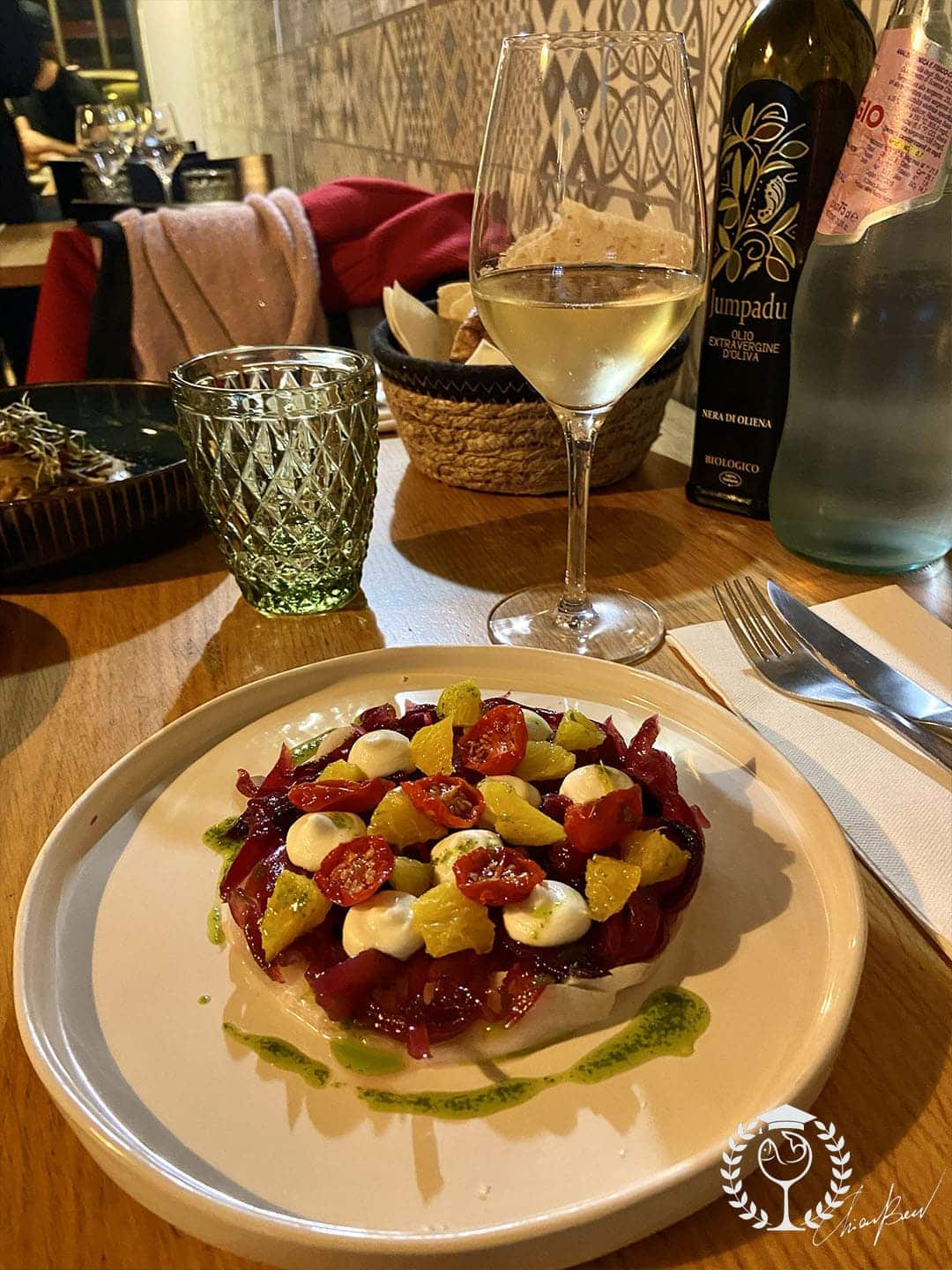 You can now subscribe to my newsletter or scroll down the page to continue reading the article!
Italian restaurants in Paris: artichokes and botargo
Scallop carpaccio with roe and artichokes
A dish or a masterpiece? I am always sceptical when it comes to artichokes, especially since at the sommelier course I was literally terrorised by the food-wine pairing and the metallic taste given by the artichoke. And yet and yet... this dish was mystical for me, my favourite of the entire dinner. The fish was very fresh and the flavours well balanced thanks to the sweetness of the scallop balanced by the bitterness of the artichoke.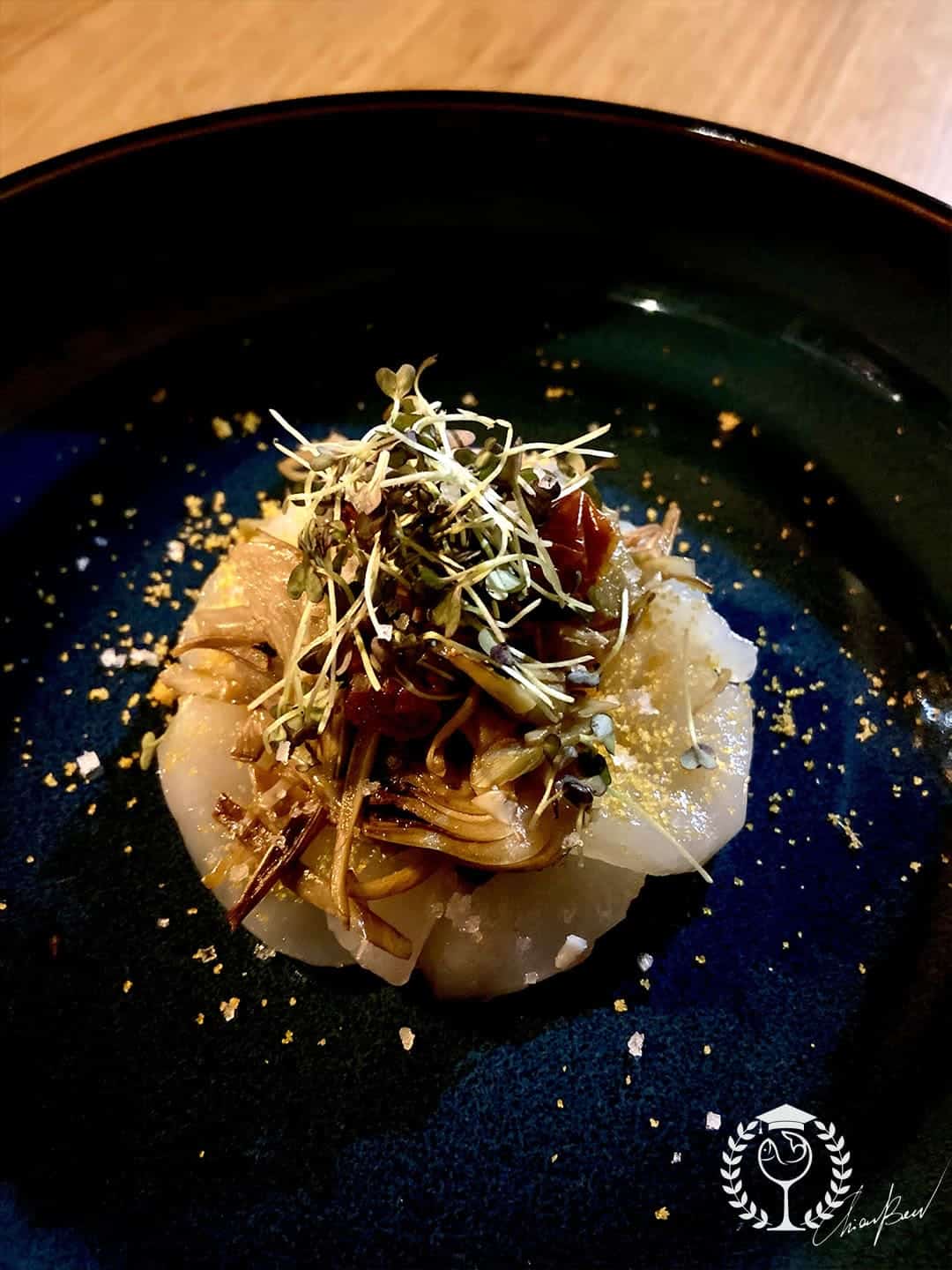 If the pairing of artichokes and bottarga is traditional in Sardinia, the idea of adding this shellfish was really a good one! In Sardinia, in fact, artichokes with bottarga are eaten as an appetiser with pane carasau, but it is also easy to find them as a condiment for pasta.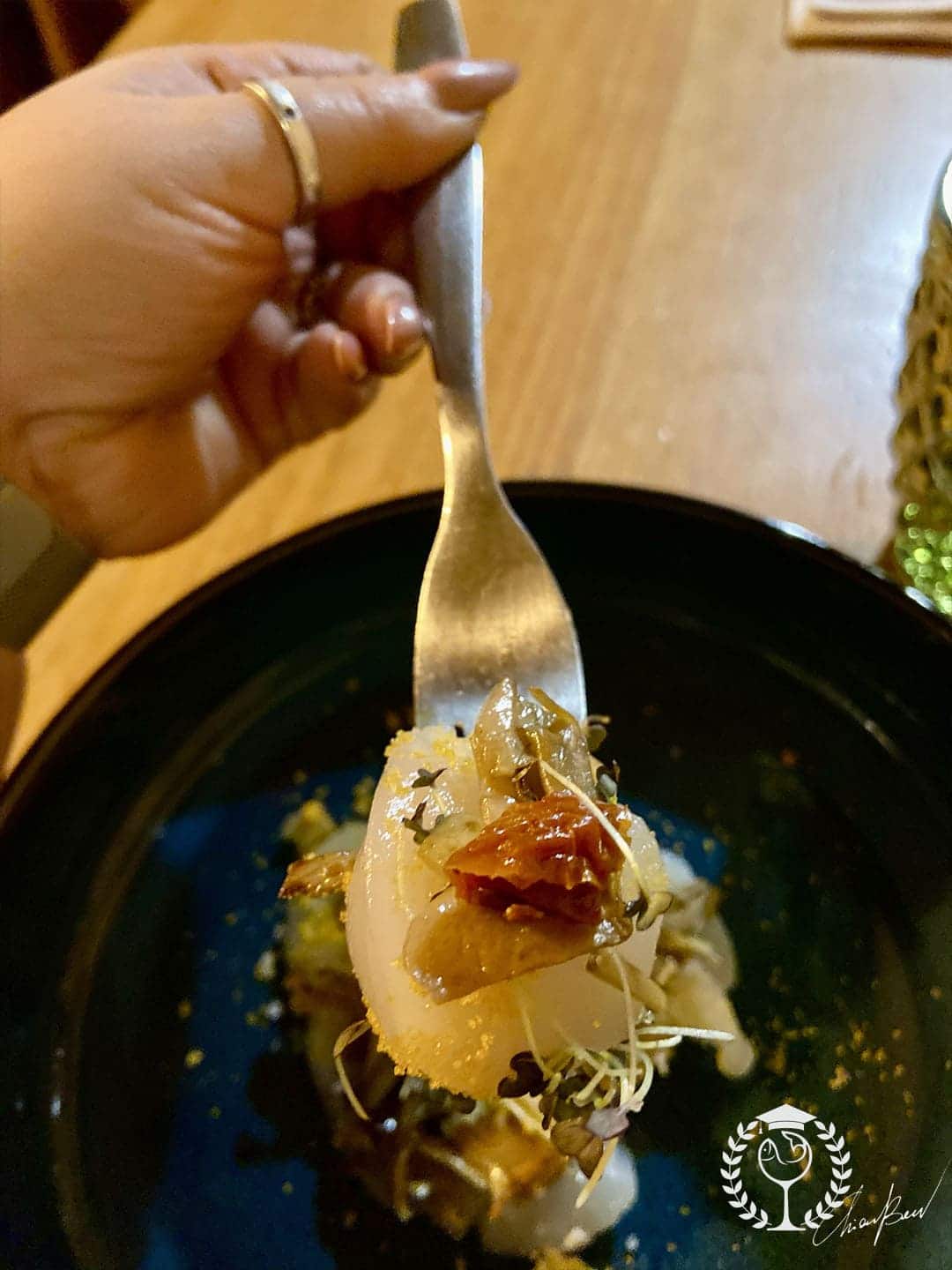 Italian restaurants in Paris: where to eat fried genius
Breaded red mullet with carasau bread and basil mayonnaise
A truly mouth-watering fried food, beautifully executed. The winning idea, however, is the crunch effect achieved with carasau bread, a symbol of Sardinia in a version I had never tried.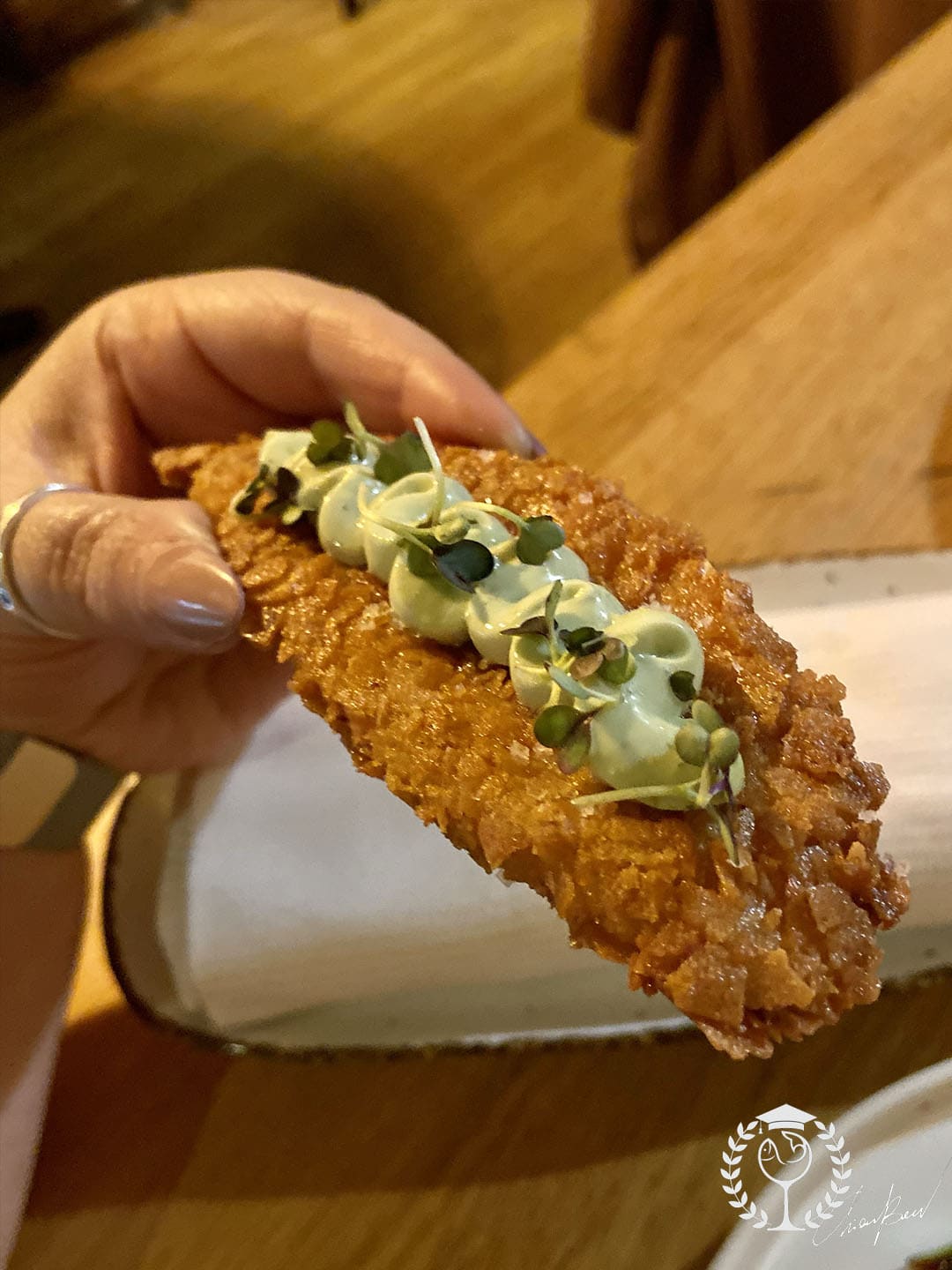 You can now buy my book Sommelier: the illustrated manual or scroll down the page to continue reading the article!
Book 'Sommelier: the Illustrated Manual' Special Edition 2022
All my notes on wine and food in one book.
Italian restaurants in Paris: a mouth-watering hot starter
Roasted scallop on creamed Jerusalem artichoke and sautéed Swiss chard with lard
I think I have eaten few dishes in my life more mouth-watering than this one. Here again, great sensory balance and impeccable combination of flavours. Scallops seared to perfection and... how delicious the chard with guanciale!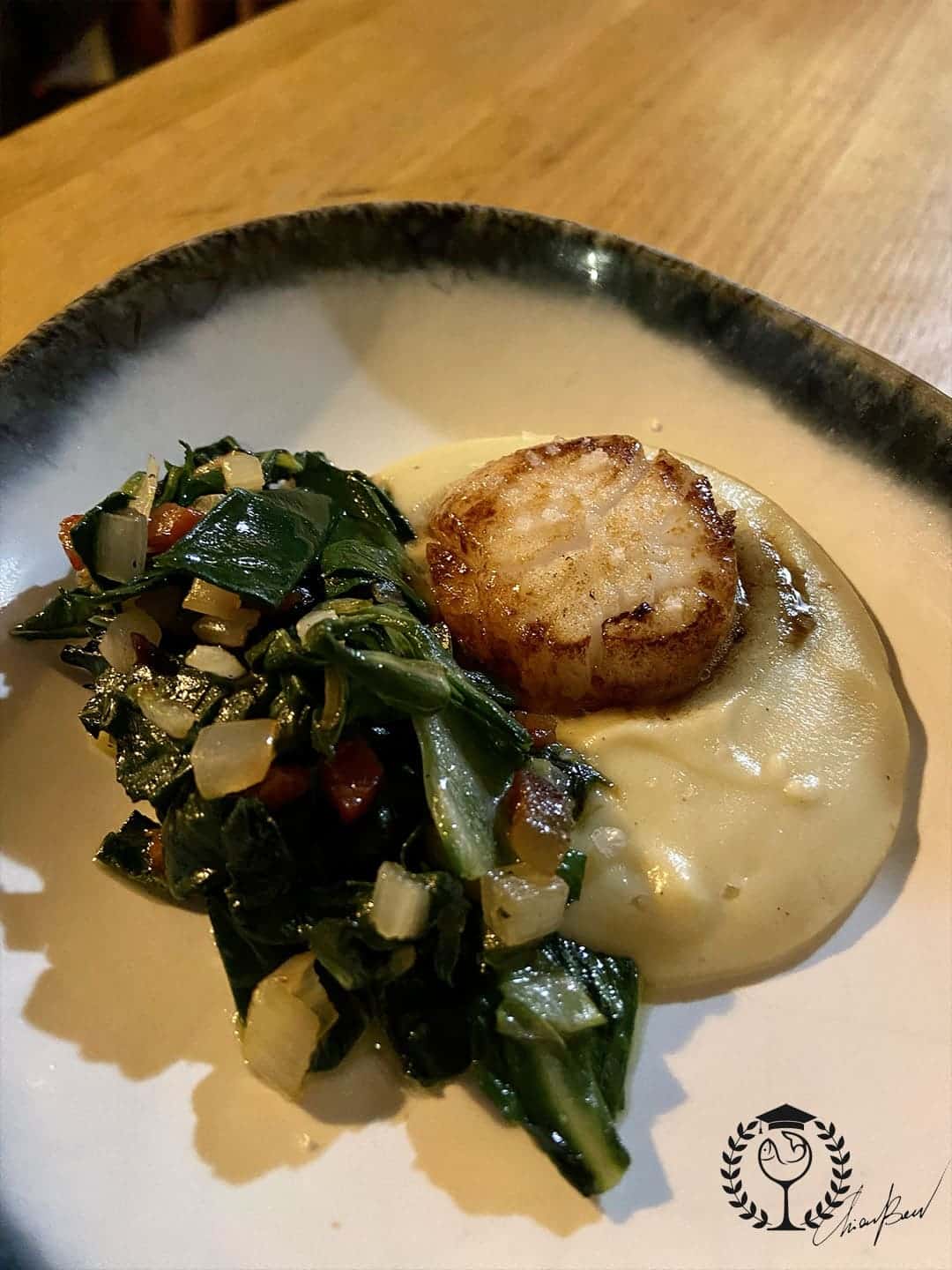 Italian restaurants in Paris: octopus
For me, octopus is always a double-edged sword: delicious, it is a bitch to prepare and serving it hard is a snap! I get it almost everywhere because I love it, but I eat it good very rarely. This one, double-cooked (boiled and roasted) was perfect. I also really liked the combination with the potatoes and truffle. The potato cream is really fluffy, it almost looks like a mousse made with a siphon... anyway a show!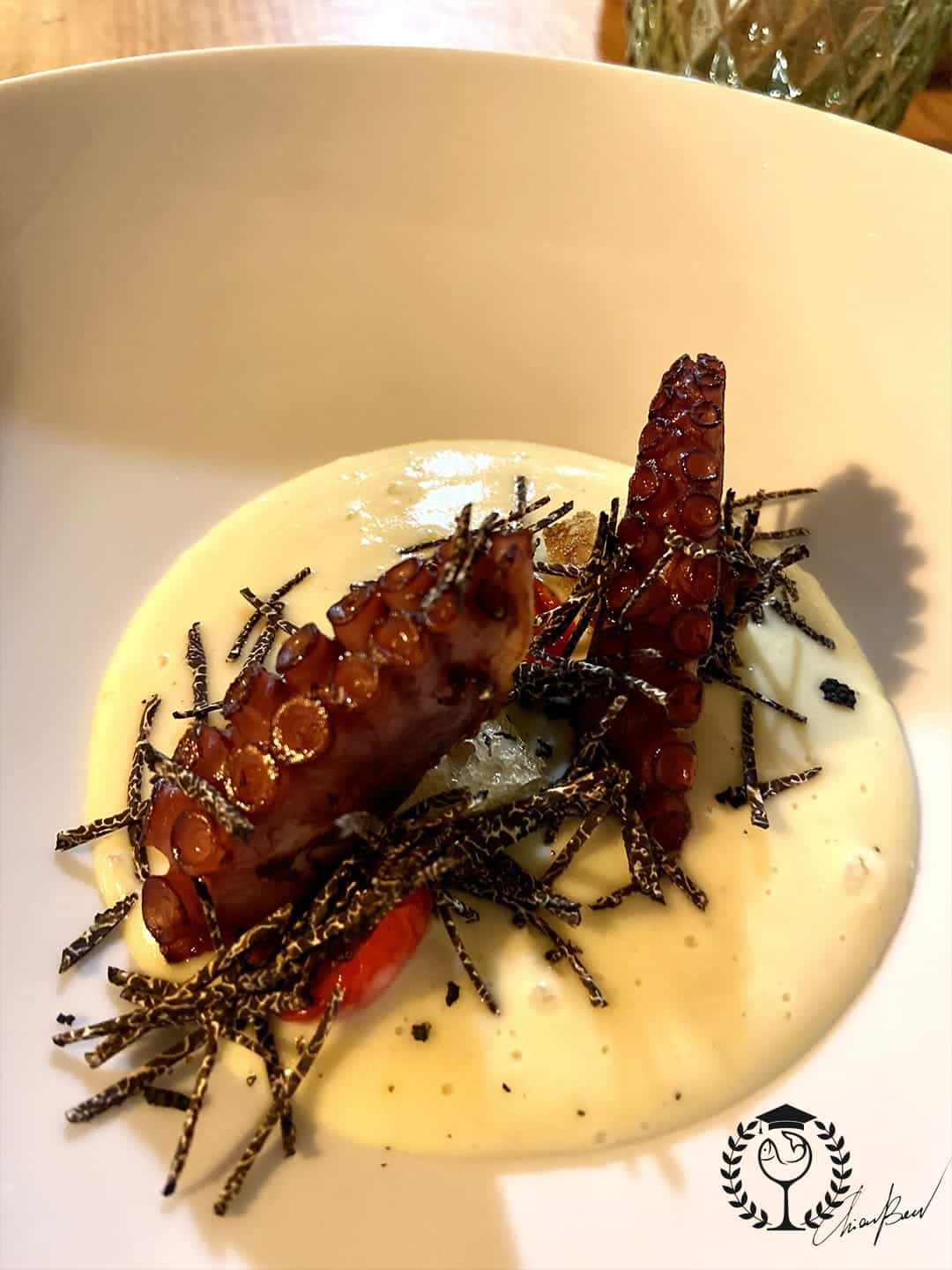 Sardinian restaurants in Paris: culurgiones del Buon Ricordo
Culurgiones ogliastrini with veal demi-glacé, cannonau and truffle 
Have you read my article on the presentation of the Buon Ricordo 2023 restaurant guide? These culurgiones were already one of the dishes I had enjoyed the most! An absolute delight...
The culurgiones is filled with potatoes and mint as tradition dictates, the mint above all being perfect for refreshing the demi-glacé that is here proposed as a delicate caramel for the culurgiones thanks to the sugars of the cannonau. The texture and cooking of the pasta is perfect. The truffle in this dish is the icing on the cake. A perfectly studied dish where Sardinian tradition is modernised and adapted to the French palate.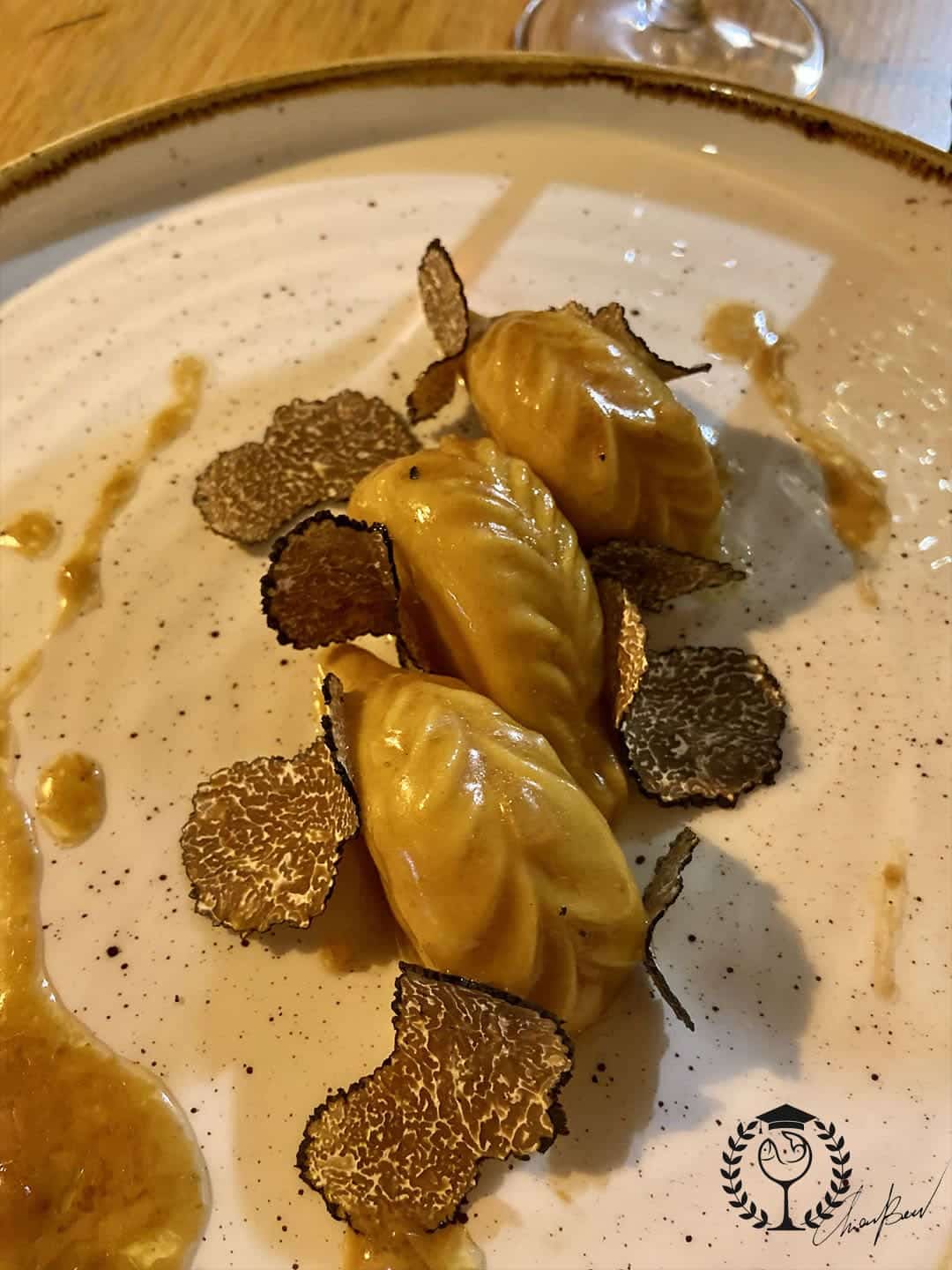 Veal diaphragm with cannonau and Jerusalem artichokes
At this point in the meal I was literally exploding and hoping it was over... but the second one arrived! 
Perfect stew, the meat pulls apart with the fork. The Jerusalem artichoke puree is delicious. I had never eaten diaphragm as a side and I admit that I wondered if it is possible to do the same preparation with mutton or lamb.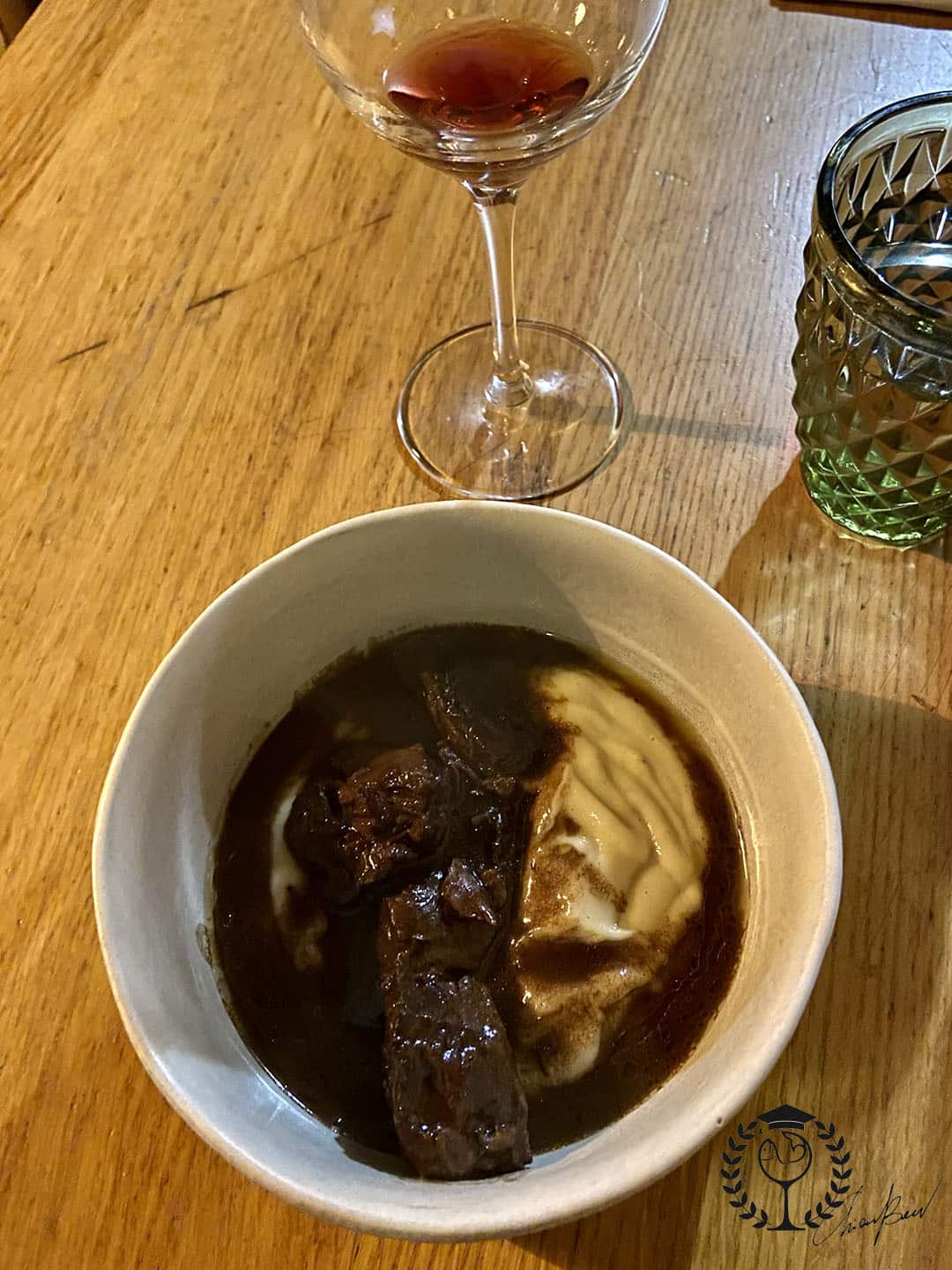 Italian restaurants in Paris: creative desserts
Chocolate and extra virgin oil mousse with melted chocolate and oranges cooked in honey
A very generous portion which I finished off, however, because the idea of this dessert is really delicious. Chocolate and oranges are a combination I adore! One definition: super chocolaty!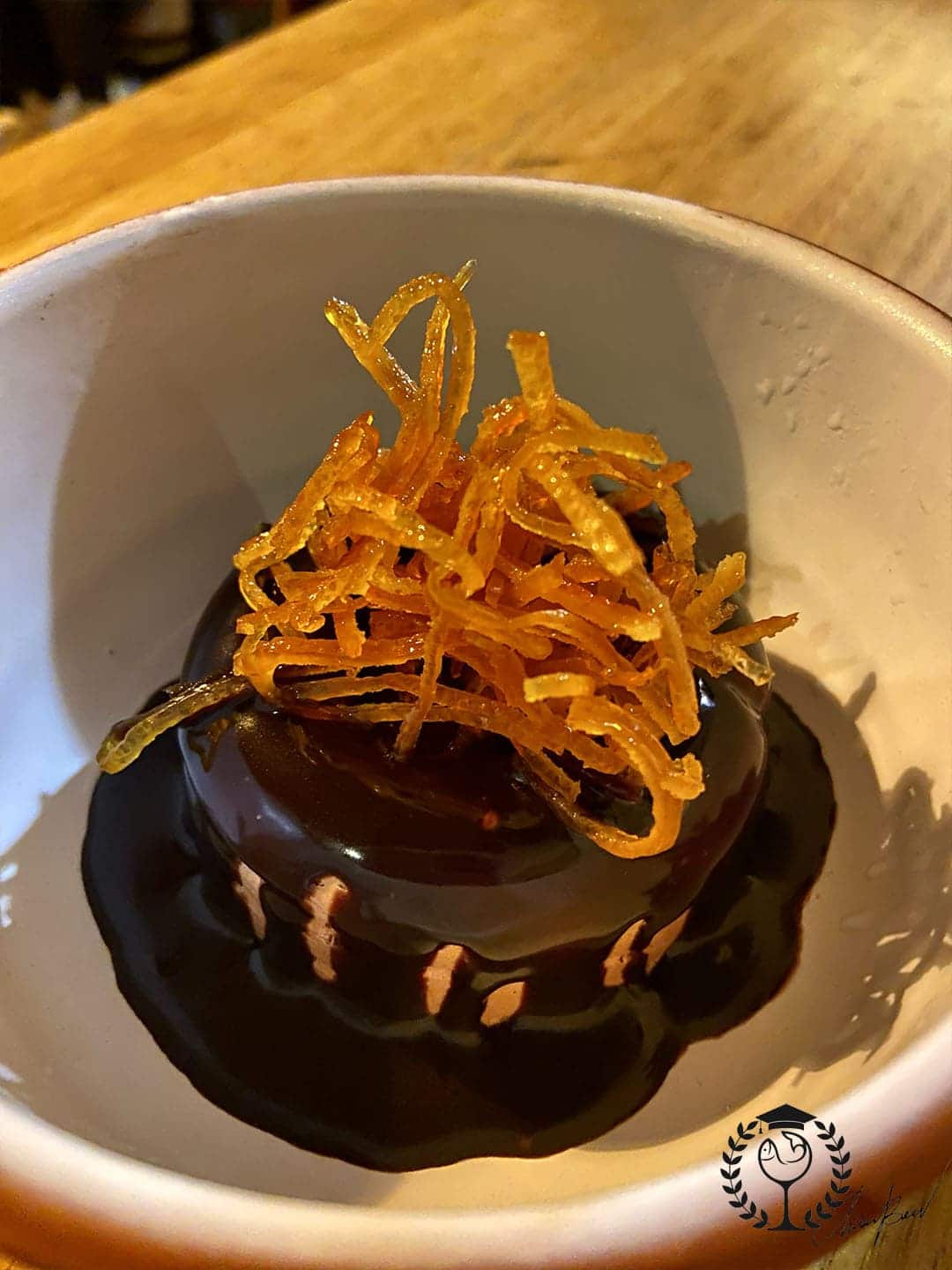 The little Shardana restaurant in Paris is an oasis of pleasure with cuisine that is as classic as it is creative and wonderful Sardinian wines. I hope to return soon to taste something new... perhaps in good company! You will find it at 134 Rue du Theatrestrategically located for the Eiffel Tower!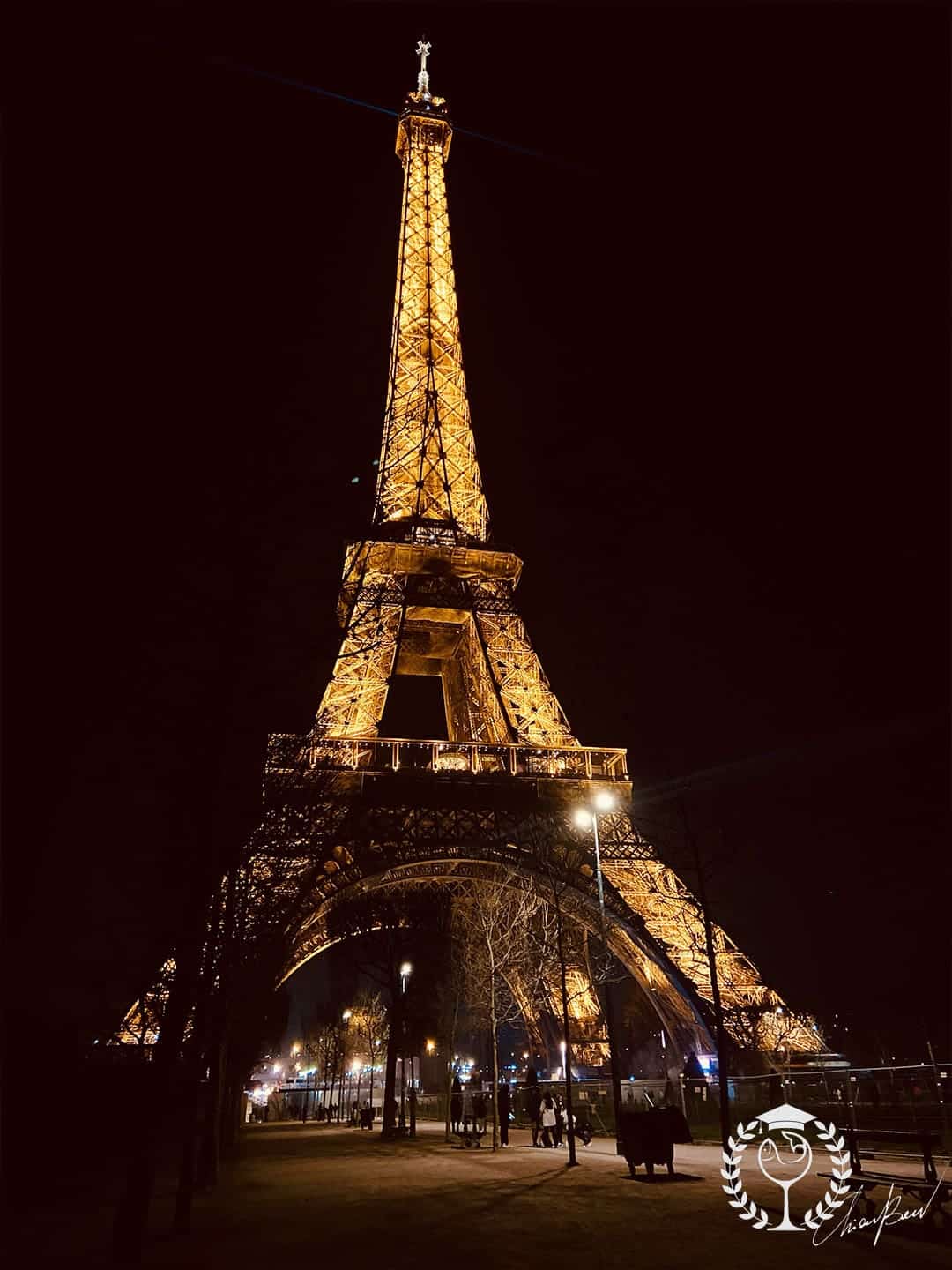 So much so that when I finished I sobered up with a nice walk to the tour and then went up to the second floor. I was very sorry that it was not possible to go up to the top floor due to renovation work on the lift... but it was still a delight!
Thanks to the chef Salvatore Ticca for this wonderful experience!
Cheers 🍷
Chiara