When you pass by the fish market, the supermarket or your local grocer, I am sure you often see the fresh squid rings (or 'noodles'). A little out of habit, we are used to thinking of the fried squid rings o breaded baked squid rings. We often don't buy them for fear that they will become chewy or difficult to cook, but with this recipe they become an main course really delicious!
The squid is a cephalopod mollusc with an inner shell that is often confused with the squid. The squid is a 'little beast' that can exceed one metre in length and weigh up to 15 kg. Commercially, it is caught and then sold fresh or frozen, whole or in pieces. From a nutritional point of view, it has few calories and mostly from high biological value protein and is an excellent source of vitamin B2. Moreover, the price per kg is among the lowest: my husband paid just €4.90 per kg at the supermarket tonight.
With my recipe you can prepare a main course with a side dish for 4 people. We who are gluttons have eaten about 2/3 of a pan and are bursting at the seams! 😄 The recipe is quick and easy and is a mixed technique between sautéing (cooking in a pan with little fat) and stewing.
To prepare the stewed squid rings you will only need a sauté pan (large with relatively low sides) not necessarily non-stick, but with a lid.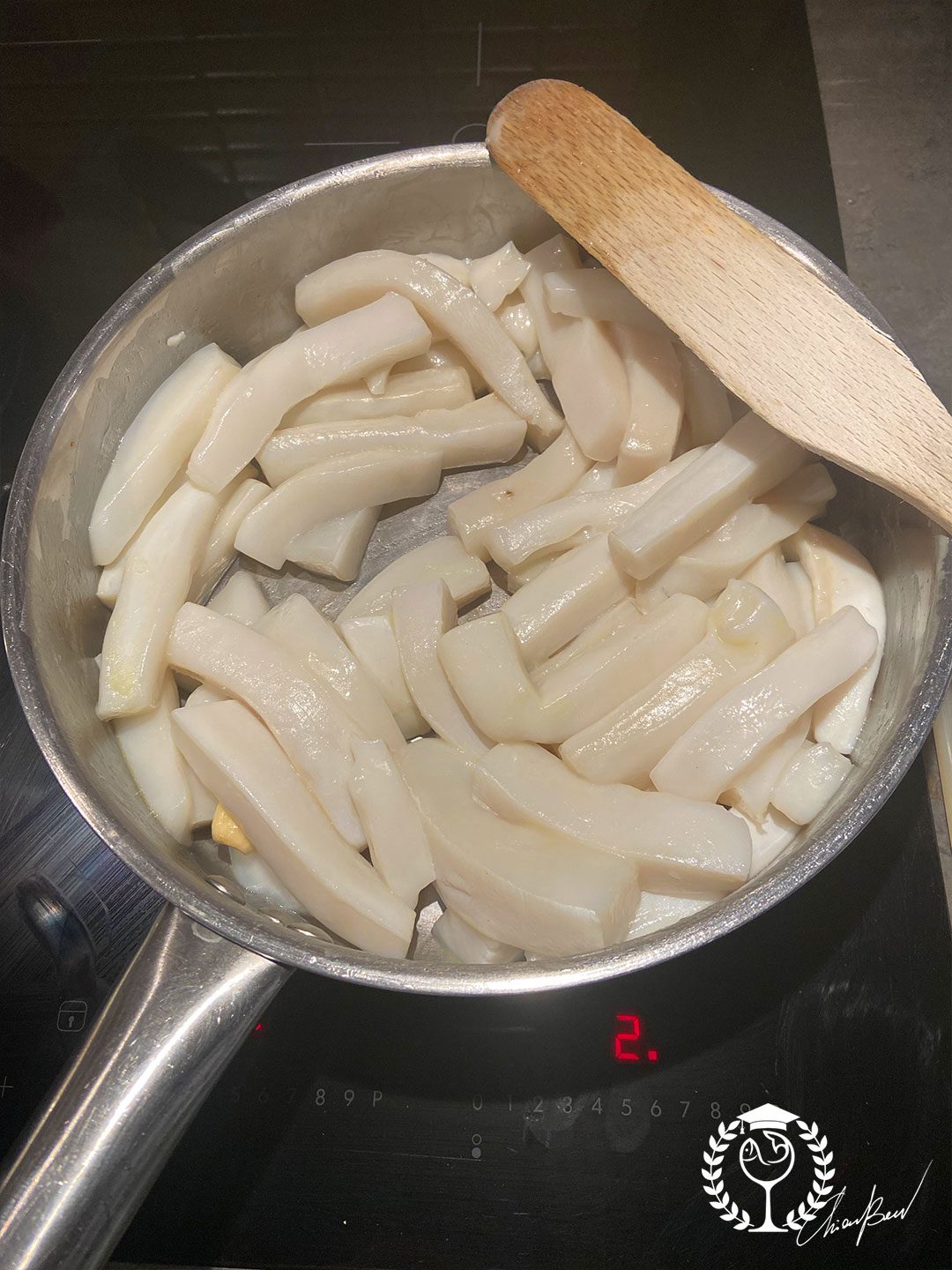 Stewed squid rings: my recipe
Ingredients for 3/4 persons
1 kg fresh squid [700 kcal].

500 g potatoes [450 kcal].

200 g lukewarm water

100 g white wine (the same as the one you will pair with) [75 kcal].

70 g triple tomato paste [90 kcal].

50 g whole milk [33 kcal].

30 g coarse breadcrumbs [90 kcal].

2 tablespoons of extra virgin olive oil [100 kcal].

1 clove of garlic [ 2 kcal]

a pinch of salt

1/2 fresh chilli pepper or the tip of a teaspoon of dried chilli pepper (optional)

a grating of nutmeg or the tip of a teaspoon of nutmeg powder (optional)
I recommend buying squid rings because they are normally made from squid that are smaller than the noodles/stripes and therefore softer. However, I prepared this recipe tonight with the strips and they literally melted in my mouth! The whole pan has 1540 kcal, so only about 380 kcal for a whole dinner if you divide it into 4, about 500 kcal if you divide it into 3! So eat this deliciousness without worrying about the scales! 😍
Now subscribe to my newsletter or scroll down the page to continue reading the article.
Squid and potato rings recipe
1. Cut the squid into slices of the same width. If you use rings, you can choose to leave them whole or cut them open and cut out strips.
2. Peel the garlic and crush it with the palm of your hand. Place it in the pan with two tablespoons of extra virgin olive oil over a low flame for a couple of minutes. Add the squid and stir continuously for a couple of minutes so that it does not stick.
3. Add the wine and let it evaporate for a couple of minutes. Meanwhile, dissolve the tomato paste in a glass of lukewarm water (200 g) and add it to the pan. Cover with the lid and turn up the heat to medium.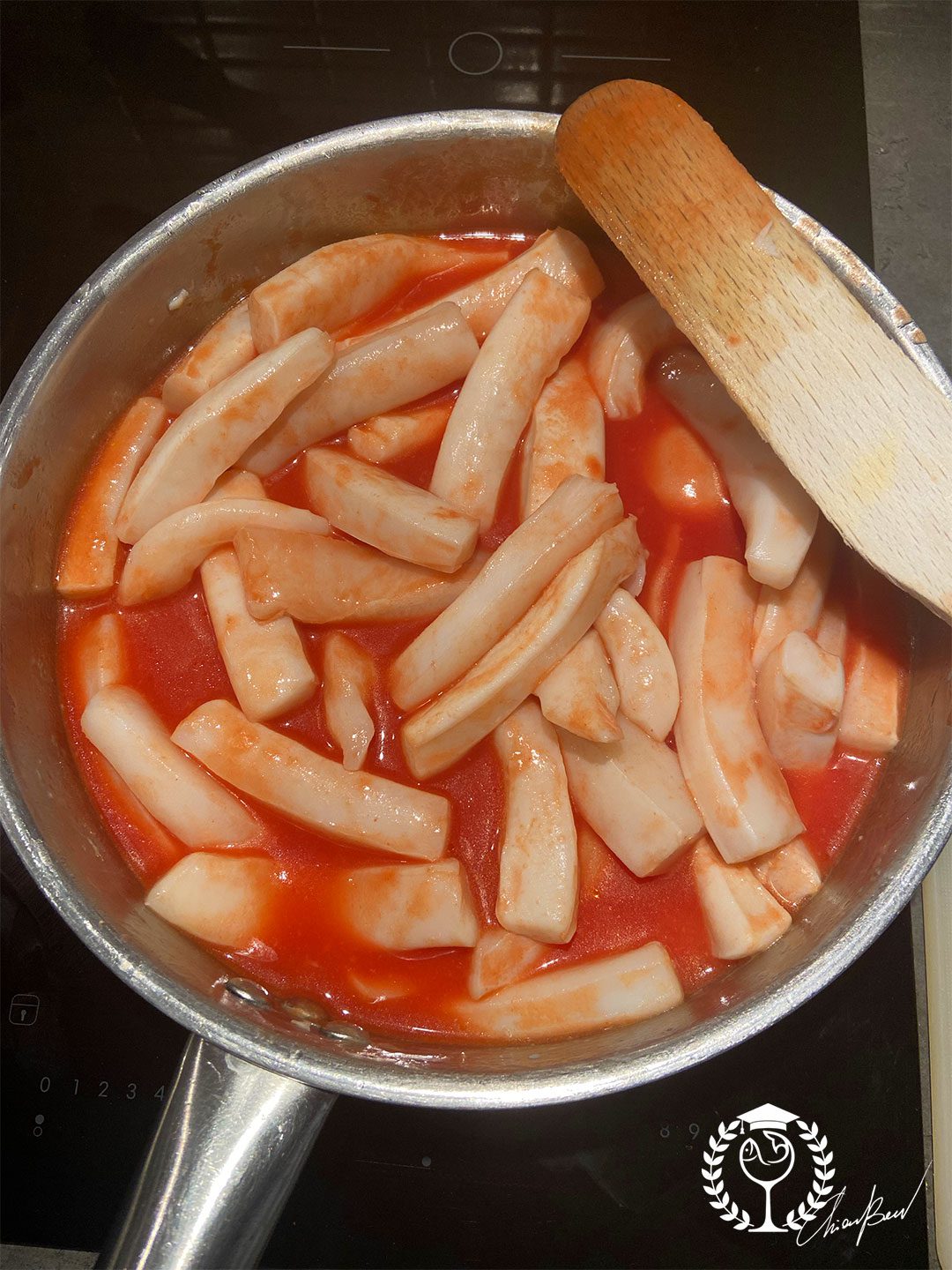 4. Wash the potatoes under running water and peel them. Cut the potatoes into small cubes (1-2 cm per side). It will take you 5-10 minutes depending on your dexterity. Add them when 10 minutes have elapsed.
5. Add milk, salt, nutmeg and chilli pepper and cover with the lid.
6. As soon as the sauce simmers, set the timer for 20 minutes.
7. As soon as the timer rings, put the lid away (you don't need it any more) and add the breadcrumbs. Cook for another 3 to 5 minutes.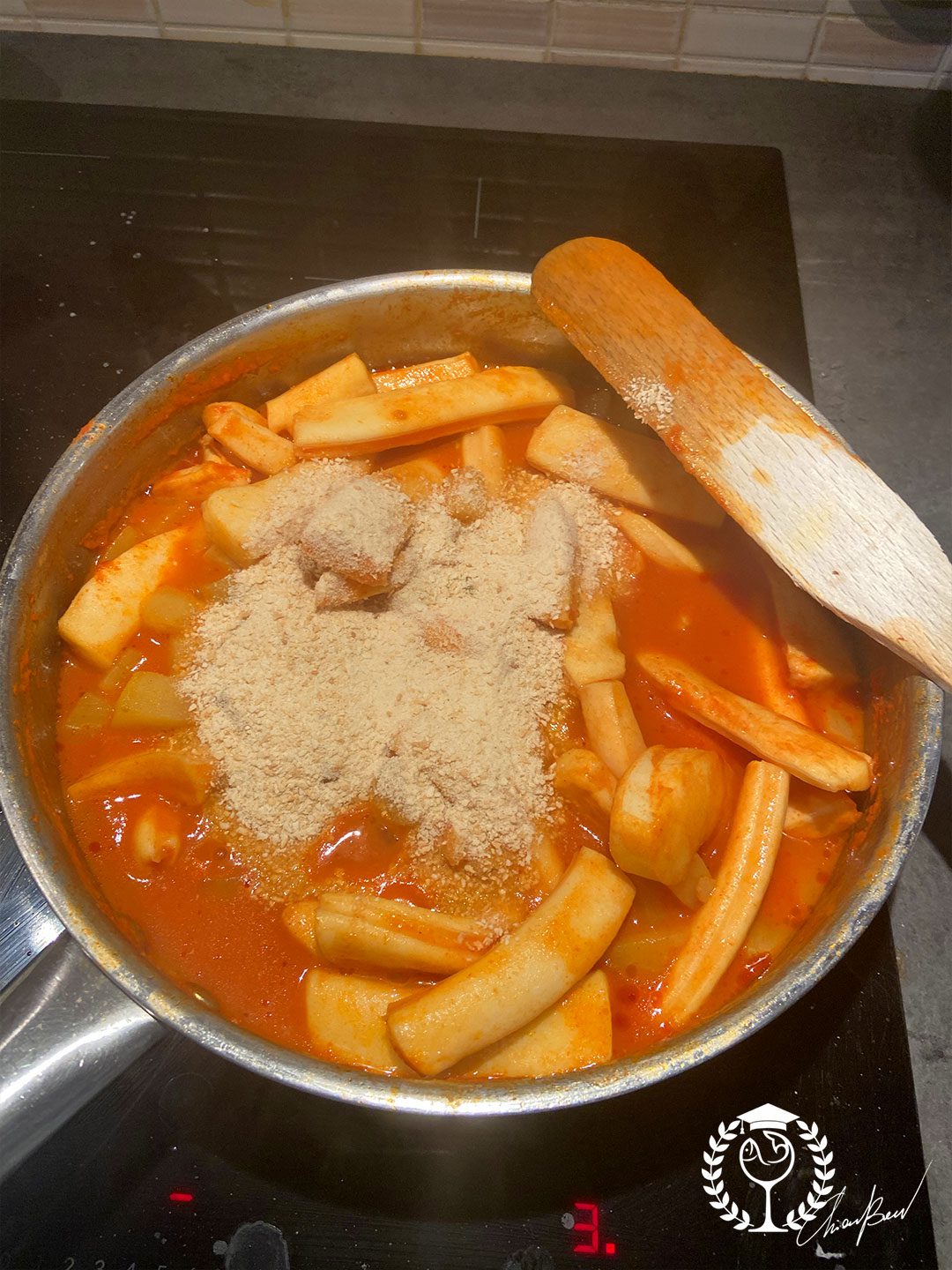 You can now buy my book dedicated to aspiring sommeliers or scroll down the page to continue reading the article!
Book 'Sommelier: the Illustrated Manual' Special Edition 2022
All my notes on wine and food in one book.
At this point, the stewed squid rings are ready! I cut a slice of bread cassettea I had done yesterday with this recipe and toasted it, then put the sauce on top like a bruschetta... really delicious!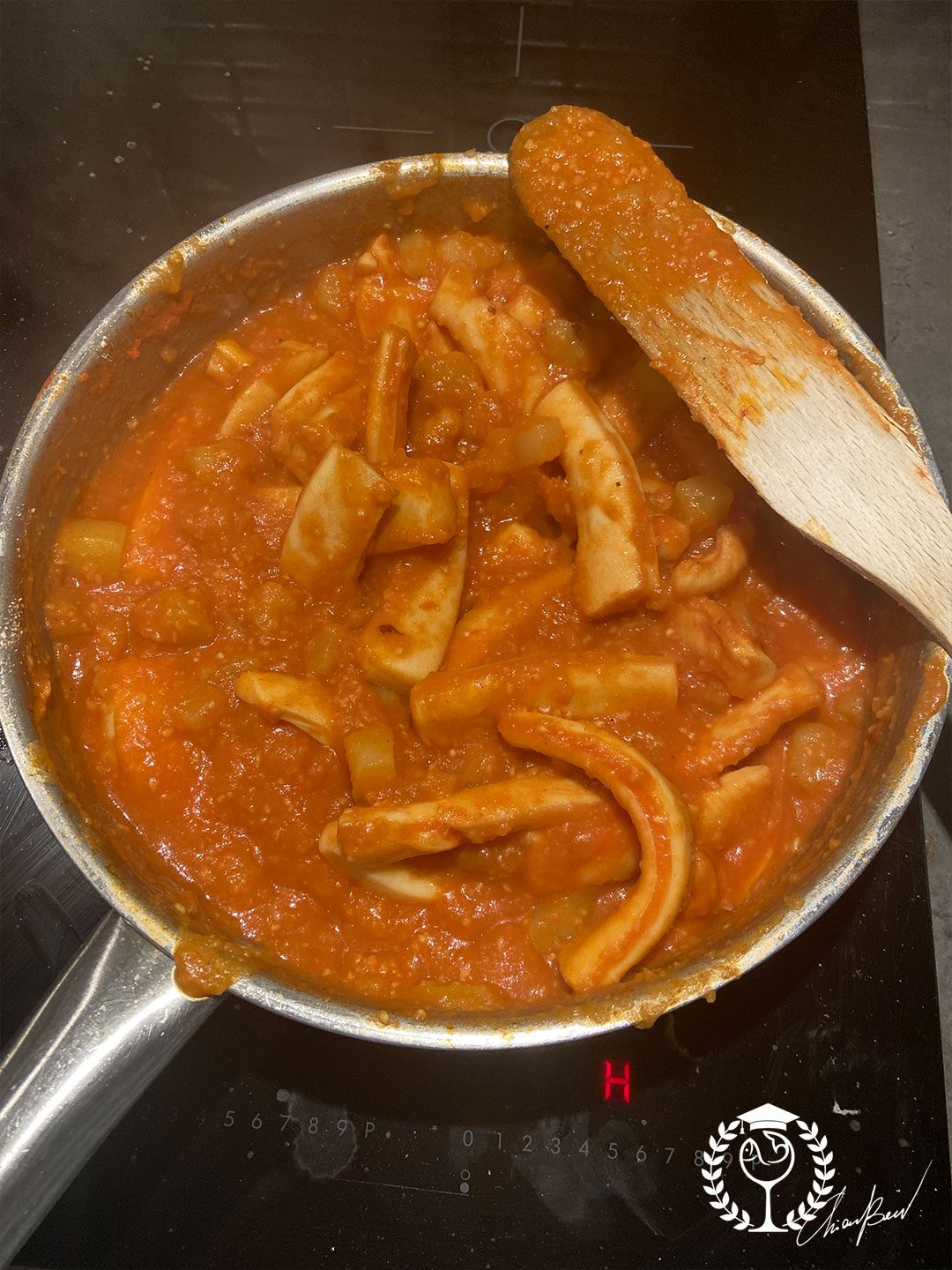 Squid and potatoes: what wine to go with it?
A structured, spicy dish with a certain sweet tendency that calls for a savoury, well-structured wine such as the Sicilia DOC Grillo 2020 Cantine Amato 🤩 My tasting. It is an intense straw yellow with golden reflections, consistent. The nose is vertical with notes of fresh and candied pear, dill seed, coriander, black pepper, graphite. In the mouth it is consistent, very savoury, fresh, soft and with a good structure. Overall balanced. Long citrus finish.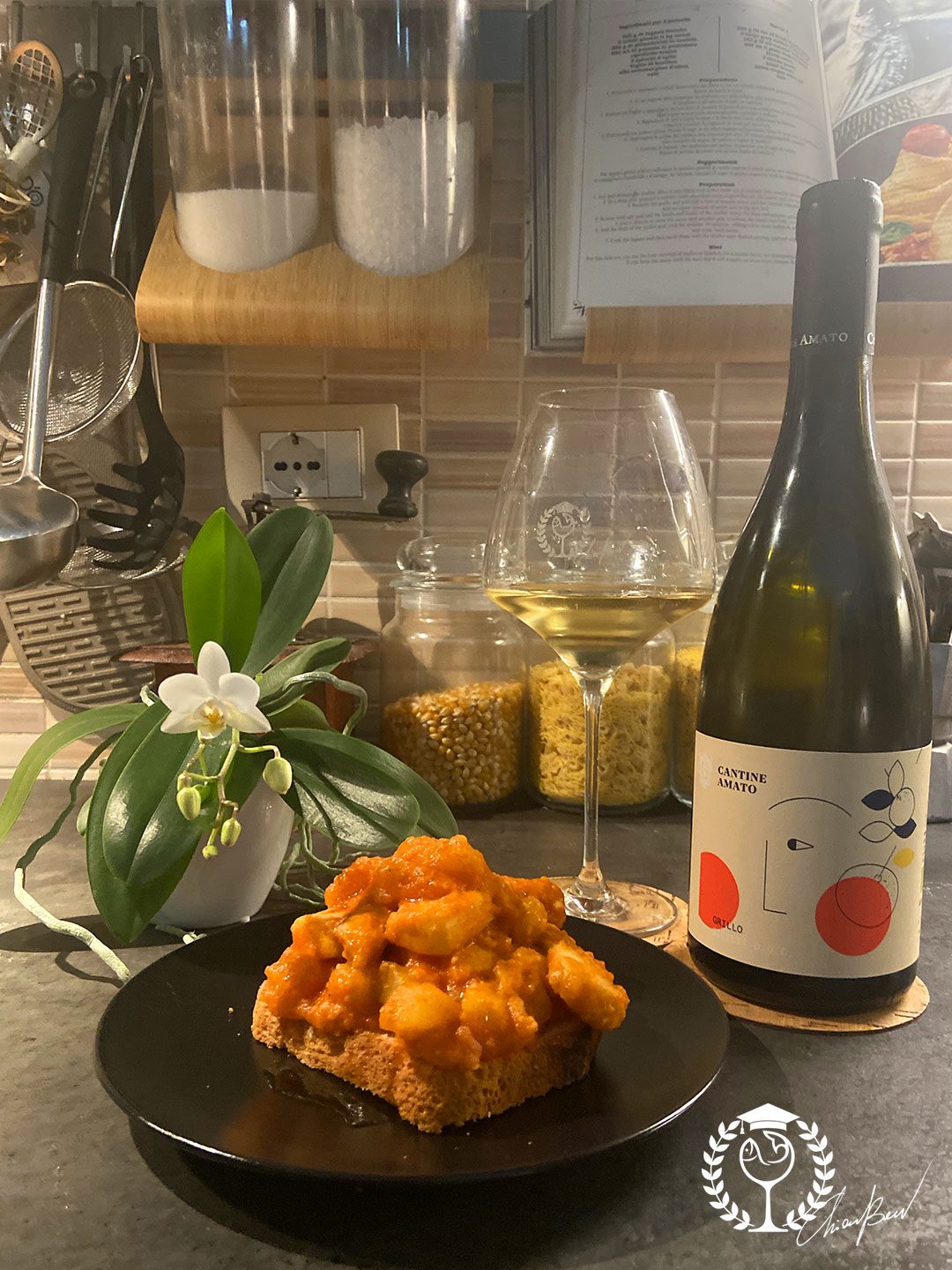 I hope that my recipe with squid you liked it. My hubby said it's his new favourite dish, but he says it quite often with everything I cook for him... 😄
Cheers 🍷
Chiara