As of today we are in the red zone again, so I'd say we have plenty of time to cook. I don't know about you, but I really need sweet cuddles because it's really a difficult time. Then on 31 March I have two exams at university and, while for one I'm super relaxed because it's a subject I love (Ecology), the other I already know will kill me (Statistics). So I decided to prepare a mascarpone filled roll to spoil us a little. I thought I would flavour it with the MI.TO cocktail of Carpano that I received a while ago in a package from bevo.it... and it was really a super delicious idea! So consider this article 'off the calendar', but I loved this recipe too much and I definitely wanted to share it with you! Carpano's 'Ready to Drink' cocktail MI.TO is 1/2 of Punt e Yes and 1/2 of Organic Bitter and is very aromatic, with notes of cinchona and orange peel. So if you cannot find this cocktail or want to make it with some liqueur or distillate you have at home, I recommend Alchermes, Contreau or Brandy. Remember that if you like a dessert with a less pronounced alcohol, you can dilute the liquid with which you will brush it with a little natural water according to your taste.
All you need to prepare this roll is an electric mixer and a weighing scale to weigh the very few ingredients I used... so it's really a recipe for everyone! I can't tell you how long it will keep in the fridge because my husband literally devoured it in less than 24 hours... lucky him not to gain weight! 😅
Ingredients for one stuffed roll of 10 portions (generous):
For the biscuit dough to be rolled:
4 whole eggs at room temperature
150g caster sugar
100g of 00 flour
35g of bitter cocoa
MI.TO Carpano for wetting
For the filling:
500g mascarpone
50g icing sugar
5 tablespoons of MI.TO Carpano
Now subscribe to my newsletter or scroll down the page to discover my foolproof recipe for preparing this stuffed roll!😉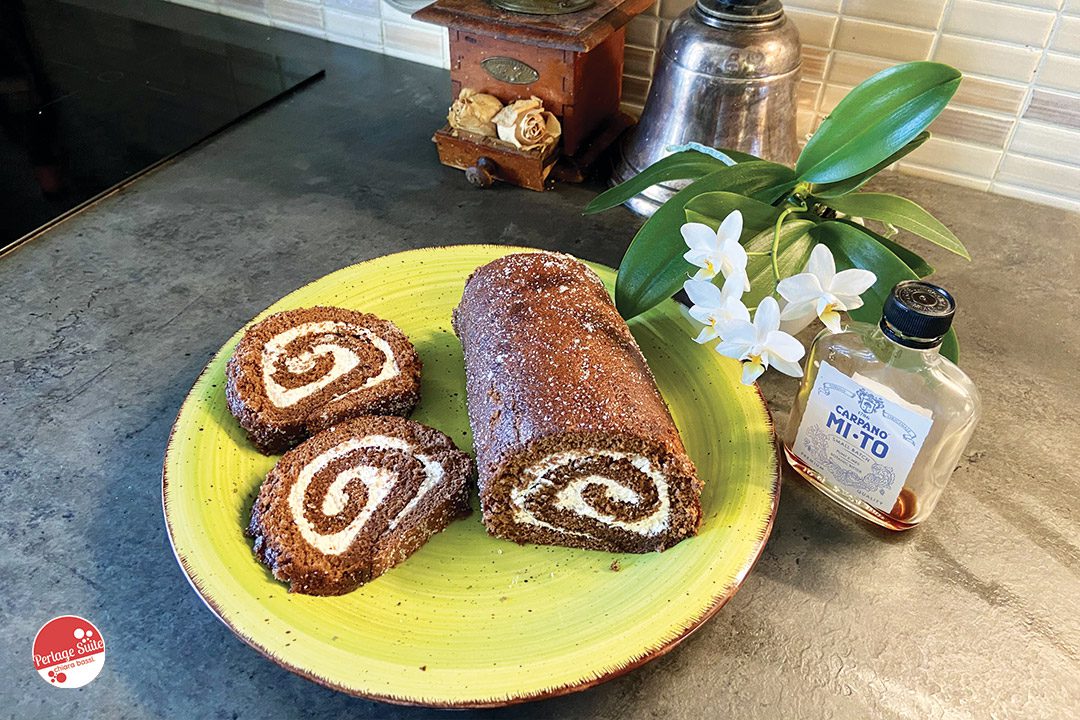 Preparing the stuffed roll
Put the 4 eggs and 150 g of caster sugar in a bowl (you can add a pinch of fine salt if necessary) and whip at high speed with an electric beater until you have a voluminous, creamy and light-coloured mixture (about 5 minutes).
Add the sifted flour and cocoa and incorporate them, stirring with a spoon from the bottom up to incorporate air. Mix very carefully until the mixture is evenly coloured and bubbles.
Turn on and preheat static oven to 220°C.
Take a baking tray (the kind that comes inside the oven) and spread baking paper across the width. Pour in the dough a little at a time and shape it as rectangular as possible. You will end up with a rectangle that measures approximately 38×32 cm, but if it doesn't measure exactly like this, don't worry... it's approximate! When the oven is at temperature, bake in the middle shelf for 7 minutes. When you take the biscuit dough out it may have some puffy parts, don't worry it will level out in a few seconds with the temperature change.
Cut another piece of baking paper and sprinkle a spoonful of caster sugar on it.
Fold the dough onto the other piece of baking paper so that the biscuit dough is between the two pieces of baking paper.
Gently lift the top layer of baking paper (the one you used during baking), taking care not to break the biscuit dough. 
Brush with MI.TO Carpano, if you find it too strong you can dilute it with a little water. 
Roll the dough on the short side with the help of the 2 layers of baking paper, trying not to break it and holding it as tight as you can.
Wrap the roll in foil, covering it tightly, then refrigerate for at least 1 hour.
Prepare the mascarpone cream. Put the mascarpone, 50 g icing sugar and 5 tablespoons of MI.TO Carpano in a bowl. With the electric mixer at high speed whip for about 5 minutes until it becomes a thick cream.
Take the roll out of the fridge and remove the foil, then unroll it and remove the top layer of baking paper.
Brush again with MI.TO Carpano. Pour in the mascarpone cream and keep it flush in the side edges, while in the upper and lower edges leave 3/4 cm free in order to close the filled roll easily. In the two edges that you leave free brush more MI.TO Carpano, it must be quite moist!
Roll the dough gently and shape it with your hands, keeping the clasp facing downwards. Gently cut the first slice on both sides, taking care to use a very sharp and perfectly clean knife, absolutely not serrated! Then place the roll in an airtight container and refrigerate at least 1 hour before serving. When serving, you can sprinkle icing sugar or bitter cocoa on top... or for an even more delicious touch you can melt some dark chocolate in a bain-marie and pour it over it. In this case you will have to wait for the chocolate to cool down before serving, perhaps put it in the fridge for another hour or so!
I recommend pairing this cake with the same fortified wine/liqueur/distilled spirit you will use to make it! I used MI.TO Carpano, but it would also be delicious with marsala, alchermes, brandy, contreau and rum!
Have a good cuddle... remember it will be OK, but in the meantime let's drink and eat! 🌈🍰🍸😋
Cheers🍷
Chiara
P.S. Have you seen that strange bell-shaped object in the photo? It was the first gift my husband gave me, and if you want to find out what it is, I suggest you read about it "Town Crier Biell: Have you ever heard of the Crier? 🤔an article dedicated to Mixology enthusiasts!