Today I decided to talk about my absolute favourite dish: spaghetti carbonara! At home I always have yellow eggs, guanciale, pecorino romano, black pepper and spaghetti alla chitarra... for me these are the only ingredients needed to make it delicious! It is also a dish to which I am sweetly attached, because it was the first recipe I cooked for my boyfriend... and I owe it to him to finally 'educate' myself on this dish that I have always believed to be a child of traditional Latium cuisine! So, since I won the Millésima Blog Awards 2017 in the wine & food pairing category for daring in a pairing with oystersI want to propose to you again this time a combination that is perhaps a little different... hoping I will still live up to the prize 😉
These days I am in Rome (and then in Palermo for a marketing course) at my best friend's and I decided to cook him spaghetti carbonara for his birthday... for which I found a really perfect food-wine combination!
A bit of history:
Spaghetti alla carbonara is so good and famous that a real dispute has arisen over its origins. Talking to Davide a few days ago, it even emerged that his father was a Romagnolo: is it possible that I am from Romagna and knew nothing about it? What is certain is that Carbonara contains the two ingredients of the American breakfast: eggs and bacon. That is why I am certainly more likely to believe the hypothesis that considers this dish an invention of American soldiers who seasoned Italian pasta with the ingredients they were most familiar with: bacon and yolk powder.
I am convinced that the question 'do you use lard or bacon?' has the same precision of answer as the question 'was the chicken or the egg born first?'... and that barring miracles we will never find an absolute truth. Maybe the coalmen of the Apennines invented it, maybe a cook cooking for the Americans invented it, or maybe it was simply invented by the soldiers themselves. But in the end, is knowing the father of the original recipe for spaghetti carbonara so important? For me yes, but only to say thank you! 😄
However, Roberto Gualandi, the chef who called himself the inventor of carbonara, used cream in its preparation. An acceptable choice at the time, when powdered egg yolks were used - mainly for reasons of availability and conservation. Cream became practically necessary to obtain a delicious cream. Today I do not agree with the addition of cream, in fact I consider it the death of the dish! Those who use it do not take into account that today we use (I hope) fresh eggs. To get a creamy carbonara you simply have to mix the egg well at the end in a bowl in a bain-marie (in my case it was not needed thanks to the legendary lamb saucepan...). However, I discovered that it is pancetta that is included in the original recipe, and not guanciale as I always believed. Since I strongly believe that the beauty of everything lies in the richness that comes from the union of two different points of view, I decided to make half pancetta and half guanciale for the preparation of this carbonara. The result exceeded all expectations!
Spaghetti Carbonara: Recipe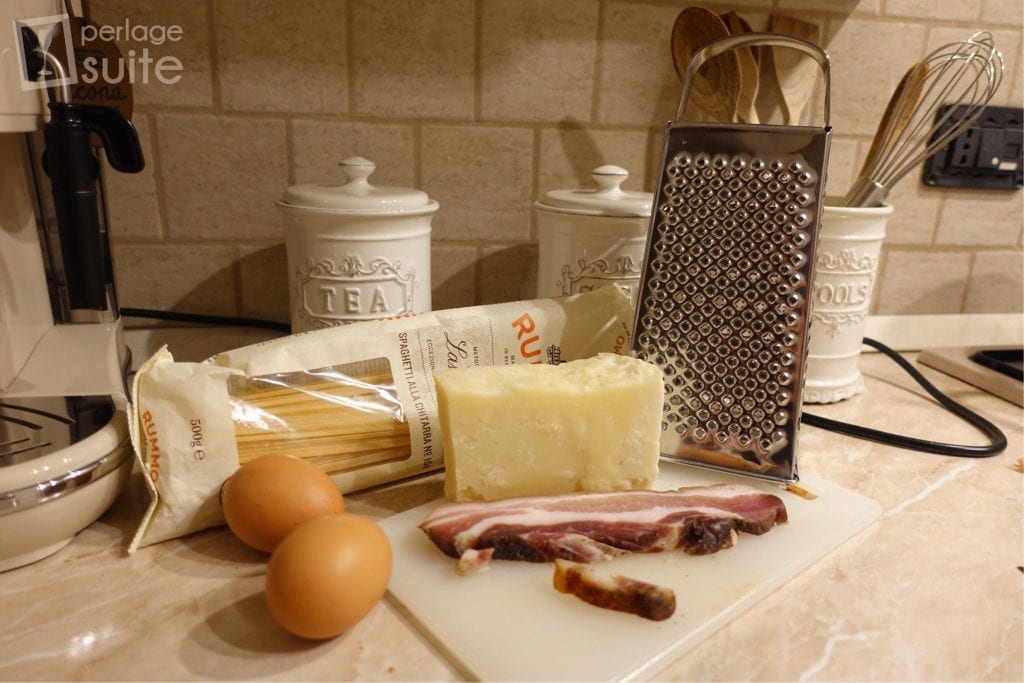 Ingredients x 2 (average ravenous people)
250 grams of spaghetti alla chitarra (use a good pasta, such as Rummo or Afeltra);
80 grams of bacon (the good kind, not the supermarket kind that I'll never understand why they insist on calling bacon...) in one piece - if you can't find it, double the amount of guanciale;
80 grams of guanciale di amatrice (in one piece);
4 medium yellow egg yolks (when I see faded pasta carbonara, I get very sad...)
40 grams of pecorino romano
salt and pepper Q.B.
What you need to cook it:
iron pan for cooking pasta
low-sided aluminium pan for browning guanciale and pancetta (I used this: wonderful! As soon as I get home I'll buy it on Amazon too because the result is really different! Here's the link: Pentole Agnelli ALMR111024 Professional Aluminium Line 5 mm, Radiant Pan, 24 cm)
an aluminium bowl for beating the egg yolks with the pecorino cheese
a tongs for draining the pasta so that it also takes up very little cooking water
2 forks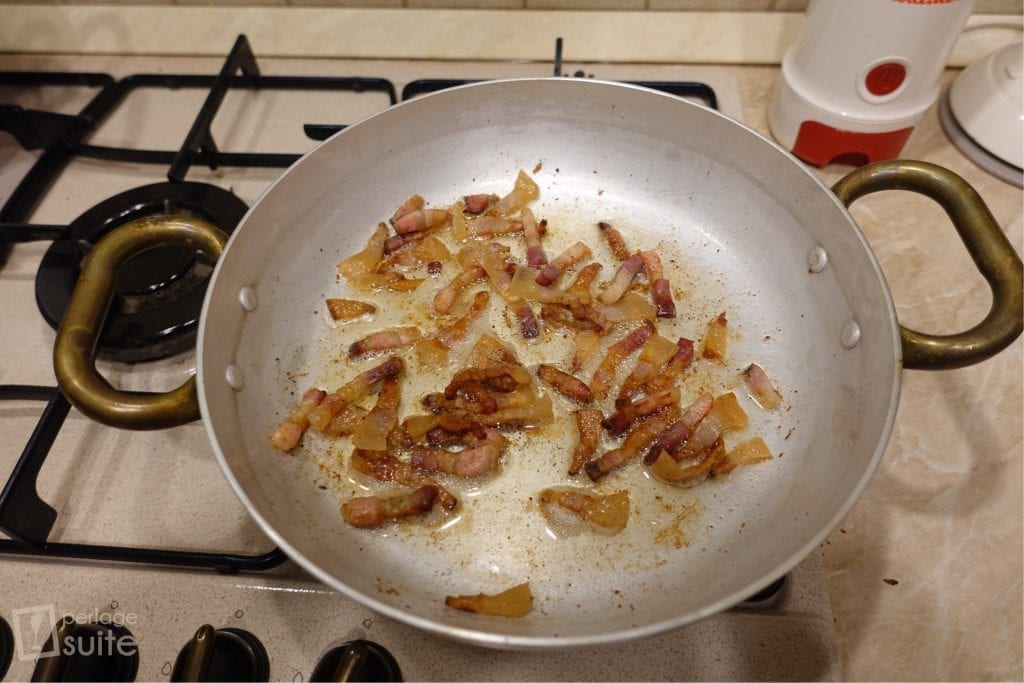 Preparation:
Put on the water to cook the pasta. I personally prefer to use a slightly smaller saucepan because, since I don't rice the pasta to make spaghetti alla carbonara, the little water concentrates the starches that contribute to making a nice egg custard when, upon draining the pasta, some of it ends up in the saucepan where I browned the pancetta and guanciale;
cut the bacon into slightly thick strips and brown it in the saucepan over a very low flame with no added fat;
Cut the bacon into slightly thick strips and brown it in the saucepan with the bacon on a very low flame;
as soon as the water boils, throw in the spaghetti... remember to taste them from time to time, not caring about the cooking time written on the packet;
separate the yolks from the egg whites (keep them to make delicious cream meringues) and place them in the saucepan with a pinch of salt, pepper and grated pecorino cheese;
As soon as the spaghetti are cooked (keep them 1 minute away from perfect al dente cooking) drain them with tongs into the saucepan with the browned guanciale, which you will have removed from the heat a couple of minutes ago. Allow a little cooking water, you don't need much because there is already their fat on the bottom. [Important: unless you use induction, if you have the classic cooker, take the pan off the heat and put it either in an unlit burner that you have not just used].
Stir the noodles well to get them coated with the mixture of fat and cooking water. In the seconds you stir these lose that couple of degrees that will help keep the egg from congealing.
Add the egg and pecorino mixture and mix it quickly with the pasta! Your spaghetti alla carbonara is ready to be put on the plates with a nice grating of pecorino cheese and lots of black pepper!
.
And in combination?
If I analyse the dish itself, I have four simple ingredients with strong contrasts:
Raw egg yolk gives me a sweet tendency; (in wine I look for acidity)
Bacon and guanciale give a fatty note and a delicate sweet tendency, but also good spacing; (in wine I look for effervescence, acidity and olfactory intensity)
the pecorino gives a certain induced succulence and great savouriness (in wine I look for alcohol and softness);
black pepper (in wine I look for olfactory intensity and persistence).
Since it is no coincidence that my name is Perlage Suite, I will of course offer you a classic method sparkling wine. But only for starters. To finish instead, I'll go for what for me is the perfect pairing... although I'm sure many of you will think I've dared too much. But I challenge you to try it... and then leave me a comment! 😉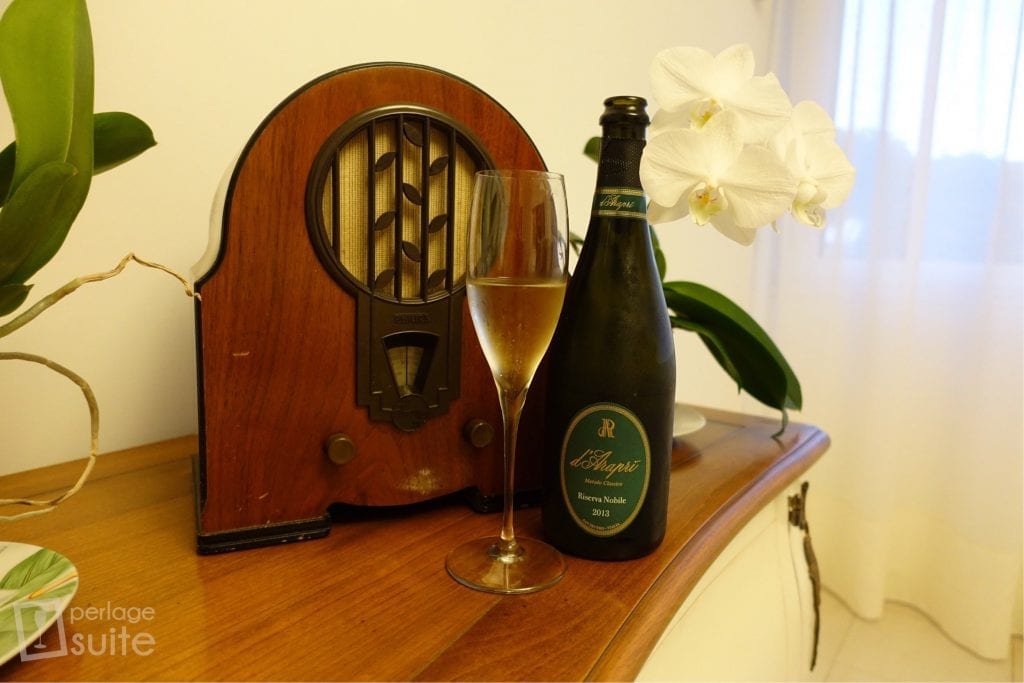 Match 1 (morally accepted):
Riserva Nobile Brut 2013 D'Araprì - Apulia, Italy (served at 8°C)
Tasting notes. It is a beautiful straw yellow with golden reflections, the perlage is fine and numerous and forms a persistent crown. Very persistent and creamy perlage. On the nose, the aromas are rich, fat and complex: notes of raw butter, pastry, banana, white chocolate, pineapple, hazelnuts and lots of vanilla. On the palate it enters decisively, the flavour is perfect: lots of savouriness, interesting evolutionary notes, good freshness and great balance. Amazing persistence. Personally, I find it perfect like this, drunk not too cold. I have paired it successfully with carbonara, more with meat than with fish, I see it very well in particular with duck and goose... but it is also perfect on its own, as long as you are not alone while drinking it 😉
Match 2 (I dared, I dared...):
Sauternes 2016 Château Doisy Daëne - Barsac, France (served at 6°C)
Tasting notes. Golden yellow, crystal clear. The nose is very distinctive, a dry hay note prevails, fading into fresh sage, rock salt and ending in a distinct saffron. A second pass reveals dried rose, ripe apricot and caramelised fig. In the mouth it enters warm, soft, perhaps a little alcoholic compared to others, but the freshness is well balanced and overall it is harmonious. Interesting, although I would have liked it to be longer on the finish. (If you like, read my article on all the Sauternes of the 2016 vintage).
How do you make spaghetti carbonara? What wine do you pair with it? Who do you think invented them? Write to me in a comment if you like!
Cheers <3
Chiara
P.S. For all the photos in this article I would like to thank UniversoFoto.it as always for supplying the Sony RX100M4... it really is a gem! I also discovered that in Scene there is a specific function for taking pictures of food... beautiful!!! (In the photos of this article the lighting is not optimal... but I would say that the goodness of my carbonara was perfectly rendered! 😉