One of my greatest passions is the sparkling wine classic method, and for this reason I try to broaden my knowledge of this type every day. In particular, I have a mission: to taste all Italian classic method sparkling wines. That is why when Federica of Aroma Wine Bar Enoteca in Tortona proposed that we write this article together dedicated to this type, I totally relied on his passion to discover bubbles that I had never tasted. Among his wide selection, he could certainly have proposed me something easier and more conventional such as a Franciacorta DOCG or an Alta Langa DOCG to remain in Piedmont, but instead he decided to surprise me with three real gems without a strong denomination behind them but capable of exciting even the most conventional winelover. To propose a wine sparkling wine elaborated from arneis, timorasso or durella grapes takes courage... or great competence and Federica for me has both. So thank you, thank you and thank you again!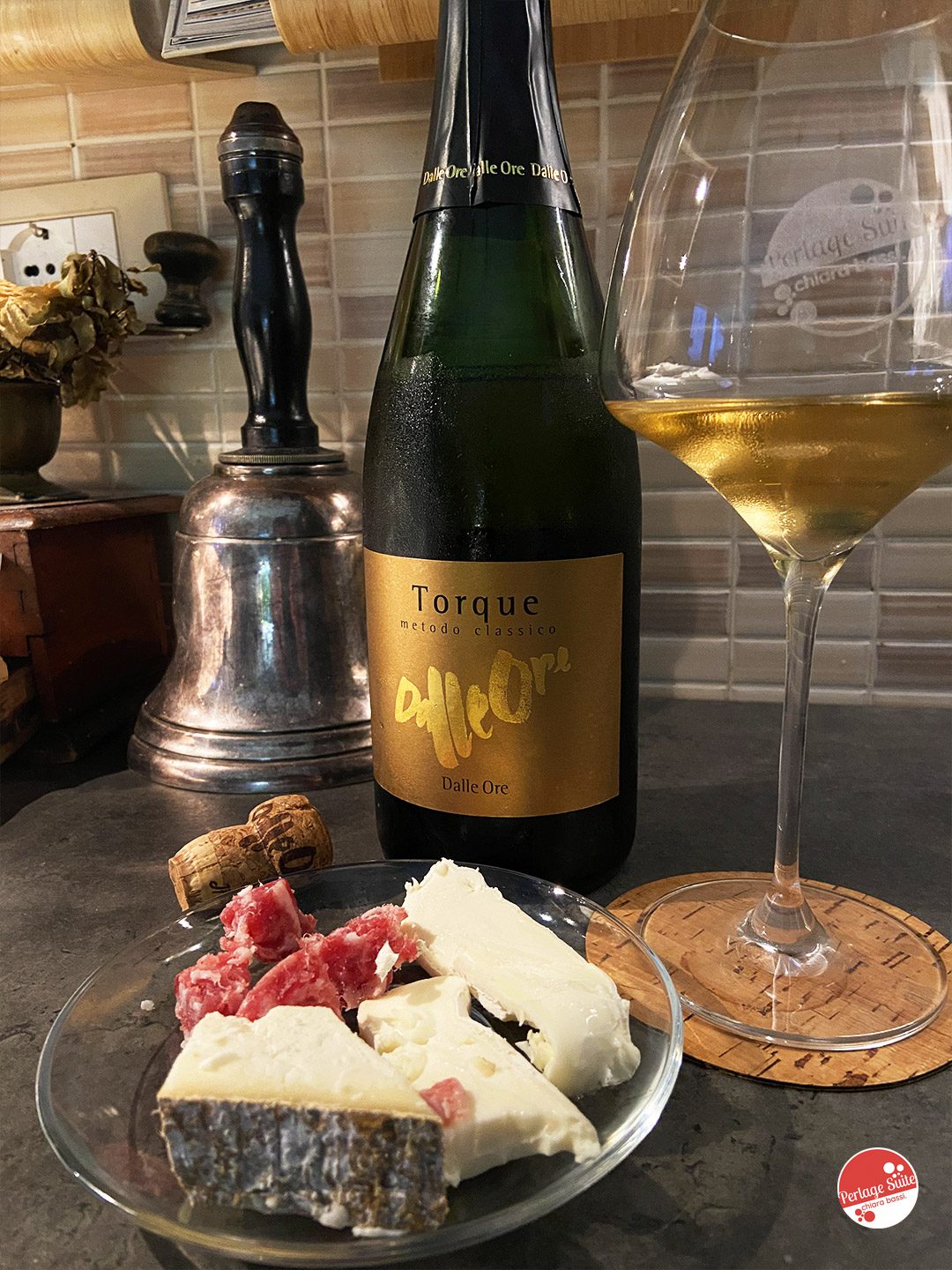 Sparkling wine: Torque 2015, Tenuta Dalle Ore
The first sparkling wine whose tasting notes I want to share with you is also the one I enjoyed the most: Torque di Tenuta Dalle Ore classic method sparkling wine from durella grapes (you can buy it HERE). I found it INCREDIBLE. Durella is a white grape variety indigenous to the Veneto region, specifically the Verona area. Vigorous and productive, characterised by great sapidity and a persistent freshness, it lends itself well to the production of pure sparkling wines, especially classic method, which can age for a long time on the lees. Known mainly for a DOC located between Verona and Vicenza, the Monti Lessini Durello DOC, it is vinified as Durello, Durello Superiore, Durello Passito and Durello Spumante. And it is precisely this last type that I want to focus on today.
For a number of interesting reasons, the Durello Spumante that has caught on outside its area of origin is the Charmat Method version and, outside of a public of enthusiasts and connoisseurs, it is almost unthinkable to think of Durello Spumante as a valid alternative to the more noble appellations. Certainly among the reasons why Durello Spumante Metodo Charmat has been most successful is its price. A bottle of Torque Durello Metodo Classico Pas Dosé 2015 costs €33 in Federica's Enoteca, which is not exactly 'first price' when it comes to Italian sparkling wine. All wine consumers 'accept' to spend around €30 on a bottle of Champagne, even the average consumer who for a special occasion wants to uncork a status symbol wine to make a good impression. Accepting to spend more than 30€ on a classic method sparkling wine from a 'child of a lesser Bacchus' is for sincerely passionate connoisseurs.
My tasting. It is an intense golden yellow with bronze reflections. The bubble is very fine, numerous and persistent. The nose is crazy intense, elegant and with those ripe scents that make me lose my head. I recognise notes of zabaglione, chocolate ganache, sweet liquorice, candied orange peel covered in white chocolate. In the mouth it is silky, fresh, consistent, elegant and with a long zabaglione finish. Perfect with oysters, mushrooms and truffles and fatty cheeses.
Do you like this content? Subscribe to my newsletter then scroll down the page to continue reading this article.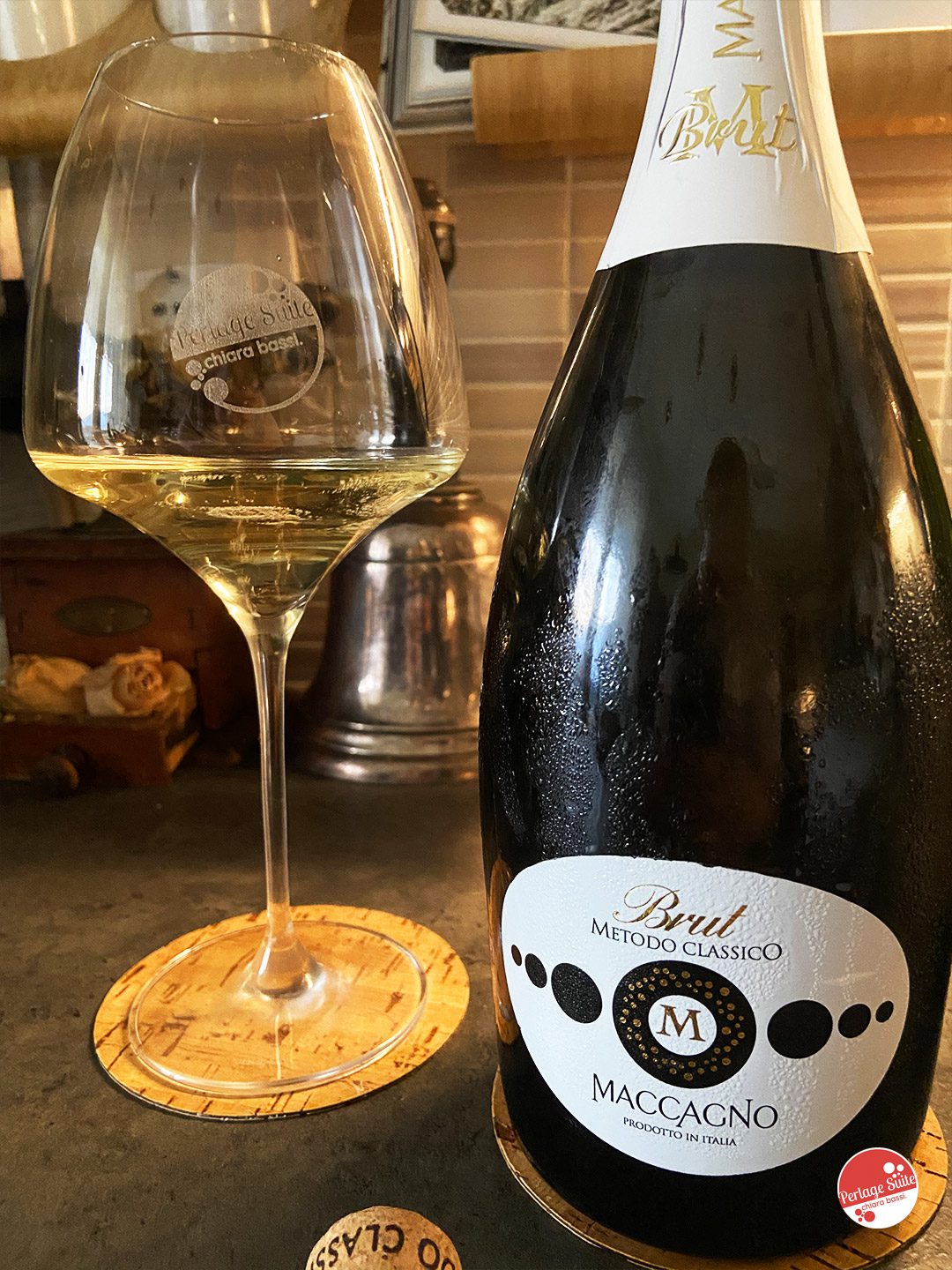 Sparkling wine: Maccagno Brut
The second sparkling wine that Federica of Aroma Wine Bar Enoteca in Tortona proposed to me is at least as interesting as Torque, especially for the grape varieties from which it is made. It is a Piedmontese wine that rewrites the potential of Nebbiolo as a great variety for white sparkling wine making and, above all, gives a leading role to a variety that in classic method sparkling wine making is certainly still considered (unfortunately) a tail-end of all production from indigenous grapes: Arneis. Probably, if you do not live in Piedmont, you have never tasted a sparkling wine from arneis. In fact, you may have tasted it in charmat version as a substitute for spritz or bar 'prosecchino' (which have nothing to do with that prosecco I adore and of which I have told you so often!). Instead, Federica was able to offer me a Maccagno Brut (you can buy it HERE) "A 'da dazzling' wine made from 70% arneis and 30% nebbiolo grapes that matures on the lees for a good 60 months. I would like to emphasise that although it is marketed as Brut (no doubt for communication purposes), it is a Pas Dosé because no dosage was made after disgorging.
My tasting. It is a brilliant straw yellow with a very numerous, fine and particularly persistent perlage. The nose is fine, delicate and elegant with notes of white chocolate, lemon thyme, jasmine and candied citron that fade into a confectionery finish. In the mouth it has a great acidic backbone well balanced by an overall softness. Structure and persistence with some pleasantly oxidised notes on the finish. Very welcome evolutionary potential of this July 2019 disgorgement. I suggest you buy a carton, drink a couple right away and have one a year until 2025 to hear how this very successful disgorgement evolves.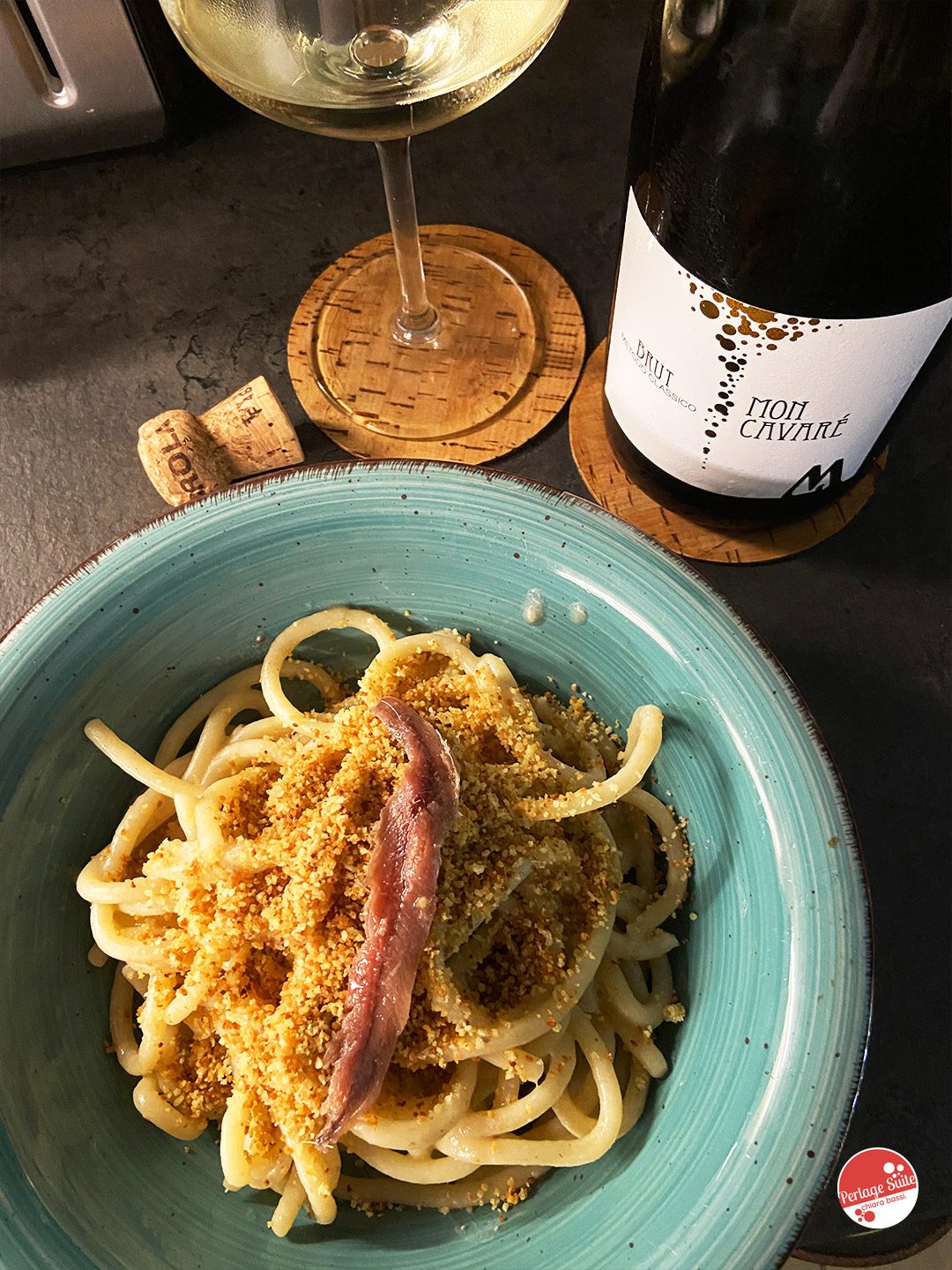 Sparkling wine: Mon Cavaré Brut, Mandirola
The latest sparkling wine that pleasantly surprised me is made from timorasso grapes. In this regard, I would like to point out THIS ARTICLE which I wrote again thanks to Federica with a nice tasting of Derthona Timorasso and a natural wine from timorasso grapes. Already few have in mind the extraordinary potential of timorasso vinified as a white wine, fewer still imagine it as a sparkling wine. Yet this grape variety lends itself very well to classic method sparkling wine making thanks to its acidity and sugar content. The Mon Cavaré by Mandirola (which you can buy HERE) is a little gem for lovers of this grape variety who seek a balance between olfactory roundness and verticality of taste.
My tasting. It has a brilliant straw yellow colour with a fine, fairly numerous and persistent perlage that forms an evanescent froth. The nose is intriguing with notes of crunchy almonds, bitter cocoa, candied tangerine and some nuances of herbs. In the mouth it is fresh, savoury, vertical, crisp, consistent and persistent. It cleanses the mouth very well.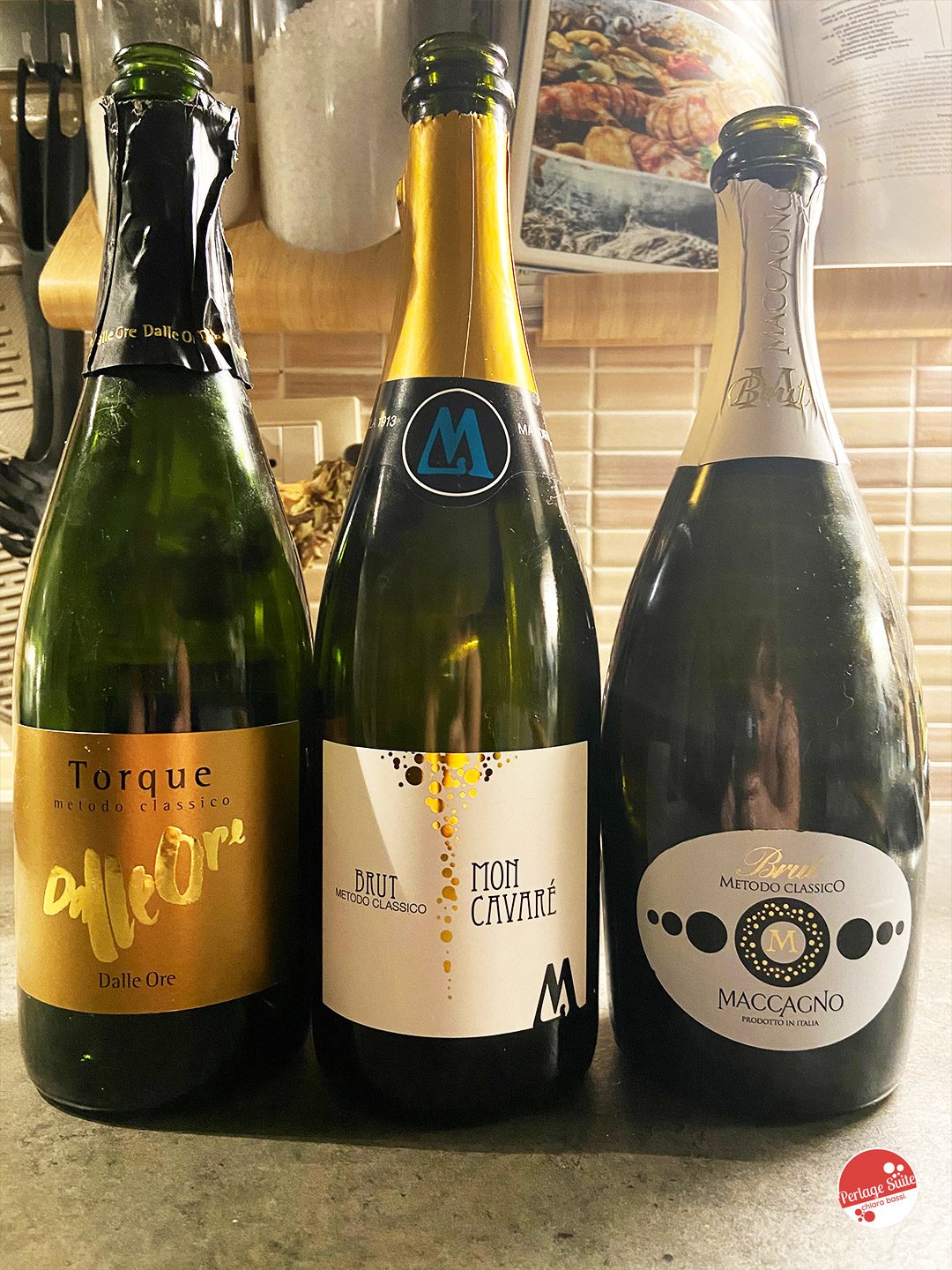 Metodo classico from indigenous vines: an opportunity or a fashion?
With these tastings, I am convinced that I have answered, at least in part, a question you often ask me: Is processing sparkling wine from indigenous grape varieties an opportunity or a fashion? I know many purists of the classic method who would certainly opt for the second hypothesis. My thesis, on the other hand, is much more cautious and open to the new: indigenous grape varieties are potentially a great opportunity, apart from not having the presumption of wanting to sparkle anything at all costs. Until a few years ago, it was rare to find classic method sparkling wines in Italy outside the noble appellations, even more so from indigenous grape varieties. Certainly, many wineries experimented with this type also thanks to the success of the sparkling sector, which is imposing itself on the market year after year. Then they probably did not expect the results they got either, and this led them to really believe in it. I have tasted classic method sparkling wines made from crazy indigenous grape varieties from north to south, and certainly Torque from durella grapes is one of the ones that most excited me.
I cannot help but believe that we imported its sparkling wine model from France, which also includes its grape varieties, and Italy's ampeleographic firepower probably deserves to create its own model made up of indigenous grape varieties and almost non-existent sugar dosages. On this line I dare say that perhaps the real fashion is to use chardonnay and pinot noir in the production of Italian sparkling wine: a fashion that guarantees the result in terms of both quality and appreciation.
Dear colleagues, dear enthusiasts, dare to choose an Italian sparkling wine from indigenous grapes. In this article I have presented you with three different really good ones, all you have to do is choose the one that is more to your liking and give it a chance to prove to you that durella, arneis and timorasso have nothing to envy to their more noble cousins from beyond the Alps.
Cheers
Chiara
PS thanks again to Federica of Aroma Wine Bar Enoteca in Tortona for inspiring me with this article dedicated (once again) to classic method sparkling wines made from local indigenous grapes.