When I received the invitation of Cristina Boffa of the agency MAD13 I have to say that I liked the idea straight away: first of all, I got to know Liguria during the selection of wines for my sparkling wine guide and I had the opportunity to falling in love with Ligurian bubblesand then Liguria is a territory yet to be discovered for me because I have only driven through it on the motorway once, while, for a change, I was on my way to France. Stars & Goblets is a beautiful idea of the business network "Lives on the Riviera". Founded in 2015, it groups together 25 wine and olive-growing companies of the Riviera di Ponente, making them stronger and more competitive in market penetration and is a unique reality in the Liguria region (and not only there!). Stelle & Calici is a gourmet journey through the flavours of Liguria that is divided into 4 dinners where seasonal regional gastronomic excellences and Slow Food presidia are interpreted by 4 Michelin-starred chefs 'off the premises' and paired with PDO and PGI wines from the Riviera di Ponente. And as it is, doesn't the idea of participating in one of the next stages tickle your fancy? 😍
We arrived in Liguria Thursday evening 29 November 2018 for the first of the evenings, organised with the Chef Tommaso Arrigonipatron of the Innocenti Evasioni restaurant in Milan 1*Michelin confirmed again this year. Before moving on to dinner, we had a good aperitif, prepared by the Chef Fabrizio Barontinione of those people with whom you can absolutely fall in love. And I am not saying this because he has moved on to lake life like me (as they say, Lake Iseo pulls more than...), but because he has all the air of a splendid person and it must be a pleasure to learn from him. Among the things tasted during the aperitif, I really liked the spoonful of a kind of zeppola (forgive me Fabrizio if I use improper terminology!) stuffed (with anchovies?) on a spoonful of orange marmalade. Already from the aperitif it was very nice to see the young hotel boys so attentive to the guestsSometimes in certain restaurants you find waiters -adults- who are listless and unkempt and who make you lose the desire for dinner before you even start. These guys, on the other hand, were eager to understand what their future job will be like and do it well, from reception to service.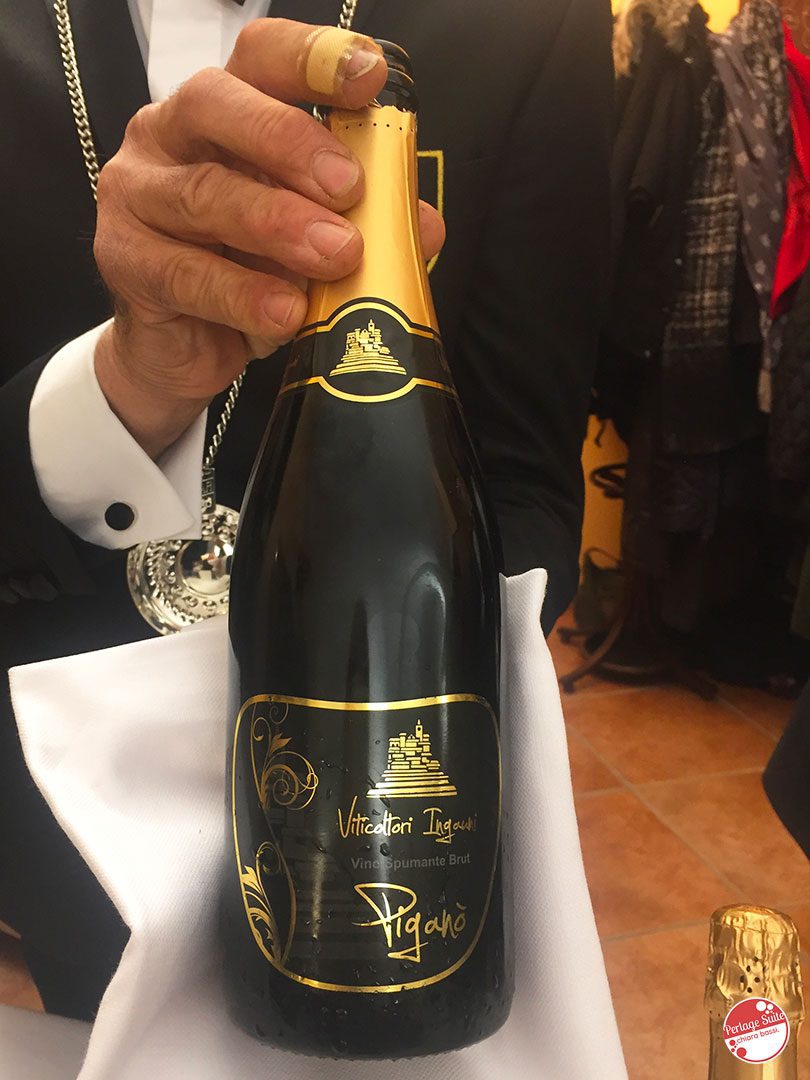 I really appreciated the herbs used as place cards along with the menu (the menu has very neat graphics). Although the glasses are reversed from the 'canonical' positions, the table is still very beautiful and harmonious.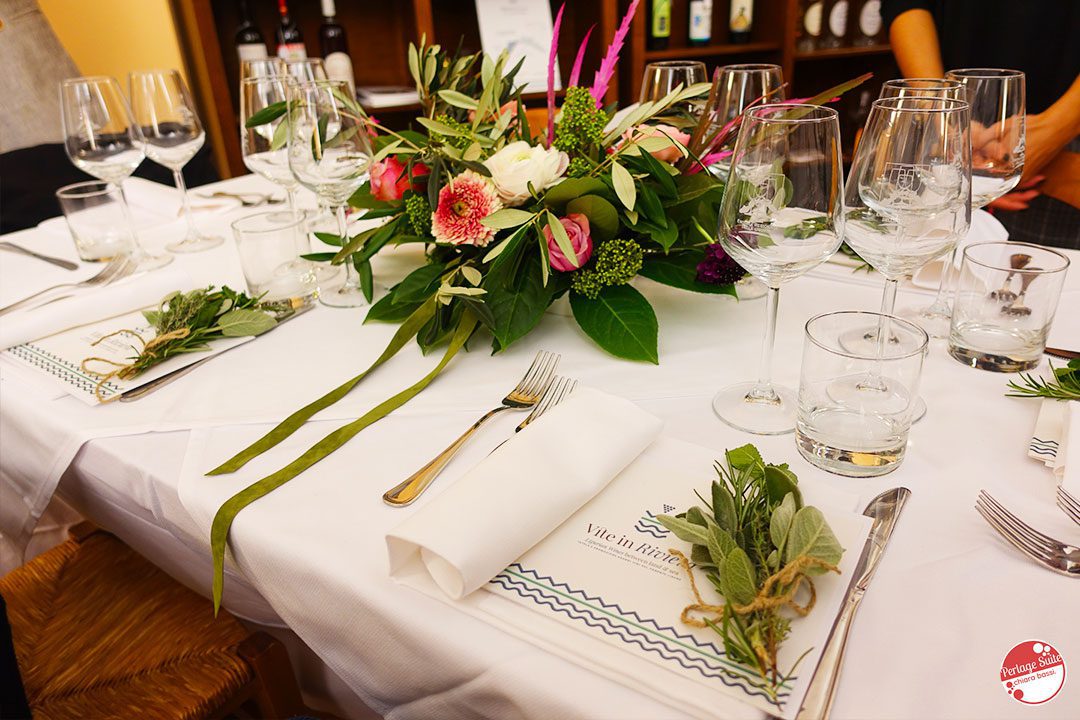 Before starting the actual dinner, Vite in Riviera president Massimo Enrico welcomed guests by introducing his beloved Ligurian territory and chef Tommaso Arrigoni. The vine in Liguria has, as in every part of Italy, a very ancient history because it was brought here by the Greeks. Hailed first by Pliny the Elder and later by Petrarch, in 1600 Ligurian wines conquered Spain thanks to the verses of Cervantes. So why is it that despite such a flourishing history, Ligurian wines do not have a prominent place on the national scene today? Since 1700, Genoa has lost its influence to Dutch and English competition and this, added to the Ligurians' bad habit of changing crops according to fashion and demand (but are we so sure we can call it a bad habit? One has to eat...) and the stratification of numerous grape varieties cultivated mostly as a pastime, led Ligurian wine to lose the fame it had so painstakingly earned over the centuries. Phylloxera then gave the so-called 'final blow' and Ligurian wines disappeared from national and international markets for many years. So to see that in the last twenty years there has been a great renewal in the Ligurian vineyard with great benefit to quality that has led Liguria to carve out a slice in both the national and international markets has been an enormous pleasure for me. And you know, wine also brings wine tourism, and when you talk about a region as beautiful, rich in culture and history as Liguria, it is a moment to fall in love. 🍷❤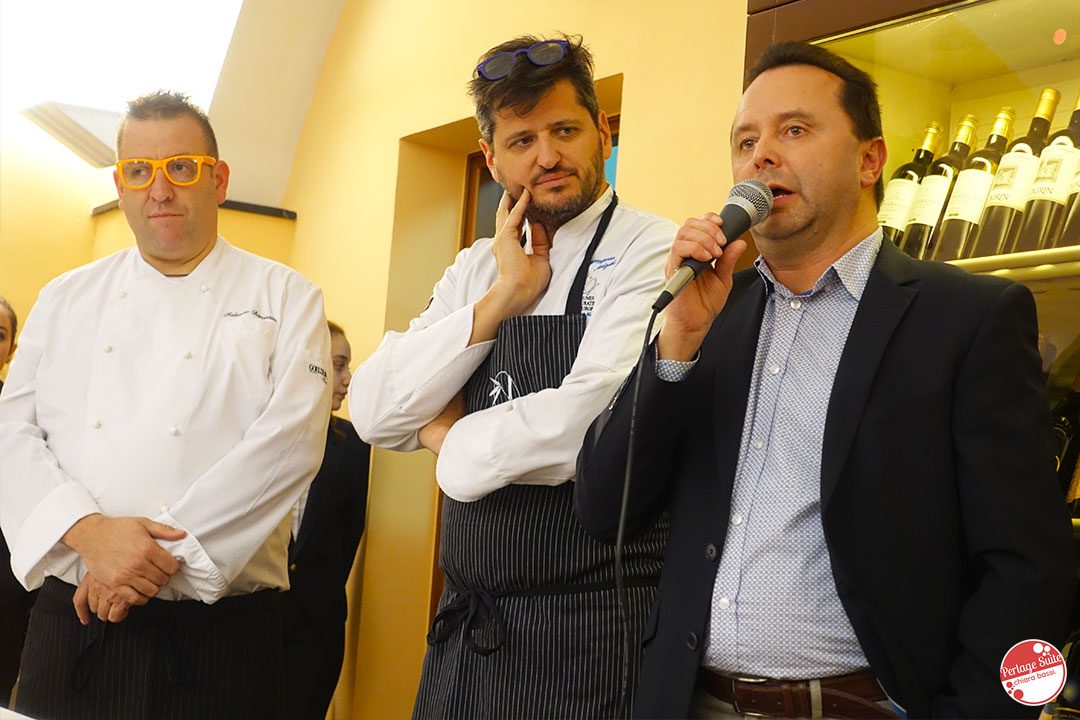 One of the things I absolutely loved the most was the idea of visible plating. I love watching the chefs work, I could enchant myself for hours. Then they were all really impeccable!
29 November 2018: Chef Tommaso Arrigoni
Starter: Swordfish steak, herb mushrooms and fried leeks
paired with Durin and Podere Grecale's vermentino
The steak has a very good fish quality, but the cooking in my opinion was not quite right because there were still a couple of minutes left. This time would have allowed the fish to remain less firm and defibre more pleasing to the palate. For me this was the only imperfection of the dinner which was otherwise outstanding. The fried leek was excellent, crispy to the right point and well-dried. The porcini mushrooms with herbs were also perfect, good in flavour and good in texture. Of the two wines proposed, the pairing that convinced me most was the Vermentino di Durin.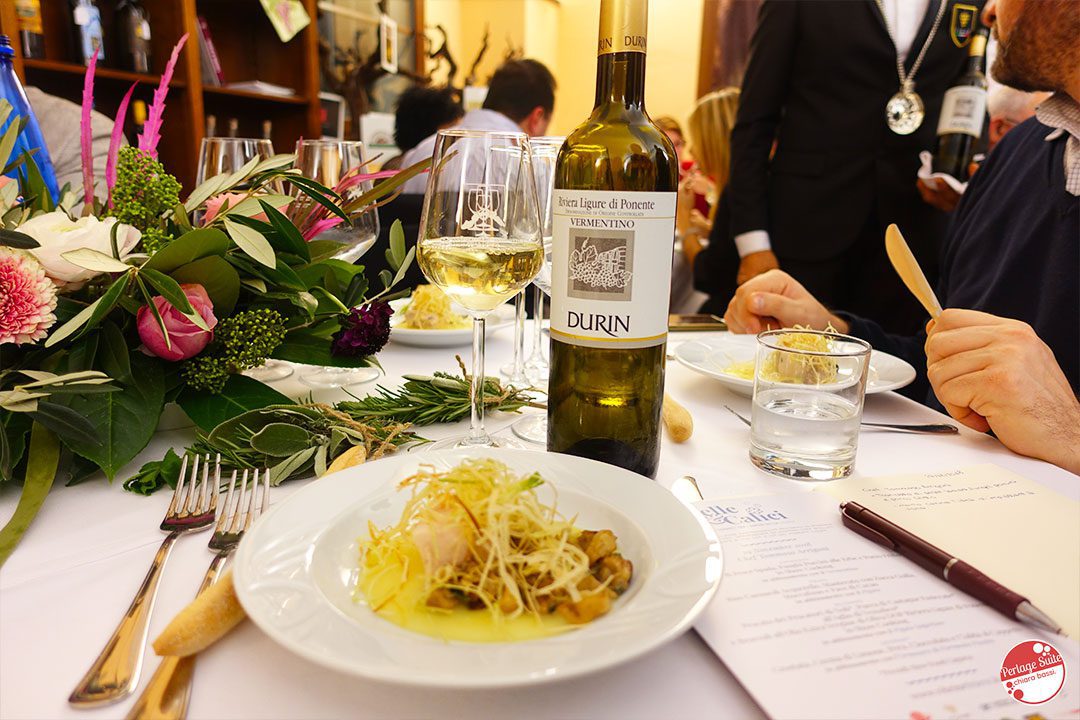 Wine 1: Vermentino di Durin - Unfortunately the temperature was a little off, at least as far as our table was concerned. The wine was served to us rather warm and this did not allow us to appreciate it at its best. It is a beautiful, crystalline and consistent straw yellow. On the nose, notes of citrus fruits, acacia flowers and a barely noticeable mineral nuance. In the mouth, it is very responsive and acquires great sapidity and a beautiful elegance. After a few minutes of pouring and a few rotations of the glass, it acquires a light and pleasant solvent note. Durin was able to make me fall in love with its classic method sparkling wine Basura Oscura (read the full review HERE).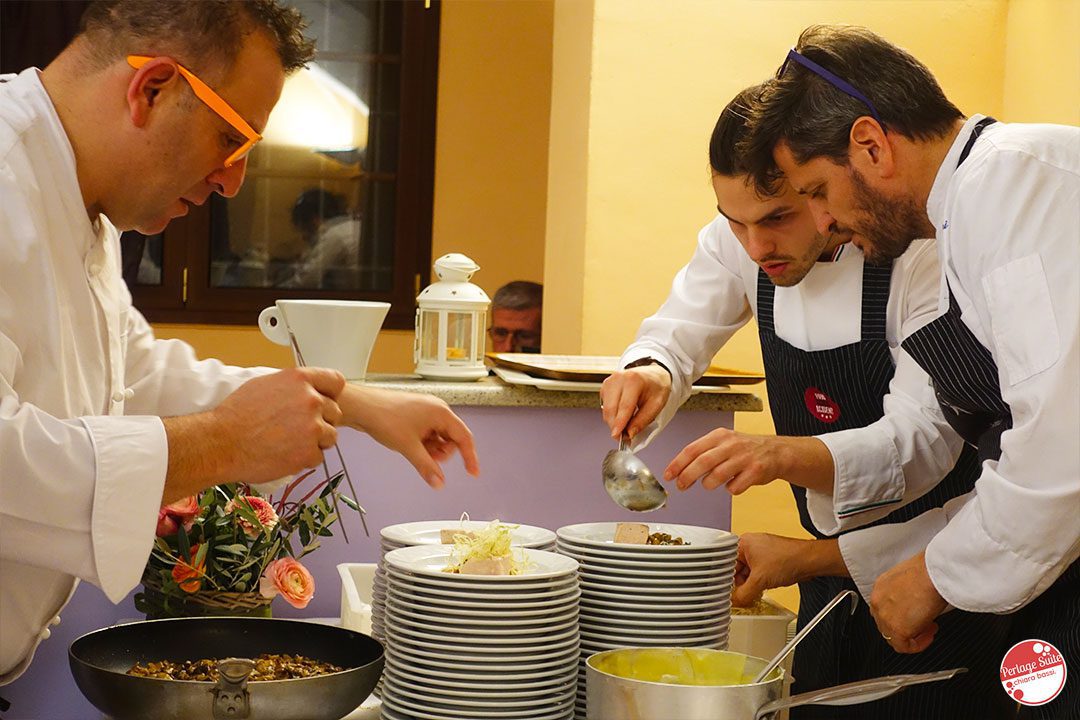 Wine 2: Vermentino from Podere Grecale - When I read 'Podere Grecale' their interesting 'Frizantin' immediately springs to mind (by now my brain is bubbling too!). This vermentino to my taste has a simply outstanding nose and is one of the two best wines I drank during the evening. It is an intense, crystalline straw yellow, consistent. The nose is an explosion of mineral notes, powerful hydrocarbons alternating with citrus notes. The response in the mouth is not perfect: I was expecting much more taste texture, but it is still fine, savoury, soft and quite fresh. Long on the finish.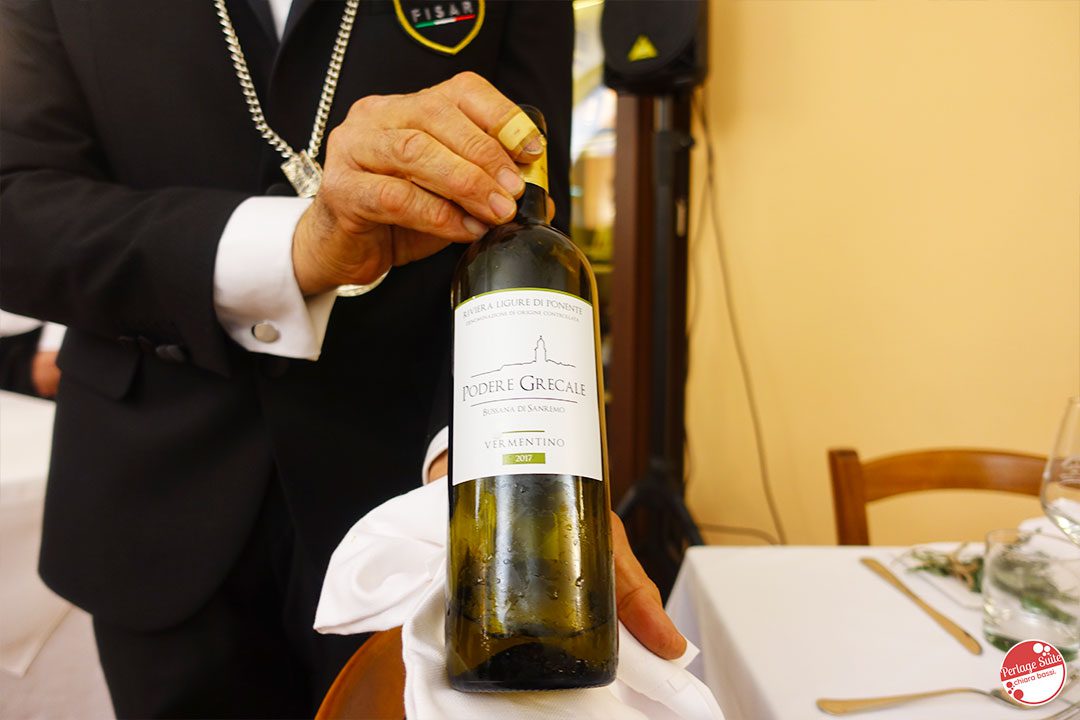 Primo: Carnaroli Acquerello rice whipped with yellow pumpkin, stockfish and cocoa beans
paired with pigato from BioVio
The risotto looks great, the portion is particularly generous. The cocoa beans (in my opinion, there was also some cocoa powder) give off a warm and enticing scent. I then have a 'problem' with cocoa and chocolate and I admit my absolute addiction to it, so just with the scent alone, so intense and enveloping, this dish won me over. The concept of the combination of flavours is perfect: the yellow pumpkin gives a distinctly sweet tendency, which contrasts well with the savouriness of the stockfish and the bitterness of the cocoa bean. The mantecatura is perfect, and, taking care to take a little stockfish from the quenelle in the centre of the plate, a truly suggestive harmony of flavours is created.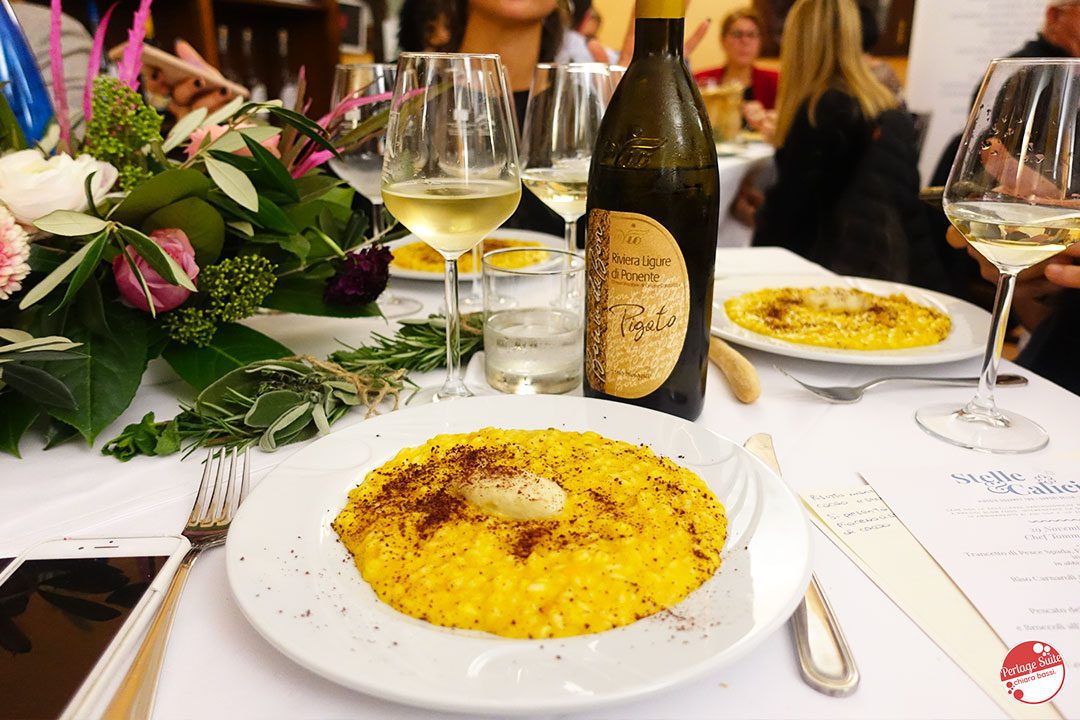 Wine 3: Pigato from BioVio - This was the Pigato that I liked best overall. Less powerful on the nose than that of Podere Grecale, but much more consistent in the mouth and therefore overall more harmonious. It has a nice brilliant straw yellow e substantial, forming regular arches that hint at a alcoholic degree important for a white wine. The nose reminds me of certain scents that are very familiar to me, scents of childhood and youth around Camaldoli with its medicinal herbs magically transformed into bitters and liqueurs by the skilful hands of the monks. Then linden blossom, apricotanother memory materialises: the best water in the world rushing down the stones, yes, it is indeed wet stone. My ox-bristle brushes, theturpentine used to clean them, the temperas. In the mouth is consistent, elegant, end, very tasty, hotsoft and fresh. Long on the final.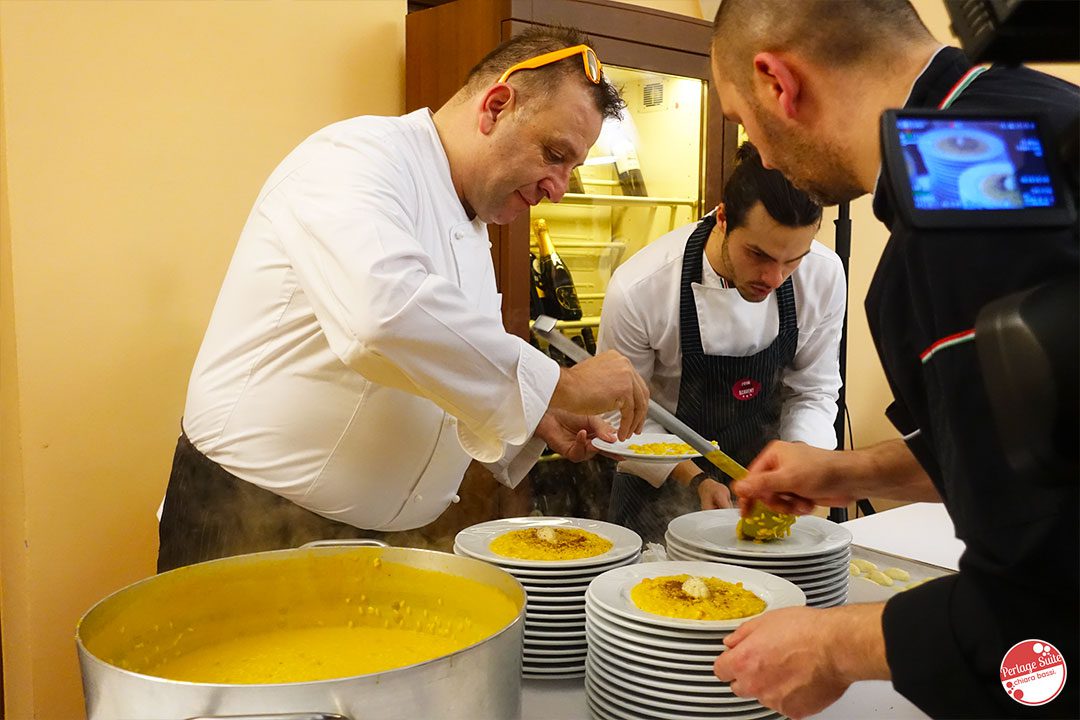 Second course: Pescato dei Pescatori di Noli, chestnut puree dried garlic from Vessalico and broccoli in PDO Riviera Ligure di Ponente extra virgin olive oil
paired with Claudio Vio and Enrico Dario's superior pigato
This was the dish I liked the most. The fish was cooked to perfection, with crispy skin and meat that 'cuts like a breadstick'. The broccoli is both tender and crispy, a beautiful bright green. The chestnut puree is spectacular, Chef Tommaso Arrigoni told me that he only put the potatoes in with the blanched chestnuts... I have a weakness for chestnuts and I found it incredible, both in flavour and consistency! In fact, I'm almost going to make myself chestnuts this afternoon while I'm making the Christmas tree...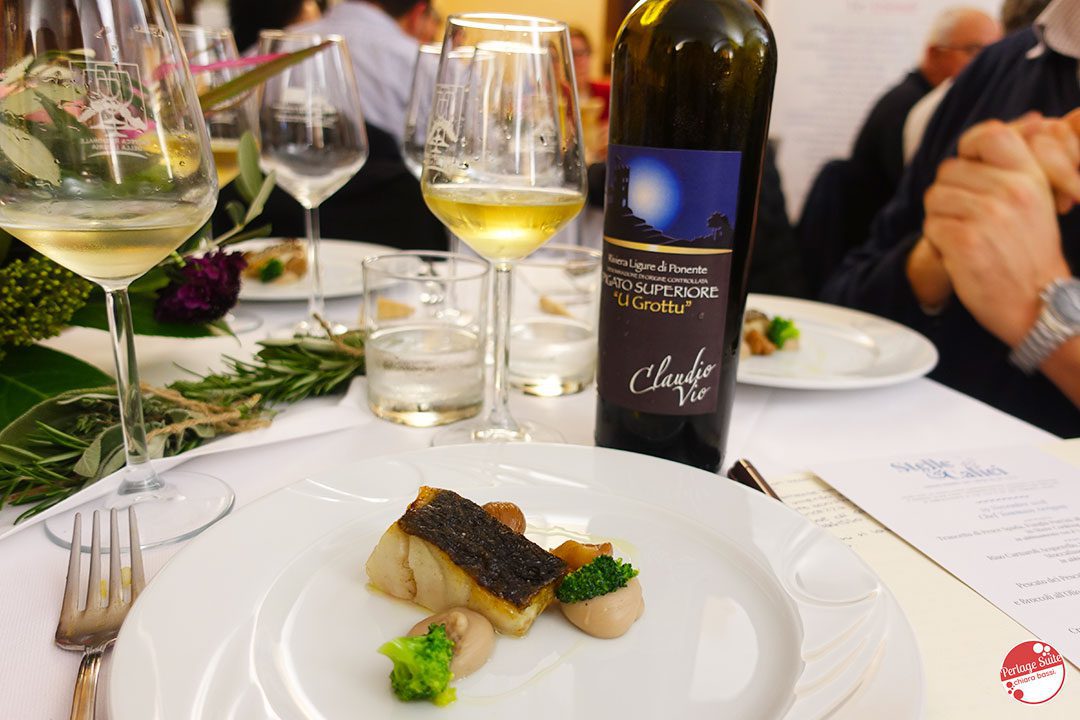 Wine 4: Pigato by Claudio Vio - It is presented in a beautiful brilliant straw yellow with an antique gold reflection. The nose is very distinctive, with notes of exotic fruit intertwining in the banana yoghurtin the white chocolate and in thelemon grass. In the mouth is consistent, savouryvery tasty indeed, soft and a finale long.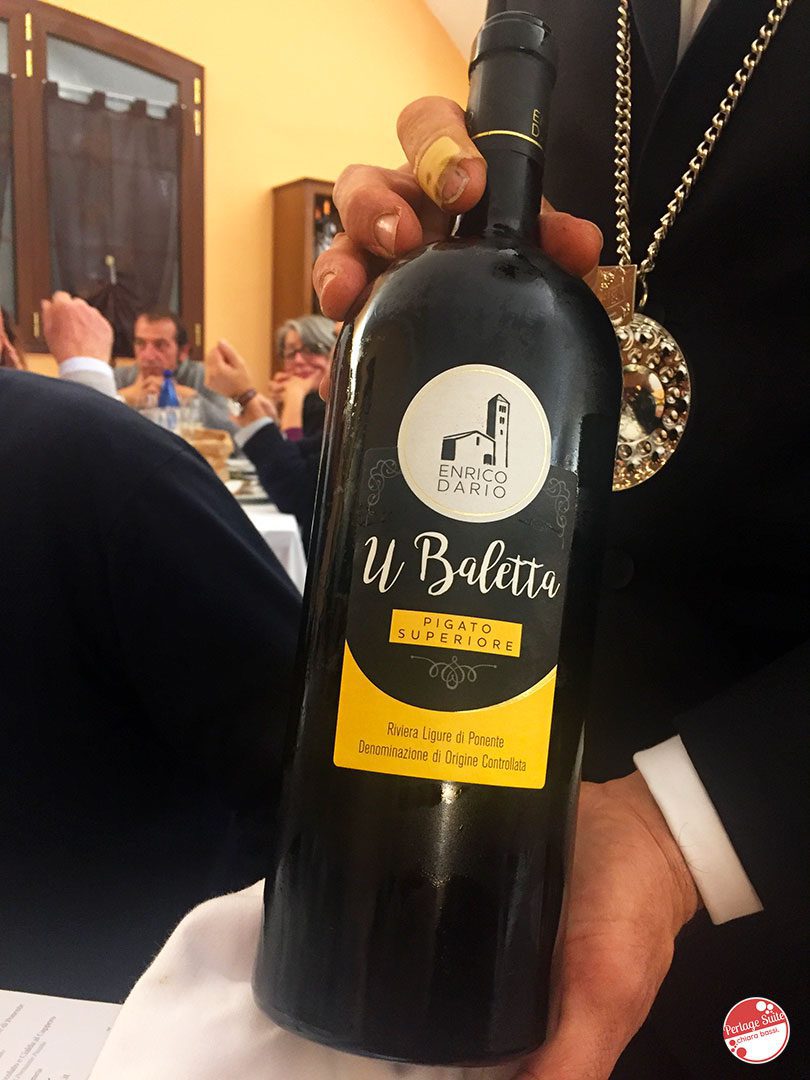 Wine 2: Pigato by Enrico Dario - He started out ahead thanks to his magnum bottle... it's amazing how completely different it is from the previous one! The nose is a riot of aromatic herbs (you know the smell of the heart of the porchetta?) and you can distinctly recognise the rosemarythe green pepper and a hydrocarbon light that fades into the sealing wax. In the mouth is consistent, very fresh, very tasty and with a pleasant citrus finish.
Sweet: Tart, lemon cream, pear, chocolate and caper wafer
paired with Orneasco di Pornassio Passito
I liked this cake very much: perfect shortcrust pastry, very fine and impeccably baked. The lemon cream really tasted of lemon, perhaps that is why it was slightly more liquid than usual. One thing I appreciated, though: I love citrus fruits, and with the softness of the pear and chocolate, this acidic whiff went very well. I found the caper wafer delicious, crispy just right and with the caper well balanced and delicate.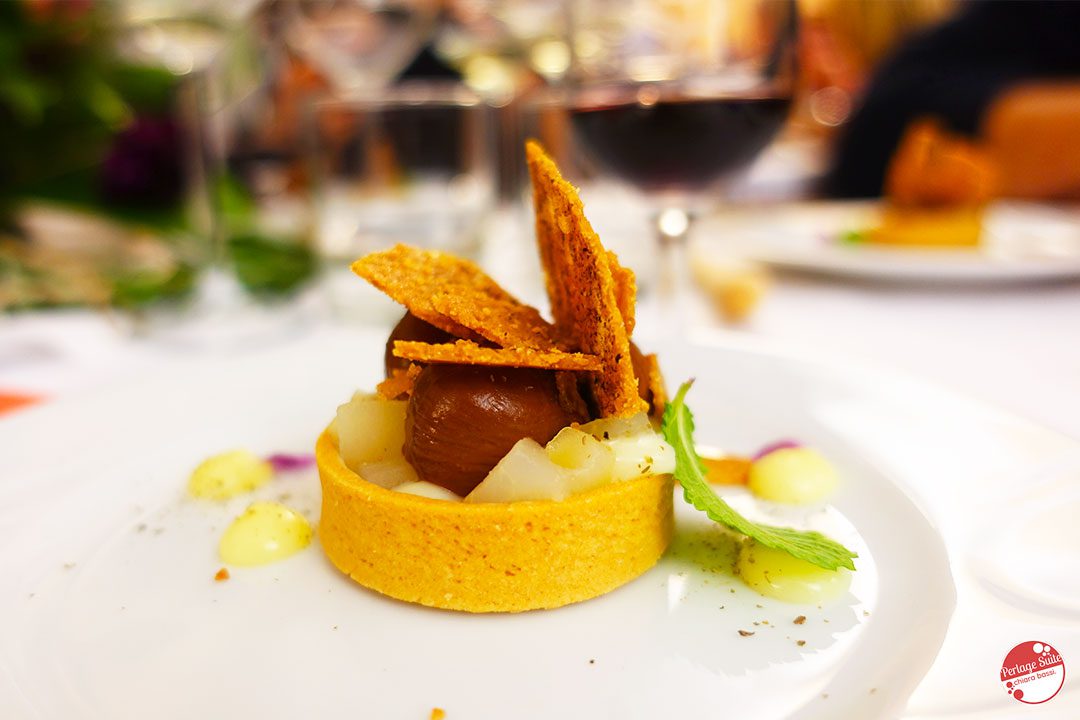 Wine 6: Orneasco di Pornassio Passito by Tenuta Maffone - Unfortunately, the food-wine pairing was, for me, wrong. Let's be clear, raisin wines also exist in dry or otherwise not very sweet versions, and sometimes they are spectacular (even more so than those with a very high residual sugar content). A raisin wine of this type would have married beautifully with important cheeses, but with a rather acidic lemon cream it was important to balance it with a wine with a more noticeable residual sugar. In any case, it presented a nice intense ruby red, the nose is mineral e menthol, in the mouth is consistent, soft, elegant and with a very good drinkability (in this case, however, somewhat crushed by the acidity of the lemon). To be tasted again with a nice Piedmontese toma cheese to appreciate every nuance! 😋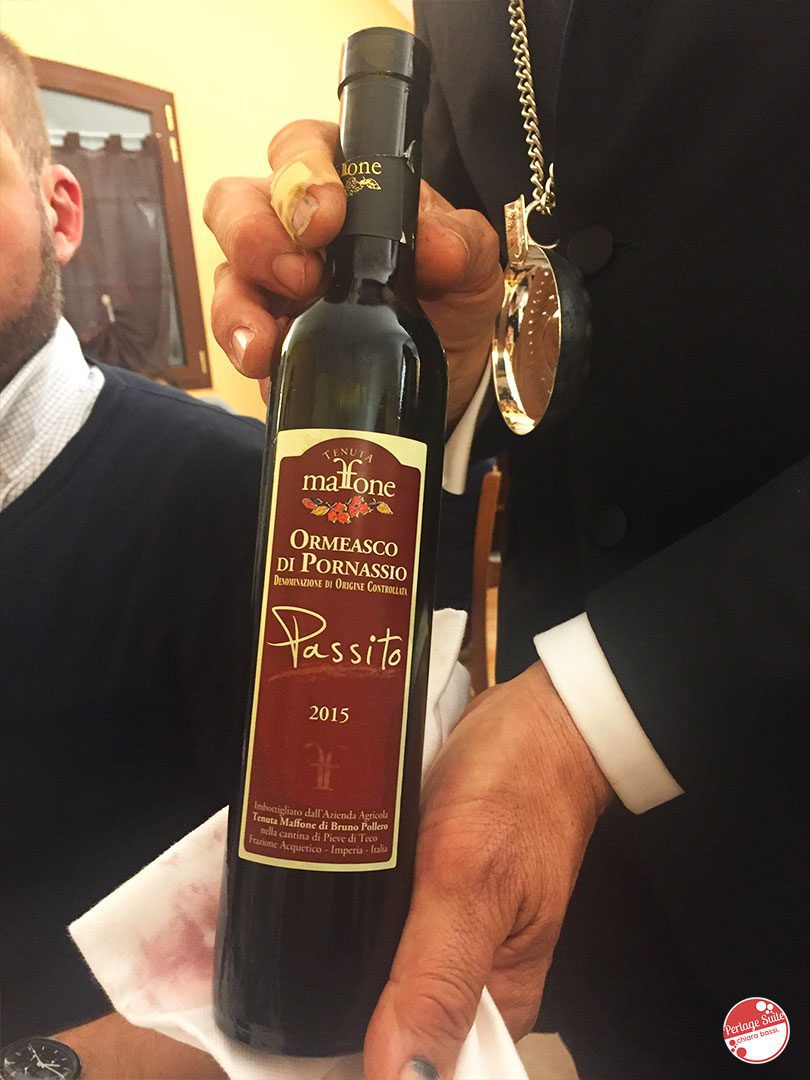 At dinner it was really very pleasant to converse with Cristina and his partner, Massimiliano Petronewhich is a brilliant artist. I looked at his website and I was amazed by his skill, the Canvas are portraits full of pathos, with a very suggestive chromatic and expressive restlessness. His drawing of Da Vinci, which I adore, hints at the complexity of Leonardo's personality... in short, he is very good (see his work HERE)! In me beats the heart of an art lover, who owes her greatest teacher to the Liceo Artistico in Ravenna, thanks to enlightened people who taught me so much and whom I still carry in my heart today. At our table were also the instagrammers @_wineangels_ who graced the conversation with a pearl that, as the orchid enthusiast that I am, made me gasp: 'flowers are the diamonds of the poor'. Between one bizarre photo and another, it is said that they sell wine in Turin by trade. Well, I prefer even the most 'trivial' and cheapest of orchids to any diamond, but I recognise that I am rather unique as a character myself. 😁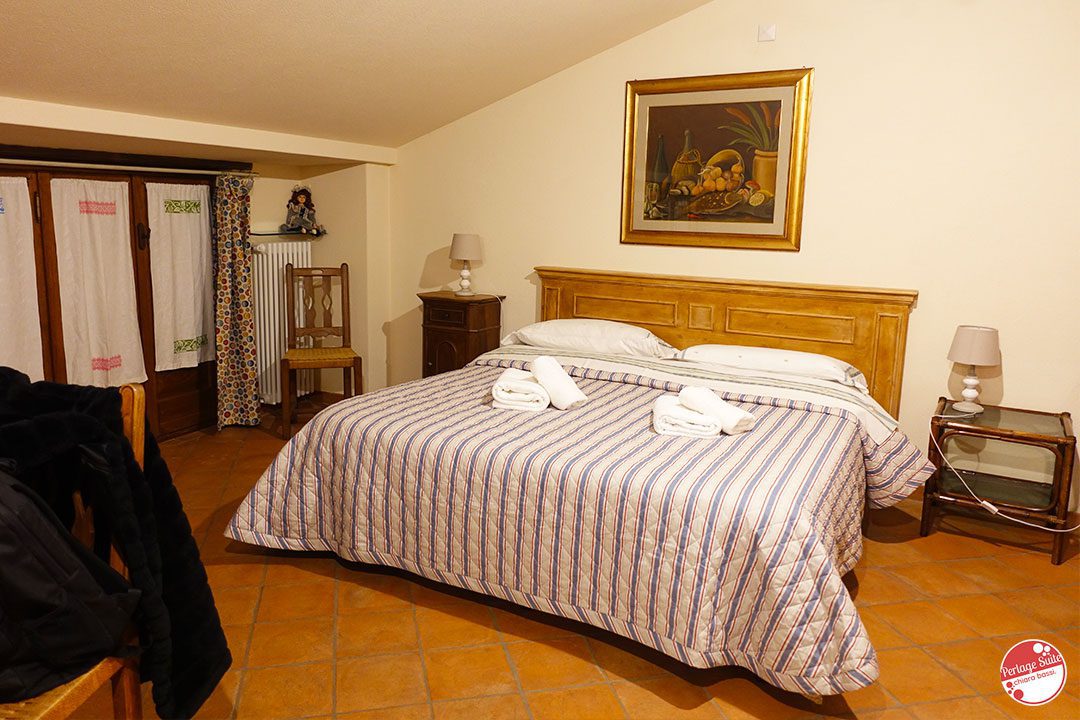 We stayed overnight at theBioVio agritourism, a little place that I can only recommend if you are in the area. Surely in spring it must be even more beautiful, thanks to the flowers in the pergola, but it already looks good now. Our room was the 'Lofts"This 40 square metre studio apartment is accessed by a private lift that goes directly to the room. There is a fully equipped Genoese-style kitchenette that embraces the beautiful propeller staircase.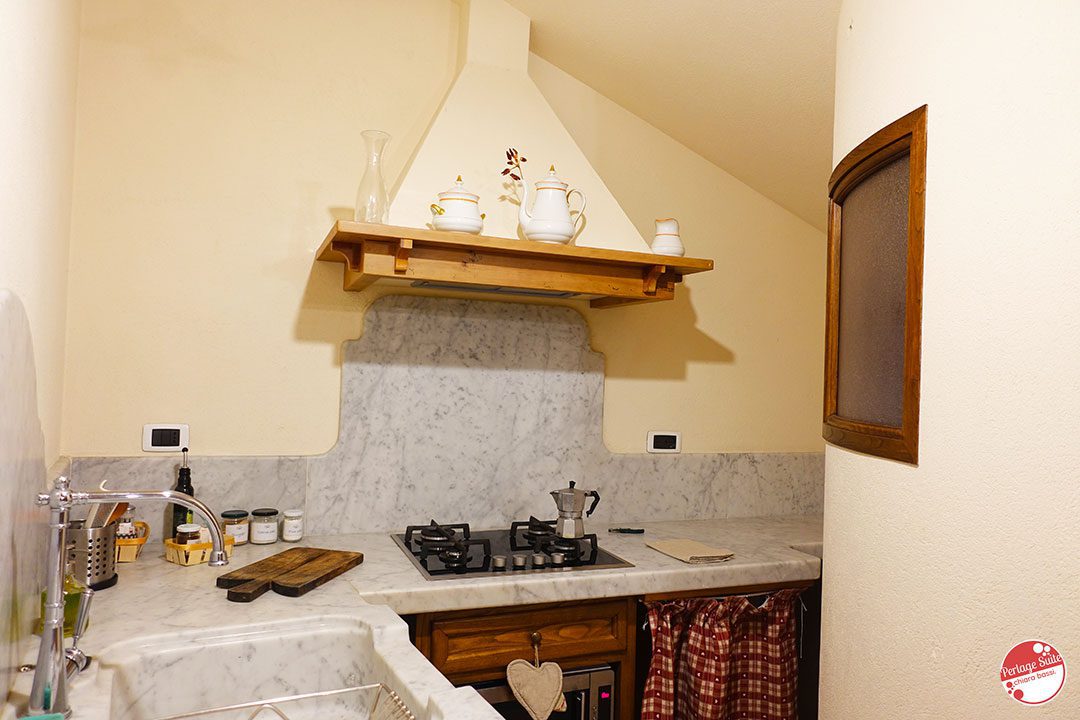 In the morning we had breakfast at the home of the owners of the agriturismo BioVio, Aimone and Chiara Viowhere I got to know personally the Savona AIS delegate Giancarlo Alfano and the Head of Education Marco Rezzato. Well, I confess that when Giancarlo recognised me and told me that at the end of the course he sends the links to my site to aspiring sommeliers to study, it gave me immense pleasure! I hope we'll have the chance to meet again, perhaps on the next Stelle & Calici evening! ❤ I drank a delicious orange and ginger-flavoured green tea and ate a homemade tart. The large guest table in the kitchen is really cosy and they are exquisite people. What I love most about farmhouses like this one is the family atmosphere, the chance to meet new people and forge relationships that evolve over time. I have been a guest in the most luxurious hotels in the world, but I have never found this warmth there, which is worth more to me than anything else. I love knowing and listening to people's stories. When a person is able to fascinate me, I could listen to them for an endless time, sipping tea or a good glass of wine depending on the time of day.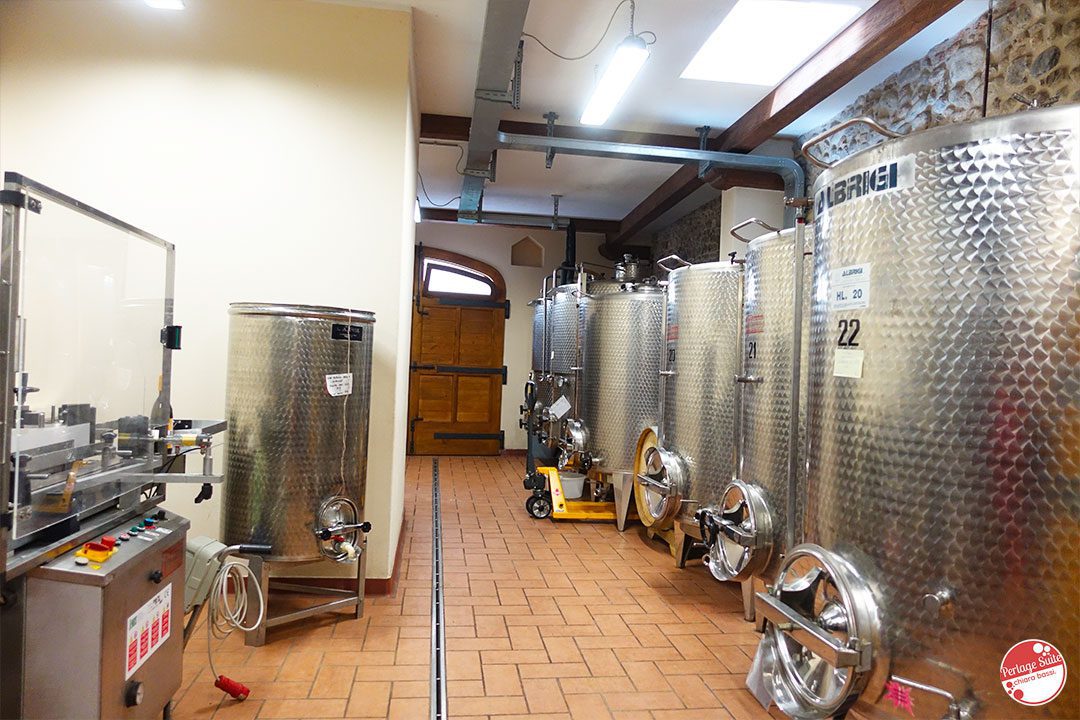 Chiara showed us the clean and tidy BioVio cellar, which has a delightful room with an old wine press and a well. I couldn't help but notice the red Berkel slicing machine, which, being the ham junkie that I am, I dream of buying myself one day (and then I'll figure out where to put it...)!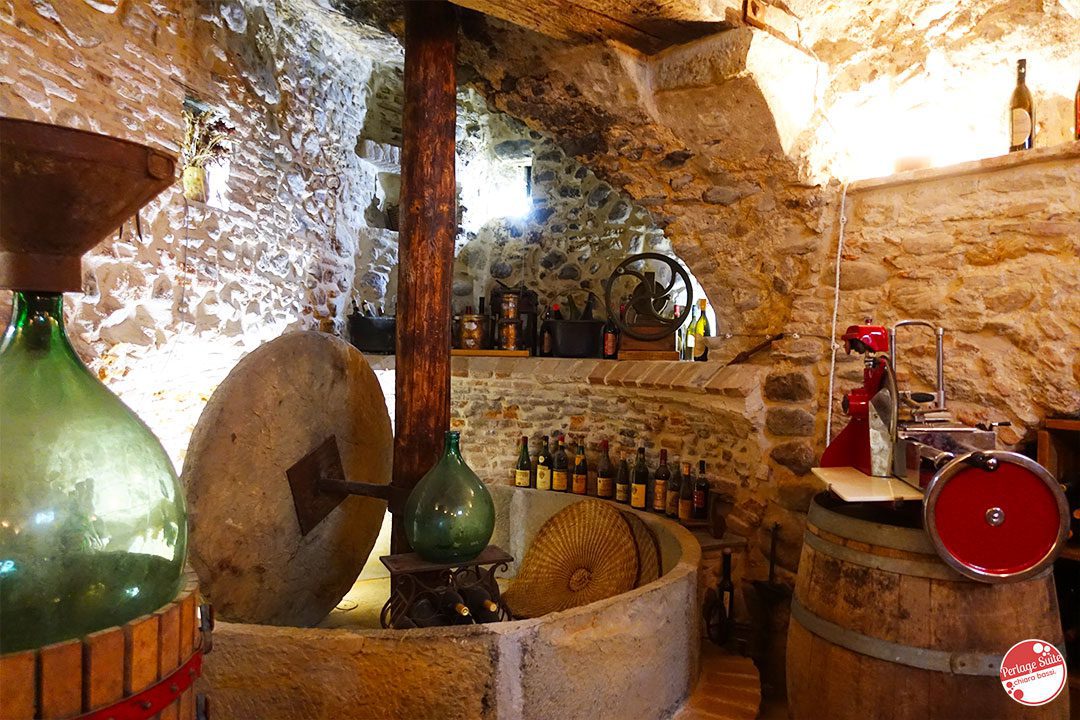 Finally, a tour of the vineyard closest to the company, organically managedescorted by their dog Willy. It remains to be discovered the aromatic herbswhich I am literally crazy about... but I trust I will return in the spring to inebriate myself with their scents.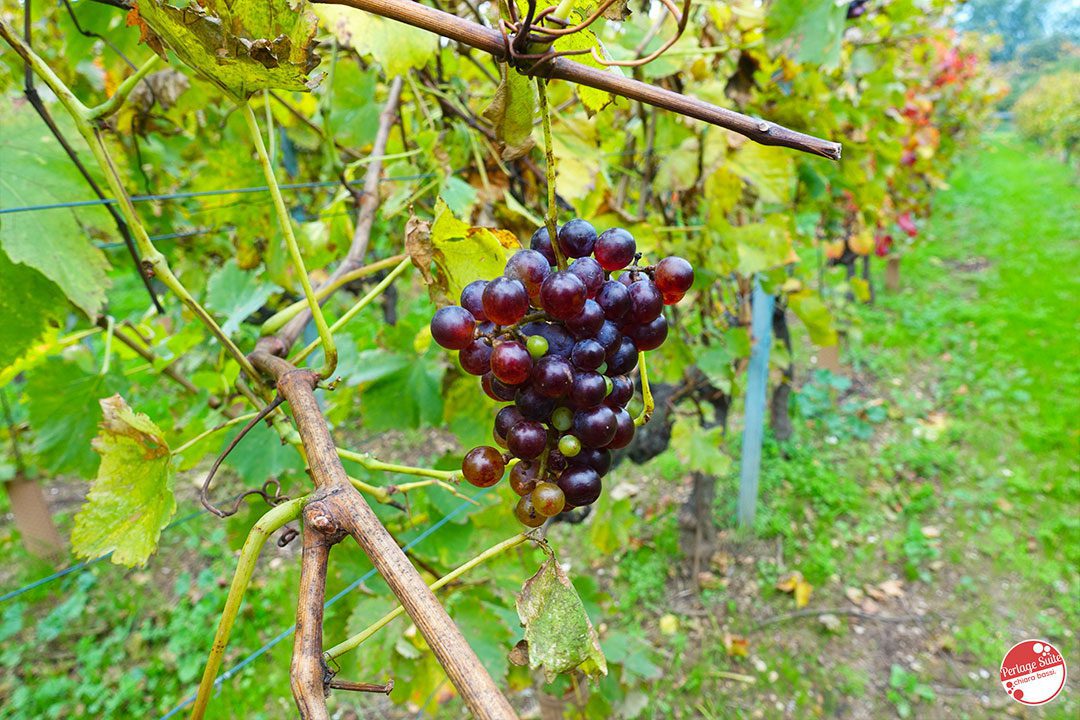 Yesterday for lunch at home, I prepared spaghetti alla chitarra with the Taggiasca olives and extra virgin olive oil they had left me in the cadeau and I also put a quenelle of this 'Centa caviar"a pesto of taggiasca olives, capers and anchovies all from theSommariva company. Then I tasted theOrmeasco di Pornassio DOC 2016 by Guglierame and the Granaccia Colline Savonesi IGT 2016 by Innocenzo Turco. Elegant and delicate the former, rougher and with a sugary red fruit scent the latter.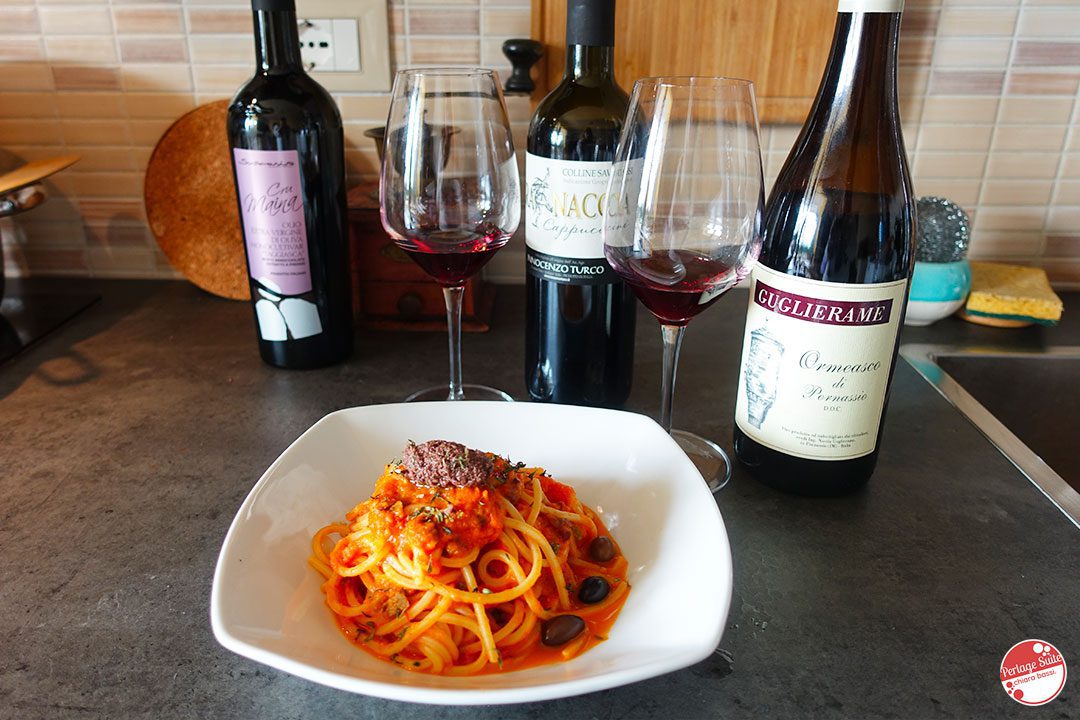 In short, it was a very pleasant two days on the Riviera di Ponente, I can't wait for the 31 January 2019 for the next stage! Who will be the starred chef who will interpret these top quality products and these Slow Food presidia? What wines will they pair with them? As soon as I hear some rumours, I'll let you know! I look forward to seeing you atRegional Wine Shop of Liguria in Ortovero to toast together with the products of this beautiful land to take home and into our hearts.
Cheers 🍷❤😋
Chiara
P.S. Come sempre per le foto ringrazio Sony Italia e UniversoFoto.com per quel meraviglioso gioiellino che mi hanno dato: la mia adorata Sony RX100M4.