On 29 November, I was in Liguria for the first time for the first episode of Stars & Goblets with Chef Tommaso Arrigoni (if you haven't already done so, you can read the full article by clicking HERE). This is why I was delighted to participate in the second stage with Chef Igles Corelli... and I look forward to the next evenings! What do you say, shall we meet at the Enoteca Regionale della Liguria in Ortovero to toast together?
Stars & Goblets is a beautiful idea of the business network "Lives on the Riviera". Founded in 2015, it groups together 25 wine and olive-growing companies of the Riviera di Ponente, making them stronger and more competitive in market penetration, and is a unique reality in the Liguria region (and not only there!). Stelle & Calici is a gourmet journey through the flavours of Liguria that is divided into 4 dinners where seasonal regional gastronomic excellences and Slow Food presidia are interpreted by 4 Michelin-starred chefs 'off the premises' and paired with PDO and PGI wines from the Riviera di Ponente. And as it is, doesn't the idea of participating in one of the next stages tickle your fancy? 
Before I tell you about the wonderful evening I had I would like, as a Romagna native, to make a clarification. When we talk about hospitality we tend to see Romagna as 'caput mundi'. The Romagna Riviera is famous everywhere precisely for its hospitality and, living in Lombardy for years, I obviously noticed the difference straight away. Even Liguria does not have the image of a particularly hospitable region... and I want to say that this is absolutely wrong! Both last time at theBioVio agritourism both this time atagritourism Torre Pernice I really felt 'at home' surrounded by a wonderful warmth and atmosphere. In the same way all staff I found during the evening was as follows brilliant and kind which I enjoyed very much. So bravo, bravo! And also this time I want to give special thanks to Cristina Boffa of the MAD13 agency in Turin for the invitation and the exquisite company! 
Another key thing I feel I must do, especially since this is the second time I have attended these dinners and have also had the opportunity to engage with the various producers, is to give special thanks to Massimo Enrico, president of the business network Lives on the Rivierawhich is defined by them as 'the man who made the impossible possible'. First of all, in a world where envy and jealousy often reign supreme, I find it wonderful to hear good things about people and read esteem in their eyes. Then, knowing how much work and effort goes into a successful event, I am pleasantly surprised by the perfection with which these evenings succeed. Everything is well organised and people are satisfied! They revived the Ortovero branch of the Enoteca Regionale della Liguria... but does it seem little? Ortovero, a small village in the province of Savona of 1576 souls where internationally renowned chefs follow one another. Igles Corelli, the most creative chef in the world until Adrià took over the first siphon, as RAI journalist Samuele Amadori put it, had to repeat the dinner on Friday because it was sold out. And now don't tell me it's all thanks to Igles who throws more than a mint bean. Sure, Igles is a culinary genius, and he pulls and pulls and pulls... but you don't sell out two nights in a row in a small 'remote' town if you don't have a great team behind you. Guaranteed. I'll throw in the bottle of passito that I drank and that excited me -I'll tell you what wine it is in a moment...-. Special thanks also to my colleagues at AIS Savona and their delegate Giancarlo Alfano and the talented AIS delegate from the province of Imperia Augusto Manfredi that I could have listened to for hours.
Miraculously, we arrived in Liguria at a decent time, i.e. around 16:30. The first appointment was at Agriturismo Torre Pernice, which was hosting us for the night. We found the owner Bianca to welcome us and I immediately fell in love with his energy! Then, on discovering that the father-in-law who is credited with starting the 'great work' of buying the vineyards and the Partridge Tower was from Piacenza like my fiancé, it was a moment to find ourselves confabulating about a million things we could do together! We had a wonderful aperitif with Bianca where we got to know the wines of the largest estate in Liguria in terms of owned vineyards: as many as 10 hectares perched like a precious jewel between the mountains and the sea. If this issue makes you smile because you are used to more, know that in Liguria, producers have very small plots of land and often one can speak of a true heroic viticulture. In the next photo I will show you a few moments of the tasting... I have chosen the wines I liked best with the exception of the bubble which I will tell you about separately!
The company's soils are located in the centre of the Albenga plain, which is the only 'wide' area in Liguria. The vines are uniformly exposed all year round with excellent ripening and consequently a fine concentration of aromas and sugars. Pigato has a beautiful bright straw yellow colour. The nose is delicate, fresh and with a strong mineral and herbaceous accent. In the mouth it is elegant, warm, very fresh and with good sapidity. I loved the Rossese di Campochiesa! A transparent ruby red, although it has a significant alcohol content you do not feel it, so much so that it is exceptionally drinkable. As a Romagnola I would like to try it with grilled eel... in my opinion it is a great combination!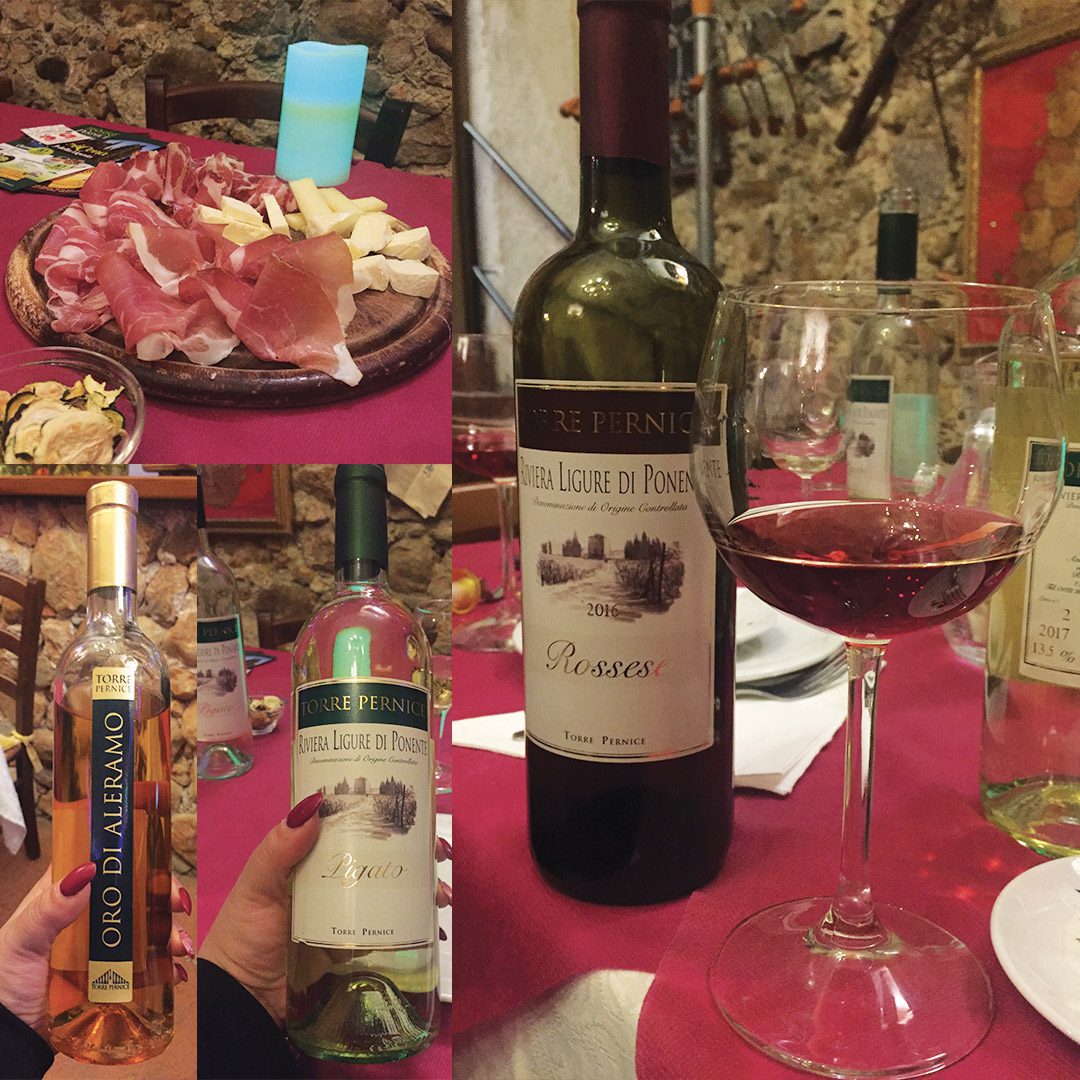 Chef Igles Corelli is an absolute culinary genius. In Romagna we often hear about the Trigabolo (2 Michelin stars), in Argenta in the province of Ferrara, which saw him as a protagonist in the years when I had yet to be born or thereabouts. He followed a career of great success where he enchanted refined palates all over the world with simple ingredients that were often far removed from the noble ingredients of haute cuisine. Today he also enchants us on the TV channel Gambero Rosso Channel with the programme 'The Taste of Igles.
Chef Igles Corelli: Codfish mantecato, crunchy cone, Ligurian basil cream PDO
I don't know whether I love salt cod or Ligurian basil moreSo much so that in spring I plant a large pot of the latter that I grow without using fertilisers in an organic soil and using the hydroponic method. I have extraordinary results in organoleptic terms and an abundant production that allows me to have a lot of it always fresh, while for the winter I air-dry it. I find the mantecato-basilico combination absolutely perfectmantecato baccalà loses much of its savouriness and also takes on a slight sweet tendency accompanied by a certain inherent unctuousness. The basil has that aromaticity and bitterish tendency that enhances it to perfection. Also perfect was the crunchy cone that was crunchy for real!
For those who would like to try their hand at it, once at home I prepared the baccalà mantecato by first boiling it in a pot with a little water and 2 bay leaves, a clove of garlic and the zest of a lemon. Then I worked it with a pestle and finally whipped it as if it were a kind of mayonnaise with a whisk, adding the extra virgin olive oil. Since I'm not a desperate housewife, I used the planetary mixer at minimum speed... but the original recipe stipulates that this whole process must be done strictly by hand! I ate it on New Year's Eve with my former neighbours Viola and Alessandro and I remember that it was delicious even though it was a bit of a 'chore'.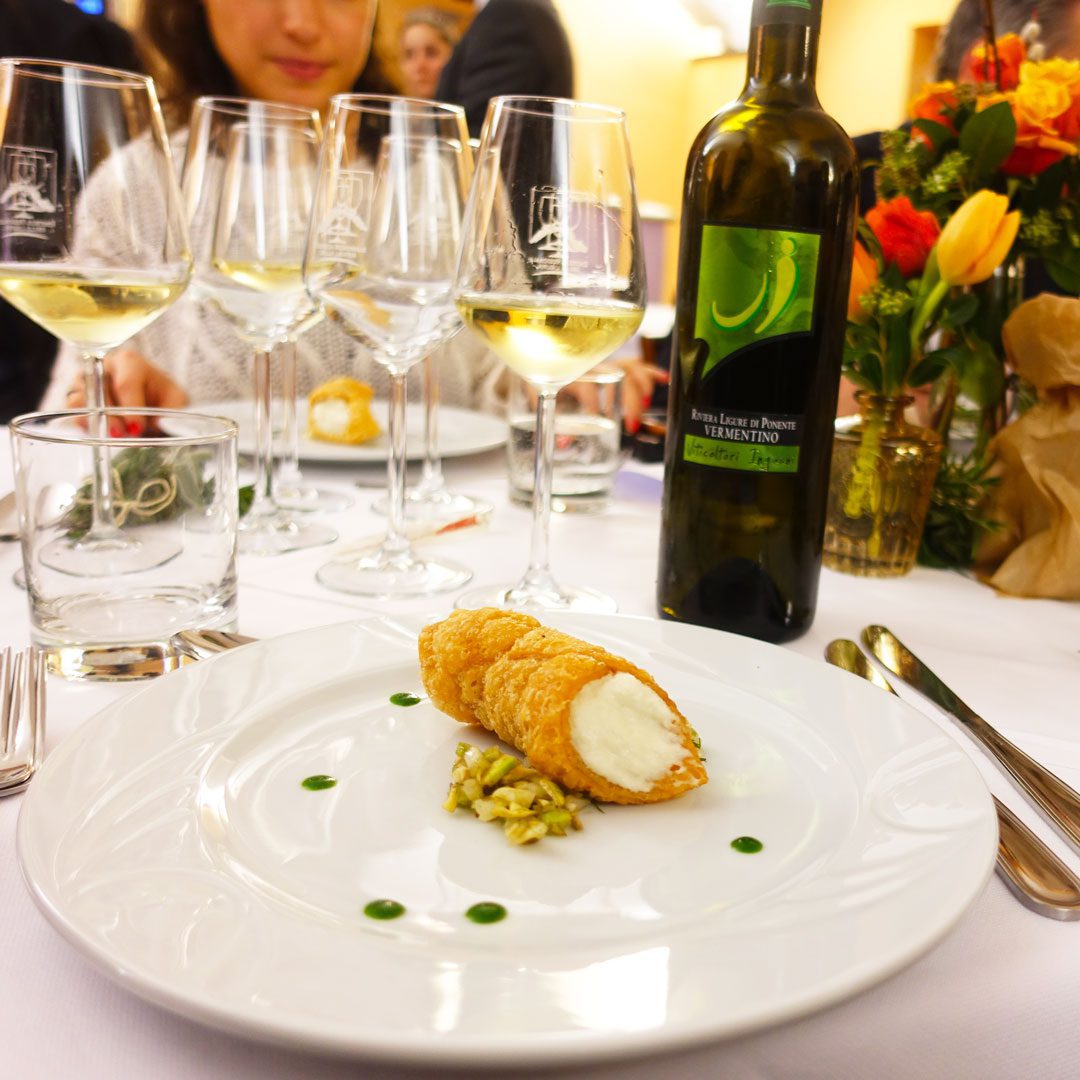 Wine 1: Vermentino Riviera Ligure di Ponente DOC 2017, Viticoltori Ingauni
Personally, I would have swapped the sparkling wine we were served as an aperitif for this still white wine. The aperitif sparkling wine would have defatted the mantecato cod wonderfully and probably would have cleaned the mouth better. This vermentino, which I nevertheless enjoyed very much, was a little less strong than the cod, which was nonetheless predominant in the final length. The wine is a beautiful bright straw yellow. The nose has delicate citrus notes that fade into an undertone of Mediterranean scrub. In the mouth, it is very fresh, with marked acidity and great drinkability. The almondy finish is pleasant. For me, this wine is absolutely perfect for aperitifs because one glass really does go down well and, thanks to its freshness and its not being particularly long, it is the perfect accompaniment to delicious snacks such as those prepared by the Chef Fabrizio Barontini. Having already had an aperitif at Torre Pernice so as not to spoil my dinner I only tasted a couple of fingerfoods, I particularly liked the 'flan' enclosed between two slices of toast.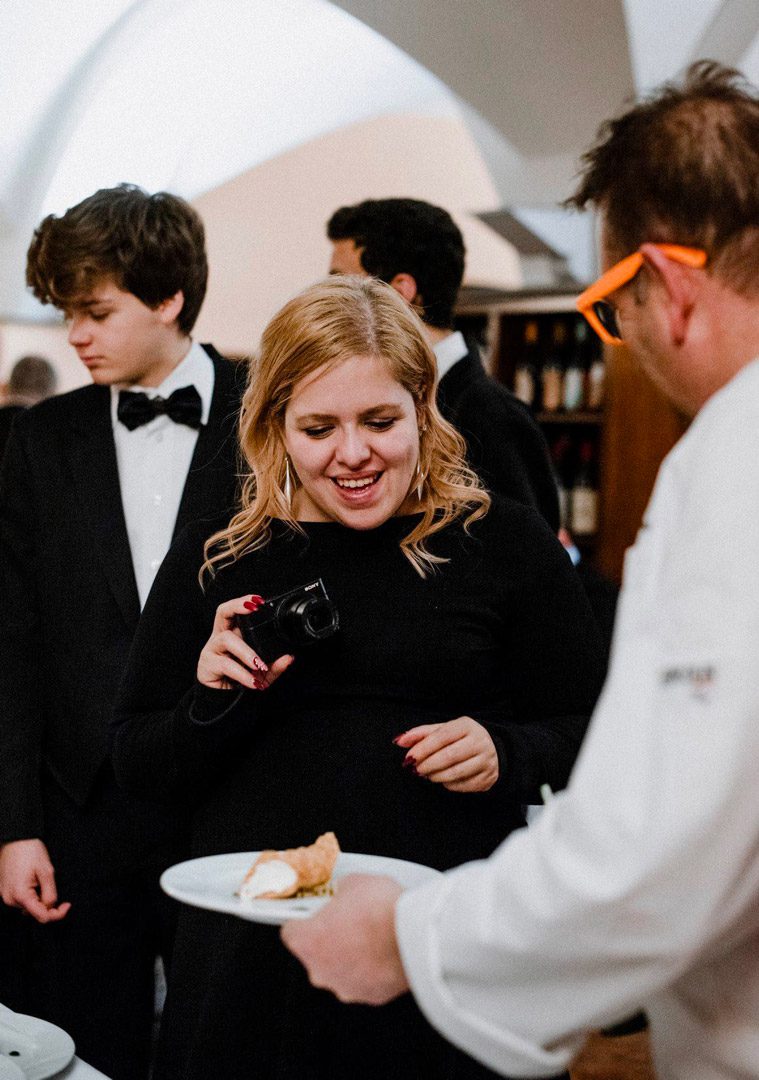 Chef Igles Corelli: Gazzani risotto with Conio beans, potatoes and Prescinsöa ice cream
Surely this was the best executed dish of the evening. The perfect risotto is coveted by all chefs, and Igles Corelli here demonstrated that he really does have golden hands. Certainly the choice of ingredients was more 'difficult' than that of Chef Tommaso Arrigoni, who at the last edition of Stelle & Calici had delighted us with the sweet tendency of pumpkin, the savouriness of stockfish and that aromatic and bitter tendency of cocoa beans! The risotto prepared by Igles Corelli has very poor ingredients: beans, potatoes and prescinsöa, a fresh, creamy, acidulous cheese made from the curd of whole milk. To prepare a masterpiece with these ingredients you need skill and flair, and he really amazed us with special effects. The choice of preparing an ice cream with this cheese was also a good one because it helped create a 'hot-cold' contrast that enhanced all the ingredients because he was able to 'separate' them.
The white bean of Conio is a rare and prized variety of this legume that Slow Food safeguarded with passion. It has the particularity of having a very thin skin that is therefore barely noticeable in the mouth. The flavour is delicate. Cultivated in the hinterland of Imperia, it gives its best in loose, well-drained soils with calcareous spring water rich in mineral salts.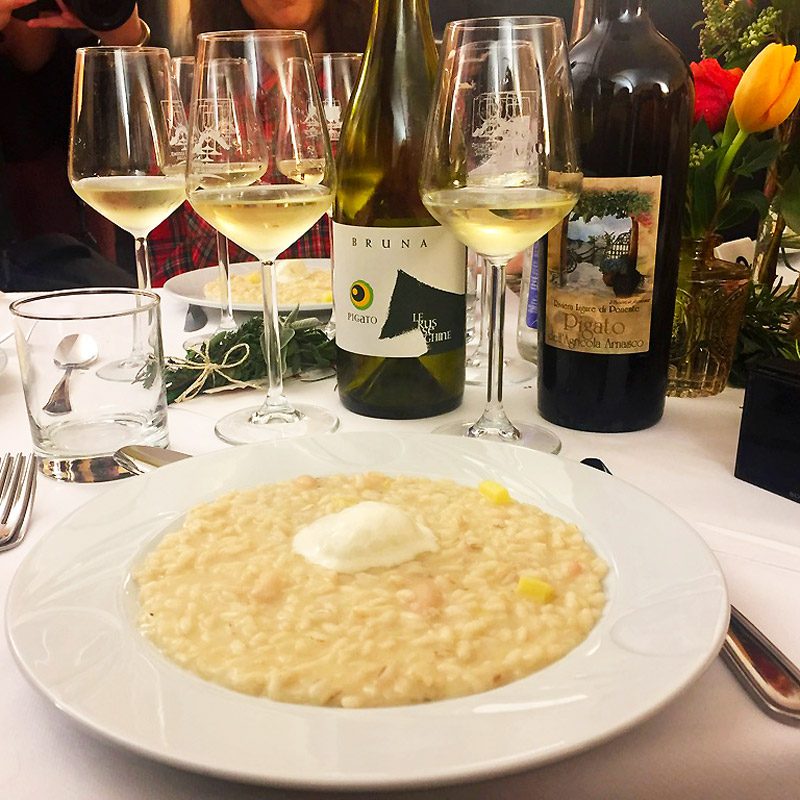 Wine 3: Pigato della Riviera Ligure di Ponente DOC 2017, Agricola Arnasco
That I I have a soft spot for Pigato is a well-known fact... so drinking several of them in one meal fills me with joy! Crystal clear and consistent straw yellow. The nose is very delicate, with notes of citrus fruits, magnolia flowers and herbs. In the mouth it is fresh, very savoury and with a not particularly long almondy finish.
Wine 4: 'Le Russeghine' Pigato della Riviera Ligure di Ponente DOC 2017, Bruna 
Truly a great wine! It is a beautiful, bright and intense straw yellow. The nose is very complex, with resinous notes that fade into acacia, yellow peach, fresh and candied bergamot, candied pear, with a finish of sage and marjoram. On the palate it is consistent, filling the mouth with a good balance of freshness and softness. Distinctly savoury, almost brackish. Elegant and long on the finish. It is perfectly matched to Igles Corelli's risotto, where sweetness and acidity were the sensations I felt most.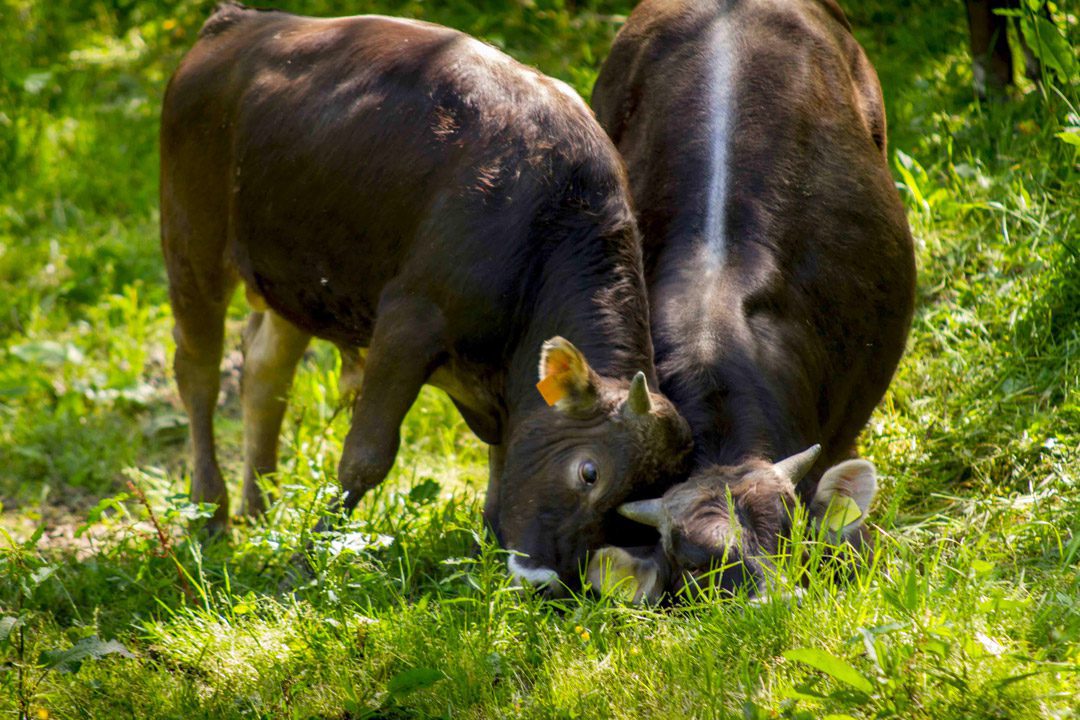 La Cabannina is a ancient Ligurian cattle breed preserved by theCabannina Breeders' Association and it is Slow Food Presidium. Presidia are projects created to protect small productions of particular quality made in the traditional way to be protected from the globalisation of taste. La Cabannina has undergone and at the same time enjoyed a series of crossbreeding opportunities born of the virtuous collaboration between man and nature that today has led it to have a DNA that is a true genetic reservoir of socio-cultural and socio-economic biodiversity. In particular, the animal we ate was born on 7 January 2017 in Torriglia on the farm of Manuela Crinitison of a mother who was crowned 'champion' at the regional show in Cabanne. Our delightful bovine was reared on its mother's milk, fodder and concentrate until it was 6 months old. At this point it moved to the fattening farm 'Il Mezzano' in Giampaolo Risso where he remained for 18 months and here he ate Serra Riccò hay with a small supplement of wheat, bran and other protein seeds. Throughout his stay in this free-range herd, our cattle enjoyed excellent health! Our adult male Cabannina cattle were slaughtered by BLM Carni Tribogna on 14 January 2019. Its half-carcass (i.e. the 2 slaughtered parts that make up the carcass) weighed 309 kg each. This is the traceabilitya very precious thing that we should all expect from what we eat. I know people who are prepared to spend hundreds, sometimes thousands, of euros on useless items who go shopping at the discount store. To me, it honestly gives me goose bumps. Everything we put into our bodies is our petrol, and we must expect it to be of great quality. So a big thank you to the work of Slow Food and all these producers who safeguard traditional methods and give us wonderful ingredients for cooking and feeding ourselves.
Chef Igles Corelli: Shank and Belly of Cabannina pushed© with wild sour cherries and soft celeriac
This was by far the dish I liked best, both for the choice of ingredients and the final execution. I'll be honest, since I am a good eater and, more importantly, on a diet, I would have eaten dozens of these croquettes! The soft celeriac was absolutely amazing, and I am not saying this because I love celeriac! It had a perfect texture, it was soft but firm at the same time, it was not creamy but just velvety in the mouth. The meatballs had a very thin, crispy 'crust' that enclosed a soft heart, thanks to the 'pushed ripening' cooking.
Thrust Maturation©. This method was devised by NGC and put into practice by the company WaveCo® - Innovation Smart Label 2017- and represents the ultimate in organoleptic and functional qualities of the food. In fact, if until now tenderizing a meat meant indulging in long cooking processes - often aided by liquids as in the case of boiled and braised meats - that impoverished the food of its precious nutrients, with thrust© maturation a true revolution has been created for the food sector. WaveCo® is a fully automatic stainless steel machine that imparts a kind of relaxing massage thanks to the vibrations emitted by a patented ultrasound system. The main feature of this technique is the different approach involving the fibres and, in particular, the meat proteins. These are stretched without loss of fluid, likewise the connective tissue layers are gelled: softness and volume increase instead of decreasing and nutrients are intact. In addition, this process is carried out at a controlled temperature and this eliminates the bacterial load, allowing the food to be preserved for a longer period of time.
Chapeau!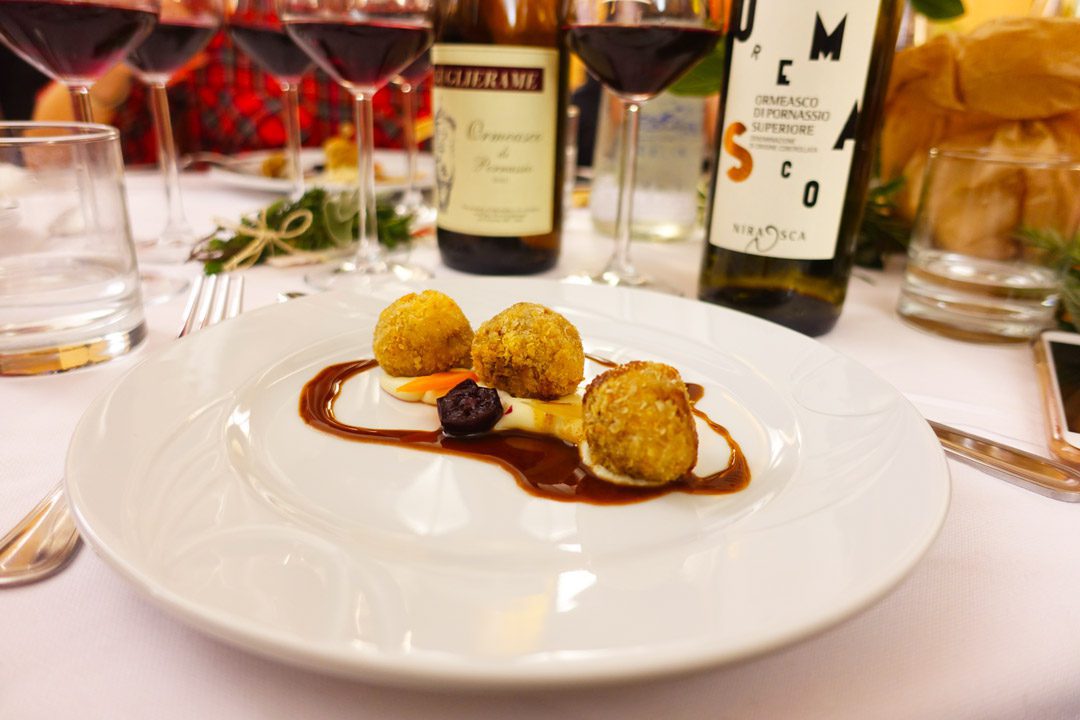 Wine 4: Orneasco di Pornassio DOC 2016, Guglierame
I had already tasted it at home if you remember... it was among the bottles I received during the first stop. I confirm that I liked it very much, although in relation to this dish it was less apt than the second wine. It has a beautiful intense ruby red colour. The nose is elegant and delicate. Notes of raspberry, morello cherry, violet salt and sweet spices such as vanilla and cinnamon stand out very cleanly. In the mouth it is soft, slightly tannic, rather fresh and with a fairly long finish. In general, I find it perfect for stuffed pasta, especially with meat fillings.
Wine 5: Orneasco di Pornassio Superiore DOC 2017, Nirasca
It is an intense ruby red with violet hues at the edges. The nose is very fruity, with aromas of cherry, blackberry, black pepper, wild flowers and a slightly vinous note. In the mouth it is vigorous, warm, quite fresh and with a nice structure. Of the two, it was the pairing that most convinced me with these delicious croquettes.
Chef Igles Corelli: Fried and caramelised cream puffs in Savona's Chinotto sauce
Delicious, delicious and still delicious. I am very delicate with fried food: I don't particularly like them and often find them indigestible. Yet these cream puffs were very light. Thanks to the almost impalpable pastry that held a generous cream filling and the perfect frying. The sauce was rather liquid, but very good, and above all, with its acidulous and slightly bitter taste, it defatted these cream puffs which, due to their perfection, did not need to be defatted after all. The candied Chinotto was absolutely delicious! Did you know that these citrus fruits can practically only be eaten candied because fresh they are really bitter?
In the past, chinottos were candied using a long and laborious process that started with sea water, where they were soaked for several weeks. Then they were turned by hand to remove that thin layer of skin where the bitterest substances are present and put back into the seawater -then into the brine- waiting to be boiled in sweet syrups of increasing concentration and then dipped in Maraschino or candied. Historically, chinottos in Maraschino were considered a delicious digestive that found a place on the counters of Italian and French bars. Today they are also a valuable Slow Food Presidium.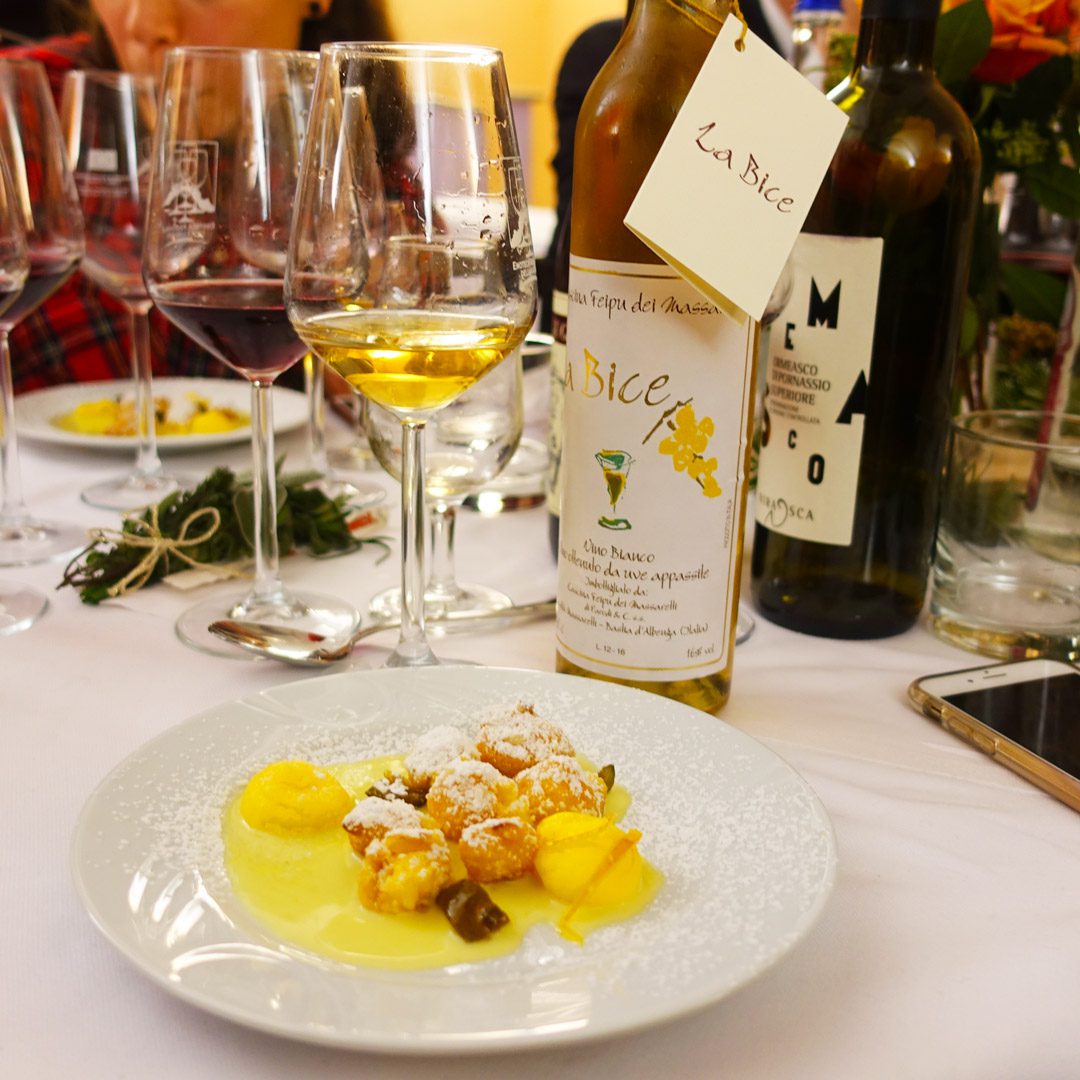 Wine 6: 'La Bice' Pigato Passito, Cascina Feipu dei Massaretti
I'll tell you straight: this is one of the best Italian passiti I have tasted in four years of Wine Blog. And I dare say that I have tasted many. So here I make an appeal to the producer and dear Cristina Boffa: when I return to Liguria at the end of February, can we organise a visit to this winery and perhaps taste some old vintages? You really stole my heart. And it is not only thanks to the splendid dessert prepared by Igles Corelli to accompany it and the truly perfect serving temperature. This passito wine is capable of combining all the taste-olfactory characteristics of Pigato (which I have long counted among my favourite grape varieties) with an iodine vein, a briny savouriness and the scents of the splendid citrus fruits of its land. On the nose, almonds, confectionery, rhubarb and a balsamic finish. In the mouth it is warm, but also fresh and mentholated... with a long finish that reminds me of Mon-Cheri chocolates. It is not too sweet and therefore does not tire, but rather has an excellent drinkability: one goblet really pulls the other. The choice of pairing was also excellent.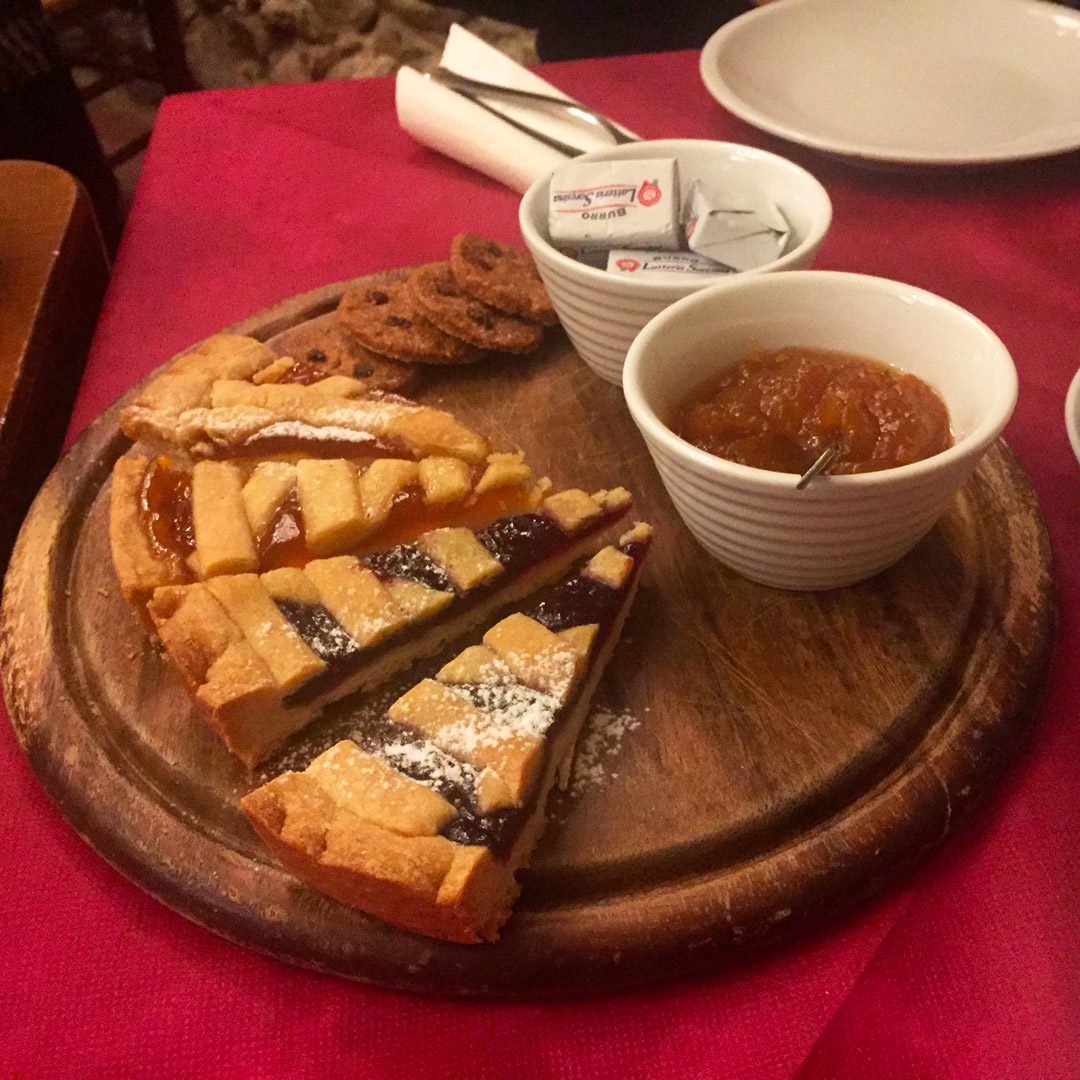 Return to Torre Pernice, a good rest, chat & breakfast with Bianca
As always, time is pressing, but a good breakfast for me is absolutely essential! And if I have a choice, nothing is better for me than a hot tea, orange juice or an orange and a tart... so Bianca prepared the perfect breakfast for us! Both tarts were really delicious, but above all it was a pleasure to see the Stroscia of PietrabrunaThese delicious little biscuits Bianca has interpreted with chocolate chips! They are so good that I decided to try to make them at home too... how about a next article where we try to make the recipe together and pair it with some Passito di Pigato? 😍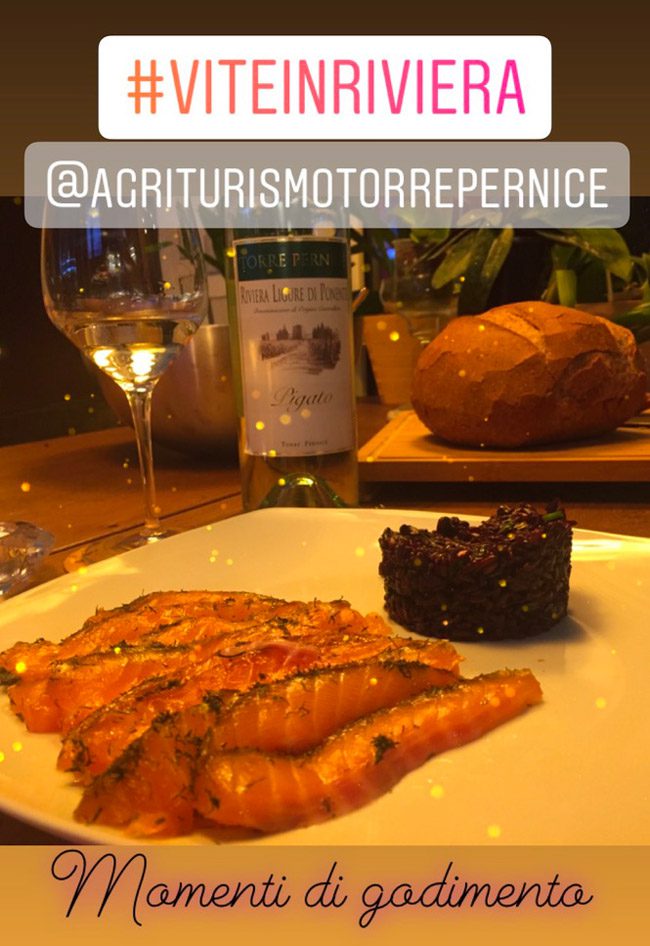 PS. The next day we were still not tired of Liguria, so I prepared the exquisite salmon from Danilo Bettoni -From Montisola with flavour- (I eat so much of it that sooner or later I will turn into a salmon myself) to Scandinavian... and this was the story that followed on Instagram. The Pigato of Partridge Tower was also perfect with this pairing and of all the wines from this winery this was the one I liked best... along with the Rossese di Campochiesa!
Now I am trying my hand at preparing Chestnut Trofie of Pastificio Santa Rita di Alessio Pozzati Bianca gave me... you'll find the dish and the pairing in my next Instagram story!
I love chestnuts and chestnut flour... let's see how to cook them to bring out the best in them! In the meantime, I'll put on the water...
See you for a toast on 28 February at 19:30 for the third stage of Stelle & Calici with Chef Giampiero Vivalda of the Antica Corona Reale Restaurant in Cervere - Cuneo (2 Michelin stars)?😍
Cheers,
Chiara 
P.P.S. I also recommend you read the article by my Vino per Passione colleague Morris Lazzoni, it is really well written and I loved it! Here is the link [Morris, for this link I want a case of Pigato, just know it 😁🍷]