Today I want to tell you about a winery that I had the pleasure of discovering thanks to Fabio Carisio, Mr Art & Wine, when I was in Barolo last month (Read the first instalment of my #WineDiary on Barolo here!). Sylla Sebaste was founded in 1985 thanks to Tersilia Sebaste and, since 2000, Fabrizio Merlo's family has taken over ownership and completely renovated it. First of all, I would like to compliment you on the tidiness and cleanliness that I have seen in this company, truly impressive and worthy of the largest and most structured realities!
The Sylla Sebaste company is located just outside the municipality of Barolo, at Via San Pietro 4, is easily accessible and has ample parking for visitors. It houses the delicious restaurant of Matteo Morraand I believe that combining a visit to this winery and a lunch or dinner in this restaurant is one of the best experiences you can have in and around Barolo!
The structure is externally very beautiful even in its simplicity, and the combination of wine and cuisine make it a perfect location for events and weddings also because the panorama of the Langhe is something extraordinary... that has nothing to envy to Montalcino or the Sienese hills. Fabrizio Merlo's kindness, then, is something even rarer and to visit the winery with him was a real pleasure. He immediately understood that I was not interested in hearing all about the history of Barolo because by then my ears were too full of it, but I was more interested in a few anecdotes about the winery and its production philosophy. I am used to making many visits to wineries throughout the year because I believe that this is the only real way to understand wine, as long as you don't end up writing celebratory content about the winery itself... in fact, I believe that the greatest limitation of the wine blogger is precisely identifying with the history of the winemaker or his family. Looking with a healthy detachment does not make you lose objectivity in recounting the experience, and that is what I will do for you today. Ah, the barrique cellar is really impressive!


I am not in the habit of speaking in my articles with a clinical professional AIS sommelier's eye... but the tasting at Sylla Sebaste was so timely that it deserves a small exception! Also delicious were the pairings prepared by the chef Matteo Morra!
Tasting 1: Roero Arneis DOCG - It is an intense straw yellow with golden reflections. On the glass it works well and forms close and fairly regular arches that descend slowly. The nose is quite intense and quite complex, blending notes of cedar grass with white fruits, grapefruit, sage and has an almondy finish. Hardness prevails in the mouth, it is savoury, mineral and quite fresh. It lacks a little freshness and this takes away some of its longevity: I found it ready, towards ripe, with a life expectancy of less than 8 months before beginning its waning phase. Quite warm, it lacks smoothness but overall is quite balanced and quite fine. A decent wine to pair with white meats that are not too elaborate, with semi-hard cheeses that are not too aromatic and perfect for the spinach omelette we were served.
Tasting 2: Barbera d'Alba DOC - It is an intense ruby red with purple hues, transparent, clear, consistent, with fairly regular bows that descend slowly. The nose senses an important passage in first and second passage Slavonian oak casks. The nose is intense, woody but not complex, where the toastiness prevails over the marasca cherry, which nevertheless remains important. The finish is slightly balsamic. In the mouth it is quite balanced, quite warm, soft but with a slightly rude acidity. Although it is ready, to give its best it certainly needs to spend a few more months in the bottle. Interesting to propose it with ravioli del plin by Matteo Morraperfect for very aromatic hard cheeses. As a great lover of Barbera d'Alba, it is perhaps the only wine from the Sylla Sebaste winery that did not convince me.
Tasting 3: Nebbiolo d'Alba DOCG 2011 - It is an intense ruby red with edges that already tend towards garnet, transparent, clear, consistent, with fairly regular bows that descend slowly. The nose is slightly madeirish, making me think that the grapes were slightly sun-baked (perhaps there was some over-ripening because there is a banana finish). The nose is however complex with blue fruits, tar, underbrush, pepper, solvent, vanilla. In the mouth it is warm, dry, quite fresh and savoury. I would say that it lacks a little freshness that makes it quite harmonious, ready, but not very long-lived. Pair with meat dishes, complex cooking, hard cheeses.
Tasting 4: Nebbiolo d'Alba DOCG 2012 - In line with 2011, here the grapes have not cooked and the nose does not have that Madeira-like note that makes one lose elegance. This Nebbiolo still needs a little more year to give its best, but it shows real promise.
Tasting 5: Barolo DOCG 2011 - It is a beautiful garnet red, transparent, clear, working well in the glass with regular arches. The nose is intense, very complex, where tertiary aromas prevail combined with a morello cherry that has become 'in spirit'. Tobacco, black pepper, solvent, dried porcini mushrooms... these are just the first aromas I smell. In the mouth it is warm, quite soft, quite savoury... and the freshness bodes well for rounding off a tannin that is currently too green, making it still young and ready in just under 2 years. The great persistence in the mouth will make it perfect for braised meat!
Tasting 6: Barolo DOCG 2012 Bricco delle Viole - Fabrizio explained to me that it is vinified in cryomaceration, the same technique used for the prestigious French pinot noirs... Oenologist Luca Caramellino has chosen to cold macerate the grapes on the skins at 5 degrees for 4 days before leaving the temperature free for the subsequent alcoholic fermentation in reduced oxygen for 10 days, after which it is drawn off and aged in barrels for 3½ years. It is a beautiful, transparent garnet red, clear, with regular arches, fairly consistent. The nose is intense, complex, with hints of dried porcini mushrooms, earth, tobacco, truffle, tar, pepper, wild rose, morello cherry under spirits and has a nice cocoa finish. Warm, soft, fresh and savoury, with good balance and great persistence in the mouth. Ready to drink, but with great longevity. It goes very well with all the most important dishes of Piedmontese cuisine, divine with ox tartare from Matteo Morra Restaurant!
Tasting 7: Barolo DOCG Bussia 2011 - Fabrizio gave me two at home... which I drank with my legendary Brasato al Barolo (I'll post the recipe soon!) It is a beautiful garnet red, transparent, clear and with regular arches. The nose is intense, marasca cherries in spirit mingle with tobacco, black pepper, solvent, vanilla, dried flowers, a touch of pepper and cardamom. Warm, soft, freshness prevails over savouriness and I am sure it will have a long life, even though it is already pleasant as of now. With my braised cheek it married perfectly, it was a wonderful experience and I thank Fabrizio Merlo for giving me the opportunity to experience it in my daily life. The best expression of the Sylla Sebaste company!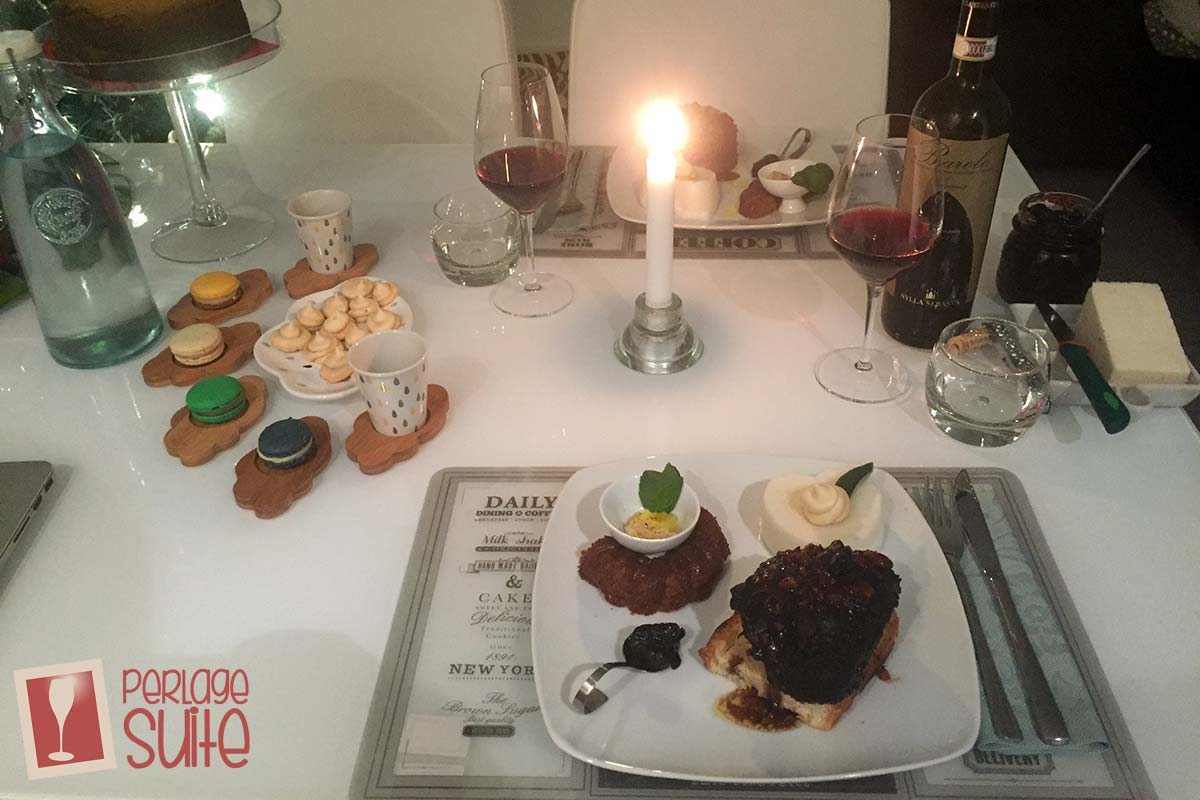 Tasting 8: Barolo Chinato - It is a beautiful intense ruby red, with almost black hues, impenetrable and very consistent. On the nose, hints of French gentian, cardamom and cinchona blend with deep balsamic notes that I also found in the mouth. Pleasant to meditate on, the nose in places reminds me of the Fernet my father loves.
I will conclude by showing you an enlargement of the beautiful label painted by Pierflavio Gallina, who has lived for years between his workshop in La Morra and Sestriere.
He became famous for his ingenious oil and lead works: two of his works have been acquired by the Fondazione De Fornaris Collection for the GAM - Galleria Civica d'Arte Moderna e Contemporanea in Turin. Inspired by his literary deity and fellow countryman Cesare Pavese, he has also been appreciated in the Langa for the labels he created for some Barolo wine cellars: in 1988, he had the honour of creating the label for the Enoteca Regionale di Barolo, which has been entrusting international artists with the effigy for its institutional bottle for thirty years. The protagonist of many one-man shows in Italy and reviewed by the director of the Venice Biennale Giovanni Carandente, he gained international fame thanks to two one-man shows in the USA: one in New York and the other in California at Robert Mondavi's, one of the most important wine producers in Napa Valley and his collector. By virtue of a collaboration with the association Art & Wine Club - Italian Top Style (of which he is a member) Gallina has destined one of his most successful engravings of Langa landscapes to the label of Sylla Sebaste's new Barolo Cru. In the work Barolo (2013, hand-coloured watercoloured etching) the ancient castle of the Marchesi Falletti dominates the typical Langa wine landscape, stylised with the skilful alternation between the suppleness of the hills and the geometry of the rows of vines on monochrome backgrounds with skilful tonal variations and flamboyant symbolic contrasts such as the spring moon.

Fabio Carisio, Art & Wine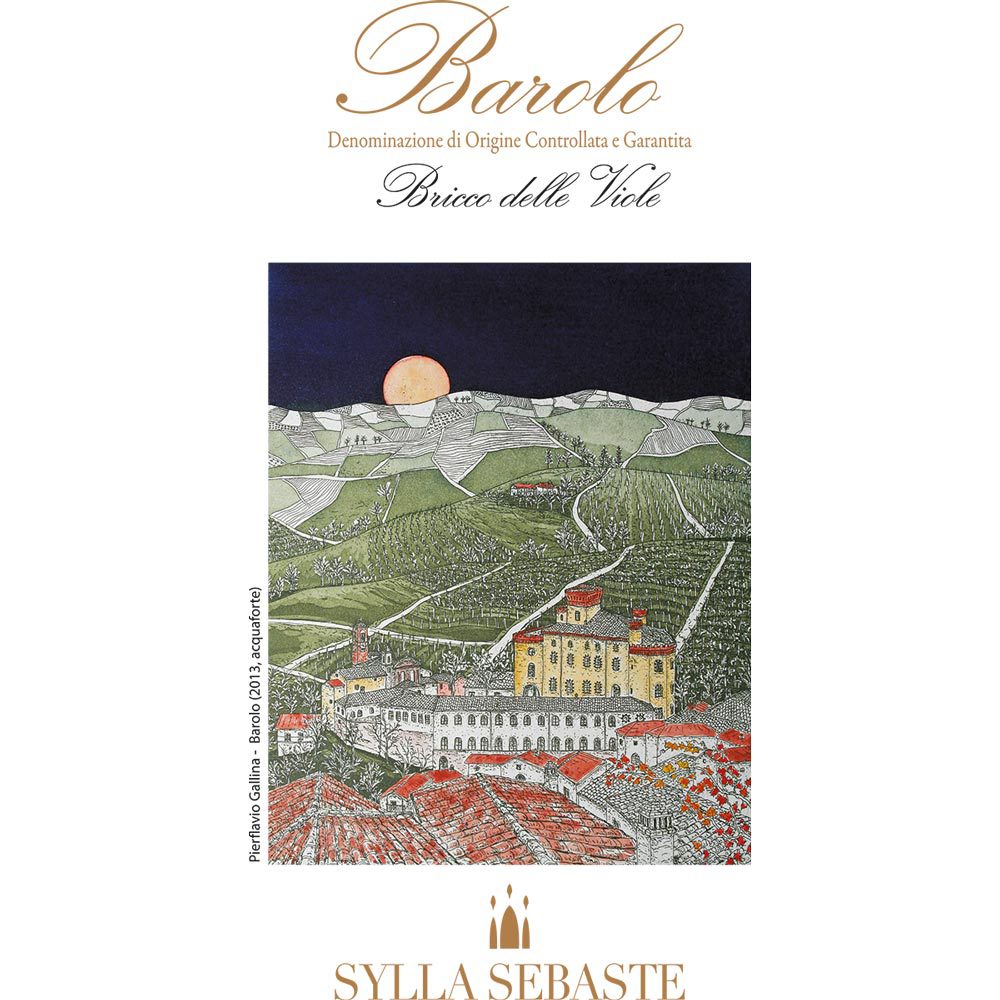 See you soon Fabio and Fabrizio,
thank you
Chiara