I take the opportunity of the 2 wonderful days spent in Barolo to inaugurate a new section of Perlage Suite: the #WineDiary! This section will host my personal and oenological 2016 diary and, if you like it, I will continue it in 2017!
Barolo: Friday 5 February
kg 60 (+ the number of total glasses drunk during the weekend), wine glasses 18 (but in reality some were half glasses, so they are worth half), pieces of fontina cheese 12, slices of home-made salami 8, pieces of Bra sausage 24, bottles of Barolo received as gifts 4, km travelled 262, kcal 8900 (and whistles)
We leave an hour later from our beautiful Lake Iseo with Paco seated in his brand new bag / carrier With Me of Ferplast Kawasaki green (bought in this colour in the hope that my boyfriend also brings it since he is a Kawasaki Addicted ...) that I bought a few days before at the Animal Center of Albino (owners very kind and honest price: I paid 30€ while in Rogno they asked me 59€ for the same model...)... the shop is also under a porch and has a car park next to it, so despite the downpour I didn't even get too wet!
Fabio Carisio, aka Mr Art & Wine, is waiting for me at the Casa Svizzera farmhouse, owned since 1936 by the Germano family, a historic winery in Barolo. Recently renovated, it has three tastefully decorated rooms with coloured walls... ours in particular was the green room, with its splendid balcony overlooking the valley of the area's most important vineyards: Barolo and La Morra. The colours of the walls echo the green of the vine leaves in that moment before they turn from green to the thousand colours of autumn. The room is gigantic, bigger than my old one-room flat in Ravenna (45 square metres), and for this reason I find it really strange to put such a small and short bed for two people (my fiancé is just under 1.80 and had his ankles out of bed)... the sofa-bed was bigger than the actual bed! I think a king-size bed and a comfortable bathtub are what really make the difference in an accommodation, especially if the size of the room allows it! Another uncomfortable thing is the wardrobe: as you can see from the photo it is only one door: small for 2 people staying more than a weekend. Apart from this is all really nice and nice, the thing I liked most is the study of lighting to enhance the picture near the bed and the sofa! The owner was also very kind and one of these evenings I'll be tasting the Nebbiolo di Germano Angelo that she gave me as a gift... and if she has the pleasure of inviting me to one of her visits with a tasting of Solo Barolo, I'll be happy to write a dedicated report 🙂 In any case, it's an agriturismo that I really recommend... as long as you're not too tall!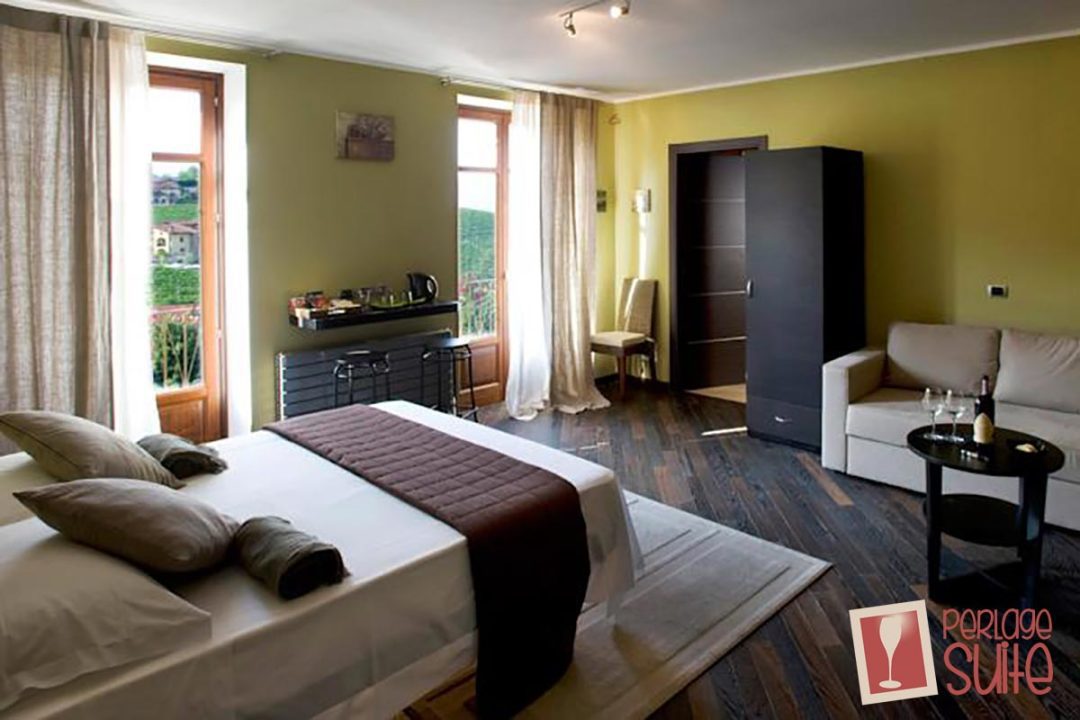 Green room, Casa Svizzera farmhouse (Barolo)
With Fabio, we head to Marchese Umberto Fracassi... and it is his young Barbera d'Alba Ciabot Contessa 2012 that I am savouring as I write these words! I will write about Marchese Fracassi in a few days... but I can tell you in advance that he was a spectacle! A man of other times, with a truly noble elegance and an extraordinary measure of speech! We visited his splendid mansion and tasted many extraordinary wines, including a Barolo 2000 that will remain in my heart for a long time despite a not very clean nose that deserved at least a couple of hours in the air... all accompanied by a fontina cheese so good that I ate a quantity that was good enough for at least four hungry people! We looked like '4 friends at the bar' precisely at the bar counter, with Marchese Fracassi who even rattled off my beloved album 'Io non mi sento Italiano' by Giorgio Gaber! And between one Barolo and another, he also made us taste Bordeaux-style wines from the South Africa... and was about to open a Barolo from another local winemaker! I have often found owners and salespeople doing nothing but strutting their stuff... that this move gave the Marchese my infinite esteem! These small Barolo cellars are a far cry from the organisation and modern architecture of Franciacorta, but they have a truly irresistible charm! They reminded me a little of some of the historical settings of Montalcino…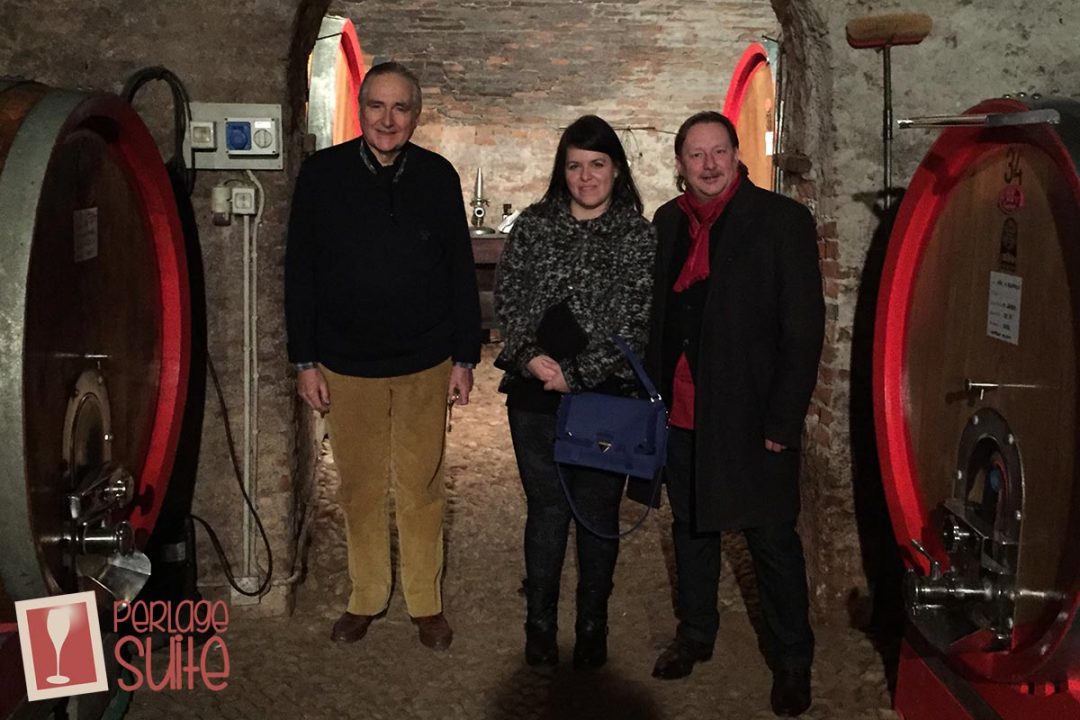 On the left Marchese Umberto Fracassi... then myself and Mr Art & Wine Fabio Carisio
A few steps away from Marchese Fracassi, Fabio Carisio inaugurated one of his Art & Wine exhibitions... and I can only congratulate Fabio as a cultured curator, but above all I thank him for bringing together these two worlds that are often so distant from each other and which, together with good food and jazz music, represent my four passions. Nothing makes me happier than enjoying a good dish accompanied by a good wine in a room with a great painting and Coltrane in the background... possibly with the person I love! In Franciacorta you can already see wine cellars hosting exhibitions, La Montina for example even has an art museum inside and Ca' del Bosco outside houses contemporary sculptures of great value!
After the exhibition we were pleasantly 'set up' by La Stampa journalist Marisa Quaglia, who took us to dinner at the restaurant where her daughter works: La locanda del Prof in Cherasco, via Bra 33, Roreto district. Perhaps a little 'pretentious' for the ambience (more attention could be paid to the mise en place, the tablecloths... let's say a little retro, and the fine but not particularly refined hanging), but the owners are extraordinary. When I think of what the owners of a restaurant should be like, I think their kindness and customer care should set an example for everyone! Paco (my Pomeranian fox) told me it was his favourite restaurant: as soon as he entered, they brought him a bowl of fresh water and a bowl of gruel with Bra sausage in between! Never before had anyone brought me gruel for him, I really appreciated it!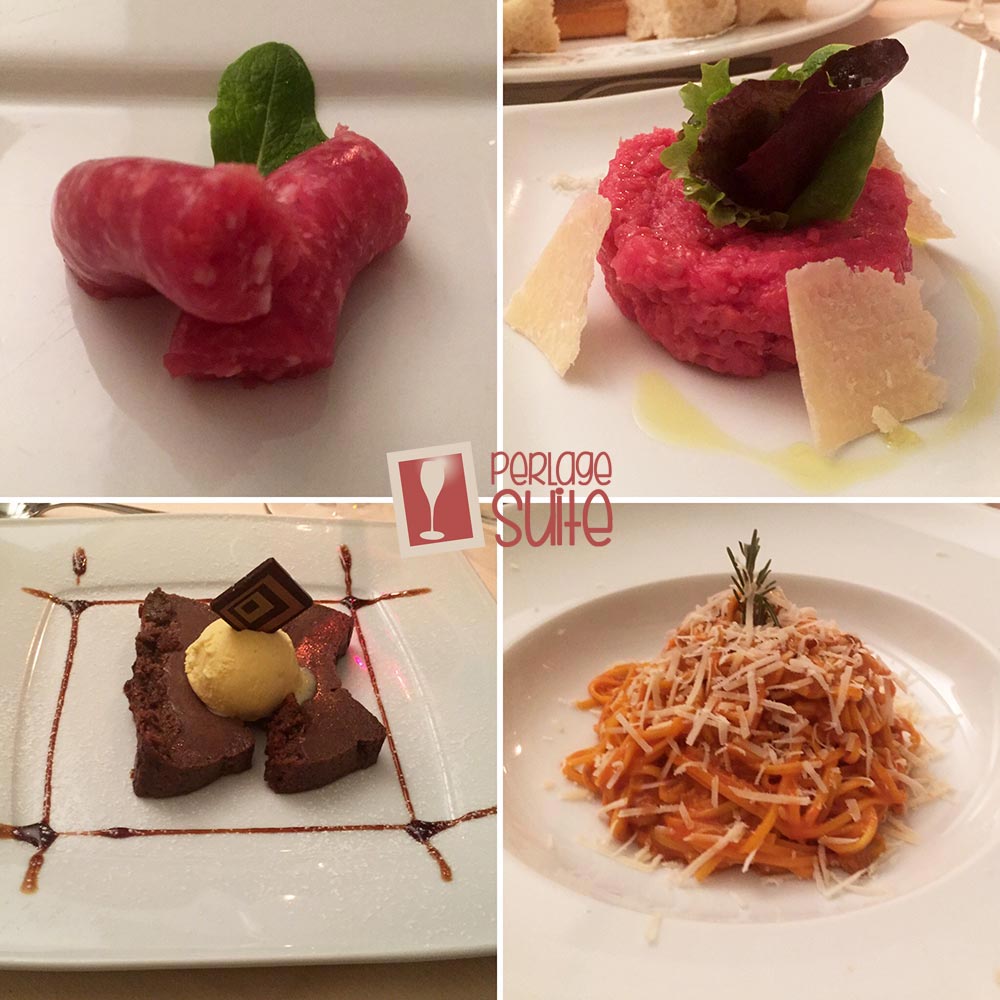 Locanda del Prof in Cherasco
As for the food, I really enjoyed the entrée with Bra sausage, the starter with Piedmontese Fassona had really good meat even if minced a little too much. The tajarin con il sugo di carne sfumato al Barolo were the best tajarin I have ever eaten... I didn't have the second course because of the kilos of Barolo sausage eaten at the opening of Fabio's exhibition, and the dessert, the classic Bunnet, was really good. The only thing I didn't like at all was the Domori chocolate cupcake (if I remember correctly) and orange that Francesco and Marisa ate... I recommend that the chef improve it or take it off the menu because it is not at all at the level of the rest. We washed it all down with a mid-level Barbaresco, but not memorable (in fact I have already forgotten it). If you are in the area I recommend a visit to this restaurant 😉
After dinner we returned to the farmhouse... we were really very very tired and also a little tipsy 😉
Barolo: Saturday 6 February
kg 6000 (+ the number of total glasses drunk during the weekend), wine glasses 20 (but actually some were half glasses, so they are worth half), kisses (luckily not Perugina or the scales would skin me) 124, slices of homemade salami 8, pieces of Bra sausage 24, bottles of Barolo received as gifts 8, km travelled 280, kcal 9,000,000 (the scales skinned me anyway...)
After a regenerating shower at Mirra de I tesori d'oriente, we met up with Fabio Carisio at the Sylla Sebaste winery in Barolo. A truly beautiful structure located on the ridge of the San Pietro delle Viole hill, just a few steps from Barolo, with a splendid view over the Langhe. (No wonder this structure is so sought-after for events and weddings: from the view to the architecture, from the great wines to the food: it really is the perfect place to spend magical moments in the company of those you love (as I did with Francesco and Paco)! I loved Fabrizio Merlo, the owner of the winery: brilliant, engaging and responsible, it was a pleasure to spend a few hours with him! Sylla Sebaste's report will be my next article, but I anticipate that the quality of the wines is high. Francesco fell in love with the Barolo Chinato (I had no doubt), while I fell in love with the Barolo Bussia 2011... so much so that I have already drunk the first of the bottles that Fabrizio gave me as a present, partly meditating in front of my beautiful lake, and partly with Viola, my new neighbour and 'mum' of Golia, the long-haired Chihuahua, Paco's new boyfriend (we are a modern family 😀 ).
The tasting was wonderful... but you'll have to wait a few more days for the details *_*

Fabio Carisio and Fabrizio Merlo taste the wines of Azienda Sylla Sebaste at Matteo Morra's restaurant
And he who begins well cannot fail to end well: Sylla Sebaste is home to the restaurant of the very young Chef Matteo Morra who, at just 26 years old, was able to amaze me. From the clean and elegant mise en place to the warm napkin that was laid on my lap, from the bubbles offered as a welcome to a really good head waiter Andrea (he reminded me of the splendid Giacomo Pittelli of the Restaurant Tentazioni di Pisogne)... and Matteo Morra, who is so in love with his work that when he looks at you and talks about it his eyes shine and you get a little emotional.

Chef Matteo Morra in his restaurant on the Sylla Sebaste estate
We started with a mackerel in oil (I love mackerel!!) entrée and two starters: a scallop with artichokes on potato béarnaise and an ox battuta with oil and leek sprouts. First compliments go to the choice of ox: extremely more prized than veal, it has a much more consistent and tasty meat (it doesn't just drink milk for 8-10 months, but eats regularly for at least 4 years!) It was really special! Two first courses: ravioli del plin and tajarin with leek and Bra sausage. I really liked the ravioli del plin, the tajarin tasted wonderful but were a bit loose in my opinion! And for the second course Matteo Morra gave me a wonderful surprise, but you will find out in the report I will dedicate to his cooking soon 😉 also because there will be so much to talk about him!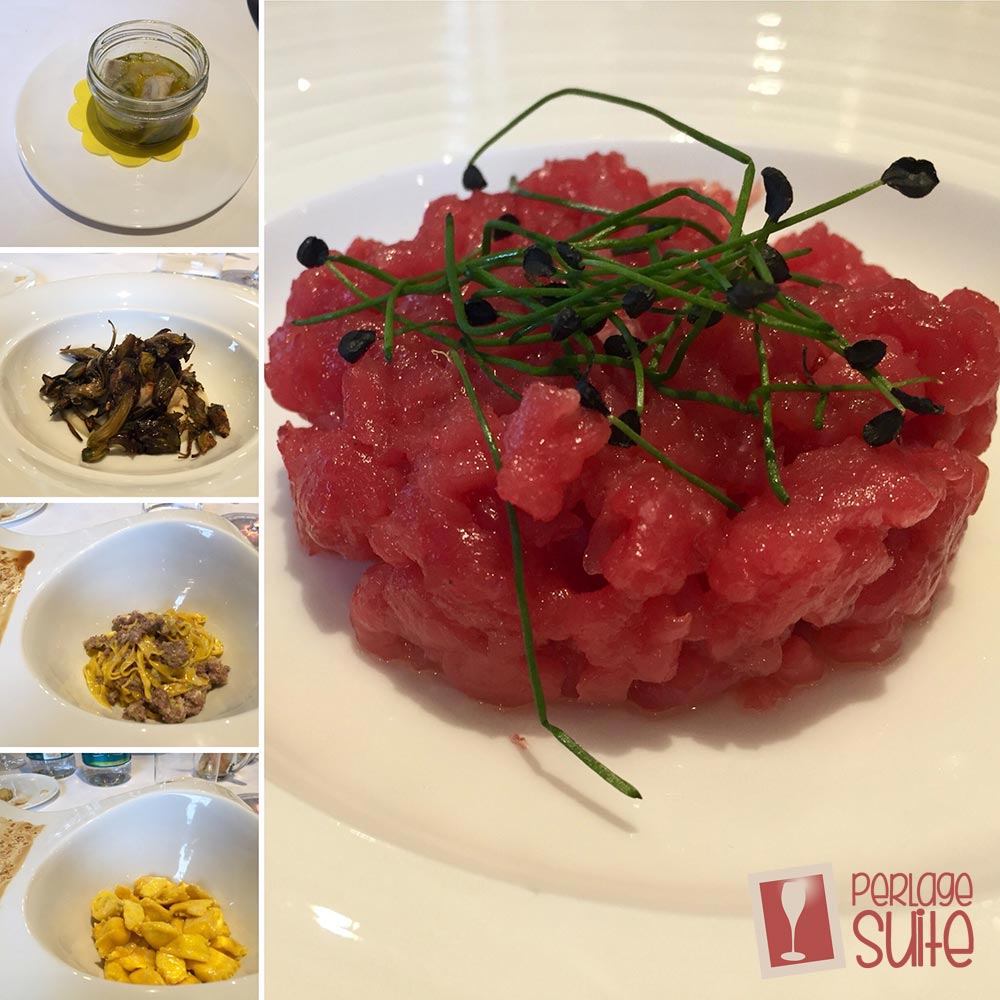 Some dishes by Chef Matteo Morra
Having said goodbye to Matteo and Fabrizio, we set off for Castiglione Falletto and arrived at the Monchiero winery, where owner Vittorio welcomed us with great professionalism. We began to taste all the bottles and I must say that there were wines that did not convince me completely (by now Fabio knows me and can tell immediately from my face if I like a wine or not 😀 ) and others that pleasantly surprised me (but I will only tell you which ones when I write the report dedicated to Monchiero 😉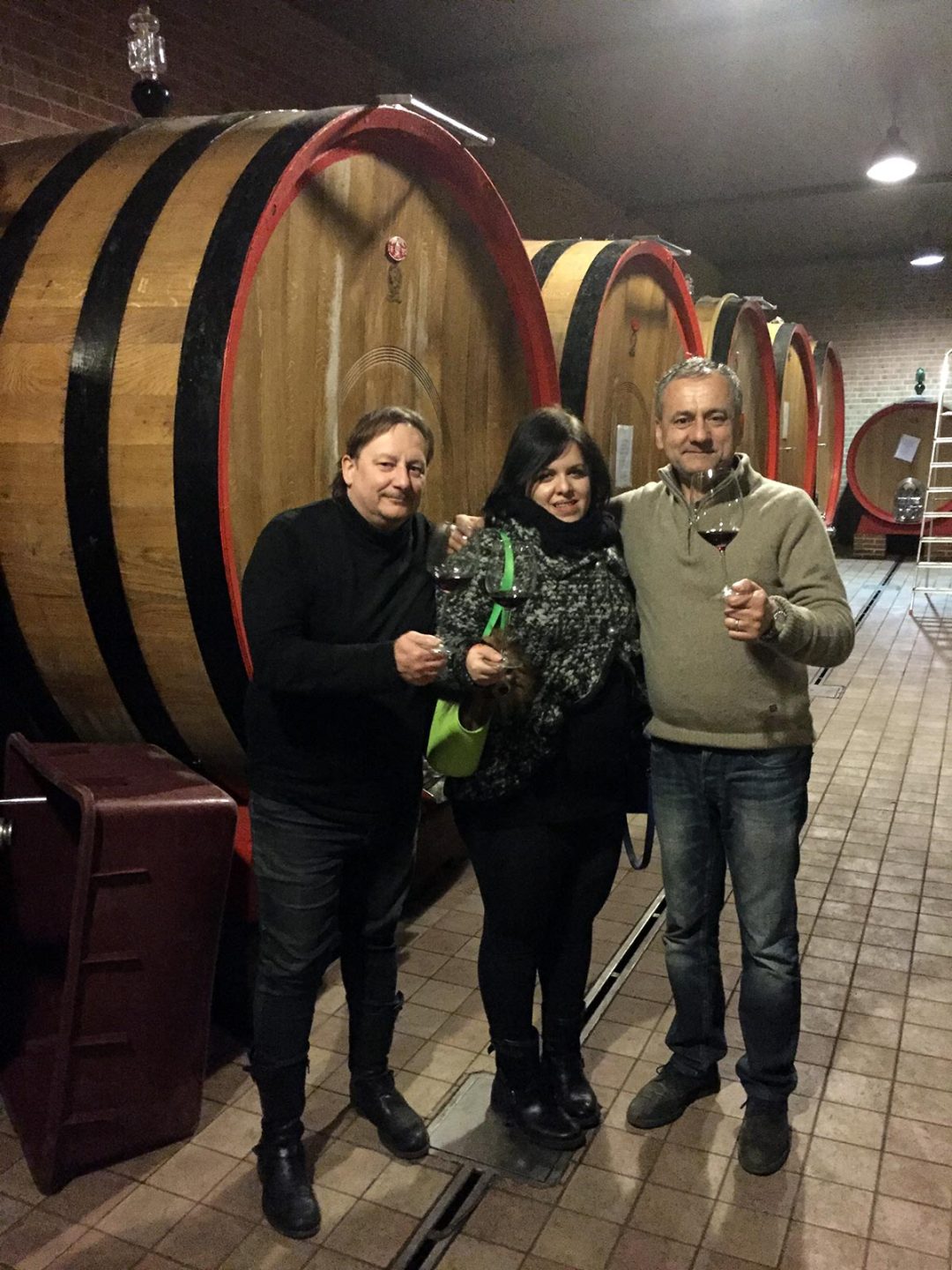 Fabio, Vittorio and I in the cellars of the Monchiero winery
After a bit of a stiff start, Vittorio let himself loose in the cellar in some truly spectacular barrel tastings! I have to say that it was one of the cellar visits I enjoyed the most: it was really nice to pluck the future Barolos from their habitats and feel their evolution from one year to the next!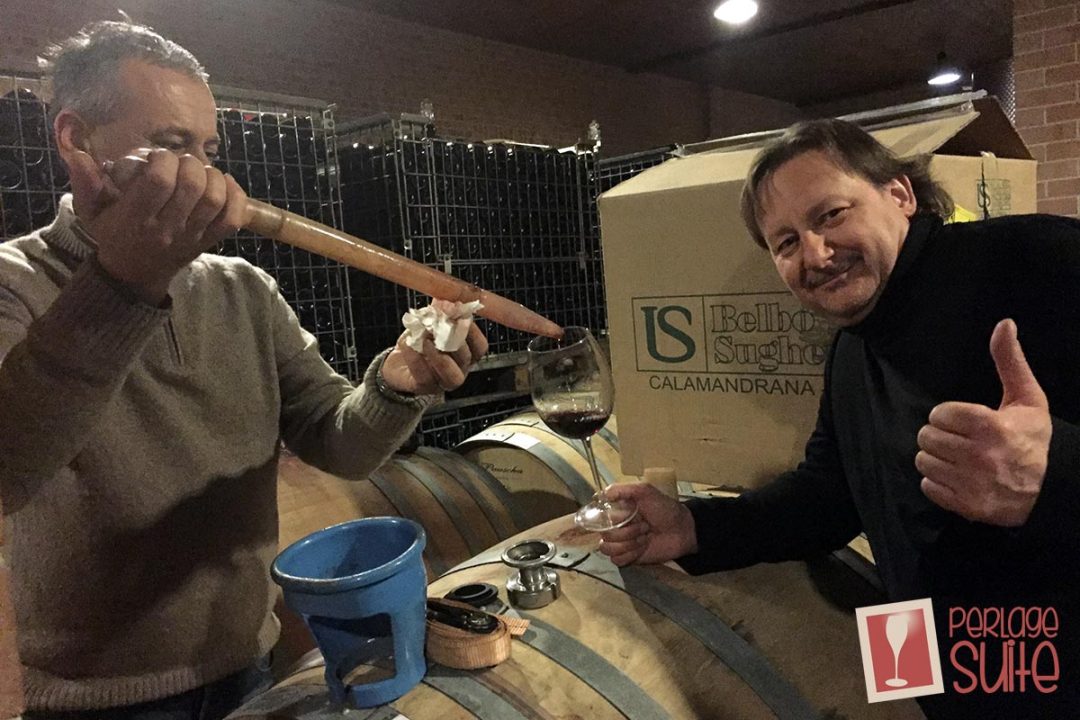 One of our many samplings...
And after this first chapter of my #WineDiary I salute you and wish you a happy Valentine's Day! Francesco and I are leaving for Ristorante Iyo in Milan, the first Japanese starred restaurant in Italy... which is also my favourite restaurant *_*
And you, happily in love, what will you do romantically tonight?
If you're not happily in love uncork your best bottle: remember it's better to be alone than badly accompanied... and when you have a good friend and a good bottle you're luckier than the 80% in the rest of the world.
a hug,
Chiara