Every day I read articles of low quality and posts to make my nipples stiffen and not for pleasure (to stay on the subject, here), and let's say that I choose to do the so-called my bunches (have you ever noticed that certain clusters a little scattered and with 2 wings have a certain shape?)… but not today. Today I want to reflect on a post that gave me reflux even though I don't suffer from it at all. A post where the minne of others is criticized, but the first thing you notice is precisely the big tits of the author. And I would like to do a survey among the 545 likes received on Facebook by the lady Fabiola Baldanza to see how many have: a) read the content of the post; b) understood the content of the post.
At the end of my investigation, then, I would drop by and discuss with the Ministry of Education because I have a few houses to ask. To begin with, why can't a graduate person write with acceptable grammar? Why does a person who has finished all the years of compulsory school fail to express a concept in a coherent way? How is it possible that, net of years of study and in a Western country where education is free thanks to the libraries present throughout the territory, you can write a post like this?
I ask why on the profile of the lady with the beautiful big tits strictly #nofilter it says that:
he attended the Leonardo Da Vinci scientific high school in Agrigento;
he studied Biological Sciences at the University of Palermo;
studied at the University of Florence (we do not know what);
studied at FISAR Florence;
she studied cellar technician and technician for vineyard management and pruning for IFOA (where my partner taught, so to speak);
he attended the IED Florence (cool, I would have liked it too!).
It therefore seems that the lady has a superlative career of studies (two degrees, sommelier diploma, diploma in some area of ​​design and professional pruner technical diploma, etc.).
It therefore escapes me how such a studious person can throw away all the sacrifices made - economic, time and quality of life - to get diplomas, degrees and certifications, insinuating that - I quote literally - "Working as wine and vineyard experts without ever having held a shears in hand, received wasp stings, suffered from the cold in January, ran because a hose was unhooked, [...] rubbing the holidays every summer ...".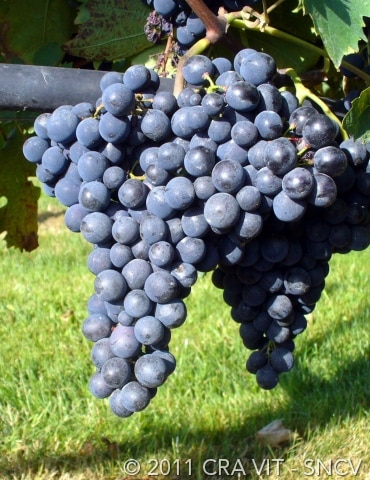 Ohibò, this is beautiful: either the wasps sting you while you have the shears in your hand or you have no right to talk about wine. So this lady at her FISAR diploma of hers, just to name one, spits on it. I don't know what you graduated from at the University of Florence, perhaps in viticulture and enology? In any case she doesn't count… a bunch (always the loose one with two wings that we said before huh)!
Dear big tits of Mrs. Fabiola, who were so keen to peep out to underline how she too could get hundreds - thousands - of likes if she only chose this communicative approach on her profile, I invite you now to do three reflections with me.
Big tits, wine and ignorance / 1: the dress code is not liked!
I wrote just a few days ago this article on the sommelier uniform and the dress code following the fuss between FIS and the American student Nicole Hesslink for the skirt of the official uniform of her (former) association.
Are we really talking about boobs in the western world of 2022? Seriously? I don't like "getting out the boobs" and then I only have a third one, certainly not the dizzying boobs of the lady or of many wine influencers. I don't like communication that uses the commodification of the body. Then? Does this authorize me to taunt my colleagues who have made it a workhorse? Not even. If my product doesn't align with that communication, I simply don't involve them in my marketing, end of the show.
And then come on, each environment has its own dress code. And also a plunging neckline is a dress code in a certain environment. The dress code must be aligned with the place, whatever that is. A stupid example? In the disco is a (little) sexy girl or one wearing a woolen turtleneck more welcome and goes unnoticed? And in some discos / clubs the Champagne does not literally flow in rivers? I am also talking about very, very expensive bottles.
(There are not only battered places where they serve watered-down drinks in the world ...)
I am not aware that the aforementioned Wine Influencers that Mrs. Fabiola defines in another post #winezoccole show up with these minne outside in the Chamber of Deputies, right? (This comparison arises because in this period I am taking care of all the marketing part of the electoral campaign of an important deputy and I am practically alienated from the world of wine ...)
It makes my eyes bleed that Miss Wine Spice Girl calls herself a blogger with a site full of hustlers, when a blogger should be a free commentator and not a content creator. India Donisi (@winespicegirl) still has a degree in Italian culture, a master's degree in publishing and a second degree in oenology, plus a WSET 3. In short, she has the qualifications to talk about wine in my house ... in an irreverent or classic way.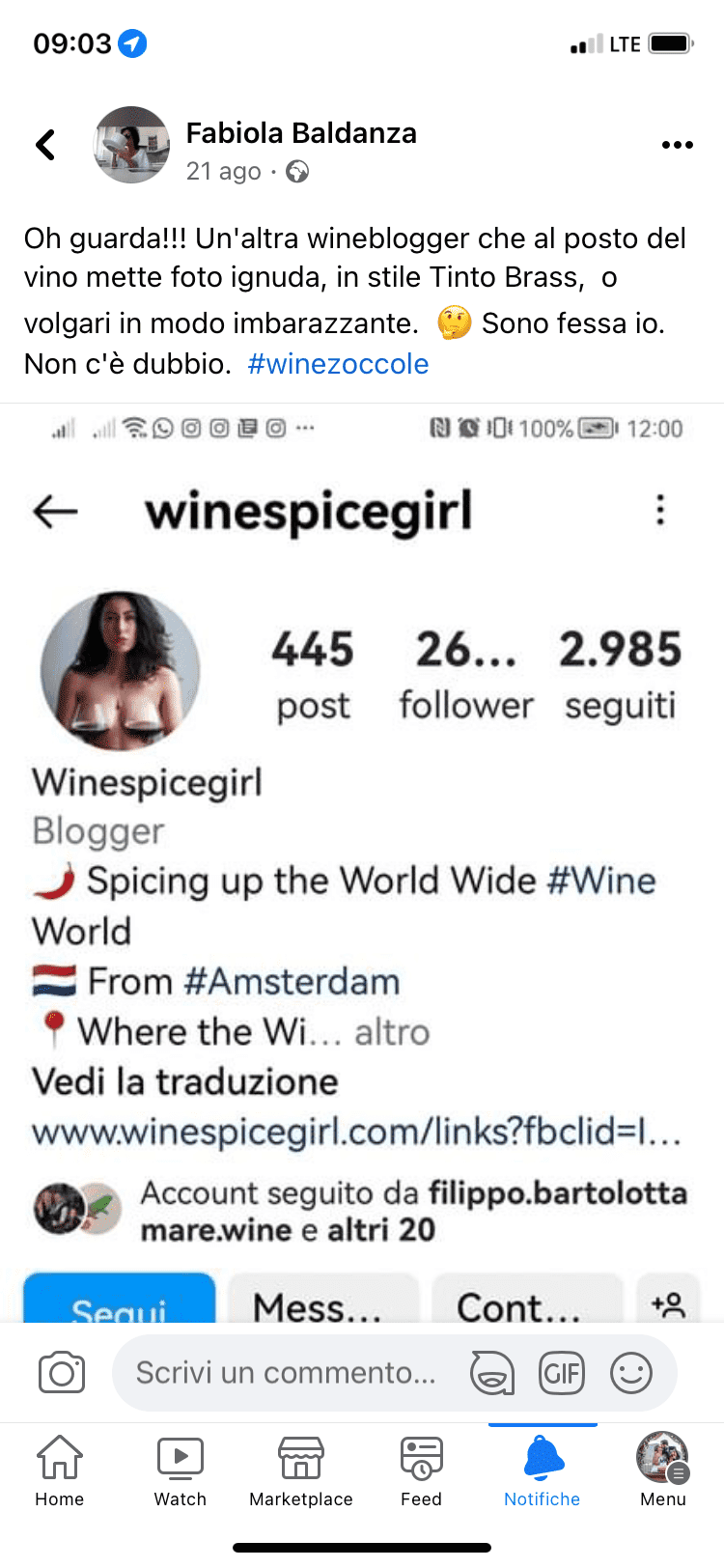 Now you can subscribe to my newsletter or scroll down the page to continue reading the article!
Big tits, wine and ignorance / 2: marketing, this stranger!
Without going into the details of what marketing is and in particular the product marketing, now I want to do a little reflection on wine communication. Let's start from a fundamental concept: there is no wine, there is no winery / company and there is no consumer. In Italy alone, there are 300.000 companies that produce wine and the labels produced exceed one million. Italian and foreign wine consumers are different not only from a socio-demographic point of view, but also and above all in terms of wine culture. If all these companies addressed all their labels to the same type of consumer, as you can easily guess, they would fail in a very short time as there would be no space for everyone and the educated consumer is, in fact, a niche.
When I read Mrs. Fabiola's post I immediately wrote to two friends, Elisa Gubellini e Simona Geri, who are involved in promoting wine, which, for example, I don't do. I teach wine marketing (the last courses I did in collaboration with the Veneto Region between May and June) because I don't like being the center of attention (usual speech!). I chose them because I find them both good at content marketing and, having two very different target audiences, they are two perfect case studies for this. item. I state that both are correct and exquisite people, as well as very knowledgeable about wine.
Big tits, wine marketing and target: Elisa Gubellini
Elisa Gubellini is apparently very far from me. You are a fascist, I am a radical. Lei no vax, I tri-dosed in hopeful expectation of the fourth. She protects her, I only have one low-cut dress that my husband gave me on Valentine's Day the first year we met and I think I wore it no more than twice. She wears sexy heels and shoes, I love Birkenstocks in summer and Dr Martens in winter. And I could go on for a long, long time ...
Yet I respect Elisa even with our differences. Elisa doesn't give a half cluster of what other people think, she built her business of hers and she's good at it. Where Mrs. Fabiola sees only two boobs on display, I see a profession of hostess and wine models, all sommelier graduates, who offer themselves for events at the cellars. I don't know about you Mrs. Fabiola, but at Vinitaly I see many beautiful pussies, more or less shocked, who don't know how to make an O with a glass in their hand and when I ask them questions like "when was it foul?" they look at me as if I had asked about the vomit of her friend's son the night before. But there were some beautiful pussies who are also sommeliers at events! Because I don't know about her, but I have never seen wineries who choose unpleasant-looking men and women to do reception at events. As I rarely see ugly people advertising products in newspapers and on television.
Does Elisa Gubellini have a communication style that is not mine? Of course. Am I Elisa's target? Absolutely no. Elisa Gubellini has the right communication style for her target who - listen, listen - is a broader target than mine. Does it mean that Elisa's communication is better or more effective than mine? No. Does it mean that my communication is better or more effective than Elisa's? No.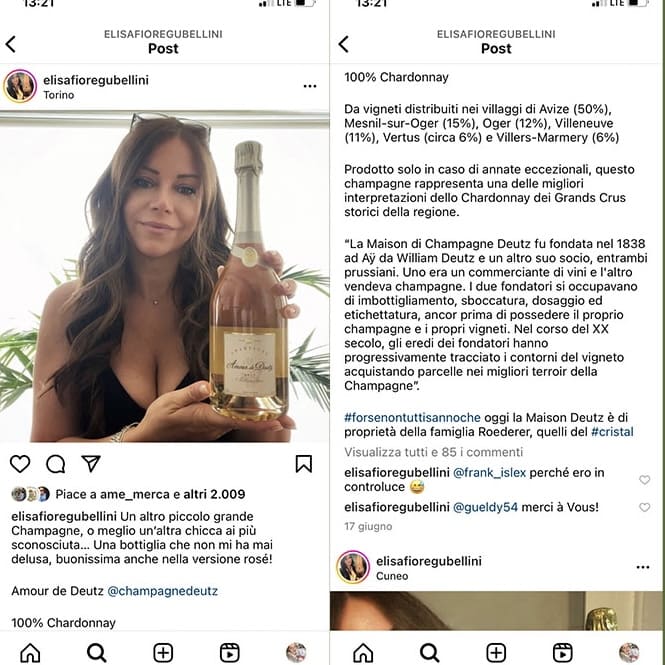 Big tits, wine marketing and target: Simona Geri
I don't know if Simona Geri has big boobs, I've never seen them (super Simo, get out your boobs, come on! 😄). I don't know if you vote left or right because you don't talk about politics and I don't know if you are vaccinated. Frankly, she doesn't even give a damn. Certainly Simona is wearing heels that I didn't even wear on the wedding day, she has some tattoos - which I don't particularly like - and she is a mother, another thing far from me.
Each person has points of contact and points of distance and diversity, for intelligent people like me, Elisa and Simona is a wealth, not a limit. We are certainly three women sommeliers who first invented and then built their own business. Not greaves nowadays (well, if you have some greaves or porchetta to send me, write me an email, I don't just taste wine and I am a great pork lover).
Simona makes beautiful videos, funny reels and posts with her photos of rare elegance. Does it mean that Simona's post is better or more effective than Elisa's? No. They are two advertising contents aimed at two different targets and both are effective within their target. It means that if you are a winery and you want to promote your Brand or your particular label, think about your ideal customer, track and identikit and ask yourself: is it Simona's target or Elisa's target? Then work with one of them. Or with neither. If you work with both, you waste money, because differentiating is important, but differentiating the media does not mean intercepting a media outside your target. Unless you have a lot of money to - literally - throw away. But that's another story ...
In the two photos I chose of both you see a different communication of a Champagne AOC wine. To me they both look beautiful and prepared.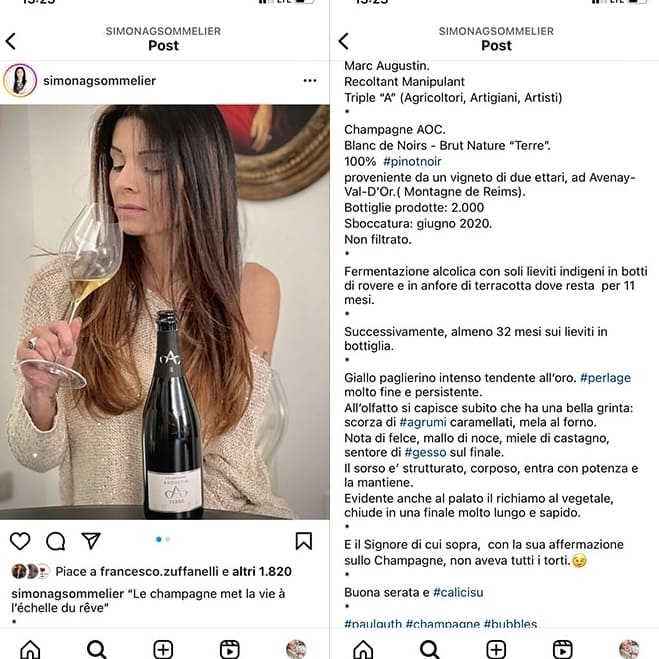 Big tits, wine and ignorance / 3: they are chosen, respect them!
You may not believe it Mrs. Fabiola, but to me to be a cellar master, to harvest, to own a cellar and singing company I don't give a bunch! As much as I love the film "A great year", if a distant uncle leaves me a chateau in Provence with an adjoining vineyard, I give it to management and I go there for holidays… unlike him even in August. Likewise, even though I am a Sommelier, I am not interested in serving wine. I am a bookworm and I feel uncomfortable walking around the tables to serve people. I like to taste wine and tell it, especially from an educational point of view. I don't know if she ever dreamed of being a cellar girl since she was a child, but I know for sure that I dreamed of being a writer and I applied myself to become one.
Every human being has talents, limitations and aptitudes and should follow his inclinations. I am deeply convinced that if an individual studies what he is passionate about and then turns it into a job, he will study with pleasure and do an excellent job.
Some like to taste wine.
Some like to harvest (I don't).
Some like to teach wine.
Some like to study wine.
Some like to write about wine.
Some like to make wine.
Some like to be a wine entrepreneur.
Some like to sell wine.
Some like to communicate wine.
Some like to design and / or make wine products.
Every job is sacred and must be respected if done with competence, dignity and passion.
Finally, I would like to remind you that not everyone can physically afford to harvest: excessive heat and sun can be a problem for some diseases or for those who - like me - have very low blood pressure.
So sometimes they aren't even free choices.
Now you can buy my Sommelier book: the illustrated manual or scroll down the page to continue reading the article!
Book "Sommelier: the Illustrated Manual" Special Edition 2022
All my notes on wine and food in one book.
COMPLIMENTARY, only for those who buy my book on this blog, a copy of the First Collector's Edition of my Sparkling Wine Guide "500 Bubbles in 500", cover price € 25,30. [While stocks last]
Mrs. Fabiola, I am sorry to contradict you, but having experience of something without having studied it gives no guarantee of knowing how to do it. She is also a cellarman, but she started from a professionalizing course held by a famous and nationally recognized institution such as IFOA. You may have done 1, 10 or 50 harvests. An example? Find more "expert in wine, vineyard and grape harvest" (whatever they mean to her) the elderly winegrower who is happy if he collects everything and does not even know what thinning of the bunches is or the young man who has studied, who does thinning when is it needed and carefully chooses only the healthiest grapes?
One thing is certain: "the part" and the Minnie on instruction "I did not understand, could you be kind enough to translate it for me?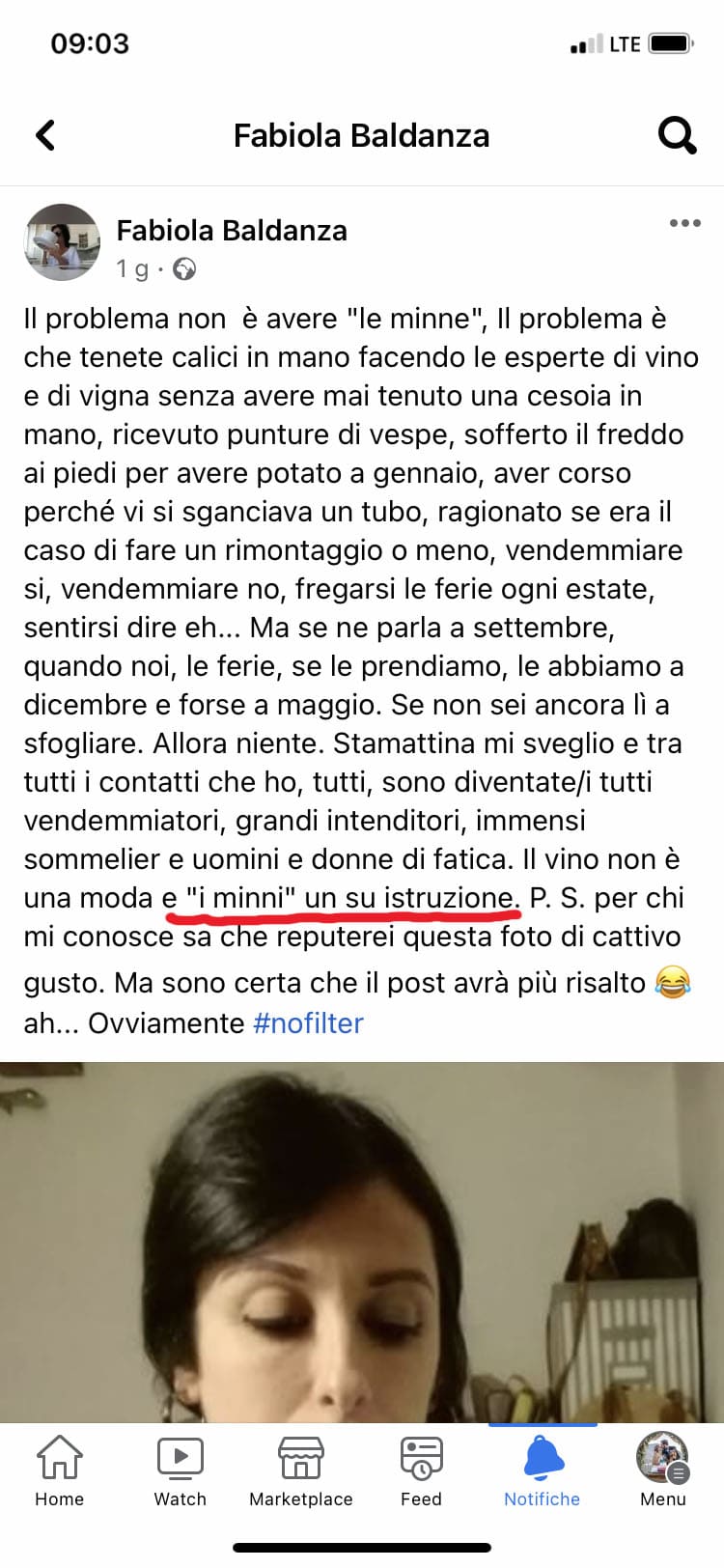 I could tell you about the umpteenth winery that wanted to pay me to talk about its wines and I replied that I don't accept money to talk about wine and I only talk about a wine if I like it. I told them that they could send me the wines or I could go to the cellar and I would have been happy to write a completely free report with the tastings (like the many you find here on my wine blog) if I liked the wines ... and they didn't most answered. This happens several times a month.
What does it mean? It means that for some wineries I am not their ideal communicator and consequently not even my target is ideal for them. But for example they can - perhaps - be Elisa or Simona. It depends.
And since Mrs. Fabiola Baldanza said that the problem is not having "le minne" (or big boobs), go out without fear, dear colleagues.
Whatever happens, a wasp will sting you while you sunbathe next summer and it will be all wine experience gained for you.
Perhaps you will even have the qualifications to "be a wine expert" since your sommelier diploma AIS, FISAR or any association and / or your degree in Oenology and Viticulture or Enogastronomic Sciences (in my case) for the lady is not qualifying like the bite of a wasp.
Cheers
Chiara
PS Excuse me Mrs. Fabiola, in this comment you write "I also don't harvest. I am cellarman, literally it is said that I am at the reception of the grapes ... ". But then did these wasps point it or not?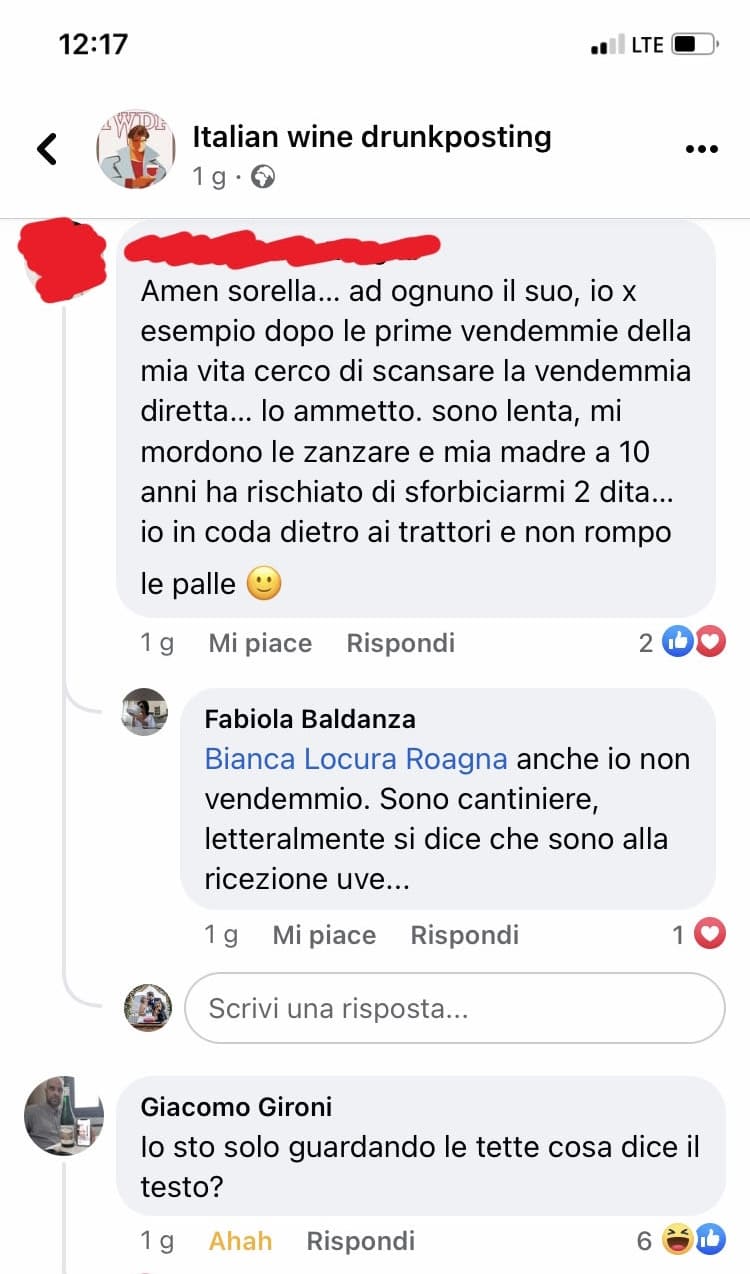 PPS I took the liberty of leaving the name of my fellow sommelier Giacomo Gironi because on January 23, 2018 I published this article with the decalogue of the perfect sommelier!